How to Choose the Right Tempurpedic Neck Pillow Size
Tempurpedic neck pillows are very popular because of the memory foam they're made of, which gives your neck groundbreaking support. The pillows come in a number of different sizes, from travel-sized to large, and with so many options, it can be difficult to choose. So, how do you choose the correct Tempurpedic pillow size for your needs?
To choose the right Tempurpedic neck pillow size, you must consider your shoulder size, since Tempurpedic is designed for proper alignment. First, measure your shoulder to head length, and then choose the pillow size that best matches up. You should also consider whether you're a back, side, or stomach sleeper, and what type of pillow firmness you prefer before you make a selection. The right pillow will get rid of your neck pain and make your sleep very comfortable.
Related article:
Tempurpedic Neck Pillow Size Chart
How to Measure and Choose the Right Tempurpedic Neck Pillow
The size of the neck pillow you choose will largely depend on your own shoulder size and your sleeping preference. As per company recommendations, larger individuals may find that larger-sized pillows are more comfortable and conversely, those who are smaller-framed may find that the smaller-sized pillows provide the best experience. Despite these recommendations, however, your choice is still up to your own personal preferences.
You may be over 6 feet tall, have a large frame, but still prefer to have a smaller pillow with a low profile. While that's not the standard recommendation, it's your choice, and you're free to go with a smaller pillow. We are all different after all.
Whether you like your pillow big or small, you may still want to know the recommended neck pillow size, based on your measurements.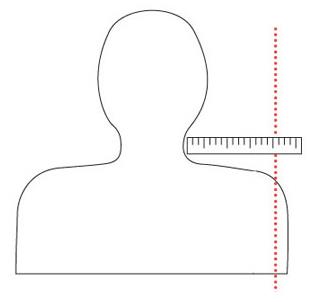 To determine the suggested Tempurpedic neck pillow to use, follow these steps:
Step 1. Get a ruler.
Step 2. Place the ruler perpendicular to your neck - so, the ruler is horizontal, if you're doing this upright.
Step 3. Now, measure the distance from the base of your neck to the end of your humerus bone (or where your collarbone and arm bone meet).
Step 4. Compare the measurement to the Tempurpedic Pillow size chart below.
| | | |
| --- | --- | --- |
| Shoulder to Neck | Side Sleeper | Back Sleeper |
| Up to 4 inches | Small | Small |
| 4 to 6 inches | Medium | Small |
| 6 to 10 inches | Large | Medium |
| More than 10 inches | Large | Large |
NOTE: If your Shoulder to Neck measurement falls between two sizes, then you should go for the smaller size.
It's also good to remember that the Tempurpedic neck pillow has two contoured edges – one higher profile and one lower profile. Depending on your sleeping habits, you can choose to use either edge of the pillow to find the right fit for you.
Tempurpedic doesn't have recommendations regarding the pillow-size determination for stomach sleepers, because the shape of the contours doesn't particularly help stomach sleepers get comfortable.
If you aren't satisfied with the size of your Tempurpedic pillow, you might consider our guide about how to cut a memory foam pillow, mattress, or topper
Does Tempurpedic Offer a King Size Pillow?
Well, the short answer is – yes. Tempurpedic does make king-size Tempurpedic pillows, but only in the traditional or standard pillow shape, and not the contoured neck support variant. If you're okay with a standard pillow without contoured neck support, look at the chart below.
The Tempurpedic King Size pillow dimensions and styles are as follows:
Generally, king-size Tempurpedic pillows are the largest, in terms of dimensions. The Tempurpedic king-size pillows work best for larger individuals who want the additional support – though, they're also perfect for anyone (big or petite) who prefers a large pillow to sleep on or cuddle in bed.
The king-size Tempurpedic Proform ProLo pillow is extra soft and has a low profile of 5.8 inches. This is specifically designed to conform to the needs of back and stomach sleepers. Since this pillow uses micro TEMPUR-material cushions, it provides a more traditional classic pillow feel. This pillow promotes relaxation as it supports your body to relieve pressure.
You can also have the Tempurpedic King Size Proform pillow in mid-profile at 6.5 inches high. The cushion is still soft, and it's designed for all sleepers.
If you prefer a medium firmness, then you can go for the ProHi version of the King Size Tempurpedic Proform pillow. This pillow works great for all types of sleepers but the medium-feel may be especially appreciated by side sleepers. Take a look at our tips on how to make Tempurpedic pillows softer if your pillow is too firm.
If you like what the Tempurpedic Proform Pillow offers but you find yourself frequently waking up drenched in sweat, then you might want to consider going for the Tempurpedic Proform King Cooling Pillow. This pillow ingeniously incorporates 2 cooling gel pads in its design to help keep you cool at night. You can opt for the high-profile model if you want more support for your neck. Consider reading this article on how long it takes memory foam to expand and what happens if you use it too soon.
Or, you can opt for the Tempurpedic Proform King Pillow with the lower mid-profile if you prefer.
The TempurCloud King Pillow from Tempurpedic utilizes the softest core yet, hence the comparison to sleeping on a cloud. This type of pillow provides an extra soft feel for all types of sleepers. This large king-sized pillow is awesome for larger individuals or anyone who prefers larger pillows in bed.
If you're particularly prone to sleeping hot because of the local climate in your area or your own body functioning, then you may want to get the TempurCloud King Pillow with the double cooling gel pad. This type of pillow is called the TempurCloud Breeze. The "Breeze" part of the name denotes the cooling nature of the pillow, which helps dissipate heat from your head, face, and neck, helping you stay comfortably cool throughout the night.
How to Use a Tempurpedic Neck Pillow
The Tempurpedic Neck Pillow is specially designed for the relief of neck pain and pressure. It has two contoured, raised, ergonomic edges of unequal height for your neck, with a dip in the middle to rest your head.
To use a Tempurpedic neck pillow follow these steps:
Step 1. Get the recommended size neck pillow for your body, or you can opt for a larger or smaller one based on your preference.
Step 2. Lay the Tempurpedic neck pillow on the bed or any other sleeping surface.
Step 3. Rest your head directly over the Tempurpedic neck pillow, making sure to place your neck on the raised contoured edges and your head on the dip in the middle.

Note: The Tempurpedic Neck Pillow is ergonomically designed to complement the sleeping styles of side and back sleepers. It is not recommended for stomach sleepers. There are different Tempurpedic pillows designed for stomach sleepers that are shaped much more like traditional pillows.
Step 4. Find the height of your neck support for correct cervical alignment. The two raised contoured edges of the tempurpedic pillow are of unequal height. Choose between these two ergonomic neck supports, depending on your needs and preferences.
Related articles:
How to Use the Travel Sized Tempurpedic Neck Pillow
When you're off to travel, whether for business or for pleasure, Tempurpedic gives you three great options: the Travel-sized Tempurpedic Neck Pillow, the Travel Horseshoe Neck Pillow, and the All-Purpose Peanut Pillow.
The Travel-sized Tempurpedic Neck Pillow
The travel-sized Tempur-pedic neck pillow is a cute little pillow that gets the job done. It is shaped much like its full-sized siblings, complete with two raised ergonomic edges - the profiles of which are the same, as with the medium neck pillow. This travel pillow is smaller in terms of width and length, making it easy to pack for a business trip or vacation. It fits nicely in your backpack, luggage, or your car so that you can maintain proper cervical spine alignment even when you're sleeping far from home.
To use a travel-sized Tempurpedic neck pillow properly follow these steps:
Step 1. Lay the pillow on the bed or any other sleeping surface.
Step 2. Rest your head on the pillow. Make sure to lay your neck over one of the two raised contoured neck support edges.
Step 3. Adjust the level of neck support by rotating the pillow 180 degrees, so you can rest your neck on the other ergonomic neck support.

Note: The Travel-sized Tempurpedic Neck Pillow is designed for side and back sleepers. It is not recommended for stomach sleepers.
The Travel Horseshoe Tempurpedic Neck Pillow
The Travel Horseshoe Tempurpedic Neck Pillow is the ideal travel-mate when you want to protect your neck from improper alignment while you're on the road or on the plane. This horseshoe (or C-shaped) neck pillow is made out of TEMPUR material, which means that it provides personalized comfort and neck support whenever you use it. While it's designed mainly to be used for a seated sleeping position, it works perfectly well as your main pillow in bed while traveling.
To use a Travel Horseshoe (C-shaped) Tempurpedic Neck Pillow properly follow these steps:
Step 1. While you're sitting in the car or sitting in your seat on a plane, place the C-shaped Tempur-pedic pillow behind your neck.
Step 2. Make sure that the concave part or the inside part of the C-shape is placed firmly on the back of your neck.
Step 3. Place the two protruding arms of the C-shaped Horseshoe travel pillow on each side of your neck and you are done. You can now rest your head comfortably and sleep soundly in transit to your destination.
The All-Purpose Peanut Pillow
The All-Purpose Peanut Pillow is a very versatile pillow from Tempurpedic. It's made from the same NASA-developed memory foam as the other groundbreaking pillows, and it's small enough to carry along wherever you go. As its name suggests, its shape is reminiscent of the shape of the intact shell of a peanut. It has two bulbous shapes connected by an ever so slight dip in between.
The Tempurpedic Peanut pillow is so versatile that you can use it for neck support, a bed pillow, leg support, a leg spacer or lumbar support. To use it, just place it under the body part you want to support - No special instructions are required.
Tips to Experiment with Pillows to Determine Which One Best Is Best for You
Unfortunately, Tempurpedic classifies their pillows as personal items, and as such cannot be returned. The only time they will accept returns and issue replacement would be due to a manufacturing defect, and not a change of mind or experimenting on the buyer's part. The Tempurpedic pillows, however, are covered by a 5-year limited warranty.
Since Tempurpedic doesn't allow trials and returns for pillows, the only way you can get to test out the different types of Tempurpedic pillows before your purchase is to walk into a brick and mortar retailer.
However, if you know family or a close friend who has one, then you can probably ask that person to try out theirs before you decide on buying one. The thing about this is that you are only limited to checking out the one pillow your family or friend has.
You can also get a good idea of the range of different types of Tempurpedic pillows the company offers by going onto their website or watching review videos online.
Here are our favorite Tempurpedic pillows, in case you are interested.
Disclosures
This website is a participant in the Amazon Services LLC Associates Program, an affiliate advertising program designed to provide a means for us to earn fees by linking to Amazon.com and affiliated sites.