How to make a trundle bed look like a couch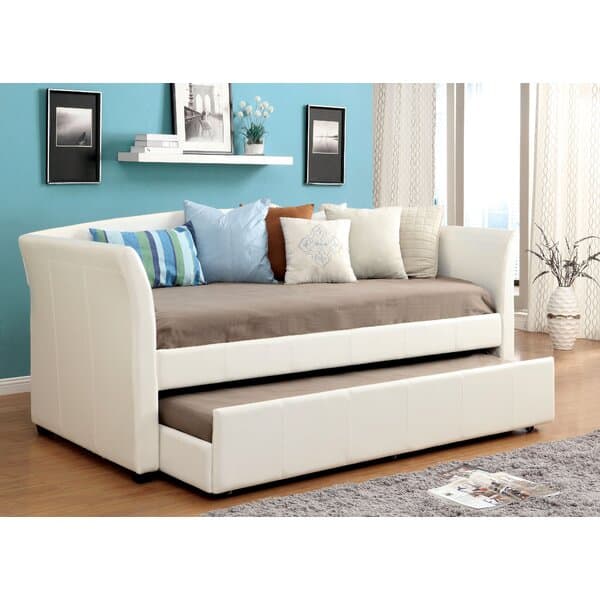 The quest for functional and space-saving furniture is constant. Everyone wants a more thoughtful design to maximize the ease and minimize the space used. Many people explore their options by trying a bunch of furniture:. recliners, sofa-seats, and sectionals are few of these popular options. Regardless of what they decide, the ultimate desire is to bring out a perfect final room.
A daybed with trundle allows you to have both a couch and a place for sleeping thus providing a comfy and cozy place for any of your recreational activities.  You can place it in your lounge, bedroom, kid's room, or in a home-based office.
To make a day bed with trundle bed look like a couch, follow these steps:
Place the trundle bed in a part of a room where you would place a couch
Use bed skirts and solid colors to hide your trundle bed mattress
Add cushions to the day bed to make it comfortable while sitting
Add an end table near one end of the day bed and coffee table that can be easily rolled away in front of the day bed
Usually, the trundle bed remains well-hidden under the daybed but it always helps to decorate the day bed to hide the trundle bed underneath better. If you're wondering why a daybed with trundle is useful, take a look at this next section. If you'd like to go directly to the steps, feel free to skip this next section.
Related topics:
Step 1. Make a Trundle bed look like a couch by carefully choosing its location
The placement of the daybed plays a key role in the appearance of your room. Since we are planning it to give it a couch look, make sure it does not occupy a conventional bed space. If you had a futon bed, where would you place it? Try to place your day bed with a trundle in the same location. Be aware that you'll need to pull out the trundle bed so be aware of the space around your daybed.
Try different walls of your room to decide the appropriate placement. Side tables also complement the conventional bed setting; you can add them to compliment the appearance and look you your room.  If you plan to add some lamps, wall fixed lamps can enhance the features of your room. Do not select a space where the back wall is densely covered with frames because you might hide them with the day bed. 
Step 2. Hide the Trundle bed mattress with a solid sheet and bed skirts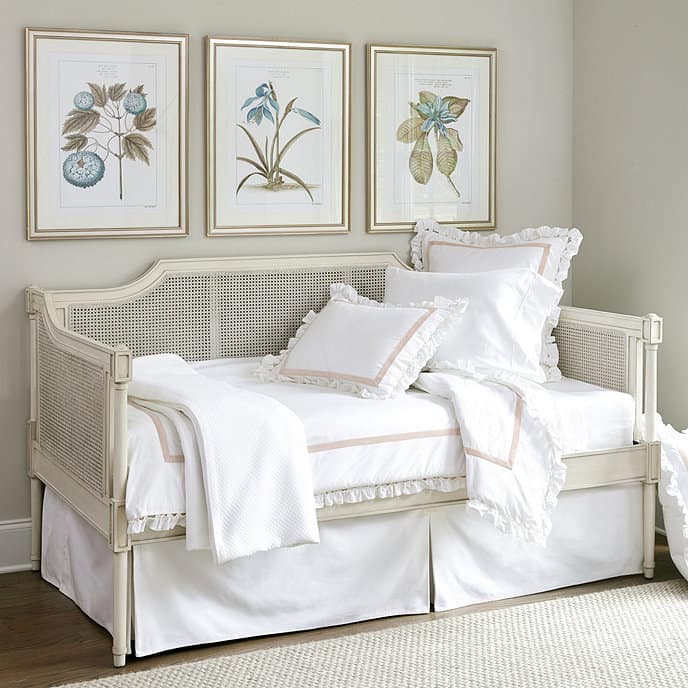 Choose a solid-colored sheet for the mattress. A fitted sheet that doesn't drape over the mattress works well because it won't get trapped or caught while moving the trundle bed in and out.
Make sure the sheet isn't crumpled up so you can't see the mattress while it is hidden away. You may select a printed sheet but make sure it's a darker color tone.
Bed skirts for day beds are hard to find sometimes. Once you can find one that you like, arrange the bed skirt properly. Ensure the slits are in place, and bed skirt is hanging per its size.  
Related article:
Step 3. Add cushions and pillows to your day bed so it doesn't feel too deep
A typical daybed measures around 38 inches by 75 inches at a minimum because that's the size of a twin mattress. That's a few inches deeper than a normal couch.
You can arrange cushions and throws to enhance the look of the day bed and make the day bed with trundle bed look more like a couch. First, set the main head pillow in the corner. Select two pairs of colored cushions to place on each side. Add a throw in the center and one on the armrest.
You may also use the blanket as a throw. The throw should help focus people's attention away from the long length of the daybed as well as its width.
Finally, add a cushion of a different shape on one side only to give some asymmetry and style. A simple rectangular one should work. You don't need a heart-shaped cushion or another other funky shape. The selection of cushions is a vital part of enhancing the look of a couch.
Give your couch a personal touch by adding a stuffed toy or anything according to your taste. A small textured cushion provides happy vibes. Trying a bolster pillow might also help. Bolster pillows are great for making the depth of the daybed a bit more comfortable. There is no fixed rule regarding the number of cushions. Add on as many or as few as you like.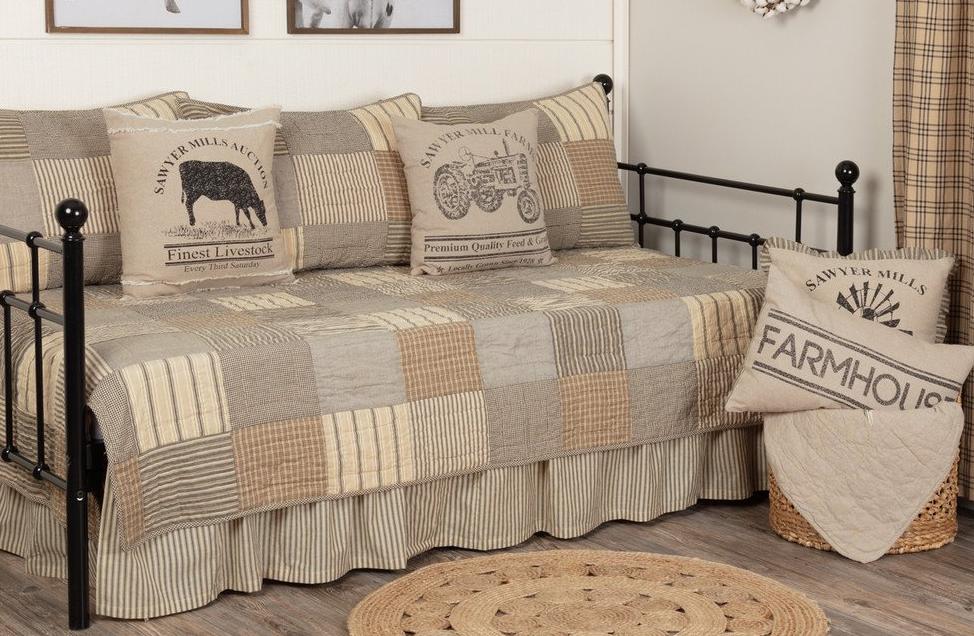 Step 4. Add a small end table and a coffee table so you can hide the trundle bed and make it look more like a couch
Complete the couch look of your daybed with trundle by adding a small end table at one end the day bed.  You can add a small resin tray with some decoration on the end table. Alternatively, you can also put a small plant pot on it.
Choose another bigger plant to place at the back corner of the couch will give your daybed with trundle a more classic couch-like look. Add a macrame or a pair of frames on the back wall for the final touches.
You can also consider adding a small roll-away coffee table in front of the daybed with trundle. It needs to be easy to move away because you'll be pulling the trundle bed in and out from underneath the daybed.
Daybeds with Trundles: How manufacturers turned a trundle bed into a couch
As they say, there is a trundle daybed for every space and every budget. Daybeds with trundles are a practical solution to many living room challenges. A daybed offers space for both a bed and for a couch. Here's why we love them:
Instead of investing in a sofa + a guest bed that both take up space, daybeds with trundles can be used as a couch and as a bed.
You can conveniently use a trundle daybed in the living room. Different designs of daybeds with trundles can match your living room decor. Don't forget to also apply the tips we told you about earlier in this article!
Young adults tend to have lots of guests. Daybeds with trundles look modern and are affordable. So, they're great for young adults who've recently moved to a new room or house and still want to entertain friends/other guests. In the couch position, you can entertain your guests. Then you can pull out the bed after your friends leave.
Since daybeds have three-walls, you can easily put cushions and throws on them and convert them to couches. This makes them great for reading and other hobbies. Pair them with a bookshelf to make for a great 'study'.
Though bunk beds always top the list of furniture options for kid's room, a daybed with a trundle can be a safe alternative for the younger kids. They're not as tall and you can even have your toddlers sleep on them (unlike bunk beds which are designed for 6 year olds+).
Are you still wondering if a trundle bed is right for your home? Make sure to take a look at our article, Trundle Beds - Yes or No for a comprehensive comparison. For more ideas on how to configure your new space, take a look at our 15 trundle bed bedroom ideas as well.
Disclosures
This website is a participant in the Amazon Services LLC Associates Program, an affiliate advertising program designed to provide a means for us to earn fees by linking to Amazon.com and affiliated sites.