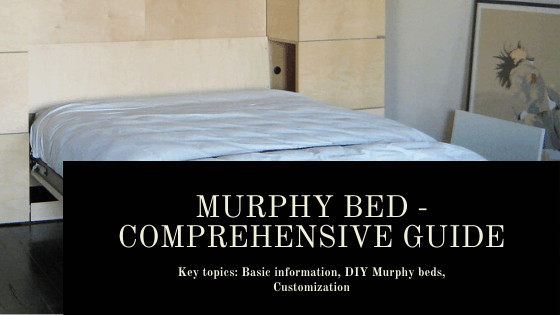 What is a murphy bed?
Murphy beds are also called wall beds, pull down beds, or fold-down beds. They are designed to be vertically stored against the wall or inside a closet/cabinet when not in use. When required for use, murphy beds are lowered and used. Frequently you might have seen murphy beds in hotels as alternatives to the main beds used in bed rooms. Typically murphy bed mattresses are thinner and do not have box springs. Usually they utilize flat tops or have wire meshes to hold up the mattress. Box springs tend to be too heavy and cumbersome to be stowed away easily. Read below to learn a lot more about murphy beds.

Essential Knowledge


Murphy Bed vs Other Beds


Customization Options


Do-It-Yourself (DIY)

What is a Murphy Bed and who is it designed for?
Virtually anyone can use a Murphy bed. However, this kind of wall-mounted bed is especially helpful for people with limited space in their homes. Other space saving alternatives include trundle beds, loft beds, and platform beds.Consider getting a Murphy bed if you live in an apartment, if your room is too small for a regular bed, or if you want to accommodate overnight guests occasionally. These beds are also great for people who want to use their bedroom for another purpose during the daytime, such as an office or den. To see the wide array of possibilities Murphy beds offer, see these examples from Amazon. Also, take a look at our murphy bed guide weight capacity guide to help you find the perfect solution for your needs.
Murphy beds create additional space in a room, and provided that they are well-constructed, they are perfectly comfortable to sleep in. If your normal bed poses a problem in terms of layout and circulation, it might be worth considering a Murphy bed. They are also ideal for small condominium studios where everything lies out in the open. Those rooms will definitely benefit from additional space, and the Murphy bed can provide that a way that is both convenient and visually appealing. Finally, with a Murphy bed you won't have to worry so much about fixing your bedding daily, because the sheets can be easily tucked away with the mattress for instant use the next day.
Will my style of décor work with a Murphy bed?
While their primary purpose is to save space, nowadays Murphy beds can be customized with a variety of stylish features. Many manufacturers now offer wall beds in hundreds of colors and finishes, so you have a lot of control over how you want your Murphy bed to look. From minimalist to industrial, a Murphy bed can blend with essentially any style of décor. See examples of Murphy beds with various design styles on Amazon and homedit.com.
You can also select which kind of wall bed you want, depending on the size limitations of your room. If your room has a low ceiling and limited space, it's best to stick with a bed whose hinges are on the sides. If your room has a high ceiling and ample space, you can choose a bed that folds with its short end up.
You can also incorporate other furniture to complement your Murphy bed. A sofa or a work desk can be placed adjacent to the Murphy bed's cabinet. A thoughtfully-designed wall bed may even integrate such furniture as part of its system. For example, when the bed unfolds, it might lie on top of a sofa or desk so that it will not be necessary to remove the furniture underneath.
Does installing a Murphy bed mean losing room space?
On the contrary, installing a Murphy bed will generally create more space. You might be surprised how effective a wall bed can be in terms of saving space and maximizing the layout of a room.
The many examples provided in this guide show how a room transforms with the magic of the Murphy bed. Laid out, the Murphy bed offers a normal, comfortable mattress that can accommodate occupants of any size. When not needed, the bed can be pulled up and stored away inside the closet. The design of the cabinet even conceals the edges of the cabinet doors, effectively concealing the entire system.
A Murphy bed can also make a tiny apartment room multi-functional. With a well-designed wall bed, occupants can use the room for various other purposes during the daytime. As previously discussed, the room can serve as a living room, an office, or any other function that does not need a bed. A Murphy bed is also useful if you are aiming for a minimalist style in your bedroom; since it stores away your sleeping area, your room will have better circulation space and less visual clutter.
Make sure to take a look at our 15 bookcase bed ideas to add utility to your bedroom for more space-saving ideas too.
Are Murphy beds easy to operate?
Generally speaking, a well-designed Murphy bed can be folded or unfolded with one hand. Most Murphy beds sold on the market are fitted with cabinet door handles near the top, and only have to be pulled down in order to reveal the wall bed. The legs of the bed are usually tucked in at the sides and have to be rotated before fully lowering the bed. With the legs in place, you can set the bed on the ground and use it normally.
When it comes to storing the bed away, the process is basically reversed. The only difference is that before pulling the bed up into the wall, you need to tuck in the bedding and covers of the bed. Once these are tucked away, you only need to raise the bed from its free end, swing the legs into the bed frame, and push it back into the wall.
These Murphy beds offered by Bestar best exemplify such a system. Other models available on the market offer variations, such as a latch to more firmly attach the bed to the wall. A lock may also be added to prevent the bed from being pulled down by mischievous children. The images below provide a visual explanation of the beautiful simplicity of the Murphy bed system.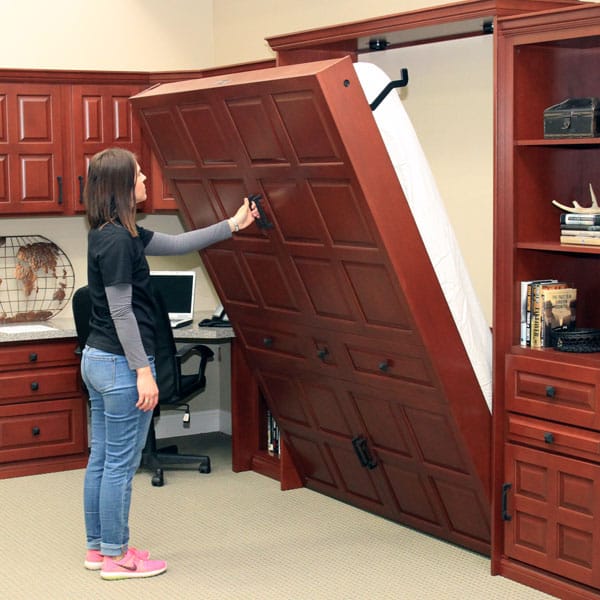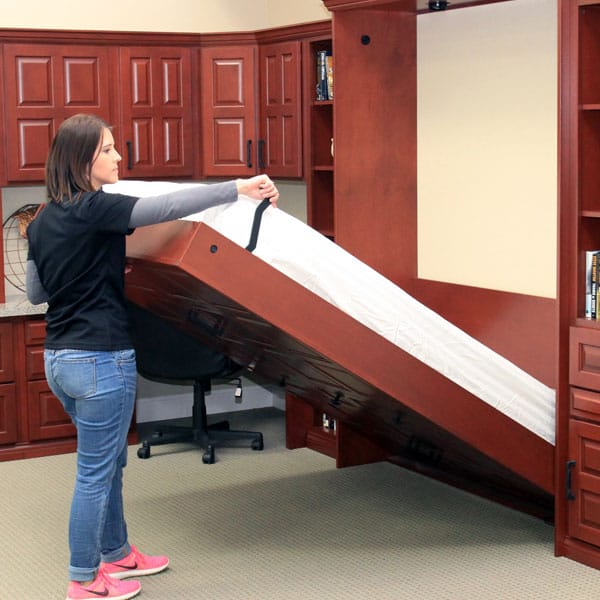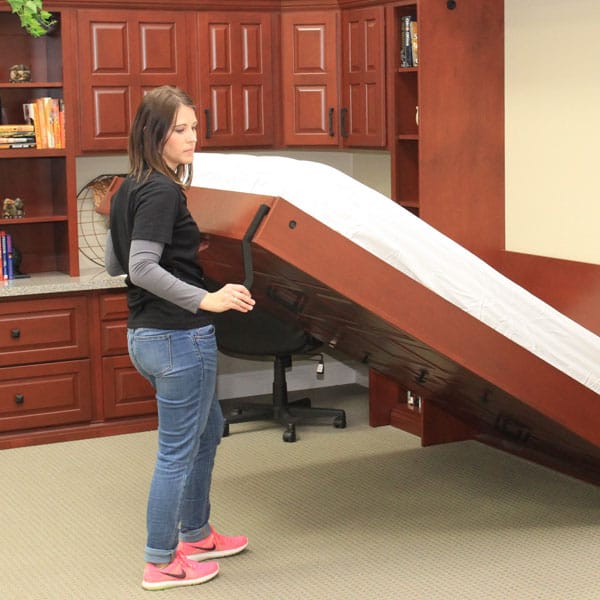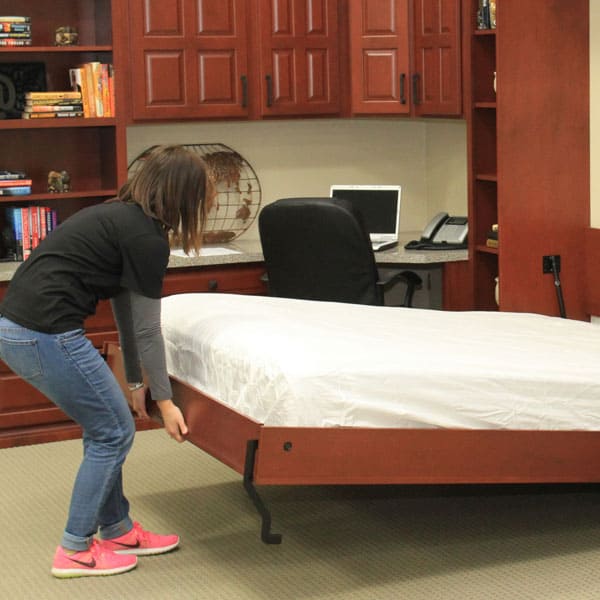 If you have difficulty operating your Murphy bed, this may indicate a problem with the hardware of the system. The pistons acting as hinges of the bed may have detached from their positions. In such cases, you may need to provide new screws on the pistons or replace the hardware so that your bed is fully functional again. When working normally, you should have no trouble operating your Murphy bed or putting it away after use.
Are Murphy beds larger than sofa beds?
Murphy beds come in a variety of sizes, and can therefore be either smaller or larger than the average sofa bed. They even come in customizable sizes. For example, on the market there are wall beds that are available in twin-size (38 x 75 inches), queen-size, and even as cute bunk beds. If you prefer do-it-yourself (DIY) projects, you can also create a Murphy bed according to the dimensions that best suits your space.
For this reason, the general advantage of Murphy beds over sofa beds is customizability. Whereas commercially-available sofa beds usually come in a queen-size, the Murphy bed can come in virtually any size. Your Murphy bed can be built according to the specific measurements of your room, making it a perfect fit into your home.
If you are keen on buying ready-made beds, however, you can still request customizations for the bed; just make sure to coordinate with your manufacturer. Many beds on the market are available in many different sizes, finishes and styles, so it shouldn't be difficult to achieve the look you want. For example, the Bedder Way Co (an online supplier available on Amazon) sells ready-made, queen-size Murphy beds in a variety of different styles and finishes.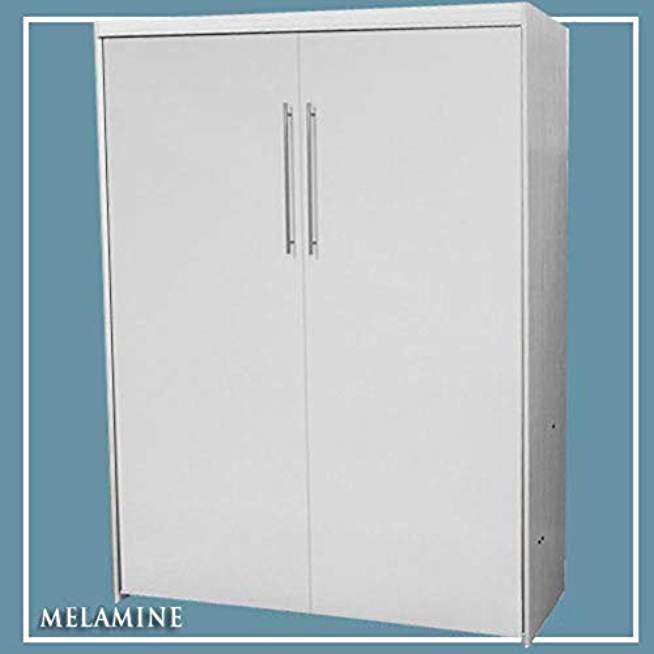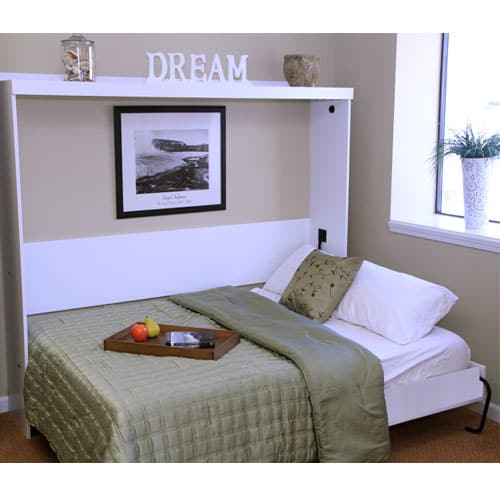 Are Murphy beds more comfortable than sofa beds?
When it comes to convertible beds, sofa beds and Murphy beds often compete head-to-head. Both are well-suited for rooms with limited space, and both are easily converted for multi-functional rooms. Yet when it comes to comfort, Murphy beds are arguably more comfortable than their sofa counterparts, because they can have thicker mattresses and more diverse bedding options. Though sofa beds will always remain a popular option, Murphy beds have won over many users due to their wide variety of design styles and ease of use.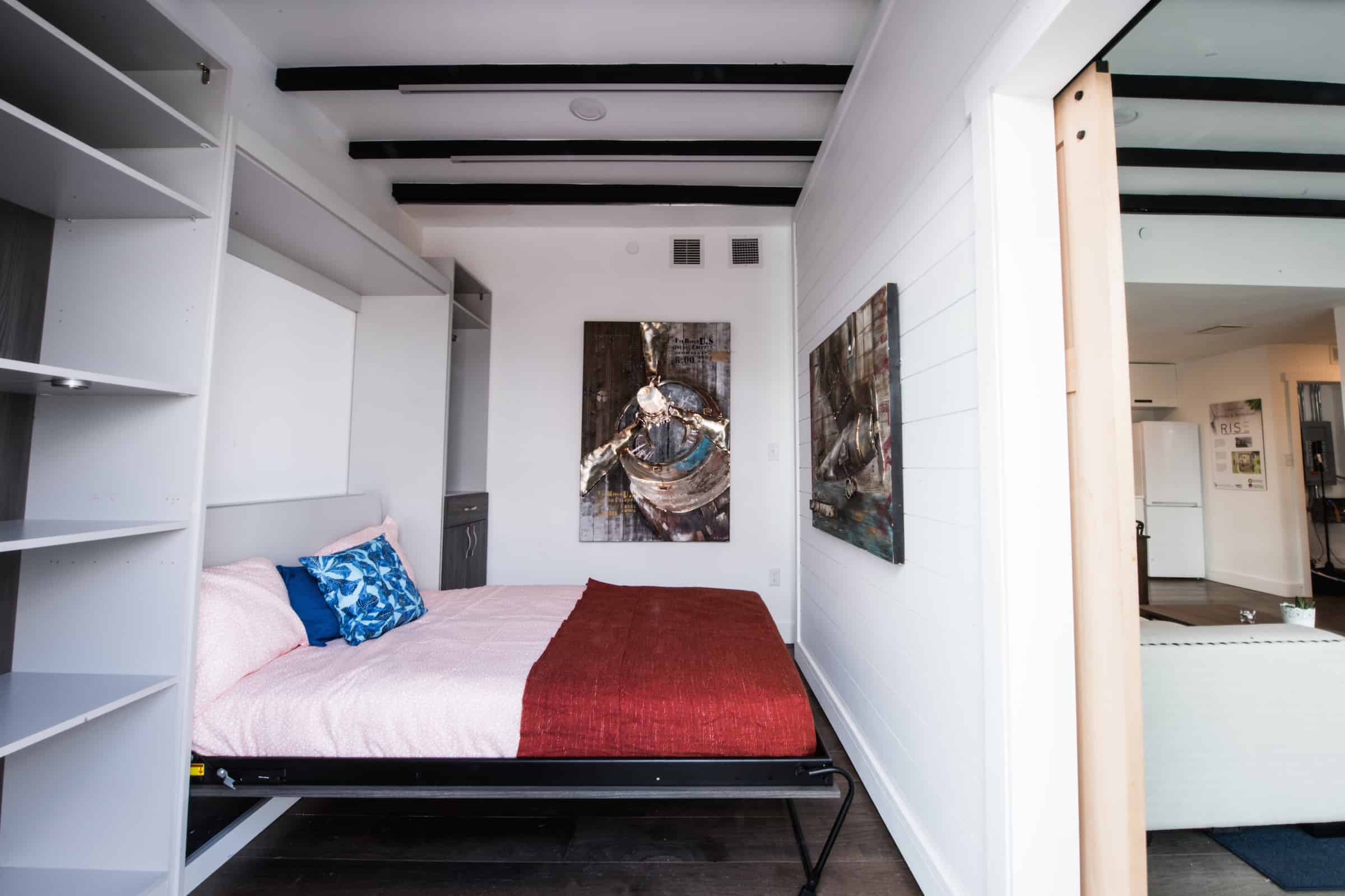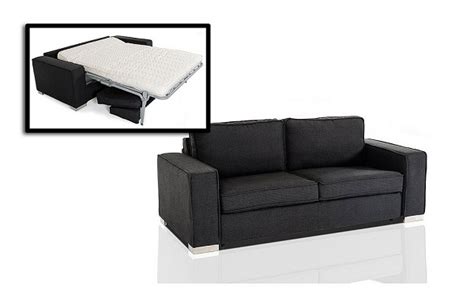 Murphy beds may also be more comfortable because they can accommodate mattresses in many different sizes. These systems can be used with mattresses from 5 inches to 14 inches in thickness, depending on brand models and room space. Sofa beds, on the other hand, usually feature only 4 inch to 5 inch-thick beds because the mattresses would have to fold inside the sofa; any higher, and the sofa would be uncomfortably tall in its sitting position.
It is even possible to fit a queen-size or a full-size bed in a Murphy bed frame, provided that the thickness of the mattress is considered in its design. Additionally, you can retain the bedding and covers of a Murphy bed even in its stored state, unlike a sofa bed that requires its cushions and bedding to be removed. You don't need to prepare the bed again the next time you use a Murphy-style frame. The website of Flying Beds showcase the different ways you can use the Murphy bed.
Murphy Bed vs Regular Queen Bed Comparison
When comparing the Murphy bed to a regular queen-size bed, we must consider various factors to determine which one suits your needs best. In terms of size, a Murphy bed can be customized to match the dimensions of a regular queen-size bed, and ready-made queen-size Murphy beds are already available; so size varieties are similar among both types of beds. For example, this Murphy bed is available in regular queen-size, and looks like a traditional bed when fully laid out.
In terms of mattresses, however, a Murphy bed and regular queen-size bed sometimes differ in requirements. Technically speaking, a Murphy bed can be made to accommodate the standard 8-12 inches height of typical mid-range mattresses. Due to space restrictions, however, many Murphy beds compromise on the thickness of the mattress. Only certain Murphy beds are designed for thicker mattresses. Bed cushions (with a thickness of at least 5 inches) can be used to provide slim storage cabinets. These mattresses are usually made out of foam for this reason, as spring-coil beds require thicker mattresses. On the whole, this might result in reduced comfort. However, for kids, lightweight sleepers, and babies, this compromise isn't likely to pose an issue.
Nevertheless, Murphy beds can generally be made to accommodate mattresses up to 12 inches thick if you desire. This limitation actually helps support the structure of the bed, as sufficient stiffness is required for a Murphy bed mattress to stand upright when in storage. If the mattress inside the cabinet isn't compact enough hold its own weight, the Murphy bed will begin to bulge at the end nearest to the wall over time.
Lastly, considering décor, a Murphy bed don't require you to make the bed everyday, vs. regular beds which do. Queen beds normally require a presentable bed cover, pillows, and shams. Murphy beds, however, are simply stored inside closets when not in use. You don't have to decorate a Murphy bed unless you intend to leave it out for extended periods of time.\
How thick are mattresses for a Murphy bed?
As discussed, Murphy beds can accommodate almost any thickness of mattress, but thickness must be factored in during the construction of the bed frame. The design of the bed should provide extra depth to fit the desired mattress.
If you search on the market today, most complete Murphy beds come with mattresses ranging in thickness from 8 inches to 12 inches. According to choosemattress.com, this range falls under the standard thickness for bed cushions, and is the same mattress thickness that traditional, free-standing beds usually feature.
| | | | |
| --- | --- | --- | --- |
| Type | Thickness | Characteristics | Where to Use? |
| Low Profile | 2-5 | Easy availability | Blow-up air beds, floor mattresses, low beds, folding floor mattresses |
| Thin Mattress | 5-8 | Foam construction, affordable | Children's beds, crib mattresses, beds in minimalist-themed bedrooms, some Murphy Beds |
| Standard Mattress | 8-12 | Available in spring, memory foam, and latex, mid-price range, common height for shipping | Traditional beds, some Murphy Beds |
| Medium-to-thick mattress | 12-20 | More expensive, sometimes of single or dual material | Showroom beds, high-end beds |
| Very Thick mattress | 20 – above | Vintage and luxurious, most expensive, may need customized bed sheets | Country-themed bedrooms, Victorian-style bedrooms, four-posted beds and royal-themed bedrooms |
Figure 6: This table is a summary of the different mattress thicknesses available on the market, and what style of bed they are suited for.
If you are planning to customize your own Murphy bed, you also have the opportunity to deviate from the standard mattress thickness. You can use a thinner mattress (down to 5 inches thick), but more often than not, you'll be compromising comfort to save on space. On the other hand, you can try to use thicker mattresses (up to 14 inches), but be aware that these cushions will require deeper bed cabinets. In addition, Murphy bed mattresses must be well-compacted, as there is a chance they will bulge at the header when in storage position. Thicker mattresses may also not work well with Murphy beds because they will be heavier to lift, and may end up bending over time.
At the end of the day, there is no set rule as to how thick Murphy bed mattresses should be. Just make sure to consider available space, budget, and comfort when choosing the thickness you want for your bed cushions.
Is it possible to put a bed rail on a Murphy bed?
If the Murphy bed is intended to accommodate a child, it is wise to attach a bed rail to the bed frame. Installing a bed rail on a Murphy bed is most easily achieved by requesting customization directly from the manufacturer, but if you prefer, you can build your own.
Side rails, foot rails, head rail and header rails can also be added to a Murphy bed frame. These protective boards are normally made out of cut plywood pieces and screwed to the frame struts. Chip Wade, owner of the Atlanta-based design firm Wade Works Creative LLC, recommends the following sizes of bed rails:
A. Side Rails – 2 pieces of 3/4 x 5-7/8 x 81-1/2
B. Foot Rails – 1 piece of 3/4 x 3 x 62
C. Head Rail – 1 piece of 3/4 x 7-7/8 x 62
D. Header Rails – 2 pieces of 3/4 x 2-3/4 64-3/8
E. Leg Support Rail – 1 piece of 3/4″ x ¾ x 60-1/4
Figure 7: Atlanta-based designer Chip Wade recommends these plywood sizes for those making their own Murphy beds.
While these measurements should keep the mattress well in place, you might have to increase the height of the rails to serve as effective protection for children and the elderly. Another option would be to use detachable bed rails on the sides of the Murphy bed. For the elderly, a sturdy bed rail with hand grip is ideal; one example of this type is the Lumarail. For children, there are the inflatable-type rails that can easily be placed over the mattress, such as this one from Amazon. The inflatable bed rails can also be easily detached and are therefore perfect for temporary use.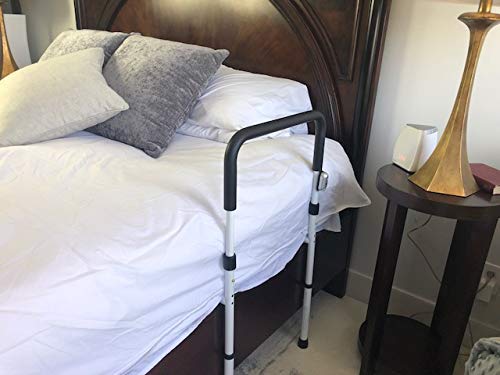 Figure 8: The lumarail is designed to protect the elderly from bed falls.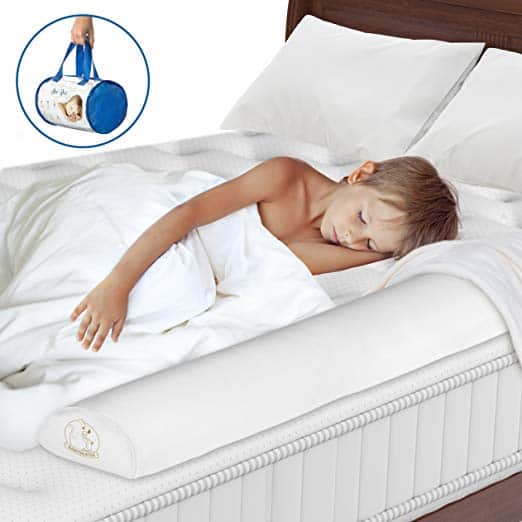 Is it easy to raise or lower the height of a Murphy bed?
Commercially available hardware for Murphy beds make the whole system easy to operate. In fact, a well-designed Murphy bed can be raised or lowered even by the elderly without any problem.
There are a variety of mechanisms for Murphy beds one can choose from. For instance, the spring lift mechanism relies on a pivot that lowers easily when the user pulls out the leg. This is meant to accommodate king-sized beds. The benefit of this system is that the number of springs can be adjusted to accommodate a heavier mattress. This feature allows you to operate the Murphy bed easily, whether you have a thin mattress or a thick one. Also, despite this mobility, the mechanism can be installed with a lock to prevent people from accidentally pulling down the bed.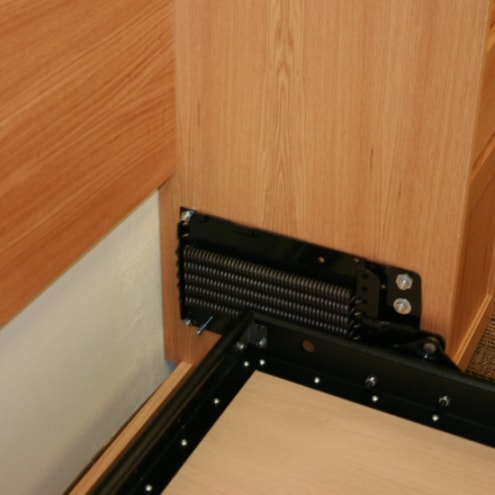 The piston lift mechanism, meanwhile, will lower your bed when both of the legs are lifted up. It can accommodate a wide range of sizes: Twin, Twin XL, Full, Full XL, Queen and Custom sizes (excluding King-sized). The benefit of this system is that it can accommodate more than 4000 lbs. of weight. It also works well with an all-wood bed frame, unlike other mechanisms. This system is available with suppliers such as Bestar beds, which also offer the spring lift type. To see the piston-lift type Murphy bed in operation, check out this video from Bedder Way.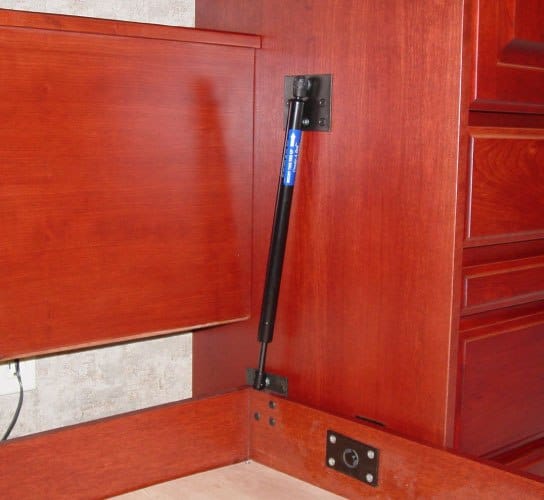 Finally, the hydraulic lift system is equipped with a counter-balance which allows you to raise or lower the Murphy bed with minimal effort. This system appears to hover in air when lowered, but requires slight pressure to pull down and place back up. These features allow the easy operation of the Murphy bed while maintaining safety and security when not in use. For a highly rated example, check out this hydraulic bed.
In summary, these systems vary in operation and limitations, but all types are user-friendly and allow Murphy beds to be operated by virtually anyone.
Can Murphy beds be attached to the floor as well as the wall?
Although Murphy beds are often used interchangeably with wall beds, nowadays it is also possible to anchor them to the floor. You can choose to mount a Murphy bed on the wall or on the floor, depending on several factors.
A wall-mounted Murphy bed is easier to construct, as it only relies on three studs attached to the backing of the bed. It does not damage the wall and the bed can be relocated easily if desired. However, this type of bed does require an advanced understanding of DIY methods. Moreover, since a piston mechanism is often used to fold the Murphy bed in place, these cannot be adjusted for re-use. See this Floor-Saver mechanism from murphybedframe.com for an idea of what a wall-mounted Murphy bed looks like. Cheap and effective wall mounting kits are also available on Amazon.
A floor-mounted Murphy bed, on the other hand, provides better stability. It turns your Murphy bed into a permanent fixture, as it requires direct attachment to the floor. It also usually uses spring mechanisms, which make the operation of the Murphy bed quite easy. These spring mechanisms simply need to be concealed by custom cabinets. However, once fixed on the floor, the Murphy bed is difficult to relocate. One option to counter this is to attach the Murphy bed to a plywood base instead of directly attaching it to the wall or baseboards. To see what a floor-mounted Murphy bed frame looks like, check out this Murphy bed frame kit. You might also consider trundle beds as an alternative. Curious about 'What is a trundle bed?'. Take a look at our guide!
How long does it take to build a Murphy bed?
The time required to build a Murphy bed depends on the type of kit you have, as well as your skill as a craftsman. If you are experienced and comfortable with DIY projects, you can get a DIY Murphy bed which comes with all the necessary hardware for the project. For example, this Queen-size Murphy Bed kit by Create-A-Bed only costs $299.99. A similar system by Rockler Companies is also quite popular with DIY enthusiasts. Similar systems will usually set you back around $300-$500, which makes the DIY option quite affordable. However, building the bed yourself can take a few weeks or even months to build, depending on your working hours and your experience in carpentry, so be aware of possible time constraints.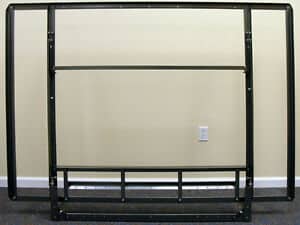 If you want a system that's simple and easy to construct, you might instead consider looking for wall beds that are ready-made. For example, this twin-size Murphy bed on Amazon arrives fully assembled when delivered to you. The price tag of such systems normally ranges from $1,250- $2,500, but the time saved on assembly makes it worth the extra spending. More often than not, it takes only a few hours to assemble ready-made kits. You only need to add wall screws on the item for additional anchorage.
Lastly, there are models available on the market which combine the ease of ready-made Murphy beds with the customization of DIY kits. The image below shows a bed cabinet offered by murphybedframe.com which comes with pre-assembled hardware. Despite being ready-made, its finish can be tailored to suit your preference. You also get to choose the knobs for the cabinet, as well as the mattress of your choice.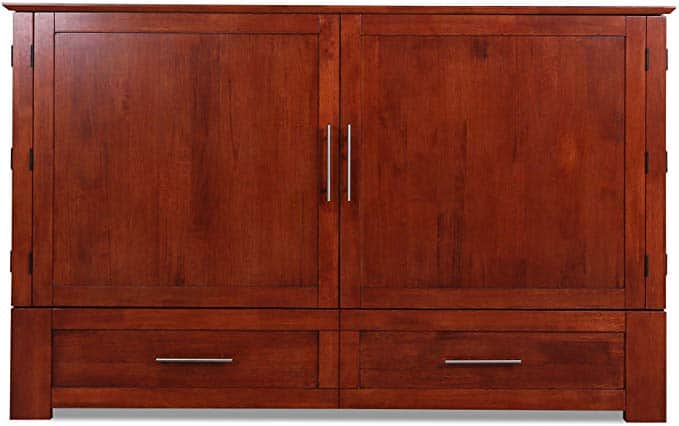 What materials are Murphy beds made out of?
The next step after knowing ' what is a murphy bed ', it's also important to know what murphy beds are made out of….Great question!
Murphy beds are most often made out of plywood and metal operating hardware, but you can choose from a variety of materials to ensure your bed's durability and aesthetics. As an example, the Murphy beds offered by bredabeds.com are made of 3/4 particle boards with industrial cores. This material is superior to its commercial counterparts in terms of density, elasticity and resistance to rupture. This particular company also combines it with a melamine coating to increase protection against scratches and abrasion. Due to their unique construction and the cost of installation, murphy beds are expensive.
If you are into DIY, you can substitute various materials to make your Murphy bed easier on the budget or better in quality. A smart move would be to repurpose old cabinets and fit them with a movable bed frame. Another idea is to create a simple wall bed by using medium-density fiberboard, brad nails, wood fillers, traditional hinges, and magnetic clasps. A system of this kind can be found on the website ana-white.com and only costs about $150. If you have the time and energy to make your own Murphy bed, the sky's the limit when it comes to choosing your materials and hardware.
Can Murphy beds be built as bunk beds?
If you are planning to build a Murphy bed in the bunk bed style, you will also need to build a ladder to provide access to the top bunk. The ladder can be either a detachable accessory or an operable fixture that is securely fastened on the side of the top bed.
You can also choose to fabricate a metal ladder that simply hooks on the top bunk's frame when needed. This ladder can be removed when the top bunk is not used. A third choice would be to install a permanent ladder on the bed's side, although this is the least flexible option. As you can see in this example from diynetwork.com, some people use a separate hinge to operate the ladder. When the beds are unfolded, the ladder also swings in vertical position and touches the ground to support its weight. The advantage of this system is that there is no chance that the ladder will be misplaced, which will render the top bunk useless (or at least very difficult to access).
In addition to the ladder, it is imperative that you add railing on the side of the top bunk to ensure the safety of the occupant. The ladder should not be anchored to the railing, and should instead be fixed on the bed's side frame. Finally, the railing should not obstruct access to the ladder.
Can a Murphy bed be set higher off the ground than a normal bed?
If you plan to build your own Murphy bed, it is possible to make the bed higher off the ground than regular beds. This kind of customization is better with horizontally-oriented wall beds, as the vertical ones would require an extremely high ceiling clearance.
To be able to pull this off, install the bed's hinges at your preferred level of clearance from the ground. The legs of the bed should be the same length as this clearance, and should also be thick enough to withstand the added pressure. Even when raised, they can still be fixed on the short end of the bed like the traditional wall bed.
By raising your Murphy bed, you have the option of inserting a desk, an entertainment center, or a sofa in front of the bed storage. As an example, take a look at this murphy bed-desk combination which shows how a high mattress level can accommodate a desk counter when the bed is not in use.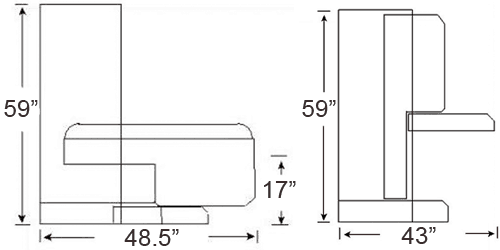 If you would rather buy a pre-assembled hardware system than build your own, consider this unit which also doubles as a cabinet. It looks great and is high off the ground.
We hope that you now know 'what is a murphy bed' and also have a ton of knowledge about other related topics such as:
How to make a murphy bed
How to operate a murphy bed
Are murphy beds comfortable
Comparisons between murphy beds and sofa beds (or regular beds)
Murphy bed mattress thickness
& more
Let us know if you have any questions or comments by providing your feedback below or emailing us!
Related Articles: