Do you need a box spring? With a Platform bed? In-Depth Guide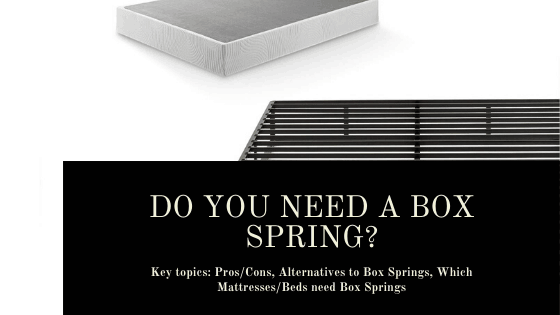 After reading this article you will be able to answer the questions 'Do you need a box spring?' and 'can you use a box spring with a platform bed?'. Key topics that we discuss include:
What is a box spring?
What are the pros and cons of box springs?
What are alternatives to box springs?
What kinds of mattresses need a box spring?
What kinds of beds need a box spring?
Will my mattress warranty be void without a box spring?
Related topics:
What is a box spring?
While a mattress provides support to the human body, a box spring is a type of bed foundation, which ensures that the mattress itself is properly supported. It consists of a solidly built wooden or metal frame (here's an example) that is covered with a textile fabric that functions as a dust-barrier. The inside of the box spring contains a system of springs or metal rods that functions as a mattress support system. The box spring usually sits on top of a wooden or metal bed frame. 
There are two types of box springs. They differ in height but provide a similar amount of support to a mattress. Standard box springs typically measure 9 inches in height. However, since newly manufactured mattresses are thicker, low profile box springs are made thinner between 5 and 5.5 inches so that the mattress and box spring together maintain a standard height. 
What are the pros and cons of box springs?
Box springs are created to make your bed more comfortable to lie down on. However, not everyone opts for box spring beds. There are many different advantages of having a box spring underneath your mattress. 
First, a box spring elevates the height of the mattress, which makes it easier to get in and out of bed without much effort. Curious about how to choose the right box spring height? 
Second, it prevents the mattress from sagging. Without a proper foundation, your mattress will sink and become uncomfortable. Also, the box spring provides great stability to the mattress and keeps it in place so that it doesn't move around. 
Additionally, a box spring distributes a person's weight and acts as a shock absorber which helps extend the life of your mattress and hence your warranty. With a good box spring, even kids can jump on the bed without causing much wear. Finally, a box spring fits a traditional style room's decor. Take a look at our favorite box springs here. 
Box springs also have several disadvantages. 
Given the fact that your mattress will be completely leveled with the box spring when placed on top of it, there will be very little air circulation between the mattress and the box spring. Heat may also be trapped inside of the mattress, causing sleep discomfort and health concerns especially in moist environments. Mold tends to grow in humid areas that aren't well circulated.
Box springs offer little to no space for storage under the bed. There are only few box spring beds that feature storage drawers but they are more expensive. 
Box springs cost extra money. If you are purchasing a bed that requires a box spring, you will have to pay for both the box spring and the bed frame separately. 
The box spring's fabric cover naturally gathers dust and dirt and is difficult to clean especially when you have a heavy mattress to lift off the box spring. However, some newly manufactured box springs come with a washable cover that can be easily taken off.
Related topic: How to cover a box spring
Box springs need to be flipped once in a while to avoid sagging because they lose support over time and have a reduced longevity compared to other bed foundations. They can normally last around ten years before needing to be replaced. 
| | |
| --- | --- |
| Pros of having a box spring | Cons of having a box spring |
| Elevates the height of the mattress | Offers minimal airflow for the mattress |
| Prevents early mattress sagging | Offers no space for storage |
| Provides more support to your mattress | Costs extra money |
| Resists your body weight well | Fabric covers are difficult to keep clean |
| Is more traditional for those who like this style | Loses support over time and needs to be replaced |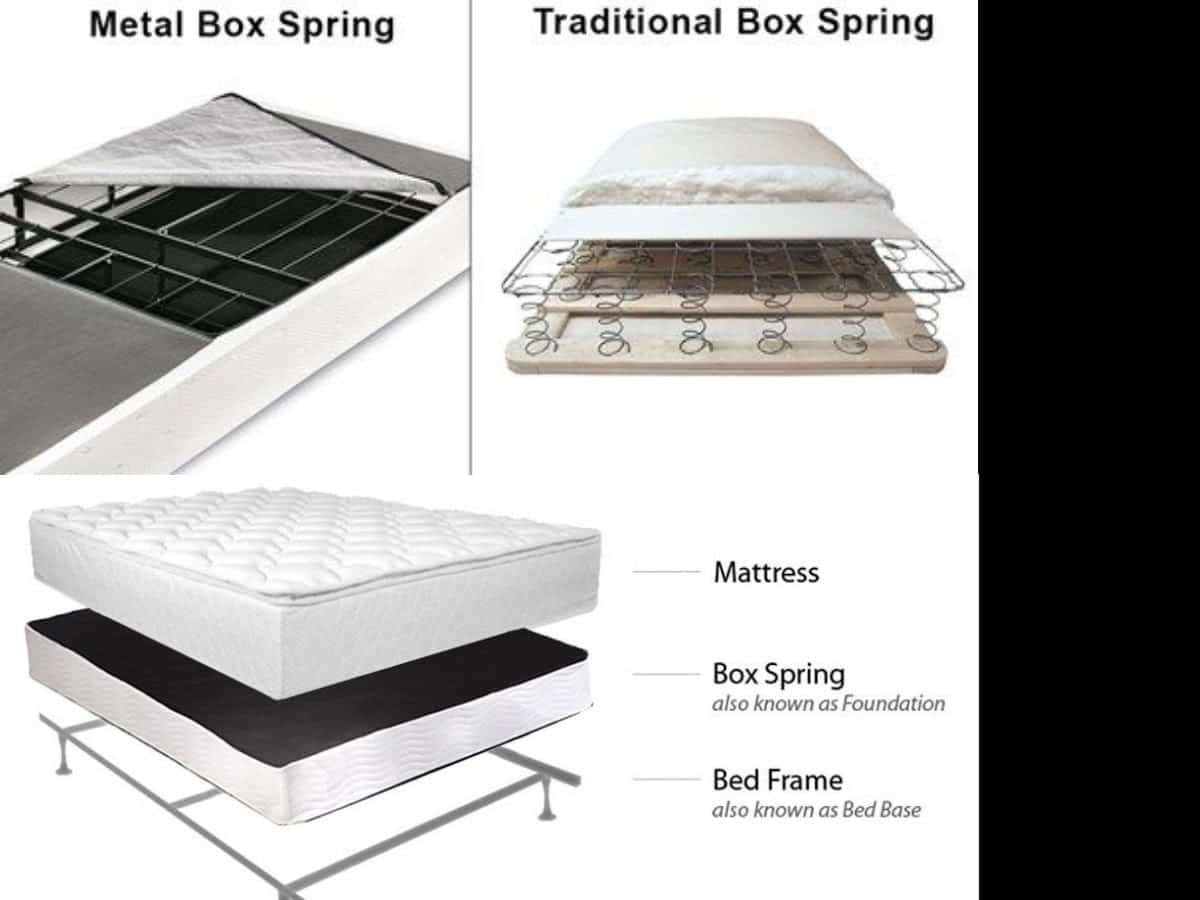 Do you need a Box Spring? What are alternatives to Box Springs?
Box springs are not the only option that offers support to your mattress. Some of the alternatives to box springs are: Platform beds, bed slats, adjustable beds and no-foundation underneath your mattress. Let's shed some light on those different types of foundations and take a look at their advantages and disadvantages compared to those of a box spring. 
Box Spring Alternative 1: Platform Bed
Platform beds are made of a wooden frame with wooden slats on top. They may also be made of a metal frame with steel slats, all of which provide a sturdy foundation for the mattress. Platform beds come in a variety of styles to give your bedroom a modern look in contrast to box springs (which are more traditional). Here's a 30 page guide to platform beds that we've written.
Regular platform beds are generally affordable. Most of these beds have storage options like drawers under the bed in contrast to box springs that have no space for storage. Additionally, platform beds offer better ventilation for the mattress and thus save the mattress from trapped moisture. Here's a great platform bed with storage built-in.
Platform beds are at a lower height from the ground than box spring beds, which makes it inconvenient for people with physical conditions (such as knee or back problems) to get up or get into bed. Wood platform beds can decay and break over time and may not withstand heavyweight sleepers. On the other hand, metal platform beds are more durable because they don't bend or wear over time, and they can withstand weight. Our favorite platform beds are linked here.  
Box Spring Alternative 2: Slats
Slats can be made from different types of material, but the most common are wood. They are easily laid over a bed frame, providing support and firmness to the mattress. 
Slats promote more breathability under the mattress than box springs because they are not covered. They also cost less than a box spring. This set of slats is only $70 currently and has great reviews. 
They are generally durable, but are prone to break under heavy weights. They are also thinner, so they may not be a good option for people who prefer adding height to their mattress. 
You may also be interested in bunkie boards, which are another alternative similar to slats. Here are our favorite bunkie boards.
Box Spring Alternative 3: Adjustable beds
Adjustable beds are electrically powered bases which adjust the shape and position of your mattress to whatever suits your needs such as sleeping, reading, or watching TV in bed. 
They may also offer health benefits to patients with bad blood circulation and breathing problems. Adjustable beds elevate the individual's legs or head depending on his/her condition by lifting the head-part or bottom of the mattress electronically. 
They are durable and can last for years but they require maintenance, which makes them more expensive than other bed foundations (although, this adjustable bed is pretty cheap!). They also allow you to bring the bed to a comfortable height, making it easier to enter and exit the bed. Older people who use an electric adjustable bed may feel mentally better knowing that they are able to control the position of their bed independently. 
Box Spring Alternative 4: No foundation under the bed
All you need to support the mattress is a steady flat base. Having nothing underneath the mattress can therefore be a valid alternative if you don't need a bed frame. Obviously, placing a mattress on the floor without any bed base will cost you much less because you are only paying for the mattress. It also helps cold air circulate across the surface of the mattress, allowing you to stay cool while having a restful sleep. However, sleeping low to the ground puts you at risk of exposure to dirt, dust, molds and infestations due to the lack of ventilation beneath the mattress. 
| | | |
| --- | --- | --- |
| Box Spring Alternative | Pros compared to Box Springs | Cons compared to Box Springs |
| Platform beds | Offer more storage options. Offer a variety of styles. Offer better air circulation. Ideal for memory foam mattresses | Not practical for people with certain disabilities due to its lower height. Difficult to move around once installed |
| Slats | Installed easily. Lighter and more durable. Cost less. Provide more airflow into the mattress | Can break under heavy weights. Thin, doesn't add height  |
| Adjustable beds  | Easy to use. Provides a better sleep experience for people with health issues who need to sleep in a specific position. Improve health for the elderly (better circulation) | Costs more Requires more maintenance |
| No foundation/Nothing underneath the mattress (the floor) | Cheapest alternative. Keeps you cool when sleeping. Promotes better body posture | More exposure to dust and dirt. More exposure to mold and insects |
What kinds of mattresses need box springs?
As mentioned above, a bed foundation is important to protect a mattress. The type of foundation that you need to select depends on several factors, among which the most important is your mattress type. Refer to the image below to differentiate between three different types of mattresses. The best foundation for each type of mattresses is described in the table below.
Generally, double-sided innerspring mattresses that can be flipped require box springs, and so do mattresses whose warranty requires you to exclusively use a box spring. This is because innerspring mattresses contain steel coils inside, which form the core of the bed and these coils work in tandem with the springs in box springs to absorb the weight of the sleeper and to prevent the mattress from sagging. Innerspring mattresses also tend to be cheaper, for example this highly rated one is only ~$70. 
Memory foam mattresses are dense, supportive, and heavy. They are composed of many layers of high-density foam so they usually take the shape of the sleeper's body and retain body heat. For this reason, memory foam mattresses need to breathe in order to prevent moisture from remaining trapped inside. 
The best foundations for memory foam mattresses are platform or slatted foundations, not box springs, because they are made of wooden slats placed close together. These slats allow better air circulation and better weight distribution. Box springs are not recommended for memory foam mattresses because the springs tend to compress when pressure is placed on them. This makes it cumbersome when changing sleeping positions. Take a look at our favorite memory foam mattresses here. 
Latex mattresses are known for elasticity and durability. Latex is dense and heavy just like a memory foam mattress. So, it also requires a sturdy solid surface underneath to support the weight of the mattress and the sleeper. Generally, latex mattresses are best used with slatted wood foundations or with metal wire grid foundations that have very small gaps between the slats or the grids, not with box springs. If you plan on buying a slatted base, this latex mattress will provide you excellent value for money. 
| | | |
| --- | --- | --- |
| Mattress Type | Does it need a box spring? | Ideally used with? |
| Innerspring mattress (double-sided and flipped) | Yes | Box springs |
| Memory foam mattress | No | Platform or slatted foundations |
| Latex mattress | No | Wooden slatted foundations or Metal wire grid foundations |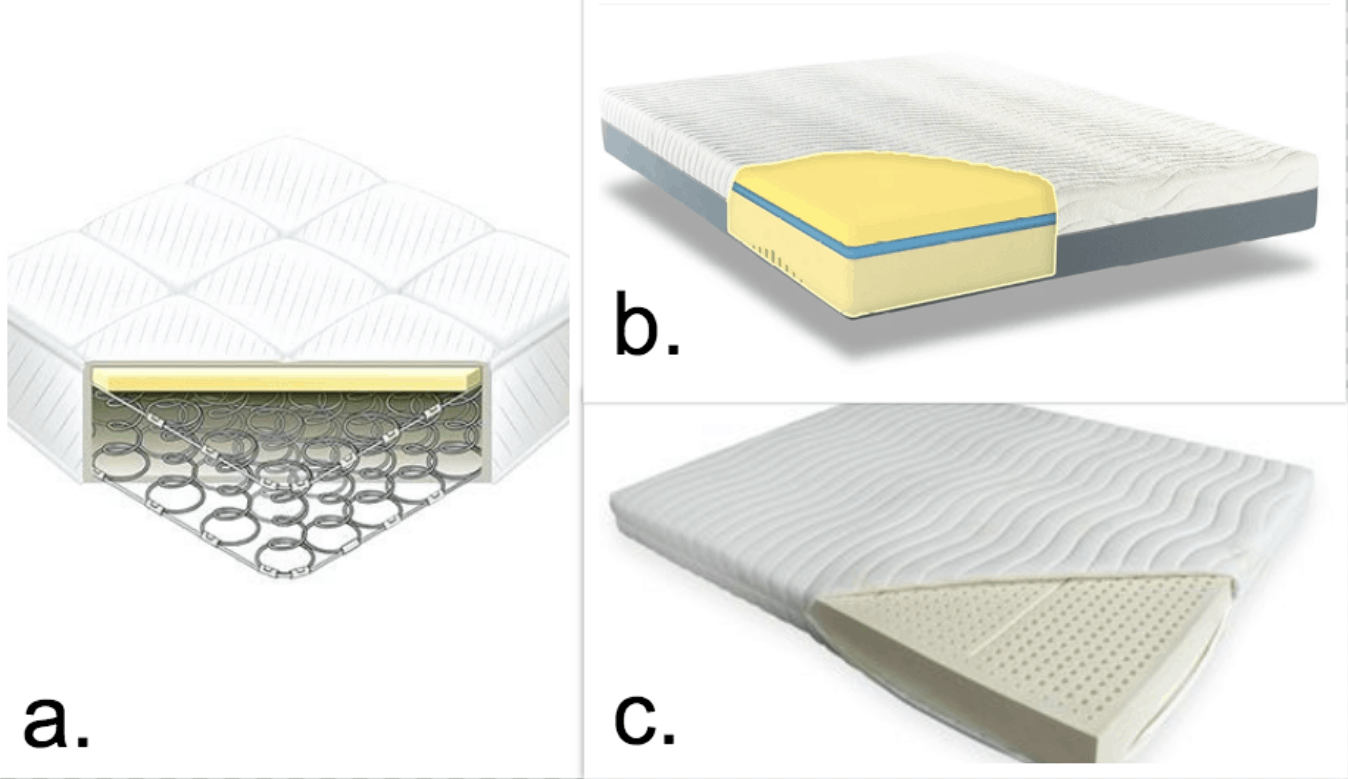 What kinds of beds need a box spring? Can you use a box spring with a platform bed?
Bed designs have markedly evolved over the years. The only bed frame that requires a box spring are collapsible metal frames that have no support for the mattress other than the outer edges of the frame (see image below). The box spring in that case keeps your mattress off the floor, supports it properly, and protects it from sagging. This metal frame, for example, specifies that it should be used with a box spring and consequently it only costs ~$40.
Other kinds of beds, like platform frames made of solid wood, do not need a box spring because they form a sturdy and stable base for your mattress and therefore act exactly the same as a box spring. 
Platform frames made of slats also provide sufficient support for your mattress without the need for a box spring, as long as the slats lie close enough together. 
Beds with metal frames that have mattress supports (such as this 'smart base') do not require a box spring. They ensure that the weight of the mattress is evenly distributed so they protect the mattress from sagging.
Adjustable beds (check image below) are made to shift the mattress position and height to meet with the sleeper's needs. The adjustable base itself provides all the support needed and it doesn't make sense to use a box spring in this case. A box spring would negatively affect the functionality of the bed. 
| | |
| --- | --- |
| Bed Type | Does it need a box spring? |
| Beds with collapsible metal frames | Yes |
| Platform frames made of solid wood | No |
| Platform frames made of wooden slats | No |
| Beds with metal frames | No |
| Adjustable beds | No |

Will my mattress warranty be void without a box spring?
We understand why it is essential to protect and keep mattresses in a good state so that they can last a long time. They're expensive! 
While poor manufacturing can lead to some damage over time (via wear and tear) due to missing stitches, spring popping out, tearing edges, and size inconsistencies, the most common problem is mattress sagging. 
Generally, the mattress warranty covers physical defects in a product and guarantees that this product will be repaired or replaced at no added cost to the buyer. Users tend to use a warranty early on when they buy their mattress.  
However, most manufacturers expect the user to have a proper foundation to support the mattress and prevent mattress sagging. We recommend that you read your mattress' warranty closely to determine what pre-requisites the manufacturer has in order to properly guarantee the mattress (product).
Conclusion
We hope that you enjoyed this article about the uses of box springs, their pros and cons, and the ideal mattresses and beds that are used with box springs. Armed with this information, we hope that this article has answered your original question 'do you need a box spring?' 
If you currently use a bunkie board and are considering using a box spring as a replacement, consider our article on how to fix a squeaky bunkie board to try and fix it first.
Disclosures
This website is a participant in the Amazon Services LLC Associates Program, an affiliate advertising program designed to provide a means for us to earn fees by linking to Amazon.com and affiliated sites.