For all those scoliosis sufferers, we've good news for you. Now you can sleep peacefully using the mattress specifically designed for scoliosis patients (also check 10 great mattresses).
These mattresses are a perfect combination of science and technology, which helps your backbone curves adapt well to the mattress, giving ultimate support to scoliosis patients. There is no more sagging or dipping inside the mattresses because the mattress contours are designed to adapt well to the curves of the spine and the entire body.
To help you get sorted, we have listed the best mattresses for back pain sufferers.
Best Mattresses for Scoliosis Reviewed
10 great mattresses if you suffer from a scoliosis
GhostBed Flex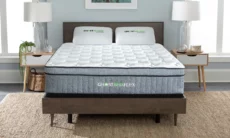 - Luxury hybrid mattress
- Cooling air-flow technology
- Reinforced edge support
Luxury best memory foam mattress
The Ghost Bed Flex Best Luxury Hybrid Mattress is one of the best hybrid mattresses for patients with scoliosis. What you will love about this Ghostbed flex mattress is that it comes in sizes for adults and children and features seven different layers of hybrid comfort for sleepers.
It features a perfect blend of supportive coils and memory foam, making it the ultimate choice. Moreover, it features a plush quilted cover with ideal airflow technology, which keeps you cool throughout the night.
Not only this, but it also features reinforced support, which prevents the individual from slipping from the sides. The luxury design of this mattress controls and hugs the entire body, offering solid support from head to toe without suffering from any pain due to scoliosis.
It comes with a cooling cover that is supple, soft, and soothing for your body. This mattress has spirited support, which provides a strong foundation for contouring the entire body.
Those who prefer ultra-relaxing mattresses and are back, stomach, or combination sleepers should definitely choose this best mattress.
On a scale of 10, the mattress's comfort level is around 6 to 7 (check the top-rated hotel mattresses). It comes at seven different levels of comfort for different sleeping styles, contouring your neck, shoulders, and hips and relieving all the pressure points.
The first layer includes a cooler quilted cover, which is perfect for touch. Next is a cooling fiber which is 1 inch deep for cooling airflow. After the cooling fiber layer, there is a gel memory foam layer, which is luxurious and gives you a ghost-hug feeling. Next comes 1 inch of gel memory foam, which releases all the pains and aches, offering perfect alignment to your body. Then is the bounce layer, exclusive and non-allergic, contouring your body.
In a nutshell Overall, it is a perfect combination of sturdy support with a soft and supportive mattress, allowing you to sleep without any sagging throughout the night.
Leesa Original Mattress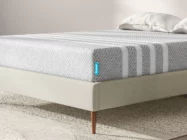 - Soft and breathable
- Memory foam
- Comfort and support
All-sleepers mattress for scoliosis patients
The Leesa original mattress is one of the best memory foam mattresses and is a favorite choice for all sleepers. This mattress has features like pressure-relieving ultimate support, contouring for the body, and cooling technology.
Those looking for scoliosis relief with a perfect hug filled with the mattress should opt for the Leesa original mattress.
What you will love about this original mattress is that it features a gray twill cover, which is beautifully breathable and soft. It features the perfect signature striped design.
Moreover, it is Greenguard Gold Certified, which comes with low volatile organic compounds. It is a 100-night mattress trial, making it the perfect choice for all individuals suffering from back pain.
The exclusive layer on top with a breathable cover is perfect for sleepers who like to sleep cool. Apart from that, a core support layer keeps you supported and comfortable throughout the night.
The top layer is made with breathable foam, perfect for cool sleepers. The premium core support in this mattress makes the base layer durable and highly supportive for all sleep positions and body types.
It is available in different sizes ranging from twin, twin XL, queen, full king, and Calking.
In a nutshell Overall, it is a perfect, durable mattress designed with premium memory foam layers that offer support and comfort to the overall body!
Sweetnight Dreamy S1 Mattress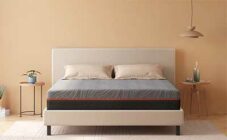 - Three Firmness Levels
- Affordable
- Perfect for every bed frames
Pressure-relieving mattress supporting the backbone
This gel-foam mattress comes with three different firmness levels. The comfort curve design featured in this mattress offers the perfect soft feel from head to toe, with the medium firmness over the tail supporting the backbone for people who have scoliosis. It is the perfect choice for people suffering from shoulder and back issues.
The pressure-relieving point and the targeted support with cushioning keep you comfortable and lifted throughout the night, improving the entire night's sleep. It is the perfect choice for people who love sleeping cool because it helps regulate body temperature, offering a comfortable sleep throughout the night.
The partner's tossing and turning sounds are controlled with the Dreamy S1 mattress, isolating your movement, and providing undisturbed sleep to all users
Moreover, you can choose the Dreamy mattress base, comforter, and so on, pairing it well with your mattress.
The best thing about this matter is that it comes with a 100-night trial and a 10-year warranty for users. This Sweetnight mattress is manufactured using eco-friendly, safe, certified materials. It is an overall CertiPUR-US certification. It is available in different sizes ranging from twin, twin xl, king, queen, and full. 
In a nutshell Overall, The Dreamy S1 offers the ultimate sleeping experience with its scientifically designed mattress. Rest your body and mind with the foam-based mattress, which improves the mental and physical well-being of an individual. Maximize your sleeping experience with the dreamy S1 gel-coated mattress.
Layla memory foam mattress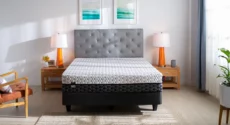 - Copper gel in the foam
- Antimicrobial
- Rapid cooling
Copper-infused, antimicrobial Layla gel memory foam
Layla memory foam mattress features copper technology, making it a perfect choice for people who need support during sleep. It reacts well to the high pressure with foam that keeps you soft and huggable with proper control over your pressure-relieving point.
It is perfect for people who need support with deep compressive areas. Moreover, you can add bedding-like bamboo sheets or a base like that from the bed and mattress foundation, which keeps you comfortable throughout the day.
Sleep cool with the gel memory foam, which is a superconductive material that carries away all body heat. This conventional memory foam is antimicrobial, which keeps you odor-free throughout the day.
The motion isolation technology featured in this mattress also makes it a perfect choice for scoliosis patients. As soon as you turn and toss, you won't disturb your partner, which means you'll indulge in a perfect night's sleep.
In a nutshell This mattress's dual option allows you to sleep on either firm or soft side, depending on your preferences. The soft
mattress is chosen by side sleepers
who love hugging with comfortable support over the pressure points. The firm
mattress side
is chosen by those who love higher support with less dipping, including stomach and back sleepers. 
Serta Perfect Sleeper Mattress-In-A-Box

- Memory foam
- Pressure-relieving comfort
- High-quality mattress
High-quality, premium, pressure-relieving mattress
The Perfect Sleeper mattress comes with pressure-relieving gel memory foam, which offers a perfect cushioning effect for the scoliosis patient.
Get this mattress delivered in a hassle-free manner in a small carton. You can choose from a range of hybrid mattresses or gel foam mattresses.
This mattress is a perfect blend of convenience and comfort, delivering pressure-relieving and relaxing comfort at your doorstep. The maximum comfort and the minimal setup with this Perfect Sleeper mattress make this mattress a perfect choice for all users.
The comfort level of this mattress is medium and comes with a 10-inch mattress height. The different layers in this mattress include gel memory foam, cradle gel foam, and Serta foam core.
Exclusive gel memory foam in the mattress comes with a unique geometrical cutout that delivers controlled pressure and coolness while relieving the pressure points during sleep (also check 10 amazing mattress toppers for pressure points). The cradle gel-infused foam in the mattress offers all-around cushioning and cooling comfort with the ultimate support for the users.
Lastly, the Serta foam core offers durable support, allowing all sleepers to enjoy different sleeping positions. 
In a nutshell The Serta memory foam mattress for scoliosis is all about exceptional comfort for all sleeping positions. They are committed to offering ultimate comfort to all sleeper types.
Naturalform Euro Mattress

- Naturally breathable
- Firmness controls
- Euro top design
Best luxurious mattress for all scoliosis patients
Next on our list is the Euro mattress by Natural Form. It is one of the most luxurious mattresses for scoliosis patients. It comes with 80 pressure-free different air zones with a plush design that enhances the pressure relief.
This mattress comes with a 100-night trial, a 10-year warranty, and free shipping. It allows you to stay comfortable for as many years as possible.
It is available in different sizes ranging from twin, twin XL, queen, king, calking, split king, and split cal king. You can pair it easily with the Egyptian cotton sheets that go well with this mattress offered by this brand.
Reimagine sleeping comfortably and healthy with this mattress that features patented pressure technology that will leave your shoulders, head, and toes feeling relaxed. It is a luxurious mattress with the perfect combination of cushioning, comfort, and support.
You will sleep well with the spinal support that helps you sleep in the natural position. This mattress also relieves joint and back pain with its natural materials. The best thing about this matter is that chiropractors approve it all around the US because of the patented technology featured in the mattress.
This mattress comes with a Merino Wool cover that keeps you warm throughout the cold weather. It comes in the comfort layer of plushness and ergonomic support with pressure-free technology. This mattress supports your lower back, waist, hips, and shoulders.
The top layer comes with a luxurious natural wool cover that wicks away all the moisture, keeping you cool during summers and warm during winters. The comfort layer in this mattress comes in the luxe hybrid foam so that your body keeps your temperature regulated compared to other memory foams on the market.
You get additional support with this mattress with extra padding, making you feel comfortable and luxurious. 
In a nutshell For those with back pain who require extra padding, this euro mattress comes with an additional inch of foam for a luxury feel and comfort. Control the mattress firmness levels with comfortable control dials, offering flexibility according to lifestyle changes.
Puffy Mattress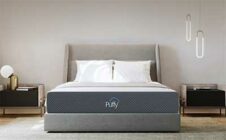 - Best selling USA
- All Sleep position
- Hotel comfort
Best puffy mattress with a 101-night sleep trial
It features a 5-layer innovative sleep technology that delivers the perfect cooling balance between support and comfort without any sagging experience.
Furthermore, it features advanced motion isolation technology with temperature regulation, providing users with a restful night's sleep.
Puffy mattress is hypoallergenic and is designed to protect the mattress in such a way that it prevents dust, dust mites, and allergies from irritating the sleepers. 
It comes with a cover with temperature regulating cooling gel that keeps you cool throughout the night, absorbing all the heat and offering comfortable, consistent sleep all night.
Enjoy perfect sleep with the high-density innovative foam that contours and adapts well to the body. It is structured in such a way that it prevents any back body pains during sleep. Lastly, it comes with a stain-resistant, unique cover, making it easy to fall asleep. 
Puffy mattresses pair well with comforters and mattress toppers, making you sleep at the perfect height. What you will love about this Puffy mattress is that it comes with a 101-night sleep trial and a lifetime warranty.
You can easily pair them with all bed frame types from brands like Amerisleep, Naturepedic, Layla, etc. It is designed to fit well on all frame types or surfaces having flat frames, box springs, adjustable frames, or slats.
In a nutshell You will fall in love with this mattress because it comes with motion isolation technology, ensuring you can sleep well throughout the night without tossing and turning to interrupt your partner. Keep yourself cool and supple throughout the night with this puffy mattress.
Helix Midnight Luxe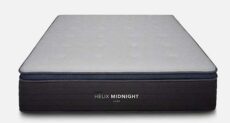 - Great for side sleepers (and others)
- Good option for heavy people and couples
- Hotel standard
Luxury mattress for side sleepers.
The Helix luxe mattress has a high-quality pillow top that gives extra comfort. This mattress is a great choice for side sleepers (also check the top-rated mattress toppers for side sleepers) and for those who turn at night during sleeping. It also prevents the mattress from dust and dust mites.
The Glacio Tex cooling cover will keep you cool and calm throughout the night. It is breathable and keeps the heat away from you. Hot sleepers can also choose this mattress for a comfortable night's sleep.
It features zoning technology that will provide excellent support to your hips and spine. The upper mattress layer is soft, reducing pain in your body while keeping your spine aligned.
This Luxe mattress is made of pure memory foam that elevates your body to relieve pressure from pressure points. It will create a good sleeping area for the sleepers.
You can make your sleep more comfortable by using good quality pillows. It will help to reduce pain in the shoulders and neck. Apart from that, if you want to protect your mattress from damage, then you can use a mattress topper.
With its medium-firm feel, this mattress is a superb choice for most adjustable bases. It will add more stability and comfort level. If couples are sharing this mattress, then they do not disturb one another movements.
The Helix mattress comes with a 100-night sleep trial. The manufacturer also gives 15 years warranty for your peace of mind.
The mattress material has no harmful effect on your body. The hypoallergic cover will help to decrease the allergy triggers. It will give you a luxury sleep by keeping you clean and relaxed.
This mattress contains supportive coils that ensure better edge support and contouring. It also avoids slipping and sliding on the bed while you are sleeping. All the layers of this mattress respond differently to body weight, which allows you to go down deeper in the mattress.
Helix Luxe mattress does not make noise while sleeping and gives a much softer sleeping experience.
In a nutshell It comes in medium firm-level and works better with adjustable bases. Helix Luxe mattress gives extra to your spine and body. It is durable and last for the long term without any damage.
Plushbeds Cool Bliss Luxury Mattress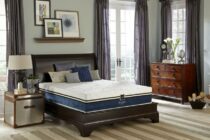 - Gel memory foam
- 5 plush comfort layers
- Optimal cooling comfort
High-quality memory foam is great for all types of sleepers.

The cool bliss mattress features five plush comfort layers that provide a comfortable night's sleep. It is suitable for all types of body styles. It will take you to a whole new world.

The gel-infused memory foam has tiny holes that control the airflow. It maintains the body temperature and creates a cooling environment for sleeping. The mattress keeps you clean and dries all night.

This mattress is prepared with a coil base that supports your body and provides extra stability. It will keep the body in proper alignment and reduce lower back pain.

This high-density memory foam decreases injuries and relieves pressure. This mattress uses organic cotton with stretches that deliver a softer and more comfortable area for sleeping. It absorbs all the moisture from the body and keeps you relaxed throughout the night.

Additionally, the manufacturer also uses 100% natural Talalay latex that gives you a natural sleep. It will make you feel healthy and offers a better night's sleep.

For extra softness, you can add luxury bed sheets or sewing packages. It will enhance the beauty of your bedroom and deliver a smooth surface for sleeping. Apart from that, you will add pillows that support the neck and spine.

The Cool Bliss mattress is appropriate for all adjustable bed frames. You will just select the firmness and size according to your mattress size. It will fix the mattress in one dimension without making any noise during sleeping. And enjoy luxurious comfort and support all night.

The company offers 25 years warranty and 100 free sleep trials for the complete satisfaction of their customers. This mattress provides extra support and cleanliness than the Helix Luxe mattress.

This mattress comes in Twin, Twin XL, Full, Queen, King, and Cal King sizes. The Cool Bliss memory foam blocks all the odors and makes the mattress breathable. It is suitable for people of all skin types people. This is certified by CertiPUR-US and Greenguard.

In a nutshell This mattress offers a cooling sleeping environment for all types of sleepers. It is the perfect mattress for restless nights. You can enjoy a good night's sleep without any body pain.

]
DreamCloud Premier mattress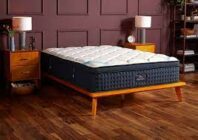 - Memory foam and innerspring coils
- Luxury cashmere-blend cover
- Pressure-relief comfort layer
Offers luxury sleep and reduces lower back pain.
This is one of the best hybrid mattresses that reduce lower back pain and keep your spine aligned. The company uses good quality memory foam that is skin-friendly. It has no harmful effect on your health. It comes with 6 supportive layers that will give a luxurious environment for sleeping.
The upper cover of the mattress is made of cashmere which will block the smell and make you feel fresh all night. You wake up relaxed and active in the morning.
The middle layer of the mattress provides support to people who are suffering from joint and shoulder pains. It relieves pressure and enhances sleep quality.
Furthermore, this mattress features supportive coils that give more stability and prevent you from sliding. It controls body movement and makes you feel calm throughout the night.
DreamCloud can easily adjust on any bed frame. It will deliver the best leisure and innovation experience to you. You can adjust the position of the bed frame according to your choice.
This mattress comes with a set of sheets, 2 pillows, and a protector. Protector prevents your mattress from ruining and makes cleanliness easy. You can add good-quality bed sheets to give your bedroom a unique look.
If two people are sharing this mattress, then you are not affected by your partner's body movement. It will give you a natural night's sleep without creating any disturbance. These features make the DreamClud mattress classier and more supportive than the Helix and Cool Bliss mattress.
This mattress is heat resistant and keeps you cool throughout the night. It will take you to the imaginary world. It is the perfect choice for side sleepers as well as hot sleepers.
DreamCloud mattress comes in Twin to Cal king sizes with a different firmness. Besides, the manufacturer gives 365 free sleep trials with a lifetime warranty.
A further advantage of using this mattress is that it is manufactured to treat with regular changes. You will enjoy a deep night's sleep.
In a nutshell The DreamClod mattress is ideal for people suffering from shoulder and spine pains. The 6 supportive layers give extra strength and stability. You can choose firmness and size according to your preference. It will help to improve both physical and mental health.
What Is the Best Sleeping Position for Scoliosis?
Scoliosis patients have an abnormal spine rotated and bent on the side. Scoliosis is a painful condition where you must sleep in the best position.
The best sleeping position for scoliosis is the back sleeping posture. Back sleeping helps in promoting the health of the spine, ensuring alignment, and supporting the curves of the healthy spine. In addition, sleeping on the back distributes an individual's weight evenly without any additional tension or stress on the spine.
Does Sleeping Position Affect Scoliosis?
Sleep position has a great impact on scoliosis patients. Sleeping plays an important role in aligning the spine. A perfect sleeping position helps align the curves, which are abnormally aligned in scoliosis. 
What Type of Mattress Is Best for Someone with Scoliosis?
If you sleep on an old, unsupportive mattress, it can aggravate the painful symptoms of scoliosis. The cushioned and soft mattresses may appear appealing. However, medium to medium-firm mattresses are ideal for keeping the spine well supported and in a neutral position, particularly for patients with scoliosis.
Is Sleeping Without a Pillow Good for Scoliosis?
Pillows are great for all sleeping positions. The pillows are meant to keep your spine aligned and provide comfort throughout the night. Avoid piling up pillows, which might result in painful symptoms in the neck and back.
People who are side sleepers can have pillows in between the knees to keep the spine in a neutral posture. For back and stomach sleepers, you need low-profile cushioning.
Is Memory Foam Good for Scoliosis?
Memory foam mattresses are great for scoliosis patients. Apart from the memory foam mattress, choose the mattress toppers. They are the perfect solution for scoliosis patients, keeping your spine aligned.
Is A Plush Mattress Good for Scoliosis?
Plush mattresses are not a great choice for scoliosis. The mattresses with medium firmness are perfect for keeping you supported and comfortable throughout the night. These mattresses ease your discomfort and pain with adaptation to the spine's curves.
Are Futons Good for Scoliosis?
Futons are the form of tight mattresses, perfect for sleepers sleeping on the floor. It is effective for sleeping on your back, but it is not effective for sleeping on your stomach because it comes with the platform surface without any support for the skeletal system and spine.
Our Recommendation
Get your hands on the best mattresses from brands like Leesa, Layla, Dreamy S1, and the brands listed above. These brands are ideal for choosing the best mattresses for scoliosis patients, which helps relieve the pressure points!