If you are a stomach sleeper, looking for the perfect mattress must have been challenging. Sleeping in a stomach position causes undue stress on the spine and the neck and increases your potential for pains and aches when you wake up in the morning. Consequently, a mattress with poor support can further compound this problem (also check 9 amazing mattress toppers for stomach sleepers).
Therefore, you need to pick a product that has been proved to be the best mattress for stomach sleepers. Below is a detailed list of the top mattresses out there that can suit your distinct needs (also check the top-rated mattresses on the market). All aspects of these mattresses have been evaluated, from perimeter support to pressure relief, to help you choose the best mattress for stomach sleepers. 
Which is the best mattress for stomach sleepers?
Top 10 mattresses for people who sleep on their stomach
Ghostbed luxe mattress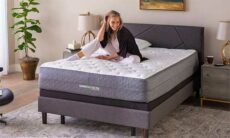 - Made in USA
- The Coolest Bed in the World
- 7 Layers of Comfort
Suitable for people who prioritize temperature regulation
The GhostBed Luxe Mattress is nothing short of heaven for hot sleepers. The second you make contact with it, you will feel the coolness on account of its six layers that consist of cooling features. 
When you lay down on this mattress, you immediately feel like you are on a cloud (also check 10 great hotel mattresses). The foam feel of this best mattress for stomach sleepers provides plushness to the body and comfortably cushions it.
The layers of the product are concerned; it consists of a cover that has been padded with memory foam and cooling fibers. Right beneath the cover is a layer of PCM, or phase-change material, specially designed to ensure that your body's temperature is regulated.
The GhostBed Luxe further includes gel-infused memory foam, added to enhance the comfort of the stomach sleeper. The transitional layer of the Ghost Bounce polyfoam is another bonus of this product. 
The mattress records a thickness of 13 inches, which can alleviate pressure in your body, especially the hips and shoulders. If you regularly struggle with pain, the GhostBed Luxe is the best mattress for stomach sleepers such as yourself to alleviate stiffness and soreness and offer tremendous pressure relief. 
In a nutshell The GhostBed Luxe Mattress is a product suitable for people who often wake up sweating in the middle of the night. It has several layers of foam to regulate body temperature and offer coolness throughout. It has further been designed to help alleviate pain and pressure and boost comfort.
Leesa Original Hybrid Mattress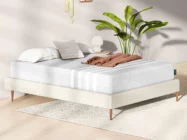 - Premium memory foam
- Airy & spacious feel
- Provides pressure relief
A quality product on a budget
One of the best qualities of the Leese Original Hybrid Mattress is that it is a high-performance mattress that will not cost you an arm and a leg. The hybrid ensures that anyone who sleeps on it experiences a comfortable and medium-firm feel without worrying about all the hard-earned money they spent on it. 
It is the best mattress for stomach sleepers, especially because of its substantial responsiveness. Rest assured, it is affordable, comfortable, and of high quality. Isn't this the mattress you have been dreaming of?
If you are a stomach sleeper who feels hot during your sleep, you have hit the jackpot with this product. It has a couple of layers of foam that keep you cool and calm throughout the night and allow you to wake up feeling refreshed.
Moreover, the soft foam makes you feel like laying down on cotton candy. It will not swallow you whole but give you enough room to sink into its plushness and feel like you are in heaven. 
The Leesa Original Hybrid Mattress also features coils to enhance the firmness of the mattress. Thus, your stomach will not sink into the layers of foam, and your body will have ample support to enjoy long nights of peaceful sleep. 
In a nutshell The Leesa Original Hybrid Mattress is one of the best mattresses out there that will give you the right bang for your buck and not force you to break the bank. It is a quality product that ensures a balance between softness and support, with its layers of memory foams and coils to add firmness.
Molecule Hybrid mattress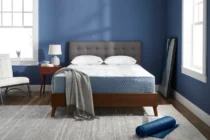 - Cooling support
- Extra plush quilted top
- Designed to maximize comfort
For those who crave restful sleep after a stressful day
The Molecule Hybrid Mattress has been specially designed to help the recovery process of the body after a long day at work or a strenuous workout. It promotes peaceful and restful sleep so that you wake up feeling fresh every morning. 
The mattress consists of three layers of foam 12 inches in thickness. They are all Certi-Pur-US certified, assuring you that they are free of chemicals and harsh metals. It is the best mattress for stomach sleepers, completely organic and natural. 
Furthermore, the cover of every Molecule Hybrid Mattress consists of advanced features instrumental in regulating the body's temperature. They naturally help cool and warm the body throughout the night. 
Temperature-sensitive polymer added to the mattress is known for adjusting to your body to ensure that your sleep is not disturbed. 
If you were searching for a mattress with a new-age memory foam feel, you have found the best mattress for stomach sleepers. The dense foam will offer you a plushness and softness you have never experienced. 
There is no denying that memory foam is known for contouring perfectly with the shape of your body. The slow response of the mattress will relieve the pressure in some parts of your body, such as the shoulder. 
In a nutshell Overall, the Molecule Hybrid Mattress is a wonderful mattress with numerous quality features. It regulates the temperature of your body and offers perfect contouring to it. Thus, you do not only sleep in comfort but can relieve the pressure trapped in your body. Most importantly, this product ensures you enjoy a peaceful sleep after a long and tiring day.
Diamond mattress intention hybrid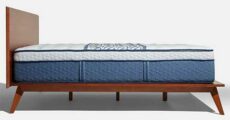 - Hotel quality
- Ultra comfortable
- Pressure relief (good for the back)
Multiple firmness options for stomach sleepers
If you are searching for a dependable and supportive hybrid mattress, you have found the best mattress for stomach sleepers. The Intention Hybrid Mattress by Diamond Mattress is well-known for its many qualities and will serve you well.
This product provides the perfect blend of cushioning memory foam and bouncy innerspring coils. They give you a restful night of sleep, allowing you to drift into dreamland while ensuring your body receives the support it deserves. 
One of the best features of the Intention Hybrid Mattress is that it offers no less than three firmness options. So, irrespective of how much you weigh, you will not feel like you are being swallowed whole in the middle of the night.
Moreover, the product consists of three layers: a transitional foam layer, a conductive foam layer, and a cover infused with Cooltouch temperature regulation technology.
In addition, the mattress has pocketed coils, which boast three zones to provide spine support. They further ensure that the bed is bouncy, responsive, and has quality body contouring features. 
Furthermore, the patented zone support system of the Intention Hybrid Mattress reduces any disruption in sleep by preventing the transmission of motion. Even if your partner moves around on the bed, you will not be disturbed throughout the night. 
In a nutshell This mattress is just what you need if you search for a product that offers numerous qualities in one package. It supports and contours your body while allowing you to drift into a peaceful sleep in a sea of comfort. It also regulates your body's temperature and offers you three different firmness options.
Emma Hybrid comfort

- Built to last (USA)
- Great on a budget
- Good for heavy people and couples
Designed for sleepers searching for ideal spinal alignment
The Emma ComfortAdapt Hybrid Mattress uses patented materials and technology to provide ideal spinal alignment to keep you supported and restful throughout the night. You will no longer wake up with aches and pains in different parts of your body.
Moreover, this best mattress for stomach sleepers features proprietary Airgocell foams. They have been open and poured to boost the circulation and flow of air. Thus, you will sleep on a breathable bed, which provides a subtler contour to your body. 
The product also has several support features, such as zoned high-density foams and pocket springs. With all of its qualities, the Emma ComfortAdapt Hybrid Mattress also seeks to maximize your convenience. 
One of the biggest strengths of this mattress is to it relieves pressure. The comfort system aligns with the shape of your body while the polyfoam cushions it. As a result, any pressure trapped inside will redistribute your weight and take the pressure off your shoulders and hips. 
While you may have heard that foam mattresses tend to trap heat, the Emma ComfortAdapt Hybrid Mattress comes with cooling features that prevent sweats on your body. The breathable cover will permit air to circulate in the mattress and regulate the temperature. 
In a nutshell This best mattress for stomach sleepers offers superior airflow and comfort on account of the comfort system. Moreover, the Airgocell foams make way for a cool sleeping experience, while the accompanying accessories enhance ease and convenience.
Puffy Royal Mattress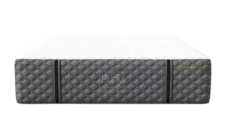 - Works With Any Bed Frame
- Reflexive Memory Foam
- Suitable for all sleep positions
For sleepers who prefer a balance between contouring and mobility
The Puffy Royal Mattress is a high-end mattress known for combining thick layers of memory foam with an adaptive coil base. The result provides a classic body-contouring feel combined with the right amount of mobility and bounce. 
The company has previously produced other slow-moving memory foam mattresses. They, too, like this product, are comfortable and plush, giving you the feeling of sleeping on a cloud. However, the best part is that you will not feel like sinking into the plushness. 
This mattress features soft foam layers, which provide superb pressure relief. If you have been experiencing joint pain recently, then the Puffy Royal Mattress is what you need to bring home. 
It is popularly known that memory foam can sometimes overheat the body. But the brand has ensured you do not experience this when you sleep on the Puffy Royal Mattress. The climate comfort foam, cooling cloud foam, and cooling gel provide that you sleep surrounded by coolness. 
In a nutshell The Puffy Royal Mattress is a product with many top-notch qualities, including superior pressure relief and body contouring features. The two layers of memory foam in the product allow you to sleep comfortably and experience luxury like never before. Lastly, it has various cooling features to keep the heat sweats away.
Naturepedic Halcyon

- Superior quality
- Personalized comfort
- Modern design
Purchase an organic and high-quality mattress
A popular, eco-conscious, and organic brand for mattresses, Naturepedic has come up with the Halcyon mattress that uses only high-quality and natural materials. It is hypo-allergenic and keeps you safe from breathing in harmful toxins while sleeping on your stomach. 
If you are someone who experiences chemical sensitivities, then this is the best mattress for stomach sleepers that you need to purchase right away. Its latex has been harvested from purely organic farms, wool, and organic cotton. 
To reinforce its environmental responsibility, the company has also received a Rainforest Alliance certification, which is given only to eco-friendly supply chains. They have also received a stamp of approval from MADE SAFE, which further certifies their non-toxic nature. 
The Halcyon Mattress collection has three different mattresses. All of these come with encased coils and organic latex layers of comfort to keep your body contoured as you sleep. They also feature a luxury blend quilt, including wool, cashmere, and alpaca. 
The increased motion isolation from this product further ensures that you will not be disturbed by your pet or partner's movements on the bed in the middle of the night. So, the Halcyon can keep you at ease if you share a mattress with someone. 
While the latex comfort layer in the mattress suggests a bouncy factor, it reduces the number of vibrations you feel. Each spring has been individually pocketed to restrict movement, dampening vibrations. This ease is further enhanced with a quilted cover. 
The Naturepedic Halcyon Mattress ensures ample pressure relief for all sleepers, especially those who sleep on their stomachs. The latex comfort layer has been designed to align with the shape of your body and give your muscles ample to relax. 
In addition, this is the best mattress for stomach sleepers due to its superb balance between support and plushness. It can distribute the weight of your body and prevent the focus of weight on specific pressure points. 
In a nutshell Stomach sleepers require pain-relieving mattresses to contour to the shape of their body and provide ample support. It is where the Naturepedic Halcyon Mattress comes in, which is a high-end mattress. It also boasts the use of natural and organic substances to sleep on your stomach and not worry about harmful toxins making their way inside your body.
Plushbeds Luxury Bliss hybrid latex mattress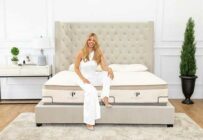 - 365 nights trial
- Organic
- Perfect for sensitive backs
For people looking for maximum motion isolation
Luxury Bliss by PlushBeds is an organic mattress made up of latex. It is 12 inches in thickness, out of which three inches alone are of organic Dunlop latex. They sit over a coil support core and enhance breathability with the help of an organic cotton cover. 
The individually wrapped coils in this mattress have the ability to move freely without depending on the other. It ultimately prevents the transfer of motion, thereby lessening the chances of you being woken up by your partner moving around beside you. 
Luxury Bliss also boasts pressure relief like any other latex hybrid mattress. However, its exceptional contouring makes this the best mattress for stomach sleepers. You will feel like your body is being cradled just enough for you to drift into dreamland peacefully. 
Due to the superior contouring of this mattress, you can also relieve some much-needed pain. The pocketed coils in the support core flex to reduce pressure points and accommodate the heavier parts of your body.
In addition, this product boasts breathable materials to maintain neutrality with respect to temperature. It has an above-average rating where temperature regulation is concerned, so you can expect to be safe from night sweats.
In a nutshell The Luxury Bliss Organic Hybrid Mattress has been designed to cater to a wide range of needs of stomach sleepers. It relieves pain and provides excellent body contouring that is enough to make you feel refreshed every morning. Moreover, it ensures that you sleep undisturbed and peacefully through the night with top-notch motion isolation.
Amerisleep AS3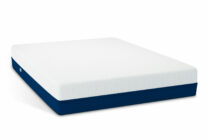 - Cooler memory foam
- Breathable
- Responsive & supportive
A suitable choice for people who want to wake up feeling refreshed
A versatile hybrid mattress, this product from Amerisleep has been praised for the fact that it suits all kinds of sleepers. However, it is the best mattress for stomach sleepers on account of its numerous qualities. 
The AS3 Hybrid Mattress can ensure an excellent balance between support and comfort. You will not feel like you are sinking to the ground when you lie down on it. Instead, the foam comfort layer will be cradled just the right amount.
The comfort layer made of foam is also responsible for offering pleasant body contouring. On the other hand, the coils pave the way for additional support where the lumbar area is located. It boosts spinal alignment and lets you sleep in the position you want. 
It is also quite easy to move around on the bed. Its memory foam is responsive, and the bouncing coils further facilitate your movement. It will allow your stomach to rest against plushness. 
In addition, the Amerisleep AS3 Hybrid features a refresh cooling cover, which is a part of the brand's products. The second you touch the cover, it will feel cool. It is because it has been made using specific technology that converts heat found in the body to infrared energy. 
As a result, the circulation in your body is improved, as well as movement. Moreover, you can quickly recover from any sports-related ailment and improve your sleep patterns. 
In a nutshell The Amerisleep AS3 Hybrid Mattress is like no other. It is perfect for all kinds of sleepers hoping to relieve pressure. However, it is the best mattress for stomach sleepers due to its cooling properties and memory foam. The latter cradles your stomach and allows you to move without resistance.
Siena Memory Foam Mattress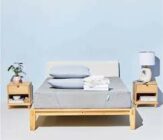 - Body supporting layer
- Soft and Comfy Cover
- Affordable price
Perfect for full-body hugs
From the second you peel back the Siena Memory Foam Mattress cover, you will be in awe of its high-quality materials. The first layer is body-adapting memory foam, which not only contours your body, but gives you a giant hug.
A full-body hug is just what you need after a long day of work. Thus, the body-adapting memory foam material comes with a slow-moving feel, which helps it gently contour your stomach and the rest of the body. 
As a result, you feel like you are sleeping inside a cloud and not in a regular bed. In addition, right beneath the comfort layer is a two-inch-thick dense polyfoam. The material comes with a unique wave pattern, which boosts breathability and airflow. 
Then, you also have a high-density foam at the base, enhancing the durability and support provided to your body by the Siena Memory Foam Mattress. It also enables your body weight to be distributed evenly throughout to absorb the impact. 
Lastly, when the comfort layer of memory foam comes in contact with the polyfoam transitional layer, it makes way for pressure relief. So, when you lie on the bed, stomach-first, you will feel all your worries and pain seeping out of your body.  
In a nutshell Siena Memory Foam Mattress is the best mattress for stomach sleepers, especially due to the fact that it offers the sensation of a hug. It also features a slow-moving feel and enhanced durability and support to ensure you are not disturbed while you experience dreamland. The product further drains all your aches away and gives you complete ease.
Our Recommendation
Stomach sleepers often search for mattresses that can offer them ample support. These usually come from hybrid mattresses, which combine foam and coils to maximize comfort and enhance body contouring.
So, if you are searching for the best mattress for stomach sleepers like yourself, the list above should help you pick one. Enjoy a restful night of sleep and wake up refreshed every morning!