The mattress market has increased significantly, providing more options than ever before. Many mattresses support different body weights and sleep positions with unique features. So choosing between overwhelming options has become so complicated. Therefore, we have picked two top beds and compared their features for you.
Saatva is one of the best online mattress companies that delivers eco-friendly, luxury US-made mattresses. Leesa is unwavering in its commitment to providing reliability while giving back to its community.
In this review, we compare Leesa and Saatva to see which one is best.
Comparative Table to Choose Between Saatva and Leesa Mattresses
 
      Saatva Mattress
          Leesa Mattress
Best For

-People who like multiple firmness options to select from.

-Buyers who want a supportive innerspring mattress

-Back and stomach sleepers

-Folks who prefer memory foam

-Ideal for all positions

-Individuals who don't have much of a budget. 

Trial Period

365 nights

100 nights

Warranty 

Lifetime warranty

10 years

Price Range

$887-$2,296

$699-$1199
The Key Difference Between Saatva and Leesa
Who The Saatva Mattress Is Best For
Best For…
Someone who likes innerspring feels: It has a coil-on-coil construction and a Euro pillow top for a classic innerspring feel. In addition, the Saatva has high-density memory foam under the hips for pressure relief.
Couples who value edge support: If you and your partner are not sensitive to movement but prefer a mattress that allows you to sleep on the entire surface area, the Saatva provides excellent edge-to-edge support.
Hot sleepers: The Saatva has a lot of airflows thanks to 2 layers of coils. The organic cotton cover feels cool to touch, and foam layers don't trap heat (check the best selling cooling mattresses for hot sleepers).
It may not be best for…
People who prefer extremely plush foam mattresses: The pillow top on the Saatva is soft, but the 2 layers of springs are firmer. On this bed, you won't feel a deep hug (check the top rated plush mattresses).
Couples with a high sensitivity to motion and sound: The coil-on-coil layout of the Saatva will not absorb much movement, which is among the requirements for the ideal mattresses for spouses.
Who The Leesa Mattress Is Best For
Best For…
Couples who like motion isolation: For couples who might be easily disturbed by one another's movements at night, an all-foam structure helps to absorb a significant amount of activity (check 10 best selling mattresses for couples).
Back Sleepers: The Leesa is an ideal option for back sleepers. It should provide you with the necessary comfort and lumbar support.
Folks who like all-foam mattresses: This is an excellent option for someone who likes all-foam mattresses. It's unusual for all-foam mattresses to be as responsive as the Leesa . 
May not be best for… 
Stomach sleepers: Leesa is a medium firm mattress due to its all-foam construction. Stomach sleepers must search for a firmer bed to lift their hip bones and align with their spine, restricting back pain (check 10 amazing mattresses for stomach sleepers). 
Buyers looking for a very bouncy or conforming bed: The Leesa is a pressure-relieving, lightly responsive mattress that won't attract fans of active innerspring or dense memory foam.
A Comprehensive Comparison of Saatva Vs. Leesa Mattress Features
Construction: 
Saatva classic mattress has five layers, including 2 coils and three foam or pillow top layers. For a smooth, uniform appearance, a pure cotton cover and cozy pillow top are stitched right into the top layer.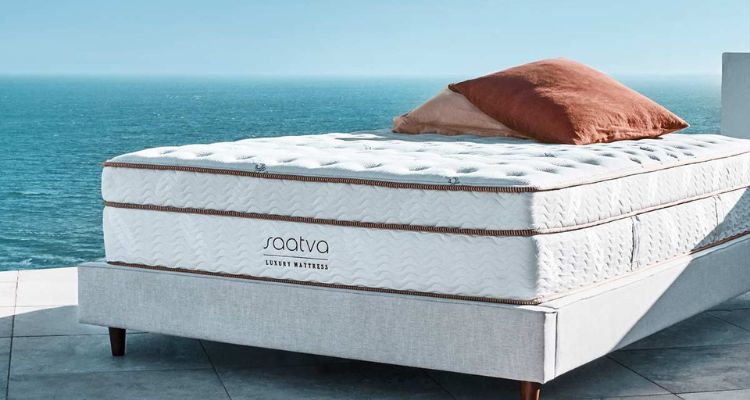 The first 2 coil layers intend for optimum contouring and response-ability. This layer reduces motion transfer by absorbing the immediate effects of movement. Secondly, the mattress's thick foam perimeter supports people who sleep on the edge and those worried about sinkage.
Then there's a contouring all-foam surface that surrounds and supports your curves and relieves pressure. This layer includes an effective wire Lumbar Zone frame for additional lower back support.
The last layer is a Steel Coil Base. This sturdy foundation prevents your bed from slipping and bears the entire body's weight. It enhances airflow, allowing you to sleep cooler.
Compared to the Saatva mattress, the Leesa memory foam mattress has a relatively simple body. Three foam layers support and cushion your body, so you can rest comfortably.
Bed construction begins with a dense poly foam core that supports your weight. This layer is followed by a 2″ memory foam transitional layer. This layer alleviates pressure on your shoulders and hips, resulting in noticeable pressure relief. 
Finally, a layer of proprietary foam is known as "LSA 200." This layer contains 2″ cooling foam to protect your body and provide full support. It encourages airflow, which is unusual for memory foam. In addition, these layers encode a soft, smooth cover with an attractive, simple pattern.
Even though the center layer is memory foam, it isn't easy to tell. The bed feels like a big slab of soft, comfortable foam. So, you can easily switch positions without encountering any mattress resistance.
Firmness: 
When you buy a Saatva Classic mattress, you can choose between three firmness levels. The current standard for medium-firm is 6.5, and Saatva offers Plush Soft 4/10, Luxury Firm 6/10, and Firm 7.5/10 models.
The plush soft benefits individuals who sleep with a partner because it isolates motion. The luxury firm is perfect for body contouring and providing support. The soft polyfoam used in the luxury firm and Plush Soft models is 1.25 inches. On the other hand, the firm model contains 1.5 inches of firm polyfoam and is suitable for pressure relieving. All three models are sturdy and bouncy, with a light but comfortable cradle.
The Leesa mattress does not have firmness options. On the other hand, the Leesa is medium firm with a rating of 6/10 and is an all-foam bed that conforms closely to the body. Although the LSA200 and memory foam layers are soft, the base layer is substantial. Therefore, the Leesa mattress is neither too firm nor too soft when all layers are combined. The key benefit of this mattress is the perfect mix of firm and smooth material placed in the appropriate areas for healthy sleep.
You'll experience instant relief around pressure points, and a feeling like a garment is hugging your body (also check the best selling mattress toppers for pressure points). Unlike most memory foam mattresses, the Leesa complies with the body without sinking or sagging, giving you an equitable sensation of sleeping "in" and "on" the mattress. However, we can say that Saatva is a fantastic option with three different firmness levels. As a result, you can select the bed firmness that is suitable for your comfort.
Motion Isolation and Edge Support: 
The Saatva's comfort system employs thinner foam layers than most hybrid models (check the top rated hybrid mattresses). Instead, it incorporates an additional layer of springs into the comfort system. Thinner foam layers and the Euro-fiber top's fill absorb motion, reducing mattress movement. 
However, the mattress's 2 layers of coils may still transfer motion when a partner shifts position or gets up. People who are easily awakened may be more aware of this than other sleepers. The Soft Plush model of the Saatva absorbs a little more motion than the Luxury Firm and Firm options due to its softer feel.
The Leesa Original excels at motion isolation. Both foam layers, particularly the memory foam, are motion isolating. The four combined inches of foam help keep people sharing a bed from noticing their partner's movement by cradling the body.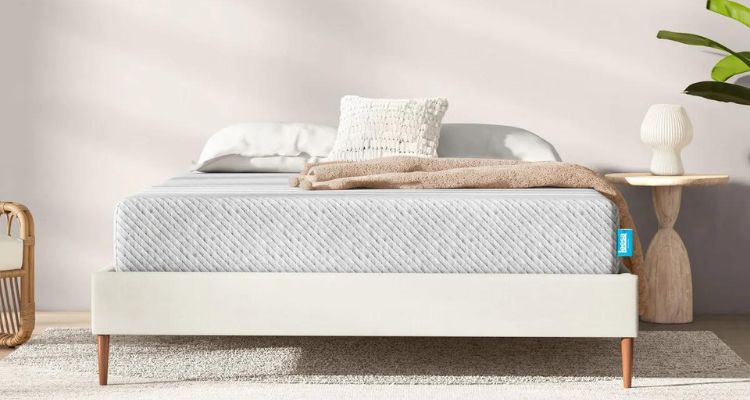 Most light motions during the night should not disrupt your sleep on the Leesa Original, while you will feel it if somebody jumps or moves around vigorously.
One of the Leesa Original's weak points is its lack of edge support. Foam compresses the most around the periphery, and folks are likely to notice this as less stabilization in those areas.
This problem is more in people who weigh more than 230 lbs (and thus have more mattress compression) and in people who regularly sit on the periphery of their bed (check 10 amazing mattresses for overweight people).
The Saatva Bed has a strong enough edge for almost everyone sitting or sleeping close to the edge without sinking too much. Even when compared to most hybrid models, this edge support is excellent.
In this regard, the Saatva comes out on top. It comes with not one but 2 different sets of coils and a reinforced edge. The Saatva's entire surface area should be usable by sleeping partners.
Temperature:
While hybrid mattresses generally sleep cool, the construction of the Saatva may allow it to sleep cool and be more comfortable than other hybrid models. The Euro-top of the Saatva is made of polyfoam and fiber, which is more absorbent than memory foam. In addition, the cotton cover allows air to circulate throughout the mattress.
Many hybrid models have comfort systems with layers and layers of high-density foam, which traps heat. The Saatva's comfort system, on the other hand, is primarily made up of pocketed coils. As a result, air moves relatively quickly between the springs, allowing heat to escape from the mattress. The Saatva's support layer is made of coils, making the mattress extremely breathable.
The Leesa Original is unlikely to sleep hot for the average person, but the cooling system could be a problem for hot sleepers. Leesa's moisture-wicking fabric cover layer and latex-like LSA200 foam must help reduce heat retention if you sleep hot on most mattresses.
Furthermore, the conforming might reduce cooling air circulation all around the body, increasing the possibility of hot sleepers experiencing significant heat retention.
The Saatva mattress offers a more comfortable sleeping temperature than its competitor. This is because the Saatva's innerspring core and springs transition layer will actively cool you by allowing adequate air circulation throughout the night. All-foam mattresses, the Leesa, isn't very breathable and may cause you to overheat at night.
Position and Body Type: 
The Saatva accommodates a wide variety of sleeping positions. The Saatva is ideal for stomach and back sleepers.
Back sleepers prefer innerspring mattresses because they are firmer; however, you can modify the euro top to provide more cushion. 
Huge people need more support than average-weight or lightweight sleepers (check 10 amazing mattresses for light person). The base foam of the Leesa will likely collapse under the weight of a heavier sleeper. Obese sleepers who weigh more than 230 lbs enjoy the Saatva classic. It's the firmer mattress, with 2 coil layers offering more support than Leesa's base foam.
Saatva and Leesa are great options for those who prefer to sleep on their backs and weigh less than 150 pounds. It all comes down to personal preference. Side sleepers and lightweight people may find the Saatva too firm. They are more at ease, mainly on Leesa mattresses. It's the softer of the 2 beds, allowing you to sink in for excellent pressure relief.
Both mattresses must work well enough for lightweight people who sleep on their stomachs. They, particularly those who sleep solely on their bellies, are comfortable on the Leesa. In addition, it offers sufficient support to keep their hip bones lifted and connected to their shoulders, preventing spine alignment issues (also check the best selling mattress toppers for hip pain).
In addition, memory foam provides adequate back support and strain relief for side sleepers. This bed should be a hit with sleepers! It will provide them with a nice blend of support and comfort (also check 10 mattresses with great comfort). 
Heavyweight side sleepers will not have the best pressure relief from the Leesa mattress since they may bottom out and press too deeply into it. Obese stomach sleepers require a more supportive mattress than the Saatva and Leesa. 
Price Range: 
When shopping for a new mattress, price is an important consideration. A variety of factors influence the cost of a bed, including:
The reliability of the material properties and any certifications

The total height and the layer thickness

 A Certain type of mattress

Unique or proprietary features
Considering all characteristics, the price point for Saatva and Leesa mattresses is around average, with Leesa being the more affordable option (check the best selling mattresses under 2,000 dollars).
Remember that Saatva and Leesa frequently have sale prices in which you can get their beds at a discounted price. Both companies provide financing via Affirm. Lessa has offered a 0% interest payment schedule for up to 24 months to purchase the desired mattresses.
The following table will help you know the prices of both mattresses. 
| | | |
| --- | --- | --- |
| Mattress size | Saatva  | Leesa |
| Twin |         $887 |         $699 |
| Twin xl |         $1148 |         $749 |
| Full |         $1595 |         $899 |
| Queen |         $1695 |         $999 |
| King |         $2095 |         $1199 |
| Cal king |         $2095 |         $1199 |
| Split king |         $2296 |         N/A |
Verdict: 
Even though the Leesa and the Saatva have different materials, they are both reasonably priced. So, if you like sleeping "on" your mattress or prefer innerspring mattresses, the Saatva is a must-have.
Saatva is suitable for all body types, including those who are overweight. The innerspring support center helps make the Saatva a wiser option for all those who sleep hot or have edge support or reliability concerns.
The Leesa is for sleepers who enjoy foam beds but tend to sleep hot on them. It provides relatively close conforming, making it an excellent choice for people suffering from stress points or back pain (check 10 great mattresses for back pain). Both mattresses are comfortable for side and back sleepers, but the Saatva will be the one that is firm enough even for stomach sleepers.