When your office chair breaks, you know it's time to replace it with another one. Similarly, when your microwave grill becomes too rusty, you can easily get a brand new one. But when do you know it's time to purchase a new bed? For a vast majority of people, as long as they're able to fall asleep, buying a new bed will never cross their minds. Regardless of whether they get quality sleep or not. Some people will even endure the occasional sagging of their mattresses…all because they don't consider beds as items that require replacements. At least, not until their bed is severely broken to the extent it can't hold up any weight. Don't wait until something terrible like this happens. A properly functioning bed is a must-have if you want to sleep peacefully and soundly. We're glad that you're looking into platform beds and hope that this guide will answer all the questions that you have. Topics that we cover in this article include: What is a platform bed, operation and modification of platform beds such as how to raise a platform bed or a bed without legs with bed risers, differences between wooden and metal platform beds, platform bed pros and cons, sizes of platform beds, compatibility of platform beds with different mattresses such as memory foam mattresses, and much more.
Here's the Table of Contents.
Essential Knowledge
Advantages and Key Features
Box Springs vs. Platform Beds
Sizes of Platform Beds
Platform Bed Compatibility
Modifications of Platform Beds
What is a platform bed?
A platform bed uses solid wood pieces (commonly known as slats) to support the mattress as opposed to a normal bed frame which requires a box spring on top before adding on a mattress. A box spring consists of wood pieces curved up in a frame along with springs for support. You can see the differences between these two types of beds in the figures below. Most reviews on Amazon indicate no major differences in the comfort provided by the two styles of beds. Platform beds, however, do not cause any significant damage to the mattress whereas an old coil box spring can start poking into a mattress and causing it some damage. If you are looking for the best platform bed, we've got a guide for that. Take a look at this platform bed buying guide .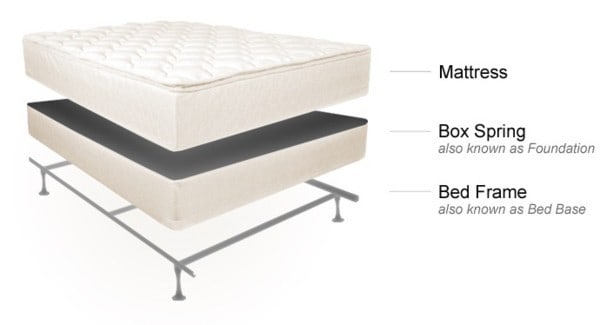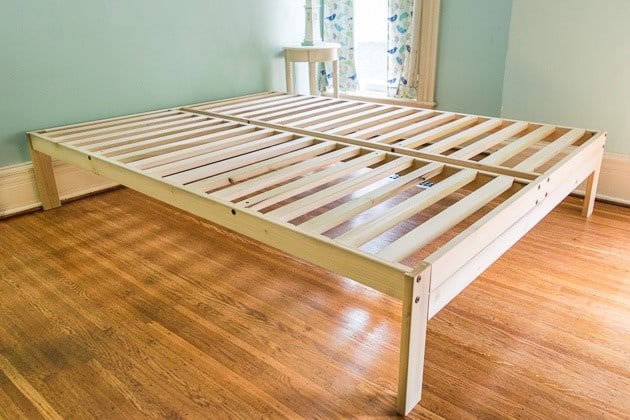 Types of Platform Bed Frames
A Solid Wood Platform Bed offers style
Wood is beautiful and provides a lot of great aesthetic value. It can also be treated to provide more durability. Wooden platform beds tend to be stylish and less creaky than metal. You can imagine this being a nuisance during "fun" times. Also, over time, wooden screws will need to be re-screwed into the wood for a tight bond. Do this every few years and you shouldn't have any issues. Ideally, you will also get a couple of custom-made struts under the central bed support to avoid creaking over time (from your planks). This Zinus platform bed is a really nice wooden bed example that doesn't need a box spring.
A Metal Platform Bed is more durable
Metal, by definition, is more durable than wood. It supports a higher weight limit and can last a long time without any treatment. You don't have to repaint or restain a metal bed over time. Metal frames also last a lot longer when you have pets in comparison to wooden platform bed frames. Cats, especially, can tend to claw at wood. However, the creakiness becomes evident with metal screws inside metal frames. As time goes on, a metal screw can get stripped by metal-on-metal grinding. Here's an example of a metal platform bed .
Divan Leather Platform Beds are safer alternatives
Leather divan beds tend to be a bit more expensive but also don't look as cheap as metallic or wooden platform bed frames. Also, the leather helps protect you from hitting your bed and stubbing your toe. Especially if you have kids running around, a leather platform bed can be a safer alternative to consider. Here is an example of a high quality divan platform bed based on the reviews and price.
What is a platform bed lift and how does it help?
There's a ton of space under a platform bed and in many cases you can simply purchase a platform bed with storage boxes that slide out. However, platform bed lifts offer an additional option. Take a look at the image below and you'll see how a lift allows you to raise the platform bed to reveal all the storage space inside the frame. These lifts tend to be hydraulic or spring loaded so that they don't just come crashing down when you release them.
You'll find lifts that simply raise the bed from the foot, and you'll find others that allow you to combine the lifting motion with a lateral motion so that the mattress doesn't hit the wall. You'll want to make sure that the lift platform is compatible with your style of bed (whether you have just a mattress on top of your platform, or if you have one with a box spring + a mattress). This compatibility is important because you need to determine if the bed will hit the wall when it is raised or if it will have too much space and hence all your layers might fall out.
Note that attaching a lift does take some time and cost quite a bit as well. Here's a gas hydraulic bed lift for ~$125 . You'll notice that it has several components and is designed for use with a thick innerspring mattress.
Why buy a platform bed lift or storage boxes instead of storing stuff under the bed?
Dust and accessibility. You'll avoid covering all your stored items with dust and they'll be much easier to access than crawling around on all-fours underneath.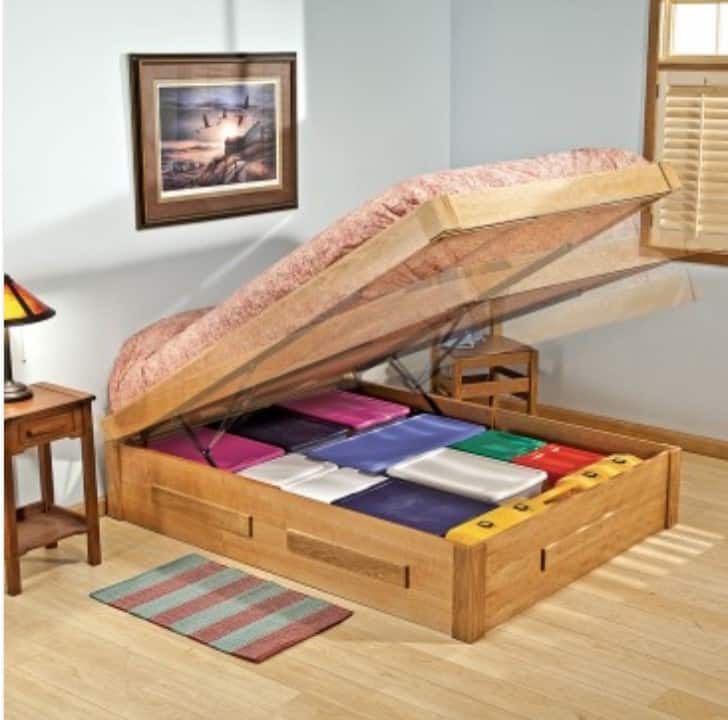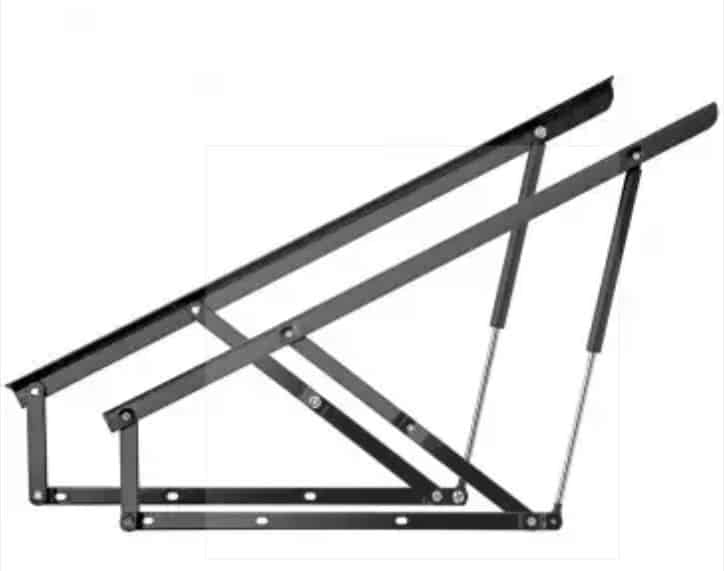 What is a platform bed riser? And do I need one?
Are you looking to increase the storage space under your platform bed? That's what you would need a riser for. Risers are designed to increase the distance from the bottom of the mattress to the floor. If you just want to raise the height of the top of the mattress, add a box spring or get a thicker mattress.
Also note that risers are designed for platform beds with legs. In these cases, the weight of the platform bed is spread evenly across all the legs and therefore adding in risers on each leg can be done. If you have a platform bed without legs then adding traditional risers is not recommended because these platform beds spread the weight along the entire perimeter. Here you need to get a custom solution from a carpenter or do your own quick DIY work.
How do I add a riser to a platform bed without legs?
To add a 1.5″ riser to a platform bed without legs, get some 2″ x 4″ planks and some no-slip double-stick carpet tape. Cut the planks into the right size, color them similarly to your platform bed, and put them under your platform. They won't move with the aid of the double stick tape. For a more stable option you might also consider getting some dowels as pegs between the wood and the frame and then laminating the entire platform perimeter so as to cover any joints. You can read more about this here .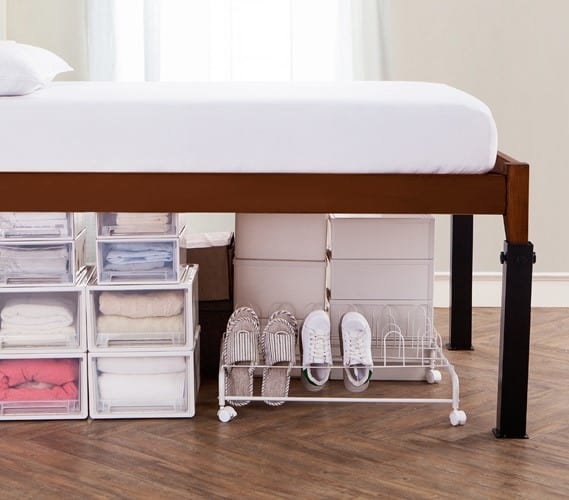 Can I get a platform bed without legs? Or a platform bed that stays on the floor?
Definitely! However, make sure you differentiate between a platform bed without legs and a platform bed that stays on the floor. If you have a platform bed without legs, you can still store items under it. However, the platform bed that sits directly on the floor is designed for minimal storage, if any. You should look for low-profile and minimalist platform beds like this Japanese platform bed . The advantage of both these types of beds is that they are closer to the floor and hence more stable. They also give the feeling of space in the room. With Japanese platform beds, you can still get all the benefits of platform beds (storage, space, and support) while satisfying your requirement of a bed that stays on the floor. Take a look at the discussion of high profile vs. low profile platform beds above to understand these points further.
Can You Raise a Platform Bed?
A platform bed typically sits low to the ground. However, you can easily elevate its height with bed risers designed for platform beds with legs. Here is an excellent example of bed risers that are perfect for a platform bed. You can create more storage space under your platform bed by utilizing bed risers, as they raise the bed and increase the amount of clearance space between the bottom of the mattress and the ground.
Make sure you purchase bed risers that can support the weight of you, your bed, and anyone else sleeping in the bed alongside you. If you are handy, you can even create bed risers from wooden blocks yourself. If you want more ideas, be sure to look at our five bed riser alternatives.
How to Raise a Platform Bed and Lift it with Bed Risers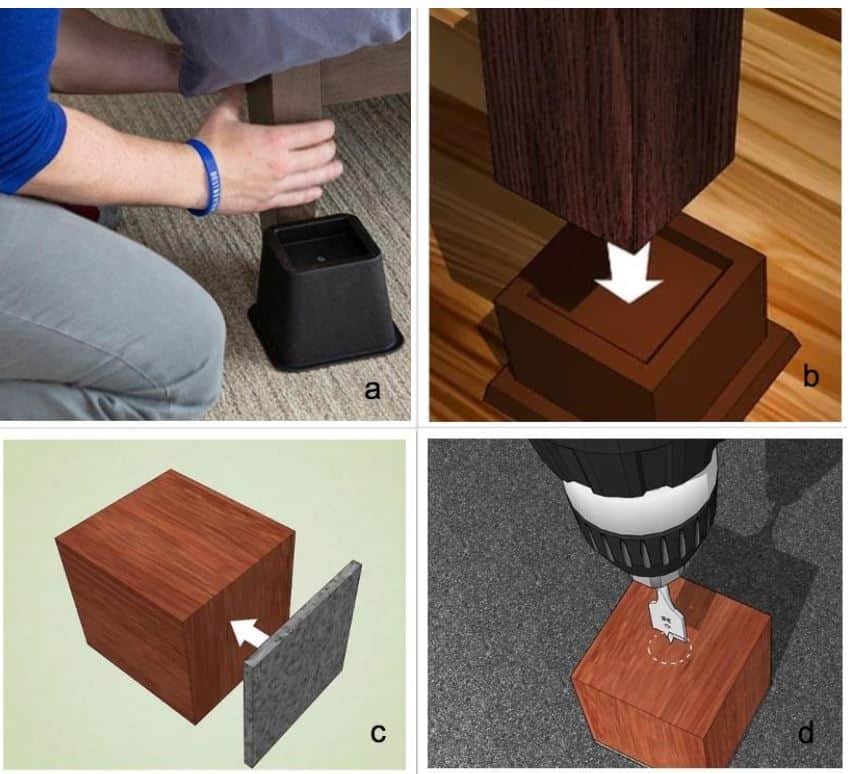 Lifting and raising a platform bed is not as challenging as it may seem. All the process requires is for you to acquire four bed risers and put them underneath each of the bed's legs. Raising a platform bed is easier and safer when you enlist the assistance of another person, preferably someone with carpentry knowledge or other general technical skills. To raise your platform bed using manufactured bed risers follow these steps:
Choose the adequate size and material for your bed risers. Bed risers come in different sizes, ranging between 1 and 12 inches, and various materials, such as plastic, wood, and metal. Metal and wooden risers can endure heavier weights than plastic, and they are more durable overall. These wooden risers add 3.5 inches of height to your bed and can withstand up to 1,200 lbs.!
Select risers that can support the weight of your bed, including the mattress and any people occupying the bed. Typically, four risers can tolerate upwards of 1,000 lbs.
Lift one of the four corners of the bed frame with the help of an assistant, especially if the bed is cumbersome. Refer to picture (a) above.
Align the bedpost with the hole in the riser, then lower the bed frame to fasten the bedpost securely into the riser. Refer to picture (b) above.
Repeat steps 3 and 4 for each of the remaining bedposts. 
If you wish to create custom wooden risers, follow the steps below:
Procure wooden blocks from a home supply store.
Saw the blocks to equal heights so that they will elevate the bed uniformly at each corner.
Attach felt patches to the back of the wooden blocks to prevent the risers from scratching the floor. Check picture (c) above. These felt patches are effective surface solutions, not to mention you can always cut them to the size you want.
Utilize a drill to create a hole or indent on the top of each wooden block. The hole must complement the bottom of the bedpost. Check picture (b) above.
Lift one of the four corners of the bed frame with the help of an assistant, especially if the bed is cumbersome. Refer to picture above (a).
Align the bedpost with the hole in the riser, then lower the bed frame to fasten the bedpost securely into the riser. Refer to picture (b).
Repeat steps 5 and 6 for each of the remaining bedposts. 
Related Articles:
How to Raise a Bed Without Legs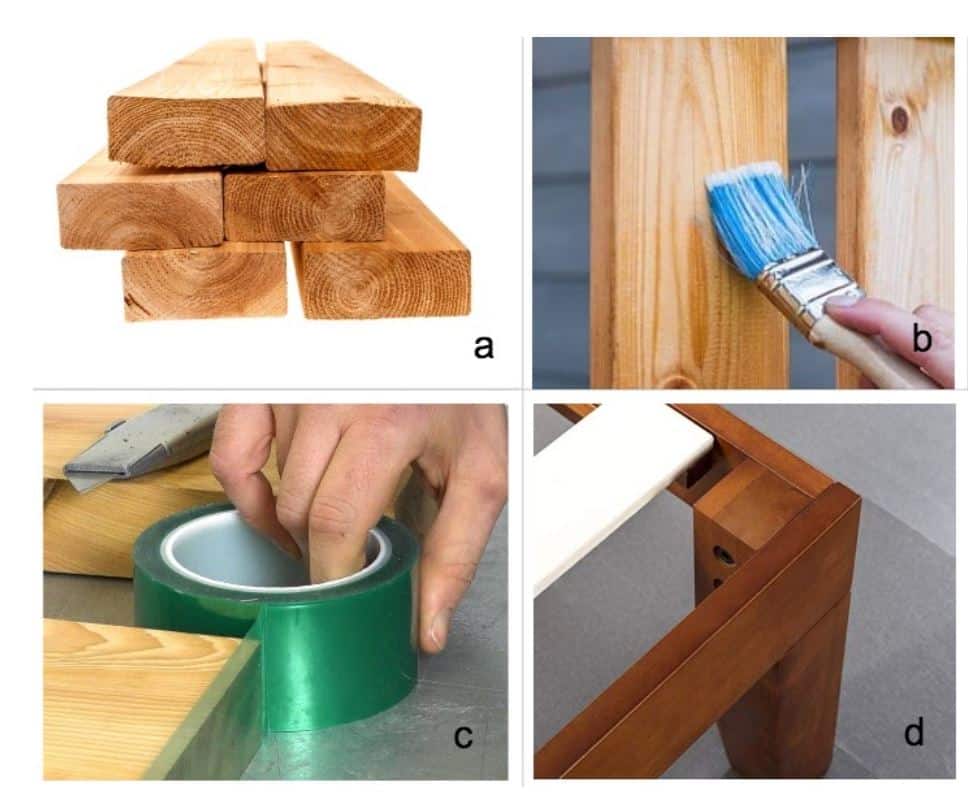 However, some platform bed designs do not incorporate legs, such as this one. You can still elevate these platform beds with some ingenuity and resourcefulness. To raise a bed without legs follow these steps:
Obtain some wooden planks and cut them into your desired size.
Paint the planks in a color that will match your bedroom.
Adhere some double-sided carpet tape on the top of the wooden plank to join it with the bottom of your platform bed. This double-sided carpet tape is just one example in a variety of shapes, sizes, and brands.
Use dowels as pegs between the wood and the bed frame to provide more support and stability. These dried, fluted, and beveled wooden dowel pins are exceptional, but regular unfinished wooden dowel rods will also do the trick.
Hide the joints by laminating the edges of the platform bed. 
Advantages and Key Features of Platform Beds
Platform Bed Pros and Cons : Different Platform Bed Heights
Platform beds tend to have a lower profile than normal beds. This is because normal beds require a frame, a box spring, and a mattress whereas the platform bed doesn't need the additional height of the box spring. You can also chose the height of your platform bed depending on where you buy it. A typical, normal bed frame, combination would include 12 inches for the frame, 9 inches for the box spring, and then 12 inches for a memory foam mattress. This totals up to 34 inches as the height of a normal bed with a box spring. A platform bed, on the other hand, can shave a few inches (in the case of high profile platform bed) or several feet (in the case of a low profile platform bed). Here's an example of an extra high bed frame along with a a 9 inch box spring .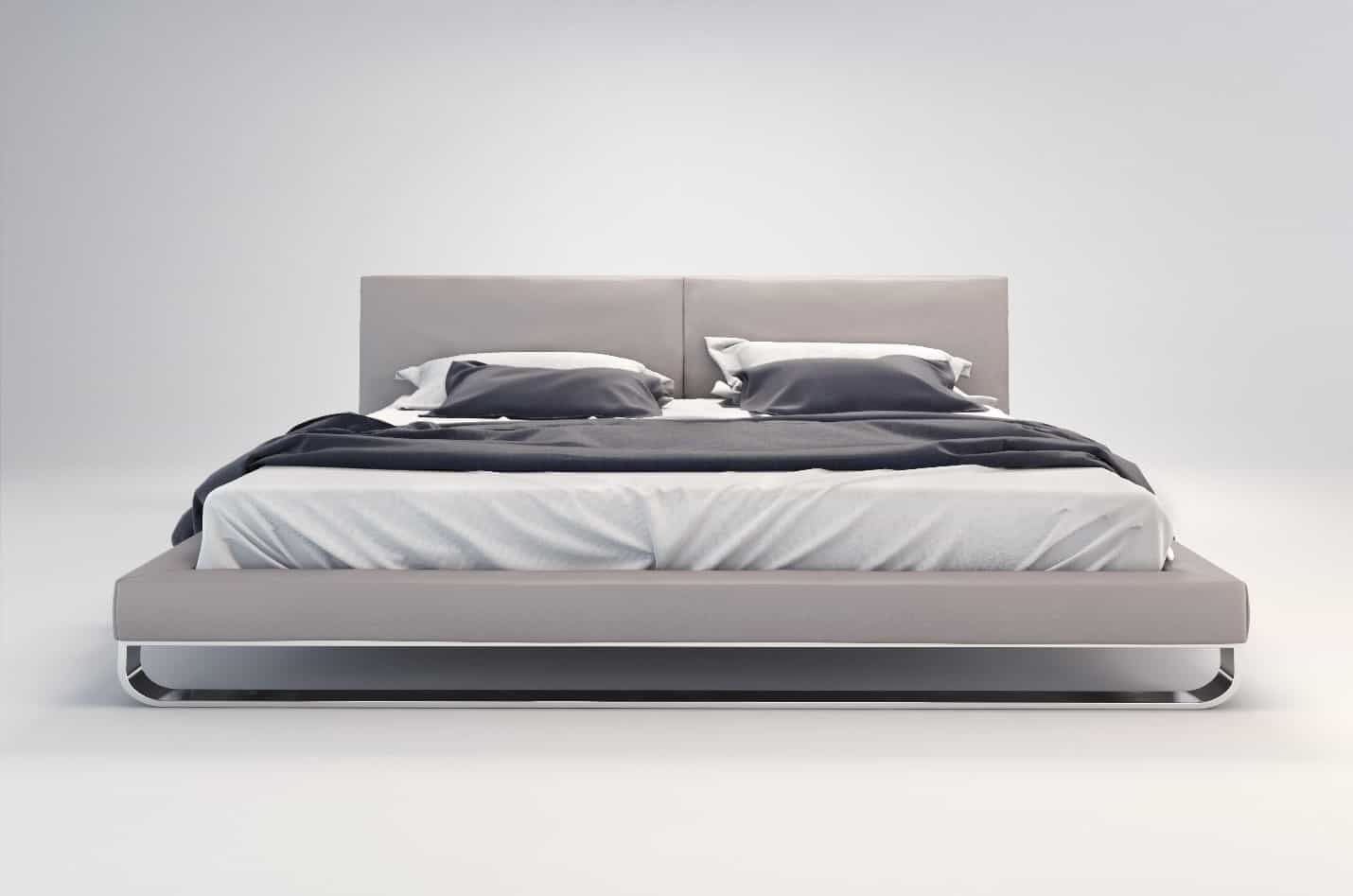 Advantages of Low Profile Platform Beds
A typical low profile bed frame will have a height of 6 inches. Along with a 12 inch memory foam mattress this can end up being total height of about 18 inches. Low profile platform beds are more modern, cool, and minimalist whereas in a high profile platform bed you or your children may fall out and get injured. I know this is uncommon for an adult, but certainly you can imagine your child falling out. You also don't need to worry about getting bed skirts for low profile platform beds…in fact they won't even fit! Here's a great low profile platform bed on Amazon .
Advantages of High Profile Platform Beds
High profile platform beds are much easier to get in and out of but they also take a lot more space. A high profile platform bed frame will have a height of 18 inches. Along with the mattress you can account for a total height of 30 inches. Wake up and you can just roll out of bed rather than doing a squat like you would have to do with a low profile platform bed. They also have more storage so you hide away all those small items that you don't have space for in closets. I think this might actually be a disadvantage because I tend to store junk when I have too much storage. But perhaps, for you, it's an advantage. And finally, a high profile platform bed will have more ground clearance for you germaphobes out there. Here's an example of a high profile platform bed on Amazon that I would purchase.
Platform Bed Pros and Cons : Platform Beds with storage and drawers are incredibly useful
For an average platform bed (not especially low or high profile), the off-the-floor storage space is about 14 inches from the bed's lower frame to the floor. Regular beds do not come with any inbuilt storage space provisions beneath their frames. For regular bed frames you would need to purchase risers ( here are some bed risers on Amazon ) that lift the bed up and give you some space underneath. And, to further complicate it, this is only possible if the regular bed frame is open and has legs on which to attach the risers. Platform beds, on the other hand, can be purchased with pre-fitted storage compartments and shelves at the base of the bed, or you would just need to buy some along with your platform bed.
What can you store under your platform bed?
There are a ton of interesting organizational ideas for under-the-bed storage. You could:
– Create a his and hers side like the pictures show. This means you are storing personal items like diaries, headphones, books, etc. under your bed.
– Store your old off-season clothes under your bed. You won't need them until the next season anyway so why clutter up your closet? Use an organizer (costs only about $16).
– Music and books are also great to store underneath because you don't look at your library that often. Especially after you have already read a book or listened to an album several times.
– Shoes and boots can also be stuffed away below your platform bed in storage. Sometimes you just don't need all your shoes all the time. So, why not hide them underneath until you're ready to take them out next time? (Even sports equipment like ski boots can be stored, tucked away, under your bed). Under-bed shoe storage containers like this one might help you.
To maximize your space, I suggest that you get a nice organizer for items under your bed. Here's one bed organizer from amazon .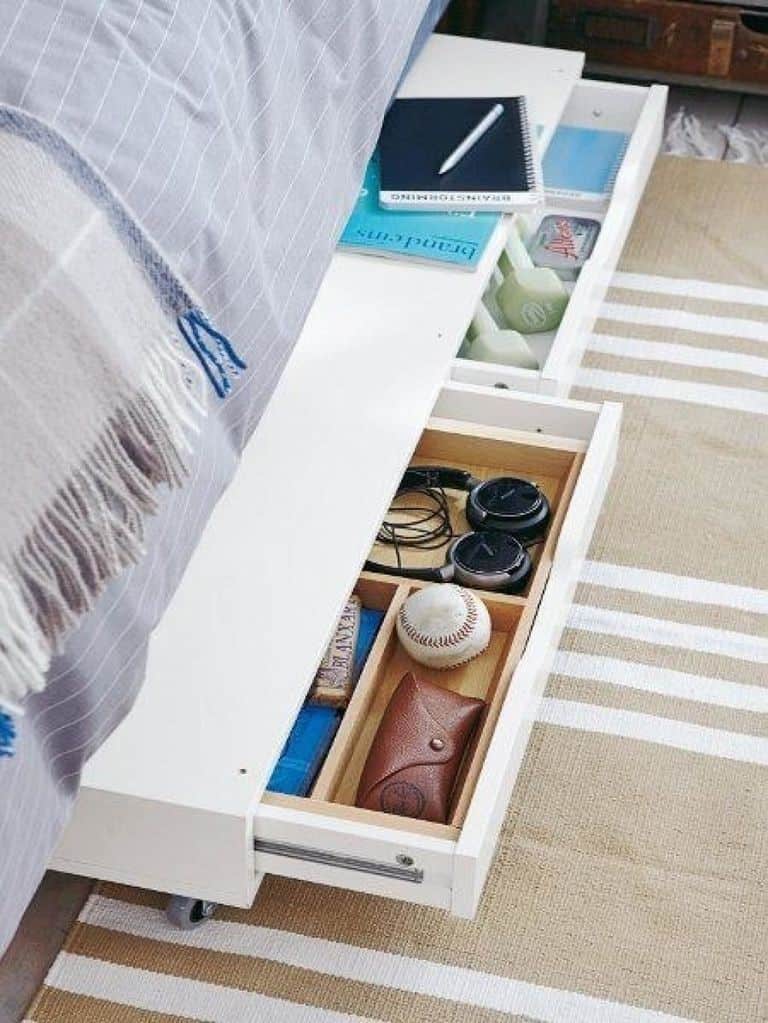 Pros and Cons : Cheap Platform Beds are good value-for-money
It's hard to do an apples to apples comparison of prices between normal beds (with box spring + frame + mattress) vs. a platform bed. There are just so many different variations of beds, frames, and box springs available! But, as you can imagine, the costs add up depending on the number of items that you purchase. Here's an example comparison of the prices between normal beds and platform beds.
Platform beds come with a flat platform, or at times, a set of slats that serve to support your mattress. Therefore, you will not need to purchase extra box springs nor any other foundations that are required when assembling regular beds. All those extra dollars saved can go towards buying a higher end mattress .
In addition to needing more furniture pieces, regular beds require much more bedding than platforms beds. Why? To hide the bed's box springs! You will need to use a cloth or a wrap to conceal the springs completely. The picture below shows bed skirts which can be used to conceal your box spring . If you don't buy one of these, the bed appears poorly decorated. Platform beds, on the other hand, only need sheets and a comforter. There is no need for a bed skirt. Plus, platform beds are stylish given their distinct lines and smaller profiles (size, height, bulk, etc.) compared to regular beds (which are bulky). So, you might end up seeing some more Asian style platform beds on the market while you search around. Here's a tatami platform bed , as an example.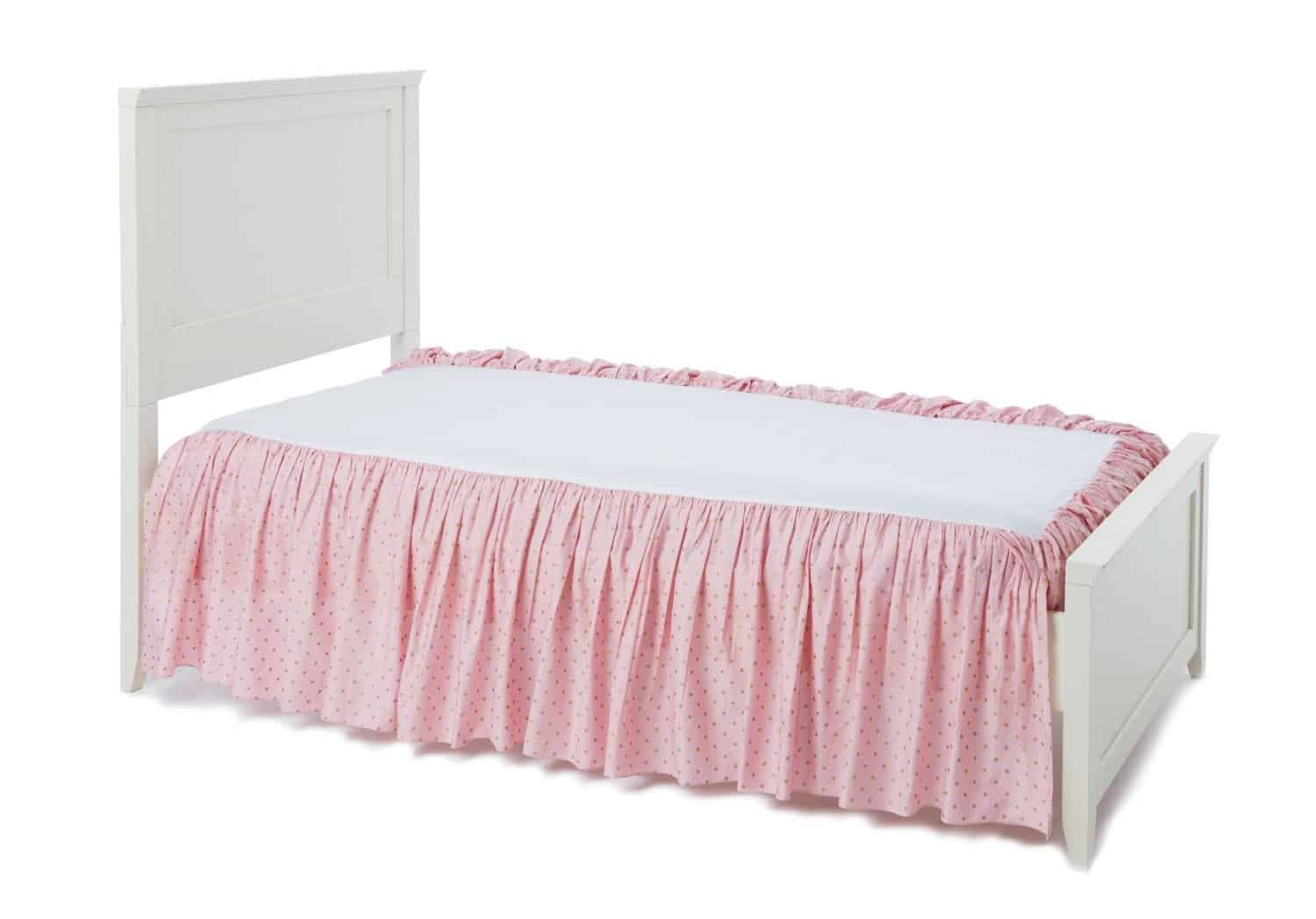 More Pros and Cons : Platform Bed designs look modern and minimalist
The modern and minimalist look of the platform bed perfectly fits into your existing décor without the need for much alteration. There isn't an additional box spring, so the bed is closer to the ground, and gives more of a spacious feel. Furthermore, you can choose to purchase a platform bed that is more generic and therefore it works with any room…or you can go for something more tailor-made to your room.
Here's a minimalist platform bed that blends into the room. With a wood frame, and low profile, it works well with any décor.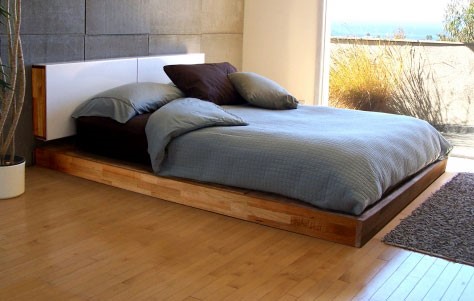 Box Springs Vs. Platform Beds
Platform Bed Pros and Cons : Why should you use a Box Spring Bed versus a Platform bed?
You may have a hard time trying to decide whether to choose a box spring bed or a platform bed. Let's consider the advantages and disadvantages of each type of bed before you settle on one based on your sleeping preferences.
Platform Beds Pros
With a platform bed you don't need to spend money on box springs and the money saved can be used to purchase a mattress that is of very good quality. Most mattresses work well with platform beds but you can opt for memory foam mattresses that are perfect for platforms (and tend to be a bit more expensive). This is because platform beds provide a uniform solid surface that the memory foam mattresses require. With platform beds, wooden slats not only support memory foam mattress, or any other mattress of your choice, but they also provide optimal air circulation. It also reduces any possible chances of growth of mold and the development of mildew.
Platform beds are aesthetically preferable when compared to regular beds. They have a contemporary design that seamlessly blends in with your décor. Low profile platform beds also tend to be more stable than regular beds because they are closer to the floor and cause less creaking. And finally, you can directly purchase a platform bed that houses extra storage space beneath the bed in the form of drawers, shelves and cabinets. You can easily stow away off-season clothing, boots, electronics and more, in these handy little storage spaces. Excited? Take a look at our recommended platform beds here .
Platform Bed Cons
As we stated earlier, platform beds are closer to the floor than other regular beds. These beds may not be a very good option for people with back and knee complications . You will also need to consider this if you have a family member who has a disability…it might be difficult for them to get on to the bed and climb out. Especially if you are thinking about your guest room, you should consider a higher profile platform bed for you older guests.
Two minor disadvantages of platform beds are related to moving them. With a bed frame + box spring + mattress combination, you can quickly disassemble the layers and slide them out of your room. However, with a platform bed
you might have a headboard or footboard which you need to disassemble before you can tilt the bed and move it through your door frame. You might also have some stored items under your bed which you will need to clean up and move out before you move your actual bed. Did we change your mind? Perhaps you want to look at our box spring shopping guide .
Advantages of Box Spring Beds
At the furniture store, you can easily spot the common box spring + bed frame by its height. People who haven't yet discovered platform beds might actually prefer these taller beds! With the additional height, you can use the bed like a couch so you don't need additional furniture in your room. Yes, some people don't want strangers to sit on their bed, so perhaps this is a moot advantage. Also, it looks luxurious having a bed where you are so far off the ground. Note: the market is shifting away from common box springs to focus more on box foundations. Very few brands use coil springs any more and these tend to be higher-end eight-way hand-tied coil products, if they have any coils at all. The difference is that foundations don't have any springs and instead might have a thin layer of foam on top (or they are just bare and offer a firm surface!). Here's a box foundation which is meant to be a box-spring replacement.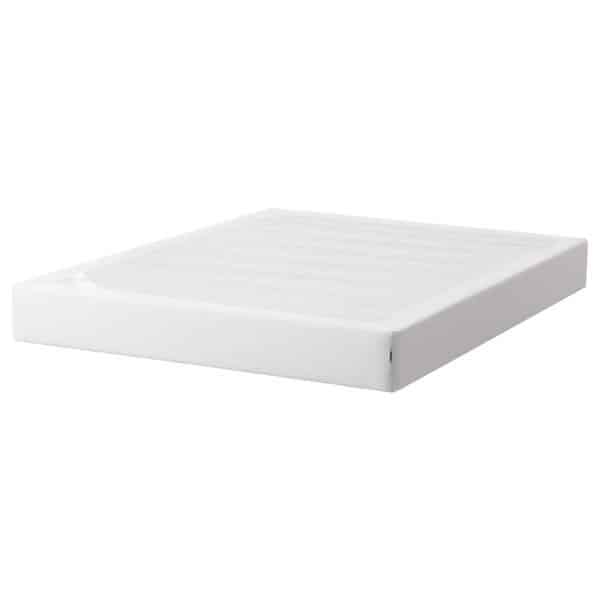 Similar to platform beds, box springs are built to support a lot of weight by evenly distributing it across the bed's foundation. The springs inside also provide some shock-absorption from the weight of your body. This way the mattress doesn't bear the full weight…your spring helps it up as well. This prevents your mattress from sagging. Consequently, the longevity of your mattress is extended due to the additional support from the box spring or foundation. We've gone through a reviewed a few box springs. Take a look at our top 5 box springs here .
Disadvantages of Box Spring Beds
Cost! We did a comparison above, but here it is again. You will need to spend extra money for the mattress, the frame, the rails, together with the headboard and the footboard. Plus you will need to purchase skirts in case your box spring peeks out from under your covers.
Another big disadvantage (or advantage of if you think of it that way!) is that there is little to no space available for storage below the box spring as they use up most of the space. You'd need some nice bed risers to give you enough space under your frame to be useful. Here are some interesting bed risers which have adjustable heights depending on your needs.
And finally, don't forget that box springs have springs on the inside which can lose durability over time. So be prepared to switch out your box spring after 10 or so years when the springs wear out and the bed is no longer comfortable.
Do people use a Box Spring with a Platform Bed? Why?
Most of the time you don't need a box spring along with a platform bed. The goal is to provide your mattress with support so that it doesn't sag….and a platform bed with slats does this really well by itself (and so does a box spring or foundation combination). However, in the rare case that you need a bed with a certain height, perhaps because you have a guest who is old or disabled, then you can use a box spring along with a platform bed to get the right height. You might also be considering casters or rollers with your bed. In this case, certain box spring + platform bed combinations can allow that. However, I would recommend using normal bed frames and not platform frames because that's what casters and rollers are designed to fit! You might consider these casters or bed frame + caster combination if you want a roll-able bed.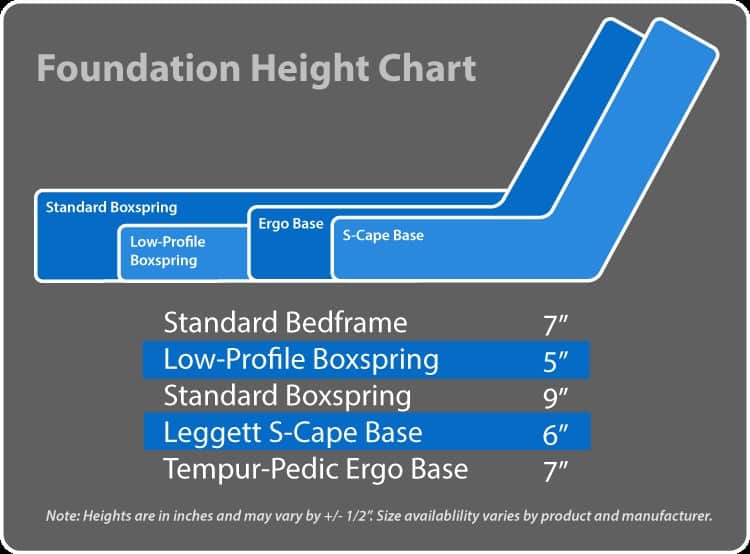 Are platform beds good for your back? Or are box springs better?
It's not the bed that's going to affect your back as much as the mattress will…along with your sleeping position. If you are sleeping on your stomach, then that's not aligning your spine properly for lower back pain relief. You might want to consider using a support pillow for stomach sleepers like this one . In terms of mattresses, orthopedic mattresses are medium-firm and provide the right amount of support for your back. As opposed to softer mattresses which are designed for "comfort" a "support" mattress is firm and designed to position you properly with enough resistance so that you don't sink into the mattress. The underlying platform bed or box spring will have very limited impact on the firmness of your mattress. You might also consider using high density memory foam mattresses rather than normal memory foam or gel foam, because it provides more resistance (especially if you and/or your partner are heavy). For your guidance, we've explored some orthopedic mattresses here . Remember: it's ok to buy a mattress and return it if it doesn't help your back pain. Try to use several different mattresses and see if they provide the support you need. Risk-free trials help with this so perhaps you should search for those!
Here's a research article on the effect of mattresses on back pain. Radwan, Ahmed; Fess, Philip; James, Darcy; Murphy, John; Myers, Joseph; Rooney, Michelle; Taylor, Jason; Torii, Alissa. "Effect of different mattress designs on promoting sleep quality, pain reduction, and spinal alignment in adults with or without back pain; systematic review of controlled trials" . Sleep Health. 1 (4): 257-267.
What are the differences between platform bed sizes?
A King Platform Bed size is the largest available (along with Cal King)
A king platform bed frame can handle a mattress that's 76 inches by 80 inches whereas a cal king platform bed frame can handle a 72 x 84 mattress. For these mattress sizes, the platform bed itself has dimensions of 78 x 84 and 74 x 86 respectively. King beds have a lot of space for 2 adults to sleep comfortably and roll around. Here's an example of a great king sized platform bed . Cal king frames are harder to find but still available on amazon. Here's an example .
Queen Platform Bed sizes allow 2 adults to sleep comfortably
A queen platform bed can handle a mattress that's 60 x 80 inches. The queen platform bed, itself, normally has dimensions of 63 by 84. As you might notice, there is some additional width to the bed, beyond the mattress. This is enough for 2 adults to sleep comfortably but there isn't a lot of extra space left for rolling around.
Find more information about Platform bed mattress sizes here.
Full Platform Bed sizes can squeeze in 2 adults
A full platform bed can handle a mattress that's 54 x 74 inches. The bed frame itself has dimensions of 57 by 80. Sleeping two adults on this bed is tough, but doable if you absolutely must use that frame.
Twin Platform Bed sizes are the same as single platform bed sizes
A twin platform bed can handle a mattress that's 39 x 74 inches. The bed frame itself has dimensions of 40 by 75. This is designed for 1 adult. Surprisingly few of these are available on amazon. People tend to purchase full beds more often. Here's a highly reviewed twin platform bed .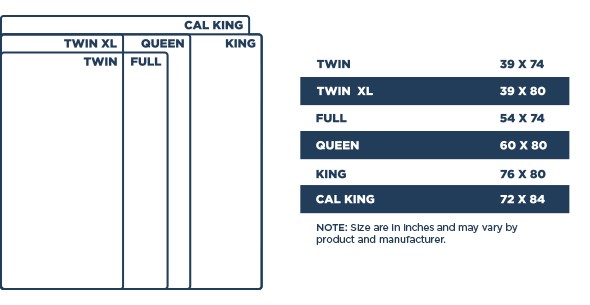 Is it necessary to sleep on a Platform Bed? Or can you just sleep on a mattress?
Certainly! You can sleep directly on a mattress on the floor. But, you have to be prepared for the consequences. Some of the consequences of sleeping on a mattress directly on the floor are:
– Easier to get bed bugs, germs, and dust on your sleeping surface
– When you have a mattress that's on the ground, you need to bend a lot more to enter and exit your bed. Obviously, this isn't great for older people or those who are injured or pregnant.
– Mattresses were designed for platforms or box springs. Their "firmness" depends on the support provided underneath. So, a floor, which has almost no elasticity, will make your mattress seem firmer as well.
– There's no air circulation when you keep your mattress on the floor unlike a platform bed with slats. Especially for mattresses such as this  mattress with "air flow foam" , you'd be losing out on the benefits of sleeping cooler because you didn't provide an appropriate breathable surface (ie. slats).
On the other hand, box springs, or foundations, will help support your mattress and add a bit to the comfort. Similarly, having a firm, flat, platform bed, with a little bit of elasticity will help. When comparing floor-sleeping vs. sleeping on a box spring or platform, it's likely that you won't feel too much of a difference in the short term. However, we're pretty sure you will notice it in the long term. It is noteworthy that you definitely shouldn't place a modern mattress on an old coil or torsion foundation because they tend to flex and sag over time. You need something strong and firm (with central support) to help your mattress maintain its shape. Perhaps you should consider a thicker mattress if you plan on sleeping on the floor directly. Take a look at this zinus green tea guide we wrote.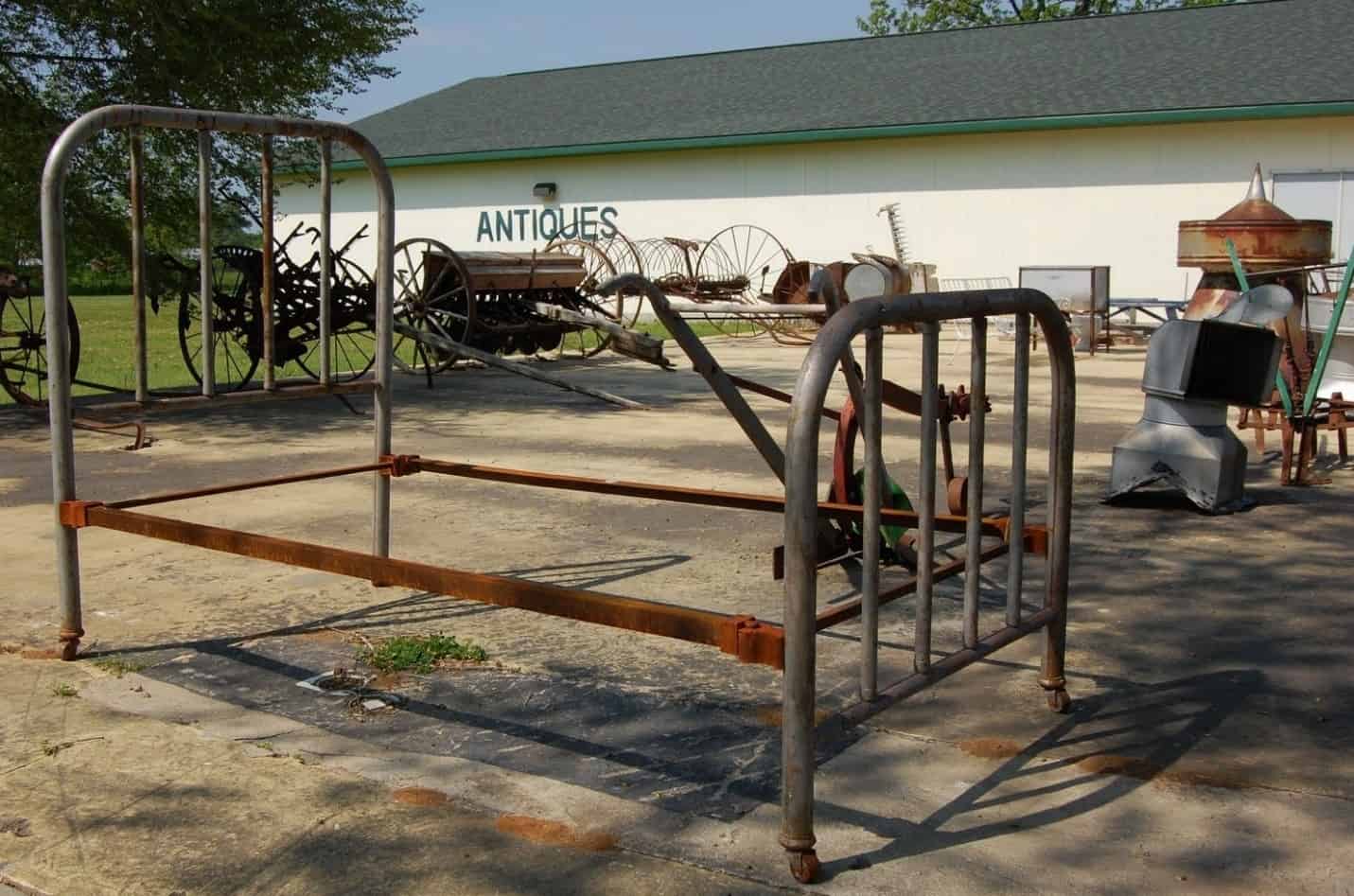 Do platform beds work with memory foam mattresses?
For a memory foam mattress, all you need is a firm flat surface. A platform bed does well and so do box springs. The reason is that you don't want the mattress to sag over time because of a lack of support for the mattress. If you just have a modern foundation that has a flat surface, no holes or anything, then that should do the trick.
Having slats in a platform bed helps provide more air flow but you need to make sure the slats aren't too wide apart. As a good ball park figure, 4.25″ is too far apart for a platform bed with slats because the mattress might end up creeping through the middle of the slats. However, a platform bed with 3″ between slats is a good amount of support for a memory foam mattress. Latex foam mattresses will have the most trouble with a wide slat spacing because the pore structure of the bed has much larger holes. You might have considered just covering your slats with plywood if they are too far apart, but don't do it! You should just buy some new slats because the plywood won't allow the mattress to breathe properly. Slats are available on amazon and are very affordable. Just make sure they fit the dimensions of your bed frame.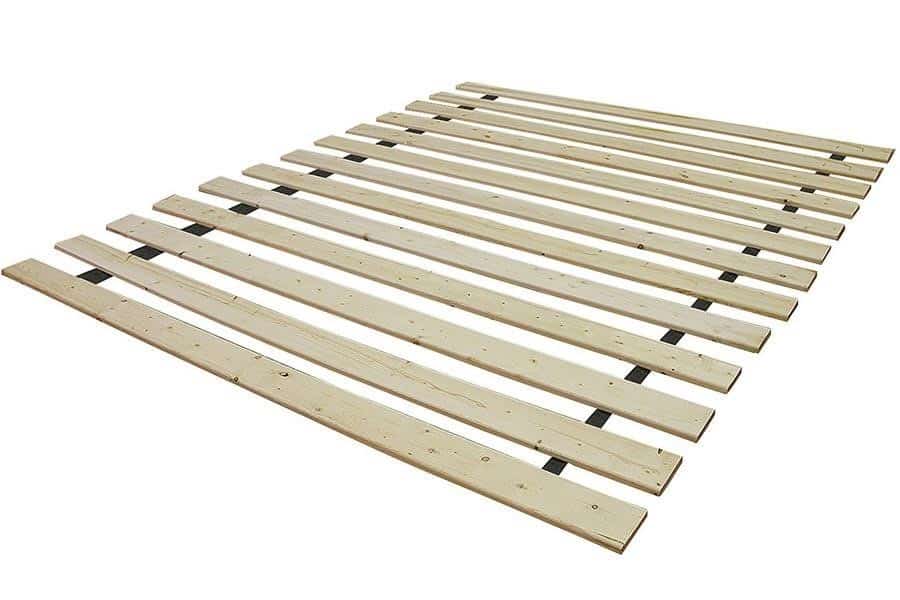 Do platform beds work with Tempur-Pedic Mattress?
Tempur-Pedic mattresses are designed to go along with the Tempur-Pedic foundation on your bed. You've just spent $3500 on a mattress…don't skimp out on the rest of your bed. With the Tempur-UP foundation , you'll be able to raise your head as well as your legs and enjoy the full range of features that your bed offers.
However, the answer is Yes. The standard tempurpedic foundation is similar to a platform bed but much more expensive so I understand why you would want to just use your platform bed. With the standard tempur-pedic foundation you will need 2 twin XL for one split-king bed, so that's almost $500 for just your foundation. On the flip side if you already have a platform bed frame and you absolutely don't want to get rid of it…you can choose to keep it and use it with your tempur-pedic mattress. Ensure that the wooden slats are 3 inches wide and 4 inches apart. Also make sure there is no "flex" in your bed frame because that will degrade your tempur-pedic mattress faster. In fact, any flat foundation will work well with your tempur-pedic, but once again, why skimp out now after you've already spent $3500!?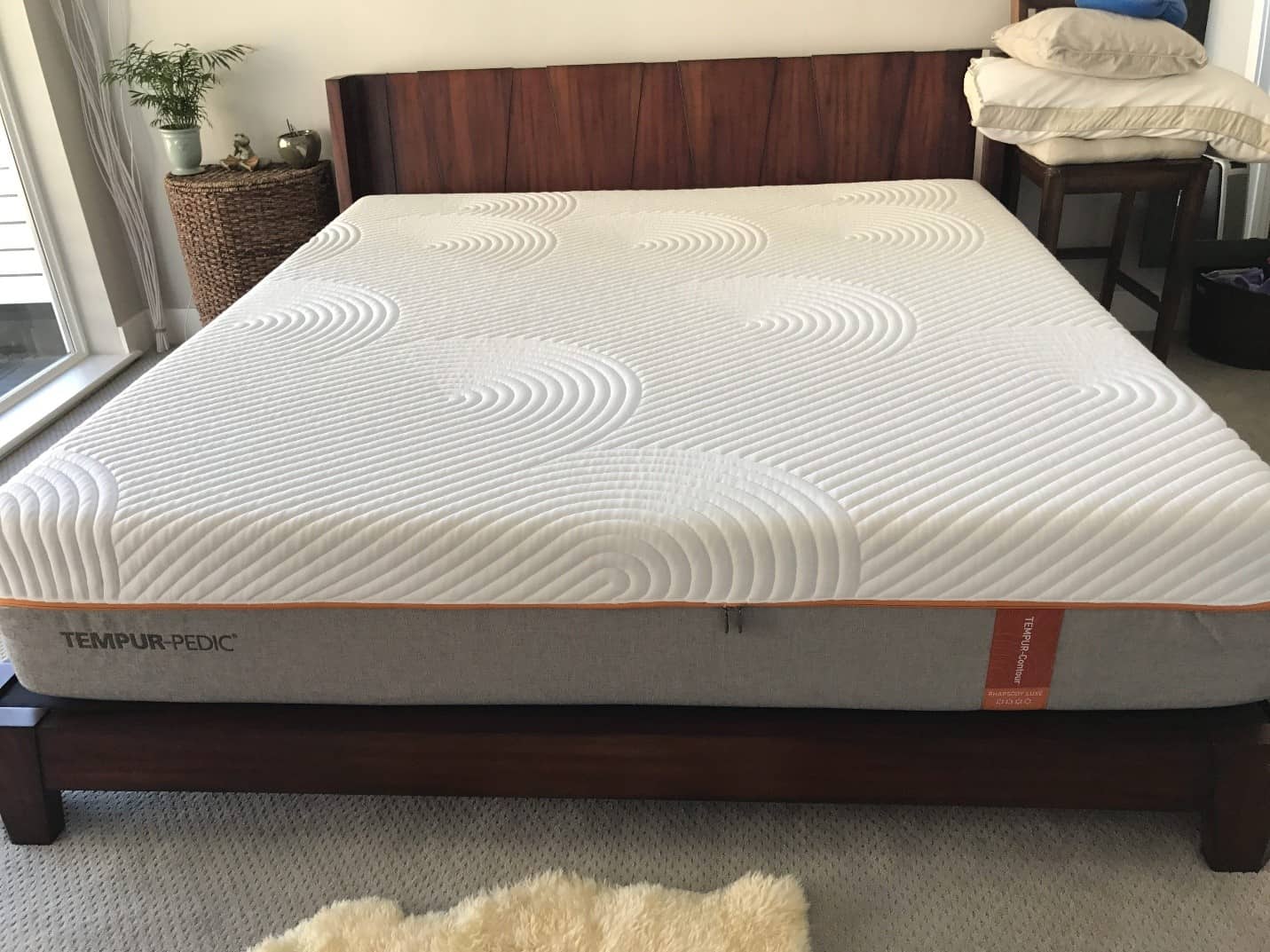 Do platform beds work with a Sleep Number Mattress?
Yes they do. Sleep Number also sells their own modular base but it has a lot of issues from durability to weight limits. A good platform bed, or even a box spring, will work just fine with the sleep number mattress. Go for a bed frame that isn't made of plastic because that will fail over time (just like the modular bed frame that sleep number has). Instead, a wood or metal frame will last a lot longer. For the wood frame, ensure that there is a central support bar or retro-fit it with a support bar because that's the main area that will tend to sag over time. A metal frame should have no issues. We have a nice article on the best platform beds that we've found .
Is a platform bed cover different than a box spring bed cover?
Yes and no. A platform bed just needs a mattress and a mattress cover whereas a box spring needs it's own bed skirt. A bed skirt is a piece of decorative cloth that's placed between the box spring and the mattress so that you can hide the box spring. Otherwise you end up with a bed that looks unsightly because it has so many layers. Bed skirts are also called dust ruffles and valances. Another reason to have a bed skirt is to collect dust and prevent it from floating further up to the mattress/mattress cover.
As a follow-up, this might prompt an interesting question. Why doesn't a platform bed have a skirt when it's actually lower to the ground? I have no idea! You could certainly just use a bed skirt from a box spring, hem it, and then use it as your platform bed skirt .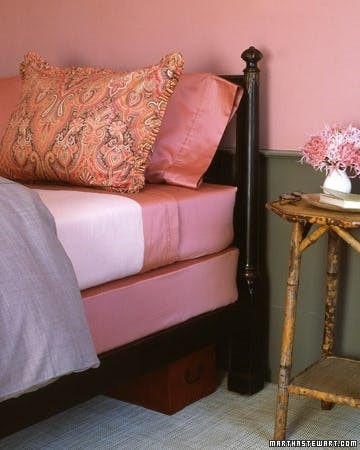 Modifications of Platform Beds
Do platform beds need a headboard? Is a platform bed with no headboard o.k?
No, platform beds absolutely do not need headboards. However, you might still consider getting one because of all the advantages that headboards have. Let's think of both aesthetics and practicality.
Practically, a headboard provides you space to rest your back while you are sitting in bed and working on your phone/laptop. You need some place where your pillows will rest…without a headboard that place is going to be the wall that's adjoining your bed.
The secondary benefit of the headboard is that pillows don't get stuck between your bed and the wall. In my home, the mattress slides a bit on the platform bed so when I lean against the wall and sit on the mattress, my pillows will eventually sink into the space between my mattress and the wall. This is quite annoying and a fixed headboard with a platform that holds the mattress in place will help a lot. Convinced? Here's a platform bed with a headboard .
Aesthetically, a headboard also makes your bed grander . In ancient Egypt, pharaohs had headboards made in gold or ebony. Later on, headboards and footboards were used to block drafts of air from windows (during the greeek and roman times). Once canopy beds and poster beds became popular during mideval times, headboards became a status symbol of the rich. And this idea continues on today. A prominent headboard is usually a center piece of your bed room and provides that feeling of grandeur. It can also be used to add an accent to your bedroom.
Some platform beds offer you extra storage space in your bedroom. Underneath the platform's frame, you will find a chest of drawers located just below the side rails. Other drawers are located in the platform's footboard. Some types of platform beds even provide extra storage options around the headboard area, for deep storage purposes. However, if you like minimalism, then you might prefer and a platform without a headboard as well.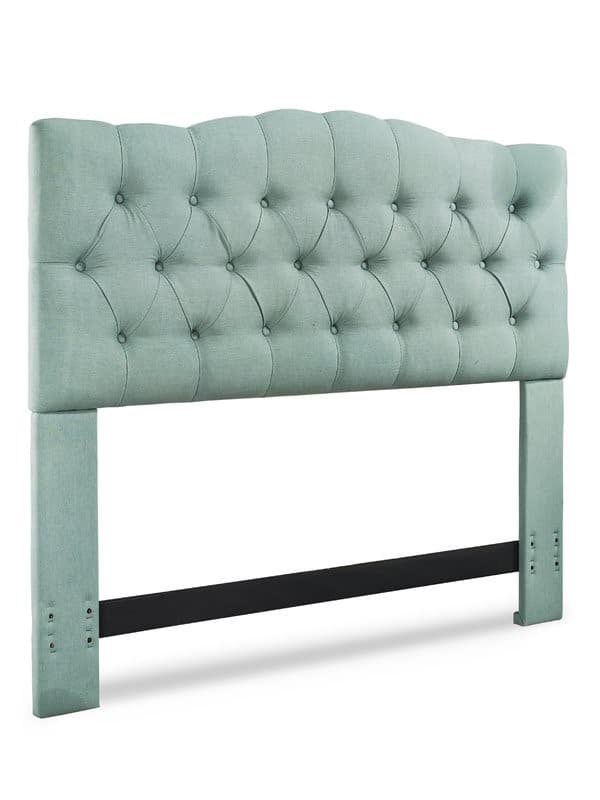 Can you buy a platform bed base and headboard separately?
Certainly! You can get a simple platform bed and then attach a headboard onto it later on using headboard mounting brackets like these ones . The headboard can be bought separately from the main platform bed. Here's an example of an upholstered headboard that you can buy after-market.
Attaching a headboard to a bed isn't that challenging. Here's a pretty nice tutorial on attaching a headboard to a wall behind your bed.
A headboard can be bought separately from the main platform bed frame and attached after-market using mounting brackets.
Can I get a platform bed without slats?
No, most platform beds come with slats because that's what provides the most support and airflow for your mattress. We've seen platform beds with MDF (medium density fiberboard) but really they just have slats underneath the MDF layer.
What's your reason for wanting a platform bed without slats? Let us know and maybe we can brainstorm some ideas?
Final word
We spend almost a third of our lifetimes in bed and therefore choosing the right bed is not something to take for granted. In case you decide that a platform bed is the best option, ensure that you chose a model with a long life span that will support your mattress and go well with your room's décor. We've listed our favorites in this platform bed shopping guide . Good luck on your research and let us know in the comments if you want any questions answered.
You may also enjoy learning about: