Smart beds are an essential luxury item. These things cost you an arm and a leg, but they work well. Smart beds are becoming a must-have luxury with much to offer and guaranteed improved sleep. 
If you are in the market looking for a smart bed, check out the top 4 smart beds available in the market today (also check 10 amazing mattresses). 
Best SmartBed for a Peaceful Sleep
Top 4 Smart Beds Available in The Market Today 
Ghostbed Smartbed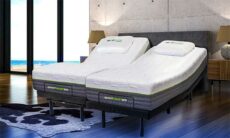 - Luxury smart bed
- Cooling features
- Real-Time Adjustments
A fully adjustable smart bed 
The smart mattress has 4 labeled hoses connected to matching label connectors in the pump. The mattress has a USB cable that you plug into the pump. And there is a separate power cord that you plug into the pump in the wall. You need to download the Ghostbed app to connect it to the mattress.
Next, let's look at the actual mattress itself. Starting with the cover, it has a cooling cover with its patented Ghost ice cooling gel. The cover feels cool even if you touch it, and this material is found in other Ghostbed mattresses.
The top layer is a 3D matrix polymer. The material is very sticky to the touch. It absorbs body heat and keeps the mattress from overheating.
Then, below that, we have the smart sensors. These sense pressures across your body and adjust to get more pressure relief. Depending on the bed size, you and your partner can have your own set of sensors that you can adjust to your own personal needs. Below that, you have adjustable air chambers. These air chambers with app integrations and smart sensors know when to inflate or deflate.
The mattress has a cool, cushiony feeling on top, but at the same time, the firmness is adjustable. You can adjust it from plush to firm to anything in between! This feature enables it to be a great match for all sleeping positions. Whether you sleep on your back side or stomach, you will get all the support, contouring, and firmness you need (check 10 amazing mattresses for stomach sleepers). 
In a nutshell The Ghostbed smart bed is an impressive product that can manually or automatically adjust to your body's sleep needs. You can see where pressure builds up and adjust accordingly using the app manually or let the bed do it for you automatically.
Sleep Number 360 m7 SMART BED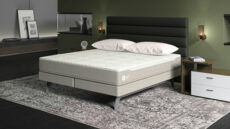 - Cooling memory foam
- Dynamic comfort layers
- Smart adjustability
A smart bed with Sleep IQ technology 
Sleep number is a known brand when it comes to making smart beds. But it is a name that comes with a large price tag. So let's take a look at what it has to offer. 
The smart bed claims to be the first ever designed to help you fall asleep faster and uses sleep research data to give you a more restful sleep. They understand that you need a good night's sleep for a good day. 
The bed uses Sleep IQ smart bed technology that is known to maximize the benefits a smart bed usually offers. It helps improve your overall sleep quality and makes a noticeable difference in your health. 
What's impressive about the bed is that it has special sensors that help that track and understand your sleep patterns. It suggests sleep improvements and automatically adjusts the firmness and feel of your bed if you move in your sleep throughout the night.
This can also be done manually, and both sides of the bed can have different settings making it easy for you to sleep with your partners with different sleeping preferences. 
This is amazing and maintaining and regulating your body temperature. So, if you and your partner sleep too cold or too hot, this can adjust your body temperature, enabling you to sleep peacefully throughout. 
The bed is adjustable, meaning that you can raise the bed if you want (check the top rated mattresses for adjustable bed). This is specifically helpful when couples have issues with snoring (check the top rated mattresses for couples). All you need to do is raise the head side a little, which will help you and your partner sleep better. 
In a nutshell The sleep number 360 is a revolutionary bed with almost everything. It, of course, comes with a huge price tag justified by the services it offers. Place the mattress on an integrated base to get the best use of it.
Rest 5 Zone Smart Bed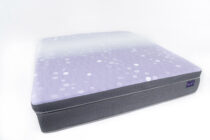 - Traditional
- Firmness
- Adjustable
A bright bed with purple grid soft transition foam
This is an adjustable air chamber support bed that can adjust according to your needs. So if you want a softer or firmer mattress, this can be anything you want it to be (check the best selling soft mattresses). The firmness of the mattress keeps on changing and can depend on your preferred sleeping position. You get a really wide range of firmness and feel from the Rest performance bed. 
You should also know that it is a split air chamber mattress, so you can have different soft to firm settings on both sides of the bed. If you share your mattress with a partner, you will be able to zero in on the perfect kind of firmness for you.
The Rest bright bed uses a purple comfort grid in the comfort layer, which has a very interesting bouncy feel (check 10 top rated mattresses with great comfort). So, even with your mattress on the softer setting, you can change positions easily and not feel stuck in one place. They use this hyper-elastic polymer material, which differs from most of the mattress's foams and comfort layer.
There are 5 different zones in the mattress, and you can control each zone manually through an app if you want to. They have automatic smart bed features in which the mattress using sensors can automatically adjust the settings of these zones when you change positions during your sleep.
You also get a pressure map built into the mattress that senses the kind of sleep setting you will need. You can adjust, save and control these through the app. This app shows you your pressure points and recommends settings and sleeping positions accordingly. 
Next, let's talk about the construction of this mattress. It has a nice stretchy, thin mattress cover that is breathable. Underneath that, in the comfort section, you get two different layers. You get foam and the purple grid foam.
Below that, you have a pressure relief section, a gel memory foam. It gives you nice pressure relief. Then you have the sensors of the rest bed that map out your pressure points and pressure relief. At the base of the mattress, you have these air chambers that adjust the firmness of your mattress. 
In a nutshell the Rest bright bed comes highly recommended for back and combination sleepers (check the
best selling mattresses for combination sleeper
). It relieves
shoulder pain
as the purple grid maps out your needs and provides zoned support to your body. It helps you sleep cool. You can top this mattress with your favorite sheets, and you will be all set.
Eight Sleep Pod Pro Mattress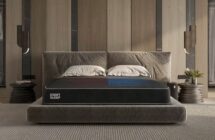 - Advanced Pod
- Thermoregulation
- Comfortable
A smart bed to help you sleep cool
The Pod smart mattresses are explicitly designed to regulate your temperature, so hot sleepers looking for a smart bed should look at this. This is an all foam mattress from 8 sleep built with bright temp AI. It pairs with a water pump and an app to pump water throughout the mattress to regulate your body temperature.
Materials play a huge role in determining the quality of your smart bed. The Pod uses water, a hub, and smart temp AI to regulate your body temperature throughout the night. It pairs with an app that offers the perfect temperature and sleeping tips.
The cover of the Pod uses an active grid tech layer. It ships separately, and you have to put it on yourself. This layer pumps water throughout your bed to help you regulate your body temperature.
The cover is also full of biometric sensing trackers that send information about your sleep to the app. it has a similar feel to that of a high-quality air mattress when you first lay down on it. 
Underneath the cover, you have the Pod's particular sensor layer. This pairs with the app continuously monitor your temperature and automatically adjusts the bed's temperature when you sleep. This is amazing for hot sleepers.
Below is a soft comfort layer and a contouring core that offers additional pressure relief (also check the best selling mattress toppers for pressure points). The base layer is at the bottom and comprises standard high-density foam. This base hooks up with the bed's smart hub that you fill with water every two to three months. 
In a nutshell The
mattress is a great option for hot sleepers
, the bed feels cool to the touch, and if you struggle with hot sleeping, this might be a good solution. You can adjust the temperature difference on both sides if you sleep with a partner.
What Does the Smart Bed Do?
The new smart bed does a whole lot more than help you sleep! Here are some of the things that a smart bed can do for you: 
Sleep Tracking:
So, most smart beds use AI and Sleep IQ technology. Through these, your bed is connected to an application that helps you help your bed manage your sleep. Confused? Well, here's how it works. Your bed has different sensors that connect to an application on your mobile phone or other devices. These sensors track your sleep, as a smartwatch can too.
The only difference is that based on your sleep movements, track record, and sleep positions, the bed automatically sets itself to provide you with the best comfort. It suggests ways to improve the quality of your sleep. The bed can communicate with you through the app, all this through sleep tracking. 
Temperature Control:
Smart beds are capable of controlling and regulating your body temperature. You have a couple of smart beds built with the sole purpose of temperature regulation. Some do this through sleep IQ technologies, some are constructed to have more air regulation, and some have gels and open cell structures that encourage airflow.
Some even have an entire water system that can help regulate your body temperature. So if you sleep hot or cold, they have a solution for both. They even have different control settings for both sides of the beds so that if you sleep with a partner, both of you can optimize your sleep in the way you want. 
Air Chambers:
Most smart beds have air chambers in them. These are like air mattresses but within different comfort and support layers of the bed. These are capable of adjusting the firmness levels of your bed.
No matter how soft or firm you like your mattress, the bed can provide customized firmness levels on both sides of the bed through these air chambers. Again, these can be different or the same depending on your partner's preferences. 
App Integration:
Smart beds do so much, but most of it will not be possible without app integration. Applications are the thing that helps the bed communicate with its human and vice versa. Through app integration, your bed can communicate how it thinks you can sleep better and display the reasons for its decisions.
You can customize the settings manually and tell your bed what you like through these applications. So, an application is a communication medium between the bed and its human. 
Position Control: 
By position control, smart beds can track your sleeping positions and adjust the bed accordingly. If you sleep on your back, side, or even stomach, the bed will automatically adjust the firmness levels and pressure relief zones accordingly. It does this through pressure mapping sensors installed in the bed.
Audio Playback: 
Some smart beds have voice recognition and audio playback. You can communicate to the bed the settings you desire, and the bed will listen and respond to you too. It is a smart bed, after all! 
Are Smart Beds Worth It?
That depends on what you are looking for. Smart beds offer a lot of options and features that guarantee a night of better sleep. they improve the overall quality of your life. So yes, they are a huge investment, but the prices are justified in most cases, and the beds are worth it. 
How Much Does the Smart Bed Cost?
Smart beds are usually heavy on the pocket and not easily available for all consumers. They are usually priced from $ 3000 to $10,000, depending on your preferred brand, functions, and add-ons. 
What Are the Pros of a Smart Bed?
Smart beds offer several benefits. These include but are not limited to: 
Forms And Adjusts to Your Body: 
Smart beds can adjust according to your body type, needs, and sleeping positions. And they can do it differently on both sides of the bed! This can be done automatically, and you can see through the app exactly where there is a pressure build-up and adjust your settings accordingly.
Can Track Your Sleep Patterns and Stats
Through the application, this app can track your sleep in detail, and you can review it later on to improve in any way you would like. 
Temperature Regulation: 
Smart beds are amazing at temperature regulation. The bed can maintain your body temperature, and you don't have to worry about sleeping hot or cold.
What Are the Cons of a Smart Bed?
Like all things, smart beds have a couple of cons. Here are some: 
Time-Consuming To Set Up:
In most cases, smart beds are complicated and time-consuming to set up. Especially if you are not that tech savvy. You will need to give it a couple of tries to get the bed working finally. The app will take shots and time to integrate. The Wi-Fi hubs will need some figuring out to do. Most of these beds have air chambers, so even they take time to inflate before you can do anything. 
Air Chambers Can Be Noisy: 
In some smart beds, you can hear the air chambers inflate or deflate in automatic settings or manually. This can be annoying if you are a light sleeper. 
Heavy On The Pocket: 
Smart beds are high-tech and have so much going on in them. Because of that, they are costly. Not everyone can afford these. They can go all the way up to $ 10 000 and more. 
Who Makes the Best Smart Bed?
Sleep 360 and Rest essentials are known to make the best smart beds in the market with the most features. 
What Is the Lifespan of A Sleep Number Bed?
Sleep number beds have a limited warranty of 15 years. 
How Does SleepIQ Know When I Fall Asleep?
SleepIQ beds have sensors in them. Through these, they can ease your heart rate and detect when you have fallen asleep. 
Are Smart Beds Best for Back Pain?
Yes, this is a no-brainer. Smart beds are the best thing you can get for your back pains (check 10 amazing mattresses for back pain). They use smart technology to adjust your sleeping conditions according to your body's needs. 
Do Smartbeds Have WIFI?
Yes, it is integral for an intelligent bed to have Wi-Fi. But the bed uses that for app integration. You cannot use it for your data streaming. 
Who Made Smart Beds?
American National Manufacturing made the original smart beds for home and medical use. 
Our Recommendation:
So, now that you know everything there is to know about mattresses – we suggest you choose your piece of luxury wisely. Smart beds are a significant investment but look at their comfort and ease. These are now becoming a must-have luxury.
Smartbed FAQs
Do Smart Beds Exist? 
Yes, there is a wide variety of beds available in the market today, from the all-foam mattress to hybrid mattresses to spring mattresses and even smart beds that use innovative technology and AI. You can find them all. 
How Much Do Smart Beds Cost? 
Smart beds are usually heavy on the pocket and not easily available for all consumers. They are usually priced from $ 3000 to $10,000, depending on your preferred brand, functions, and add-ons. 
Is A Smart Bed Worth It? 
That depends on what you are looking for. Smart beds offer a lot of options and features that guarantee a night of better sleep. they improve the overall quality of your life. So yes, they are a huge investment, but the prices are justified in most cases, and the beds are worth it.