Have you slept cozy and slightly cold but woken up super-hot and sweaty? This is because our body tends to give away heat when we sleep. The mattress absorbs this heat, and that begins you being hot at night. The solution? Getting the best cooling mattress for hot sleepers can make your sleeping experience cooler (also check 10 great mattresses on the market). 
Check out the different mattresses with different features to make your sleeping better. 
Best Cooling Mattress for Hot Flashes
Top 10 cooling mattress for hot sleepers reviewed
Ghostbed luxe mattress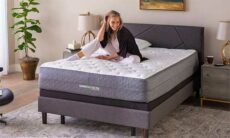 - Made in USA
- The Coolest Bed in the World
- 7 Layers of Comfort
The ghost cooling effect
This GhostBed mattress comes with exotic foam and ultra-soft wool. You will also find this to provide pressure relief and contours to your body, which helps improve sleep. The mattress eliminates motion transfer to ensure a peaceful night for you and your partner. Furthermore, it decreases the heat you experience so you can sleep all night comfortably. 
There are several factors contributing to the cooling of GhostBed Mattresses. First, the memory foam in GhostBed Mattresses forms into a mesh pattern. 
Each layer of the GhostBed Luxe mattress has a reason to be there. Each of these works to ensure comfort and cool all night long. The first layer is the Ghost ice cover. This layer is instantly cool when you touch it. This allows the first interaction with the mattress to be super chill. 
The second and third layers are gel memory foam and cooling fibre. Both work together to cool down your temperature, wicking away heat and providing comfort. 
The next layer is the all-night cooling layer. This layer once again uses ghost ice technology to keep you cool. This technology allows the heat to be absorbed in the mattress and then moved out from you and your mattress. 
The final two layers are the bounce layer which also gives balance, and the firm base layer, which keeps the mattress long-lasting and durable. To make it even more balanced and firm on the base, use the Ghostbed all-in-one foundation base. The mattress stays in place, and it helps keep you cool.  
In a nutshellAll the technologies and the seven even layers on this mattress make you feel like you are floating in the air – cool air – when you are sleeping.
Leesa Original Mattress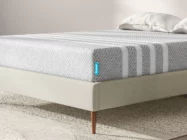 - Soft and breathable
- Memory foam
- Comfort and support
No more stuffy mornings
Leesa mattresses are designed to provide comfort to those who sleep in them. With numerous sleeping positions and sizes, you can find a Leesa mattress that will fit you and your preferences.
Leesa's innovative mattress features an innovative memory foam that keeps you cool and comfortable. The foam encases your body, while the comfort foams provide pressure relief and support. It also keeps your body cool by adding breathability. 
These layers work together to ensure that all areas of your body have pressure relief. Leesa's mattress also features a sturdy, machine-washable cover.
On the surface of Leesa mattresses, there are several cooling features. The mattress is wrapped with fibre, making it soft, breathable, and comfortable. Leesa mattresses also have a cool comfort layer. 
While there is no gel system in this mattress like in the GhostBed mattress, you can add it to cool. Simply use the Tencel Mattress protector by Leesa to make the mattress moisture-wicking and heat-absorbing. It will also add to the breathability. 
The memory foam recovery layer conforms to the body to provide reflective support. Moreover, it uses the sleeper's shape, making the mattress almost custom. A base layer ensures that this layer gets all the help and the entire mattress. 
The base layer keeps the mattress stable, gripped, strong, and durable. It helps the mattress suit every individual and gives a slight bounce.  
The Leesa Mattress is a mattress with unique foam to help contour your body so you can get the best rest possible. 
In a nutshellThe Leesa Mattress is perfect for people in cold areas. It suits them because the mattress does not cool down but has breathability to make the sleeper comfortable and cozy without being stuffy.
Futon Shop Moonlight Mattress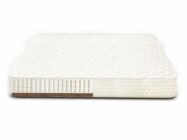 - Certified Organic Dunlop Latex
- Ideal temperature control for any season
- Natural repellent of moisture
Unparalleled comfort!
Moonlight mattresses are made of organic latex, which is 100 percent safe, and used in all Moonlight mattresses and pillows. Natural latex is biodegradable and completely recyclable.
This Mattress is GOTS certified latex mattress. Natural Home Moonlight Organic Mattress provides ultimate rest for people suffering from backaches. This mattress is made using organic latex and coconut coir. The breathable nature of the material helps make it less stuffy. 
Moonlight Organic Mattress is designed to support your body's natural alignment. This is why the company offers custom firmness according to your needs. The mattress has three layers of natural latex, which conform to your body's shape and provide increased pressure relief. The mattress uses organic cotton layers, which are comfortable and breathable. 
Comfort is one reason people choose Natural Home Moonlight. Natural Home Moonlight Mattress is designed to provide the ultimate sleeping experience. This mattress follows the latest sleep science, creating the ideal sleep environment. The mattress is made of high-quality organic latex and organic cotton.
Unlike most mattresses filled with synthetic materials, the Moonlight Organic Mattress uses layers of organic coconut coir, latex, and cotton. While it is not as cold or breathable as the Leesa Mattress, it is still open and does not make you stuffy. 
The best base for this mattress is the Natural Home Natural bed frames. These chemical-free and organic wood frames make your room look earthy, supporting your mattress. 
Natural Home Moonlight is an organic mattress designed to help people with certain sleeping issues. Natural Home Moonlight specifically accommodates those suffering from muscle pain, hip pain, and back pain (also check 10 amazing mattresses for back pain). 
In a nutshellFor those that love being around Nature, this mattress is for you. It keeps you cool and does not let you wake stuffy with natural and custom layers.
Naturalform Refresh Mattress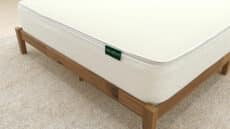 - With patented pressure relief
- Firmness controls
- Naturally Breathable
This mattress provides pressure relief that grants comfort and relaxation. 
This mattress provides spinal alignment and superior lumbar support. These features make it the perfect mattress for back sleepers. This bed features an Australian Wool Cover that keeps you warm when it's cold and cold when it is hot. 
The second layer of this mattress is the comfort layer. This is a CertiPUR-US-approved foam. It supports throughout, especially under the shoulders, hips, waist, and lower back. This layer also has temperature regulation according to the heat level. This means it will never adapt to one shape because of the temperature. 
The pressure-free technology is a special technology exclusive to the NaturalForm Mattress. There are up to 80 different air zones. These air zones provide pressure relief to the different aspects of the body. They are as light as air and make you feel like you are floating. Moreover, they remain ventilated to help you stay cool and breathable all night. 
NaturalForm Refresh Mattress, made with innovative cooling technology, will help you sleep more comfortably. There is a dial on both sides of the mattress. This simple dial adjusts the firmness. This unique quality is in this mattress only. Both sides can have different firmness for you and your partner.
NaturalForm Refresh Mattress uses NaturalForm Technology to craft the foam filling of this mattress. The unique support and qualities make this a must-have for a cool sleep! 
Want to make this mattress even more luxurious? The Egyptian cotton sheets by NaturalForm are super soft and smooth. These make your sleep cozier than ever. 
In a nutshellFor something new in mattresses and something functional, this mattress is for all those trying to sleep in the coolest fashion.
Diamond Response Cool Hybrid Mattress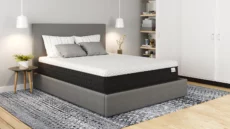 - High density support foam
- Top layer of cooling copper
- Hybrid mattress
Two is better than one in this mattress
The diamond mattress is a hybrid mattress featuring copper memory foam for support and cooling properties. The hybrid mattress disperses body weight evenly across the entire surface, which minimizes pressure points and maximizes comfort (also check the top-rated mattress toppers for pressure points). 
The Diamond mattress represents the revolution that mattresses are getting as days pass. The mattress is engineered to provide cool, comfortable sleep for sleepers. It features a diamond design, which provides dual benefits – superb air circulation, which results in minimal heat build-up and conforming support that cradles the body evenly.
The top layer is a woven material that ensures well aeration. However, compared to the natural form, there is minimal aeration. There is also an edge coil base system. Coiling helps give ultimate support and pressure relief. Moreover, they are strategically placed to become more ventilated. 
You can, however, make it cooler with the Ultra-Cool Mattress Protector by Diamond Mattress. This Mattress protector is light in weight, soft in feel, and wicks away sweat and other forms of moisture. 
The Diamond Mattress Response Cool Hybrid Mattress has layers of diamond-encased foam and cashmere, which provide just the right amount of support and breathability. The mattress is encased in waterproof and breathable materials, making it far easier to wash and dry. The mattress is hypoallergenic and is designed to prevent dust mites from accumulating.
In a nutshellThis mattress is your perfect partner for quality sleep and waking up easy and aerated. It ensures that the sleeper does not get stuffy.
Plushbeds Botanical Bliss Organic Latex Mattress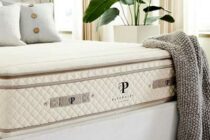 - Recommended by orthopedic specialists and chiropractors
- High-end mattress
- Organic latex
Plushbed's the botanical bliss organic mattress made with certified organic material. 
The mattress is made of 100 % natural latex. This material helps in removing the movement transfer and provides a stable sleep to the sleeper. It has extra firm, medium, soft, and medium-firm mattress options. You can choose it according to your weight and the guide they offer.
It is a luxurious, durable, and therapeutic mattress. It is 100 percent certified organic latex and features an organic cotton cover. The organic cotton cover is specially treated to protect against allergens and dust mites and is quilted with 100 percent organic cotton batting.
It features a layer of wool. One side of the mattress includes a layer of wool, while the other features a layer of latex. The result is a comfortable, durable, and therapeutic mattress. This is the best mattress for those who want a hypoallergenic mattress.
The Botanical Bliss Organic Mattress has a 6-inch layer of high-density support foam. This layer provides solid support, allowing the mattress to keep its shape and cover evenly. The Botanical Bliss Organic Mattress has a layer of organic latex. Latex is hypoallergenic and made from rubber trees. This layer features natural elasticity that conforms to your body, offering plenty of support. 
Plushbeds use natural latex in their plant- and petroleum-free mattresses. Plushbeds mattresses are made of natural latex rubber, a highly elastic, durable polymer. 
In a nutshellFor a natural and toxin-friendly way to sleep comfortably and coolly, this mattress is made for you! All of you, since you can choose your comfort level as well.
Nectar Premier Copper Memory Foam Mattress

- Quilted cool cover
- 5-layer Construction
- Supportive base layer foam
Features quality memory foam for superb contouring of the body
Nectar memory foam mattress is prepared with premium layers of fine material that offer support to contour your body shape. This mattress will make you feel healthy and pleasant throughout the night.
The upper cover of the mattress is poly-blend breathable, absorbing all the heat emitting from the body. It will keep you cool and dry all night.
The 3-inch smart layer cuddles every part of the body. This layer is made from gel-infused memory foam that relieves pressure from the body. In addition, the dynamic support layer gives a deep night's sleep to everybody. It will come with 2-inch of adjusting foam dynamically.
The mattress's 7-inch base layer gives support and comfort layers to work their best. The undercover of the Nectar mattress is shift resistant and fixes your mattress in one dimension. It will avoid slipping and sliding your body while you are sleeping. 
The Nectar Premier copper mattress is one of the great mattresses perfect for an adjustable bed. You can also purchase Nectar bed frames with this mattress for more comfortable sleep.
Furthermore, you can use this memory foam mattress with other frames, like box springs, bed frames, divan base, and platform. This mattress is available in Twin to Cal King sizes with a different firmness. You must select the right size according to your bed size. 
The Nectar copper mattress is suitable for hot and side sleepers (also check the best selling mattress toppers for side sleeper). This mattress offers a cooling surface for a better night's sleep. This mattress can include other bedding accessories for more support and comfort.
In a nutshellThis memory foam mattress is breathable and perfect for hot sleepers because it regulates airflow. Add Nectar sheets, a graphite pillow, and lightweight blankets to increase the comfort level.
DreamCloud Premier Rest Mattress

- 7 layers of premium materials
- Soft cashmere blend cover
- Optimal spinal alignment
Luxury memory foam mattress that relieves body pain
.
DreamCloud mattress is a good quality mattress that relieves pain from the body. It will keep your spine aligned and make you feel comfortable all night. This mattress is composed of skin-friendly memory foam. 
The mattress consists of 6 supportive layers that create a natural environment for sleeping. The top cover is made of Cashmere, giving a soft surface to sleep on the mattress. Sit will block all the smell and keep you fresh throughout the night. 
Apart from that, the mattress features supportive coils that add extra stability. It will fix the mattress in one place and avoid slipping. 
The middle layer of the mattress delivers more support to those suffering from neck and shoulder pain. It will reduce pressure on the body and improves sleep quality.
You can add DreamCloud pillows to enjoy more luxury sleep. It will give support to your neck and spine and remove body pain. You will purchase a mattress cover to save your mattress from ruining. 
To enhance the beauty of your bedroom, you can purchase luxury bed sheets. It will create a softer and more natural surface for sleeping. 
DreamCloud mattress adjusts on all types of bed frames. It gives the best relaxation and modernism experience. You can adjust the direction of the bed according to your choice.
DreamCloud mattress is heat resistant and keeps heat away from your body. It will create a cooling surface for hot sleepers to remain cool and calm throughout the night. It is suitable for all body styles.
In a nutshellThis mattress is perfect for all types of sleepers. It will support your spine and reduces

back pain

. Hot sleepers can also select this mattress for comfortable sleep. The 6 supportive layers make this mattress different from others.
Serta Arctic Mattress

- Cooling power
- Memory foam
- Durable support for any sleep position
Extra cooling power and perfect for hot sleepers
.
This is one of the best cooling mattresses for hot sleepers. The 15x cooling power gives you a comfortable night's sleep. This special technology keeps heat away from your body and keeps you cool all night.
The mattress is prepared with high-quality memory foam. The upper layer of memory foam is soft and gives a smooth area for sleeping. It will contour your body shape and keep your spine aligned.
The medium layer is made of gel-infused memory foam that offers comfortable sleep throughout the night. You wake up fresh and active in the morning.
The supportive coils in the mattress will add extra stability and prevent slipping. It will adjust the mattress on the bed and reduce the motion transfer. The mattress does not create any noise during sleeping.
Serta Arctic mattress offers a great sleeping surface that conforms to your body without a sink. It provides proper support to your shoulders and hips. You can purchase its foundation to provide extra support for your mattress. It will increase the longevity and comfort level of the mattress.
You can also purchase a mattress topper for a softer and more comfortable sleeping surface. It provides support to your body and prevents your mattress from dust particles. The manufacturer gives a 120-day sleep trial with 10 years warranty. Serta Arctic mattress is certified with CertiPUR-US.
In a nutshellThis mattress features a Reactex system designed to absorb the heat and keep you cool all night. It will give you a comfortable feel while you are sleeping. This mattress offers great support and aligns your spine. You can also use breathable pillows and sheets to relieve shoulder pain.
Casper Wave Hybrid Snow Mattress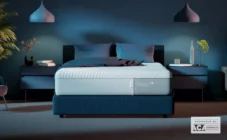 - Ergonomic
- Resilient springs
- Cool touch sensation
Quality snow mattress for side and hot sleepers.
This Wave hybrid mattress comes with Casper 4D sleep technology. It will reduce back pain and aching by giving a better night's sleep. This snow mattress contains Heatdelete Bands that will absorb all the heat and creates a cooling surface for sleep.
It features zoning technology and gel pods that provide excellent support to your hips and shoulders. It will lift your back for proper spine alignment.
The softer zone in the middle region gives ideal support and relieves pressure from your body. You will feel relaxed and calm throughout the night.
The base layer of polyurethane foam is encased with springs that control body motion. It will offer stability and avoid dipping on the bed during sleeping. This layer also contours your whole body in all sleeping positions.
Wave Hybrid mattress comes in Twin, Twin XL, Full, Queen, King, and Cal King sizes. You just need to select the right mattress according to your desire.
You can purchase a Casper pillow to enhance your sleep quality. It will reduce pain in the shoulders and neck. You will feel additional support to your body while sleeping. Besides this, you can get other bedding accessories for unlimited support.
The Wave Hybrid mattress is perfect for all sleepers. But if you are a hot sleeper and do not like this combination, you can pick the Serta Arctic mattress above. The Serta Arctic mattress provides an excellent cooling environment and support while sleeping.
In a nutshellWave Hybrid mattress is breathable and highly durable. This mattress features Heatdelete bands that maintain airflow. It will keep you cool and clean all night. The resilient springs prevent sinking and dipping. It delivers brilliant support, and you can enjoy a natural night's sleep.
What Mattress Sleep Cool at Night?
There is not a particular type that helps you sleep cool at night. However, there are certain properties that mattresses can contain to make them cooler when sleeping. For example, using gel memory foam is the most common thing in the market. The gel keeps the sleeper cool and comfortable. 
Some materials wick away heat. This means they are so breathable that when the mattress absorbs heat, they ventilate it outside instead of staying. This technology is achievable through different materials and different types of mattresses available 
How Can You Cool Down a Mattress?
It can be difficult to cool down if your mattress does not have heat-wicking or cooling properties. However, it is not impossible. If you are looking for big changes, you can get your mattress's top cover changed. You can choose breathable and cool materials. 
However, if you are not in the mood to do something so drastic, you can use a cool mattress topper. Mattress toppers are there to extend the life of mattresses. They have versions with cooling gel and what not to make your mattress cooler. 
What Is a Cooling Gel Mattress?
A cooling gel mattress is a mattress that has layers of cooling gels in them. These can be any kind of gel. However, most of the time, it is a special gel that takes away the body heat, and the rest of the mattress makes it aerate so it can cool down again. Most of the time, you will find this gel mattress with memory foam. 
Which Mattress Is the Coolest?
There is no right answer to this question. Every cooling mattress has several different features to make it cool and comfortable. However, we think a mattress that uses cooling gel and is aerated is the coolest. 
Are Cooling Beds Worth It?
Yes! Cooling beds or mattresses are worth every penny that you will pay for them. The reason is that most of us don't realize that our sleep is disturbed and we toss and turn because of the heat accumulated in us. These beds help lower your temperature. Also, scientifically, if you can sleep, you should keep your body temperature lower. 
Do Memory Foam Mattresses Make You Hot?
There are different kinds of memory foam out there. However, in the majority, yes, they can make you hot. The reason is that they are quite dense. However, if they have layers or are paired with features, remove the absorbed heat from them. 
Will A Cooling Mattress Make You Cold?
No! Cooling mattresses do not have air conditioners to make you feel cold. Cooling mattresses mean mattresses that keep you at the right temperature. When we sleep, our body gives off a lot of heat because of all the functions. This makes human beings very hot if not taken care of. The exposed parts of our body are managed at room temperature. However, the part with a mattress connection can get very hot. 
Cooling mattresses reduce the temperate and make it even, so the body remains well-regulated throughout the night.  
Our Recommendation 
No matter where you live, waking up sweaty and overheated is natural. We believe that the best cooling mattress should have properties of cooling gels like the GhostBeds mattress. However, we lobe the NaturalForm's aeration technology in the shape of coils. We believe it provides comfort and as well, as makes the mattress well ventilated.