With the diverse range of mattresses available on the market, we have come up with the best mattresses that help side sleepers sleep peacefully without affecting your back, shoulders, or hips (also check 10 amazing mattresses for back pain). These mattresses keep your spine aligned throughout the night, keeping you comfortable.
To help you get sorted, we have listed the top mattresses that serve well for all side sleepers (also check the top-rated mattress toppers for side sleepers).
Best Mattresses to Relieve Pressure Points for Side Sleepers
Top 10 Best mattress for side sleepers on the market
Leesa Legend Hybrid Mattress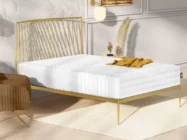 - Organic cotton & Merino wool
- Hypoallergenic cover
- For all sleep positions
Luxurious premium foam mattress with a medium level of comfort
The luxurious dual spring layers of the Leesa Legend hybrid mattress provide ultimate support with micro-coils that easily support the shoulders and hips.
The top layer of this exclusive mattress comes with premium foam, offering sleepers a medium comfort level and a perfect bounce and hug.
Moreover, it features a mattress cover that is sustainable and made with 100% organic cotton. The merino wool in the hybrid mattress helps wick away all the moisture with fiber utilized from the water bottles. 
It features recycled and natural materials, offering the users a perfect night's sleep. Sleep well without any heating effect over this comfortable blended cotton and wool mattress, which is perfect for all seasons. 
The hypoallergenic cover of this mattress is resistant to mold, bacteria, and mildew. It has a natural wicking effect, which is perfect for temperature control. The polyester used in this luxe hybrid mattress is derived from water bottles.
The 6-layer construction of the hybrid mattress includes a 1-inch of comfort foam, which is exclusive to the mattress. A 1-inch pressure relief memory foam layer follows, followed by a 1.5-inch micro pocket spring layer.
It also has a fourth layer of one inch of transition core supporting foam. The fifth layer comprises a 15 gauge, 6-inch pocket spring system that offers back support, and the last layer is made with a supportive foam base. 
Lastly, it is Certi-PUR US certified. It is made without heavy metals, flame retardants, formaldehyde, phthalates, or volatile organic compounds. 
In a nutshell This hybrid mattress is perfect for all sleeping positions. It is perfect for side, stomach, and back sleepers, offering support and comfort to relieve all your
pressure points and reduce back pain
with this comfortable mattress.
Sweetnight Dreamy S1 Mattress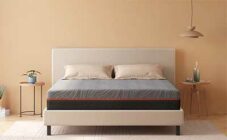 - Three Firmness Levels
- Affordable
- Perfect for every bed frames
For side sleepers, a gel foam mattress with a varying firmness level
Next on our list is the Sweet Night Best Value Mattress in a Box. This Dreamy S1 memory foam mattress comes with gel memory foam, which keeps you cool throughout the night.
What you will appreciate about this item is that it has three different firmness levels, providing sleepers with a comfortable design. The top side of this mattress is soft with medium firmness over the tail, and the bottom side is firm, keeping the back and shoulders in a neutral position without causing any pains or aches. 
The mattress's effective cushioning and targeted support make it highly comfortable, relieving you of back pain. The gel-infused memory foam of this mattress is designed to improve the entire sleep quality, hugging the whole body, and regulating the body temperature, offering a comfortable, cool sleep to the users. 
This mattress's Whisper isolating motion technology absorbs all your partner's noise while tossing and turning, preventing disturbed sleep. This mattress is made with eco-friendly material, making it a perfect choice for all family members. Apart from that, you can also choose a mattress protector or mattress pads to keep your mattresses safe against any stains from Dreamy S1. 
In a nutshell Overall, it is an ergonomically constructed
mattress with 3 innovative layered
constructions featuring 3 firmness levels, including soft, medium-firm, and firm.
Molecule 2 Airtec mattress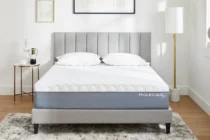 - Airtec™ foam
- Antimicrobial treatment
- Cool sleep surface
Antibacterial, moisture-wicking, airtec memory foam mattress
The Molecule 2 AirTec with Microban comes with proprietary, open-cell foam that allows airflow with extra plush. The quilted top features Microban technology, which provides a quilt cover without any bacterial invasion, keeping you cool and clean throughout the night.
Enhance the sleeping environment with this innovative mattress, which fights against microbes, creating a comfortable, cool, and clean mattress. The advanced cover of this mattress maximizes the airflow to prevent the growth of bacteria, mold, mildew, and others, leading to restful nights. This mattress's unique Airtec property also helps relieve pressure from heavy parts like hips, shoulders, and heads.
With Airtec molecule mattresses, you get 365 nights of free trial and free shipping, and they are also CertiPur-US certified. The air engineering technology featured in the mattress optimizes your recovery pattern and sleep.
Furthermore, the microclimate regulating cover of this mattress keeps you cool during the summers. The eco-friendly material used in this mattress is healthy and safe for all individuals.
In a nutshell Overall, this mattress is perfect for users seeking mattresses with pressure-relieving points and antibacterial effects with stain-resistant features.
Naturalform Refresh Mattress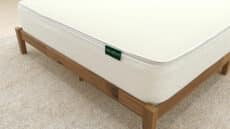 - With patented pressure relief
- Firmness controls
- Naturally Breathable
Best-selling mattress with 80 percent pressure relief
The Natural Form refresh mattress is one of the best-selling mattresses with 80 pressure-free air zones, offering a high-quality sleep to its users. What you'll love about this mattress is that it comes with a 10-year warranty, free shipping, and a 100-night trial.
You can choose your sizes twin, twin XL, full, full XL Queen, Olympic queen, king, full king, and Calking. You can also pair the mattress with the Natural Form Egyptian cotton sheets.
Apart from that, you can choose optional bed frames like adjusting double bed frames or natural foundation, which is the perfect alternative for box spring, raising the height of the bed.
It is an award-winning, comfortable mattress awarded as the best mattress for side sleepers. This best organic air mattress is a mattress that is available without any springs. If you are suffering from back pain, you should get your hands on this mattress because it comes with a merino wool cover, a comfortable layer, a patented pressure relieving system, and firmness controls. 
The wool cover keeps you warm during winters and cool during summers. The wool cover is luxurious and natural, removing all the moisture from your body. It is washable and removable, so you can easily maintain the cover of this mattress.
The comfort layer provides ergonomic support for your body's shoulders, lower back, and waist. The comfort layer comes in the hybrid foam, which is temperature regulating to suit your entire body without making you warm. The pressure-free technology keeps your spine aligned, and the firmness controls allow you to choose your desired firmness levels.
In a nutshell Overall, it is the perfect choice for people suffering
from back pain or hip pain
. It is an ideal choice for side sleepers. Whether you are a hot or cold sleeper, the
mattress works
well for all sleep types.
Emma original
- #1 selling in all Europe
- Perfectly balanced for all body types
- Medium-firm range

The most popular side sleeping mattress for all body types
The Emma Original mattress is a perfect choice for side sleepers. It can also be used for back and stomach sleepers because it is awarded as the best-selling mattress. The German Engineered mattress lets you sleep better with a relaxing feel.
The high-quality material, washable cover, and plush feel make this mattress a wonderful choice. The breathable cover is moisture-wicking in nature, keeping you cool to the touch during sleep. Furthermore, it includes 10″ premium memory foam, which is breathable and highly compatible, keeping you cool all night.
It also comes with 3″ Airgo cell memory foam, which offers a pressure-relieving effect over the targeted areas. With this mattress, you can easily improve the spinal alignment, offering optimal support to the back, shoulders, and hips.
The durable base layer of this mattress results in an even distribution of weight, reducing pressure over the body parts. It is engineered so that it holds you firm without any sagging effect.
The zoning sleep technology used to manufacture this original mattress keeps you firm in the spinal zone with soft zones for your feet and head. The materials used for manufacturing this mattress adapt and contour well to the body shape. On the firmness scale, it comes at a level of 5, preventing you from sagging and sinking.
In a nutshell This mattress supports all your body parts, including your knees and shoulders. Regardless of what your sleeping position is, this matter serves as a perfect choice.
Transformation hybrid by Diamond mattress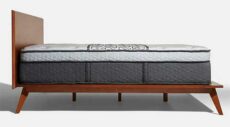 - Hotel quality mattress
- Highly breathable
- Pressure relief
Temperature-regulating, 5-layered advanced technology hybrid mattress
Last in our list of best mattresses for side sleepers is the Diamond hybrid mattress. The transformation hybrid Diamond mattress comes with a 20-year warranty and is made in the USA (check the top-rated mattresses made in USA).
It comes with five comfortable layers, with the first one including the cool touch advanced temperature regulating fabric. It helps regulate temperature and is made with a luxury design to contour your body parts.
It relieves the pressure points and offers sleepers the pressure-relieving effect with confirmability. The second layer is the hyper conductor with a sparkling foam of graphene, which dissipates heat, keeping the surface cool during summers. 
The third layer is made with the micro-cool, comfort layer, which has 1000 micro coils. It results in a weightless, pressure-relieving effect with its wrapped coil design, improving the breathability and airflow for a comfortable sleeping environment.
The fourth is the HD layer, a hyper conductor that regulates the core temperatures. It contours well to the natural body shape, helping with a comfortable sleeping posture. The fifth layer is the patented support system, which prevents the motion transfer to the partner. It improves your alignment and releases pressure from your spine, shoulders, and back.
Enjoy comfort while sleeping on this mattress because it reduces motion transfer and increases the users' sleeping surface. This mattress has superior pressure-relieving technology and provides sleepers with comfort and breathability.
In a nutshell Overall, this hybrid mattress has a perfect balance design that offers comfort and contour, working well with your natural body shape to achieve a perfect sleeping posture. It is perfect for cool side sleepers because of the emergent airflow in the top layers. The eco-friendly material used for manufacturing this mattress makes it a great choice.
Puffy Luxury mattress

- Hotel comfort
- Hybrid quality
- Good with all bed frames
Great for side sleepers and works well for lower back pain.
This hybrid mattress comprises 6 supportive layers that provide a comfortable night's sleep. The higher quality hypoallergenic cover reduces allergy triggers. It also prevents your mattress from dust particles and damage.
Furthermore, the mattress contains a cooling layer that helps maintain body temperature. It will keep you cool and calm throughout the night. This hybrid mattress is equipped with a coil base that gives extra stability to move freely.
This pure memory foam mattress will contour your body and provides support. The high-density foam supports your spine and elevates your body to relieve pressure. This mattress is perfect for those people suffering from lower back pain. The upper cover of the bed comes with stain-resistant clouds that make sanitation easy.
The Puffy Lux mattress fits easily on all bed frames and flat surfaces. However, you can add a Puffy adjustable base or frames for a healthy night's sleep. You can also purchase pillows and mattress toppers for more comfortable sleep.
The Mattress topper offers great softness to your body by keeping you relaxed. It will create a natural sleeping environment for all sleepers. This mattress material has no dangerous effect on your health and is ideally suitable for all skin types.
If you want to skip your old mattress, then the Puffy Lux hybrid is the right choice. It will take you to a whole new world. You wake up fresh and healthy in the morning.
In a nutshell Puffy Lux mattress is an excellent mattress for sensitive people. This
mattress features a high-density
cooling layer and pure memory foam that relieve your back pain. Puffy Lux base and
bed frames
give extra support to your body by keeping your spine aligned. The upper layer contains holes that control airflow and create a cooling effect.
Plushbeds Eco Bliss Hybrid Latex Mattress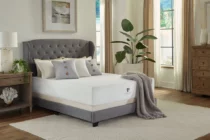 - 100% natural latex
- Supportive PlushFoam Core
- Soft cotton cover
Luxurious comfort and suitable for all types of sleepers.
The Eco Bliss mattress offers a luxury sleeping surface for all types of sleepers. This mattress uses organic cotton with stretches that make the mattress more comfortable. In addition, the manufacturer also uses organic wool that absorbs all the moisture. As a result, it will keep you clean and dry all night.
This PlushBed mattress also uses 100% natural latex that contours your body and gives excellent comfort. The mattress contains coils that are enclosed in the supportive fabric. It will offer extra stability and controls body movements during sleeping.
You can add a mattress topper for a more natural night's sleep. It will support your hips and shoulder and reduce body pain. You can also use luxury bed sheets or covers to create smooth and soft sleeping areas. Bed sheets give a unique look to your bedroom.
The Eco Bliss mattress is suitable for all adjustable bed frames. It will come in different sizes. You just need to have the right firmness and according to your bed.
This mattress is more affordable and comfortable than the Puffy Lux mattress because the mattress is composed of healthy materials that make it different from others.
The mattress is the perfect choice for side sleepers and sensitive people. It does not affect your health but also relieves pain in the body. The Eco Bliss mattress is certified with CertiPUR-US and GREENGUARD.
Furthermore, the company offers 25 years warranty for your peace of mind. You can confidently purchase this Eco Bliss mattress for a better night's sleep. It will decrease body fatigue and makes you feel relaxed throughout the night.
In a nutshellThe Eco Bliss mattress by PlushBed comprises organic cotton and latex. It is hand-crafted and made in the USA. The mattress gives extra support and cool luxurious comfort for a restful night's sleep. You can use adjustable space for more stability and a healthy night's sleep. Apart from that, the company offers 25 years warranty.
Nectar Premier Memory mattress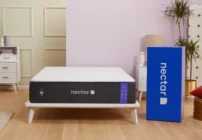 - Gel memory foam
- Dynamic Support Layer
- Stay-Stable Base Layer
High-quality memory foam that maintains body temperature.
Nectar mattresses offer great support to contour your body. The upper cover of the mattress is poly-blend breathable, featuring a cooling technology and heat wicking.
The 3 inches mattress smart layer cuddles your every joint. This gel-infused memory layer relieves pressure from your joints and body. Moreover, the dynamic support layer comes with the 2-inch adjusting dynamically foam that offers you a deep night's sleep.
The 7-inch base layer of standard foam ensures great comfort and support layers to do their best. The mattress's inferior cover is shift resistant, which fixes the mattress in one place. It will protect you from slipping on either side of the bed while sleeping. Nectar memory foam mattress reduces motion transfer and gives you a relaxed night's sleep.
This memory foam mattress can easily adjust to every bed. You can add a bed frame with the mattress to elevate your body for extra stability.
Besides the bed frame, you can also use a box spring, divan base, and platform. The Nectar is medium firm mattress that gives you relieve from pressure points. It will create a luxury surface for natural sleep.
This memory foam mattress is a more reliable and affordable choice as compared to PlushBed mattresses. Hence you can select the bed sheets and pillows to enhance your comfort.
The Nectar memory foam mattress is suitable for side and hot sleepers. It will support your hips and shoulder more by keeping you relaxed all night. This high-density memory foam mattress is durable and comes with 365-night sleep trials.
In a nutshell this memory
foam mattress
contains tiny holes that control airflow. It will create a cooling environment that makes it
perfect for hot sleepers
. The breathable top layer keeps you clean and dry throughout the night. You can buy Nectar bed sheets, mattress toppers, pillows, and other bedding accessories for extra comfort and support.
DreamCloud Premier mattress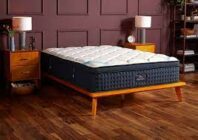 - Memory foam and innerspring coils
- Luxury cashmere-blend cover
- Pressure-relief comfort layer
A magnificent memory foam mattress relieves pain in the body.
This hybrid mattress reduces back pain and gives support to your spine. The company uses high-quality memory foam that is skin-friendly. As a result, the mattress material does not harm your health. It comes with 6 supportive layers that create a luxurious environment for sleeping.
The top cover is made of Cashmere which offers a smooth surface to sleep on the mattress. It will lock the odor and make you feel fresh all night. You wake up active and pain-free in the morning.
The mattress also features supportive coils that add stability and prevent sliding. It will minimize the motion transfer and does not make any noise during sleeping.
The center layer delivers extra support to those suffering from spine and shoulder pain. It will elevate your body to relives pressure and increase sleep quality.
You can purchase DreamcCoud sheets, pillows, and mattress protectors. The protector will keep your mattress safe and makes cleanliness easy. The luxury bed sheet gives your entire bedroom a classy look that attracts people.
DreamCloud memory foam mattress fits easily on bed frames. If you are sharing this mattress with your roommate, you are not affected by your partner's body movement. You can enjoy better and healthy sleep all night. These features make the DreamCloud mattress more supportive than Nectar memory foam mattresses.
This mattress is heat resistant and maintains the body temperature. You will feel cool and calm during sleeping.
DreamCloud mattresses are available in different sizes and firmness. You must choose the right mattress according to your bed. The company gives a lifetime warranty and 365 free sleep trials.
In a nutshell DreamCloud mattress is great for those suffering from back pain. It is breathable and keeps your skin fresh. Six supportive layers give extra comfort and stability to enjoy a deep night's sleep.
What Type of Mattress Firmness Is Best for Side Sleepers?
Firmness is the soft and hardness level. It depends on the proper weight distribution all over the mattress with several pressure points. A firmer mattress has higher pressure points but are not supportive when you sleep. However, the soft mattress result in sinking in effect due to uneven distribution of weight.
It is best to choose medium to medium firmness for side sleepers because it works well with all body types. The medium firmness mattresses come with enough padding in the mattress to relieve pressure points on the shoulders, hips, and back. The back supporting system should be such that it keeps the spine properly aligned with the back, head, neck, and toes in a neutral position.
Is Memory Foam Better for Side Sleepers?
Memory foam is considered one of the best materials for people who side sleepers because it adapts well to the body shape. The high-pressure level over the pressure points reduces the knee and shoulder pain when you press down over the mattress during the sleeping position. The best bounce and hug level with the memory foam allows the users to sleep comfortably without any pains and aches.
The best one is the hybrid mattress, which comes with an innerspring mattress, layers of memory foam, and ultimate support. For a perfect sleeping experience for side sleepers, hybrid memory foam is the best. However, only memory foam mattresses will also work.
What's The Best Mattress for Side Sleepers with Shoulder and Hip Pain?
The Nectar mattress is considered one of the best supportive mattresses for side sleepers. They are made with a thick layer of infused gel memory foam, which offers control and pressure relief on pressure points over the entire body.
It works well for reducing shoulder and hip pain. The cushioning effect within the memory foam cushions all pressure areas preventing discomfort and pain even in back sleepers.
Are Pillowtop Mattresses Good for Side Sleepers?
The pillow-top mattress is great for all sleeping positions, including side sleepers. They come with long-lasting support, offering pain relief. They are made within a spring mattress, making it a wonderful choice for all sleeping positions.
Apart from the innerspring foundation, it comes with an additional layer of padding, which keeps you comfortable and supported throughout the night.
They are usually found in luxurious hotels, giving you an extra padded portion with an even weight distribution throughout the mattress. You will enjoy a perfect balance while sleeping because of the enough coil system present in the mattresses, offering ultimate comfort to all the sleepers.
Do Side Sleepers Need a Firm or Soft Pillow?
For side sleepers, it is best to provide a firmer pillow with a medium loft so that you can easily support the cervical spine while resting.
Avoid choosing very thin or thick pillows as they can easily disrupt the natural curvature of the human body, leading to pain and aches. The firm pillows contour your body shape, allowing you to sleep comfortably.
Are Innerspring Mattresses Good for Side Sleepers?
Different mattresses are available in the market, but the innerspring mattress is a perfect choice for side sleepers because it comes with the perfect bounce.
In this mattress, the steel coils are layered with the metal grid supporting the entire mattress. It helps contour and adapt well with the entire body relieving the pressure points.
Our Recommendation
You can choose the mattresses from famous brands like Leesa, Sweet Night, Natural Form, Emma, and so on listed above, making you sleep comfortably throughout the night without discomfort. Hope this entire guide helps you get your hands on the best mattress for the best side sleeping position. These mattresses are perfect for side sleepers as it doesn't cause pressure over the shoulders, hips, and back.