If you are seeking a mattress at a budget-friendly price, you must have come across brands like Helix and Leesa. What you will love about these companies is that they offer their users direct shipping and a wide range of products. Apart from the mattresses, you can buy pillows, bedding bases, and other bedding accessories from these brands. Leesa started as a company, introducing different models for the users, including Leesa original, Leesa legend, Leesa Sapera hybrid, and so on (also check the top rated mattresses).
In contrast, Helix offers customized bedding options for users based on body types and sleeping positions. Helix ensures to offer you different mattress types in the hybrid range, including Moonlight Sunset, Dusk, Midnight Twilight, and so on. These mattresses come with ultimate support and a pillow top. 
Helix and Leesa are both luxurious and highly rated companies that offer warranties and sleep trials for their users (check 10 best selling luxury mattresses). Let's find out more about them in this comprehensive comparison. 
Comparative Table to Choose Between Leesa Original and Helix Midnight Mattresses
 
Leesa original
Helix Midnight
Best for
Back and side sleepers

Back pain sufferers

Side sleepers

Joint pain sufferers

Trial Period

100-night trial

100-night trial

Warranty

10 years warranty

10 years warranty

Price range

$749-$1199

$699-$1499
The Key Differences Between Leesa Original Vs. Helix Midnight
Who is The Leesa Original Mattress Best For?
Best for…
For people suffering from back pain: Leesa's original mattresses are best for people suffering from back pain. It features tops of layers with a contouring effect due to the transition layer. You get optimal spine alignment with this mattress, relieving all the pain. 
For side and back sleepers: The original works well for side and back sleepers. The medium firmness design of this mattress, featuring plush polyfoam over the sleeping surface, is pressure-relieving and supportive for the users. 
For couples: It is a flawless mattress with premium-quality motion isolation and a comfortable sleeping experience. If you have been seeking a mattress for couples, Leesa's original mattress offers incredible motion isolation without affecting the partner's sleep due to the tossing and turning. The medium firm design of this mattress works well for most sleeping positions.
May not be best for…
Heavy stomach sleepers: The Leesa Original mattress is not for obese sleepers. It is very soft and not great for stomach sleepers (check 10 amazing mattresses for stomach sleepers). With Leesa's mattress, you won't get enough support over the hips. 
Bouncy: This mattress is not for people who fall for bouncy mattresses. If you like bouncy mattresses, it is best to choose innerspring and hybrid mattresses. 
Hot sleepers: Leesa original is not advised for hot sleepers because it features a cooling cover with breathable poly foam, but that is not enough for hot sleepers.
Who is The Helix Midnight Mattress Best For?
Best for…
Side sleepers: The Helix Midnight works well for side sleepers with all body types due to the memory foam comfort layers. The maximum comfort over the head and shoulders combined with a pressure-relieving effect for side sleepers makes it a perfect choice for users. 
Arthritis sleepers: If you are suffering from joint pain, then helix midnight is the ultimate choice because it offers a pressure-relieving effect on the joints. For arthritis patients, it is the best mattress. 
Hot sleepers: The top layer of the Helix Midnight mattress comes with slow response memory foam. First, the coils are breathable in this mattress, limiting heat retention and allowing you to stay cold throughout the night.
May not be best for…
Light sleepers: A Helix midnight mattress is not a great choice for light sleepers. 
Motion transfer: The motion transfer feature of this mattress is not that great. Helix Midnight Madness is bouncy and supportive, but this is not the choice if you seek a foamy mattress. 
Stomach sleepers: Midnight Madness does not offer enough spinal alignment for stomach sleepers weighing greater than 130 lbs. It results in a sinking effect over the hips, which is not advised for stomach sleepers (also check the best selling mattress toppers for hip pain).
A Comprehensive Comparison of Leesa Original Vs. Helix Midnight Mattress Features
Construction
Helix is a brand that offers a product line with different models based on comfort systems and firmness levels (also check 10 mattresses with great comfort). It offers mattresses at 12 inches in height along with the standard layered composition. So, you can keep different models in mind while buying the Helix mattresses.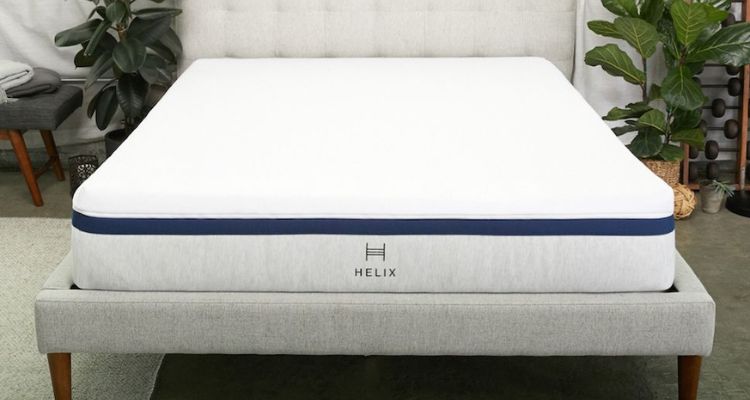 The hybrid Midnight mattress by Helix features a combination of layers of foam with the comfort system packed with coil support systems, which are made with steel, improving the overall durability. The thick coils in the hybrid mattress offer ultimate support to the users (check the top rated hybrid mattresses). This brand uses blended foam in its mattresses, resulting in a comfort system that aids in spine alignment. It includes a combination of memory foam and polyfoam. 
The Helix mid-night mattress comes with a cooling top cover, which is made with a soft design and a Glacio cooling effect. Next comes the comfort layer, which is pressure relieving and is made with foam, a special blend for Helix. 
The third layer is a transition layer made of higher-grade polyfoam that provides economic support while giving users a contouring effect. The body shape layer has wrapped coils for cuddling well with the body and limits motion transfer. It makes sure to offer support to the users. Last comes the base layer, made using the dura dense foam, offering enough support and high durability to the entire mattress.
The polyester blend cover is lightweight and stretchy, resulting in a seamless choice. The breathable polyfoam offers enough circulation to the entire body. The polyfoam is then covered with 2 inches of high-density memory foam, which relieves all pressure points (also check the best selling mattress toppers for pressure points). Combining the layers with 6 inches of polyfoam makes it a perfect choice for controlling and relaxing effects. Next to the cover is the comfort layer, which is breathable and keeps you cool and bouncy. 
Now comes the memory foam recovery layer, which works well with the body, relieving the hip, shoulder, and back pressure. Finally, the base support layer is made of high-density foam material that offers signature support with their ability to the body type.
Firmness
For stomach and back sleepers, it is advised to choose medium-firm mattresses. The medium firm mattresses offer enough support to the spine and bring a touch of comfort and softness to the user. Side sleepers require a firmness level that provides pressure relief, with a firmness range of 3 to 6.
The Leesa original mattress comes with a medium firmness level and is rated 5 out of 10. It is an all-memory foam mattress that is soft, plush, and offers enough support, especially for back and side sleepers. It is a flawless choice for all back pain sufferers.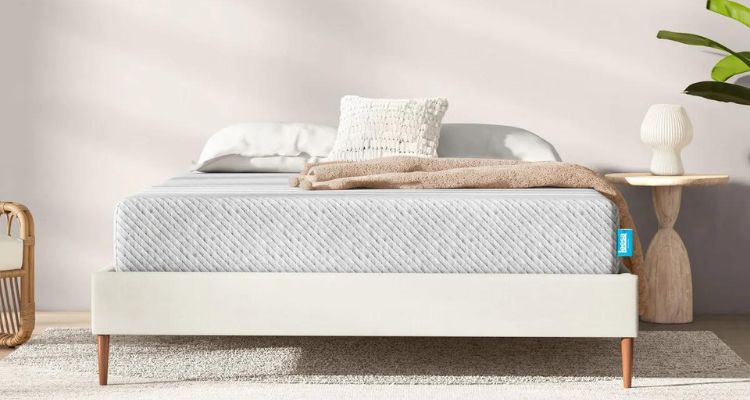 The Helix mattress, on the other hand, is rated at 6 out of 10, making it a medium firm choice that is neither too soft nor too hard for the users. Helix Midnight is bouncy because of the coil composition, allowing you to sleep well in all body positions easily. Helix midnight firmness works well for all side sleepers. It is an incredible choice for people with arthritis as it relieves all joint pain.
Motion Isolation and Edge Support
Motion Isolation is about transferring the movement from one side of the bed to another. It includes movements like getting out or inside the bed or tossing and turning movements. The all-for-memory mattress by the Leea brand will ensure superior motion isolation due to the complete absorption of moments, preventing any motion transfer from one side of the bed to another. 
The motion transfer with the Helix midnight mattress is less because it is a hybrid and comes with hundreds of wrapped coils that cradle the body well, limiting the motion transfer.
Edge support is another important factor you must consider while buying the Helix and the Leesa mattresses. It makes you sit and stand by the bed comfortably. It is an important consideration when purchasing a mattress for a couple because it enhances the surface area. The Leesa original foam mattresses have less support because they compress easily and lack the support parameter.
On the other hand, the hybrid Helix midnight mattress comes in coil and foamy support because it has reinforced walls within the base support layer.
Temperature
Temperature regulation by the mattresses is one of the important factors you need to consider. Some sleepers are hot while some people are cold, and you need to have your hands on a mattress that conforms well to your body shape and dissipates heat. 
The original memory foam mattress by Leesa keeps you cool throughout the night because it entraps heat from the body. It has a breathable foam design but is insufficient for hot sleepers.
In comparison, the Helix mattress comes with coils that allow for an adequate flow due to effective cooling. Still, if you are a hot sleeper, choose a cooling mattress for your bedroom.
Position and Body Type
The Leesa original mattress works well for the back, stomach, and side sleepers with its lightweight construction. It might work well for obese stomach and side sleepers. For heavy-weight sleepers and especially stomach sleepers, you need firm mattresses to get the proper alignment of the spine without any sinking and sagging effects (check 10 amazing mattresses for overweight people). 
The Helix Midnight mattress, is a flawless choice for lightweight side sleepers and average-weight side sleepers. It might work well for light and average-weight back and stomach sleepers. However, for the heavy stomach, back, and side sleepers, it is not a good choice (check 10 great mattresses for side sleepers).
Price Range 
The price range of the Leesa Original and Helix Midnight mattresses varies in terms of sizes. Leesa's original mattress is comparatively more expensive than the Helix midnight mattress (check the best selling mattresses under 2,000 dollars). 
So, if you are seeking a budget-friendly and hybrid mattress, Helix midnight is a perfect choice (check 10 top-quality mattresses under $1000); However, if you are seeking memory foam mattresses, Leesa's original mattress works great!
| | | |
| --- | --- | --- |
|   | Leesa Original | Helix Midnight |
| Twin  | $749 | $699 |
| Twin XL | $799 | $799 |
| Full | $999 | $949 |
| Queen | $999 | $1099 |
| King | $1199 | $1449 |
Verdict
Helix midnight and Leesa's original mattress are best for back and side sleepers due to their unique strengths and composition. Leesa's original mattress offers motion isolation making it an incredible choice for all light sleepers and couples (check the top rated mattresses for light person). 
Helix Midnight, on the other hand, is highly durable and comes in a comfortable, supportive design, making it a great choice for heavy folks. It all depends on your personal preferences and how you choose the mattress for your bedroom. 
With the detailed, in-depth review of Helix midnight and Leesa Original mattress, you can choose the mattress based on your sleeping position and body type.