Canopy beds are a non-traditional bed that includes curtains for additional privacy. In this article, we discuss several topics related to canopy bed pros and cons, the uses of canopy beds, shopping for canopy beds, canopy bed curtains, and even making your own DIY beds. Please utilize the table of contents below to determine what topics are of interest. You may also be interested in our comprehensive guide to platform beds, which are more well known.

Essential Knowledge


Shopping for Canopy Beds


Who are Canopy Beds for?


DIY Canopy Bed Projects

What are some advantages of canopy beds?
At some point in life, you might find yourself with an urge to get a canopy bed. While kids simply love the novelty of such beds, adults may find themselves wanting one for privacy, protection, and even for intimacy. While the traditional function of a bed is to provide a good rest, the canopy bed can offer a lot more.
More than just a regular bed, canopy beds can be a young child's fortress or a couple's love nest. Its enclosed environment discourages intruders, whether human, insect, or radio waves. Unlike an ordinary sleeping bed, canopy beds can also add to the aesthetics of a room.
If you only use a bed for sleeping, or value a minimalist lifestyle, then a traditional bed is probably for you. If you're looking for something with a little more pizzazz, however, a canopy bed might be your best friend. While not highly rated, this design by «Curated Nomad» is quite unique!
What is the difference between a canopy and a four-poster bed?
While "canopy bed" and "poster bed" are often used interchangeably, the two terms actually refer to different things. Canopy beds have an overhanging fabric roof, and usually curtains which hang down on the sides. The fabric used for this purpose is usually quite thin and sheer. Canopy beds also don't necessarily have posts at each corner of the bed, and are instead often supported by a cantilever frame extending from an adjacent wall or ceiling. The image below provides an example of how a canopy bed can be created with a rope and curtain system purchased from Comtelek.
The four-poster bed, meanwhile, has a frame consisting of 4 posts at each corner of the bed. Sometimes these columns are used to support an overhead fabric cover. This kind of bed is often used to maintain warmth during the cold winter or to keep bugs away during sleep. Here is an example of a four-poster bed sold by Ashley Furniture.
Can you have canopy beds in rooms with low ceilings?
While most canopy beds look great in bedrooms with high ceilings, low height clearances shouldn't prevent you from getting your own. Because they can feature a fabric roof that hangs from the ceiling or beam, any height clearance should work as long as you're comfortable with it. Some drapes are even designed hang fairly far down from the ceiling, like this one. Additionally, take a look at how you can use a canopy bed on the floor.
You can also construct a unique canopy bed according to the dimensions of your room. For example, this bedroom from designingidea.com makes use of the attic's low ceiling to support a makeshift canopy bed.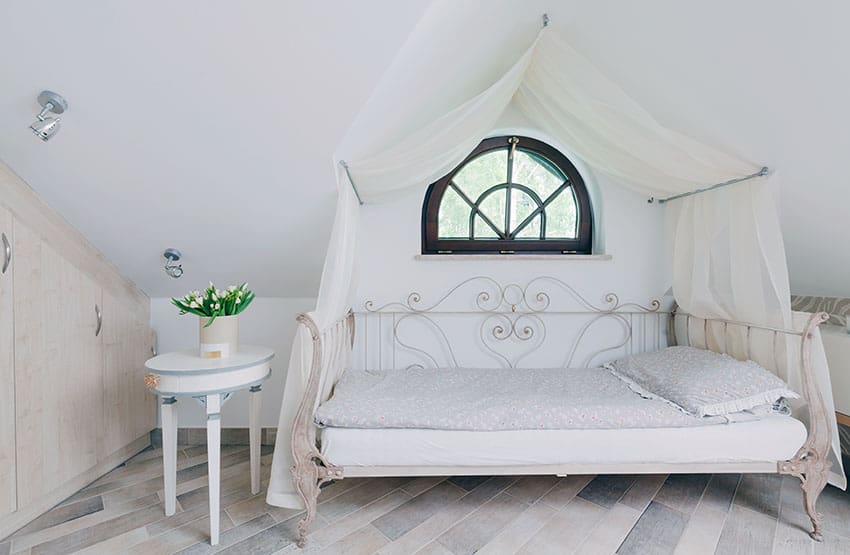 However, canopy beds supported by a four-poster frame are usually best for bedrooms with ceiling heights of at least 9 feet. This is not a strict requirement, as even a room with a clearance of 8 feet can accommodate a canopy bed. Just make sure that the bed won't hit an existing ceiling fan or light fixture and you should be fine.
How do I put curtains on my canopy bed?
Placing fabric covers on canopy beds might look difficult at first sight. However, putting regular window curtains on them is quite possible if you just use accessories such as hooks, ties, or rings. Alternatively, you can have window curtains modified to fit your canopy bed, and fitted with Velcro patches for easier installation. Here's our detailed guide to drape canopy bed curtains and how to hang sheers on a canopy bed.
Specially made canopy bed curtains, however, are quite widespread in retail stores and the online market. As an example, this canopy can be secured to the bed frame with curtain bows.
Alternatively, you can get a canopy that is simply hung over the bed with wall or ceiling hooks. This kind of fabric roof is quite easy, as you only need to fasten the curtain ends in place to set up your canopy. This mosquito net canopy, for example, is a system that does exactly that. The drapes hang from ceiling hooks which even makes it possible to install them over regular beds.
Lastly, you can get a dome canopy netting for your bed. This functions like a tent which fully encloses your bed in fabric. To install these over your bed, you just need a rope and a single, heavy-duty ceiling hook to carry the roof over your sleeping area. This dome canopy serves as a great example, as it is generous enough in size to cover the whole bed, but simple enough to set up and disassemble for travel.
Do men and women like canopy beds?
Generally speaking, women are more enamored by canopy beds. With the dramatic drapes and sheer enclosure, the canopy bed alludes to Victorian origins and even the Medieval period. It keeps the occupant warm during cold nights and provides a unique sense of privacy and grandeur.
Men, on the other hand, seem to have mixed feelings about canopy beds. Under the impression that such beds are often designed for women, many guys are uncomfortable with the idea of having their own canopy beds, lest their sexuality be called into question. Other men, however, don't mind the idea. If anything, they believe they can use canopy beds to make their bedrooms more enticing to women. Also, for Do-It-Yourself Enthusiasts, making a canopy bed might prove to be a challenging yet rewarding project.
Surprisingly, animals also love canopy beds. Cats, dogs and even more exotic pets like bearded dragons love to cuddle and hide underneath the covers of a canopy bed. Perhaps this is because a canopy bed makes your pet feel safe and secure. This canopy bed especially made for pets can be used during travels with your favorite four-legged friend.
Who normally uses canopy beds?
While canopy beds offer many benefits, some people hesitate to get one due to preconceived notions. Many people think that canopy beds are for girls or for members of the royal family. New parents avoid this type of bed, assuming that a crib is always the best option for babies. As we've discussed before, single men who choose to sleep on canopy beds sometimes face homophobic criticism. Practical couples generally avoid looking at canopy beds at all, thinking they're too expensive. However, times are changing! Nowadays you can easily get a canopy bed that fits your budget and your preferences.
As an example, this bed from Baxton Studio features iron tube posts with plated brass corner fittings. It can stand enough on its own in a bachelor's pad. If you would like a curtain to go with this bed, you can get a simple canopy net for boys. These two items emanate sophistication yet aren't frilly enough to make your manhood questionable.
With regard to budget-conscious customers, here's a queen-size canopy bed that costs $243.97 because it already comes with a mosquito net. The design is modern, sleek, and suits a studio or regular-sized bedroom. It's great for new couples who want some style in their bedroom without breaking the bank.
Is there such thing as a «masculine» canopy bed?
In the recent past, canopy beds were limited to little girls' bedrooms. Frilly lace curtains were a popular choice for the netting of four-poster beds. Back then, if you had a canopy bed and you were a guy, your sexuality was probably called into question.
Nowadays, however, canopy beds come in a wide variety of designs and can suit any person. From a little boy to a proud bachelor, any man can now obtain a canopy bed designed to his liking.
As an example, this canopy bed can easily fit in a boy's bedroom. Its weight limit is 450 lbs. With its simple metal construction and no-frill design, the bed frame can stand alone without any curtains. But if you still want a curtain to go over your bed, there are "masculine" options available. For example, this set of canopy fabrics might be worth your consideration.
A full-size canopy bed from Mainstays can also work in a man's bedroom. Their modern design and sleek look still emanate a masculine feel. In short, with new designs like these, men and boys can enjoy the comfort and enclosure of canopy beds without worrying about their images. If you're still not sold, you may choose to add a bookcase bed to your room instead. Be sure to read about these 10 bookcase bed nook ideas to make your bedroom look cozy as well.
Do canopy curtains guard against bed bugs?
Yes! Canopy beds have long been established as an effective repellent against mosquitoes, at least to some degree. Nowadays, there is even a market specifically for those seeking protection against bed bugs. However, while many companies offer curtains and canopies that keep bed bugs at bay, none can guarantee complete eradication of these pesky critters. All the same, in our opinion there are some companies offering competitive packages that might be worth a try.
This indoor bed bug tent of by Eco-keeper, for example, provides protection even in areas where bed bug products are prohibited (such as New York and California). The mesh design traps bed bugs as they attempt to get into your bed. Though it may be claustrophobic to people who move a lot in their sleep, buyers have reported immediate relief after using it after several days. This product is also easy to set up and disassemble, so you can use it daily and bring it with you during travel.
Another product worth a try is a canopy tent by YYWZ. While the product is actually marketed as an anti-mosquito net, the holes are fine enough to deter other insects as well. It also features entrances on both sides of the bed.
Canopy beds are also a great option for children who need protection from bugs and mosquitoes. As an example, this canopy from Loaol provides a great addition to a baby's nursery. Though this model was originally designed for girls, the canopy comes in white as well for little boys.
With a bed bug canopy right over your bed, you won't have to spray DEET or other harmful chemicals in your sleeping space anymore. While total elimination of pests cannot be guaranteed, you'll have at least some effective protection against those pesky bed bugs.
How much do canopy beds cost?
The cost of canopy beds ranges widely. You can get a twin-size canopy bed frame for as little as $130 from companies like Mainstay. On the other hand, there are the high-end versions which offer more intricate or custom designs. For example, a Chinese antique canopy bed will cost you $11,450.00 even in a used state, but the wooden details of the bed are all hand-carved.
However, the general price range of a full-size canopy bed ranges from $200-600 in today's economy. If you choose to build your own bed frame, you can save on transportation costs and customize your bed's details; but naturally, not everyone has the time or resources to do this.
Alternatively, you can always buy a regular bed and simply add the fabric roof (and potentially corner posts) yourself. Buying a post will cost approximately $50 (from KingKara, for example) and allows you to transform a regular full-size or queen-size bed into an elegant four-poster bed. If you also purchase some bed curtains (such as this one from Nattey, costing $44.80), you have a new canopy bed to sleep in without having to replace your regular bed.
What are the dimensions of canopy beds?
If you plan to purchase or build a canopy bed with posters for a particular room, you have to make sure the bed will fit the room's dimensions. Generally speaking, the posts of a canopy bed can be as high as 83" (roughly 7 feet) and as low as 78". Based on this information, bedrooms with 10-foot high ceilings can easily accommodate four-poster beds. And, as we discussed before, rooms with lower ceilings can still feature canopy beds without posts. You can simply suspend the fabric roof of the canopy bed from the ceiling or the walls instead.
The widths and lengths of canopy beds will vary depending on the mattresses they accommodate. The typical canopy bed accommodates a full-size or queen-size mattress. There are also some king-sized beds available on the market. If you love DIY projects, you can build your own canopy bed by following plans such as this one from the Rogue Engineer.
The elevation of the bed from the floor, meanwhile, depends on the design of the bed frame. Many beds are elevated 12" from the floor. This dimension allows a trundle or storage box to be hidden underneath the bed.
The graphic below, from Rogue Engineer, specifies the dimensions needed to create a King-sized bed. You can also modify these ratios according to your preferences and room conditions.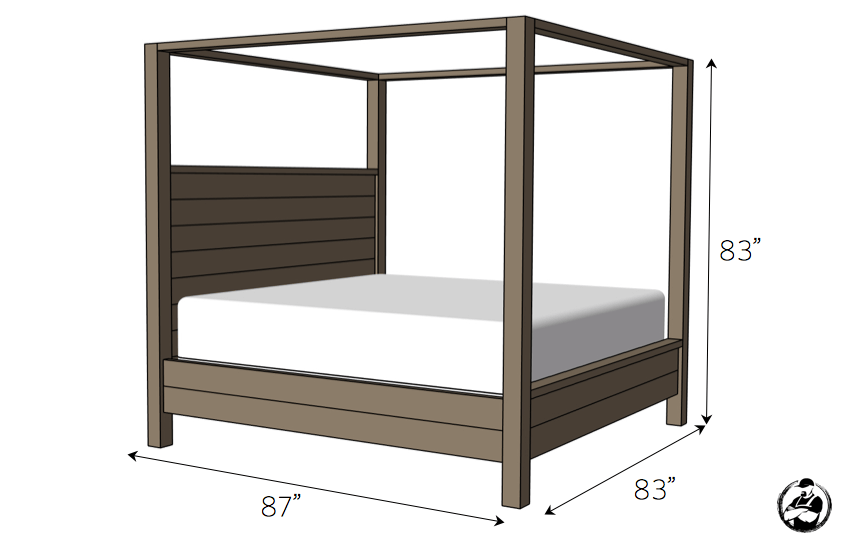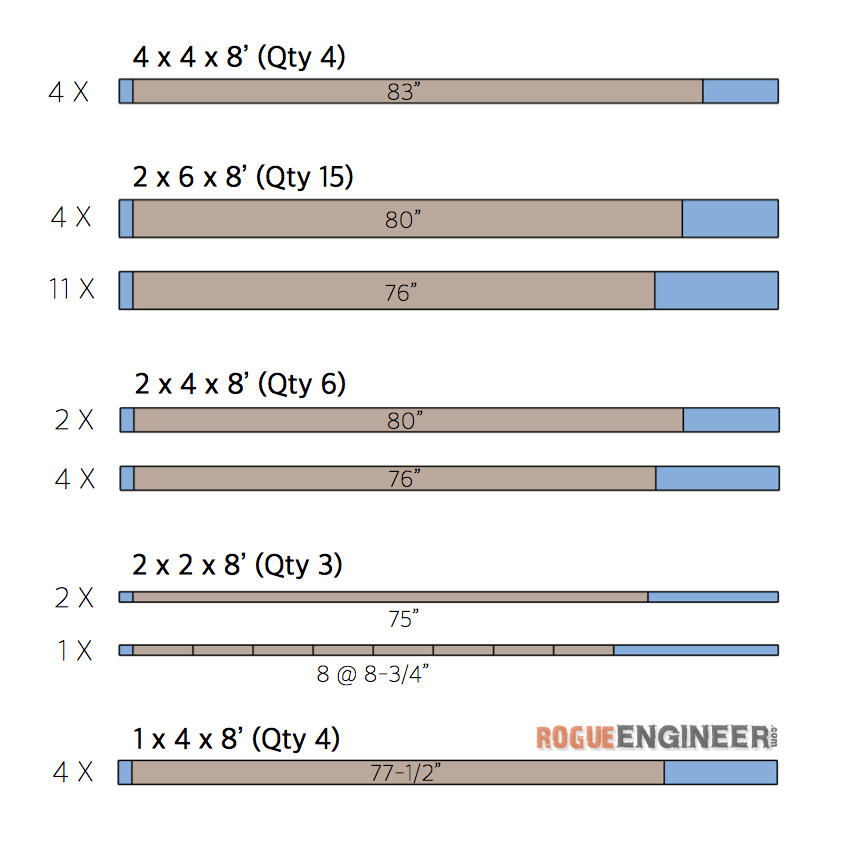 What's the difference between a Twin canopy bed vs full-size canopy bed?
When choosing the size of your canopy bed, you obviously have to consider your body size and your bedroom's dimensions. If you're deciding between a twin and a full-size bed, you should measure your room first to determine which one can fit. The following beds from Novogratz are similar in style and appearance and only vary in size.
A full-size bed measures 54" x 75". Compared to a twin-size bed, it offers greater surface area, and can accommodate two people. Also, if the full-size canopy bed is elevated at least 12" from the floor, the bed will be able to fit storage or a trundle bed underneath it. In general, for adults, the full-size canopy bed will likely offer more comfort and better sleep.
A twin canopy bed, on the other hand, measures 39" x 75". It is ideal for apartments or bedrooms with limited space. In general, if the bed is meant for a child, the twin-size canopy bed is the most affordable and space-saving option.
Are EMF Canopy Beds truly Good or Bad? What kinds of EMF Canopy beds are there?
If you live near a cell tower, wifi-routers, or strong antennas, chances are you might find difficulty in sleeping due to radiation levels. Radio frequencies can cause headaches and other health problems. If you do suffer from these anomalies, you might try using an EMF bed canopy.
An EMF canopy provides shielding against radiation. Basically, it looks like any other canopy for a bed, except that it comes with an additional mat to be placed underneath the bed. This added protection prevents radiation from seeping in underneath the canopy. If you would like to know an EMF bed canopy works to prevent radiation, check out the video on emfanalaysis.com.
You also have a wide variety of materials to choose from when it comes to buying an EMF bed canopy. One option is the Swiss Shield Daylite fabric, which is basically polyester. Daylite fabric provides an excellent and breathable environment. If you're concerned about breathing problems, Daylite may be the way to go.
Another option is Naturell, which provides superior shielding from radiation with a recorded 40 dB reduction. Naturell is made from ecological cotton, which means it doesn't contain chemicals or pesticides. For people with allergies to synthetic materials, Naturell might be the best option. For example, this Naturell canopy from Blocanopy might be worth checking out.
What are the Pros and Cons of canopy beds?
A canopy bed can be a stylish addition to your bedroom, but they're not designed to please everyone. Just like any kind of bed, it offers both unique advantages and challenges to its occupant. Therefore, if you are thinking of getting a canopy bed, you should first know what to expect.
On one hand, the canopy bed offers several benefits. It immediately adds an air of sophistication to a bedroom. Some people may also find it a useful furniture piece when they dress up their home for having guests. On cold nights, the canopy bed provides warmth to its occupants. It also provides privacy if the bedroom is situated in a studio space or a shared bedroom. With its overhead beams, the canopy bed can also temporarily accommodate clothes and hangers, giving it a practical component. Lastly, it offers some protection against bugs and radiation.
On the other hand, the canopy bed requires more maintenance than your average bed. You should wash the curtains frequently; otherwise they might gather dust and may cause allergies. Canopy beds can also interfere with the flow of air in your room, for example that which comes from an air-conditioner or an overhead electric fan. Finally, canopy beds might not be a good idea if you have cats (or other animals) who spend time in the bedroom. These furry friends can easily destroy your thin curtains or fabric roof with a swipe of their sharp claws.
If you like the romantic idea of a canopy bed but can't commit to one permanently, try getting a canopy frame instead, such as this queen-size frame from Naturety. Often metal in construction, these frames can easily be set up to stand over a regular bed. They can accommodate curtains and canopies when needed. If you want to change back to your regular bed, you can easily disassemble the frame and store it away until the next time you want a canopy over your bed.
How do I make a DIY canopy bed frame?
If you are up for a more challenging DIY project and have the carpentry skills to manage it, you should consider making your own canopy or four-poster bed. If you have the time and energy, you'll be able to save a lot of money and customize your own bed exactly to your liking.
For example, a DIY platform bed from One Big Happy costs less than $200 to make. It makes use of white wood framing lumber and studs. Using white lumber can present a challenge because it is rough, so you can always switch to a more flexible wood if you want. With some sanding disks, however, you can finish the white wood members and create a bed that is safe even for a child to use.
Another rewarding project comes from doityourself.com. The site offers step-by-step instructions to build your own four-poster bed. In this process, you have to first identify the dimensions of the mattress that you will use. After this, you will build the base of the bed. Next comes instructions to construct the headboard. Lastly, you will install the cross beams to provide support for the mattress.
With a little creativity and some wood-working capacity, you can create your own canopy bed in a few days or less. Not only will you be able to save on shipping and retail costs, you'll also be able to design your dream bed according to your liking.
Related articles:
How do I make DIY canopy curtains?
If you would like to make your own canopy curtains, many affordable and creative options are available on the internet. Aside from making a wooden or metal frame, you might also want to make your own canopy curtains. This DIY kit from the Hometalk team features a dome canopy tutorial. The project mainly uses a hula-hoop and a sheer curtain to create the canopy. No sewing is needed, as the curtains will be slid through the hula-hoop ring and tied to the ceiling.
Another chic canopy tutorial comes from One Kings Lane. This elegant canopy is quick to do and light on the pocket. Basically, the canopy will hang from the ceiling using copper pipes. The drapes are pre-made, and screws will fasten the whole setup to your ceiling. This project doesn't require any sewing either, but a little skill in carpentry would definitely come in handy.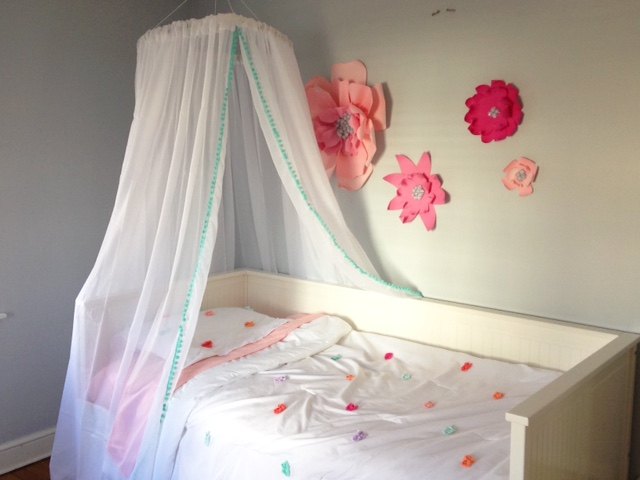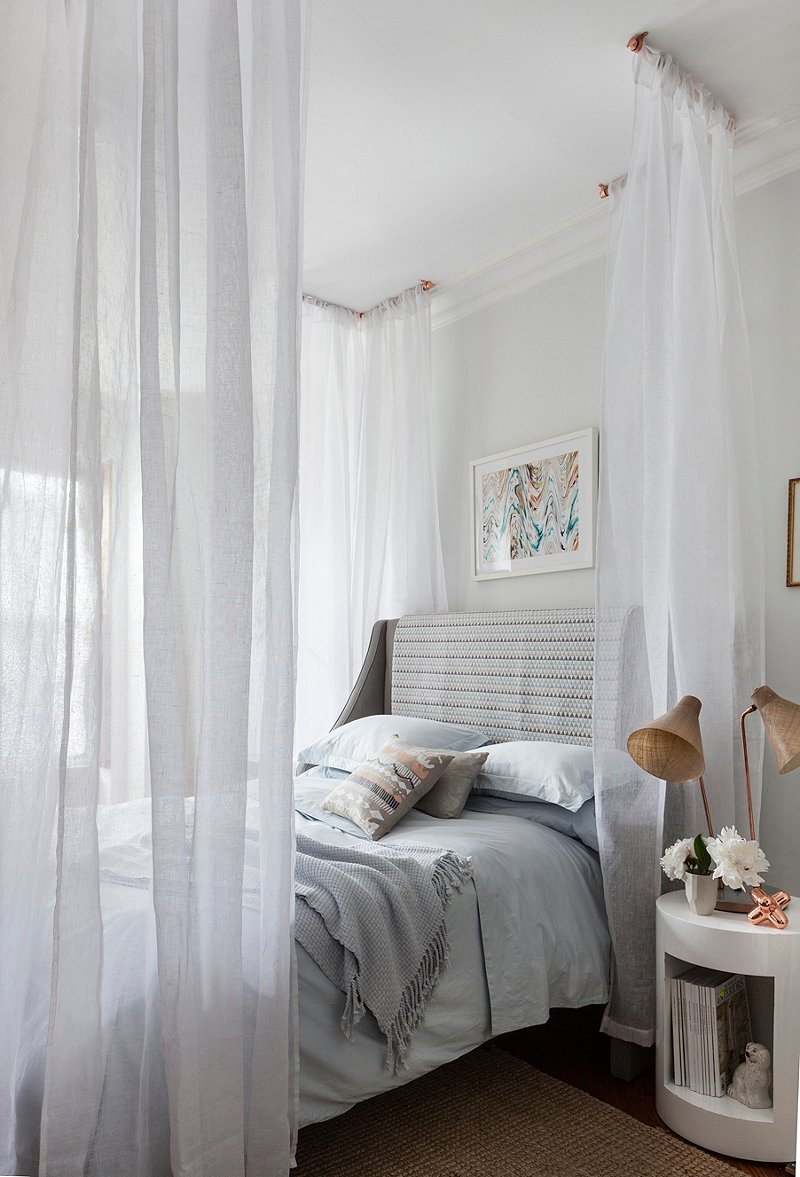 Overall, you don't need sewing skills or any other technical know-how to create your own canopy bed. With a little guidance and a few simple tools, your creativity itself will help you transform ordinary materials into an elegant creation.
Related Articles: