If you deal with fibromyalgia, you might find it difficult to sleep and stay asleep. If you have fibromyalgia, you probably suffer from widespread pain, trouble sleeping, and fatigue. You might not know what you should look for in a mattress to help you with your fibromyalgia (also check 10 great mattresses).
But don't worry.
We have a list of the 10 best mattresses for fibromyalgia (also check 10 amazing mattress for back pain). Read up to see what makes these mattresses so special and how to choose the right one for you. 
What's the Best Mattress for Fibromyalgia sufferers?
Best Mattresses for Fibromyalgia – Our Top 10 Picks!
Molecule Hybrid mattress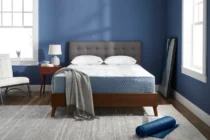 - Cooling support
- Extra plush quilted top
- Designed to maximize comfort
Extra comfort you need to get the quality sleep you deserve
The Molecule Hybrid Mattress is an all-foam model between 5.5 – 6/ 10 on the firmness scale. They construct their mattresses to help sleepers' bodies recover through restorative sleep. Due to its thick memory foam comfort layer, the copper wall isolates movement and makes it a great choice for couples.
Additionally, the Molecule has a cooling technology that makes it great for people that sleep hot (also check the top-rated cooling mattresses for hot sleepers). It helps regulate your body temperature, making you sleep cooler rather than trapping body heat into it. 
The Molecule is made up of three layers. The first layer includes two inches of memory foam infused with gel and copper. These infusions are designed to give this bed a cool sleeping surface.
The next layer includes two inches of zoned polyfoam that provide extra support in areas like the shoulder and hips. The support layer is made up of 8 inches of high-density polyfoam. The Molecule includes a quilted cover with an anti-microbial treatment making the cover cool to the touch. 
For those who find this mattress perfect for them, only if it were a bit firmer can you always get a mattress topper to balance out the softness of the mattress. Mattress toppers are great in providing the extra comfort you need to give you the sleep you deserve. 
In a nutshell The Molecule is a great pick for people with fibromyalgia. The best

memory foam mattress

comfort layer allows the sleeper's body to softly sink into the mattress, whereas the zoned polyfoam layer provides the ideal muscle relief striking the right balance.
Emma Hybrid comfort

- Built to last (USA)
- Great on a budget
- Good for heavy people and couples
Special zone construction helps in reducing body aches
The Emma Comfort Adapt Hybrid Mattress might be another option for people with fibromyalgia. To start with, the mattress has a soft cover that is nicely textured, although it is a pretty thing and might not have that much of an effect on the overall feel of the mattress.
Next, you get three layers. At the top, you get this Airgocell foam-like layer like latex. It has a very springy and soft texture to it making it breathable. Underneath that, it has memory foam which again is very good at providing the right kind of comfort for people with fibromyalgia. The memory foam has a classic slow-moving feel. 
The mattress also has been effectively zoned into channels that give you the ideal pressure points relief for fibromyalgia pain. This zoned construction helps in reducing body aches and gives you the right pressure relief in areas like your shoulders.
Next, if you have fibromyalgia, you must ensure the mattress is good at isolating your partner's movements when you sleep. After trying hard to fall asleep, you would not want to be awakened by your partner's movements.
However, one thing you would want to consider, especially if you like sleeping on the edge, is that it does not have good edge support. It sinks in instantly a collapses quite a bit. To help with that, you might consider placing this mattress on a bed foundation with raised edges.
In a nutshell Like Emma, there are other options in the market available too. What makes Emma unique is its zoned construction combined with memory foam. This makes it more suitable for people with fibromyalgia as it provides more airflow than memory foam mattresses.
Plushbeds Luxury Bliss hybrid latex mattress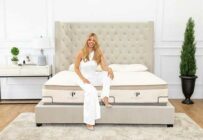 - 365 nights trial
- Organic
- Perfect for sensitive backs
All-natural latex mattress with a supportive coil core.
The Luxury Bliss is ideal for eco-conscious consumers that are looking for luxury and organic materials hand in hand. The bed is also a great choice for those with fibromyalgia as it offers you different customization options.
Depending on your symptoms, you may customize the size, height, firmness, and thickness. It also has a hypoallergenic construction that will help with any allergies tag along with your fibromyalgia. 
Apart from these qualities, it is also worth noting that the Luxury Bliss Organic Hybrid Latex mattress comes at a higher price point than most others in the market.
The Luxury Bliss comes with 4 different firmness options. With that, you have three different layer configurations and height differences. The top is made up of soft plush fabric, providing you with that extra comfort. Below that, you have the natural 3-inch latex followed by a thick layer of nine individually pocketed coils giving your mattress the best support layer it can.
This means you can expect better pressure relief while still receiving excellent support. Something essential if you have fibromyalgia. If these qualities were not cool enough, the company also offers two free pillows per purchase. No mattress is complete without the perfect pillows to go with it. 
In a nutshell The Luxury Bliss can accommodate people with fibromyalgia well with its ultra-cooling technology and customization options. It offers more variety and thus caters to different styles of sleepers out there.
Layla Hybrid Mattress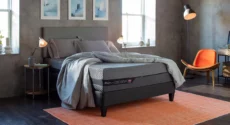 - Copper infused memory foam
- Excellent edge support
- Anti-microbial
The Layla Hybrid Mattress is something you should consider if you have fibromyalgia.
It has a nice soft cover with a bee hive texture to it. Famous for its flappable construction, the Layla hybrid also has a soft side and a form side. On the oft side, you get copper-infused memory foam that is super soft and pressure relieving.
You then get a transition layer with little air channels promoting good airflow, again letting you sleep well, especially if you are a hot sleeper. Then, you get a heavy-duty support system consisting of pocketed coils that perfect support your back aches.
On the firm side, you have that same copper-infused memory foam followed by a transition layer. It also has air channels enabling proper airflow and a cold night's sleep. 
It has memory foam gel on both sides, giving you the classic memory foam feel on the soft side. However, there isn't a lot of bounce. On the flip side, you won't have that slow-moving memory foam feel because there is only one inch of the copper-infused memory foam. 
People with fibromyalgia are usually really concerned about the motion transfer qualities of their mattresses. This mattress is pretty good at isolating movements making it a good option for couples.
Talking about edge support, you might feel that the edge support is not the best. You might want to place this in the boxed frame to help with the feeling of falling off the edge of the bed. 
In a nutshell Layla is a flappable mattress that makes it a good fit for almost all kinds of sleepers suffering from fibromyalgia, especially side sleepers. It is a little bit softer than average on the soft side, so pressure relief helps you sleep comfortably throughout the night.
Sweetnight Twilight Hybrid Mattress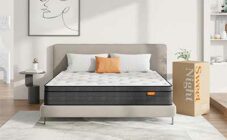 - Great option for back pain
- Affordable Hybrid
- Great Motion Isolation
The Sweet Night Hybrid mattress is comfortable and soft, so not too firm and soft.
It starts with its iconic pillow-top feature with the cooling foam underneath it. It also has these individually wrapped coils that offer amazing body contouring and back support for your widespread body aches. Sounds like the ideal pick for people with fibromyalgia. 
It also has a memory foam layer that gives you the classic slow-moving feel. The soft pillow top and a feathered mattress topper make you feel like you are sleeping on clouds.
Talking about motion isolation, if you have a sleep partner, you might want to consider something else, as the mattress doesn't offer ideal motion isolation because of the spring coils inside. Its cooling gel technology is also great at regulating your body temperature.
In a nutshell With great edge support, body contouring, and air circulation, this is recommended especially for fibromyalgia patients.
Puffy Royal Mattress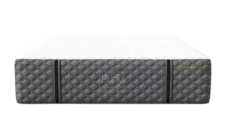 - Works With Any Bed Frame
- Reflexive Memory Foam
- Suitable for all sleep positions
Puffy is known for its soft memory foam mattresses.
Just because you have fibromyalgia doesn't mean you don't deserve the best. Puffy is here to treat you like the royalty you are with its Royal Hybrid Mattress. Let's go over its different features to help you decide if this is the right fit for you or not. 
This model is taller and has multiple layers of pressuring relief and contouring memory foam. The puffy royal hybrid comes at 14 inches tall and is surrounded by a stain-resistant cloud cover. The first comfort layer is induced with cooling gel beans that help dissipate heat, providing plenty of slow-moving and plush comfort.
Something you need to help you fall asleep through your constant aches and fatigue. In the next layer, you will find their special reflexive memory foam that provides great body contouring. Below that, you will find Puffy's finest comfort foam.
This material is moisture-wicking, and it helps dissipate humidity. Next, you get to their cloud air technology foam. This sets the Puffy Royal apart from their other models, making it ideal for fibromyalgia sufferers. It provides zoned support, ensuring you sleep comfortably no matter what your sleeping position is.
How it is constructed will give you the right balance of comfort and support. The Puffy Royal Hybrid is not too soft nor too firm. It doesn't sink you in and gives you just the right bounce. Its zoned support gives you a firm feel in some areas and a soft feel in others, helping you maintain a good night's sleep.
In a nutshell
Like most sleepers with fibromyalgia, this is the best option for you if you tend to sleep hot at night. Its cooling beads and multiple layers help your backache and give you the perfect comfort.
Leesa Original Hybrid Mattress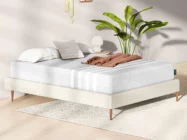 - Premium memory foam
- Airy & spacious feel
- Provides pressure relief
Responsive mattress with a good support layer
The Leesa Original Hybrid Mattress is another great option if you have fibromyalgia and are looking for something to help improve your sleeping patterns. Let's have an overview of its construction and feel to see if it fits right with you. 
On top, you have a twill fabric cover, very thin and breathable. Beneath that, you have the main comfort layer, which is soft memory foam. This will give you and your restless body some great pressure relief. This is also very responsive, so it bounces back into place very quickly. Beneath that, you have a layer of responsive polyfoam.
This is a transition layer preventing you from bottoming out on this mattress. Moving down to the main support layer, you have pocketed coils that provide great support and are also super breathable. At the bottom, you get a thin layer of high-density polyfoam. 
The Leesa original hybrid is a bed-in-a-box mattress that is super easy to unbox and set up. Speaking of firmness, you will find this to be medium in firmness. Those top foam layers are quite soft, and the coils at the bottom are firmer. It has a responsive hybrid feel that is excellent, especially for back sleepers. It provides good lumbar support and decent body contouring as well.
If you sleep with a partner, you want to think about motion transfer and edge support. This mattress is great at isolating movements and does not give you a feeling that you will roll off its edges. This mattress is best paired with a pair of soft pillows to give you that ultimate comfort. 
In a nutshell The Leesa is a great match for fibromyalgia people. It supports your back and hips greatly while striking the perfect balance.
GhostBed Flex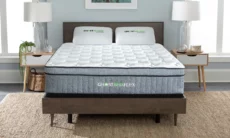 - Luxury hybrid mattress
- Cooling air-flow technology
- Reinforced edge support
Suffering from Fibromyalgia? The Ghost bed mattress is here to rescue you!
It is known for being supportive and cooling mainly because of its unique construction. First off, it is 11 inches tall. Starting on top and working our way down, we have a soft, breathable cover.
On the top layer, we have a layer of synthetic latex that is also ventilated for airflow to help with cooling. You can see that it is quite responsive like most latex. Below that, you have a layer of gel memory foam which helps further with cooling.
Below that, you have a layer of firm base foam. Because the top layer is synthetic and not natural, it will be more affordable than options with all-natural latex.
Depending on your weight and size, latex is usually more durable and has a longer lifeline than foam mattresses (also check 10 amazing mattresses for heavy people). Latex mattresses are also known to help you keep cool in your sleep, and this mattress will be no exception. 
In terms of firmness, you will find that this mattress is firmer than average. This won't let your body sink in; instead gives you a nice bounce and the right body contouring.
This is ideal back and stomach sleepers but not that good with side sleepers because of its firmness. You might want to get the right mattress topper if you feel that this provides good support but feels firm. 
In a nutshell The Ghost bed mattress is a great option for hot sleepers given that it has a breathable cover and latex on the top that is known for its cooling properties. It is great for stomach and back sleepers (check the

top-rated mattresses for stomach sleepers

). This is very affordable for a

latex mattress

.
Diamond mattress intention hybrid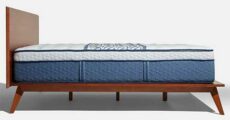 - Hotel quality
- Ultra comfortable
- Pressure relief (good for the back)
A mattress with Graphene infused memory foam and transitional polyfoam. 
The Diamond has been producing and manufacturing beds for over 80 years. They have a wide lineup of products, and their Intention Hybrid seems to be a good option for people suffering from fibromyalgia. 
The Diamond Hybrid is 14 inches high, one of the tallest options in the market today. Its construction is what makes it unique and sets it apart from other mattresses. To start, the mattress cover is made up of polyester and lycra.
This might not be as breathable as other materials but dies a good job protecting the mattress. The first layer is 1.5 inches of plush foam quilted into the polyester cover.
The mattress's unique zoned construction provides relief and comfort right where you need it most. The memory foam provides you with ample softness, whereas the pocketed coils end up giving you solid back support so that you don't sink into the mattress. 
Keeping in mind its construction, the mattress is more on the firmer side which is ideal for people with fibromyalgia. It does, however come with different firmness options so you can choose what feels the best.
The medium-firm mattress paired with a feathered mattress topper is sure to give you the comfortable sleep you deserve (also check 10 great comfortable mattresses). 
In a nutshell with amazing motion isolation and edge support, the Diamond Intention Hybrid seems to be a good pick for people suffering from fibromyalgia.
Helix Midnight Luxe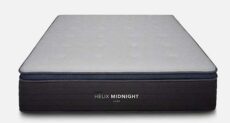 - Great for side sleepers (and others)
- Good option for heavy people and couples
- Hotel standard
Helix provides great comfort and support
If you are looking for a mattress to help you sleep better with your fibromyalgia, you might want to look into the Helix Midnight Luxe Mattress. This is one of their most popular hybrid models and provides great comfort and support. Let's find out if it's a good match for your symptoms. 
The Helix is 12 inches tall. It has a soft, breathable cover that promotes air through the top of the mattress. The top layer is memory plus foam with that slow-moving feel adding nice pressure relief to the top of the mattress.
Below that, you have some firmer polyfoam that is more responsive and adds to the bounce of the mattress. Below that, you get individually wrapped coils, and at the bottom, you have another layer of polyfoam. 
Given that it is a hybrid mattress, it provides a good balance of comfort and support. Comfort from the top layers here, some comfort supports from the transition layer and the coils. Its construction seems durable and can easily last you a good 7-10 years. 
The Helix is a bit firmer than the average mattress, but the top layers are soft and balance it out. You might not even need a mattress topper to go with it. It has a balanced feel overall to it. 
In a nutshell The Helix Midnight is a great choice for back sleepers. It strikes an amazing balance between comfort, support, and pressure relief.
What Sort of Mattress Is Best for Fibromyalgia?
Fibromyalgia is a condition that causes pain all over the body, leaving you with restlessness, fatigue, and sleep issues. These people might be more sensitive to pain than others.
What you need to remember is a mattress that gives you the right pressure relief, meaning it should be able to take off pressure from areas such as your shoulders, back, and hips. Next, it should support spinal alignment. It is also very important to ensure you have the right sleeping posture.
Further, you must ensure the mattress has good air circulation that can help you sleep cool and provide good edge support.
What Is the Best Way to Sleep with Fibromyalgia?
If you have fibromyalgia, you probably have trouble sleeping. You cannot fall asleep like a regular person. To start with, establishing consistent sleep patterns all night helps. You might want to establish the same sleeping time for your daily routine.
You might want to exercise before sleeping. This can exhaust you and help you dive right into sleep. Put on some relaxing music and might while you exercise. Heating pads are also a great option that might help you fall asleep. Most importantly, you need to have a mattress that is perfect for your body's needs. 
What Is the Best Mattress Topper for Someone With Fibromyalgia?
If you have fibromyalgia, you might find these toppers useful. They can be hard to find but not impossible. You have latex toppers, gel memory foam, and feather toppers. They all have their advantages.
Memory foam toppers, for example, tend to provide you with the best body contouring but are not great at controlling body heat. Then you have the latex toppers. These are ideal for a soft feel and body temperature regulation.
Next, you have woolen toppers. These are the most expensive but help you stay warm. The feater toppers are the softest. So, in the end, it all depends on what your symptoms are. 
Is A Memory Foam Mattress Good for Fibromyalgia?
Memory foam mattresses are great for body contouring but might not be ideal for people who are hot sleepers. They are very dense and hence do not do well with air circulation. Instead, they trap body heat. 
Is A Soft Bed Good for Fibromyalgia?
Soft mattresses feel good initially. They give you a nice sinking feeling and make you feel comfortable. But for people with fibromyalgia, firmer beds might be the best option. Soft beds often feel sore because they fail to provide the right body contouring and support.
What Are the Trigger Points of Fibromyalgia?
Fibromyalgia patients have some main trigger points. The pain can start with any discomfort provided to the neck, upper chest, elbows, back of your head, shoulder blades, and even hips. 
Our Recommendation:
So, if you are facing all the issues that come with fibromyalgia, it's a no-brainer that you need a mattress that can help you with your fatigue and body aches. You can't go long without having a proper sleep. After all, it is when most of the healing happens. So, you should be looking for a mattress that provides great pressure relief. When dealing with fibromyalgia, you might have pain in certain areas.
Find something that will help with pain and pressure relief. So, something with memory foam is always a good option. At the same time, you also want a mattress that will give you good support, something that is good with neutral alignment. You need to be careful about temperature regulation. This might be a great issue for those with fibromyalgia.