Usually, people don't put as much stock in pillows as in mattresses. However, just like mattresses, pillows also tend to play a vital role in how well you're able to sleep. No wonder finding the right one can be a pretty challenging task (also check 10 amazing husband pillows).
We aim to make your life easier by providing you with a list of the most comfortable pillows. 
Let's dive in!
What's The Most Comfortable Pillow?
Many pillow brands in the market claim to have the "most comfortable pillow"; however, it is nearly impossible to identify legit claims from those that aren't. Keeping that in mind, here is a list of the pillows we found to be the most comfortable ones.
Top 10 Most comfortable pillow reviewed 
PlushBeds Sateen White Goose Down Pillow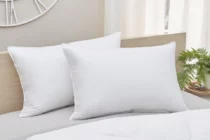 - Breathable fibers
- High-end materials
- Ultra-Soft & fluffy
A Combination of High-End Materials and Premium Craftsmanship
Ethically sourced and exquisitely crafted, the Sateen White Goose Down Pillow happens to be a true masterpiece. Not only is it fluffy, but it is also relatively lightweight, which makes it an excellent pick for you. 
Featuring ultra-soft 700 fill power with a pure cotton sateen cover that is made up of 330 premium threads, the Sateen White Goose Down Pillow is a real exception in the list of pillows. Because of this high fill power, this pillow resists compressions and seems to be cushiony soft all the time. 
The RDS – Responsible Down Standard – happens to be an intensive process and ensures that it produces the down humanely. Lucky for you, the Sateen White Goose Down Pillow comes with an RDS Certification and a 2-year warranty, confirming that the pillow is a must-buy. 
In a nutshell A pillow that is extremely fluffy, lightweight, and comes with RDS Certification and a warranty is no doubt a power deal. So, if you're looking for a great pillow with all the ideal features, this might be one of those that you need to consider.
PlushBeds Hotel Chamber Down & Feather Pillow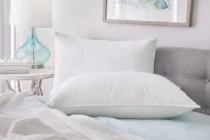 - 100% cotton cambric
- Soft and supportive
- Temperature Regulating
A Premium Pillow That Makes You Sink into Its Softness
Coming with a firm inner core of goose feathers, the Hotel Chamber Down & Feather Pillow happens to be an incredibly soft and supportive pillow. Not only is it made from natural materials, but it also has breathable fibers and temperature regulating traits. 
A duo of downy softness and extra support at night makes this pillow a great choice for you. A dense inner core with a feather-down blend adds to the pillow's firmness. The pure white down that is stuffed in the outer layer contours the head and neck, ultimately helping you reach a maximum comfort level.
While many people may not find the filling power strong, it is decent for those who prefer to have pillows with a medium level of fluff. Not to forget, the pillow comes with an RDS Certification and is also covered by a two-year warranty. 
In a nutshell If you're someone who loves soft pillows that are also a little fluffy, the Hotel Chamber Down & Feather pillow might be the one where your search ends. Not only will it take away your

neck pain

, but it is an ideal choice for back and side sleepers.
Leesa Hybrid Pillow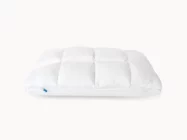 - Adjustable and reversible
- Chilling fibers
- Ventilated Gel Comfort Layer
A High-End Pillow for All Types of Sleepers
The Hybrid Pillow is a great pillow featuring a ventilated gel-comfort side with an inner fill pillow between both layers coupled with a reversible design made of down-like fiber. It comes in two sizes – Standard size and Queen Size. 
With this pillow, you can enjoy the lofty comfort and luxury of down pillows minus the allergens. While the top side of the pillow gives it the "regular pillow" feel, the underside tends to feel like memory foam. However, the cool-to-the-touch bottom gel side and top chilling fibers keep you cool all night long. 
Being made out of 100% cotton, the outside cover of this Hybrid Pillow is not only soft and breathable, but it features an elegant square pattern as well. Not only is it designed to support all sorts of sleeping positions, but a complete feel makes it an ideal pillow for cuddling. 
In a nutshell All in all, it doesn't matter whether you're a side sleeper, back sleeper, or stomach sleeper; this pillow tends to be your perfect pillow in all situations. Along with that, the feel and firmness of the pillow are quite decent as well.
Emma Foam Pillow

- Memory foam
- Adjustable layers
- Vegan
A Modular Pillow That Can Be Adjusted as Per Your Needs
Starting with the construction and the key highlight of the pillow, the Emma Foam Pillow is made up of three layers that you can use to adjust the pillow's height. 
The top of the pillow features an airgocell foam layer, the middle layer is a cold foam layer, and the bottom layer is a visco-elastic memory foam layer. While the top layer provides extreme comfort, the middle layer gives you the necessary support, and the bottom layer delivers the needed pressure relief. 
Moving forward towards the pillow cover: it is made up of 98% polyester and 2% elastane. While polyester makes the pillow breathable and keeps it cool overnight, elastane gives it the required elasticity. 
Since the pillow is adjustable, it is excellent for all types of sleepers and works perfectly with different combinations. If you're a side sleeper, it is recommended that you use it with all three layers. On the flip side, if you're a back sleeper, you can use it with 2-3 layers; if you're a belly sleeper, you'll do fine with 1-2 layers. 
In a nutshell For those individuals who are looking for pillows that feature great technology and have adjustable height and firmness, the Emma Pillow would do a great job. Even though it is a new entry into the market, it comes from a name that you can trust and offers quite a lot at the price it comes under.
GhostPillow Memory Foam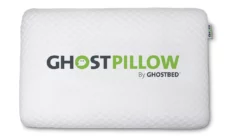 - Support core
- Cooling technology
- Zippered Cover
Perfect for Side and Back Sleepers
Constructed with a memory foam that provides deep contouring, the Ghost Pillow is a good fit for people who experience neck pain during sleep. The memory foam used to build this pillow has an aerated design that is meant to enable the airflow through the pillow while providing the necessary cushioning for the head and neck. 
The pillow's surface tends to feature a phase change material designed to regulate the pillow's temperature as per the fluctuations in your body temperature throughout the night. 
The ghost pillow is encased in two covers. While the outer zippered cover is made of ghost ice fabric to make it feel cool to the touch, the inner cover comes with a mesh design that promotes air circulation. 
To top it off, the ghost pillow comes with a 101-night sleep trial that allows people to test the pillow risk-free. Moreover, it also comes with a 5-year warranty, free shipping, and returns. 
In a nutshell Having a 6-inch lift and a medium-firm feel, the ghost pillow provides adequate support for back and side sleepers. That said, it would be an appealing option for those looking for a foam pillow with features to reduce heat retention and provide the necessary support and comfort.
Molecule Infinity Essential Pillow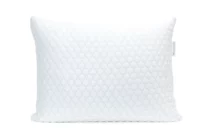 - Air-Engineering™ technology
- Antimicrobial
- Ample support
Signature Pillow with Air Engineering Technology
As one of the molecule's four signature pillows, the infinity essential is an excellent pillow. Made with the same engineering technology used to make the signature mattresses and toppers by molecule, the essential infinity pillow promises to deliver optimal and recovery-focused sleep. 
The infinity essential happens to be air engineered using advanced material technology that not only helps you to stay cool but also helps in optimizing your recovery while you sleep. Not just that, but the foam fill blend of conventional and memory foam delivers just the right balance of support and comfort. 
Moreover, the essential infinity pillow comes with the Microban Antimicrobial treatment cover that plays a vital role in drawing away moisture and heat and keeping you cool so you can enjoy a clean sleep. 
In a nutshell All in all, this pillow is a must-have for people looking for pillows that come with a certification and make comfort their priority.
Beckham Hotel Collection Bed Pillows
- Gel Memory Foam
- Gel-Filled Fiber Pillows
- Fade and stain resistant
Comfort and Luxury in A Budget
Sold in a set of 2: this down-alternative pillow comes with a plush, soft level of support and features a cotton sateen cover that feels silky and cool to the touch. The pillow has an extra lofted microfiber filled with cooling gel fibers and is constructed in such a way to maintain its shape night after night without shifting as the person moves around. 
Individuals who tend to wake up and feel too warm would find this pillow to change as it is cooler than some other memory foam pillows. A duo of cooling gel fibers in the fill and cotton cover serves to be the solution to warm sleepers. 
Another attractive highlight of the Beckham Hotel Collection Pillow is the reasonable price that it comes in. Moreover, the pillow is stain and fade-resistant and can be machine washed without hassle. 
In addition, the pillow also tends to be hypoallergenic, making it an ideal choice for those who face respiratory issues, allergies, or asthma. However, the only catch with these pillows is that they don't come under any official warranty. However, the company still offers a 30-day return to satisfy customers with their purchases. 
In a nutshell Individuals seeking out a pillow set with decent features that comes under a reasonable price tag would find this pillow set a decent option.
Continental Bedding Siberian Pillow
- 100% Cotton
- Ultra Soft
- Highest Standard Quality
Breathable Fabric, Soft Cotton, Right Support
The Siberian White Goose Down pillow might be your new favorite, made out of extremely soft cotton sateen. This premium pillow has an encasement made from thick cotton sateen with a thread count of 450. Not only does it feel soft, but it also happens to be quite fluffy and durable at the same time. 
This pillow tends to have breathable fabric that allows effective circulation of air. Therefore, it keeps you comfy throughout the night. In addition, this Siberian Goose Down pillow also keeps the dust mites and allergens at bay, which will be beneficial for those who suffer from seasonal allergies, hay fever, or tend to have sensitive skin. 
Not to forget, this luxurious pillow makes your headrest without it sinking into the bed. It is ideal for side, back, and stomach sleepers (also check the top-rated mattress toppers for stomach sleepers) and those suffering from back or neck pain. 
In a nutshell Due to its high fill power, this pillow will be able to lift higher and retain its firmness for a long time. The pillow also provides necessary support without discomfort, making it a great option to consider while buying pillows.
Casper Original Pillow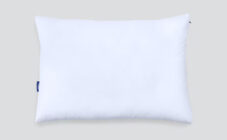 - 100% cotton cover
- Adaptive comfort
- Soft & supportive
A Comfortable and Supportive Pillow for a Variety of Sleeper Types
Being the most popular pillow by Casper, this one is suitable for various sleeper types. With a medium level of firmness and softness, it holds power to accommodate those individuals who like different pillow feels. 
Casper refers to their product as a pillow-in-pillow design since it tends to have a supportive pillow inside a lightly fluffy pillow. A combination of both of these pillows provides softness and firmness in parallel. 
This Original Casper pillow is stuffed with a down alternative polyester microfiber fill and is lined with polyester. The cover it comes with is made of 100% cotton that the brand claims will keep the sleepers cool.
In addition, the pillow also tends to have a two-inch gusset that helps it maintain its structure and distribute the filling evenly. As for the loft of this pillow, it is around four to five inches. 
In a nutshell If you're looking for a comfortable and reliable pillow to treat your neck pain and cushion your head in the right way, then this might be the one for you. However, if you're looking for an adjustable pillow, you might have to consider other options.
Molblly Pillows set
- Adjustable Loft Hypoallergenic
- Memory Foam
- Fully adjustable

A Premium Pillow in A Reasonable Budget
For those of you who are on a hunt for a pillow that comes under a reasonable budget, you might find this one to be an attractive option. Crafted with 70% shredded memory foam and 30% polyester fiber: this pillow provides unmatched support. 
The memory foam technology in this pillow allows you to experience a sensual and personal night of sleep. Not only does it give you a prolonged and peaceful sleep, but it also takes away your worries about aches and pains. 
Another great feature of this pillow is that it allows you to access the memory foam fill. Having this feature, you can add or take off the filling to suit your size, shape, or sleep position to maintain perfect balance and attain maximum comfort while sleeping. 
In a nutshell All in all, the Molblly Shredded Memory Foam Pillow is an excellent option under a decent budget as it guarantees the best sleep ever. To back this, the brand also provides a 100-night trial during which you can get a full refund if you're unsatisfied with the pillow. Therefore, you can rest assured with your purchase of the Molblly Shredded

Memory Foam Pillow

.
Most comfortable pillow FAQs
What Are Some of the Common Types of Pillows?
You might now know it, but pillows are crafted with various materials, and understanding these materials might help you determine which pillows fit your needs. Some common types of pillows are polyfoam, memory foam, down pillows and down alternative pillows.