Trundle beds are additional beds that are stored under a main bed. They can be pulled out to provide an additional guest bed (especially valuable for a kids room or guest room). In this article we discuss several topics related to trundle beds including what is a trundle bed, how does it work (what's the trundle bed mechanism), trouble shooting, choosing a good trundle bed, shopping and testing beds, etc. Take a look at the table of contents below and determine the topics you would like to read.
Last Updated Jan 5,2020

Essential knowledge


Size and Dimensions


Types of Trundle Beds and their Operation


Comfort and Safety


Shopping for Trundle Beds


Questions about Trundle beds for kids rooms


Mattresses for Trundle Beds


Slats, Pillows, Bunkie Boards, and other accessories


Comparison of Trundle Beds to Alternatives

What is a trundle bed?
A trundle bed (also known as a truckle bed) is an additional bed that is stored under a normal one. The goal is to provide an additional sleeping space for when guests come or if you have kids (very similar to bunk beds). The main advantage of a trundle bed is that it doesn't need any extra space beyond what your normal bed might look like because the trundle is located underneath the main bed. The bottom bed tends to be smaller than the main bed. It's usually placed on rollers or casters so that it's easy to moveout from the bottom of the main bed. Some of these trundle beds stay at lower level than the main bed when they are pulled out and others pop up so that they are at the same height as the main bed. Trundle bed mattresses tend to be thinner than their main bed counterparts because they need to fit under the main bed. A trundle bed can be pulled out and trundle mattress can be removed so that the space under the main bed is used for storage. Note: Neither the main bed nor the trundle bed will have box springs because of the space limitations. Instead they're more like platform bed frames.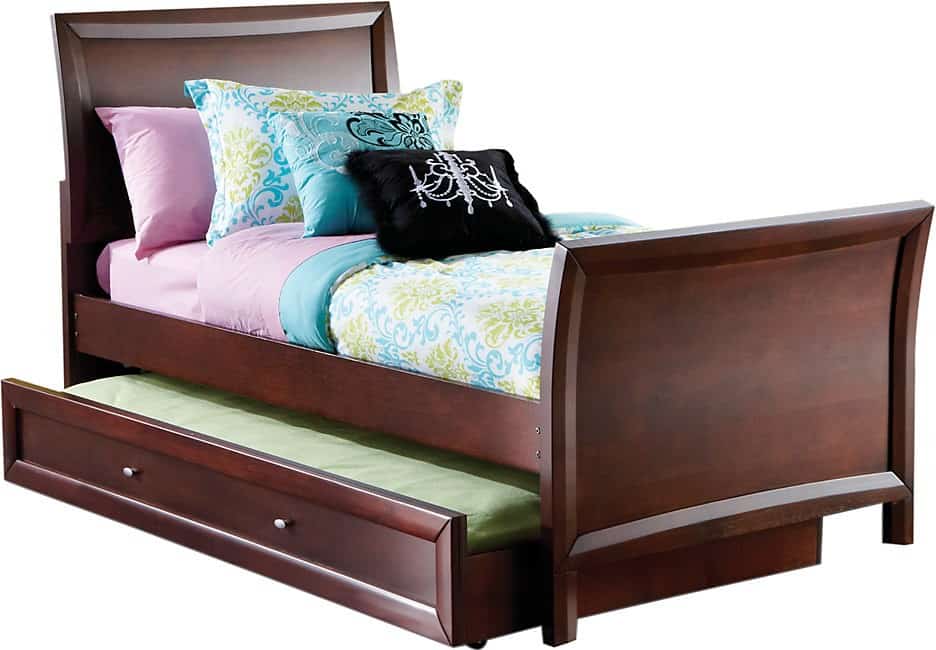 What kind of bed frames do trundle beds have?
Like most other bed frames, trundle beds can have metal, wood, or upholstered frames. The material that you choose will depend on the interior décor of your room and the style that you are going for. Frame styles also have differences in durability, maintenance requirements, and squeakiness/creakiness. Take a look at our detailed guide on platform mattresses which also discusses the pros and cons of metal vs. leather vs. wood frames for beds (including trundle beds).
Here are some examples of trundle beds that we like on Amazon: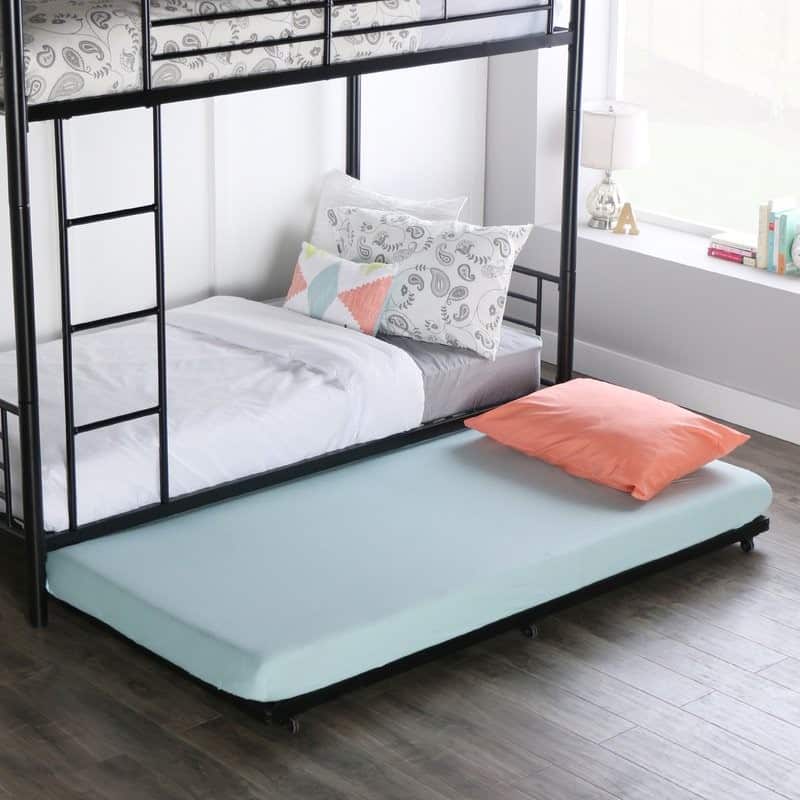 What is a trundle bed used for?
The purpose of a trundle bed is to have an extra bed without the hassle of taking up extra space in your room. By hiding the extra mattress under your bed, you are not taking up any space until a visitor needs to sleep, or in the case of kids' rooms, when both your kids are ready to go to bed. Trundle beds are useful for teenagers or children sharing the same room (as an alternative to bunkbeds).
Are trundle beds good for kids' rooms?
One of the primary targets of trundle beds manufactures are kids, so that's big yes! Kids have a lot of sleepovers, they love to invite their friends to stick around and play videogames all night long. That's where trundle beds are perfect. When your kids are playing games, they can utilize the full space in their room. Then, when it's time for bed, pull out the trundle, get a pillow and blanket from the storage boxes below the trundle, and the children are good to go! We've put together a list of our favorite trundle beds here.
Is it bad to give kids their own beds? What are the advantages and disadvantages of giving kids their own beds or rooms?
There used to be a time when families used to have more kids and all the kids shared the same room, and even the same bed. With fewer children nowadays, children tend to have their own rooms.
The benefits of having separate beds for each child include:
The kids won't end up fighting as much while sleeping because they both have plenty of space to sprawl out
Each child can work on his or her own hobbies in bed
Each child can have his or her own bedding. This is especially important when the children have different tastes. One may be a cold sleeper and the other may be a warm sleeper. There's also the issue with bed wedding and nightmares which will be especially problematic when the children are of different ages. For such cases, having two separate beds is valuable. Children who wet their bed require bedding that can help keep them clean and prevent diseases. Here are a few waterproof mattress protectors that we recommend.
The disadvantages of providing each child his or her own bed include:
Studies show that children who sleep with their siblings are closer
For especially young children, sleeping with their older siblings may help them with anxiety
Trundle beds are an interesting in-between. Allowing both children to sleep in close proximity but still in separate overall beds. Perhaps these are the ideal kids' beds? Here are a few trundle beds that we really like.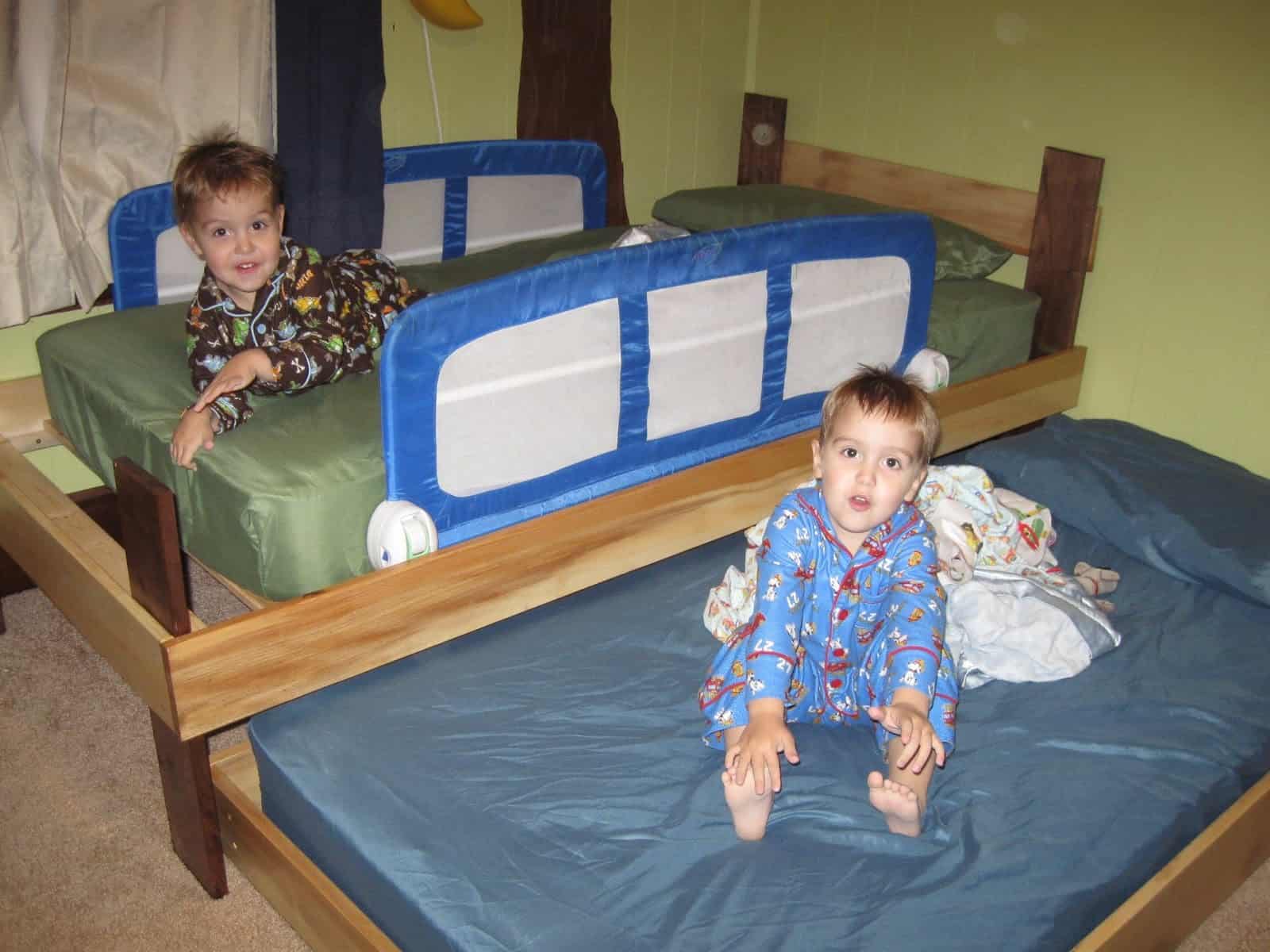 Are trundle beds separate?
In general, yes, trundle beds are separate from the main bed. Here's atypical upholstered bed with trundle. Even though this model might look as if the trundle is attached, there is nothing holding it on the main frame. Instead, it's free to roll around. For a simpler design, take a look at this trundle bed from DHP. This is a day bed with a trundle that's free-standing. Being able to pullout the trundle completely means that you can wheel it out to another room for a guest to sleep in. Or, if you are placing this in your kids' room, you can allow both your children to sleep with some separation in between them. At night, this means that the child on the main bed will not step on the trundle accidentally (or on purpose). Having a separate trundle bed also means that it's easier to vacuum and clean under the main bed when necessary.
Note that typically pop-up trundles are separate from the main bed as well. You will be hard-pressed to find a trundle bed that has an attached trundle.
Can I buy the lower part of a trundle bed separately?
Yes! You can purchase just a trundle bed under-bed. However, they are rarely purchased because people typically match the main bed to the underbed and purchase them as kits. Here's a search on Amazon for trundle bed under-beds. You can see that they have several options. Trundle beds are also very durable, in general, so you don't have to worry about replacing your under-bed very often.
Are trundle beds comfortable?
When you have limited space you have to do the best with what you have. Trundle beds are comfortable for kids and adults as long as you get a good mattress. Don't be frugal when it comes to spending on your trundle mattress. You need to ensure that the thickness of the mattress matches the space within your under-bed. Many times, you might find trundle bed mattress sets which are not comfortable because they are made of low quality materials (remember that a trundle bed's thickness is less than a normal bed). Go for memory foam mattresses and maximize the thickness that you can purchase while still fitting inside the trundle bed frame. You can also consider getting a normal mattress + a memory foam mattress topper like this one. This combination ends up being a bit cheaper. I really like this mattress because I can select the thickness and tailor it for my under-bed + my upper bed – the signature sleep memoir.
Trundle beds are an especially comfortable option for kids' rooms. Imagine having a younger son…wouldn't it be great to stay with him in the room and read books before putting him to sleep? With a trundle bed, you have the option of "lying in bed" with your child but also easily leaving without disturbing the child because the trundle and the main bed have enough separation. Then, later on, when you have 2 children, the trundle bed
serves as a great way to allow your children to grow up together while also giving each his or her own personal space. See the section on the advantages and disadvantages of providing each child his own bed.
We do a deep dive into trundle bed comfort and tips to make trundle beds more cozy here.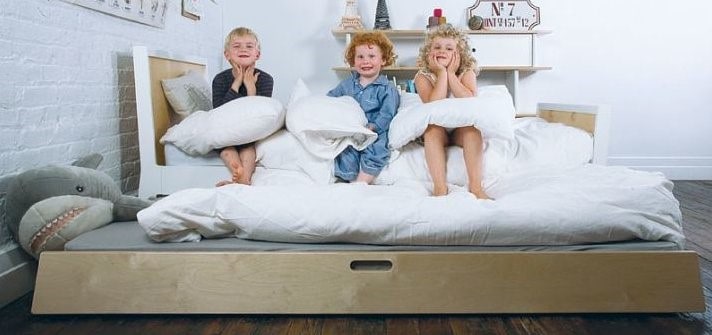 How do I keep my trundle bed from separating?
Modern trundle beds come with a bed frame that has an under-bed which rolls out (on rollers or casters). This under-bed can then popup or stay lower than the original. To keep this under-bed from moving, or in some cases, from separating from the daybed, you have several options.
You can add locking wheels to the under bed. Whenever you roll out the bed and set it up, just flip the lever on the side of the casters and have them lock into place. Most newer trundle beds have locking casters, but in case yours doesn't, just get some new ones and upgrade your bed. Make sure that the wheel and the shaft match the caster…or just buy a set. Here are some locking casters on Amazon.
Another option is to use rubber bands or zip ties as a temporary means of immobilizing your bed. Depending on the design of your casters, you might be able to wrap a robber band or zip tie around the wheel and lock the wheel in place. When you're ready to move again, just cut the zip tie. I'm sure you can figure out a clever way to engineer the zip tie/rubber band to engage and disengage though!
There are also large straps like this one which wrap around the entire under-bed and can prevent it from moving away from the day bed. On the other side of the under-bed you can add a sponge or stick so that the under-bed is locked in place. When you're ready to pack up again, just remove the stick and the strap. It's crude but effective. Also, if this is a pop-up trundle, then you can get a nice memory foam mattress topper and lay that on top to minimize the separation gap in between the beds. Guests can then sleep across or in the same direction as the seam however, sleeping across will mean that the bed may not be long enough for them. Zippered trundle bed mattress covers can also help keep your beds from separating.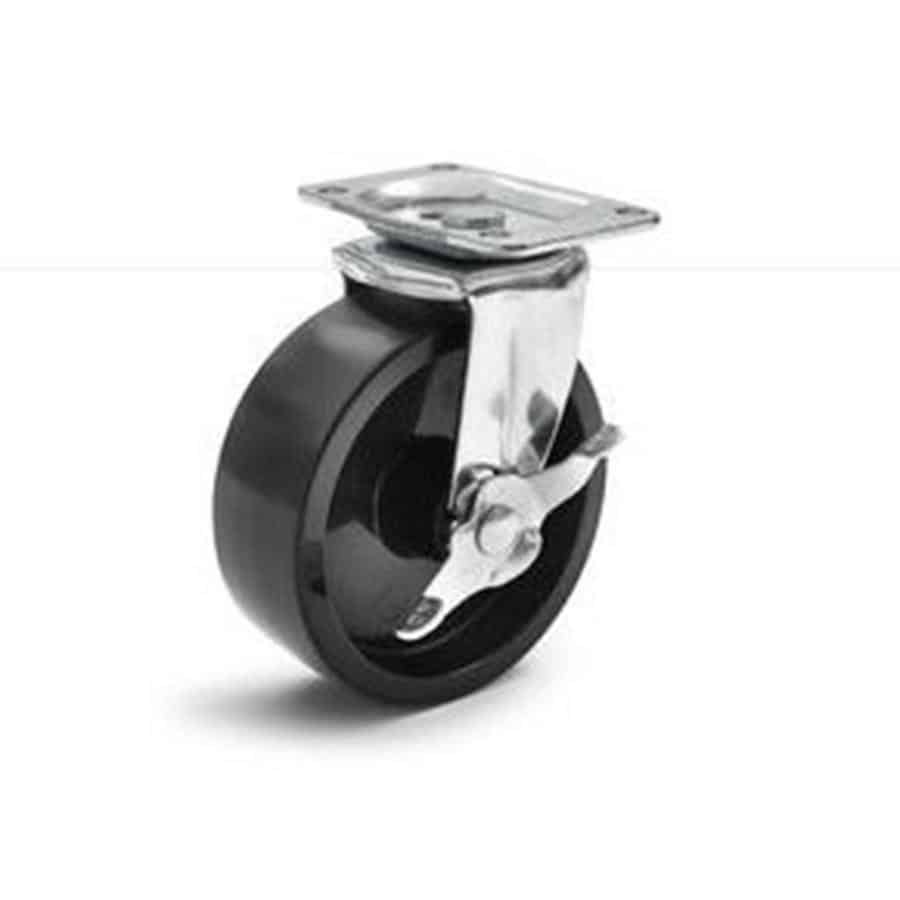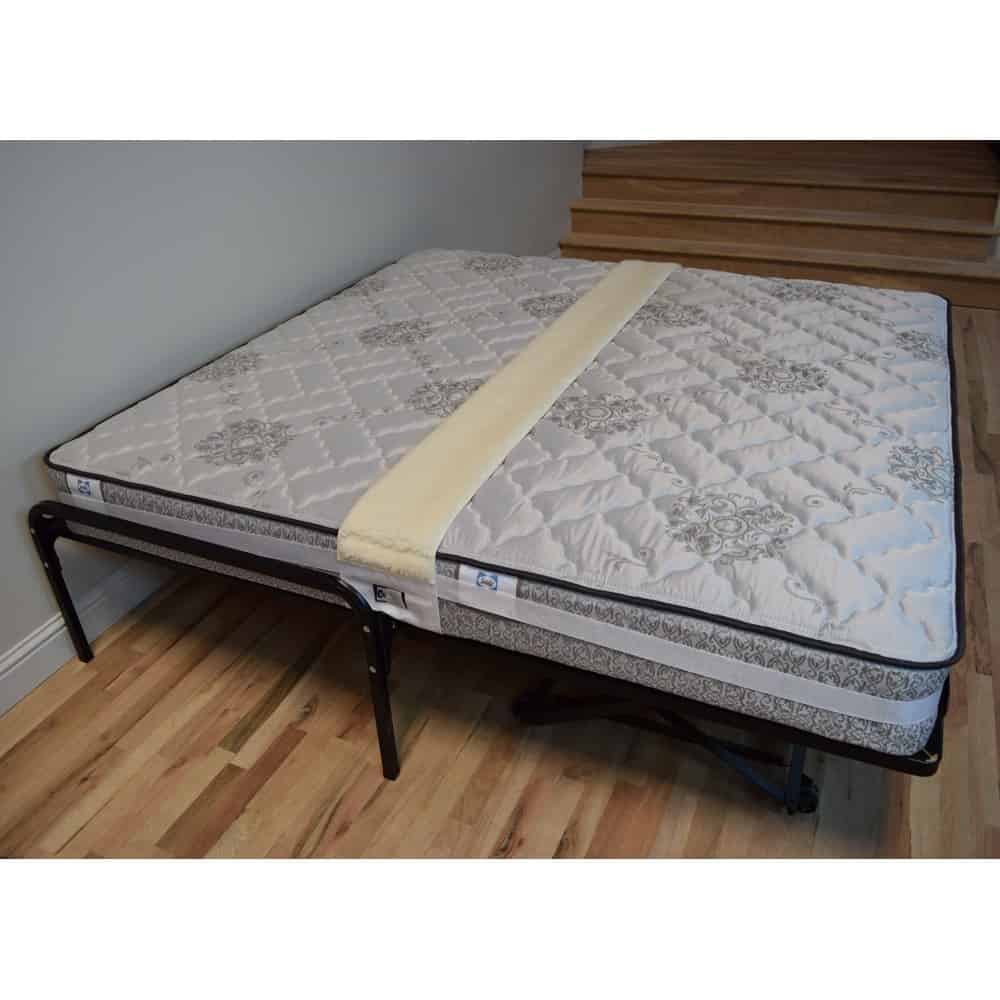 What are the pros and cons of trundle beds?
Let's first start this discussion by noting that there are pop-up trundles and normal pull-out trundle beds. Each of them has a list of pros and cons.
In general, trundle beds provide both space and cost savings. Normal platform beds and their associated mattresses tend to be much more expensive whereas you can get a decent trundle bed combination under $500. Adults as well as children can easily use both types of trundle beds and, depending on the model that you purchase, you can even get a trundle bed that has the above sleeping features + storage options underneath (here's an excellent trundle with storage).
Now, specifically discussing roll out trundle beds, you definitely get space and cost savings but they're incredibly hard out get out of. Imagine that there is someone sleeping in the top day bed and the bottom trundle. If your bed is next to a wall, you'll have to squeeze through a corner of the bed while your partner is sleeping in the trundle. Now imagine the same thing at night…you might end up stepping on your partner or tripping over the corner as you try to get in and out of the bed. Additionally, to match the styles of your trundle bed to the day bed (aesthetically as well as practically through measurements) you need to buy them both at the same time. So, you
lose a bit of the flexibility of shopping and end up paying up-front for the cost of the trundle bed. Finally,
you should also consider that it's not practical for older people because they will not be able to get in and out of the traditional trundle bed…it's so low to the ground.
The pop-up trundle solves the above issues since the pop-up and the main bed will be at the same height once you fully deploy the popup. This works well when you have a twin or twin xl popup + a day bed because you can deploy them to make a full king bed. Take a look at the section below on how a pop-up works if this seems confusing. However, pop-ups also have their share of challenges. For one, the trundle and the day bed will have mattresses with different thicknesses.
So, when you pop-up the bed, the mattresses will not align, and you'll have a center division. To get around this, people tend to put in bridge pads for trundle beds in the middle of their pop-up and daybed. A third issue that might come up is that your beds might separate. Because the pop-up might be on casters or rollers. To get around this, see our question above about" How do I keep my trundle bed from separating". The key is to either strap your beds together using trundle straps or have locking casters installed on your bed.
Note: If you are looking for a platform bed, we've got answers to all your platform bed questions.
| | | |
| --- | --- | --- |
| Pros | Cons for Traditional Trundle | Cons for Pop-up Trundle |
| Space savings | Have to match trundle to main bed (buy all at once) | Mattresses have different thicknesses so you need a bridge |
| Cost savings | Getting in and out is challenging (especially when the lights are off) | Beds might separate so you need locking casters or a strap |
| Storage options available | Not practical for seniors/older people | |
| Can create a king bed with a pop-up | Vacuuming under the trundle very hard to do | |
| Plenty of sleeping space | You cannot have a rug under the trundle because it might get caught | |
| Can be quite comfortable! | | |
| Useful for all ages: baby? Use the trundle. 2 children? Trundle and day bed help them stay close. Kids too old? Use the trundle space as storage. | | |
| When your kid is sick, you can sleep next to him or her in the trundle | | |
Are Trundle Beds worth it?
As with all such topics, the answer is "it depends". Take a look at the pros and cons list above to see if you think trundle beds are worth it. I really like trundle beds because they are great for every situation and they scale with time. Initially you might buy a trundle bed for guests or for your kids in a small side room. As time marches on, you might then decide that your kids have outgrown the trundle and they each want their own separate room. You might also have more rooms available. At this point, use the trundle bed as a normal bed and store stuff beneath in the trundle space. Once you have even more space, you can convert the trundle into a couch by adding in some side rails.
It's an incredibly flexible piece of furniture that grows with you as you progress through life – transitioning from a small house to a big house, from young kids to older kids, and from being a bed to being a couch. If you think you're ready to purchase, perhaps you'd like to see our list of trundle bed favorites.
Where can I buy a trundle bed?
Trundle beds are easy to find. IKEA, Wayfair, Amazon, all have a variety of different beds for you to peruse. I prefer Amazon because they have a lot more reviews than most of the other stores. With verified purchasers offering their reviews, it's one of the best places to search. Take a look at Amazon's list of trundle beds here.
Where can I find a trundle bed with a fabric headboard?
All the answers to these types of questions are similar – buy online via Amazon, IKEA, Wayfair, or other sources. Here's an example of a trundle bed with a fabric headboard that you can purchase on Amazon.
Where can I find a trundle bed with a wood headboard?
As we said in the above question. All the answers to these types of questions are similar – buy online via Amazon, IKEA, Wayfair, or other sources. Here's an example of a trundle bed with a wooden headboard that you can purchase on Amazon.
How do trundle beds ship to you when you buy online?
Amazon and other vendors ship beds and other large items like mattresses in similar ways. You get everything in one or many large boxes which you will need to move into your house by yourself (unless of course you are using their in-home delivery service, or you are lucky enough to be home when they deliver).
How do you return a large item like a trundle bed to Amazon?
Make sure you really want to return the item! Once you've made up your mind, contact the seller and let them know. They might have suggestions on how to fix your challenges with the product. For the case of "defective" products, you should not be charged are stocking fee or any shipping. The manufacturer will have to absorb the entire cost.
Amazon provides the following information for large item returns on this page.
We contact UPS and arrange for them to pick up your package from the address it was originally shipped to. This is ideal for large or heavy items that are hard to carry, and if you select this option before 9:00p.m. Pacific time, UPS will attempt pickup on the next business day. This option allows you to track your package on its way back to us.
However, there is still the issue of packaging. You need to package your item before shipping it back. Ideally you will have the original packaging that the product came in. With this original packaging, it's easy. Log in to your account on the amazon website and select your recent orders. Then you can click the buttons that help you return your recent order (and either get a refund or a replacement).
If you don't have the original packaging, UPS will not package an item for you upon pickup. This is especially challenging in the case of mattresses, which might even have inflated and will not return to the original shipping size. Don't worry about it. Initiate the same process as above and let amazon customer service know about the inflated mattress. Their large item pickup team will then get in touch with you. In case you need it, their phone number is 1-866-216-1072.
If this is not possible, then buy some packing materials from Amazon or from some other local store like Home Depot. If you get a replacement, you can simply use the container that the replacement came in to ship back your old one. There is a free "haul away" service that's mentioned by Amazon on this page.
How much are trundle beds?
Trundle beds can range in price. At the upper end (~$2000) you can find products like the Columbia bunk bed (full over full) with a full size trundle bed underneath. This kind of a product is designed for kids' rooms where you not only have space for 2 children, but also 1 trundle bed underneath in case you have a sleepover. The bunk bed also has a staircase so it's easy to climb up to the top bunk without using a ladder (which may be uncomfortable and a little unsafe fora child to climb up). And of course, it's nicely designed with a hardwood, a durable finish. However, even at this price you would need to buy a mattress separately. In the case of this Columbia bed, the manufacturer suggests that you buy an 8-inch coil mattress such as this one on amazon.
Related topic:
Curious about how to make a bunk bed look cute?
We've also got a great article on how to ensure bunk bed ladders are safe (in case you're considering bunk beds instead of trundle beds)
At the lower end (for ~$150), you'll find products like this platform bed with a roll out trundle. This one is made from a metal frame but you can also find some with wooden frames. Since this is a platform bed, you don't need any box spring along with your mattress (the mattress rests on 7 slats). It's not a low-quality bed but it doesn't support multiple uses that the above Columbia bunk bed has (3 children vs + 1 guest). Additionally, reviews suggest that it might squeak over time because it is metal with metal
screws (which can get stripped). Note: You can buy just the trundle bed if you'd like, at a lower price (~$60) for this Kings Brand Twin trundle.
Take a look at Amazon's list of trundle beds here. You can also find trundle beds at other stores such as IKEA, Wayfair,etc. Also, you will need to purchase a separate mattress with your bed so make sure to explore the list of available trundle bed mattresses.
What are the dimensions of a trundle bed?
A trundle bed rests under an upper-bed (these tend to be a platform bed style day beds). If you have any questions on platform beds, here's a comprehensive platform bed guide. So, when discussing the dimensions of a trundle bed, we need to discuss the dimensions of the upper-bed as well. Let's take a look at a couple different trundle bed combinations and discuss their sizes.
Related topic:
We have done a deep dive into trundle bed mattress sizes.
What's the size of a trundle bed? Here's an indepth article

Here's a twin metal daybed with a trundle . Fits 1 twin mattress on the day bed (upper-bed) with a max 8-inch thickness. One twin mattress fits on the trundle (under-bed) with a max thickness of 6 inches. Assembled product dimensions (L x W x H) 77.50 x 41.50 x 41.50 inches. Daybed weight limit 400 lb. and Trundle weight limit 225 lb. Item shipping weight of 62 lbs.
Here's an upholstered backless day bed with a trundle (twin over twin) designed like a platform bed so it doesn't need any box spring. It has high arm rests on each side and almost looks like a couch (but without a backrest). Fits 1 twin on the upper bed and 1 twin on the trundle. Mattress thickness for day bed is 8" whereas the trundle requires a 7" mattress or less. Weight limits are 400 lbs. and 225 lbs., respectively for day bed and trundle. Product dimensions are (L x W x H) 83.5 x 42.5 x 35.5 inches. Item shipping weight of 94 lbs.
So, on average between these two twin trundle beds, the dimensions of a trundle bed are approximately (L x W x H) of 80 x 42 x 37 inches with a weight of approximately 77 lbs shipping weight. Of course, everything changes when you look at queen or full trundle beds which will have larger sizes. I suggest you just peruse amazon's list of trundle beds and analyze the range of their dimensions here.
Also, take a look at the next section discussing trundle bed mattress sizes.
What are different trundle bed mattress sizes that are available?
As stated earlier, trundle beds are designed to make the most out of the space available, so they come in several sizes. Normally, you will see trundle beds available in full and twin sizes because these are the smallest sizes that comfortably account for 1 adult or 1 child + 1 guest. However, any mattress can be part of a trundle bed, you just have to watch out for the thickness! Remember that the trundle mattress can't be too thick because it would be difficult to wheel out (there is limited space under the upper-bed).Generally, the lower mattresses are around 6-8 inches thick. The upper-mattress also sometimes has restrictions, but I'm not sure why. I believe restrictions exist because the top of a pop-up trundle bed +mattress will need to match the height of the upper-bed.
Now, let's explore the difference trundle bed mattress sizes available. Note: There are no differences between trundle bed mattresses and normal mattresses.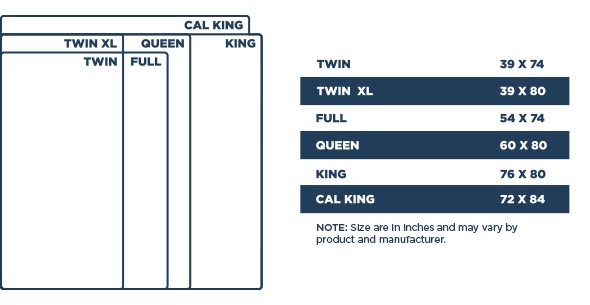 Trundle bed single or twin size – Fits one adult
Mattress dimensions depend on the country. In the case of the US, a trundle single mattress is sized at 39 x 74 in. Don't buy into the assumption that single and twin beds have different dimensions…they are actually the same. Single size trundle beds, as you can guess by the name, are designed to fit one adult.
Trundle beds with a queen mattress – Fits two adults o.k
Trundle bed queen mattress size dimensions are 60 x 80 in. They might be enough for two grown adults to sleep in. However, this is statement is entirely subjective. There are couples who like to snuggle and some who don't…so if you are the kind of person who needs some extra space when sleeping, having two people on a queen will be very uncomfortable.Nonetheless, if you'd like a queen bed with a trundle based on your room dimensions (and most likely because you are planning for a baby to sleep with you), then consider beds like this queen daybed with a twin trundle. It is not easy to find queen beds with trundles.
Trundle bed twin mattresses are the same as single mattresses
Twin mattresses are the same size as single mattresses. There is a common misconception that twin and single both have different dimensions, but they are exactly the same. As an example, here's a twin metal daybed with a trundle.
Trundle bed twin XL mattresses can be combined to make a king
Twin XL mattresses are 39 inches width and 80 inches in length. Compared to a twin, a twin XL is longer but the same width. You might also notice that two twin XL mattresses can be combined to make a king mattress. This is one of the key advantages of having a pop-up trundle bed with a twinXL-over-twinXL configuration. With such a trundle bed design, you can have a king-sized bed for when guest couples visit. And, when you just have an empty room or a single visitor, keep the bed as a TwinXL while storing the popup underneath. Here's an example of a Trundle bed with a twin popup (not XL).
Trundle bed full sizes are designed for 1 adult or 2 children
Full size trundle beds, which are also known as double beds, are design for two people. Generally, the trundle will not have a full-size mattress, but the upper-bed will. Despite the design, full size beds are only comfortable for two children (not two adults). Each child (or adult) would have a 27-inch wide sleeping space. I struggle to comfortably sleep on my queen mattress with my wife, so the I cannot imagine how uncomfortable a full bed would be for 2 adults. Here's an example of a full-over-twin trundle bed frame.
Different variants of trundle beds
Trundle beds are an interesting product because they usually come with unique features. Storage, desks, bed and couch combo, you name it! Trundle beds are a really practical and flexible product, so they are able to quickly adjust to whatever your needs regarding space are. Let's talk about the multiple variants of the trundle bed so you can explore which one you desire the most.
Trundle bed with storage drawers
One of the most popular variants of trundle beds is a trundle bed with storage. On top of the normal bed that you can wheel out whenever you please, this trundle bed variant also has a set of drawers where you can store items. Consider the reasons to buy and trundle bed and why this is the most popular trundle bed style.
If you are using a trundle bed in your kids' room, having a trundle bed with storage will allow you to provide sleeping space for your children along with any sleepover guests. The additional storage space that comes with the trundle bed can then be used for storing toys, blankets, bedding, and pillows for when those guests come over. Here's an excellent kids trundle bed with storage.
If you are using a trundle bed in your guest room, having the trundle bed with storage will not only help you provide sleeping space for multiple guests, but you can also store all the required bedding (blankets, covers, pillows, heater, etc.) under your trundle bed. In fact, in our house we also store things like extra tooth brushes and towels for guests to use. This trundle bed variant is incredibly practical. Here's a great day bed with trundle and storage for your guest room.
You may ask yourself how much you can store in these beds. This amount depends on the model that you purchase. On average, a trundle bed with storage will provide you 6 drawers that combine to form the same dimensions as your trundle bed. So, a king size bed would also have the most amount of under-bed storage available.
Trundle bed and desk combos
Like all trundle bed combos, a trundle bed with desk combo is designed to save you space by providing a lot of features in one package. However, what you think is a trundle bed and desk combo, may not be exactly what you get. On Amazon, for instance, you can find a daybed with drawers, trundle, desk, hutch and more. However, this combination includes all the pieces separately. The day bed has a trundle and several drawers, but the desk is a separate piece of furniture. The goal, when buying such a combination, is to match the style of the room for aesthetics and for saving space.
However, perhaps what you imagine might be a trundle bed that tucks under a desk like in the image below. Here, the goal is to provide a lot of space saving features in one package. It's not really meant for the consumer who is trying to maximize aesthetics. So, this kind of a design is more for a kid's room where you are limited by space but still want to offer your children 2 beds + a desk for their books and computers. Your goal should be to provide storage, functionality and commodity at the same time while foregoing the aesthetics.
How might you maximize aesthetics as well as the functionality of a trundle bed?
Get some simple laptop desks like this one. By providing both your children with these large laptop trays, you can provide them the utility of a desk for their studies as well as a tray for eating. Then, when they are tired, they can retire their foldable laptop trays and go to bed in their trundle bed.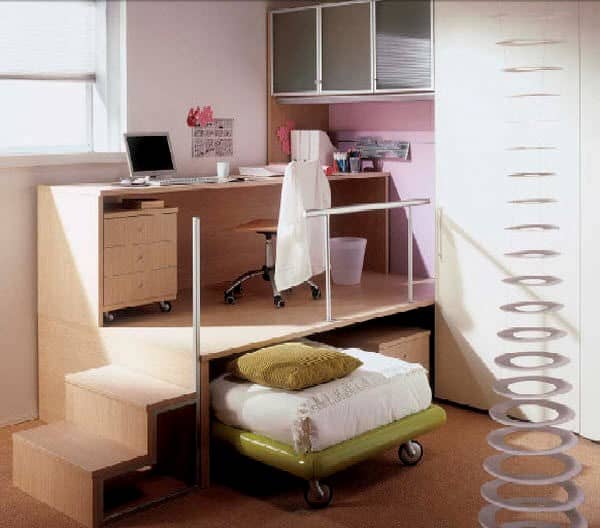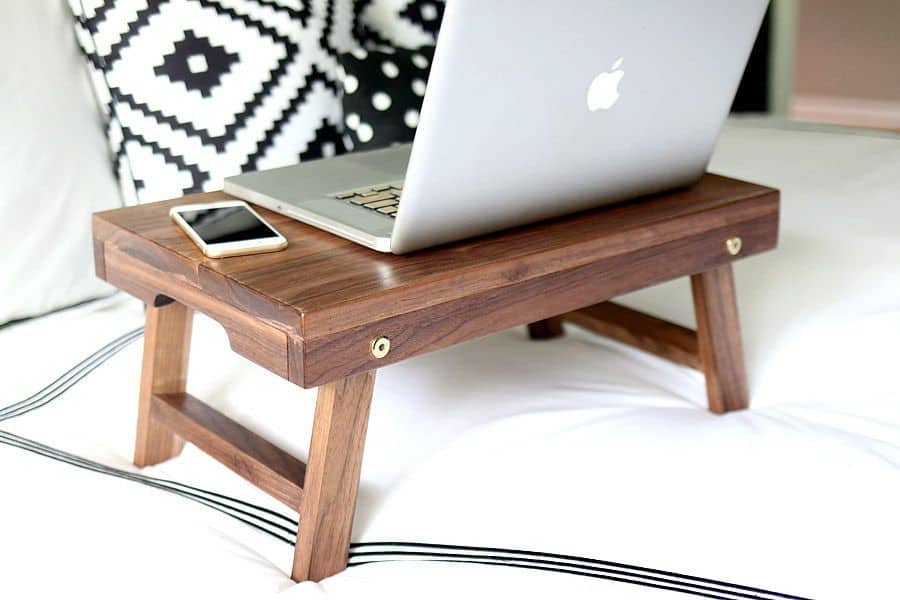 Trundle bed couch combos
Trundle couch combos are a great when you want space for sitting as well as sleeping. During the day time, this combination will provide you space to watch tv and entertain your guests. When night time rolls around, simply pull out the trundle and provide sleeping space for your guests. It's very practical. However, trundle bed-couch combos are less comfortable than larger dedicated trundle beds and individual couches (without trundles underneath).
The reason that trundle beds with couches are less comfortable than dedicated trundle beds, is because of limited space. For example, it's not possible to get a queen trundle bed with couch combination. So, you are limited to only providing a twin bed to your guests. If you have multiple guests, then you are out-of-space for them.
Compared to a dedicated couch, you might notice that the trundle bed couch combination looks very odd. It's very deep and the arm rests are lower than with a normal couch. So, while you can use it like a couch, your guests may sit in an awkward position. Here's a highly rated daybed/couch with trundle combination. As you can see in the reviews, the depth of the "couch" is the same as a twin mattress (~40 inches). Whereas, a futon sofa bed is 34 inches deep in the seating position, and 43 inches deep in the sleeping position. A normal "couch" such as this one is 29 inches deep. With a full 11-inch difference, your guests will need to lean back a lot more to reach the backrest.
How do you solve the depth problems of a trundle bed with couch combination? Get a futon sofa bed like this convertible futon sofa bed.
Trundle bed pop up
Trundle bed pop up are a more flexible variation of a trundle bed where the under-bed "pops up" to match the height of the upper-bed. You can then position both beds side by side and get a large sleeping space. Then, when you are done sleeping, simply collapse the trundle bed back under the main bed. It's certainly an interesting invention but, in my opinion, it's only limited to a few situations. If you plan on having guest couples come over to the house (such as your grandparents), then this kind of a bed is valuable. For such situations, I would recommend a trundle bed pop up such as this one from 2K designs.
However, in terms of durability, regular trundle beds like this one will have a longer lifetime. As you can expect, there are more moving parts involved in the lever system that "pops up" a pop-up trundle bed. So, once the levers wear out, you won't be able to pop the bed up any more. Additionally, as you've read above, trundle bed mattresses tend to be thinner than their upper-bed counterparts. So, when you pop-up your trundle bed, the mattresses may still not align. Ensure that you get the right kind of pop-up trundle and follow the manufacturers specifications so that the two mattresses match in height upon deployment. A third issue that you might run into is that your popup keeps separating from the main bed. Read the section above on " how do I keep my trundle bed from separating". It will provide you suggestions on straps and rollers that will ensure your guest-couples stay together at night.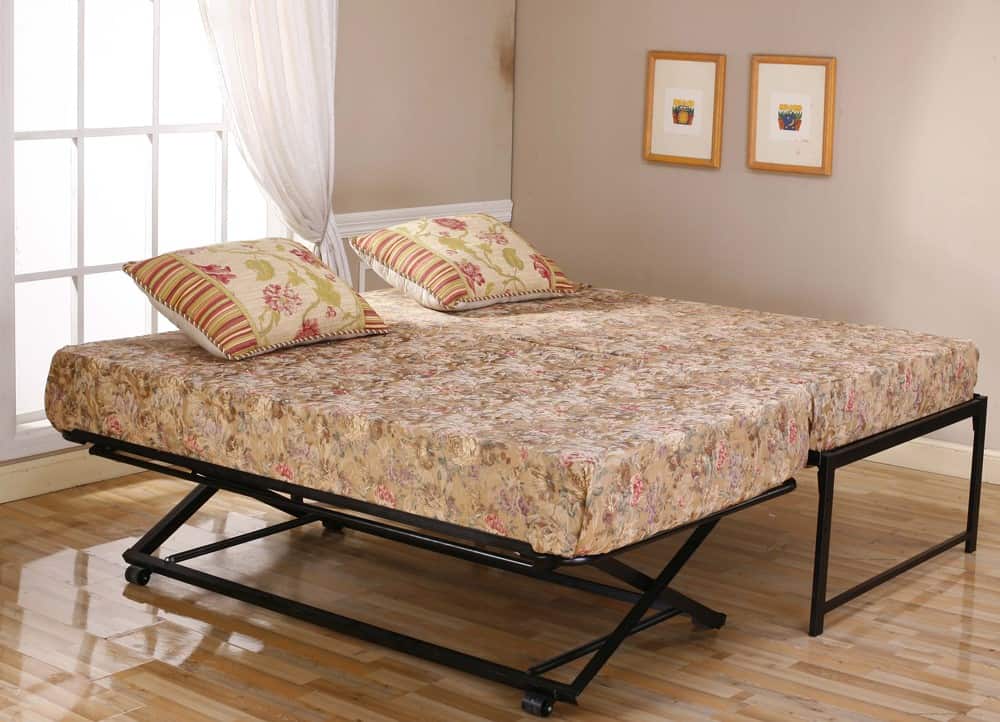 Trundle Bed Mechanism: How do you pop up a trundle bed?
Refer to your trundle bed manufacturer's instructions for precise information. In general, here's how you can adjust the height of a pop-up trundle bed.
Place the bed in an area where you will be able to easily pull it out and then up. The trundle will initially be below your main bed, so you will need enough horizontal clearance to bring it out. For a twin bed frame, you will need approximately 44 inches for the bed itself along with 3-4 feet for yourself (since you will be pulling it out while bending). So, we recommend a total of 92 inches of horizontal space next to your main bed.
Slide the trundle bed out from underneath the main bed by using the handle on the center-side of the trundle bed frame. You need to pull this towards you. Some beds will automatically rise, and others will need you to pull them upward in the next step. If your guests don't need to sleep next to each other, or if you don't think there is any need for the two beds to be side-by-side, then leave the trundle bed in the lowered position. Here is a popup trundle bed with springsthat pops up and then has "gravity locks" to ensure that the bed stays in the up-position.
Lift the bed gently using the same handle on the side of the pop-up trundle bed frame. In some beds, there will be an additional latch that will lock the legs in position here. In others, this is the natural resting state, so you don't need to do anything more.
Add on your covers and bedding on to the pop-up trundle bed
To lower the pop-up trundle bed: you need to disengage the latch (if you had one in step 3). Remove the bedding from the trundle bed. Then lower the bed while making sure that nothing will get trapped in the frame while it is being collapsed. Move the bed back underneath the main bed.
For a deeper dive into the trundle bed mechanism and 'how does a trundle bed work', refer to the link.
What's the Trundle Bed Locking Mechanism ?
The locking mechanism of a trundle bed relies on casters with locks. To close a trundle bed and prevent it from moving, simply flip the lever on the side of the casters. However, this assumes that you have casters that include levers. If you haven't purchased these, take a look at this trundle with locking casters.
Flipping the lever will lock the casters in place and prevent the wheels from rotation. Having locking wheels makes it very easy to operate a trundle bed and move it in and out from under the main bed.
How do you lower a Trundle Bed Frame?
Generally, pop up trundle beds have latches on the side to allow the frame to remain in the collapsed state. If your trundle bed is already popped up, all you need to do to lower a trundle bed frame is to push it down until the springs are collapsed and engage the latch. For more information along with pictures, we recommend that you take a look at our article on how trundle beds work.
Do popup trundle beds come with storage options?
No, in general, you cannot get a pop-up trundle bed with storage drawers because the pop-up trundle bed is stored under the main bed. It takes up all the space under the main bed with little to no room for any storage drawers. If you did have some space for storage, they would likely be included in the space below the arm rests. Why not consider a platform bed instead? You'd get all the storage you require while also having a nice, sturdy, bed. I understand that you might not be able to collapse the bed to minimize space used in the room however you do have to compromise somewhere. Here's a comprehensive platform bed guide in case you are curious.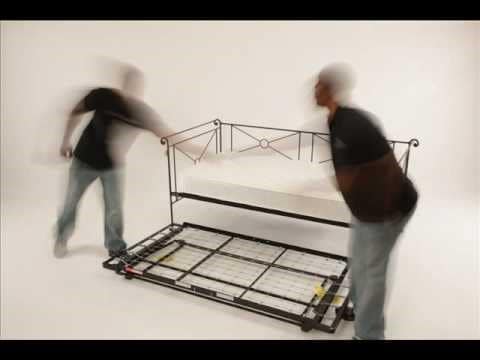 Trundle bed accessories
Trundle beds need different accessories depending of the mattress and the model that was acquired. Maybe you need some good-looking couch pillows for your awesome daybed with a trundle, or slats or Bunkie boards. Maybe you don't have a clue about the accessories I am talking about and it's important that you know them, so you can pick the best choice for you. So let's break them down:
Trundle Bed Slats
Slats are planks of wood which serve as support for your mattress. They are great for trundle beds because they are simple to install, cheap, and light. Here's an example of a trundle bed with slats. Note that pop-up trundle beds do not typically use slats. They have wireframe meshes instead and this may lead to differences in durability and
product life. In general, your goal with a bed foundation is to provide your mattress a firm, flat surface, on which it won't flex or sag. Slats provide such a surface for your mattress, as long as they are the right dimensions. Try to aim for slats that are at least 3 inches wide and a maximum of 3.5-4 inches apart from each other. Once you increase the slat-to-slat distance to 4.25 inches, the mattress will start sagging in between the slats because it isn't completely supported. This is especially challenging for some latex mattresses which have larger pore sizes and hence are "softer" & less rigid. Slats are also valuable because they help distribute the weight of the mattress. They can come in different materials, but you will commonly see them made with wood or metal. Note that as slats get older, they might move, fall out, or start creaking. This is a classic reason to change out your slats.
Sometimes you might end up with a bed that has an odd design like in the picture below. Here, two sets of slats rest side by side. They will start slipping and might fall out because of the large gap in the middle, as shown.
How do I prevent slats from slipping and falling?
You can try to get slats that cover the full width of the bed. This might actually be a cheaper alternative but it's a DIY project since large slats like this are not sold
A Bunkie board would also replace your slats effectively. Take a look at this queen bed Bunkie board.
You can try to get more slats, so you can reduce the spacing between slats and prevent slippage between the left and right sets of slats. This would reduce creaking as well. However, make sure you continue to have some space in between slats. You do not want your mattress to stop breathing because it will become very hot and might attract mold since it will also hold on to sweat.
You could also replace your slats with an adjustable support system like an X bar ( here is a great one on Amazon). This is a cheap and easy way to replace your slats.
You could add cardboard or something else to reduce the spacing in the middle between the left and right slats. This would force your slats to snugly fit the sides of the bed and provide very little wiggle room for them to fall out.
You could replace or supplement the slats with a chip board sheet. This is relatively easy to screw into the top of the slats. Remember to allow your mattress to breathe!
What should I do if one of my slats breaks?
Just buy a new set. It's not worth the time and effort to create your own DIY replacement since a set of slats is only about $40 (take a look at these cheap and effective slats). Slats are designed to work together to redistribute your mattresses weight onto the bed frame. Once they start breaking, you might be at the point where your slats are old and have lost their durability. If you absolutely want to make your own slats, there are plenty of online tutorials.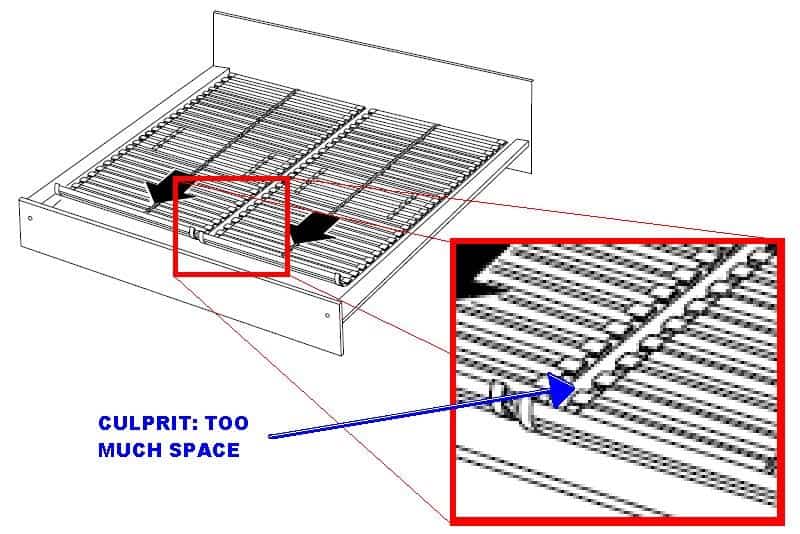 Couch Pillows for Trundle Beds (or throw pillows)
If you are looking to improve your room's aesthetics, then couch pillows like these ones are a great way to get started. By themselves, trundle beds look a bit disproportional because a lot of the storage space below the upper bed is taken up by the trundle. Couch pillows can help distract visitors and have them focus on what's on top of the main bed instead. Beyond decoration, couch pillows can also be useful when you need extra support for back pain. However, couch pillows also have their disadvantages. Every time you want to sit, you need to move them out of the way or just "throw" them somewhere. You'll also need to arrange them every time you make your bed. It's just an additional step. And, as we all know, children will wreak havoc on a room by tossing throw pillows around. Maybe that's also an advantage? They're great for pillow fights!
Do I need to have throw pillows for my trundle bed?
Absolutely not! They're mostly for decoration. In fact, they are probably more valuable for your couch than for your bed. Consider getting couch pillows for your sofa instead. Here's a nice decorative throw pillow that's elongated.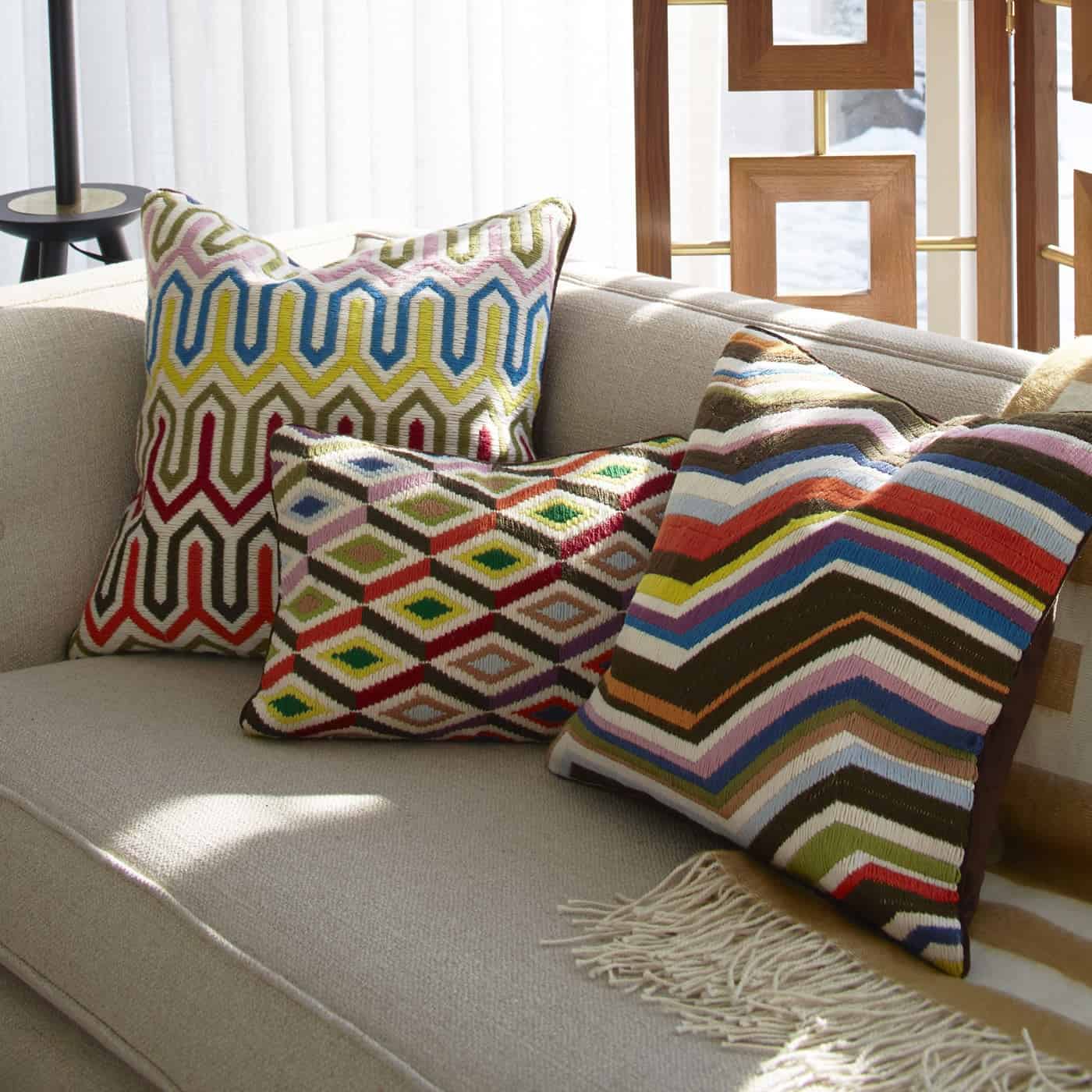 Are Bunkie boards better for trundle beds or slats?
A Bunkie board is a piece of plywood that's placed under the mattress. Here's an example of a Bunkie board. This is especially valuable for a newer mattress which is dense and heavy(like memory foam). Choosing to go with a Bunkie board or a set of bed slats is dependent on what your mattress manufacturer says. Read your manufacturer's instructions and choose a base that they know will work with their mattress. If you don't want to follow their recommendations, read the section discussing your mattress' warranty and what kinds of things will void your warranty. It's possible that your mattress manufacturer will not support you if you choose the wrong base.
Any non-flexing, rigid, support surface should work, but the difference between slats and a Bunkie board is the height. Bunkie boards and slats will both be the same length and width of the mattresses they support, but a Bunkie board will be 1.5 – 3 inches tall, whereas slats will be approximately 1 inch tall. This difference in height needs to be taken into consideration when deciding your bed frame and your mattress height because you may not want a combination that's too tall or too low.
If a Bunkie board is not slatted but rather a large flat sheet, then ventilation might be an issue for your mattress. The mattress will sleep you warmer, and your sweat will get trapped. Eventually, you may get some mold, mildew, and dust mites. This also depends on the mattress (so make sure you read the manufacturer's recommendations). Here's a highly-rated slatted Bunkie board.
Are trundle bed sheets different?
Trundle beds typically tuck under the main bed. You don't need any special sheets for them – simple bed sheets like these will work well. Bed sheets for your trundle bed mattress are just based on the thickness and dimensions of your trundle bed mattress. You also don't have to worry about aesthetics as much because the trundle bed will be pulled out, used, and then tucked back under the main bed. However, that doesn't mean you can't have any fun!
Consider getting some ruffled bed skirts like these for your main bed so that it hides the trundle bed underneath. Bed skirts will brighten up your design and add some cute ruffles to your bed. When you need to reach underneath for the trundle, just trap your bed skirt under the mattress, pull out the trundle, and then let the bed skirt loose again. You might run into some issues with pop up trundle beds if they end up trapping your bed skirt so be careful when you collapse and lift your pop-up bed.
Of course, with kids, it's more challenging to make your bed. Ether the kids will need to make the bed, or you will need to take care of it – while they aren't playing on it. A quick tip with trundle beds and kids is to have a separate basket like this collapsible hamper, where you keep the bed sheets for the trundle bed (along with pillows). This way, you don't need to store the sheets for the trundle bed on top of the main bed and risk having your kids play with the sheets. It's also a great way to save some time instead of making the bed multiple times per day while your kids are playing.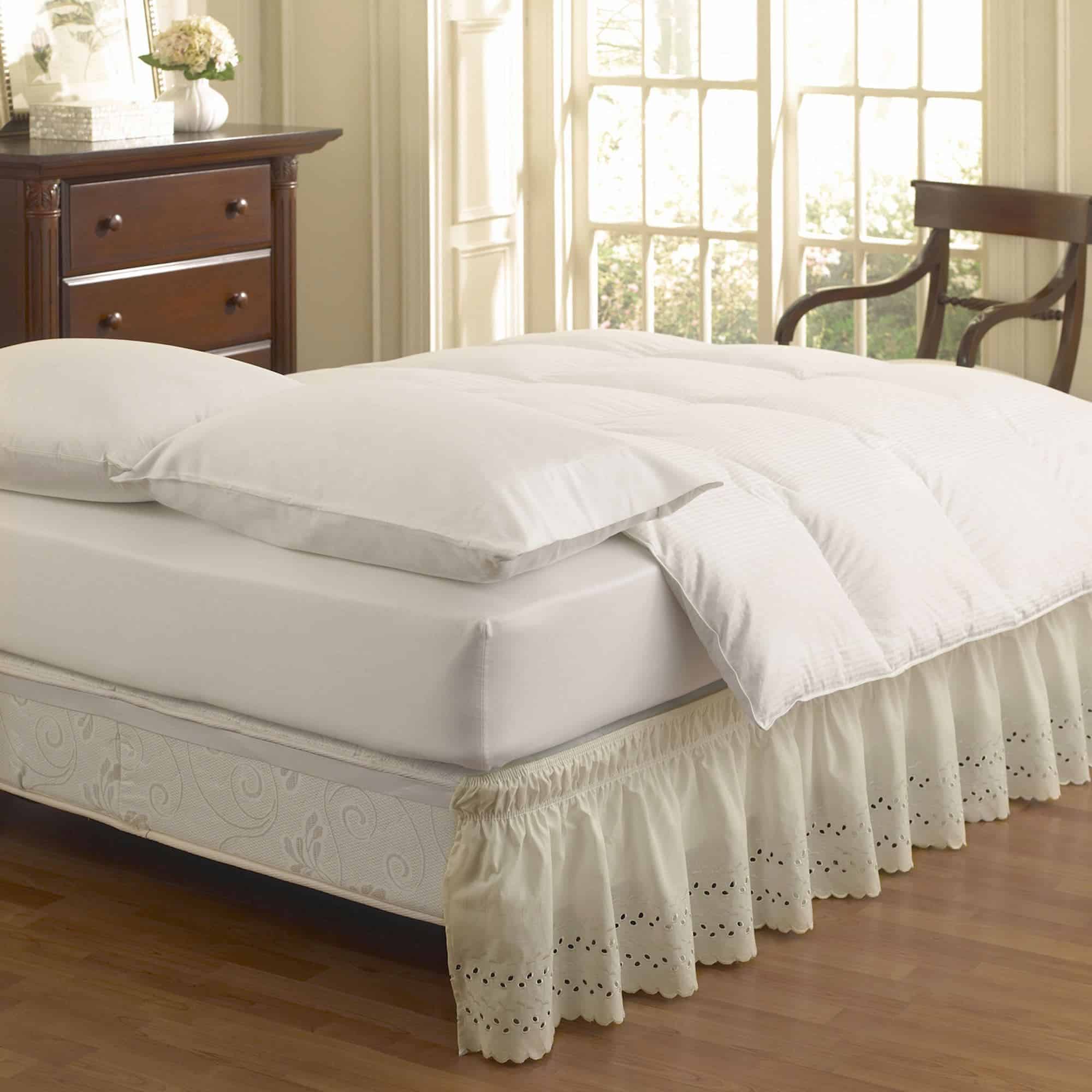 Frequently Asked Questions
Trundle beds are flexible pieces of furniture and as such there are a ton of questions about them. To ensure that you know all there is to know about trundle beds, and so you don't leave us with doubts swirling around in your head, let's answer some of the most frequently asked questions regarding trundle beds.
Who are trundle beds for?
Trundle beds are suited well for guest beds and for kids' rooms. The purpose of the trundle bed is having an extra bed whenever you need one. Typically, you need extra beds when:
Your parents or grandparents visit
Your children have a sleepover
You have limited space for all family members and need a bed that's collapsible
You throw parties and have frequent visitors
However, trundle beds are also really great for kids' rooms because they allow siblings to sleep close together. Trundle beds with twin sized mattresses are the perfect size for kids until they get to high school or late middle-school age. You can keep the trundle bed close to the main bed or roll it far away, so kids have plenty of space for themselves (if the room is big enough). In fact, your young children might actually fight to sleep on the bottom bed! From a child's perspective, it's fun and unique. Here's a list of our favorite trundle beds.
Who are trundle beds not designed for?
Due to their weight and size restrictions trundle beds are not designed for larger or heavier people. For higher weight limits, I'd suggest a platform bed. We have a comprehensive platform bed guide here.
What's the ideal room for a trundle bed?
Trundle beds are designed to save space. So, the ideal room for a trundle bed, would have limited space for a larger platform bed but still enough for you to pull out the trundle (when necessary). Trundle beds are also unique since you can separate 2 sleepers (since trundle beds are detachable) or you can have both of them sleep close together (get a pop-up trundle). Based on these reasons, and all the other analyses we've done in this article, a trundle bed can work in almost any room (even if you have space to spare). Hence, this is more of a subjective question, so I'll leave you to determine how much space you want around your bed and whether a trundle bed would be the ideal solution. We've presented a lot of pros and cons in this article so I hope you feel well informed.
Note:If you have carpet in your room, remove your trundle bed casters so the bed can slide easily. The ideal room would be hardwood (if you have casters on your trundle bed). Learn more about how to make a trundle bed work on carpet here.
How can I convert a kid's room into a guest room?
This is a pretty common situation: you have 2 kids and 2 bedrooms, 1 foreach of them. You and your wife have inhabited the third bedroom. How can you quickly convert from a kid's room to a guest room and then back? When you have no guests, each kid can have their own room. When you have guests, the two kids need to share a bedroom. Can you minimize fights between them while still providing a nice, comfortable king-sized bed for your guests?
Yes! But there are several strategies.
Strategy 1 is to get a bunk bed with a removable top in one room, and a normal bunkbed in the other. If you can remove the top bunk and move it down, then you can make an ad-hoc king bed for your guests. However, bunk beds only support 6" mattresses so they may not be comfortable for everyone(especially older people). Here's a detachable bunk bed where the top can be detached.
Strategy 2 is to have a sofa bed or futon in both rooms. This could expand into a large bed, but comfort is a challenge. Sofa beds just are not comfortable! Also, when the kids are so close together they may end up fighting. Here's comfortable sofa bed option that's available.
Strategy 3 is to have 2 pop-up trundle beds, one in each room. When you have guests, have both kids in one room and pull out the pop-up trundle. You can keep them separate so that both children have their own comfortable beds. In the guest room, you can bring the pop-up trundle close to the main bed. Add in a bridge pad so that there's no gap in between the two beds, and use a large mattress strap like this one to keep them from moving apart. You're done! It's a comfortable king-sized bed.
Do you see how flexible trundle beds are? That's what makes them really valuable for any home. Even if you don't plan on having guests, I'm sure your children will have sleep overs, or you'll want to re-arrange furniture
in your house to give yourself a gym or office space. Trundle beds are adaptable to many room configurations.
There are also other strategies out there, but they aren't as common. For instance, you could just have one queen bed and one twin bed in your kids' rooms. When guests come, the child with the twin bed moves to a sleeping bag or shares the queen bed with the sibling. However, this is bound to lead to arguments between your children. And it doesn't really grow along with the age of the child (imagine having two high school age children share a room). Another strategy might be to have a spare mattress instead of the sleeping bag. But that's still not as comfortable for the child.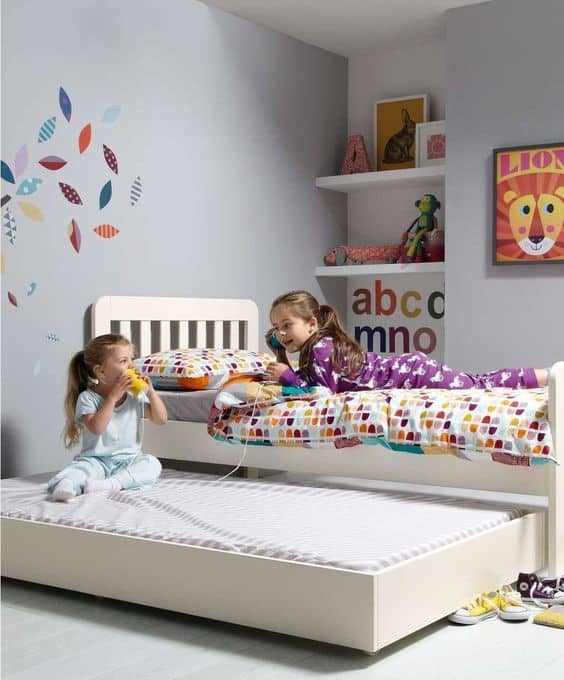 What kind of bed should you buy if you have more kids than rooms?
Based on the topic of this post, I think can guess it…get a trundle bed! They are affordable, space-saving, allow siblings to be close to each other and develop fond memories, and can be used for guest rooms later on after the kids grow up. Look at the question above about the pros and cons of trundle beds.
Alternatives to trundle beds
What are the pros and cons of trundle beds vs. loft beds?
Loft beds or Bunk beds are similar to trundle beds because they both provide you sleeping space for two people within a small footprint. However, whereas a trundle bed needs to be extended horizontally, a loft bed uses the height of your room instead. That's the major advantage of using a loft bed in a room that's narrow and tall. Take a look at some of our favorite loft beds here.
When comparing Bunk beds vs. Trundle beds, there are several factors to consider. Durability is about the same among the two beds as long as you are willing to spend enough to get a high-quality frame. In terms of how easy they are to maintain, bunk beds have space for the quilt+ sheets at all times whereas trundle beds typically don't have much space. So, you have to store the quilt on the main-bed while the trundle only has the sheets on it. Otherwise, bedding will get all bunched up when the trundle is rolled underneath. Another advantage of bunk beds is that many of them can be unbunked (like this bunk bed) so they can become two normal sturdy beds. Similar to trundle beds, this can be an argument for their longevity and adaptability. On the other hand, some moms actually prefer trundle beds to loft beds because they can train the kids to fold their own sheets and make their own beds. They don't need to climb the ladder to make the bed every day. Also, to fit the sheet to the bottom bunk, you need to bend and strain yourself (so that you don't hit the top bunk with your head). This can be quite a workout. And an additional benefit of the trundle bed is that you can roll the trundle out and use it in a different room. So, it's a much more flexible and adaptable piece of furniture compared to a bunk bed (which is mostly designed for 1 room). Also, don't forget, young kids who are playing around can easily fall off the top bunk.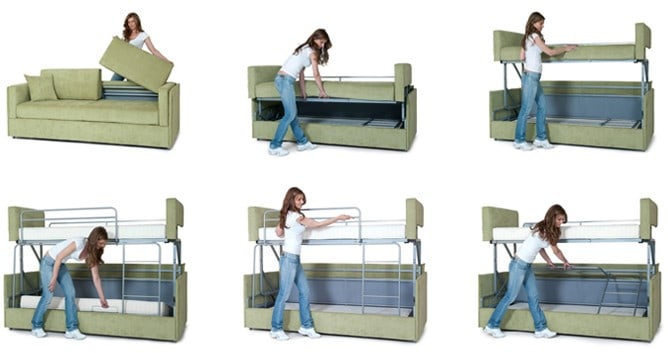 Air mattresses are a short-term alternative to trundle beds
If you are thinking of air mattresses as an alternative to trundle beds, you are probably thinking about having guests over. This is not a solution for long-term use for your children. So, assuming this is the case, let's discuss the pros and cons of air mattresses vs. trundle beds.
Air mattresses can be compressed and stored away when they are not in use. This frees up your room completely when you don't have guests. Trundle beds, on the other hand, still require some space. They are also significantly cheaper – compare $200 for an air mattress vs. several hundred for a quality trundle bed with an upper bed. On the other hand, air mattresses can deflate over night or over a longer time period and become uncomfortable. Ensure that you get an air mattress that's of very high quality (which also means higher cost)since it will have a longer life time. Here's a great air mattress that has a long product life (it comes with an internal pump, which is useful, so you don't have to store an external pump separately…however, if it breaks you'll need to make use of the warranty). Air mattresses also tend to be softer.This can be challenging for some sleepers who prefer firm mattresses.
Trundle beds, on the other hand, allow you a larger selection of mattresses and hence you can decide how firm you'd like them to be. Trundle beds are also more durable and longer lasting than air mattresses (however, this depends a lot on how often you have guests over).
Futons vs. Trundle Beds
Futon sofa beds like this one are also excellent alternatives to Trundle beds. Look at our discussion above on trundle couch combos to see the advantages of a futon over a trundle. However, note that futons are also very user dependent. Some people are ok with harder beds (which futons tend to be) whereas others find them very uncomfortable. Sofa beds tend to be softer and need some additional plywood to really be firm enough to enjoy. Here's an example of a faux leather sofa bed.

Do trundle beds have low weight limits? Can adults sleep in trundle beds?
Trundle beds can support plenty of weightand adults can sleep without any issues. See below for common weight limits and how much a human sleeper can weigh based on the weight limits. The heavier person should sleep on the main bed and the lighter person should sleep on the trundle. On amazon, the available pop-up trundle beds support more weight than the trundle beds that stay close to the ground. Take a look at this one (weight limit more than 200 lbs).
The only issue is when you need to leave the main bed while the trundle is on the floor next to you. It's tricky to navigate around the bottom trundle and avoid stepping on its inhabitant. Also, if you don't have a pop-up trundle, older people will have a hard time getting in and out of a lowered trundle bed.
Of course, the weight limit of a trundle bed depends on its design.Make sure you look at the features of your trundle bed to make sure it can support enough weight for you and any guests you plan on having. And… read the reviews, especially for cheaper trundle beds. In some cheaper trundle beds, the reviews will note that even though 400 lbs is the maximum supported weight, the actual supported weight might be lower. If you are worried about being comfortable while sleeping, make sure you invest in a good mattress. Don't buy a cheap trundle bed or a low-quality mattress (especially since trundle mattresses are thinner than other mattresses due to the 6"-8" thickness limit).
A typical trundle bed frame like this one will have a weight limit of 400 lbs for the main bed and 225 lbs for the trundle bed. This may not be enough since you will be adding a lot of additional items on top of your bed. These will include a mattress + sheets+ a blanket on top of your bed frame. So, here are some common weights.
What's the difference between a trundle bed and a day bed?
They are quite different! A daybed comes with a head board and a footboard, but also a third panel which is along a side. This makes it look more like a couch and it's ideal for lounging or sitting. A trundle bed, as you have read in this article is any bed frame that is stored under a main bed. Typically, these roll on casters but can also just be slid in and out. This may also be referred to as a "trundle drawer" because the bed is being placed inside the same area where there are usually storage drawers.
Here is a day bed. Notice how there are 3 sides which are raised, so that it looks like a couch.
Here is a trundle bed. Notice how the trundle bed seems bare. It doesn't look like a stand-alone piece of furniture. This is because it is designed to tuck under another bed like a day bed and only brought out temporarily. Read the section above about the pros and cons of trundle beds.
Here is a day bed with a trundle bed underneath. This is a really popular combination because it can be a couch for 2 or abed for 2. And, it's easy to change between the 2 designs.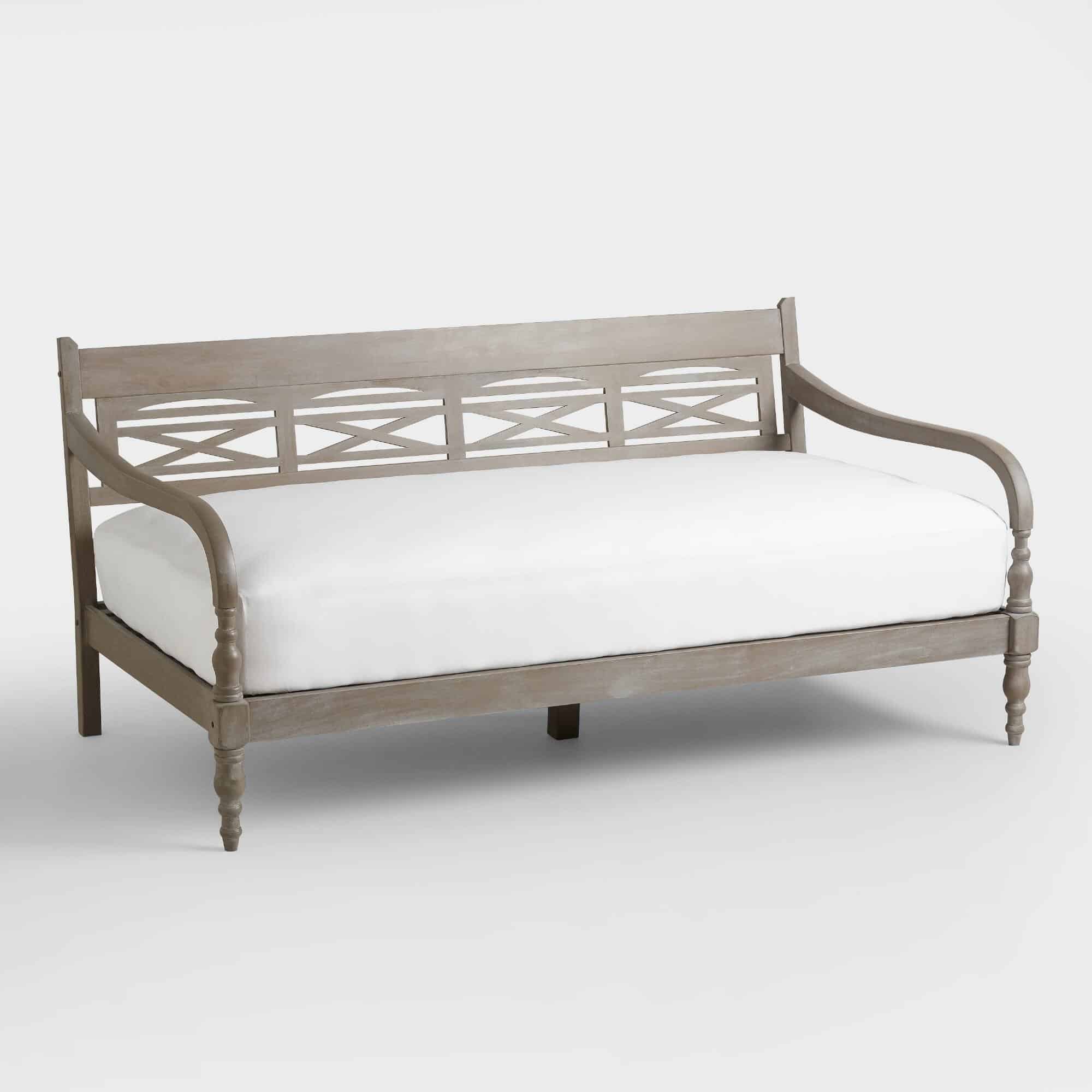 What is a trundle day bed?
Many daybeds (which looks like couch and bed hybrids) have a storage drawer underneath which can hold a twin mattress. This is a trundle day bed. The advantages are that these trundle day beds can be used like a couch or love seat for 2 people during the day time. Then, at night time, the trundle can be pulled out and the day bed can also be used as a sleeper. This will provide enough sleeping space for 2 adults. This is especially valuable for children's rooms when they have sleepovers or in guest rooms. When you have limited space, you can also have this in your living room as an option.
As written before, here is a day bed with a trundle bed underneath. This is a really popular combination because it can be a couch for 2 or abed for 2. And, it's easy to change between the 2 designs. Read the section above about the pros and cons of a couch trundle bed combination.
Are trundle couch combos comfortable?
Certainly! But it depends on the kind of combination you purchase. Here's avery comfortable trundle couch combo. Trundle couch combos (also known as daybed with trundle) are comfortable and practical. During the day time, you can use a trundle couch combination to lounge, watch tv, and chat with friends. At night, you can wheel out the
trundle and sleep. It provides more comfort than a typical futon bed because each version(the couch or the trundle) is designed for one task whereas a futon has to be a hybrid for 2 tasks. That's why it can't provide the same level of comfort as a trundle couch combination. Compared to sofa beds, the trundle couch combination wins again due to comfort. A good, comfortable, sofa bed is hard to find. Sofa bed manufacturers tend to focus on the couch and the mattress is a secondary thought. Note: you should try to get the best mattress possible for your day bed. For example, this Zinus twin mattressis incredibly comfortable when used in a twin day bed. Day bed manufacturers tend to focus on the design of the frame more than the mattress. Hence, take the mattress that you get with the day bed and donate it, if you think it's not comfortable.
However, trundle couch combos tend to be a taller and deeper than other couches. So, you have to sit "up" on them rather than just falling "down" on them. To get around this, consider getting mattresses that are a bit less thick than normal to offset the height increase a little bit. Read the section above on trundle couch combination advantages and disadvantagesto make your own decision. I would have a bunch of couch pillows or body pillows around on your day bed so that you can adjust how far into the day bed you sit by using the pillows to prop you up. Remember that a daybed is designed for a twin-size mattress so it's going to be deeper than a normal couch. We did a comparison of the depth of different furniture pieces above.
Are there trundle beds for toddlers?
Trundle beds are not designed for very young children. They are a bit too high off the ground and they don't have any walls to protect your child from falling. However, if you insist on having your child sleep on a tall bed, consider getting a bed guard like this one. If, instead, you are willing to explore toddler bedsyou can relax knowing that your child can sleep in a toddler bed till they are 5-6 (as long as they fit). Once your child gets older, a standard twin trundle bed like this one will be your next best option. The reason we picked this bed is because it has no side wall, but it can be placed next to a wall. While the child is still learning not to fall off, placing the bed next to a wall will help prevent a child from falling. After some time, you can move the bed away from the wall and continue to use it (so the child learns to sleep on a normal adult bed). Trundle beds are especially valuable if you are considering having another child. Take a look at our section above comparing trundle beds vs. loft beds (or bunk beds) to determine what kind of a bed would be a good next step for you.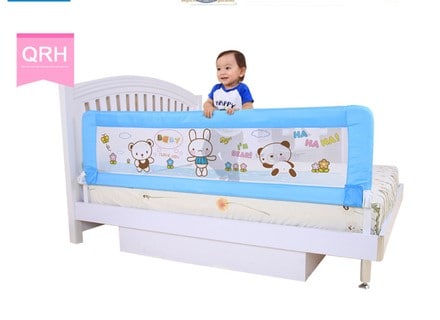 Are trundle beds safe? Even for toddlers?
For adults, the main challenges with trundle beds are that you can easily stub your toe or trap your fingers while pulling out the trundle. If you are worried about stubbing your toe, you can get padding for your bed. To prevent trapping your fingers while pulling out the trundle, a simple solution is to replace the handle with rope. This makes it easy to pull out and rope is also easy to tuck away when the bed is being stored (so it's not unsightly).
For seniors, the challenge with normal trundle beds might be getting in and out of them. We've discussed this above in the section on the pros and cons of trundle beds. Also, trundle beds that do not pop-up are very close to the ground, so they might make it hard to get in and out of bed for seniors. Pop-up trundle beds like this oneare more viable for seniors.
Regarding toddlers, I've always been afraid of having a child near a pop-up trundle bed. The spring-loaded mechanism and the hinge seem like an invitation for trouble because you can trap your finger in there. Even pull-out trundle beds can be hazards for children (when they are spring-loaded). One particular story horrifies me. There was a baby who climbed into the trundle and then it shut close because it was spring loaded. The baby's head then got trapped between the bed and the trundle such that it suffocated.
So, if you have a young child, be careful of having them around your spring-loaded trundle. Manual trundle beds tend to be much safer alternatives, but they require more effort from the user to get them set up.
What's the best mattress for a trundle bed?
When asking this question, I assume that you are not only looking for a mattress for your trundle bed, but also for the main-bed that comes with it. Very few shoppers purchase a trundle bed alone. So, let's discuss both the mattress for the main bed as well as the trundle bed mattress underneath.
Many trundle beds come with a day bed as a combination. When choosing a mattress for the day bed, you need to determine if you plan on sitting on it, sleeping on it, or both. If you choose a mattress that's too tall (more than 8-inch thickness),then your day bed will become too tall as well. You'll need to sit "up" on it. If you plan on sitting more than sleeping, then consider getting a firmer mattress. For both sitting and sleeping purposes, I lean towards a latex/polyfoam hybrid with 2-3 inches of Dunlop on top ( here's a great option and here's the topper). For a softer feel, go for a talalay topper instead of the Dunlop. Dunlop doesn't compress as much and hence it is firmer than talalay. A high quality polyfoam below will provide you firm support. Polyfoam is stiffer and not as elastic as latex. Note that softer mattresses are also better at pressure relief.
For the trundle, you are limited in choices because of thickness. Most trundles will only allow you to choose a mattress between 6" and 8" thickness. Because of this limitation, you'll need to have a firmer mattress. A soft mattress material, with such a low thickness, would compress and you'll feel the slats underneath. For choosing a firm mattress, consider the ILD or indentation load deflection value of the mattress. 40 ILD is a very firm mattress because this means it takes 50 pounds of pressure to indent 4inches of the foam by 25% using a 50 square inch indentation. 35/36 is a medium firmness rating and 25-29 is a softer rating for mattresses. Your individual taste will determine how firm a bed you want. I would suggest that you order a 35/36 mattress from amazon and then determine if you want to go firmer or softer than that (after testing it for yourself). Don't worry! We have a section above describing how you can return large items easily. Here are some options to consider: Soft mattress, 25 ILD; Firm-Med Firm 36 ILD topper;
You should note that a latex mattress doesn't work well with a wire frame trundle bed. Pure latex foam rubber would likely sag and produce a hammock effect. You could remedy this by putting a piece of plywood with adequate holes (for ventilation) in between the wire frame and the latex mattress but then you might hit the limit of your mattresses' thickness. Latex mattresses also tend to be heavier. This twin size latex mattress from Lucid is 49 lbs.
Should I get an organic trundle mattress for my child?
Most people who are looking for an organic trundle mattress are more concerned about safety than about having an "organic" certification for their bed. Dunlop latex and other such materials are perfectly safe. Some mattresses like this one also claim to be hypoallergenic, if that's what you are interested in. However, an "organic" trundle mattress is unnecessary. Of course, if you have personal reasons for finding an organic mattress for your child, then here are a few tips.
When choosing an organic mattress, be aware that there are many "organic" mattresses that aren't truly organic. For example, would you consider a mattress that has some organic components to be "organic" ? No. What if a mattress had an organic cover only? Is that considered organic? No. To be truly organic, we need a mattress that has all components certified along with the entire production process used to make the bed. Based on this, are you really looking for an organic mattress? Or are you just looking for a safe mattress that's not going to have any chemicals?
So, what you should look for is a mattress that has minimal chemical additives. This would be a good goal and there are plenty of them around. Take a look at these "eco" products which can all help you with your "organic" requirements. Some of these are covers only and others are more expensive mattresses. I, personally, just go for mattresses with minimal volatile organic content and with very few additives when being manufactured.
What's a good trundle mattress for my special-needs child?
From your question, I assume that you want a trundle bed because it allows your special needs child to stay close to the ground. For this reason, there isn't any "mattress" that will add any additional comfort for your child. However, I can certainly help you decide if you have any of these requirements.
If you want an organic mattress then take a look at the question above. You should also consider an organic topper instead of an organic mattress (to save some money).
If you plan on having cuddle time with your child then consider getting a larger mattress so that you and your child can both comfortably relax in bed. A queen mattress might be a good choice because it will fit both of you now and in the future your child might enjoy having the extra space as they grow up into teenagers.
If you plan on having a bouncier mattress for fun, then consider an innerspring mattress like this one or latex mattress. Memory foam would be the opposite mattress material for your needs.
If you are thinking about what firmness is best for your child, I would tend towards a firmer mattress than a softer one. The reason is that adults have more curves than children. So, pressure points are less of an issue for them. They are perfectly comfortable in a firm/medium firm mattress and these beds will also have more durability because of their construction.