Ultimate List of Bunk Bed Accessories and Why You Need Them
Bunk beds have long served people short on space, whether in dormitories or children's rooms. While most people know about the bunk beds themselves, few know about all bunk bed accessories that can (and should) be used with them. Bunk bed accessories are not only extremely helpful for people who have trouble getting into or climbing out of the bunks, but they also serve to provide extra storage space, extra style, and extra fun. From bunk bed safety rails to shelves, tents to fireman's poles, this list has it all. 
Related articles:
Bunk Bed Safety Rails
Normally, bed safety rails (also called guardrails) provide security for children, adults, and the elderly. They are not only made for hospital beds and baby cribs, but also for bunk beds. For bunk beds, they're easily attached onto the bed frame of the top bunk to reduce the risk of injuries. Safety rails serve as barriers, preventing children from rolling out of bed, and they also serve as handles, offering support for getting in and out of bed. This is especially useful for those who have movement difficulties. 
Make sure you read about what's the best age for a child to use a bunk bed
Headboards Allow You To Sit Up In your Bunk Bed, Comfortably
Headboards can be installed at either end of the bunk bed. They are mainly used as pillow support for whenever you want to sit up in bed, like in this example. The headboards extend a few inches above the mattress, and therefore prevent the pillow from falling off.
Headboards can be produced from different materials such as metal, wood, and other upholstered fabrics. They are designed as either a solid panel or with slats, like this one. The slats can be as close as one-half inch apart from each other, allowing your charger or any cable to easily cross through. You can also find headboards with practical storage spaces like this one, for easy access to your most needed items such as your phone, your iPad, some books, and water. 
Related article:
Bunk Bed Shelves Add Storage
Shelves can also offer storage space, and they are very handy for holding easily-accessible items. If a kid is sleeping on the top bed, shelves will save him from having to get out of bed to grab something such as a cup of water. They will also create a decorative and pleasant ambiance for the kid to feel comfortable, surrounded by things he likes. 
The shelves can be incorporated into, or inserted at the top of, the headboard. This example shows a headboard unit with shelves inside. Shelves can also be hung on the wall, or hung to the frame of the top bunk like the shelving unit below. This saves lots of floor space. 
Bedside Caddies are great Bunk Bed Accessories
Bedside caddies are storage organizers that hang over the safety rails of a bunk bed via Velcro straps or hooks. They are great space-savers, and they gather all of your small essentials so that you have them at your disposal within arm's reach. All the sleepers sharing the bunk bed can make use of the caddies since they are only a short distance away from both the top and the bottom bunks. The items that you can store in the caddies include phones, glasses, books, remote controls, tissues and more. 
If you are worried about weight limits on bunk beds, consider our article on how much weight the top bunk can hold.
A Laptop Tray for Bunk Beds and Loft Beds
A tray serves as a bedside attachable shelf for bunk beds. Since the top bunk can't have a nightstand, these trays are extremely convenient. They can hold your most needed items close at hand, so that you don't need to constantly climb down the bed to get them. The trays are designed with clamps, which allow for a safe and easy installation over bed frames and bed rails without the help of other tools. Trays can typically hold a maximum of 10 pounds. 
Desks Provide Workspaces Under Loft Beds
If you wish to add a workspace to your bed, simply integrate a desk or a mounted table in the bottom bunk area. The desk should be mounted outside of the bed (left image below) at either end instead of inside the bed (right image below). Building a desk inside the bed frame is not practical at all; you may hit your head or feet with the desk while sleeping in bed. But, if you are interested in inserting the desk into the lower bunk area, consider removing the bottom bunk. This way you'll have a loft bed with a desk underneath. 
However, removing any piece of the bunk bed may make it less stable. Consider our tips on how to make a loft bed or bunk bed sturdier.

The desk may be painted in any color of your choice to conform to the style of your room or the finish of your bed. They're functional, stylish, and easy to use!
Ladder Are Mandatory Bunk Bed Accessories
The ladder is used to climb up or down the top bunk. It can be built in (vertical ladder) or freestanding (angled ladder), and placed either at the short end or at the front of the bed. If your bunk bed features a headboard and a footboard on both end sides, then you will need to install a vertical or an angled ladder at the front of the bed. Normally, all ladders have a width of 18 inches. This ladder features mounting brackets that attach to the bed frame to ensure that the ladder is firmly steady.  
Ladder Hooks Enable You To Attach and Detach A Bunk Bed Ladder Safely
If your bunk bed's ladder doesn't come with mounting brackets and you wish to secure it, then you can simply screw a set of two ladder hooks to the ladder. The hooks will allow the ladder to mount over the bed frame of the top bunk. With these hooks, you can detach the ladder from the bed unit anytime you want.  
Take a look at our article on how to make bunk bed ladders safer.
Pipes Ladders Help You Get In And Out of Bunk Beds 
Pipe ladders are made of galvanized steel. These ladders are good for elderly people, as they provide good support when standing up or sitting down. In fact, you can get creative by getting a set of pipes and simply fixing them to the rungs of the bunk bed. The pipes will form a vertical built-in type of ladder (left photo below), which prevents you from slipping. This form of ladder is also safe for kids, and good for exercise. Furthermore, if young children still find it difficult to climb up and down the ladder, then you can attach two pipes in parallel on both sides of the ladder's opening, which will serve as handrails (right photo below). 
Staircases Are Alternatives to Bunk Bed Ladders That Provide Additional Storage
Staircase units are great for safety, storage, and style. They facilitate climbing up and stepping down the top bunk. They are made of either wood or metal to match your bed. The staircases are freestanding and can be placed on any side of the bed (the long or short side of the bed), unless a side is blocked by headboards or footboards. Most of them are usually built with plenty of storage spaces for books, toys, or anything else. The stairs can act as cubbies or open shelves, or as closed storage spaces in the form of drawers. The stairs with drawers can usually withstand a weight capacity of about 300 pounds. The whole staircase unit generally makes a nice piece of furniture. 
Staircase or Ladder Handrails Provide Additional Safety to your Bunk Bed
The handrail can be made of either wood or aluminum to match the bed frame. It is a sturdy and durable addition to your staircase or ladder. The handrails are attached easily with screws and anchors onto both sides of the ladder (left image below), or on either side of a staircase (right image below). The handrails serve as a support for climbing up and stepping down from the top bunk with ease and confidence.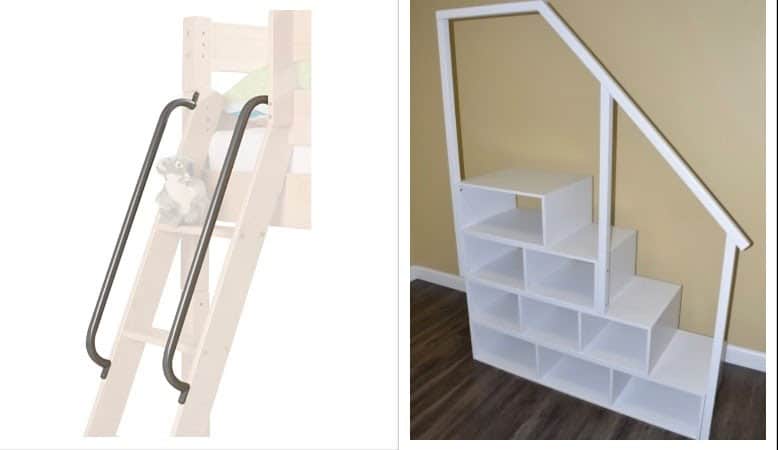 A Trundle Is An Excellent Bunk Bed Accessory for Sleepovers and Guest Rooms
A trundle bed is an additional sleeping surface that is stored underneath the bottom bunk. It is rolled out for use, or tucked under the bottom bunk when not needed. Rollers or wheels are attached onto the bottom of the trundle to facilitate its movement. There are two types of trundle beds: those that remain close to the ground (pull-out trundles), and those that pop up to the same level as their upper bed (pop-up trundles). 
If you remove the trundle bed and the mattress, the space can be used for extra storage beneath the bed unit. 
Under Bed Drawers Provide Additional Storage for Bunk Beds
Under bed drawers serve as additional storage space beneath the bottom bunk. They are space savers and can be used to store sheets, beddings, seasonal clothes, and toys. They can be custom-made to match the finishing of your bed. Casters are attached on the bottom of the drawers to facilitate their movement in and out from underneath of the bed without scratching the floor.  
Bunk Bed Curtains Provide Privacy to the Bottom Bunk
Bunk beds curtains can be hung over the top or the bottom bunk by a stainless cable or hooks. They serve as mosquito nets, light and dust blockers, and decorative accessories. They also offer privacy in shared bedrooms. They come in various fabrics and designs to match your style. They are even great options for kids' bunk beds because they create a safe place for hiding. They also serve as play-curtains, which transform the bed into an enclosed play area. Curtains are also breathable and easy to clean. 
Bunk Bed Tents Convert Boring Designs into Magical Ones for Kids' Rooms
A tent has different patterns, designs, and shapes. It is attached with Velcro or ties and covers a single bunk or both. It serves as play-curtains for children, encouraging their imagination. The tent transitions the sleeping area into an indoor playground that could look like a dream house for kids; you may find a pirate tent (left image below) for boys, or a castle for girls (right image below).   
You might enjoy our article on how to make bunk beds look cute or how to hang curtains on a bunk bed (step by step instructions and tips).

Bunk Bed Ladder Rung Covers Are Accessories That Make Ladders more Comfortable
Ladders are usually climbed barefoot, which may be painful and uncomfortable. This is mainly due to the small surface of the rungs. In that case, you can buy ladder rung covers to protect your feet and increase grip when climbing up and stepping down the ladder. They are made of steel and silicon carbide, which are spongy (like pool noodles) to make the rungs softer.  
Here are 5 other ways to make bunk bed ladders more comfortable.
A Bunk Bed Slide Can Enliven the Top Bunk
A slide is a fun addition to bunk beds. It makes the bed more appealing for children because it is a combination of sleep and play. Slides are an exciting way for children to start their day by sliding out of bed first thing in the morning. They also brings outdoor playground fun inside the house, which is safer. Eventually, the slide can be easily detached when the kids grow older. 
Make sure you read our article on how to make a bunk bed safer for children
A Fireman's Pole Can Make the Top Bunk Feel Special 
Attaching a fire pole to the top bunk adds fun and excitement to any kid's bedroom. Getting out of bed becomes much more fun. Since it requires resistance and effort, the fireman's pole also improves grip and forces kids to start the day energetically. It makes a great exercise tool and is very agreeable to young children and athletic people alike.  
Bunk beds tend to take up a lot of space. Learn about bunk bed sizes so you know which accessories can fit in your room.
Clip on or Wall Mounted Bunk Bed Lights Make Excellent Bunk Bed Accessories for the Top and Bottom Bunk 
Whether mounted on a wall or clipped onto your bed, bunk bed lamps are important. They provide soft and warm light before you go to bed, and protect your eyesight when reading. They can be turned on without disturbing other people sharing the room.  This light head is ergonomic and flexible. It features a firm clamp, which clips and holds the lamp over the headboard, the guardrails, or the bed frame of the bunk bed. The light can be plugged in or remotely turned on with batteries.   
One more idea - Bunk Bed Room Dividers
While bunk bed room dividers aren't an accessory, you might consider using them to functionalize any room with a bunk bed.
Bunk bed room dividers make both the top and bottom bunk into private spaces and allow your children to share a room while feeling like they have separate rooms.
Disclosures
This website is a participant in the Amazon Services LLC Associates Program, an affiliate advertising program designed to provide a means for us to earn fees by linking to Amazon.com and affiliated sites.