If you have ever fallen asleep on a sagging old mattress or a lumpy sofa bed, then you know that comfort matters most. It would help if you had a comfortable mattress for a restful night of sleep. In addition, it needs to align your spine, relieve pressure points, and allow you to start each day feeling refreshed and happy.
Therefore, you need a mattress that is comfortable for you. However, everyone has different factors that they consider when choosing one. While some may value even distribution of body weight, others may prefer a product specific to their sleeping position (check 10 great mattresses on the market).
So, below is a detailed list of the best mattresses in this category (also check 10 top-rated hotel mattresses). Take your time to browse through all of them and find the most comfortable mattress for yourself. 
Which is the most comfortable mattress you can find?
10 Top Rated Most comfortable mattresses we tested
Leesa Legend Hybrid Mattress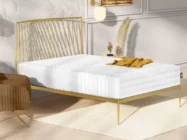 - Organic cotton & Merino wool
- Hypoallergenic cover
- For all sleep positions
The perfect choice for environmentally conscious people
Leesa is a well-known name in the mattress industry and is the creator of the mattress, the myth, the legend, its Leesa Legend Hybrid Mattress. Not only is the mattress capable of offering you superior comfort, but it also has other notable qualities.
The mattress also features a dual-coil layered construction and is 11 inches thick. It offers a blend of pressure point responsiveness and support. Thus, it would help if you looked forward to waking up every morning with no aches in your body. 
If you have been searching for a product that gives you benefits over and above the usual characteristics, then you have found the most comfortable mattress. Not only does the Leesa Legend Hybrid Mattress boast accommodability, but it will give you the right bang for your buck. 
Another reason this mattress stands out from various other offerings in the market is its responsibility to the environment. The product has been made out of organic and recycled materials. Its support core and cover have been specially designed using completely natural resources.
Where the innovative and multi-material comfort system of the Leesa Legend Hybrid Mattress is concerned, you will not have to worry about inhaling dangerous toxins. You can go to sleep knowing that you are contributing to the safety of your environment. 
In addition, this mattress will offer you significant motion isolation and pressure relief. However, the best part is that you will not have to sacrifice edge support, temperature regulation, or bounce for this purpose. 
The exceptional motion isolation in this mattress primarily comes from the memory foam layer in the comfort system. The polyfoam and micro-coils also stand against motion transfer, giving you a soft and plush bed to sleep on. 
In a nutshell The Leesa Legend Hybrid Mattress features

two layers of coils

and a memory foam layer to add to your comfort and provide superior motion isolation and edge support. The product is of high quality but comes reasonably priced, so all kinds of sleepers can easily enjoy it. These

mattresses use organic and natural materials

.
Sweetnight Dreamy S1 Mattress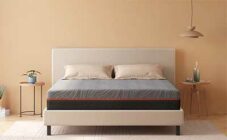 - Three Firmness Levels
- Affordable
- Perfect for every bed frames
An excellent option for breathability and coolness
The Dreamy S1 Memory Foam Mattress offers two options for choosing between thicknesses. While one measures 10 inches in thickness, the other is 12 inches. It allows versatility.
As a result, you can use this mattress in several setups, from adjustable beds to bed foundations, trundle beds, and box springs. You can also put it directly on your floor and sink it in. 
The cover of this most comfortable mattress is made out of jacquard cotton, which makes it soft, breathable, and comfortable for people with sensitive skin. Moreover, it is adherent enough to ensure that your bedding stays in place. 
Furthermore, the SweetNight Dreamy S1 Memory Foam Mattress combines several shades of black and gray with the brand's signature orange. It also boasts a one-piece and seamless design to give you a wrinkle-free fit. 
The product uses CertiPUR-US foams, which means that it has been deemed safe for the environment and all users. Since this foam will not release toxic or harmful chemicals, you can enjoy a long night of restful sleep. 
One of the best features of this mattress is its cooling features. The memory foam comes infused with cooling gel and high-density support foam to ensure that you receive the perfect combination of breathability, pressure relief, and targeted support. 
Moreover, Dreamy S1 is the first mattress from SweetNight that uses ComfortCurve technology. Through this innovation, it adapts to the curves of your body and makes way for two distinct firmness choices on one side.
In a nutshell SweetNight Dreamy S1 Memory Foam Mattress is the best comfort mattress for its superior quality, enhanced aesthetic appeal, and versatility. It has been made out of non-toxic and organic materials to ensure no compromise on your health and offers coolness throughout the night. It also features ComfortCurve technology to cradle your body just right.
Molecule 2 Airtec mattress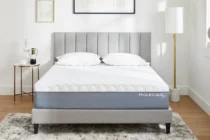 - Airtec™ foam
- Antimicrobial treatment
- Cool sleep surface
Suitable to aid in sleep recovery
If you have been searching for the best comfort mattress that helps with sleep recovery, you do not need to look further. The Molecule 2 AirTEC Mattress consists of a zoned transitional layer, which helps with the several pressure zones in your body. 
Every foam of this mattress has been constructed with the help of an interesting and unique mix of materials. First, the all-foam mattress features three layers beneath the polyester cover. Consequently, each layer is important in creating a luxury feel.
The second you touch the cover, you will experience an airy coolness like never before. Moreover, you will also be able to benefit from the exceptional pressure relief features of this product. 
Where the AirTEC foam layer is concerned, it will contour your body just right, especially the heavier parts, such as the shoulders, hips, and head. As a result, any stored pressure will be released.
This technology also contributes to the regulation of temperature. The open cells present in the layers of this mattress encourage airflow and breathability, even when they are compressed. In addition, the ContourFLO support core also helps boost airflow and prevent night sweats. 
Molecule 2 AirTEC Mattress comes with a RecoveryFLO layer with five self-adjusting and targeted zones that support different areas of your body. The zone in the hexagon shape caters to the foot and head of the bed to provide ample support to the lower and upper body. 
In a nutshell There is no denying that the Molecule 2 AirTEC Mattress has numerous benefits that make it the most comfortable mattress for you. It has an advanced AirTEC technology that helps relieve stored pressure and offers a long night of cool sleep. It is how it aids in sleep recovery.
Naturalform Refresh Mattress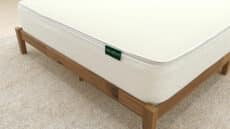 - With patented pressure relief
- Firmness controls
- Naturally Breathable
Designed for people who suffer from neck and back pain
Your search for a luxurious and unique mattress is over because the Natural Form Refresh Mattress is the one you need to bring home. The dual-side firmness adjustment of this product will relieve you of neck and back pain in days.
The washable Merino wool cover is an important feature of this product, enhancing its pain-relieving properties. It is one of the most distinct covers you will ever come across, primarily because it has been made out of natural materials.
In addition, the cover consists of authentic Merino wool and is comfortable, temperature regulating, and washable. Rest assured, you will never have to sleep too cold or too hot once you bring home the Natural Form Refresh Mattress. 
Three inches of highly resilient and supportive foam layer are beneath the high-quality wool cover. It has received the stamp of approval from CertiPUR-US and makes sure that you have a proper alignment for your spine and neck throughout the night. 
Furthermore, the Natural Form Refresh Mattress has a patented system for pressure relief, which is very impressive. You can use the mechanical knob on the side of the bed to adjust the firmness according to your preferences.
Numerous helix air pods are present in the mattress, which loosen or harden to accommodate your chosen firmness level. It is the only product out there that uses this technology to maximize the ease it provides.  
In a nutshell This is the most comfortable mattress for those who regularly experience neck and back pain. If you want to enjoy a peaceful night of sleep and relieve the pressure building up inside, then the Natural Form Refresh Mattress should be your go-to choice.
Emma original
- #1 selling in all Europe
- Perfectly balanced for all body types
- Medium-firm range

Designed to promote ideal spinal alignment
The Emma Original Mattress has been designed to cater to those who experience pain in their spine. Being the most comfortable mattress, this product will support your spinal alignment with the help of its proprietary materials and technology. 
The mattress has a thickness of 12 inches and consists of three layers of foam. It allows it to isolate motion better than other products in the market and will enable you to enjoy restful sleep without waking up due to the movements of your partner beside you. 
The top layer of the Emma Original Mattress is that of Airgocell polyfoam, which is used to enable the absorption of a considerable amount of motion. It makes way for the vibrations to be isolated and absorbed instead of spreading throughout the surface of the mattress. 
Furthermore, Emma Original Mattress boasts superior pressure relief. The foam layers perfectly cradle your body and conform to its shape. The top-most layer of poly foam cushions the surface and helps in relieving some pressure.
On the other hand, the layer of memory foam contours in a more profound manner and evenly distributes your weight throughout the mattress. As soon as you lie in bed, you will feel the pressure easing off from primary areas, such as the shoulders and hips, and drift into a peaceful sleep. 
It is a well-known fact that foam mattresses tend to store heat. However, the Emma Original Mattress has various cooling features to counteract this heat, allowing you to sleep without experiencing night sweats. 
The cover has been made of breathable material to promote airflow, which also helps regulate the temperature of your body. The open-cell structure of the cover further makes room for air to permeate through the top layer. 
In a nutshell The Emma Original Mattress is the perfect product for you if you prioritize ideal spinal alignment. It also offers several layers of foam to enhance pressure relieving properties and cooling features to encourage a peaceful night of sleep.
Transformation hybrid by Diamond mattress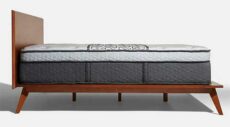 - Hotel quality mattress
- Highly breathable
- Pressure relief
For sleepers hoping to avoid night sweats
The Transformation Hybrid Mattress is known for being the most comfortable mattress on account of several boastful qualities. However, one of its primary selling features is that it keeps you cool throughout the night.
Diamond Mattress has included an advanced coating of PCM in this mattress to regulate the body's temperature. It has used a CoolTouch advanced fabric for this purpose, consisting of a stretch-knit design.
The mattress can also provide you with top-notch body contouring, relieve trapped pressure, and enhance pressure relief and conformability. 
In addition, the conductive flakes and graphene present in the product help dissipate heat from the top-most layer to actively monitor your body's core temperature. It helps Diamond Mattress create a natural sleeping environment suited to your needs. 
What ultimately makes this the most comfortable mattress is that the Transformation Hybrid Mattress consists of more than 1,000 micro-coils. They help boost breathability and airflow, providing the perfect atmosphere for sleep in. 
Lastly, the patented zone support system is responsible for preventing motion transfer between you and your partner. It ensures that there is no disturbance in the middle of the night that interrupts your sleep. 
In a nutshell The Transformation Hybrid Mattress by Diamond Mattress is just what you need to transform your life. One of its notable features is that it promotes coolness and uses a combination of fabric and foam to create a soft and plush mattress suited to your needs.
Nectar Premier Memory mattress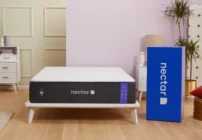 - Gel memory foam
- Dynamic Support Layer
- Stay-Stable Base Layer
Create the perfect balance between gentle contouring and sturdy support
The Nectar Premier Memory Foam Mattress has been designed to help you maintain the perfect balance between gentle contouring and sturdy support. It will allow you to sink just enough into your bed without feeling like you are being swallowed whole. 
This product is known for its notable motion isolation feature, allowing you to shift your position easily. You will also not disturb your partner whenever you leave or get on the bed. 
If you are experiencing joint issues or back pain, this mattress could be the right fit. It will give you a big hug every time you lie down on it and contour your body just enough to relieve the pressure in your body. 
The pressure-relieving properties of the Nectar Premier Memory Foam Mattress ensure that your spinal alignment is ideal. It permits it to ensure that your back, shoulders, head, and neck are also evenly supported. 
The company specially designed this mattress to accommodate all body types and sleeping positions. Its support layers make this the most comfortable mattress, which allows you to slip into dreamland in a jiffy. 
In a nutshell The Nectar Premier Memory Foam Mattress inhibits a number of qualities, amongst which is superior body contouring. The mattress does not swallow you whole nor give you aches that cause disturbance in your sleep. It helps maintain the right balance between softness and support.
Puffy Luxury mattress

- Hotel comfort
- Hybrid quality
- Good with all bed frames
For people searching for bouncy mobility and cuddly comfort
The Puffy Lux Mattress consists of pocketed coils and super soft foam layers. It helps you establish a balanced vibe between bouncy mobility and cuddly comfort. You can now wake up feeling refreshed like never before. 
This mattress is the most comfortable on account of the several foam layers on the surface. If you like minimal sinkage to enjoy the softness and plushness of the product, then this is the mattress you need to bring home.
Puffy has designed its product to allow sleepers a pressure-relieving sleep. It nicely cushions the sensitive parts of your body, especially around the hips and shoulders. No more waking up achy in the morning. 
One of the best features of the Puffy Lux Mattress is that it can help you achieve an ideal spinal alignment. You lie down on it, and the foam layers will do the rest of the work. Rest assured, your back will be straight throughout the night. 
In a nutshell The Puffy Lux Mattress is the most comfortable mattress for people who experience regular pain in their hips and shoulders. It can especially be helpful for sleepers searching for spinal alignment. With its bouncy mobility and cuddly comfort, the mattress will cushion your body just right to relieve the trapped pressure.
Plushbeds Eco Bliss Hybrid Latex Mattress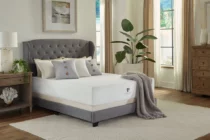 - 100% natural latex
- Supportive PlushFoam Core
- Soft cotton cover
An eco-friendly and responsible choice for all sleepers
If you have been searching for a mattress that somewhat helps pay your debt to the environment, then you need to consider buying the Eco Bliss Hybrid Latex Mattress from PlushBeds.
The product is made of organic materials and aims to ensure that you do not breathe in any toxic or harmful substances. Moreover, your sensitive skin is also safe from dangerous materials. 
Thus, the Eco Bliss is an organic latex foam mattress manufactured by only those materials that have been certified by Greenguard Gold. It means that it has to meet stricter standards of emission. The certified materials also mean that the company cannot make a product emitting formaldehyde in your room.
Furthermore, superior comfort and good pressure relief are part of the experience once you buy the Eco Bliss. It conforms to the shape of your body and cradles the pressure points. Consequently, the pain in your shoulders and hips is reduced. 
In a nutshell The Eco Bliss Hybrid Latex Mattress from PlushBeds is the most comfortable mattress, literally and figuratively, for those who worry about the environment. It will boost your sleep health and help you be responsible for the environment. Moreover, it offers excellent pressure point relief.
DreamCloud Premier mattress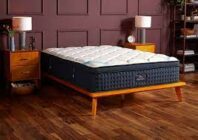 - Memory foam and innerspring coils
- Luxury cashmere-blend cover
- Pressure-relief comfort layer
Perfect for temperature regulation
DreamCloud uses foam and coils to enhance the pressure-relieving properties, mobility, and support received from its Premier Mattress. This product is higher-end, in monetary terms, as well as when providing comfort.
Being the most comfortable mattress, the DreamCloud Premier Mattress offers you many benefits. These include an evenly quilted pillow top with several layers of poly foam and memory foam and sturdy edge support. 
Furthermore, the company boasts that its product provides a significant temperature regulation ability. The coil and foam layers blend ensures a balance between support and contouring. 
Where motion isolation is concerned, you no longer have to worry about being disturbed in the middle of the night by your partner or pet's movements. The mattress limits motion transfer and ensures movements do not spread throughout the surface. 
In a nutshell DreamCloud Premier Mattress has several qualities that will prompt you to bring it home. One of these is that it uses a number of layers consisting of coils and foam to enhance the comfort you feel. With temperature regulation and motion isolation properties, it can easily win the heart of numerous sleepers out there.
Our Recommendation
Comfort is subjective and wholly depends on your personal preference at the end of the day. Searching for the most comfortable mattress for yourself may not be easy, but it has been streamlined with the help of the list above. 
Make sure to go through the list before making a choice thoroughly. Good luck!