11 Ways to Use A Tempurpedic Pillow with Pictures & Tips!
We spend about a third of our lives sleeping, so why not make the best of it by using the most comfortable pillow? Getting a Tempurpedic Pillow will help you relax and improve the way you sleep. The Tempurpedic Pillow is made out of TEMPUR material – the original memory foam that was first developed by NASA. Its high-grade construction and unequaled performance make for an out of this world experience. However, your tempurpedic pillow can be used for more than just a good night's sleep. Here we'll cover 11 ways to use a tempurpedic pillow.
Ways to use a tempurpedic pillow include: 
Related articles:
Use a Tempurpedic Pillow for Chronic Neck Pain Relief
Countless people who suffer from chronic neck pain may benefit from using a tempurpedic pillow. The supporting structure of the human neck consists of the cervical section of the spine (itself consisting of individual vertebrae, fibrocartilage, nerves and blood vessels), several muscle groups and soft tissue. 
Like all other parts of the body, the anatomical parts of the neck need to be in their natural positions to work right. Everything needs to be unhindered and properly aligned in relation to each other for them to be physiologically functional. If they're not in correct anatomical alignment, then blood supply could be obstructed, nerves could become impinged, muscles could tense up, weaken, spasm or shorten, cervical vertebrae could move out of position and fibrocartilage could be worn out – all of which would result in a tremendous amount of pain. 
At best, the end result of a bed neck position when sleeping could be a temporary stiff neck. At worst, it could be a neck deformity, poor posture or chronic neck pain. Save yourself from suffering any of these awful results and get yourself a tempurpedic pillow.
As you lay your head on a tempurpedic pillow, the unique polyurethane memory foam construction softly gives way, conforming to the anatomical contours of your head and neck. This allows the tempurpedic pillow to cradle your head and neck to maintain correct anatomical cervical alignment thereby preventing all of the possible negative effects of a bad sleeping position. By consistently using a TEMPURpedic pillow, you will experience relief from chronic neck pain and even possibly prevent or correct neck posture issues.
Even though different tempurpedic pillows may have varying shapes and sizes, generally, there will be specific contours that will comfortably support the neck and head in any sleeping position. You can use tempurpedic pillows both while sleeping on your back or side. Take a look at our article on how to choose the right tempurpedic neck pillow size.
Preventing Snoring By Using a Tempurpedic Pillow
Breathing problems like sleep apnea and snoring can be linked to sleeping on your back. When you sleep in a back lying position with a non-TEMPURpedic pillow, there is a tendency for the soft palate and the uvula to block the throat. Using ordinary pillows force your chin down, a position which essentially narrows your airway. This is especially prevalent if you use a relatively high pillow or if you stack one pillow on top of another. 
When you rest your head on a high pillow like this, you may inadvertently block your airway. This usually results in cartoonishly loud snoring that may annoy your wife, husband or partner to no end. It may even lead to sleep apnea for individuals who are prone to Obstructive Sleep Apnea (OSA). 
The best way to prevent this from happening is to open the airway and to keep unobstructed airflow by using a tempurpedic pillow. No more physiologic obstruction – no more snoring. This means that back sleepers will benefit greatly from using a tempurpedic pillow since it places your head and neck in a natural neutral position. Your partner will thank the heavens for this anti-snoring solution.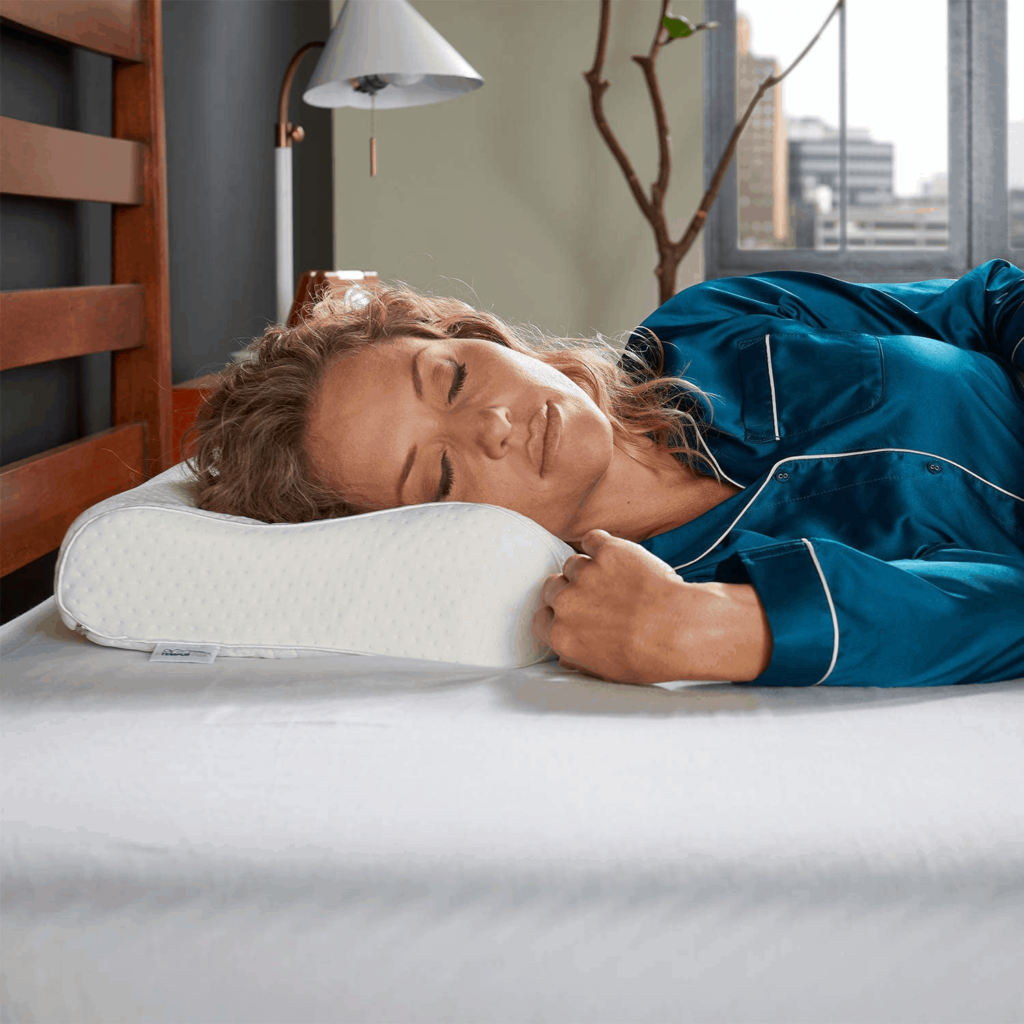 Comfortably Sleeping on Your Side, Using a Tempurpedic ProForm Pillow
The Tempurpedic pillow is perfect for side sleepers. When it comes to picking out pillows, side sleepers have it tough. This is because in order for the head and neck to be neutrally aligned in a side lying position, they need to be supported and cradled just right. Ordinary pillows just don't offer the necessary support. 
Think back to those nights when you're literally punching your pillows as you struggle to get comfortable. Bid these nights farewell when you get yourself a Tempur-pedic pillow. 
The Tempurpedic pillow will conform to the contours of your head and neck and comfortably cradle them. You don't need to fluff the Tempurpedic pillow. It's always ergonomic and responsive. It will provide you with customized sleeping comfort you won't get from anything else. You won't experience any pressure at all, not on your cheeks, neck or anywhere else. It would be as if you're sleeping on clouds – and hopefully without the thundering noise of loud snoring. 
As an added bonus for side sleepers, if you have two Tempur-pedic pillows, you can use a tempurpedic pillow as a leg spacer between your knees.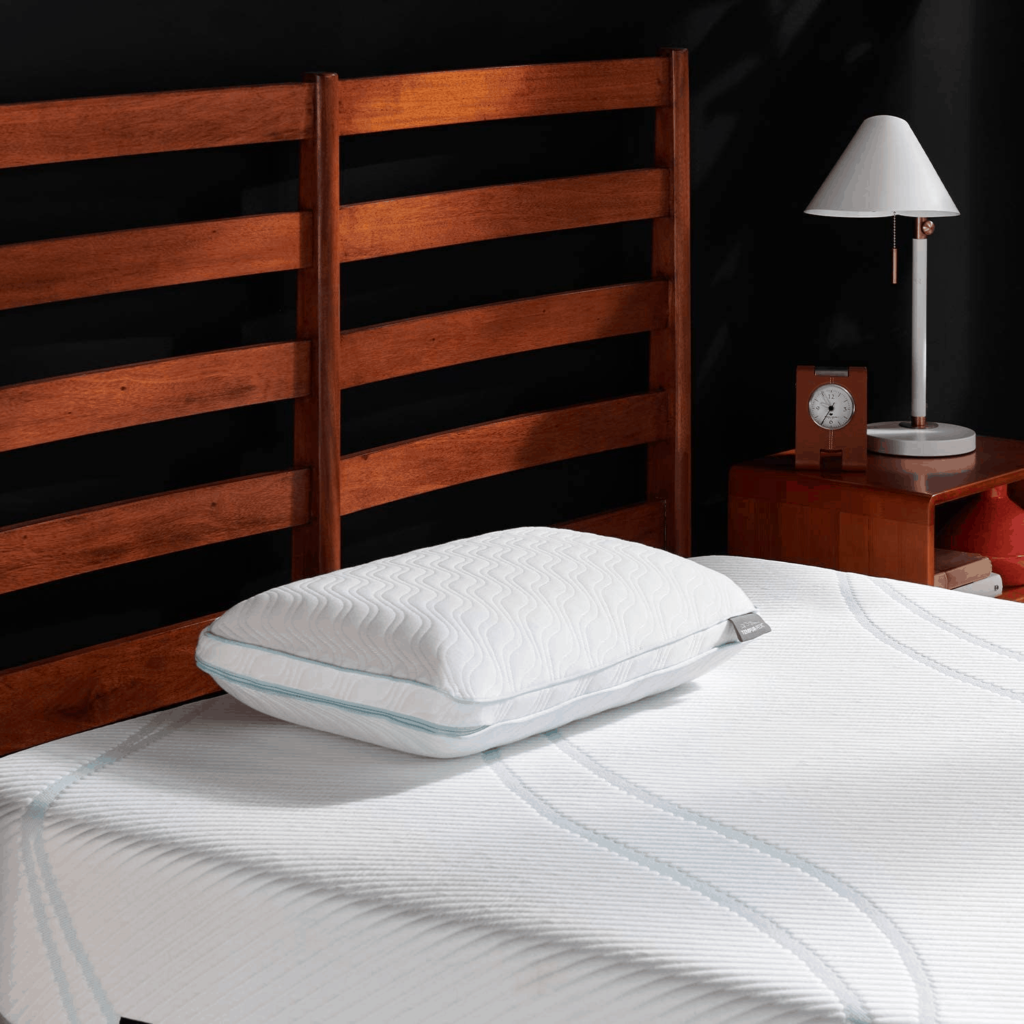 Use a Tempurpedic Pillow to Sleep on Your Back and Dream Blissfully
While sleeping in your back may not be the most popular, it most definitely is the healthiest (at least in terms of musculo-skeletal alignment) – especially if you're using a pillow that provides therapeutic support like the Tempurpedic pillow. 
Compared to all other sleeping positions, sleeping on your back will place your spine in a neutral and natural position. This position will lessen your chance of experiencing pain related to improper spinal alingment. You will wake up feeling much more refreshed since sleeping on your back won't put any pulling or twisting pressure on your neck. 
If you're not previously a back sleeper and you want to try it, then get yourself a good tempurpedic pillow that's designed for back sleepers. This type of pillow will have ergonomic contours that are specially designed to provide support where needed. It would be as if you're sleeping on a cloud – or even a marshmallow. With your head literally cradled in comfort, you bet you're going to have a great night's sleep.
Support for Stomach Sleepers
The second most popular way of sleeping is sleeping prone or sleeping on one's stomach. If you are a stomach sleeper, you may have noticed that this position most often requires that you get in just the right position on just the right type of pillow to be comfortable enough to sleep. This is because when you're on your side, your neck is going to be turned as far as is anatomically possible to your preferred side. 
When your neck is engaged in this position, it will put a pulling and twisting type of stress on your neck muscles and put pressure on the side of your face you're sleeping on. The best type of pillow for this is a soft Tempur-pedic pillow that's designed to provide restful sleep for stomach sleepers. 
By using a soft and conforming tempurpedic pillow, you can sleep on your stomach without worrying about uncomfortably putting unnecessary pressure on your face and neck muscles.
Tempurpedic Travel Pillows are Perfect on the go
Whether you travel for business or pleasure, having a travel pillow will make the experience much more comfortable. It's therefore prudent for you to take your Tempur-pedic pillow along. 
First of all, bringing your own pillow is more hygienic. Additionally, it will help you to rest and relax while you're away from your home. Once your head gently sinks into the shape conforming foam of the Tempurpedic pillow, you'll feel the familiar comfort of home and drift to sleep much faster. 
Pro tip: You can use a vacuum bag to pack your Tempur-pedic travel pillow to save on space. Don't vacuum pack your standard tempurpedic pillow because it's not great for the pore structure. You'll be able to use your Tempurpedic pillow minutes after taking it out of the vacuum bag but be warned that it may take a few hours for the Tempur-pedic pillow to return its full size (read our guide to how long does it take memory foam to expand here). This is probably the only time you may need to fluff your tempurpedic pillow. Also, make sure to contact your hotel or AirBnB in advance to check if they have a vacuum you can use for packing the pillow back in the vacuum bag prior to checkout.
Bonus: Speaking of AirBnb, if you are a host, having Tempur-pedic pillows at your AirBnB would probably boost your overall ratings. 
Thankful Back and Butt
The Tempurpedic pillow is not only for lying down and sleeping. You can also use this almost magical pillow while you're sitting down watching TV, reading, working at your desk or playing video games. You may require some lumbar support to prop you up when you're on your couch. 
Tempur-Pedic has the ideal pillow for this. Just put it behind your lower back to add adequate support before leaning back. You can also do this while sitting in your office or computer chair at your desk. If you're sitting on a hard chair or even on the floor, you can also make use of the tempurpedic pillow as a cushion - your butt will thank you for it.
Related article: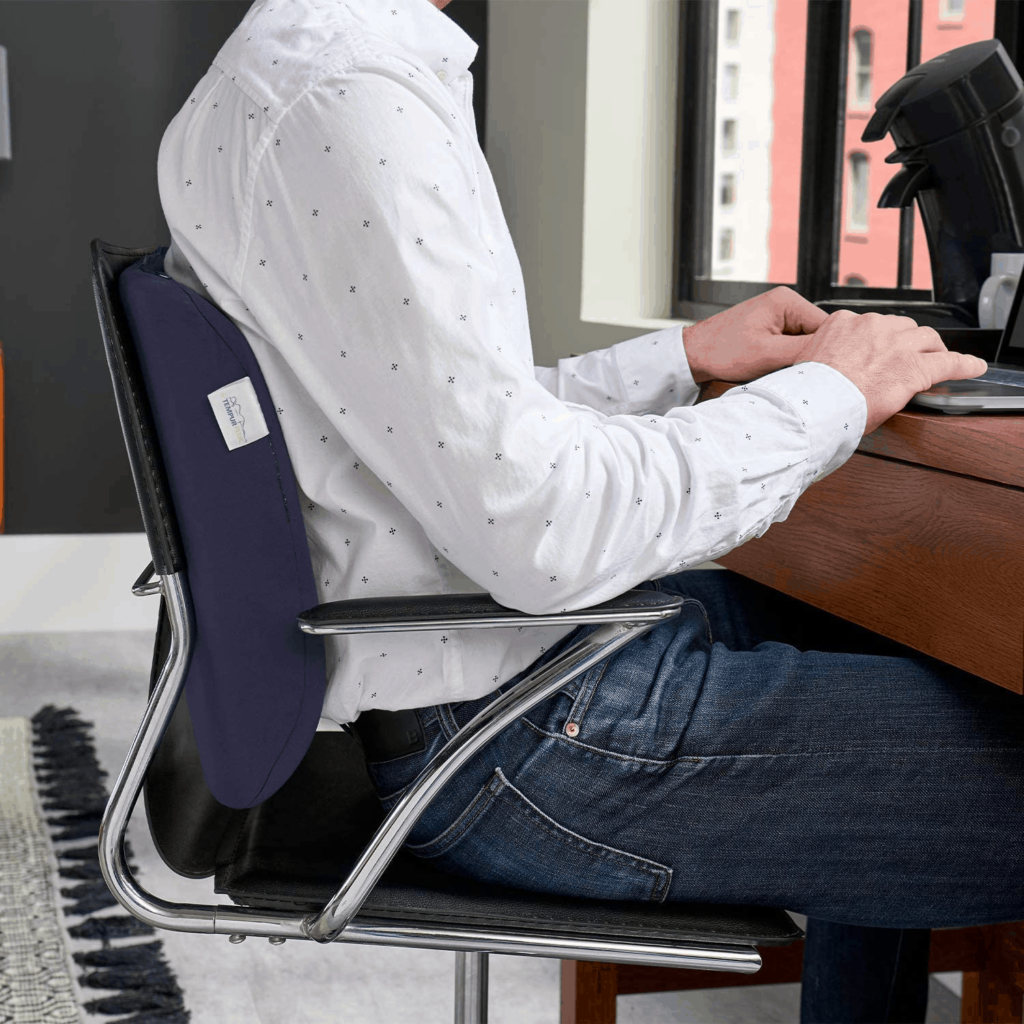 Use a Tempurpedic pillow for Pregnancy Support
Pregnant women love the tempurpedic pillow. Due to the weight of the child they are carrying, pregnant women frequently experience lumbar or lower back pressure and pain. To relieve this sensation, pregnant women can use a tempurpedic pillow as a lumbar support while sitting down. 
Another problem that women frequently experience during pregnancy is swollen legs and feet. Doctors will often advise pregnant women to elevate their legs while resting or sitting down. To make this extra comfortable, pregnant women can choose to put a tempurpedic pillow under their legs. Yet another reason why the Tempurpedic pillow is essential during pregnancy. 
Additionally, doctors advise pregnant women to sleep on their sides to relieve pressure. Guess what – the TEMPUR-pedic pillow is perfect for that too.
Related articles:
Relieving the Pressure of Long Bed Rest
Others who may require the Tempurpedic pillow for medical reasons include the elderly, frail and paralyzed. Individuals who require long periods of bed rest or those who are bedridden may find it extremely helpful to use a tempurpedic pillow to alleviate pressure on their head, neck and shoulder regions. 
However, it's best that the tempurpedic pillow be used together with an equally comfortable tempurpedic mattress. Both used in concert will relieve pressure on bony prominences, provide unmatched comfort and help treat existing pressure ulcers and prevent the formation of new ones.
Related articles:
The Tempurpedic Cloud Breeze can be used for a Cool Night's Sleep
If your room temperature or your personal quirks make you "sleep hot", then you may need to find a pillow that's going to counteract that. Hot sleepers sometimes wake up drenched in sweat. 
Preventing night sweats with a Tempur-pedic cooling pillow is a breeze. This type of cooling TEMPUR-pedic pillow uses a cooling gel layer found on both sides that helps dissipate heat on contact surfaces to ensure that you stay cool and comfy all throughout the night. This pillow works well for back, stomach and side sleepers.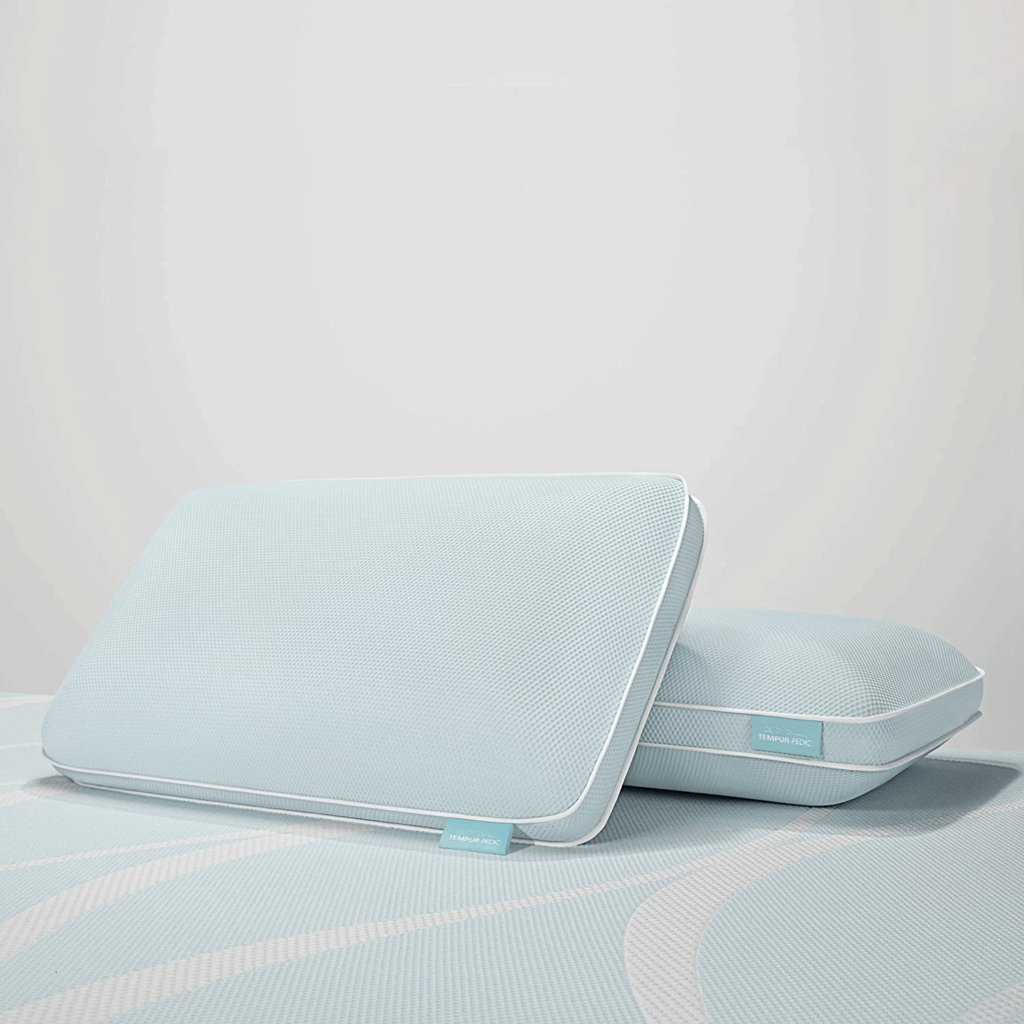 Minimize Sleep Interruption
Our bodies require a good night's rest to rejuvenate from the stresses of the day and to recharge our reserves in preparation for tomorrow. Sleep interruptions due to uncomfortable sleeping positions may cause you to toss and turn costing precious minutes or even hours of that oh so sweet commodity – sleep. 
Treat yourself with a deep restful sleep every night by getting yourself a tempurpedic pillow. TEMPUR-pedic pillows come in many varieties. There are soft ones and there are firm ones. If your pillow or mattress is too firm, you might find our guide on how to make a tempurpedic pillow softer useful.
Now that you also know all the different kinds of Tempurpedic pillows, you might enjoy reading about our favorite tempurpedic pillows. 
Disclosures
This website is a participant in the Amazon Services LLC Associates Program, an affiliate advertising program designed to provide a means for us to earn fees by linking to Amazon.com and affiliated sites.