Anyone who has tried to sleep on their back knows it's not always easy. It is especially true for those who suffer from chronic pain or other medical conditions that make it hard to find a comfortable position. Particular pillows and beddings are more suited for back sleepers than others. Every back sleeper doesn't prefer the pillows preferred by side, tummy, and combo sleepers. For this reason, you should search for pillows exclusively for back sleepers (also check 10 amazing mattresses).
Why do Back Sleepers need Special Pillows? 
The kind of pillow you find super comfy frequently depends on how you rest as you age. Additionally, if you sleep on your back, you want a pillow that brings relief, enough neck and head assistance, and good spine posture. To keep an excellent spinal positioning: back sleepers typically need a pillow. This posture frequently calls for a higher loft cushion to maintain proper head, chest, and spinal alignment and reduce shoulder stress (also check the top-rated mattresses for shoulder pain). Similarly, when sleeping on one's back, a cushion should provide stability for the cervical spine's natural curve, or spine curvature, and space for the head and the upper body.
Best Pillows for those who Prefer to Sleep on their Backs
This article has compiled a list of the best pillows explicitly designed for people who want better-quality sleeping on their backs (also check 10 great mattresses for back pain).
Emma Foam Pillow

- Memory foam
- Adjustable layers
- Vegan
Luxury and comfort in one place
With the Airgocell® foam, you can tailor your pleasure. You'll be in la-la land as soon as you lay your head on this Emma pillow composed of viscoelastic memory foam. A memory foam cushion is designed to provide you with the flexibility to customize the stiffness and elevation. You may switch sheets to fit your tastes, making them appropriate for all resting positions.
Emma's pillow has a cover of 98 percent polyester and 2 percent elastane with a temperature-regulating foam. ​
The comfort layer, which is airy and fluffy, is the middle part, followed by the support layer, which is on the stiffer end, and the adaptive layer, which is the bottom part. All foams are protected with a removable, hypoallergenic, ethical, and non-toxic covering. The Emma Pillow can conform to the desires of any sleeper thanks to its adjustable layering, which may be switched between stiffness and stability, gentleness, and relaxation (also check 10 best selling mattresses for adjustable bed). 
Take a free tryout of your Emma Pillow for a Hundred nights. Emmas has made exchanging any unwanted purchases a breeze. Get in touch with our customer support, and they'll handle the rest. Not just this, but their returns are also entirely free.
​
In a nutshell Foam
Pillow
by Emma is an excellent option for those sleepers who prefer
a combination of sleeping positions
. Its adaptable layering will ensure that you get sound sleep on your back, stomach, or side.
Sweetnight The Original Pillow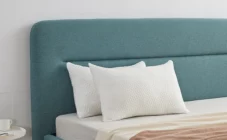 - Ergonomic designed & adjustable
- 100% gel-infused
- Antibacterial
Say goodbye to sweaty naps with Sweet Night
Sweet Night offers its cooling gel-infused memory foam, packed with icy nanoparticles to dissipate heat all night long and cool you down. SweetNights Memory Foam Pillow is a 100% gel-infused shredded memory foam cushion with customizable stiffness and elevation for cooling, relaxation, and stability.
Available pillow sizes include standard, queen, and king. Supportive but gentle, it precisely fits your neck and shoulders. 
It is an excellent alternative to traditional pillows<span style="font-weight: 400;"> for neck/shoulder problems and is suited for abdomen sleepers. You can also avail the installment plan offered by SweetNight. You may conveniently settle it for eight weeks without any interest and no extra costs. 
The Outer cover is detachable and washable. The pillow is also dirt and mite-resistant, antimicrobial, and hypoallergenic. The brand provides delivery for free in handy compact packaging.
In a nutshell This is an excellent pick for those with hot flashes at night. SweetNight provides a cooling gel-infused memory foam that will make your sleep cool and breezy.
PlushBeds Organic Shredded Latex Pillow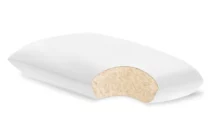 - Organic latex
- Perfect shape and softness
- Consistent loft and quick recovery
A typical pillow's plushness combined with latex's durable elasticity
Try shredded latex if you're looking for a less rigid choice but still want the bouncy, genuine feel of a latex cushion. You can repeatedly modify it to your liking. The latex fill is flexible and smooth, adapting to your requirements.
This pillow encourages sound sleep since it is coated in soft, breezy 100% pure cotton. It has a softer feel than pure latex since the natural latex is split into tiny bits. You can feel the breeze between the latex shredded because of how breathable they are. 
However, you may modify the form to meet your sleep requirements. To achieve the ideal shape and tenderness for you, squeeze or inflate it. Unlike inferior pillow fillers, this shredded latex provides a constant fluff and a swift recovery. It returns to its original form without moving, clogging, or shrinking.
The latex used by Plush Beds is certified by the Global Organic Latex Standard (GOLS). The association sets standards for latex internationally. This way, you can be assured that the latex under your head is free of toxic elements, pure, and hypoallergenic.
A 3-Year Warranty is offered with your transaction. However, it cannot return the latex pillow due to hygiene and safety rules.
In a nutshell This latex pillow is an excellent choice for those who love the plushness of new pillows. Due to its build, the pillow will provide you with a constant pluff and quick recovery to its original form.
Puffy Pillow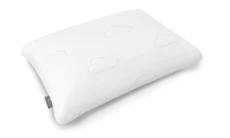 - Luxurious
- Hypoallergenic
- Cooling Cover
Catch your Zzz's uninterrupted 
 Puffy Pillows are developed and produced in the United States. Knowing that your lovely cushion is of the highest class allows you to sleep well. The brand provides an exclusive 101 nights sleep trial. Check the pillow for 101 nights on your bed! The brand will give you a complete reimbursement if you don't adore it! 
The Puffy Pillow is entirely hypoallergenic and offers resistance from dust mites. Thanks to its unique polyester and bamboo rayon mix structure. You can stay comfortable and cozy with the Puffy Pillow. To provide a "cool" feeling and excellent airflow: the Puffy Pillow's cooling covering is manufactured from a superior mix of bamboo rayon. 
You can have a refreshing, smooth finish to sleep thanks to the Puffy Pillow's accompanying zip-n-wash cooling covering. The Puffy Pillow's products have received accreditation from CertiPUR-USg. It means you can be assured that the pillow is free from formaldehyde, mercury, lead, or other toxic metals. 
The Puffy Pillow helps align to the particular height of your neck and head for optimal relaxation and pain reduction. You may add or remove the padding from the inside sleeve of the pillow to reach the perfect degree of satisfaction by unzipping it. For maximum comfort, the pillow was tried and tested on various individuals. You'll always feel like a king or queen, owing to the pillow's fluffy coziness.
In a nutshell an excellent pick for those who cannot compromise on bedding comfort and quality. The puffy pillow is a premium pillow manufactured by a well-known brand accredited by CertPUR-USg.
Leesa Hybrid Pillow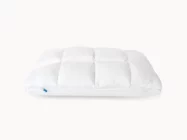 - Adjustable and reversible
- Chilling fibers
- Ventilated Gel Comfort Layer
A customizable and "cool" pillow
The customizable Hybrid Pillow by Leesa features a changeable insert and twofold comfort. Change the degree of pillow firmness with a single zip for a deeper sleep. The pillow is designed to keep you chill and comfortable with cooling fibers and a cool-to-the-touch gel surface.
A flat, padded pocket side keeps your cushion comfortable night long without needing to be fluffed. Polyester microfiber and ventilated gel are used to form the pillow. Whereas, Tencel® and nylon are used to build the upper fabric.
Although we're sure you'll adore your Hybrid Pillow, the brand still offers a 30-day return and refund policy if the pillow is not up to your expectations. The brand gives you a prepaid refund tag for your pillow so you can ship it back to them without paying anything. 
The hybrid pillow has unique washing requirements. For stain removal, withdraw the gel component. Machine washes on a warm cycle with similar colors for the external layers and inside insert. Avoid bleaching, and spin dry on a low setting until completely dry.
In a nutshell The hybrid pillow by Leesa is a favorite amongst those who tend to
sweat a lot
(also check the
best selling cooling mattresses for hot sleeper
). Similar to Sweet Night's memory foam pillow, the Hybrid Pillow by Leesa also offers an incredible sensation throughout your sleep due to the inclusion of cooling gel.
GhostPillow Memory Foam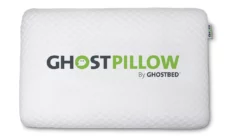 - Support core
- Cooling technology
- Zippered Cover
A breakthrough in the pillow industry
GhostPillow is a revolutionary memory foam made in the USA. The patented phase-change material responds instantly to your body temperature to help you relax and cool down. Aerated and uniquely sculpted for sustained ventilation all night long. The pillow covering includes a zipper and a cool-to-the-touch Ghost Ice Fabric, a material designed to assist your neck. 
GhostPillow maintains its coolness on the inside and all sides thanks to its Ghost Ice coating and gel memory foam build. The ergonomic build of GhostPillow keeps your neck and shoulders in proper alignment while supporting your head. You won't ever need to plump this pillow because of the soft, velvety outside. 
The pure gel memory foam also prevents nighttime collapse, which means you'll have a sound sleep. The GhostPillow Gel Memory Foam has a stiffer texture and works well for the spine, hip, and stomach sleeping posture (also check the top-rated mattresses for stomach sleepers). Your shoulders and upper body are kept cool, comfortable, and relaxed with GhostPillow's dual capability of moisture-wicking material and cool-burst ventilation design.   
The revolutionary heat-sensitive Phase Change fabric in GhostPillows responds to your body temperature to maintain a cool sleeping experience. The ergonomic structure of GhostPillow keeps your neck and shoulders in proper alignment while supporting your head. 
Furthermore, you won't ever need to puff it because of its pure gel memory foam base, which prevents it from flattening during sleep.
In a nutshell GhostPillow is a favorite amongst those who love revolutionary bedding products. The pillow features a phase change material that responds to your body heat and adjusts the pillow temperature accordingly.
Continental Bedding Siberian Pillow
- 100% Cotton
- Ultra Soft
- Highest Standard Quality
A traditional yet classy pillow to add to the aesthetic of your room
Continental bedding, a USA-based company, uses 100% pure cotton in its pillows. This luxury pillow has a 450-thread count, a thick sateen cover made entirely of pure cotton. It's airy and equally resilient, as smooth as a baby's butt. Air can move freely since the cloth is permeable. The pillow will keep you comfortable all night (also check 10 great comfortable mattresses). 
The pillow is also hypoallergenic and dust-mite resistant. Keep allergens and dust away with this premium cover. This opulent pillow, filled with goose down and Siberian 800 Fill Power, keeps your head from sliding into the mattress. Anyone with spinal or neck problems, as well as stomach sleepers, should use it.
In a nutshell an excellent pick for those who're into traditional pillow designs. Made from 100% cotton, the goose-down pillow by continental bedding provides utmost comfort and breathability.
Amerisleep Comfort Classic Pillow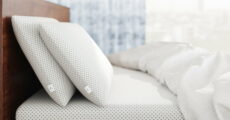 - Soft
- Supportive
- Advanced open-cell structure
It offers the comfort and breezy feel of a cloud
Due to its sophisticated open-cell design, Bio-Pur® doesn't heat up. Amerisleep also includes cooling passages and a permeable covering to drain out the hot air. Other pillows tend to be either stiff and hefty or fragile and flimsy. However, the Comfort Classic Pillow offers receptive and gentle comfort because of the open-cell structure of Bio-Pur® used to make the pillow. 
The Comfort Classic Pillow's loft is 6 inches high. The ideal size to increase your relaxation is because the brand utilizes supple and resilient Bio-Pur® material.
Within the United States, Amerisleep Pillows are delivered for free. Amerisleep uses FedEx to send their compacted pillows directly to your house in environmentally friendly packaging. 
A ten-year warranty is also offered on the Comfort Classic Pillow. Amerisleep will change your pillow at no cost if you encounter any problems (including cracked or irregularly shaped foam base and seams that separate due to poor stitching).
In a nutshell an excellent pick for those who tend to switch to the cooler pillow side, Bio-Pur technology used in Comfort classic pillow doesn't let the pillow heat up.
Molecule Infinity Pro pillow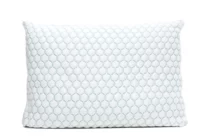 - Adjustable
- Advanced cooling cover
- For any sleeper
It is an adaptable pillow built to optimise your sleep cycle
The Infinity Pro Adjustable Foam Pillow by Molecule is made from 100% pure CertiPur-US© cotton. Any sleeper will be satisfied by it. This pillow is designed with Molecule's Air-Engineered technology for optimum headrest, spine posture, and recovery-focused rest. 
Molecule's pillows are known for their quick recovery to their original fluff. To restore the loftness of the pillow, you'll just have to place it in the dryer for 5 minutes. 
The pillow comes with an advanced cooling cover. Dynamically responding materials regulate coolness, drift off any heat and keep the skin comfortably cool.
Your head will stay cool and your REM sleep will be optimised thanks to the special heat-trasmitting fibres in the pillow's covering and the shredded open-cell foam design.
In a nutshellA great pick for all the choosy pillow owners. Molecule's pillow is engineered with the latest pillow features to ensure that you get your beauty sleep.
Layla Kapok Pillow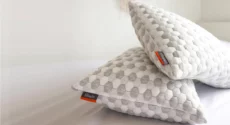 - Super supportive
- Luxurious
- Cloud feeling
It offers Unparalleled fluff and breathability
A beautiful cushion that is smooth and firm while still being fluffy and breezy. The Layla® Pillow offers a very distinctive balance between softness and stability. Layla's unique blend of memory foam and kapok fiber gives you a highly soft sensation while providing support for your neck and shoulders. 
The brand chose Kapok because it is completely organic and responsibly obtained. It also utilizes Kapok since it's lightweight, breezy, and provides a wonderfully natural feel without harming animals or mowing down forests. 
To prevent your pillow from being as filthy and unpleasant as some others, Layla has also provided a zipped cover. Are you finding the height too much? To acquire the ideal feel for you, simply unzip the flap and withdraw some filling. 
The brand provides a 5-year guarantee on all components and services. The warranty covers things like stitches or zippers breaking apart due to regular use, pillow sagging or shifting form, or the Layla® Pillow cover's colors are deteriorating.
The Layla® Kapok Pillow, which uses quality open-cell memory foam, caresses your head like a newborn, so you wake up fully rested and prepared to pursue your goals.
In a nutshell Made for those back sleepers who love nature and organically made products. Layla Kapok Pillow uses Kapok as its filling, giving the pillow light and breezy feel.
What to look for in pillows?
Make sure you are familiar with a pillow's loft, hardness level, form, and fabric before purchasing. Analyze the pillow's level of stability and pressure-relieving effectiveness. Remember to account for the price to guarantee that you remain within your spending limit.
You're more inclined to buy a pillow that will give you the relaxation you want when you concentrate on its essential features rather than flowery, vague statements made by the brands.
Loftness
The thickness of a cushion with nothing on top is referred to as its loft. Medium-loft pillows, about three and five inches thick, are typically preferred by back sleepers. Many back sleepers will sustain postural stability with a medium-loft cushion.
Support level
Thanks to a firm cushion holding them securely, your face and head won't drown in the bedding. Support in cushions often comes from a blend of loft, stiffness level, and fabrics.
Firmness
Almost all back sleepers prefer medium-firm pillows. The degree of hardness of a pillow affects how it behaves or how much it deflates under pressure. All sorts of pillows can be either hard or soft. The volume of the fibers frequently determines the hardness of a cushion.
Pressure relief
By spreading weight equally, a pillow helps to relieve pressure. The height and hardness of a cushion are typically directly related to pressure alleviation. A person's neck is more prone to developing pressure points if their pillow is overly dense or hard. If left untreated, pressure points may cause stress or even injury.
Shape
Although their elevation and form might vary, most pillows come in a rectangle shape. The shape of down and down substitutes is often more curved. These pillows' tops can have a sleeker appearance and feel by adding a gusset, a fabric piece that surrounds the edge of the cushion. Orthopedic specialty pillows usually have asymmetrical forms intended for specific sleeping postures.
Price
The cost of the fabric and other components used to make the cushion is a major factor in pricing. Compared to down alternative and memory foam pillows, down and latex pillows often demand more. At the same time, the price of organic pillows is usually often higher.
Quality of material
There are several standards offered for every sort of pillow material. For instance, memory foam with a greater density tends to be of better quality than foam with a lower density. Additionally, down pillows with a greater down content are of superior quality compared to those with a lesser down content.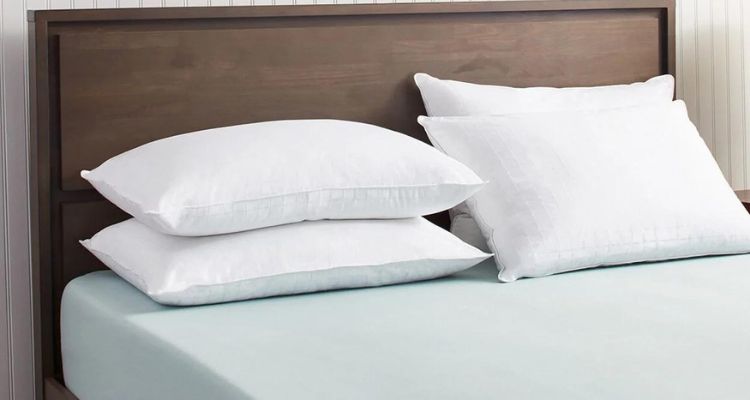 What is the ideal material type for back sleepers?
Generally, there is no one primary raw material that is ideal for back sleepers. The material kind that gives back sleepers should choose the comfort they desire. The following pillow material options are available on the shelves:
Memory foam
Memory foam frequently molds to the body perfectly. Memory foam is peaceful and frequently relieves tension. If memory foam isn't injected with a cooling agent or specifically made to encourage ventilation, it might retain heat, which is a drawback. Additionally, memory foam is more prone to off-gassing compared to other pillow types, which can be a problem for those with allergies.
Buckwheat
The casings from buckwheat kernels make buckwheat an organic cushion filler. Buckwheat pillows frequently have additional hulls, making increasing or decreasing their loft simple. A cooler pillow filling option is buckwheat. Many buckwheat pillows are more expensive, and some people find the hulls' noise when you shift sides during the night bothersome.
Feather
It would be best if you did not mistake down and feather pillows. Feathers on ducks and geese are different from those on down. Bigger feathers have more extensive, tougher quills. Feather pillows often cost less than down pillows. They also seem to be colder. Furthermore, the feather quills might poke through the over and hurt.
Latex
The springy substance that helps balance the body is created artificially from latex, organically obtained from rubber trees. Molded rubber pillows don't need to be fluffed since they keep their form. Latex pillows with shreds are more similar to down. They frequently offer significant pressure alleviation and comfort. The cost of latex pillows is more, and they last longer.
Down
The term "down" describes the sparse feathers that lie underneath the bigger feathers of a goose or swan. Down is incredibly puffy and silky: Although down pillows often have a combination of down content and feathers, they must have at least 75 percent of down content to be considered down pillows. Though not as effective as memory foam, down may trap heat. These pillows are frequently the most costly yet long-lasting.
Polyester
A synthetic substitute for down is polyester filling for cushions. These pillows often have a soft texture, are affordable, and are generally accessible. Sadly, they don't survive very long. Despite appearing to be comfy, they eventually lose their form or flatten down, necessitating more frequent replacement.
Ending Thoughts 
Choosing the right pillow that closely aligns with your needs can be a life saver. We've tried our best to list the important specifications of the best pillows on the market for back sleepers. Although choosing the right pillow is crucial for back sleepers, other things affect how well someone sleeps. Little things like picking the right bedding, placing a pillow under your knees, having a light meal, etc., make a big difference in your spinal and overall health.