Trundle Bed Mattress Size (s), Frame Sizes, & Bedding – In-Depth Guide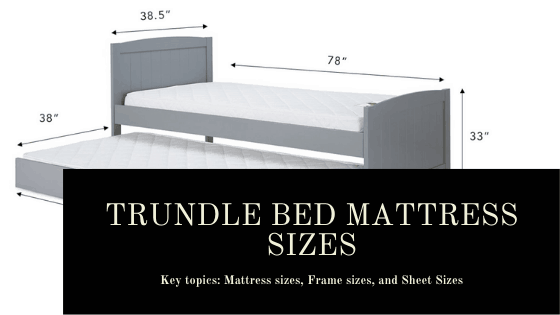 After reading this article you will know all the sizes associated with trundle bed mattresses and frames. For a deeper dive, take a look at this comprehensive trundle bed guide. In this article we discuss the following topics:
What trundle bed mattress size fits trundle frames
What frame sizes do trundle beds have
How much floor space do trundle beds use
What sheet sizes do trundle beds use 
How much do trundle beds cost
What is a trundle bed?
A trundle bed is an extra bed that is stored underneath a normal bed (here's a great example). It is normally installed in rooms where space and storage are often limited. Traditional trundle beds move in and out from beneath the upper bed via casters and they stay low near the floor when pulled out. Popup trundles can move in and out on casters and also extend up to reach the same height as the upper bed (usually using a spring mechanism). To learn 'how does a trundle bed work', click the link.
Trundle beds are very efficient in terms of space saving since they only take up the space of one bed. They can be incorporated in different types of beds such as daybeds, sleigh beds and bunk beds. We've also found these 15 trundle bed bedroom ideas that might be great for your space.
Trundle beds come in various frame types and materials such as wood, metal frames, or other upholstered fabric.  They also come in different sizes (king, queen, full, or twin size). Just make sure that the mattress fits the size of the trundle and is thinner than a normal mattress to make it fit underneath the top bed. Note: If you decide to remove the trundle bed and mattress, the space can be used for storage. 
Related topics:
What Trundle Bed Mattress Size fits Trundle Bed Frames?
Thickness Limitations of Trundle Bed Mattresses
Trundle bed mattresses have some limitations when it comes to thickness and dimensions since there is typically only space for the trundle bed and mattress under the parent bed. Therefore, a mattress which conforms to the size of the trundle is usually thinner than a normal mattress. 
In order to determine the correct mattress thickness, you need to know the height of your main bed and that of the trundle frame. For instance, if the parent bed has a minimum height of 12 inches, and the trundle frame is as low as 6 inches, then there will only be enough space for a 6- inch thick mattress. 
The standard mattress thickness for trundle beds ranges between 6 and 8 inches in depth. This allows the mattress to be comfortable and not get stuck. Here's a highly rated 38x74x4 trundle bed mattress that can also be used in RVs. At 4 inches thick, it is thinner than most other trundle bed mattresses. This highly rated trundle bed can support 7 inch thick, regular length and width trundle mattresses.
Length and Width Limitations of Trundle Bed Mattresses
The length and width of trundle beds is usually smaller than the parent bed. Note that some materials such as memory foam can expand less than their full size and hence fit trundle bed frames as well as normal bed frames.
A Twin bed mattress is typically 39 inches wide and 75 inches long. It is designed to fit one person. The trundle bed mattress size for fitting one person will be shorter or narrower by 1 inch. Here's a set of 2 twin mattresses, which is great for a parent bed + trundle bed combination.
A Twin XL mattress has the same width as a twin mattress, but is 5 inches longer. It is suitable for taller people. Ensure that your parent bed frame is also a twin XL size. A twin bed frame cannot fit a twin XL mattress. Take a look below at the table to see the dimensions of the parent bed mattress and the corresponding trundle bed mattress size to use. 
A Full size mattress is equivalent to a double bed. It is 54 inches wide and 75 inches long. It fits two adults, and is very comfortable for only one. The trundle bed equivalent will likely be shorter and narrower by an inch. Here's a great example of a full bed with a full sized trundle.
A typical Queen size mattress' dimensions are 60 inches wide and 80 inches long. It is difficult to find queen beds with trundles. The few models that you can find will likely support only twin or full sized trundle bed mattresses. A queen bed with trundle is the ideal size if you want your toddler to sleep in the same room. Ensure that your room has sufficient space for both the queen parent bed and trundle, along with some space to pull out the trundle. Look at the table below on trundle bed floor space. 
A typical king mattress' dimensions are the result of two twin XL mattresses combined together. Since it's challenging to find King sized frames with trundles, you should consider buying a twin XL frame with a popup or underbed trundle, along with another twin XL frame (no trundle necessary). This way you can have the two parent beds next to each other (to form the King bed) and pull out the trundle when necessary for your guest or child. Take a look at this twin pop up trundle for an example of a space-saving King-sized bed. 
Note: If your main bed and your pop-up trundle bed have a twin XL size, they will make a king sized bed when the under-bed pops up at the same height as the parent bed. 
Refer to the table and the picture below to understand better what sizes of mattresses would fit your trundle bed. 
Frame size
Parent Bed Mattress Size
Max Trundle Bed Mattress Size (typically trundle beds are shorter, narrower, and thinner)
Twin size (same as single size)
Twin size mattress.
39'' W  x 75'' L x 6-14" H
38'' W  x 75'' L x 6-8" H
Twin XL size
Twin XL mattress
39'' W  x 80"' L x 6-14" H
38" W x 80" L x 6-8" H
Full size (double bed)
Full size mattress
54'' W  x 75'' L x 6-14" H
53" W x 75" L x 6-8" H
Queen size
Queen size mattress
60'' W  x 80'' L x 6-14" H
Queen size trundle mattresses and beds are rare. Generally they have twin or full mattresses. 
King size
King size mattress
78'' W  x 80'' L x 6-14" H
King size trundle mattresses and beds are rare. Generally only twin or full frames and mattresses are available. 
Related Topics: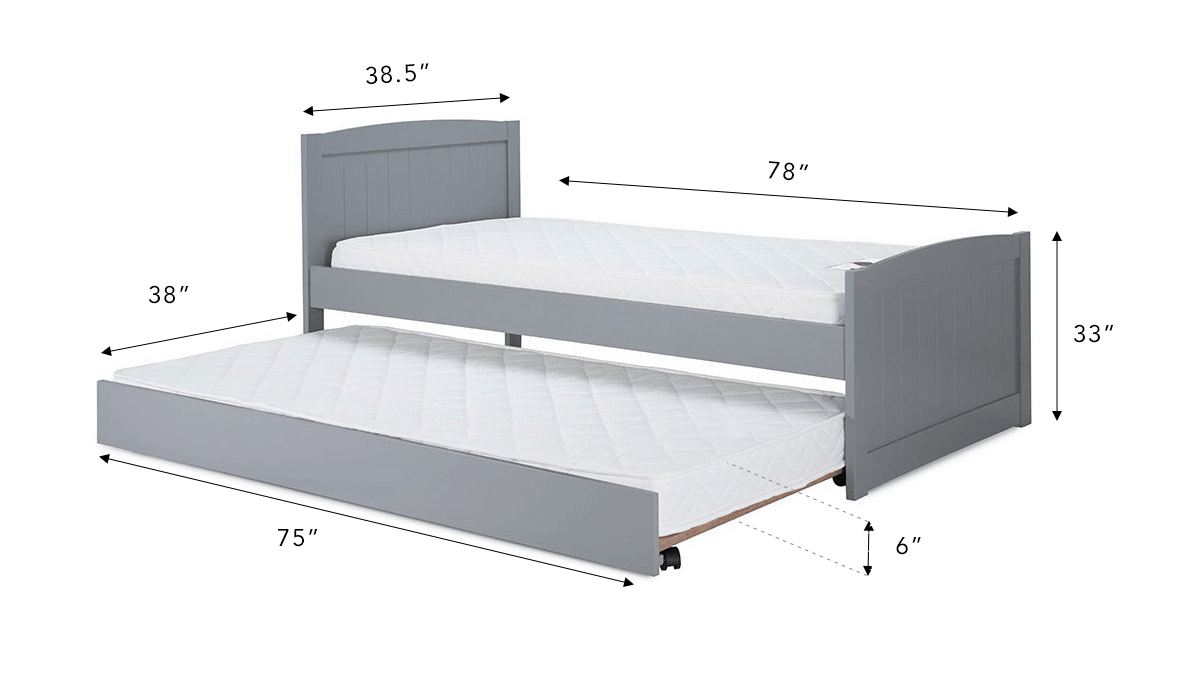 What sizes of frames do trundle beds have? How big is a trundle bed?
Bed frames come in different sizes, shapes, heights, and materials to provide better support for your mattress. 
A trundle bed's frame is generally slightly smaller than a regular bed to enable the trundle to fit beneath the parent bed's frame. Trundle beds typically have a Twin or a Full size frame, Twin XL sizes are rare, and Queen/King trundle bed frames are very hard to find. 
Twin trundle beds' mattress dimensions are usually 38 inches wide by 75 inches long while the corresponding frames are 39" x 75". Most full trundle beds' mattress dimensions are 53 inches wide by 75 inches long while the corresponding frames are 54" x 75". The standard height of a frame is about 7-9 inches tall while the trundle bed mattress will be 6-8 in. tall. 
Frame Size
Frame Dimensions
Twin size
39'' W  x 75'' L
For comparison, a twin size parent bed like this one, is 41" x 77". So, the trundle bed is smaller.
Full size
54" W x 75" L
For comparison, a full size parent bed like this one, is 55" x 81.25". So, the trundle bed is smaller.
How much floor space does a trundle bed take up?
Before purchasing a trundle bed, it is important to consider the area where you want to place the bed.
A trundle bed is a good alternative when you have limited floor space in the bedroom. However, in order to feel comfortable and to create an ideal space for your trundle bed, you need to think about all of the following:
Yourself and the other person occupying the bedroom: You need self- space in your bedroom to accommodate sliding the lower bed in when it's not in use, and back out when it is needed for an extra sleep space.
The parent bed: When the lower bed is hidden beneath the main bed, it will only take up the parent's bed space in the room.
The trundle bed when completely pulled out: When the trundle bed needs to be used for sleep, it will need to be rolled out from underneath the main bed and will account for additional floor space when fully pulled out.
Some walking space around the bed (this space will be necessary for the human who is pulling out the bed): You need some walking space from the doorway to the bed for getting in and out of the room. Also, a bed needs at least a 2- foot walkway around its perimeter to feel comfortable. 
The floor space taken up after installing a trundle bed and pulling it out to its maximum extent is illustrated in the image below. In order to estimate how much space your trundle bed will take up, measure the length and width of the main bed, then that of the trundle bed when rolled out, and add in 2 ft. of space for walking around the bed.  
So for a twin size bed for instance, with a twin size trundle, take the area of one bed and multiply it by 2, then add 24 (which is the area of the human body) to the result. Check the table below to estimate how much floor space is occupied. The floor space taken up will let you know if your bed will fit in your bedroom and if you will be able to pull out the trundle bed and move comfortably around it. 
Trundle Bed Frame Size
Floor space taken up by Trundle Bed
Twin size (39" W x 75" L)
~ 7650 inches squared
To calculate this we took (39 x 75 x 2) + (24 x 75). Here the second term is the space needed for a human to pull out the bed. 
Full size (54" W x 75" L)
~ 9900 inches squared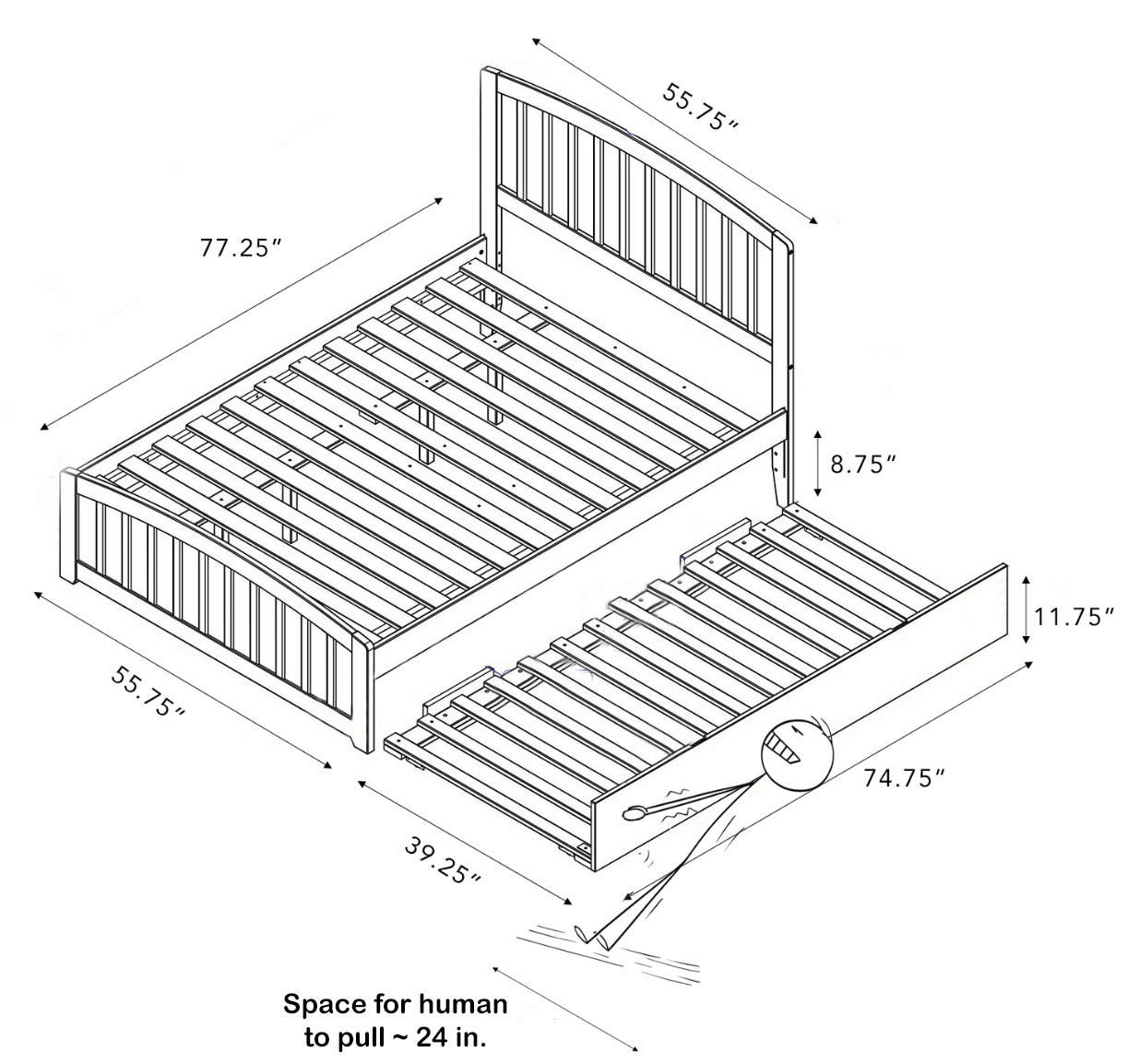 What size of sheets fit trundle beds?
They are two types of sheets that could fit your trundle bed if measured correctly: Fitted sheets and Flat sheets.
A fitted sheet has elastic corners, which fit tightly around your mattress. If your mattress is thick and your sheets are small, the sheets may start to come off your mattress while you sleep and will cause you discomfort. In order to avoid this, make sure you know the size of mattress that your trundle bed uses by measuring your mattress ahead of time (width, length, and height or depth). Refer to the image below to understand how to measure the mattress. These measurements determine the size of the sheets required. 
The sheet's measurements include dimensions for width, length and pocket depth. Pocket depth should conform with the mattress height. Standard pocket sheets fit mattresses of 12 inches high. Whereas deep pocket sheets are made for mattresses of higher depth. 
If your trundle bed is a twin size, then the fitted sheets should match the twin size mattress dimensions and the pocket depth should be at least 2 or 3 inches deeper than the mattress. That would be 39 inches for width, 76 inches for length, and 8-10 inches for pocket depth. Here's a twin fitted sheet 6 pack that would work with any twin trundle bed set.
On the other hand, if you want to purchase a flat sheet, take into account its width and length only because a flat sheet has rectangular corners that fold easily and lie completely on top of the bed. This 6 pack of twin sized flat sheets will fit any trundle bed.
A twin flat sheet measures approximately 70 by 100 inches; a full-size flat sheet measures approximately 85 by 100 inches. A queen size flat sheet measures approximately 90 by 106 inches, and a king-size flat sheet measures around 108 by 106 inches.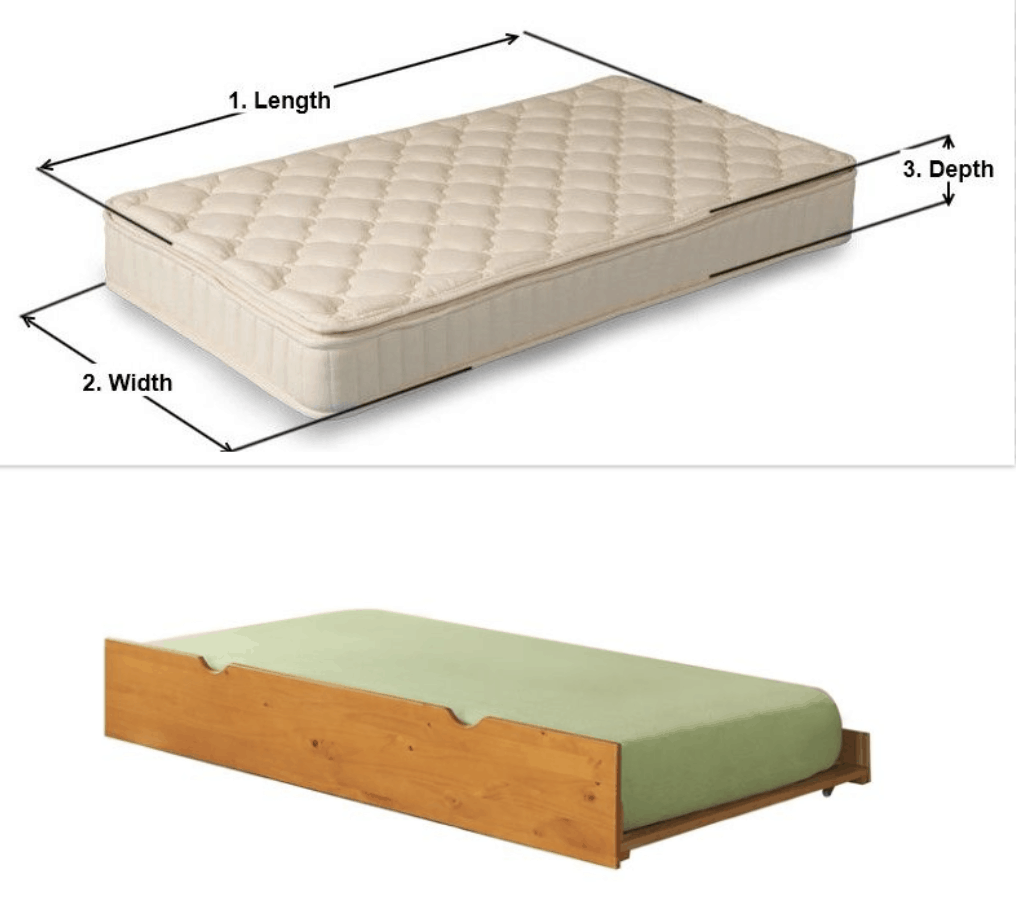 How much do trundle bed frames cost?
Purchasing trundle beds is an investment you make for years to come. Don't be surprised if the price of a bed with a trundle is higher than that of a normal bed. You are actually buying a bed frame that has two places to sleep instead of one. The cost of an extra mattress and sheets may also add to the total bill.
Prices for trundle bed frames range between about 150 dollars to approximately 2000 dollars. A trundle bed is priced according to its type and fabrics. Usually, the more the materials and time put in to build the bed, the higher the price will be. If the trundle bed is incorporated into a bunk bed for instance like this one, it will definitely be more expensive than a simple twin-size trundle bed. 
You may also find trundle beds that are sold without a parent bed. This frame is at a much lower price around 60 dollars. The various types of frame materials such as wood, metal, or other upholstered fabrics are different in terms of durability and maintenance needs, which may also affect the cost of a trundle bed. Our favorite trundle beds can be found by clicking on the link.
Conclusion
We hope you enjoyed this article and now understand trundle bed mattress size limitations and what sizes of frames and sheets fit trundle bed mattresses. We also hope that you've learned more about the costs of trundle beds so you can get shopping!  
Disclosures
This website is a participant in the Amazon Services LLC Associates Program, an affiliate advertising program designed to provide a means for us to earn fees by linking to Amazon.com and affiliated sites.