The hybrid mattresses combine the comfort layers of all latex and foam beds with the coil systems of traditional innerspring. As a result, a balance of edge support, pressure relief, temperature regulation, and responsiveness is produced in the mattress. 
We know that choosing the best hybrid mattress for yourself can turn out to be a challenging task. Hence, to make your life easier and help you navigate the wide selection of hybrid mattresses, we have narrowed down the ten best ones for you. However, before you get to the list, you need to know what to look for when purchasing a mattress (also check 10 great mattresses).  
Let's get started!
What's the Best Hybrid Mattresses we recommend?
The 10 Best Hybrid Mattresses on the market
Listed below are the top 10 best hybrid mattresses you may find attractive in the market. 
Molecule Hybrid mattress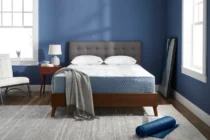 - Cooling support
- Extra plush quilted top
- Designed to maximize comfort
A Perfect Balance of Pressure Relief and Responsiveness
You can't deny that sleep often gets sacrificed in today's activity-obsessed world, and people often neglect that it is the key to being more active. However, quality sleep isn't as easy to achieve as it sounds. The Molecule Hybrid Mattress promises to deliver quality sleep by blending the best of two worlds. 
At first glance, you would find the Molecule Hybrid Mattress to be quite huge. However, if you're familiar with the mattresses offered by top-tier brands, including Molecule, this wouldn't surprise you. 
The mattress doesn't just contain all foam or coils inside; it's a blend of both that makes up the seven advanced layers of the Hybrid Mattress. Not only the quality but also the durability of this mattress is top-notch. Moreover, it doesn't come with any weight restrictions, which means that it is fit for anyone. 
If your body temperature is higher than the average body temperature, you might face difficulties in sleeping. Therefore, it is essential to have adequate airflow beneath your body. With its seven advanced layers, the Molecule Hybrid Mattress wicks away heat from your body and allows good airflow compared to traditional foam. 
In addition to the aforementioned, Hybrid Mattress also features the MoleculeEdge coil system, a 6-inch layer composed of individually wrapped coils. These coils provide ample support to the body, but the enhanced edge support also prevents you from falling off when sitting or lying at the edge of the mattress. 
In a nutshell The Molecule Hybrid Mattress is one of the best hybrid mattresses out there and is an improvement on the earlier
mattresses
by Molecule. With a 100
nights return policy
, the Molecule Hybrid Mattress delivers on its promise.
Emma Hybrid comfort

- Built to last (USA)
- Great on a budget
- Good for heavy people and couples
A Softer Option for Side Sleepers
Being one of the leading brands, Emma promises to provide mattresses that improve the way you sleep. The ComfortAdapt Hybrid Mattress is Emma's one of the best mattresses and claims to be comfy, breathable, supportive, and suitable for all kinds of sleepers. 
When hybrid mattresses are concerned, the magic lies in the layers, and the ComfortAdapt Hybrid Mattress features four layers. Each of these layers is focused on a different aspect but has the same ultimate goal; to improve sleep quality. 
While the top layer is made from Airgocell foam and is best for pressure relief, the middle layer comprises individual pocket springs that optimize the balance and support of the mattress. The bottom layer is made up of visco-elastic memory foam, which adapts to your body shape and helps relieve pressure. The base layer, on the other hand, is a cold foam layer that keeps the mattress and plays a part in relieving your lower back from pain (check 10 amazing mattresses for back pain). 
The ComfortAdapt Hybrid Mattress tends to come with medium firmness, but people who have been using it claim that it falls on the softer end of the scale. As for the support that it offers, the unique combination of materials from which it is made provides excellent support and also keeps your spine in a healthy alignment. 
In a nutshell If you're someone who prefers to sleep on a slightly soft and bouncy
mattress
, the ComfortAdapt Hybrid Mattress would be the perfect choice for you. No matter the position you sleep in, you will enjoy the benefits of support it offers.
Plushbeds Luxury Bliss hybrid latex mattress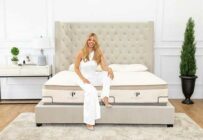 - 365 nights trial
- Organic
- Perfect for sensitive backs
High-Quality and Organic Materials Providing Comfort for Eco-Conscious Consumers
Luxury Bliss happens to be the only Latex Hybrid Mattress offered by PlushBeds. The mattress features a 12-inch profile that consists of 3 inches of organic Dunlop latex over a pocketed coil support core wrapped in an organic cotton cover with a natural wool fire barrier. 
Even though this mattress won't be able to absorb as much motion as an all-foam mattress, the firm model tends to have a quite responsive surface. The individually wrapped coils in this mattress move independently, preventing some motion transfer and reducing disruptions. 
The pressure relief that this mattress offers is not as impressive as you'd think it to be. However, it is still quite decent as the surface of the mattress contours slightly to the sleeper's body and reduces the pressure points in most sleepers (also check the top rated mattress toppers for pressure points). Moreover, the pocketed coils flex to accommodate the curves of heavier body parts. 
Moving forward to temperature control: breathable materials are used in this Luxury Bliss Mattress that help maintain temperature throughout the night. The body heat is dispersed through a moisture-wicking wool layer and breathable cotton. Furthermore, since it is made from a naturally breathable material – latex – it allows heat to filter through more effectively. 
Good edge support happens to be an essential aspect to consider when you have to share a mattress. The Luxury Bliss Mattress features a sturdy perimeter that allows full use of the mattress surface from edge to edge. With a higher coil count around the perimeter, people should be able to sleep or sit near the edges of the bed without feeling that they are falling off the mattress. 
In a nutshell If you're on a hunt for top-quality organic mattresses, you might find this mattress an attractive option. Not only does it have an organic composition, but it also provides you with luxurious comfort, superior support, and soothing pressure relief.
Layla Hybrid Mattress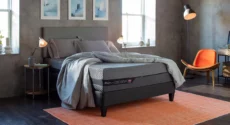 - Copper infused memory foam
- Excellent edge support
- Anti-microbial
A Great Fit for All Three Sleeping Positions
Layla Hybrid Mattress is a flippable mattress with a soft and firm side and features a support core of pocketed coils. The mattress uses copper-infused memory foam in its comfort system for pressure relief and temperature regulation. Let's get more into the performance of the mattress (also check 10 great mattresses with a good comfort). 
This Hybrid Mattress by Layla tends to offer better motion isolation as compared to the average hybrid mattresses. Not only does it absorb movements, but it also prevents them from transferring across the bed. While the soft side of the mattress features a thick comfort layer, the firm side incorporates memory foam; however, both isolate motions quite well and result in fewer sleep disturbances. 
Featuring a thick memory foam system on the soft side, the Layla Hybrid Mattress results in overall better pressure relief. The soft transitional foam helps the mattress conform closely to the body's shape and cushions the pressure points. On the other hand, the firm side gently contours to the body's shape, resulting in ample support for the back and stomach sleepers who weigh more than 130 pounds ((also check the top-rated mattresses for heavy person).
Usually, memory foam mattresses retain heat, but the Layla Hybrid Mattress incorporates copper-infused memory foam that draws heat away from the body. Not just that, but the coils dissipate heat more effectively and add better airflow. 
In addition, the edge support offered by Layla Hybrid Mattress is excellent on both sides. It tends to have lower gauge coils around the perimeter which bolsters the edges of the bed and offers exceptional edge support, hence increasing the usable surface area of the mattress. 
In a nutshell If you're someone who shares a bed with someone and likes to sleep cool, this might be where your search for a great mattress ends. It comes with a 10-year warranty; this mattress offers a decent set of features at its price.
Sweetnight Twilight Hybrid Mattress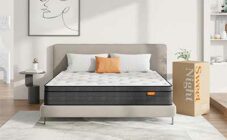 - Great option for back pain
- Affordable Hybrid
- Great Motion Isolation
A Luxury Hybrid Mattress with Qualities of a Memory Foam Mattress and Innerspring Bed
Being the highest-priced hybrid model by the company, this mattress is undoubtedly one of a kind. Starting with the motion isolation that it offers, it features a polyfoam transition layer and foam comfort layers that dampen more significant movements and absorb minor vibrations. It prevents sleep disruption due to the movement of your partner at night. 
Compared to other hybrid mattresses with a medium-firm feel, the Twilight performs surprisingly well in pressure relief. The duo of memory foam and polyfoam comfort layers mold to the sleeper's body and distribute weight evenly. Moreover, the independent movement of the coils provides support without exerting excessive pressure on different body parts.  
Breathable design happens to be a key aspect of hybrid mattresses, and Twilight does a good job here. The foam comfort layers of Twilight conform closely to the body, causing heat retention. While the gel infusion in the second layer intends to reduce overheating by transferring warmth away from the body, the ventilated polyfoam transition layer provides decent breathability and effective air circulation. 
In a nutshell With a medium-firm feel, effective air circulation, a 100-day sleep trial, and a 10-year warranty, Twilight might be the mattress you've been looking for all along.
Puffy Royal Mattress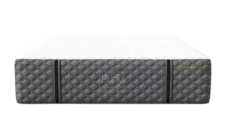 - Works With Any Bed Frame
- Reflexive Memory Foam
- Suitable for all sleep positions
Royal Mattress Made with a Combination of Thick Memory Foam Layers and Adaptive Coil Base
If you're someone who loves the feel of a memory foam mattress, you would be glad of this addition to the list. Offering above-average motion isolation compared to other hybrid mattresses, the Puffy Royal Mattress absorbs movement and minimizes night-time disruptions.
Having a thick comfort system, the Puffy Royal Mattress shows excellence in providing pressure relief and is known for its ability to contour the body. While the memory foam layers in the mattress provide necessary cushioning to the shoulders and hips, the zoned polyfoam layer offers targeted support for preventing pressure build-up in the lower back. 
The added springiness of the coil system makes it a bit easier to move around the Puffy Royal Mattress. In addition, this mattress features a Cloud Air Polyfoam Layer with five zones to provide extra support in areas of the body that tend to sink in. These zones are shaped by grooved cutouts, providing the added advantage of more air flowing through the mattress. 
In a nutshell In a nutshell, if you're a back or a
side sleeper
or if you experience back pain more often, then perhaps purchasing a Puffy Royal Mattress may be the
right choice for you
.
Leesa Original Hybrid Mattress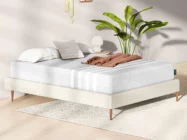 - Premium memory foam
- Airy & spacious feel
- Provides pressure relief
Affordable, Supportive, and Comfortable
Coming with the perk of pocketed springs, the Leesa Original Hybrid Mattress offers high durability and promotes more airflow. That, too, is under an affordable price tag!
Leesa is known to produce high-quality mattresses, and the Leesa Original happens to be their flagship mattress. It tends to have a medium-level firmness, with the top two layers made of foam that allow you to sink in a little. 
Back sleeping on the Leesa Original Hybrid Mattress, on the one hand, you would feel your hips sinking into the two layers of foam; on the other, you would also feel the foam pressing up into your lower back, making it a great fit for back sleepers. 
However, side sleepers may feel a little pressure build-up around their hips and shoulders so it won't be the right mattress for overweight side sleepers. Moreover, since it tends to be more on the softer side, it may not be the best mattress for stomach sleepers. 
As for the construction of this mattress, it comes with a twill fabric cover, a soft memory foam top layer, and a thick responsive poly foam layer. Together, these allow effective airflow, provide pressure relief, and keep you from sinking too far into the mattress. 
In a nutshell Based on the construction and the materials used to make this mattress, the Leesa Original Hybrid seems to be a durable and long-lasting mattress that will provide lightweight to average-weight people with everything they need.
GhostBed Flex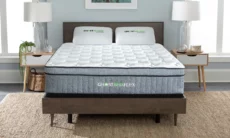 - Luxury hybrid mattress
- Cooling air-flow technology
- Reinforced edge support
A Luxury Hybrid Mattress That Provides Supernatural Comfort
With a combo of 4-inch foam and cooling fiber atop responsive support coils, the GhostBed Flex Hybrid Mattress allows you to enjoy the benefits of the springy cooling effects of innerspring coils alongside contouring memory foam. 
Composed of proprietary ghost ice fabric woven with fibers, the GhostBed Flex Hybrid Mattress feels cool to the touch. The material used to make the mattress captures body heat and releases it from the sleep surface. In addition, the pillow-top surface is cushioned with adaptive foam that makes the surface feel plush. 
Talking about the mattress's performance, both of its comfort layers tend to be infused with cooling gel that provides added thermoregulation. It is what makes GhostBed Flex an excellent choice for hot sleepers. 
In a nutshell A responsive surface, strong edge support, a 101-night sleep trial, and a warranty of up to 25 years are all the factors that one looks for in an ideal mattress. Luckily, the GhostBed Flex Hybrid offers all of them.
Diamond mattress intention hybrid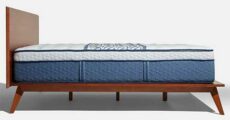 - Hotel quality
- Ultra comfortable
- Pressure relief (good for the back)
An Incredible Mattress to Get Incredible Sleep
Bringing together the world-class design and aesthetic with the incredible CoolTouch Fabric, the Diamond Intention Hybrid is highly conductive and maintains optimal temperature regulation. 
The mattress conforms well and has a responsive feel, featuring a buoyant design with a wrapped coil. However, you may not find its motion isolation to be the best, but it manages to get an average grade for that. 
The pressure relief of the mattress isn't exceptional, but it does deliver sufficient cushioning and encourages spinal alignment, which is enough for many sleepers. 
The temperature control, however, is one of the salient features of this mattress as it provides superb ventilation and allows air to move naturally through the support core. 
In a nutshell Being an ideal all-around mattress, the Diamond Intention is an excellent product at a fantastic value. It combines the best traditional mattress feels and further enhances them with exclusive foams and a patented wrapped coil system to provide an experience you'll love.
Helix Midnight Luxe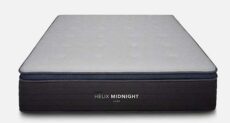 - Great for side sleepers (and others)
- Good option for heavy people and couples
- Hotel standard
Luxury At a Great Price
Finding a mattress that suits both of you can be a tough job if you're someone who sleeps with a partner. However, no need to fret; we bring you Helix Midnight Luxe Mattress that may end your search for the best hybrid mattress. 
Landing right in the middle of the firmness scale, this mattress satisfies sleepers on both ends of the spectrum. Not just that, it comes with a 100% polyester cover that is soft and smooth and retains heat. 
Moreover, the mattress features Memory Plus Foam<span style="font-weight: 400;"> at the top layer, which compresses to accommodate pressure points with a slight bounce as compared to traditional memory foam. Beneath this layer lies the transition polyfoam that works along the support core to keep sleepers from sinking too far into the bed.
In a nutshell All in all, the Helix Midnight Luxe has impressive features and comes with a 100-night risk-free sleep trial. Not just that, but it is protected by a 10-year warranty as well, which makes it a great buy.
Conclusion
Many people seek out a hybrid mattress due to the unique combination of materials that it has. Therefore, we carefully filtered out the products to make this list while considering several factors such as value, warranty, comfort level, etc. We hope that our list of best hybrid mattresses is helpful for you and that you can pick the right one for yourself.