What is a Loft bed? Loft beds are a space-saving and multi-functional bed that features a bed that is raised high on top and provides space underneath for other work. Think of them as bunk beds without the bottom bunk. In this article we discuss the pros and cons of loft beds, loft bed ceiling height for different types of rooms, whether there's anything challenging with loft bed sex, how to place them properly in a home, how to make them safer, and a variety of other topics. Take a look at the links below and navigate to any section that you find useful. Also, make sure to take a look at our guide discussing the best Loft Beds.

Essential knowledge


How to choose the right room for a loft bed


Loft Beds vs. Bunk Beds


Pros and Cons of Loft Beds


Loft Bed Safety & Improvements


Types of Loft Beds


Choosing the right bed for Kids & Adults

What is a loft bed
A loft bed is a single bed raised sufficiently off the floor on long sturdy legs to free the space underneath for other beneficial uses – essentially, a bunk bed without the lower bunk. The space saved beneath could hold a chest of drawers, be used as a cozy workstation, or converted into storage space. Here are some examples of loft beds on amazon.
How tall is a loft bed? Loft Bed Ceiling Height?
Loft beds come in three broad categories, differentiated by height:
Low loft beds are suitable for kids or for rooms with low ceilings. The space underneath a low loft bed is usually converted to a storage cabinet. Another alternative use for low loft beds is for kids to hide underneath and enjoy playing or reading. Typically, low loft beds are about 50 inches tall (about 4.2 feet) and leave plenty of headroom even in a room with a low ceiling. Here's an example of a low loft bed.
Mid loft (aka Low Bunk) beds are good for adding a lot more storage underneath. As you can tell from the name, a lower bunk may be added under this bed size. A typical mid loft will have a 61.5 inch height (approximately 5.1 feet). Even with a 2 foot headroom (24 inches), a low ceiling room like a 8 ft. room would still fit a mid loft bed. Here is an example of a mid loft bed with a 36 inch height under the bed.
High loft beds leave plenty of space for a desk and chair, couch or futon, or a small dining area underneath. A typical high loft (or standard loft bed) is approximately 74.25 inches tall (about 6 ft 2 in). Here is an example of a high loft bed.
Note: These heights are to the top of the guard rails. For a high loft, which is 74 inches overall in height, the height to the bottom of the slats is 58 inches. This is your available work area under the loft bed.
Looking for information on ceiling clearance of a loft bed? Navigate to the ceiling clearance section.
Where can you fit a loft bed?
The beauty of the loft bed is best appreciated in small living areas with space constraints. You need to determine the size of the loft bed based on the type of room that you have, who you want sleeping inside the room, and where you want the ladder/staircase to be placed.
Does your room have a low ceiling? Typically ceilings are 9-10 feet high. For a ceiling that's 8 ft. or lower, you need a low loft bedlow loft bedlow loft bed. This works really well not only because your child can sleep, but also because you will have a ton of storage space below your bed (or a place for your child to hide, read, or play games.
Does your room have strange angles and corners? You need to determine how your bed will fit into the room and where you want the ladder or staircase to be placed. A popular way to save some space in a narrow room is to attach your loft bed ladder to the footboard. An L-Shaped bed design like this one might also do the trick for certain rooms.
Do you have a small room with limited storage? This is perfect for a loft bed! Even if you don't have a closet built in or if you just have a small, full closet, a loft bed will add a lot of utility to your room. Depending on whether you have a narrow room or low ceilings, use the tips above to choose the right kind of loft bed.
Do you have tall ceilings with a narrow room? A narrow room might require a high or ultra-high loft. Raise the bed, add storage to the bottom with a dresser and/or a workstation desk. Place the staircase at the footboard to save some space! Use a straight staircase which goes up and down (without any slant) to minimize the use floor space in your narrow room. A bunk bed /loft bed like this one will work well in a narrow, tall room.
Loft beds for kids' rooms offer lots of flexibility
Fact: kids love climbing, a lot. A loft bed could create plenty of space for a cabinet to store your child(ren)'s clothes, shoes, toys and the TV remote you've been looking for. The space under a loft bed can also be used for creating a work / homework spot.
You can introduce the cool factor by including a slide or covering the loft bed with curtains to create a mini fortress or hideout which the kids will absolutely adore. Here's a surprisingly affordable and highly reviewed metal loft bed with a slide.
Try to purchase a loft bed with a high weight capacity so that your child can continue to use it well into his/her teenage years. Note the amazon reviews for loft beds and see if there is a difference between the maximum weight capacity and what customers observe. Additionally, ensure that there is plenty of head clearance for your growing child to maximize the life of your loft bed. Your teenager, who is going to be much taller than a 6 year old, will need plenty of space. A loft bed with a 300-400 lb weight capacity, such as this one, should last you a LONG time.
What's the minimum age for a loft bed?
Loft beds are off limits for kids younger than age 6. This is part of safety regulations established to reduce accidents associated with the use of loft and bunk beds. They also must have continuous guardrails on both sides of bed and the height of the guardrails must be no less than 5 inches above the top of the mattress.
Learn more about loft bed safety in the "Are loft beds safe?" section of this guide.

Loft beds for dorm rooms provide convenience and utility
Within a dorm room, you can create a cave-like workstation right under your dorm room loft bed, leaving space for more fun activities like a party or a TV + playstation. Within your workstation, ensure that you have plenty of space for a desk with an inbuilt shelf to contain your vast collection of books and other knick-knacks. Incorporate a headboard into your loft bed so you can continue to read in bed. A simple headboard can be made from plywood + batting and assembled with a staple gun…or purchased from amazon. Also, ensure that your loft bed has a high weight capacity + safety rails. Chances are that your child has not grown up with a loft bed, so he/she would not be used to the thinner twin mattresses offered by most college campuses.
Since the cozy little place is meant for studying, adequate lighting is necessary. You can get a fancy reading lamp or get creative by installing fancy LED lighting for a very cool effect.
Are loft beds good for adults? Yes
Even a full size adult bed can be elevated off the floor creating a nice piece of floor space for various uses. This is great for your tiny cozy apartment or getaway cabin.
Adult loft beds usually range in size from twin size to king size. Tiny apartments benefit most from the space saving advantages of a full-size loft bed. Loft beds for adults are generally more sophisticated and come in different sizes, shapes and placement determined by the intended use and functionality.
Is a bunk bed the same as a loft bed?
A bunk bed is a single unit of two beds that are stacked on top of each other. It's the ideal option if you have need for 2 beds in a room and the space is constrained. There are different configurations of bunk beds available. The most common variations are twin over twin, twin over double or full and any other variation as may be desired. These different variations determine what kinds of mattresses you can have on your bunk bed. For example, a twin over double means that the lower bunk will support a double bed whereas the upper bunk will support a twin bed.
What's the difference between a bunk bed and a loft bed?
The difference between a bunk bed and a loft bed is that while a bunk bed has the lower bed or bunk which occupies the space below, a loft bed has none. It is simply a single bed that is raised on supports high enough to allow the use of the floor area below for various purposes. You can create a play-space with nice curtains, a storage space with bookshelves or dressers, a sofa or futon or add a desk with a chair. There are many ways to make bunk beds AND loft beds look cute.
What are the pros and cons of a loft bed?
A loft bed is a single bed that is raised on supports high enough to allow the use of the floor area below for various purposes. If you love to sleep high above the floor but you don't need two beds in a room, a loft bed may be the perfect option for you.
Pros
Frees up lots of extra room
Makes the room look bigger
You can covert the space underneath for storage
You can create a cozy workstation under.
People won't get into your bed
Kids absolutely love loft beds
Cons
Risk of falling while climbing
Loft beds save a lot of space in kids rooms and dorms – This is a huge pro
Imagine constantly bruising your shin on the bed on the floor while trying to avoid the desk? Simply lifting the bed off the floor using the loft bed concept and neatly arranging the obstructive workstation underneath would have solved the space problem.
A loft bed saves space by being raised off the floor. The vertical space thus created could be put to various uses which wouldn't have been possible with the bed on the floor.
A desk and a chair are a popular use for the space under a loft bed. This is usually common with dorm rooms.
A couch or futon can be installed under to create a sitting and lounging area. Good for when visitors come over since your bed is no longer available for them to sit on.
Another configuration is having the space under the loft bed used as a small dinning corner to sit 2 or 3 people.
The possibilities are simply endless. The space underneath a loft bed can be put to any possible use, depending on the pressing functional need for the floor space
Space comparison of Loft bed vs. Regular bed
| | |
| --- | --- |
|   | Ground Space Used |
| Loft bed (full) | 28 sq ft |
| Loft bed with desk | 28 sq ft |
| Loft bed with futon or sofa | 28 sq ft |
| Bed with desk | 50.5 sq ft |
| Bed with futon or sofa | 45 sq ft |
How much clearance from ceiling should a loft bed have? How high can a loft bed be?
There is no rule that says a loft bed should be designed to a particular height dimension. However, the Consumer Products Safety Commission and most College's Guidelines recommend a minimum space above the mattress of 30 inches. Note that the thickness of a college dorm room mattress and a home mattress are usually 6″ and 8" respectively.
The average height of a loft bed is 58 inches. Some of the design considerations for determining the height of a loft bed include the desired use for the space underneath, the height of the ceiling, and the stature of the occupants.
The typical home in the U.S has the ceiling about 9 to 10 feet above the floor. Anything higher is considered luxurious. Higher ceilings give designers more leeway for creating great custom loft bed designs.
The clearance from the ceiling could be increased to let you sit up comfortably in bed to read or meditate (buddha like). An average adult will measure 38 inches from the bed to the top of their heads while seated. We recommend a clearance of 40 inches from the ceiling to the mattress provided the ceiling is high enough. This will give the average adult enough room to sit up and eliminate any feeling of claustrophobia.
Take into account the thickness of your mattress – a simple 6 inch memory foam mattress can reduce the height requirements of your loft bed. Also take into consideration the intended use of the space below. For example, a workstation will require a minimum of 6'' from the top of your head (while seated) to the bed slats above you.
Choosing a height for your loft bed will require a careful consideration of various factors which have to be balanced to afford you a great sleeping and living experience.
| | |
| --- | --- |
| Parameters | Measurement (inches) |
| Average length of adult from hip | 38 |
| Minimal clearance from ceiling | 40 |
| Mattress thickness | 8 |
| Slats for loft bed | 1 – 2 |
| Height of bottom of loft bed from ceiling | 50 (40 + 10) |
| Minimum workstation height from seat | 44 (6 + 38) |
What are the pros/cons of metal vs. wood loft beds?
Both materials have benefits that will meet the needs of every individual in their unique ways. Wood loft beds offer more versatility in terms of uniqueness, storage and configurations. They can be presented in lots of eye-catching, beautiful, and classy designscatching, beautiful, and classy designs that will always look good in every setting.
Metal loft beds, on the other hand, are simple, affordable and lightweight. They also have that modern contemporary look which bring an elegant finish to your home. They fit in well with a minimalistic themed interior décor.
Metal beds tend to make creaking noises after some time. But overall, both materials are usually durable and last for a very long time. Any quality issues are usually because of poor workmanship, and not necessarily the type of materials used.
wooden loft beds also have their own drawbacks. They ae heavier than metal loft beds and cannot be easily moved around. Though wooden loft beds are quite durable, they will not last as long as the metal ones and will show the effects of usage with time. This include creaking when you toss and turn as the joints get weakened with time.
What kinds of loft beds are available
Loft beds are usually made with metal or wood and come in a variety of designs which is determined by the function and purpose. Choosing a loft bed will depend on your budgets, needs, available space and preference.
Loft beds with desks
What makes loft beds so attractive is the huge space savings. What better use to put the saved space underneath a loft bed to than turning it into a workstation (like this one)? This is especially good for kids who will climb right into bed after completing their homework.
Students in dorm rooms are particularly attracted to the space savings and utility offered by this configuration. A comfortable and cozy workspace will go a long way in helping them study.
Loft beds with stairs and ladders
A loft bed is incomplete without a means of getting up to bed and coming down. There are usually 2 options- a ladder or a set of stairs. A ladder is a better space saving option than the stairs but do not offer the same level of safety. The ladder could be angled or attached straight up to the bed. An angled ladder is usually safer than a straight ladder. The steps on the ladder should be grooved to increase grip and prevent slippages. A hand rail is also advisable when a ladder is used. Though stairs make the loft bed longer, storage drawers are usually incorporated into each step of the stairs, making optimal use of the stair space. Here's a great loft bed design with stairs that also have drawers.
Loft beds with Slides
Who said getting in and out of bed shouldn't be fun? Loft beds can be designed with a fancy slide for a quick and fun descent from the bed up above. Designed for children, these loft beds are usually combined with either a ladder or stairs. The child gets to choose coming down the bed from the ladder or the slide. Safety features like handrails and anti-slip rungs are incorporated for your child safety.
However, children under the ages of six are better off not using a loft bed. This is because they are thought not to fully grasp the possibility and the dangers of falling yet. The slides are made with sturdy materials and are very safe to use. These loft beds will cost a little extra because of the additional function. Take a look at this junior size loft bed with a slide
Loft beds with two beds – bunk beds
When a loft bed has another bed underneath, it is called a bunk bed. Bunk beds are ideal where you have more than 1 person sharing a room and using 2 separate beds will take up all the useable ground space. There are various configurations of the bunk bed to suit different needs. These include: twin over full size bed, twin over twin size bunk bed, full over full size bunk bed, full over king size, full over queen size, queen over king size and any other combinations with standard bed sizes. A twin over full means that the top bed or bunk is twin sized while the lower bed is a full-sized bed. There are several locations to have bunk beds:
Kids rooms which tend to be smaller and have very little space for all the toys and books that need storage
Dorm rooms where two adults are sharing space
Guest rooms where you expect more than 1 guest to arrive at a time
Bunk beds saves space by allowing you to use the same floor space twice. If you or your kids need to share a room with a family member, using two single beds will leave little room for play or storage. Separating their beds, will teach kids independence and they will value having a private retreat for themselves at the end of each day.
Some bunks are further optimised for sleepovers with an option of a trundle bed on castors which can be pulled out to create a third bed for a visiting guest. Bunk beds too can incorporate storage below the lower bed to further maximize space. Here's a bunk bed designed with a trundle which conveniently has added space for a guest.
In addition to functional needs, bunk beds are incredibly fun for children. They can further be customized with curtains to create fort-like spaces they will adore.
Bunk beds are generally safe and by regulation. They must have guard rails on the top bunk. The rails are designed to have small gaps that won't allow a child slip through. Children younger than 6 are recommended to sleep on the lower bed for safety. We've analyzed several kids' beds and selected a few of our favorite kids' beds.
Loft beds with futons or couches provide sleeping space as well as lounging space
Loft beds can come with futons or couches that are placed below the upper bed. Some of these are cleverly designed to be converted to full size beds. This configuration is great for when you have visitors over.
Bunk beds with futons or couches help you make the best of the space you have. The futon creates comfortable seating for day use that can be converted to a bed for siblings or overnight guests.
Loft beds with curtains make excellent bed tents
Curtain rods could be attached to the ceiling and curtains hung from there to create a private and cozy space (such as a fortress) for your child. With a little imagination and creativity, this would be a fun DIY project you can have fun building with your child.
While you can make your own curtain designs, there are also already made curtain designs perfect for your children's loft bed that can be purchased online on Amazon
Who sleeps in a loft bed?
Loft beds cleverly maximize usable space by offering a sleeping area and at the same time, freeing useable space underneath. Thus, its well appreciated in small homes, dorm rooms, guest house and any other place where space is constrained. Like normal beds, loft beds come in a variety of designs and sizes to suit children, teens and adults. Below, we detail loft beds which are ideal for each age group.
Children enjoy the fun and cool aspects of sleeping in a loft bed. As an adult, you can sleep comfortably in a loft bed and maximize your living space by stowing away the clutter.
What's a good loft bed for Kids? Is a certain size ideal?
Kids prefer loft beds that are fun while adults prefer functionality. To meet the demands of your children as well as yourself, consider getting a loft bed with plenty of storage. You can utilize the storage for keeping your child's toys and books. For the fun aspect, having a slide (as described in this section) or installing curtains (as detailed in this section) under a loft bed can make it a lot more exciting.
A twin loft bed (like this one) should be plenty of sleeping space for your younger child and should serve him/her into their teenage years as well. Twin-sized beds measure 29 inches by 75 inches. Because of safety concerns, toddler and kids younger than 6 are not allowed to sleep on loft beds.
Guard rails are a must for loft beds and are designed such that the spaces in-between rails are too small to allow a child slip through. If you have more than one kid, a bunk bed with twin over full configuration is recommended because this allows the older child to take the bottom bed while the younger child takes the upper bed. Twin over full configurations also tend to be useful for sleepovers since 2 children can sleep in the bottom bunk.
Related topics: 
What's a good loft bed for a teenager?
If you are buying a loft bed for a teenager, get a double or full-size loft bed (as long as the room has enough space). While having a twin is ideal for a younger child, a teen might find it a bit cramped in a twin mattress. With a dimension of 54 inches by 75 inches, a double or full size bed affords them enough room to roll around and enjoy the benefits of a good night's sleep. This double/full bed can then be converted into a guest bed when your teen goes to college. If you have a bit of extra money, consider buying a loft bed with a desk underneath to provide your teenager a study area complete with desk, chair and a PC or laptop. This work area can be set-up with all the modern amenities for a great study environment. We've discussed the pros and cons of a loft bed with a desk in this section.
Loft bed twin over full / bunk bed (alternative option for teenagers)
As an alternative to a loft bed, consider getting a bunk bed with the twin over full configuration. This bunk bed comes with a twin bed measuring 29 inches by 75 inches on the top and a full / double bed measuring 54 inches by 75 inches on the lower bunk. It is ideal for households with lots of children but limited space. Your teenager can then take the bottom bunk while your younger child can sleep on the top bunk. Over time, your teen will transition to college while your younger child can move over to the bottom bunk and use the top bunk for storage. It's a great space-saving alternative that offers the additional advantage of sleeping 2 children.
What's a good loft bed for adults & couples?
For sleeping two adults in a room, you have multiple options: get a loft bed or a bunk bed. Each of these variations has its own advantages and disadvantages specific to the adult age group.
For couples: Loft beds can be used by two adults, however be wary of the weight limits of your bed. Consider getting a loft bed designed for higher weight capacity than a typical kids' loft bed which has a 400 lb capacity. Note that loft beds are very high off the ground…as such they are not ideal for vigorous sex. Expect creaking and make sure that you understand your surroundings if you intend on having sex on a loft bed. The advantage of getting a loft bed for adults is the added storage capacity under the bed. However, perhaps you should tall platform bed instead so that you can avoid creaking while still maximizing available storage space. We have a comprehensive guide on platform beds here.
For two adults: Consider getting a bunk bed instead of a loft bed. The sizes which offer comfortable room for an adult are full or double bed, queen size-bed and king-size bed. Where two adults need to share a room, they can be combined to make a bunk bed with the following configurations:
Bunk bed full over Queen
This bunk bed design has the full or double sized bed above with a queen size bed on the lower bunk (here's a highly reviewed bunk on amazon). The queen size measures 60 inches by 80 inches and offers comfortable sleeping room for up to 3 adults. Both the lower and upper bunk can sleep adults since we have met our criteria of having atleast a full or double bed per adult. There could be some creaking with time as the joint and bolts loosen from the heavier weight being placed on the loft bed. Regular checks and tightening of loose bolts will eliminate any noise.
Bunk bed full over king
This configuration has a king size bed as the lower bed while the top bunk is a full-sized bed. The full over king bunk bed lets family members share a room while sleeping very comfortably like kings.
Other sizes of bed can work well above the king bed too. Even a king over king is a possible bunk bed combination however this is a very rare configuration and isn't easy to find online. Consider contacting a carpenter for a customer configuration like this. The available space, the stature of the users and the desired function are the considerations when choosing the perfect loft or bunk bed configuration.
Bunk bed Twin over Full or Full over Full (Not ideal, but o.k)
Table of loft bed mattress dimensions
| | |
| --- | --- |
| Bed Size | Measurement |
| California King | 72-in x 84-in |
| King | 76-in x 80-in |
| California Queen | 60-in x 84-in |
| Olympic Queen | 66-in x 80-in |
| Queen | 60-in x 80-in |
| Full/Double | 54-in x 75-in |
| Twin | 39-in x 75-in |
| Twin XL | 39-in x 80-in |
| Toddler | 27-in x 52-in |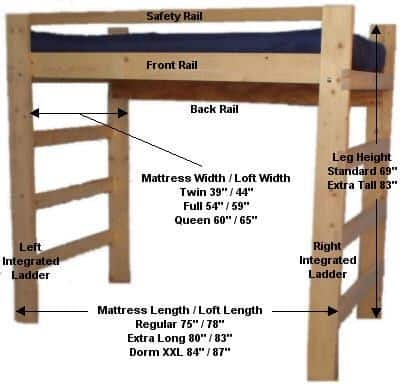 Loft Bed Sex vs. Sex on a Platform Bed
Great sex is generally considered pleasant, comfortable, and safe. The type of bed you purchase may significantly affect the quality of your sleep and sex.  We favor sex on platform beds vs. loft bed sex for the following reasons.
A loft bed is set upright five to six feet off the ground, keeping lots of usable space underneath. This may be detrimental to people with acrophobia (fear of heights).


Besides the uncomfortable height of the loft bed, it features railings, which confine your sleeping surface and hence can be very frustrating for sex.


A loft bed may creak more than a platform bed because it is elevated off the ground and supported on four tall bedposts, which rub against the floor and cause the bed to wobble.  


A loft bed does not support as much weight as a platform bed. So, the risk of the bed disassembling and falling is more likely and dangerous than the risk of this happening on a platform bed, which sits close to the floor.


A loft bed is not as sturdy as a platform bed. The bolts and joints become loose, and the wood swells or shrinks due to constant heavy weight, frequent movement in bed, and changes in temperature. Sex on a loft bed in these cases is risky. Read here to learn how to make a loft bed more sturdy.


Moving and shifting positions on a loft bed is difficult due to the low clearance space from the ceiling. You may want an open space around you to feel comfortable in specific positions with your partner.


A loft bed can give you a feeling of claustrophobia, and may increase sex injuries like bumping heads and bruising.


Climbing up the ladder to the loft bed is dangerous and painful for two reasons: you are climbing the ladder barefooted, and the ladder is sometimes detached and not fixed to the bed frame. On the contrary, the height of a platform bed makes it easier to get in and out of bed
Loft Bed Sex: Are there any tips for making it comfortable?
Follow the following tips to make loft bed sex more comfortable, safe, and fun:
Stabilize your loft bed by anchoring it to the wall.


Ladders and all elements of the bed should be properly engineered and attached to the bed.


Put a dehumidifier in the room to prevent the bolts from loosening and the wood from swelling.


Ensure that all the joints are tightened and lubricated to eliminate the squeaking noise and to keep the bed steady.


Select a loft bed with a high weight capacity.


Make sure you have enough clearance from the ceiling to your mattress. This will allow you to sit up comfortably in bed while having sufficient space between you, your partner, and the ceiling.


Stick with the positions that work on a loft bed such as spooning and missionary…


Add pool noodles to the ladder rungs to protect your feet and reduce pain when climbing up or going down the ladder. 


Get creative and use your cozy station underneath your loft bed instead.
Should I get a wood or metal loft bed?
Loft beds as a rule, are usually made of wood or metal or, sometimes both. They each have their advantages and disadvantages, but wood is more commonly used.
A good loft bed should be sturdy and durable, qualities which are found in both wood and metal. A shaky or unstable loft bed is probably due to poor construction not necessarily the choice of materials.
Most metal loft beds in the market are made with steel tubes, though wrought iron and steel rods are sometimes used. Metal loft beds have a modern fashionable look. Take a look at this great looking metal loft bedgreat looking metal loft bed. They are considerably lighter than wooden loft beds which make them easier to move around. High quality metal loft beds are often finished with powder coat which is more durable and resilient than ordinary paints and better protects the steel against corrosion, scratching, chipping and UV damage.
Because metals are easily shaped, metal loft beds come with lots of attractive curvy designs which adds to their appeal. However, the designs look simple and do not come with lots of fancy fixtures unlike their wooden counterparts. This, coupled with the lower production costs, makes the metal beds cheaper than the wooden loft beds. Here's a table of loft bed costs.
Wooden loft beds make up more than three quarters of the loft beds in the market and are more common. They offer designers more leeway to add extra features like chest of drawers, stairs, and other accessories that kids and adults enjoy. They also come in more varieties, designs, and arrangement than the metal loft beds.
There are several types of wood used to make quality loft beds. They each have unique characteristic which makes for beautifully finished and sturdy products. Wooden loft beds also offer you stunning aesthetics because of the grain and color of the wood itself. Here's a beautiful wooden loft bed that can be purchased on amazon.
Finally, the choice of materials for loft beds depends on taste, style and functionality. While the simple and elegant metal loft beds will look great in some settings, the more traditional wooden loft beds are more popular because they tend to blend in with the rest of the décor and furniture. Metal loft beds will blend into living spaces with a modern contemporary design outlook.
Metal loft beds are more durable and can withstand the rough handling expected from children. For adults, metal loft beds can carry more weight than their wooden counterparts but will require frequent maintenance to the joints to prevent creaking with time.
Metal bed can get uncomfortably cold to the touch especially in winter. Their design options are also limited in terms of shapes and finishing.
Wooden loft beds are less durable and will tend to weather with age. They could be subject to creaks and squeaks as their joints become weaker and loosened with age but this is rarer than their metal counterparts.
There are whole lots of variety in the loft bed market to suit anyone's taste, budget, and individual needs.
Solid wood loft bed varieties
Maple: maple wood is dense and hard with high resistance to abrasion and wear. This quality makes it ideal for making loft beds that will last. Its color ranges from creamy white to dark reddish brown. With a close, fine, uniform texture, it can be polished to gleaming perfection. Maple can be difficult to stain
Oak: oak wood is hard and heavy with medium bending and crushing strength. Its very grainy and has very good wear resistance. Its colors ranges from white to light brown to pinkish-reddish brown. Oak wood is easy to work with and can be stained with a wide range of tones. Here's a simple oak loft bed for kidsoak loft bed for kidsoak loft bed for kids
Cherry: Cherry is a hardwood with a fine, straight grain. Its colors ranges from reddish brown to blond. It has a beautiful natural color when unstained and it Is easily shaped. Cherry wood is expensive and the color doesn't hold well with age.
Walnut: Walnut is a straight-grained hardwood that ranges from chocolate brown to yellow. A favorite for making ornate antique-style dining tables, and mantels, walnut wood is normally clear-coated or oiled to bring out its beautiful color. the wood is strong and stable and can be carved into intricate shapes. Walnut wood however, can be expensive
Rubberwood : it is obtained from rubber trees that has reached the end of their latex producing life-cycle and have been replaced by new seedlings which is why rubberwood is known as eco-friendly wood. The wood is valued for its dense grain, stability, beautiful color and ability to accept lots of different finishes. It's mainly used for high end furniture.
Pine: Pine is a relatively cheap, lightweight wood which is yellowish or whitish with brown knots. It takes paint and finishes well, so it's ideal for kids' furniture. Its also used for rustic or antique-looking furniture. Pine is softwood and not so resistant to dents and scratches. Here's a great pine loft bed that provides plenty of storage and workspace.
Engineered wood: Also known as composite wood, engineered wood is made by joining together particles of wood and various forms of wood fiber to produce a stronger and sturdier composite unit. MDF (Medium Density Fibreboard) is the type of engineered wood most often used in furniture. MDF is made from fine wood mixed with a special glue and pressed into panels with heat. The resultant wood panel is stable and easy to work with. Engineered wood has a balanced or uniformed surface design and can be shaped into curves which won't be possible with solid wood. They are also environmental friendly being made with recycled materials. The advanced manufacturing process makes composite materials stronger and durable than solid wood.
How do you attach or mount a loft bed to a wall?
A Loft bed saves a lot of space since it is suspended on long sturdy legs above the floor. With time though, the sturdy legs might start to wobble and shake. This is especially dangerous if the bed is old. The best way of securing and stabilizing a loft bed is by attaching it to a nearby wall making it safe.
Mounting the loft bed to the wall is relatively easy and can be done by anyone with reasonable handyman skills. This DIY project shouldn't take more than 10 minutes with the right supplies and tools.
You start by looking for a stud, with the aid of a stud-finder, near a bed post on each of the two walls in the corner where the loft bed is to be set-up. Find studs on amazon and schematic images to show how this is done
Align your L brace or C brace in position on a bed post and corresponding stud. Mark the wood and wall through the screw holes with the tip of a wood screw. Find a L or C brace on amazon.
Using a drill bit 1/8 inch narrower than the diameter of the screws, drill guide holes in the wall and bed post.
Hammer in a drywall anchor into the wall to provide a solid base for the screws in case the holes misses a stud.
Use the power drill to screw the brace into position. Repeat steps 2 through 5 for the other brace and stud.
How do you make loft bed ladders hurt less?
A typical loft bed ladder, whether metal or wood will hurt the soles of your feet and make climbing up to bed somewhat uncomfortable. This is made worse by the fact that loft bed ladders are usually climbed barefoot. The pain is due to a concentration of forces (your weight) on such a small surface area (the ladder rung).
A simple yet effective remedy for sore soles is covering the rungs with a pool noodle (like this one) . Pool noodles are hollow cylindrical polyethylene foam used as swimming toys because of their ability to float.
Measure the length of the rungs and cut the noodles accordingly with a scissors or sharp knife. Then make a longitudinal cut. Slip it over the rung and there you have it- a plush cushioned ladder!
Alternatively, readymade rung covers can be bought from online stores and are customizable to suit the room décor while protecting your feet.
Are loft beds and bunk beds safe?
Loft beds and bunk beds are popular with kids and teens. However, parents often worry about the safety of elevated beds. We've written some tips for how to improve bunk bed ladder safety, take a look at the link.
They are just as safe as their conventional bed counterparts. The injuries associated with their use are usually due to improper usage and over exuberant play… not from poorly designed loft beds and bunk beds.
Children need to be educated on the proper usage of the ladder for descending and ascending and the need to avoid unruly and risky behaviour. Kids younger than 6 years should not be permitted to sleep on the upper bunk.
Always choose a loft or bunk bed that meets all current safety regulations and standards. A bunk bed should be protected all round by guard rails which should have no more than 3 inches of space between the rail and the mattress to prevent kids from slipping through. The guard rails need to extend to a minimum of 5 inches above the mattress, so your child will be unable to roll off the top bunk. Here's a great loft bed for kids with guard rails.
With careful selection of a good quality loft or bunk bed that meets all safety standards, you can rest assured that the risk to your child has been minimized.
Though there are no rules on the height and design of a loft bed, the U.S. Consumer Product Safety Commission, and other bodies have set some guidelines for dimensions to ensure safety and ease of usage. They are as follows:
The ends of the loft bed should rise at least 5 inches above the top of the mattress — or it should have railings installed to that height (USPSC).
Gaps between the mattress and the loft frame can be no more than 9 inches (USPSC).
There should be at least 30 inches of space between the top of the loft mattress and the ceiling. This provides enough space for most sleepers to sit upright and maneuver safely.
In a room with 8-foot-high ceilings and a loft bed that uses an 8-inch-thick mattress, this 30-inch head space means there will be about 56 inches of space between the bottom of the loft platform and the floor. This provides effective space for a sitting desk or chairs.
In a room with 9-foot ceilings, a 30-inch head space provides about 68 inches of room below the bottom of the loft bed — enough for average people to walk beneath.
In a room with 10-foot ceilings, a 30-inch headspace between the loft mattress and the ceiling provides about 80 inches of space below the bottom of the loft platform — enough for most tall people to walk safely.
If another bed is installed below the loft, there should be a minimum space of 30 inches between the top of the lower mattress and the bottom of the loft platform.
For use as a desk area, it's recommended that there be at least 52 inches of clear space between the bottom of the loft platform and the floor. This allows average users to sit comfortably in a chair.
To be extremely safe, make sure the loft bed is no closer than 8 feet away from the edges of ceiling fans. Fore moderate safety and to account for smaller rooms, 4 feet of clearance may be sufficient.
Does a loft bed get colder than a normal bed?
Sleeping on a loft bed doesn't offer any significant difference in temperature than conventional beds.