Can a Bunkie Board Replace a Box Spring? Pros/Cons and Decision Guide
Bunkie boards (often spelled "bunky board") are mattress support systems commonly used as an alternative to slats, plywood, or box springs. A typical bunkie board is a flat wooden mattress foundation (1-3 inches thick) that is covered in fabric. Originally, bunkie boards were used to provide a sturdy foundation for a bunk bed mattress without adding too much extra height. That is why the support system is called a bunkie board. So, can a bunkie board replace a box spring?
A bunkie board can replace a box spring for various types of beds and with different mattresses. When deciding which option suits your bed and mattress best, it is essential to consider the bunkie board material, the size of the bunkie board, how bunkie boards interact with different types of mattresses, and the cost of bunkie boards. 

Why you might Replace a Box Spring with a Bunkie Board 
The primary purpose of a bunkie board is to provide reliable support to your mattress without adding height to your bed. Some of the main reasons why you might want to replace your box spring with a bunkie board are discussed below.
There are a Larger Variety of Bunkie Board Materials than Box Spring Materials
The diversity of bunkie board materials allows you to quickly choose the one that suits your needs best. Box springs, on the other hand, are nearly all the same, meaning you have much less choice. For a deeper dive into bunkie board materials, take a look at our article.
Some of the most common materials for bunkie boards are particleboard, solid wood, metal, and plywood.  
Particleboard Bunkie Board
Particleboard, commonly referred to as chipboard, is a building material made from wood shavings, sawdust, wood chips, or other waste materials. These waste-wood components are glued and compressed, forming the lightweight, durable material known as particleboard.
Although particleboard is not as sturdy as plywood, it is a relatively cheap material. Therefore, if you are looking for inexpensive support for your mattress, particleboard bunkie boards are one of the best options. 
Plywood
The cross-grain pattern of plywood makes the material more durable compared to particleboard. And the use of strong adhesives in plywood production makes the material even sturdier. 
Plywood is somewhat more expensive than particleboard, but still much cheaper than other bunkie board materials. Besides, the use of plywood allows you to DIY your own bunkie board. Get some tips on how to make your own bunkie board by following the link to Susy Salcedo's article on Nectar Sleep. 
You might also like this article on using plywood instead of a bunkie board.
Solid Wood
Solid wood is different from engineered wood composites like particleboard and plywood. Solid wood has been cut directly from a tree and does not contain adhesives. This makes solid wood very durable, but also heavy and more expensive. 
Solid wood is commonly used for the construction of various furniture, including bunkie boards for various types of beds and mattresses. 
Metal
Although bunkie boards are commonly made of wood, there are some options that feature a premium metal frame covered in fabric. Such bunkie boards might be more expensive, but they provide sturdy support and last longer compared to other bunkie boards made of different materials. 
Related Articles:
Bunkie Boards are more Portable than Box Springs
As mentioned earlier, bunkie boards are designed in the way that they do not increase the height of the bed significantly. They are only about 1-3 inches thick, depending on the type of the bunkie board. Standard box springs, on the other hand,  are quite bulky, with an approximate height of 9 inches. 
In addition, typical bunkie boards weigh around 30 pounds on average, while the weight of a standard box spring ranges from 60 to 105 pounds. Since bunkie boards are quite lightweight, it is pretty easy to carry them. 
Bunkie boards are more Compatible with Different Mattress Types than Box Springs
Box springs were invented to absorb shock when mattresses used to be much thinner. Now, most mattresses are thick enough that no box spring is required. The only mattress type that needs a box spring are older, two-sided mattresses. 
Bunkie boards are perfectly suitable for all other types of mattress, and are even preferable for memory foam and latex mattresses. They provide robust and sturdy support for soft mattresses and help them retain their shape and quality for extended periods of time. 
Bunkie Boards are Cheaper than Box Springs
One of the major aspects that play a role in decision-making is the budget. Thus, it is essential to consider the price differences between bunkie boards and box springs. 
Although bunkie boards are more modern and comfortable than box springs, they cost less than traditional bulky box springs. This allows one to save money and invest in something more substantial, such as a comfy, high-quality mattress. 
Comparison of Bunkie Boards vs. Box Springs
In this section we're going to take a look and the pros and cons of bunkie boards and box spring mattresses. Both options are viable, the one you choose will depend on your needs and preferences. This pros/cons overview will help you make the right choice!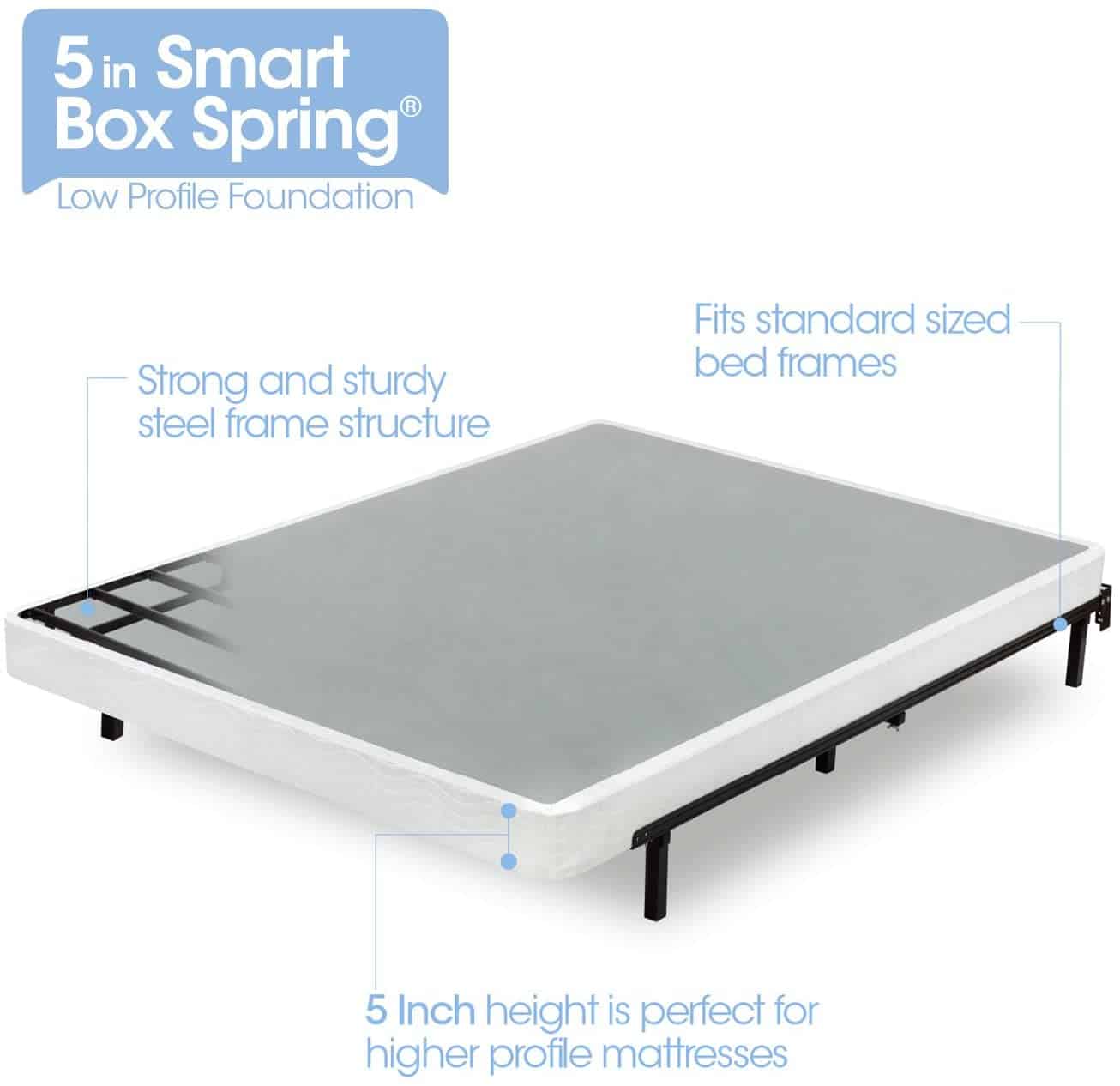 Pros and Cons of a Bunkie Board
The following is the list of some of the most important pros and cons of a regular bunkie board. 
| | |
| --- | --- |
| Pros of a Bunkie Board | Cons of a Bunkie Board |
| Provides reliable support for the mattress | Might not absorb as much body weight and movement |
| Does not increase the height of the bed significantly | Might not be suitable for individuals who want to raise the height of the bed |
| Saves up space for storage below the bed | Not as durable as box springs |
| Extends the lifespan of the mattress |   |
| No assembly required |   |
| Lightweight and portable |   |
| Suitable for a wide array of mattresses |   |
| Relatively inexpensive |   |
| Features modern design |   |
| Easy to fit into the bed frame |   |
Pros and Cons of a Traditional Box Spring
| | |
| --- | --- |
| Pros of a Box Spring | Cons of a Box Spring |
| More durable than bunkie boards | Relatively expensive |
| Ideal for individuals who want to increase the height of the bed | Takes up too much space and leaves no room for storage |
| Absorbs body weight and motion better than bunkie boards | Increases the height of the bed |
| Suitable for double sided mattresses | Too bulky and heavy to relocate |
|   | Loses support and sturdiness over time |
|   | Not recommended for memory foam or latex mattresses |
Can you put a bunkie board on top of a box spring? 
Yes,  you can put a bunkie board on top of a box spring. If, for instance, you want to use a bunkie board as a mattress foundation, but you also want to increase the height of the bed so that it is easier for you to get in and out of bed, you can just put a regular bunkie board on top of the box spring. Take a look at more ways to raise your box spring in this article too. 
Buying both a bunkie board and a box spring might become expensive. Another option is to use various bed raisers to increase the height without investing money in a new box spring. You can get some tips on how to make a loft bed taller or make a platform bed taller by reading our related articles.
Another way to increase the height of your mattress without adding another layer of the support base is to use a regular mattress topper (here are some highly rated toppers on Amazon).
However, putting a bunkie board on top of a box spring will not provide better support for the mattress. The degree of sturdiness will be the same as if you only used a bunkie board instead of a box spring. This is because the only support system that provides the foundation for the mattress is the one that is on top; in this case, the top layer is the bunkie board. 
Besides, using two support systems on top of each other might make it hard for the mattress to ventilate. Consequently, sweat, dust, and allergens accumulate in the mattress and influence the quality of your sleep. Also, the poor ventilation prevents the mattress from regulating your body temperature. These factors might lead to severe allergic reactions and influence the quality of your sleep. 
Will Putting a Bunkie Board on Top of a Box Spring Make It Less Squeaky?
Time after time, your box spring might lose its ability to support the mattress and prevent it from sagging. At this time, the support system gets unpleasantly noisy and squeaky. 
One of the most common reasons for creaking is the box spring itself. But still, the noise might also come from either your mattress or the bed frame. Mattresses barely make any noise, unless they have some inner springs or coils inside. On the other hand, the squeaking of a box spring or bed frame is more common. 
Therefore, to properly fix the problem, you must first identify the source. Once the source is identified, you can think of some possible ways to solve the issue. For instance, you can tighten some screws on the frame or lubricate metal parts of the box spring. 
To learn more about the ways to stop a bed from squeaking, follow our article on how to fix a squeaky box spring.
In addition, you can use a barrier that can be placed between the box spring and the mattress. This would reduce the friction between them and help you get rid of some of the reasons your box spring might squeak. One of such barriers is a standard bunkie board that provides sturdy support for the mattress. 
So, yes, a bunkie board can be used to make a box spring less noisy because adding a layer of a flat sheet of wood or plywood will support the mattress and prevent it from squeaking. The fact that almost every bunkie board is covered in fabric will even make it more beneficial for solving the problem. However, this may not always reduce squeakiness because there might be other underlying conditions. 
To make a box spring less squeaky, you can either use a regular bunkie board made with any type of material, or DIY your own bunkie board using plywood. However, even the bunkie board might squeak...
Take a look at our article on fixing a noisy or squeaky bunkie board through various quick techniques.  
We hope this guide has helped you choose the mattress support system best suited to your needs. If you want to know even more about bunkie boards, follow the link to our detailed guide to bunkie boards and their uses. 
Disclosures
This website is a participant in the Amazon Services LLC Associates Program, an affiliate advertising program designed to provide a means for us to earn fees by linking to Amazon.com and affiliated sites.