Futon Frame, Mattress, and Sheet Sizes – The Ultimate Guide
Traditional Japanese futons are mattresses that are laid on the floor or on a soft base called a tatami. Over time, futons have become westernized and have developed into three main types. Each of these types have a dual function, serving as a couch by day and a bed by night. Futons are widely used in areas where there is limited space, such as dorms, small offices, or small apartments. Futons sit on a pliable frame which folds and unfolds the mattress to convert it from a couch to a bed, or vice versa. But what are futon frame, mattress, and sheet sizes?
Twin futon frame sizes are 39" x 75", twin futon mattress sizes are 39" x 75", and twin futon sheet sizes are 43" x 72". Full size futon frames are 54" x 75", full size futon mattresses are 54" x 75", and full size futon sheets are 57" x 85". Queen size futon frames are 60" x 80", queen size futon mattresses are 60" x 80", and queen size futon sheets are 63" x 83".
Below, we'll describe the different types of futons and go into more detail about futon frame, mattress, and sheet sizes.
Related Articles:
Types of Futons

The three main types of futons are bi-fold futons, loveseat futons, and tri-fold futons. Within these main categories, there are a range of different styles that have multiple functions, such as lounge-style futons, bunk-bed style futons, and armless-style futons. 
Bi-fold futon frames (shown in image A above) are the most common type of futon frame. They have two body panels: the sitting cushion and the backrest cushion. Bi-fold futons utilize the length of the mattress for seating, so they offer more seating capacity than other types of futons. These are available in twin, full, queen and chair sizes, and the one-piece mattress that works with these futons folds in half.
Loveseats (shown in image B above) are designed to resemble a sofa. They are a great piece of furniture for offering maximum space for sitting and sleeping in narrow places. These futons consist of an extra extension part, which folds into the frame and stores away if not needed. 
Tri-fold futon frames (shown in image C above) are made of three connected pieces: the back of the frame, the seat, and an ottoman that can either be built in or a separate piece. Tri-fold futons utilize the width of the mattress for seating, so the mattress folds twice and splits into a three-piece mattress. The mattress for this type of futon frame must be thin so that it can fold properly underneath itself when the futon is being used as a couch.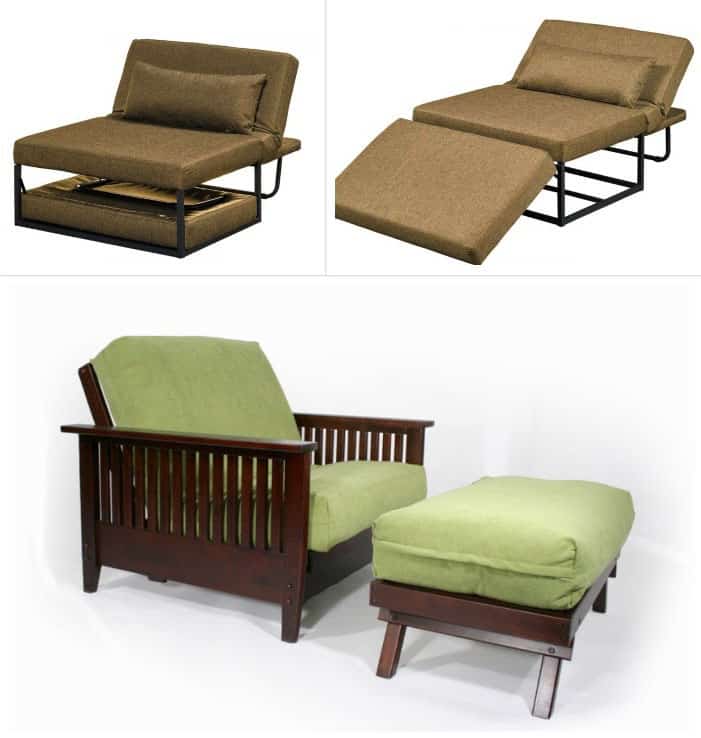 You can also add an ottoman to your futon frame if one isn't already built into the futon. An ottoman is a padded piece of furniture that can serve as a decorative piece, a footrest, a table, or an extra seat. Adding an ottoman to your futon frame allows you to extend your futon and your mattress size if needed. Ottomans can be folded inside the futon frame or stored away beneath another piece of furniture. 
Related articles:
Different Sizes of Futon Frames
Futon mattresses have similar dimensions to those of conventional mattresses, but futons are also available in split sizes to fit different futon styles. Choosing the size of your futon depends on your needs. If you want more seating, consider a full size or queen size futon. If you want an occasional bed that takes up minimal space, then consider a split or ottoman futon. If you need a small futon, then a chair size or twin size futon would be the right choice. But what are the different sizes of futon frames?
Sizes of futon frames are 39" x 75" for a twin size futons, 75" x 54" for a full size futons, and 80" x 60" for a queen size futons. For more information about the different sizes of futons, see the information and charts below.
The overall dimensions of twin futons are 39" x 75". These consist of a twin split mattress that measures 39" x 54" and an ottoman mattress that measures 39" x 21". Together, the two mattresses make a twin-sized bed. 
Full size futons measure 75" x 54" and use a regular full size futon mattress. Loveseats have the same dimensions as full size futons, but they require a full split mattress (54" x 54") and an ottoman mattress (54" x 21") to make a full size bed. 
Queen futon frames use a regular queen size futon mattress, which measures 80" x 60". A queen split mattress (60" x 54") combined with a queen size ottoman (60" x 26") makes a queen size bed. 
When choosing a futon frame, make sure to measure the back of the futon frame and consider the thickness of the arms. The armrest dimensions add to the size of the frame and will tell you how much space will be occupied by the futon.
For examples of different futon frame sizes, see the table below:
Related Articles:
Size of Futons When Folded vs. Unfolded 
When futons are unfolded, they open up fully to make a bed. This takes up more floor space than when they are folded and used as a couch.
Below are three examples of futons with their folded and unfolded dimensions: 
Different Sizes of Futon Mattresses
Futon mattresses are available in twin, full, and queen sizes. King size futon mattresses are also available, but they're not very common. Futon mattress sizes correspond to the futon frame's dimensions. For example, the width of bi-fold futon frames corresponds to the length of the futon mattress, but the width of tri-fold futon frames corresponds to the width of the futon mattress. But what are the different sizes of futon mattresses?
The different sizes of futon mattresses are as follows: Twin futon mattresses are 39" x 75", full futon mattresses are 75" x 54", and queen futon mattresses are 80" x 60".
Traditional Japanese futon mattresses are very thin, so they can be folded and stored easily. However, western-style futon mattresses are a bit thicker than Japanese futon mattresses because they rest on a frame rather than on the floor. 
Futon mattresses became popular for their flexibility. Their limited height (about 6 to 8 inches) makes them easy to fold or roll up and put in storage. Conversely, standard mattresses are bulkier and require much more effort to move. Futon sizes are similar to the sizes of conventional mattresses in terms of length and width, but they are less supportive than traditional mattresses. For more information about the support provided by futon mattresses, see this study.
Below are some examples of different futon mattress sizes: 
Related articles:
 - How do you fluff a futon mattress properly?
Do Futons Need Sheets?
Yes, futons need sheets. Just like conventional mattresses, futon mattresses need covers or sheets to stay clean and to help them last longer. Futon sheets come in a variety of sizes, so you will be able to find the right sheets for your futon, no matter what size your futon mattress is.
Futon covers are also available in various fabrics and colors to match your preferred style. Some covers come with a zipper so you can easily remove the cover and wash it. These covers help keep your mattress clean from dust, stains, spills and dirt. They also protect your mattress from wear and tear, increasing its lifespan. For more information on how futon covers protect futons from dust and other allergens, see this study from the National Sagamihara Hospital Research Center for Rheumato-Allergology.
Which Sheet Sizes Fit Futons?
When selecting sheets for your futon mattress, the first thing you will need to do is consider the length and width of your mattress. For example, if your twin size futon measures 39" x 75", then the sheets should match these two dimensions. But which sheet sizes fit futons?
The sheet sizes that fit futons include 43" x 72" sheets for twin futon mattresses, 85" x 57" sheets for full futon mattresses, and 83" x 63" sheets for queen size futon mattresses.
Another thing you need to consider when choosing sheets for your futon is the thickness of the mattress. The mattress' thickness is called "loft" and can affect the way your sheets fit if not taken into account. You will need to add about two or three inches to your futon's loft measurement so that your sheets will be able to stretch inwards on the edges of the mattress. Sheets with elastic bands at the corners are a bonus because the elastic edges keep the sheets tight at the corners even when you toss and turn while sleeping. Keep in mind that your sheets need to be a few inches bigger than the actual size of the mattress.
For some examples of futon sheet sizes, see the table below:
Disclosures
This website is a participant in the Amazon Services LLC Associates Program, an affiliate advertising program designed to provide a means for us to earn fees by linking to Amazon.com and affiliated sites.