If you are shopping for the best mattress online, you might be overwhelmed with all options. But we are here to sort things out for you. We have short-listed the top-rated mattresses to accommodate people with different sleeping patterns and factors affecting sleep quality. These factors include material, pressure relief, temperature control, edge support, firmness, and motion isolation.
We have researched and tested hundreds of brands to develop our list of top 10 mattresses for the year. 
So, keep reading till the end to find the best option that meets all your needs!
What's the Best-Selling Mattress on the Market?
Top 10 best mattresses for the year
Emma original
- #1 selling in all Europe
- Perfectly balanced for all body types
- Medium-firm range

Suitable for stomach, side & back sleepers
The Original Emma Sleep Mattress is one of the top-rated mattresses for combo sleepers. It features German-engineered technology suitable for back, stomach, and side sleepers. 
It comes with a plush UltraDry cover that is highly breathable and moisture-wicking. This cover feels extremely nice to touch, and it will make you feel as if you are sleeping on a cloud. 
This mattress is rated five on the firmness scale. It is a top choice for all sleepers, rated five on the firmness scale. It is equipped with a 3-Zone technology that ensures full-body support, including your knees, hips, and shoulders. 
It has a 10-year guarantee and ensures high-quality materials. You will always have the peace of mind that your bed is covered for any defects. 
These mattresses by Emma Sleep come fully compatible with all adjustable bases. However, you can purchase Ergomotion Power Base by Emma.
It features 10-inch memory foam boasting Emma's signature AirGoCell comfort layer that keeps it highly breathable throughout the night. In addition, its transition layer features the 3-Zone HALO memory foam for targeted pressure relief, encouraging better signal alignment.
And right at the base is that durable HRX Supreme with more than 100 support points. It can distribute your weight and reduce pressure on your body. With the base layer, this mattress can maintain proper edge support. Therefore, it will hold itself pretty well and not sag over the years. 
If you are looking for more support, you can purchase Emma Foam Pillow for your Queen Size Emma Original Mattress. 
In a nutshell Emma Sleep Original Mattress is a top choice for all types of sleepers. This mattress will work wonders for you no matter what sleep position you prefer. It is available in different sizes and provides excellent support and comfort while providing pressure relief.
Puffy Luxury mattress

- Hotel comfort
- Hybrid quality
- Good with all bed frames
A great choice for pressure relief
If pressure relief is your highest priority, you should consider going for the Lux Hybrid Mattress by Puffy. It comes with a 101-night sleep trial and a lifetime guarantee. 
You don't have to worry if you want to buy this with all the additional accessories. Your purchase will include pillows, protectors, and sheet sets. 
This mattress is available in different sizes. These include Twin, Twin XL, Full, Queen, King, and Cal King. So, you can purchase the right size based on your needs. You can use them in your home, truck, RV bed, and camping. 
The best thing is it works with every bed frame. These include slats, flat frames, and box springs. You also can go for the Puffy Adjustable Base or Puffy Bed Frame. 
The adjustable base by Puffy is available in split king, queen, full, and twin XL. Puffy bed frames are available in different sizes, including full, queen, king, and cal king. 
In comparison, Emma Powerbase is only available in queen, twin XL, and full. So there are more options available with a Puffy bed frame and adjustable base. 
Puffy is an excellent option if you are looking for a mattress that doesn't make much noise. Therefore, if you have a company with you in your bed and your sleep partner tends to move a lot in the sleep, this is the best option for you to consider. 
Looking to buy high-quality bedding options with your Puffy mattress? It comes with an ultra-cozy Puffy pillow for your hypoallergenic option for a comfortable sleep. 
If you are looking for more temperature control, consider buying a Puffy Mattress Pad. It is cool to touch and has durable stretch pockets featuring a jacquard knitted design. This feature can ensure that you don't sleep too hot or too cold. 
In a nutshell Puffy is a great option if you are looking for a mattress that provides excellent pressure relief. Therefore, it is a top choice for people who prefer to sleep on their side. This mattress comes in different sizes, and you can either buy a hybrid mattress or an all-memory foam option.
Plushbeds Luxury Bliss hybrid latex mattress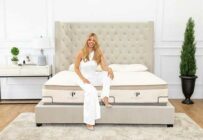 - 365 nights trial
- Organic
- Perfect for sensitive backs
An organic mattress for hypoallergenic sleepers
This is the best option to consider if you want to buy a mattress that is not made of any synthetic materials. Instead, it is made of natural and organic materials.
This mattress is available in different sizes. These include Split King, Cal king, king, queen, full, twin XL, and twin. You also can choose between two different firmness levels; medium and medium-firm. 
It is GOTS certified for the organic cotton that Plushbeds has used in its constructions. It is GOTS certified for its organic wool and 100 percent natural latex. 
The mattress features a quality cotton cover that is highly breathable. So if you are looking for a softer top surface, there is no better option than this mattress. 
Furthermore, it is GreenGuard Gold certified, eco-INSTITUT certified, Control Union certified, and Forest Stewardship Council certified. There are not many mattresses available on the market that can match the purity certifications of PlushBeds Luxury Bliss Mattress. 
It has won various awards and accolades from different bodies. One of the top reasons is its high-quality coils. It features premium quality encased coils that ensure exceptional comfort and deliver excellent pressure relief. 
You can buy it with Plushbeds down-filled blanket and anchor weighted blanket. Handmade natural wool comforters and down-alternatives are also available.
And if you have kids in your home, you can go for mattress protector by PlushBeds. They can keep your mattress safe from any spills, etc. You don't have to go anywhere else to buy your sheets and linens, and PlushBeds has covered you. 
In a nutshell Overall, this mattress is a good option if you want to buy a mattress that doesn't have any off-gassing issues. It doesn't have any synthetic materials in its construction, and you can purchase various bedding options with it.
Diamond mattress intention hybrid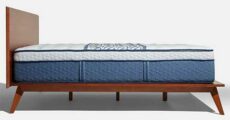 - Hotel quality
- Ultra comfortable
- Pressure relief (good for the back)
A great option for combo sleepers
This mattress comes in three different firmness options, making it a better choice than all the three products reviewed above. 
Like the previous three, this one is available in different sizes, including twin, twin XL, full, queen, king, and cal king. It has a 20-year warranty and has different layers to ensure comfort. 
It features a CoolTouch mattress top with a luxury quilt and temperature regulating fabric. It can actively control the core temperature with its memory foam layer and the CertiPUR-certified comfort layer. 
The zoned base layer ensures plenty of alignment and pressure-receiving support with your hips, back, and shoulders. 
This is a superior option to most out there on the market regarding motion transfer. Therefore, if you sleep with your partner who moves a lot at night, this is the best option to choose. 
It is all due to the individual coil system in this mattress that prevents any motion transfer between sleep partners while still ensuring personalized support. 
You can buy a separate adjustable base for your Diamond mattress. However, these mattresses don't tend to fit with just any mattress base that you have, as is the case with the previous three products that we reviewed. Only Diamond mattresses work with these mattress bases by Diamond. 
It comes with a massive price tag, especially if you compare it with Nectar Sleep and Sweetight mattresses. 
In a nutshell This mattress is a top choice if you are looking for a premium quality mattress. It is certainly a precious experience, but it will last for a long time. You can choose different firmness levels for your mattress. This option is pretty rare, and it justifies the high price.
Ghostbed luxe mattress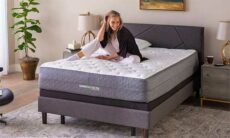 - Made in USA
- The Coolest Bed in the World
- 7 Layers of Comfort
Sweat-free sleep with breathability & temperature regulation
GhostBed is one of the best mattress brands on the market today, and their Luxe mattress is for the hot days of the year. It comes with high breathability and temperature regulation features. It has earned its right to be called the "Coolest Bed in the Word" with these features. 
If you look at its price, you will see that it is pretty close to the likes of Diamond Mattress, but it is way more experience than Nectar and NightSweet. 
This is a mattress ideally suitable for those who tend to sleep hot for various reasons. It offers excellent breathability with its moisture-wicking top layers and temperature-regulating cotton layers. 
But breathability and temperature control are not the only two features this mattress comes with. One of its layers has gel memory foam, and it will help you relieve pressure points and take care of your back pain. 
Furthermore, this base layer provides the best support, longevity, and durability. If you are looking for some additional support for your back pain, you can add GhostPillows. 
Plus, you can include a GhostProtector if you have kids in your home. This way, you will be able to keep your mattress clean from any stains, etc. 
It comes with a 101-night sleep trial, and it is backed up with a 25-year warranty. It features a firmness level of up to 5.5, so it is a good option for most sleepers. 
This mattress is a top choice for side and back sleepers. So it is not an ideal option for combo sleepers like Emma Sleep Original Mattress. It does offer excellent motion transfer resistivity but it is still not as exceptional as Diamond Mattress. But you can still say that it is better than most other mattresses out there with this feature. 
In a nutshell GhostBed Luxe is a good option if you are looking for another premium quality option. You might not get to choose the different firmness levels, but this mattress is the right option for you to go for during the spring and summer seasons as it sleeps pretty cool. 
Helix Midnight Luxe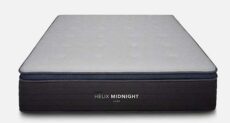 - Great for side sleepers (and others)
- Good option for heavy people and couples
- Hotel standard
An ideal mattress for side sleepers 
The company uses Zoning technology, which offers a softer feel to your shoulder, plus a firmer feel to your hip. A firmer and softer feel cradles your body and aligns your spine. 
There are moisture-wicking and breathable TENCEL or GlacioTex Cooling covers; choose which is best for you. Both are made with a great thermal conductivity with fibers for quick heat dissipation.
Helix Luxe is a premium quality mattress that is certified by CertPUR-US. It means there is no harmful chemical, and it delivers a new level of deep sleep. The support and feel options provide you with a comfortable sleep with upgraded features. 
This Helix sleep premium mattress is CertPUR-US certified and suitable for multiple bases such as adjustable base, sturdy frame, foundation, and white or natural wood frame. 
In addition to that, these bedding accessories include a wedge pillow, adjustable pillow, weighted blanket, plush toppers, sheets, or down and feather pillows. You will get a luxurious plush feel, relief pressure, and unique support, and enjoy a comfortable sleep in all positions.  
The Helix Luxe mattress should be your first preference if you are a side sleeper. It features luxurious memory foam that relieves pressure points on your shoulder and hips and gives you the most comfortable sleep. However, if you are a back sleeper, you can pick the Saatva HD. This is because Lumbar Zone technology provides excellent support to your lumbar region.  
The company uses the DuraDense foam on the bottom layer. This layer delivers base support, plus the durability of the mattress. The Helix Luxe mattress is available in six sizes, including twin, full, king, and more. 
In a nutshell This medium feel mattress aligns your spine and provides edge support and advanced lumbar support. The best feature is multiple custom options; for example, you can pick the base of your bed, pillow, sheet, protector, plush topper, etc. Thus, choose that suit according to your sleep.
Saatva HD mattress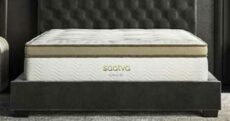 - Hotel mattress
- Lifetime warranty
- One of the best on the market
A high-density mattress for heavy sleepers
Saatva HD is among the best-selling mattresses on the market. It is engineered with a hybrid heavy-duty innerspring mattress that offers optimal support. It doesn't matter which sleeping position you have. It provides ideal support in every sleep position, such as a back sleeper.  
Additionally, the company uses Lumbar Zone technology that adds additional support to your lumbar region. The five zones of natural latex also delivers brilliant pressure-point relief. A combination of neutral latex, breathable organic cotton, and coils promote airflow easily for delivering sweat-free nights.  
These hybrid luxury innerspring mattresses are suitable for bigger bodies. It is available in multiple sizes: twin, twin xl, full, queen, king, split king, and cal king. If you do not prefer box springs or foundation bed frames, this is ideal for you.
However, for those, you can pick the Helix Luxe mattress. Saatva is suitable for multiple frames, including Halle, Siena, Sydney, Porto, Copenhagen, etc. 
You can give additional height to your mattress by adding multiple compatible bed frames such as Marseille, Marbella, Minori, and Amalfi. If you have back and joint pain, you can choose a split or Cal king-size mattress with an adjustable base. It helps to relieve your pains.
Furthermore, you can purchase latex pillows to enjoy airy comfort. This hypoallergenic pillow comes with organic 100% cotton, increasing breathability. The company uses 12.5-gauge steel coils that deliver durable support to your back.  
In a nutshell The Saatva HD mattress is made innerspring coil system that delivers excellent body

contouring support

compared to the Helix Luxe mattress. It enhances your lower

back support

and eliminates motion transfer. The natural latex makes it a super breathable and durable mattress.
Sweetnight Dreamy S1 Mattress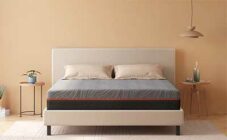 - Three Firmness Levels
- Affordable
- Perfect for every bed frames
A gel memory foam with targeted support
The SweetNight Dreamy S1 mattress is made with three innovative layers that deliver all medium to firm, firm, or soft preferences. It reduces heat and increases comfort by relaxing your posture and muscles. 
The ComfortCurve design delivers a soft feeling on the top side, a medium to firm support at the tail, and firm support at the bottom of the mattress. This design makes it ideal for those suffering from shoulder and back problems. 
The company uses a gel-infused layer of memory foam that gently cradles your body. This gel memory foam regulates your body temperature to deliver a comfortable and cool night's sleep. You can purchase mattress toppers and protectors.
You can use a cooling mattress topper to make your mattress waterproof and sleep cool, and organic bamboo fiber makes it ideal for sensitive skin. Apart from that, you can also add the original, bamboo, and combination pillows along with the mattress. 
The SweetNight Dreamy S1 mattress increases personalized comfort for all types of bodies. An ergonomic design of the bed frame is made with aluminum alloy, solid wood, woven fabric, motors, and electronics. There are three adjustment modes: TV, anti-snore, and zero gravity position. 
This bed frame is only compatible with the SweetNight Dreamy S1 mattress for full, twin XL, split Cal king, and queen-size mattresses. However, if you want an adjustable frame for queen size, you can choose the Emma Original mattress. 
Nevertheless, the SweetNight adjustable bed frame gives you additional features, including USB charging ports, LED lights, a side pocket, a sensor, and a retainer bar. Plus, your SweetNight smart bed frame comes with a free pillow.    
In a nutshell The Dreamy S1 provides cushioning comfort and targeted support that improves your sleep quality, relieves shoulder and back pain, and keeps your spine lifted. Additionally, it absorbs the noise of your partner's toss or turn, isolates movement, and delivers undisturbed sleep throughout the night.
Nectar Memory Mattress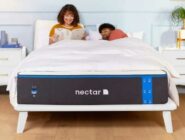 - Premium
- Great price range
- Ideal for couples
A suitable choice for bed frame inclusivity
Nectar sleep is one of the top-rated mattresses on the market. It is made with premium quality memory foam with an ideal ratio of firmness, softness, and support to all
It helps to relieve pressure from your joints, legs, hips, and shoulders and supports your spinal alignment. The best advantage of using the Nectar memory foam mattress is that they have bed frames inclusively.      
This is fully compatible with the platform, adjustable bases, traditional frames, divan bases, and box spring. They are available in all sizes, such as full, Cal king, twin, and more. 
You can purchase additional bedding accessories for a comfier feel and a good night's sleep. The Nectar offers a sheet set, mattress protector, duvet, serenity weighted blanket, residential serenity sleep, and quilt.
The Nectar duet bedding accessory is ideal during all seasons. It keeps you cooler in the summer and cozy in the season of winter. This duet regulates body temperature and keeps you cozy and cool. 
On the other hand, the Nectar offers three pillows, including premium copper, graphite, and resident pillows. The copper pillow has dual cooling technology with real copper fibers to provide brilliant support while sleeping. These pillows are available in two standard and king sizes. 
It is made with premium layers with high-quality materials. The top cover is more breathable and comes with heat-wicking features. Additionally, the company uses high-density memory gel foam that relieves pressure from all joints and cuddles your body. 
Both SweetNight and Nectar mattresses use memory foams. But Nectar is a more expensive option as compared to the SweetNight mattress. However, the Nectar mattress gives you a huge accessory option to the SweetNight mattress. 
In a nutshell The Nectar sleep mattress has five layers, making it the best value mattress. It comes with a medium to firm support and delivers the best sleep. An adaptive layer of memory foam relieves pressure points under your legs, hips, and shoulder.
The luuf bed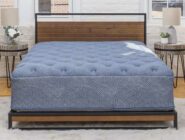 - Hybrid cooling mattress
- Perfect for heavy people and couples
- Max back support
A mattress for hybrid surface lovers
The Best Hybrid Mattress by LuufBeds is undoubtedly worth a shot if you look for a quality hybrid mattress with a pretty decent price tag. LuufBeds Hybrid is certainly a cheaper option compared with GhostBed Luxe or Diamond Intense Hybrid Mattress. 
So, in terms of price, this one has taken the lead. But here's a thing, this one certainly takes the lead over the other two because of the different firmness levels. 
This is why we have stated it to be the best hybrid mattress available. And if you want some additional support, you can add Luuf Cooling Pillow for Queen and King Size Luuf Hybrid mattresses. 
If you want to make your new Luuf Hybrid Mattress a tad bit classier, you can purchase Luuf's Tencel Sheets and make your space even more elegant with these beautiful designs. 
When comparing the warranty and trial of this mattress, you will see that Luuf is offering the same 10-year warranty and 100-night trial as most other brands on the market. The price makes these brands stand out from the rest, the quality of their products, and different firmness options. 
And the best part is that all the mattresses by Luuf are base-friendly. You can purchase Luuf's own platform bed or adjustable base and go for the one you already own. 
It doesn't come with any fancy features like the one by SweetNight, but it gets the job done by offering proper support. 
In a nutshell Loof Hybrid offers great value for money. You can choose from four

different firmness levels

according to your preferences. 

These mattresses come at a good price. And of course, they are made of quality materials, so they perform for a long time.
How Have We Evaluated These Mattresses?
We have scoured hundreds of mattresses from different brands based on various performance metrics affecting the sleep experience. 
These factors include temperature control, pressure relief, edge support, ease of movement, durability, etc. we have picked the best option based on these evaluations and categorized them accordingly. 
We have gone through many different online reviews from real-time users and have discussed these features with our industry peers. Our reviews are the most comprehensive and detailed in every aspect. You can fully rely on them to make your final buying decision. 
When to consider Motion isolation in a mattress?
This feature refers to the ability of a mattress to absorb movement and how it prevents the move across to the other side. Mattresses that come with thicker comfort layers can offer better motion isolation. Therefore, it is a better option for those frequently disturbed by any movement of their sleep partners. 
With better ease of motion, mattresses can have more responsive surfaces. Sleepers can easily move on them and take sides without any restriction. 
This feature is ideal for combination sleepers because they don't particularly sleep in a single position throughout the night, so they need less restriction in motion during their sleep. 
How does Pressure relief work in a mattress?
A mattress with these features can contour well according to the shape of your body. It does reduce pressure buildup on your joints and other areas of your body. They feature a thicker memory foam layer of comfort layer on top that can slowly adapt according to the curves of your body. 
What is Off-gassing?
Mattresses made of synthetic materials are prone to various off-gassing odors. Emissions of volatile organic compounds cause these smells. This is because emissions of volatile organic compounds cause these smells. These are relatively harmless to human health but are pretty annoying in general. 
Mattresses made of natural materials and have high breathability tend to result in less off-gassing. As a result, their smell can go away after a short while. 
What is the Suitable Firmness level for you?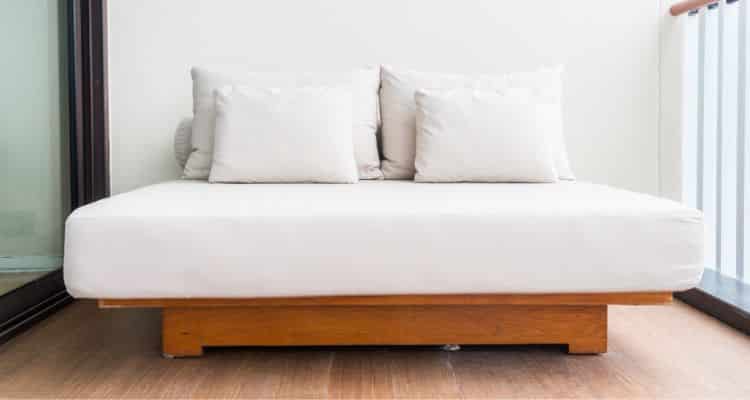 Another critical factor to consider is your body weight and the associated firmness level of the mattress. Apart from that, the sleeping position that you prefer matters. 
For instance, people weighing more than 250 lbs should go for a high firmness level. Moreover, firm mattresses are suitable for front or back sleepers as they offer less support.
On the other hand, people who weigh under 150 lbs should go for mattresses with a low firmness level. Such a mattress is ideal for side sleepers as they are more responsive and offer more support to the pressure points. 
Which Sleeping Mattress is the Best?
Emma Sleep Original Mattress is the best option overall. The German-engineered masterpiece is an ideal choice for back and stomach sleepers. It features a machine-washable plush cover that is highly breathable and wicks moisture. 
This mattress comes with medium-level firmness and has triple zoned sleep technology to tackle those pressure points and offer full-body support. This mattress comes with a 10-year guarantee and a 100-night sleep trial to provide you with peace of mind. 
How Often Should the Mattress be Replaced?
According to the Better Sleep Council, it is highly recommended that you replace your mattress every 7 to 10 years based on the support and comfort it offers. 
The life of a mattress depends upon how well you take care of it and how you sleep on it. Moreover, you have to rotate it regularly to use all sides equally. 
But your best option is to replace it according to the instructions provided by the manufacturer. Under normal circumstances, you should look to replace your mattress every 6 to 8 years. But it is more of a general guideline and not a one-size-fits-all answer to the question.
Here are some sure-shot signs that your mattress needs replacement right away, 
Starts to sag on one side or both.

It starts to make a lot of noise.

It starts smelling pretty bad.

Your mattress begins to aggravate your allergies.

You tend to wake up in pain more often than not. 

Cannot get a comfortable night's sleep.

A different mattress tends to work better for you. 

Your sleep situation might have changed due to pregnancy, body weight change, health issues, 
How Long Do Mattresses Usually Last?
It entirely depends upon how well you take care of your mattress and how often you change its sides or rotate it. When you do it regularly, you will notice it will be able to last longer. 
But in usual cases, if you can take care of it properly and rotate it regularly, it should last anywhere between 7 to 10 years. Your body weight contributes significantly in this regard. You put your mattress under more pressure with a higher body weight, and it won't last long. 
With lower body weight, the overall construction of the mattress will be able to hold itself for a longer period, and it will increase its longevity. Some mattresses can even last for up to 20 years. But this would only be the case if it hasn't gone through a lot of wear and tear over the years. 
Memory foams and latex mattresses generally tend to last up to 15 years. This is much higher than your average innerspring. So, there are various contributing factors at play when determining how long mattresses usually last. 
Even different mattress materials tend to last differently. For instance, latex mattresses tend to last the longest, which is over 12 years. On the other hand, memory foam and hybrid mattresses tend to last around ten years, while innerspring and pillowtop mattresses tend to last around 7 to 8 years which is the least in terms of longevity in comparison to other materials. 
But these numbers can only help contextualize the lifespan of a mattress. The best way to determine whether you need to replace your mattress is to listen to your own body. 
If you wake up with a new pain each morning and notice new dips in your mattress as soon as you get up from it and rotate your mattress regularly, it's time to replace it. 
What's Your Sleep Position?
You have to consider your sleep position and choose one accordingly. Most people prefer to sleep in different positions throughout the night. But they prefer certain sleeping positions over others. 
Some people like to start sleeping on their side and then go over their bellies. Some prefer to sleep mostly on their stomach and then switch to your side. While others prefer to sleep on their sides and still others prefer to sleep on their stock or backs throughout the night. 
You must check out your sleeping patterns if you can and determine which sleeping position you tend to spend the most time in. if you can determine that, you will be able to pick the right type according to your sleep preference. 
Most likely, you will find out you are either a back sleeper, a stomach sleeper, a side sleeper, or a combo of these three. 
Back sleepers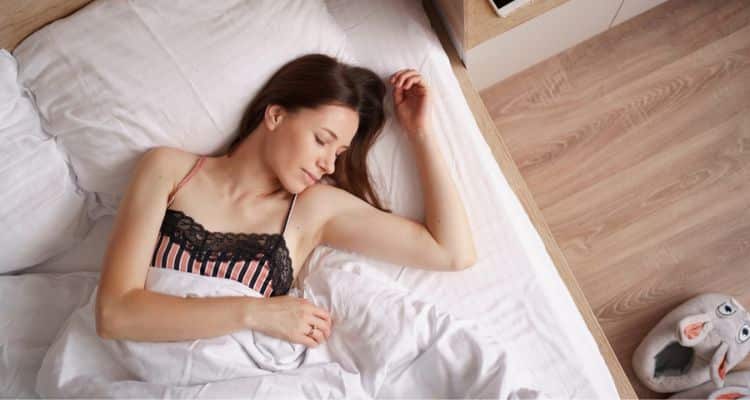 Back sleepers have to be very careful when picking the right type of mattress. If the mattress is too soft, your hips will go out of alignment compared to your shoulders, and you will have a bowed back, which will result in backaches. 
If the mattress is too firm, your back will be too stressed, resulting in back pain. Therefore, you will need to go for medium-firm mattresses. For instance, Saatva is a top choice for back sleeps because it provides you with that classic innerspring feel. It won't let you feel stuck on the surface while giving you enough support. 
Side sleepers
These dreamers need more pressure relief at their hips and shoulders. For example, Helix Luxe is a good option for side sleepers because it has a medium firmness level and handles those pressure points pretty well. 
Your body doesn't sink too much into the mattress to make you feel stuck. But it does provide you with enough support to make sure you don't have to deal with any pains while sleeping on a wooden-plank-like surface. 
Stomach sleepers 
These dreamers are the opposite of back sleepers, and they will need a super firm mattress that can lift their hips and align them with their shoulders. 
You don't need a soft mattress because it will make your hips go out of alignment with your shoulders and cause back pain. A hybrid mattress like the LuufBeds or Puffy Luxe or Diamond Intentions Hybrid is the best option, with a high level of over 7.5.
Combo sleepers
These sleepers love to sleep in different sleeping positions throughout the night. The ideal option is a medium-firm mattress like Emma Sleep Original. 
You can go with the Saatva medium-firm mattress option. Such a mattress provides enough support and keeps you comfortable while keeping your spine properly in its natural and aligned position.
Which Mattress is Best for Back Pain?
Back pain is a tricky condition for sleepers. You will have to go for a firm surface to keep your spine properly aligned in its natural position, and you will have to look for support and comfort to tackle those pressure points. 
Again, Emma Sleep Original Mattress Is a good option if you are looking to deal with that back pain because it comes with medium firmness. Furthermore, it provides enough support to relieve pressure and keep your hips and shoulders at ease whether you want to sleep on your side or back. 
Who should use a Hybrid Mattress?
A hybrid mattress combines the positives of those conventional spring coils and the various foam layers. It means that these are suitable for different body types, and they can handle a range of different sleeping positions. 
However, hybrid mattresses are not the most suitable option to go for. But even if you are new to mattress shopping and are not aware of your sleep preferences, you should go for this mattress to determine your exact sleep requirements. 
These mattresses offer the best of both worlds as you can enjoy the support and comfort of a pocket coil or latex and excellent pressure relief with memory foam. But you have to keep in mind not to go for low-quality hybrid mattresses. 
These options can be off-gas, and they are prone to sagging. You might have to spend a bit more for these hybrid mattresses, but they sure do offer good value for money over the years.
Our Recommendation
It is important to find a mattress that is ideally suitable to your preferred sleeping positions and body weight. There are many top brands you can go for, including Emma Sleep, GhostBed, Nectar Sleep, Saatva, and others. 
These beds are available at different firmness levels and come with various upgrade features, making them suitable for different types of sleepers with varying sleep requirements.
Best mattress FAQs
What brand of mattress is considered the best?
There are different brands suitable for different types of mattresses. For example, Emma Sleep is a good option for combo sleepers, while Puffy is good for mattresses with excellent pressure relief.
If you are looking for organic and hypoallergenic mattresses, consider going for PlushBeds. Diamond Mattress is the best for zero motion tolerance, and for temperature regulation and breathability, GhostBed is an excellent choice. So different brands have different features. It is for you to decide which option is best for you.
Which mattress is best for home use?
Most of the options listed above, including Emma Sleep, Puffy, Diamond, PlushBeds, and others, have suitable home use options. You can easily find other mattresses suitable for traveling, camping, RV, truck, etc.
How often should a mattress be replaced?
It all depends upon how you use your mattress, how frequently you have rotated it, and your overall body weight. They tend to last anywhere from 6 to 8 years. But if you take care of them, these mattresses can last anywhere from 7 to 10 years.
Is it better to sleep on a hard or soft mattress?
It all depends upon what sleeping position you prefer to sleep in and your body weight. People weighing over 230 lbs should go for a high firmness level, while those under 130 lbs should go for a low level.