It is seen that most couples suffer from disturbed sleep if any of the partners move during sleep. Therefore, choosing the right mattress that offers high-quality luxury sleep is one of the most critical tasks. As a couple, you must choose a comfortable, supportive mattress to sleep on (check 10 mattresses with great comfort). The best mattress for couples usually comes with motion isolation technology, reducing any disturbance during sleep and preventing any noise.
To help you get started, we have listed some of the best mattresses that are great for couples (also check 10 amazing mattresses).
What Are the Best Brands Offering Perfect Mattresses to Couples?
Find Out an Ideal Mattress for Couples with different preferences
Molecule Hybrid mattress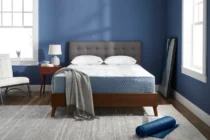 - Cooling support
- Extra plush quilted top
- Designed to maximize comfort
A supportive premium mattress with exclusive sleep quality
The molecule hybrid mattress is a perfect mattress for couples. What you love about this mattress is that it comes with free pillows, making it a perfect value for users. It is a cool and supportive premium mattress with exclusive sleep quality. It perfectly blends the molecule edge support system with Airtec foam.
The best feature of the molecule hybrid mattress is that it maximizes your support and comfort with the adaptive response through the coils and cooling comfort. It comes with the target 5 zoned support layer, which relieves your pressure points.
The mattress also comes with an advanced cover infused with technology that helps prevent the growth of bacteria and others. It makes sure to offer enough airflow with enhanced durability to the user. Its hyper-targeted and self-adjusting support releases pressure points all over the body. It has a customized coil system to relieve pressure and offer the ultimate comfort. 
The mattress comes with a 365-night risk-free trial with free shipping and is also Certi-PUR US certified. This mattress comes with engineered technology that optimizes your recovery and sleep. The microclimate regulating cover keeps you cool throughout the night. 
In a nutshell Overall, it is made using eco-friendly materials. The patented technology in this mattress is known as pressure foam, which reduces allergens, allowing you to sleep healthy and safe.
Emma Hybrid comfort

- Built to last (USA)
- Great on a budget
- Good for heavy people and couples
A mattress engineered for all sleep types and positions
Next on our list is the Emma Sleep comfort adapted hybrid mattress for couples. This mattress is one of the best because it is engineered for all sleeping types and positions. This hybrid mattress is cushioned over the top layers because it works well with the body.
It features five-zone support that enhances the support for the entire body. This mattress has particle cooling technology regulates heat and targets the entire body. It also features motion isolation technology that prevents your partner from any sleep disturbance while tossing and turning.
This mattress is reinforced to offer support to the users. It is available in sizes ranging from twin and twin XL to the full queen, king, and calking. All the mattresses by Emma sleep are certified, which means they lack any volatile organic compounds or chemicals that are not safe for the human body.
This mattress is designed in such a way that it relieves pains and aches (also check 10 amazing mattresses for scoliosis). It has suitable materials that fit well with the body profile, relieving pressure points. It keeps you cold all night with the particle cool technology dissipating all heat, allowing you to sleep well at night.
Revitalize your energy levels with the mattress that keeps you fresh and cool compared to the traditional foams. Enjoy an undisturbed sleep with the right amount of bounce and control without shaking the entire bed. With this mattress, you get a 365-night free trial with free delivery and a money-back guarantee.
This Emma mattress is special due to the advanced foam technology and firmness fitting well to the entire body!
In a nutshell The Emma sleep mattress is designed to last for more than 10 years because of the high-quality products used in manufacturing this mattress.
Plushbeds Luxury Bliss hybrid latex mattress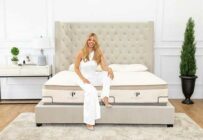 - 365 nights trial
- Organic
- Perfect for sensitive backs
Organic mattress for sensitive sleepers
The plush beds luxury bliss organic hybrid latex mattress is available in a 12-inch luxury mattress size and features a three-inch thick layer on top of 100% natural latex. It comes with the fabric in the supportive core layer featuring the GOTS cotton organic cover. This mattress is Greenguard gold certified and offers exceptional, luxurious sleep for you and your partner.
It comes with the ultimate support to the sleeper with an exceptional sleeping experience. Moreover, it comes with a hundred nights of free use, a 25-year warranty, and free shipping for users.
This organic latex mattress has the perfect support and comfort, restoring your healthy sleep. The certified organic cotton used to manufacture the mattress keeps you cool with enough airflow.
It is handcrafted in such a way that it offers exceptional support to the users. Plush bed's organically designed mattress with 100% natural latex and premium coils offers perfect support with minimal motion transfer, resulting in an incredible night's sleep.
Say goodbye to such mattresses that result in the emission of chemicals with this plush bed, a luxury organic hybrid mattress certified as organic. The medium comfort level of the mattress is perfect for most sleepers and side sleepers, while the medium-firm mattress is perfect for back and stomach sleepers (also check 10 best selling mattresses for stomach sleepers). 
You can easily pair this mattress with the plush bed toppers that make your mattress extra comfortable with the desired firmness level.
In a nutshell It is an award-winning, premium-comfortable mattress. It is known as the best organic mattress, the best mattress of the year, the best latex mattress, the best luxury mattress, and the best mattress of the year.
Layla Hybrid Mattress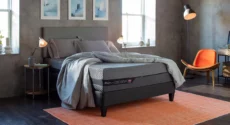 - Copper infused memory foam
- Excellent edge support
- Anti-microbial
It is the perfect choice for lightweight couples
The Layla hybrid mattress is also the best choice for couples. It is the perfect mix of coil springs and memory foam with an undeniable swagger. So, it comes with a 120-night trial with a 100% money-back guarantee.
Layla brand offers a 10-year warranty to the users with this mattress. This material is made using polyester, viscose rayon, and poly lycra. This mattress comes with copper gel-infused memory foam and polyfoam.
For support on this mattress, you can add a platform where the adjustable base keeps you comfortable throughout the night (also check 10 top-rated mattresses for adjustable bed). This memory foam mattress contains copper-infused gel and flippable formula.
It comes to the individual wrapped coil system, providing users with flawless support you have never experienced with any other mattress. Keep yourself cool and clean throughout the night because of its maximum support and firm design. 
This Layla hybrid mattress comes in maximum motion control. It is one of the best hybrid mattresses you can purchase with flippable forms, allowing you to choose a firm and soft mattress in a single mattress. This mattress will keep you comfortable and supported.
The hybrid mattress is a perfect choice that prevents you from sinking, keeping you safe throughout the night. The superior support of this mattress helps with your body control, allowing you to sleep in luxury.
The copper-infused technology in this mattress prevents bacterial invasion, allowing you to sleep fresh. The variable support enhances the support over the deep compression areas, offering you the ultimate comfort. 
In a nutshell Overall, it is a perfect hybrid mattress that works well for the stomach, side, and back sleepers.
Sweetnight Twilight Hybrid Mattress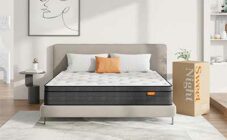 - Great option for back pain
- Affordable Hybrid
- Great Motion Isolation
Pillow-top memory foam with excellent motion isolation technology
The Sweet Night pillow-top memory foam with an innerspring mattress is also a stunning solution for couples. You can buy the pillow-top mattress with the down pillow.
This pillow-top memory foam has excellent motion isolation technology that keeps you and your partner asleep without any disturbance during tossing and turning. It comes with an Airtec layer which absorbs all the movement during sleep, offering you blissful rest.
This mattress comes with the ultimate support technology due to the innovative triple-layered foam with the pocketed coil that offers a comfortable sleeping experience.
The innovative system in this mattress releases the pressure points with the spine alignment, offering you a protective cushioning effect.
This mattress stacks up with a soft, cool cover. It also features a comfortable foam pillow top with gel memory foam. This mattress features air flow high-density foam with coils, offering you a medium-firm comfort level. 
This mattress is a perfect combination of heat dissipation with a cooling effect. A piece of good news for all individuals who suffer from back pain, this mattress is perfect for back pain (also check the top rated mattresses for back pain). It is an excellent choice for motion isolation and comes with the ultimate support.
Moreover, it is for all individuals who like a comfortable sleeping experience with the perfect blend of relaxation and support. It works well for all frame types, including box springs and traditional or platform frames.
In a nutshell Energize yourself with a breathable sleeping experience with this mattress's triple-layered foam technology.
Puffy Royal Mattress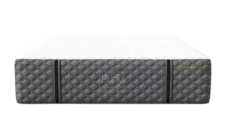 - Works With Any Bed Frame
- Reflexive Memory Foam
- Suitable for all sleep positions
A mattress with targeted body support zones
What you will love about this Puffy Royal mattress is that it comes with Zone Full Body Support, a 7-layer sleeping system, and advanced airflow. This mattress offers a 101-night sleep trial, lifetime warranty, and free shipping.
Experience the luxurious, supportive mattress with perfect sleep throughout the night. It is suitable for all sleeping positions, so you don't have to change your sleeping style with this mattress. Moreover, this mattress works well with all bed frames, whether you have adjustable frames, box springs, etc. 
This mattress has an innovative 7-layer sleeping system engineered to keep your body cool with complete control of your body temperature. It makes you feel like you are sleeping over the clouds.
The specialized foam in the mattress keeps the temperature regulated with advanced technology that creates airflow throughout the mattress. The firmness of this mattress gives you the ultimate support, and the ultra-plush keeps you soft throughout the night.
This hybrid mattress is formed using the cooling technology infused with the cooling gel, dissipating all the heat. Restore full-body support with the royal mattress that keeps you comfortable on pressure points like legs, shoulders, and head. 
In a nutshell Experience a cool sleeping experience without any sweating with this superior quality mattress that minimizes heat absorption. It is one of the best mattresses with cool technology supporting you throughout the night!
Leesa Original Hybrid Mattress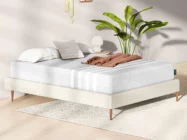 - Premium memory foam
- Airy & spacious feel
- Provides pressure relief
A great hybrid mattress option for couples
The Leesa Hybrid is a high-performance mattress that is reasonably priced for many mattress customers. The Leesa Original Hybrid stands around 11 inches tall and has five distinct layers. These foam layers have CertiPUR-US certification.
The cover has a polyester and viscose combination that is nice to the feel and breathable.
There is an inch of high-air-flow memory foam under the cover. This layer provides pressure alleviation as well as body shaping.
A contour layer is a 1.5-inch layer of excellent performance foam. The surface gives the mattress bounce, making it easier to move.
The next layer is the support layer, consisting of 8 inches of pocket springs. There are extra coils around the mattress's perimeter to increase its edge support. These coils spread around the bed to promote ventilation and contouring support.
Lastly, the foundation support foam layer is to maintain balance and alignment.
The Leesa Hybrid provides excellent support. Its long-lasting steel coils and high-density foams produce a comfortable mattress for all body types. Couples tend to sweat faster than singles; thus, the cooling qualities of a bed are always worth considering. The Leesa Original Hybrid performs well in terms of temperature regulation.
Peru Pima cooling sheets are the best for this purpose. The percale weave produces a matte finished cloth that feels pleasant to the touch. In addition, these long-lasting and airy sheets will become refined and softer with each wash.
In a nutshell The hybrid mattress by Leesa appears to be a long-lasting mattress based on its materials and construction. Coils provide longevity to a bed than an all-Leesa mattress.
GhostBed Flex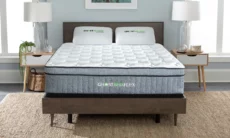 - Luxury hybrid mattress
- Cooling air-flow technology
- Reinforced edge support
Suitable for pressure relief.
GhostBed Flex is a hybrid mattress with fiber covering, memory foam, and polyfoam. The bed features a 13-inch thickness and a medium firmness.
The bed's bottom layer consists of 1″ of high-density support foam. This layer acts as a base for higher-up coils. Next, 8.5″ individually wrapped coils offer the bed a firm framework. Finally,
A 1′′ layer of flexible transition foam is present on the coils. As the name suggests, this layer's only purpose is to act as a transition to the sturdy steel coils below. Then there is a layer of 1″ thicknesses of gel memory foam to give pressure relief and comfort.
The GhostBed Flex has a porous core, which helps regulate temperature. The GhostBed Flex's temperature-regulating features start with the cover, filled with cooling fiber and cool-to-the-touch.
Both layers of gel-infused memory foam in the comfort system help draw away the heat from the sleeper. Heat dissipates further by ventilation through the coil core.
Hips and shoulders are easily cradled by a soft, pressure-relieving mattress when sleeping on the side.
The GhostBed Ghost Pillow is made of memory foam and features a phase change material layer for a relaxed feel. The foam offers a pleasant feeling and a delayed response, making it ideal for pressure relief.
In a nutshell You'll get a good motion transfer due to the use of memory foam, making it a great choice to sleep without any disturbance. The Flex is an excellent choice if you want a thick, resilient bed that can last much longer.
Diamond mattress intention hybrid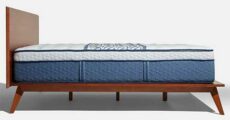 - Hotel quality
- Ultra comfortable
- Pressure relief (good for the back)
A mattress with temperature-regulating fabric for hot sleepers
Intention Hybrid is a reliable hybrid mattress that combines memory foam and innerspring coils. The mattress cover contains CoolTouch, a temperature-regulating fabric that wicks away body heat. It's also padded with foam, which delivers instant relaxation and relief. In addition, you will touch down on some graphite-infused poly foam beneath the cover.
Graphite infusion helps absorb and release body heat. Additionally, this layer is convoluted, which promotes airflow and helps with cooling. You'll then come to a transition layer of poly foam. The primary purpose of this part is to help sleepers transition into the harder pocketed coil section below.
Finally, there's the pocket coil system. This part is sturdy, bouncy, and supports most of the bed's design. Diamond personalized its hybrid by adding stiffer coils in the midsection to keep the hips. It gives the structure extra lift, which could significantly help combo sleepers.
This mattress will go best with a durable bed foundation. The Manhattan Queen platform bed frame is one of the most well-known bed frames with cutting-edge technologies. This queen-sized bed frame can take all the severe bedroom activities.
It's straightforward to assemble and causes no complications. Moreover, it's the kind of bed frame every hefty couple would want, as it can lengthen the life of your mattress.
The Intention Hybrid offers moderate pressure relief, enough for many sleepers to feel cushioned and aligned.
In a nutshell The soft version offers the most motion isolation among the three firmness options. Diamond Intention Hybrid models give enough motion isolation for most couples. However, occasional disturbances may result if one or more sleeping mates are easily startled.
Helix Midnight Luxe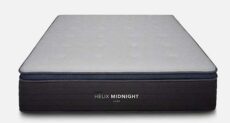 - Great for side sleepers (and others)
- Good option for heavy people and couples
- Hotel standard
A great mattress for side sleepers.
Midnight Luxe by Helix is one of the best hybrid mattresses. With cooling technology, supportive coils, and foam, this bed is excellent for side sleepers, back pain sufferers, and heat sleepers.
In addition, this hybrid bed stands out from the crowd because of its zoned lumbar support and excellent pressure point relief.
The Helix Midnight's soft cover, comfort foams, and encased coil support layer are all high-quality. It stands 12″ tall and is available in all regular mattress sizes.
A premium cooling cover absorbs excess heat and helps regulate body temperature. Even months after packaging, the Helix Midnight Luxe always feels chilly to the touch.
A 2″ layer of Helix's patented Memory Foam with a mild firmness lies beneath the cover. This foam is made to ease pressure on joints like the shoulders and hips.
Then there is a transition layer made of polyfoam. This 1″ layer offers cushion and support. It also keeps you from colliding with the coils below. This mattress' individually wrapped coils give exceptional edge support.
Then there is DuraDense" Foam layer. The mattress's 1″ foam foundation layer provides strength and durability throughout the bed.
Helix midnight luxe has an excellent sex surface. This mattress features some springiness and bouncing due to its coil cores, which many couples love for sex.
If you sleep hot, you can get an additional cooling cover for your mattress. The Brooklyn Bedding Cooling Mattress Cover is an absorbent material and feels cool to the touch.The mattress protector enhances breathability and removes body heat.
In a nutshell The mattress's materials are CertiPUR-US certified. It means the foam is created without ozone-depleting ingredients and passes emissions regulations. This mattress is quite durable. This

mattress is an ideal option for side sleepers

and worth the money.
What's Motion Isolation in The Mattress?
Motion isolation is the transmission of motion from one part of the mattress to another. A mattress with a higher level of motion transfer can effectively shift movement from one area to another.
Your partner sleeps undisturbed, thanks to the motion isolation technology. The low-motion transfer mattress isolates your movement without affecting a partner's sleep. Choose mattresses with motion isolation technology that prevents you from waking up during sleep. 
What Is the Best Kind of Mattress for Heavy Couples?
The best mattress for heavy people is a medium or firm mattress, which easily accommodates people weighing more than 250 pounds to sleep comfortably.
The mattresses make sure to offer support with proper alignment of the spine, preventing any sagging or sinking. As heavy people weigh more, they are at a high risk of sinking into the mattress, which is why it's better to opt for a firm mattress (also check 10 great mattresses for heavy people).
Is A Full Bed Good for Couples?
The full mattress is a perfect choice for couples and allows people to sleep comfortably. It all depends on the size of your mattress that fits well for individual needs. Some couples also opt for king or queen-sized mattresses.
Why Do Couples Need a King-Size Bed?
Couples might choose the king-size mattress because it stands tall, having 76 inches in width and 80 inches in length. It is an ideal choice for a couple because it allows you to snooze comfortably while stretching your arms and legs.
This is not an ultimate choice, but it is better to opt for a king-sized bed to give you enough sleep in space without affecting the sleep quality. However, couples do choose queen or full-size beds too.
Do Most Couples Sleep on A Queen or King Bed?
The most popular bed size amongst couples is the queen-sized bed, which has enough space for two sleepers. If you make small movements, then a queen size bed is perfect. If they like extra sleeping space, they should get a king-size bed.
Our Recommendation:
Hope this guide helps you choose the best mattress for couples. Plush Beds, Emmasleep, and Sweet Night, are the best at ensuring that you select the right mattress with innovative technology such as motion isolation, enhanced comfort, and support. So, without delaying any further.
Get your hands on the best mattress for couples that allows you to sleep comfortably without disturbing your partner during tossing and turning.