Headboard Height and Size Chart – How to Choose the Right Headboard
The word headboard is used to refer to the piece of furniture that is attached to the head side of the bed (the side where you keep your pillows). Why do you need a headboard? A headboard serves two purposes: it provides you something to lean against when you sit up in your bed, and also adds to the aesthetics of your bed and overall bedroom design.
Typically, the height of a twin headboard is 14 inches above the top of the mattress. The complete size dimensions of a twin size headboard are approximately 2 in. x 40.5 in. x 38 in. The height of a queen headboard is 28 in. above the mattress, and the dimensions of a queen headboard are 3.5 in. x 61.5 in. x 28 in. A typical king headboard extends 58 in. above the mattress, and its dimensions are 4.2 in. x 80.8 in. x 58 in. Please note, that these measurements are approximate and may vary from design to design.
Sometimes headboards have shelves and drawers in them, which not only gives you extra storage, but also allows you to keep your bed-time essentials close at hand. Some beds come as a single piece with the headboard as part of their structure while other beds such as some platform beds come without a headboard attached to them.
While headboards come standard on most bed frames, buying a bed and headboard separately can be a cheaper option and it also provides more room for creativity.
If you want to revamp the look of your bedroom every now and then, getting a separate bed platform and a headboard is a great option. Any time you feel like re-doing your room, you can simply switch the headboard instead of buying a whole new bed. 
When choosing the right headboard for your bed, it is important to know what the dimensions of a headboard mean and how they will affect the look of your bed and bedroom. It is important to note that the average height of a headboard varies with the size of the bed, ie. headboards of smaller beds are usually shorter than headboards of bigger beds.
Related articles:
How to Choose the Right Headboard Size - Headboard Size Chart?
To choose the right headboard size, you have to match it to the size of your bed. Thinking about the end-to-end width of the headboard, the typical option is to match the width of your headboard to the width of your mattress. It is important to note, however, that sometimes you CAN use a headboard with a longer or narrower width than your bed platform. If such is the case, make sure to center the bed precisely. This will bring symmetry to your room and make your headboard look stylish rather than odd.
As for the height of the headboard, the general rule is to make sure that the height of your headboard is smaller than the length of the bed. This doesn't mean that you have to roam about with a measuring tape; the sizes of headboards and bed platforms have been standardized and given names like queen size and king size. So if you want to make sure that your headboard fits your queen sized bed, all you have to do is look for a headboard that is built for a queen sized platform. Following are some headboards of different sizes along with their prices and links.
We also have a great guide on how to choose the right headboard design and material to match your headboard to your room and bed.
Headboard Mattress Gap Size
Sometimes there can be a gap between the mattress and the headboard. It is important to check the gap size between the mattress and the headboard, otherwise your pillows will fall down the gap and you'll have to wake up in the middle of the night to fish them out. However, make sure that the gap is less than 4 cm.
In some cases, mattress gap size can be more than just a nuance -- it can also be a hazard, especially if the bed is used by the children. This is so because young children can get their arms or necks stuck in the gap while they sleep.
The gap size is either caused by using a mattress that is too small for the bed platform size you are using or by having a headboard with a design that creates the gap. To avoid the gap, the best option is to use a bed platform and a mattress that are designed for each other. 
If, however, your mattress is slightly smaller than your particular bed frame, you can compensate for that by using a padded and upholstered headboard. Such headboards aid in filling up the gap. However, if the gap size is too large to be compensated by a padded headboard, you should consider buying gap fillers and use them to fill the gap and make your bed safe.
Size of Adjustable Headboards
Adjustable headboards come in handy if you're not sure what height of headboard will suit your bedroom. It's also useful to have an adjustable headboard in case you decide to replace your mattress with a thinner or thicker one. 
The typical height range can vary depending on the size of the bed for which the headboard is made. Please note that you can only adjust the height of the headboard and not its other dimensions. Following are a few examples of adjustable headboards that you can find online.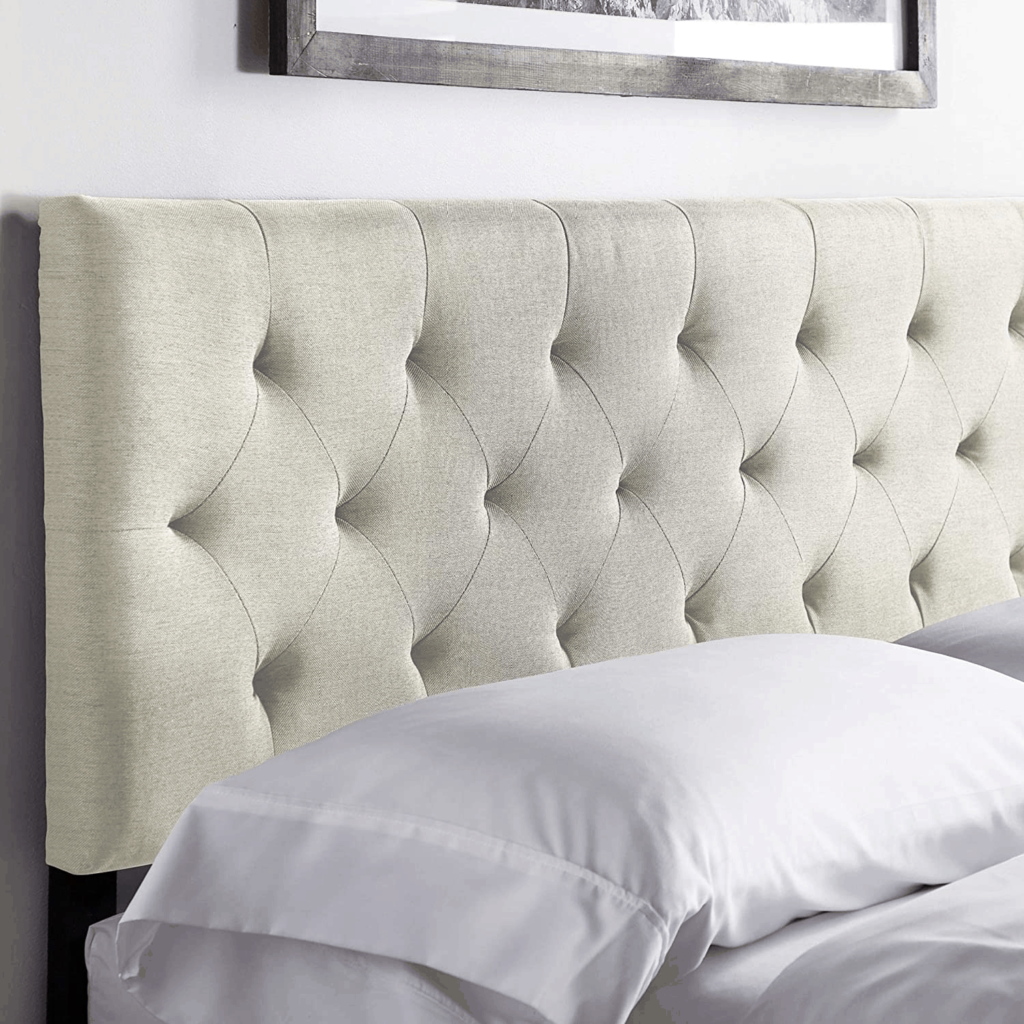 What Are Low Headboards and What Is the Size of a Low Headboard?
As the name implies, low headboards are headboards which are shorter in height than standard headboards. Some low headboards may also be adjustable. A low headboard for a twin size bed can have a height of up to 12 inches above the mattress. But this height can vary depending on the size of the bed. As a general rule, when your pillows are leaning against a low headboard, only a few inches of the headboard will appear above the pillows.
The advantage of using a low headboard is that it can make your room look more spacious and minimalistic as compared to using a tall headboard. Low headboards are also ideal if you want to hang a painting or some other wall décor above your bed. Low headboards look great in guest bed rooms.
Related articles:
Can a Full Size Headboard Fit a Queen Size Bed?
A queen size headboard is usually about 6 inches wider than a full size headboard. If you are upgrading to a queen size bed and your headboard is too precious for you to part with, you can use a full size headboard with a queen size bed.
This can easily be done by using adjustable brackets and securing the beloved full size headboard to your new queen sized bed frame. All you need for it will be some nuts and bolts, a wrench and some brackets specifically designed for this purpose. You can easily find such brackets from platforms here.
Note that since the width of the full size headboard will be shorter than queen size headboard so it may not be completely comfortable unless you and your partner lay closer to the center of the bed rather than the edges. 
Are All Headboards Adjustable?
Adjustable headboards are headboards which are designed in a way that their height can be easily adjusted whenever you want. Such headboards often come with metallic legs that can be adjusted up or down, adding or removing height to your headboard.
While adjustability is a very convenient feature, not all headboards come with this feature. The good news is that even without the adjustability feature you can make the headboard look taller or shorter by using a bit of creativity.
How to Make a Headboard Taller?
There are several ways in which you can make your headboard look taller. One simple way is to remove your mattress topper or get a thinner mattress.
However, if you like your mattress the way it is and don't want to change it, there are other ways in which you can make your headboard look taller. If you are using a headboard that touches the floor or whose height starts from the floor, all you need to do is to lift it up from the floor until it reaches the desired height and pin it to the wall behind it. 
You can do this by drilling some holes in the wall and installing some strong wall brackets to hold the headboard up. If the headboard is too heavy or you are raising it too high, make sure to also secure it firmly to the wall from the top side so that it doesn't fall and cause injury. 
If your bed is not against a wall or you just don't want to pin the headboard to the wall, you can also attach it to your bed frame using bed brackets.
How to Make a Headboard Shorter?
If your headboard looks too tall in comparison with the size of the bed and you want it to look shorter, one way to go about it is to use a thicker mattress or add a layer of mattress to your bed. The mattress will hide a part of the headboard, making it look shorter.
If your headboard is pinned to the wall instead of standing on the floor, you can shorten the height of your headboard with just a little effort. All you have to do is to unpin the headboard from the wall, bring it lower until the desired height is reached, and re-pin the headboard to the wall. Whatever option you choose should depend on where the headboard looks the best.
Another way to make your headboard look shorter is to raise the height of your platform bed by using platform-bed-risers.  Raising the height of the platform bed will automatically make the headboard look shorter.
How Do You Find Beds With Big Headboards?
There are several online platforms which sell headboards in a variety of sizes and styles. All the dimensions of the headboard are given along with a picture of the headboard so that customers have a clear idea about what they are buying.
If you are looking for a tall headboard, you can easily find it on platforms like Wayfair, Amazon and Houzz. All you need to do is to use the right keywords in your search. For a headboard with a tall height you can type in the search bar, "tall headboard beds", "extra tall headboard beds", "high headboard beds" and "extra-large headboard beds". 
If you are looking for a headboard that is big in terms of its width you can simply search for "wide" or "extra wide headboards." Following are a few examples of big headboards for different bed sizes.
Related articles:
Disclosures
This website is a participant in the Amazon Services LLC Associates Program, an affiliate advertising program designed to provide a means for us to earn fees by linking to Amazon.com and affiliated sites.