You might think your kids can use any mattress, and later on, you will buy them a mattress once they grow up and asks you for it. Or maybe you are randomly just picking a mattress for them.
You probably don't know how many kids in the US only suffer from spine disorder or deviation. Unfortunately, their parents also ignored the importance of choosing the best mattress for kids like you.
Go through this guide and protect your kids from any unwanted physical disorders by selecting the right mattress for them. It took us quite a time to develop the best kids' mattress reviews that offer good support.
What's the best mattress for kids' sleep?
Top 10 mattress for teens and toddlers
PlushBeds Healthy Child Mattress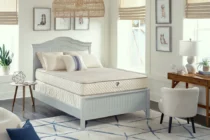 - Organic latex, cotton & wool
- Premium encased coils
- Pressure relief
Plushbeds offer comfortable sleep and improve child health
This mattress is made up of organic cotton and organic latex. Both materials are equally responsible for these mattresses' comfort level.
These mattresses are available in 3 different sizes: Full, Twin, and Twin XL mattresses. The reason behind the limited sizes is that this mattress is specially made for children.
One great thing about this is its added pressure relief. As it has individually wrapped coils, it reacts differently to each part of your body. The body parts which need more relaxation are supported greatly by the individually wrapped coils. This relaxes your child's body efficiently.
These Plushbed mattresses are luxurious as well as affordable (check 10 top-rated mattresses). The premium coils backed up by comfortable latex ensure your child's mattress is the coziest and most luxurious one.
Let's talk about how safe it is to be used? Well, the finest organic cotton used for softness, and the organic British wool used as a fire barrier, are both GOTS-Certified to be safe.
Furthermore, the APRICO organic latex used for durability and support is GOLS-Certifed and safe to be used, especially for children. There are a bunch of other certifications, like the GreenGuard Gold, Control Union, eco-INSTITUT, Forest Stewardship Council, etc.
The Healthy child hybrid mattress is a mini version of the Luxury bliss by plush beds. This one is meant for your children only. If you want to buy a mattress for yourself, look at the Plushbeds Luxury bliss mattress.
In a nutshell If I was asked which mattress is best for my child? I would answer the Healthy child hybrid mattress. These are comfortable, luxurious, good value for money, and best for your children's health.
Leesa Youth Mattress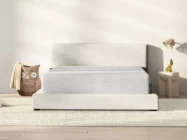 - Responsive memory foam
- Breathable knit cover
- CertiPUR-US®
A night spent well on a soothing foam is the best experience
The next one is the Leesa Youth mattress. It is clear from its name that it is made especially for youth, i.e., Teenagers, young adults, and kids (8 years+). It is snug in both winter and summer seasons.
This mattress has a height of 10″, consisting of different foam layers, making it cozy. The top layer is the soft, durable, and long-lasting cover. Moreover, it's breathable, so you won't sweat like other mattresses.
The second layer is the comfort layer, divided further into 2 layers: the two-inch breathable foam and two-inch memory foam. The breathable foam is responsible for the allowance of airflow. In contrast, the memory foam helps relieve your kids' body pain, if any.
The last layer is the supporting layer which makes the mattress overall durable and long-lasting. The Leesa mattress is responsive and bouncy.
The mattress has cooling capabilities, so couples can use it as it is breathable and allow the airflow for convenience. As you sit on the edge of your mattress, it sags, and it is normal for an all-foam mattress, so it has average edge support.
This mattress is available in four sizes, i.e., the Twin, Twin XL, Full, and Queen. You may not find the king or Cal King sizes as this is intended for kids.
The Youth Mattress is certified as containing non-toxic materials by Certi-PUR. So sleep on it and have snug nights without any fear.
As you may be buying this mattress for your kids, you should also look for cozy pillows. That would be a great plus to the comfort of this mattress.
In a nutshell The Leesa is the best mattress for teens because it has a good comfort level for kids. These are good in relieving the pain points.
Emma original
- #1 selling in all Europe
- Perfectly balanced for all body types
- Medium-firm range

Sleep well, stay energized, and work well!
Moving down the list, let's talk about the plushy and comfortable Emma's original mattress. The mattress's core comprises Airgocell foam (that keeps you cool all night) and visco-elastic foam. The bottom and top layers are mostly made up of polyester.
The mattress cover is breathable, plush, and moisture-wicking, so you can use it in any season. Your kids will lie cool and dry in it, and they won't sweat. This mattress is soft and smooth hence very comfortable for your children.
For a better alignment of your spine, shoulders, back, and hips, the 3-zoned HALO memory foam provides pressure relief to all these organs where required. So you know better how important your kids' body alignment is!
The base layer Durable HRX Supreme evenly distributes your body weight to decrease pressure on the mattress. In addition, it makes the mattress overall durable and helps in keeping it firm. This is the reason why this mattress has had no sagging for years.
The Original mattress by Emma has 5 different sizes: Twin XL, Full, Queen, King, and Cal King. You can choose the right size according to your number of kids.
The packaging is a lot more convenient and easier to remove than before. You just need to unbox, unwrap, and unroll, nothing more. This much ease was never expected while removing the packing.
Although the Emma mattress is very cozy and snug, you may still think about how you can relieve your back pain. You should try the Removable Recci mattress topper to tackle any back pain, as it is relaxing enough. This 3″ washable memory foam topper is enough to provide you with uninterrupted sleep on Emma's mattress.
In a nutshellLong story short, the Emma original mattress can make your uncomfortable nights into luxurious and restful sleep all night. As for kids, it is a wise choice to provide them with this luxurious mattress. It will surely improve their sleeping experience as well as their precious health.
Molecule 1 mattress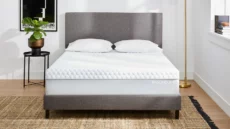 - Antimicrobial treatment cover
- Balanced body support
- Ideal for warm sleepers
Each molecule has the aim to make your night comfortable
The next one is the Molecule 1 mattress. The name is unique, and so it regards to design and comfort. Including it in this kid's article doesn't mean it isn't good for adults. Sleepers of any age can use it.
The mattress is Air-Engineered which makes it cozier for you and your kids. This technology is intended to recover you from tiredness quickly and efficiently and improve your sleep experience.
The MICROBAN cover with this mattress is amazing in wicking the moisture and heat out of your body. Also, it keeps you cool and dry when you sweat a lot in the summer. Moreover, it also prevents your mattress from unpleasant smells and stain-causing bacteria.
Beneath the cover is a proprietary foam responsible for pressure relieving your kid's body. Furthermore, it allows airflow making it breathable and cool.
The next layer is RecoveryFlo which provides special support to different parts of your body. Below this layer is the foundation of this Molecule 1 mattress which is made up of breathable materials and promotes airflow.
Most importantly, the foundation layer is responsible for your kid's Spine alignment. This makes it the best mattress for teens.
As the Molecule 1 mattress is Certi-Pur-US certified, they are all safe to be used and are undoubtedly eco-friendly.
For a better experience with this Molecule 1 mattress, use a lightweight microfiber sheet on top of it. It would add to the coziness of your mattress. Further, go for a color that best matches your room's theme and see the magic.
In a nutshell Molecule 1 is among the top and quick relieving mattresses. It works great for kids, teens, and young adults. The different layers ensure rest for your body, especially when you are back from your office really tired.
GhostBed Classic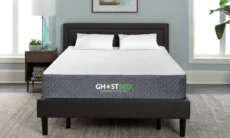 - Gel-memory & aerated-latex
- High-density support foam
- Breathable & plush knit cover
A mattress made for having a comfortable sleep all night
The next on the list is the Ghostbed classic that keeps your kids cool and comfortable at night. Having an 11″ height and 4 layers of foam make it stand out from other mattresses.
First of all, the outer layer is made up of good quality fabrics, which in return is responsible for making the whole mattress breathable and dry. Then the top layer is the comfort layer that makes the 1.5 inches Aerated Latex.
The small pores help keep it cool by regulating the temperature. Further, it makes the mattress bouncy and enjoyable, especially for couples. The third layer is the proprietary foam (Gel Memory Foam) which has larger cells than normal memory foam. This helps out in keeping your kid's body cool.
Finally, the 7.5 inches high-density foundation layer is made to support your kids' spinal alignment. It's medium-firm to make best for alignment purposes.
This mattress is best for pressure relief, with a 6.5 out of 10 firmness rating. It is soft, so it is equally suitable for the side, stomach, or back sleeper.
Moreover, you would need a couple of comfortable pillows with this mattress. Check out the smooth and cozy pillows of Utopia. They are suitable for all back, stomach, and side sleepers. It also helps in avoiding neck pain.
In a nutshell The Ghostbed mattresses offer comfortable sleep, no matter if you use them for yourself or your kids. Its firmness is suitable for your kids' spine alignment. The best thing about this mattress is it's breathable and has a plush cover. Simply, with Ghostbed, you can sleep longer, better and cooler.
Naturepedic 2-in-1 organic kids mattress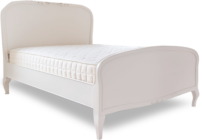 - Organic cotton
- Waterproofing
- Premium innerspring
The secret to happy children
The materials used are completely organic, as known from its name. One thing is crystal clear: whether your child sleeps on the upright side of the mattress or the downside up, he will sleep and feel super comfy.
It is made up of multiple layers, and the topmost layer is the quilted layer of organic cotton fabric and the comfort layer. Beneath the top layer is the 1″ organic cotton comfort layer.
The main and the middle layer is the 7″ premium innerspring unit. It is enclosed by 1 comfort layer on both up and downsides. It ensures the best sleep experience for its sleepers. The springs promise contouring support to your kid's body, and thus he will stay asleep.
The springs being open are responsible for breathability and heat regulation, so your kids won't sweat all night. Also, the firmness of the foam would help a lot in developing your kids' bones.
The 2-in-1 organic mattress is designed super lovely that both sides can be used for different purposes. One of the sides is the luxurious quilted cotton fabric and place, while the other side is a soft waterproof surface.
The waterproof surface will work best if your kid is a bed wetter. However, if he is a teen or you realize bed-wetting is under control, switch to the quilted side so he can experience a cozier quilt feel.
If you are using the waterproof side for some reason and have no issues with bed wetting, you can also use a relaxing mattress topper for the best experience. Check out the ventilated mattress topper for a cool night.
In a nutshell The best part of this mattress is it has both sides usable: One suitable for bed-wetters while others for mature kids. The overall experience is loved by its thousands of parents.
Siena Memory Foam Mattress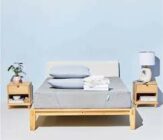 - Body supporting layer
- Soft and Comfy Cover
- Affordable price
Comfortable sleep for your kids with Siena
This Siena memory foam mattress is amongst the most comfortable ones for kids. Although it has no spring units in it, the memory foam ensures a cozy experience all night. To stir that much comfort into this mattress, it is made of 5 comfortable layers.
Above all is the breathable, soft, and cool cover. The second layer is a responsive memory foam that relaxes each body part. This layer is followed by two inches of denser polyfoam that further supports your kids' bodies.
Below is the foundational 5″ strong layer that supports the whole mattress. These all layers are covered by a shift-resistant lower cover which keeps it durable and protects it from sagging and slipping to the sides.
Siena is a medium-firm mattress that will support your kid's bodies and keep their spine aligned well enough. Sleeping on this mattress is comfortable, so firmly doesn't mean you cannot sleep on it.
You may need a good bed foundation to place this mattress on. The ZINUS Alexis bed frame would be a good option. You can also opt for others, but this looks very premium.
In a nutshell The
Siena mattress
 has all the promising things that the
best-performing mattresses
have. It can be a
true aligner
to your kids' spine and a healer to their health as health is very much affected by sleep.
Siena
can easily tackle this problem and provide
you
with the best sleeping nights full of comfort.
Helix KIDS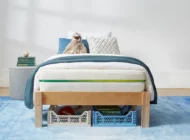 - Naturally hypoallergenic
- High levels of airflow
- Flippable design for growing kids
Growth hack for your 3-12 years old children
The materials used are soft and soothing, so your kids will experience a night full of comfort. As this mattress is double-sided, you can use any of its sides depending on the age of your kids. One side is made for kids 3-7 years old while the other side is for 8-12 years old children.
This use division is because one side is firm, and the other is smooth and plush. Kids of young age should always use the firm side as their body needs proper firm support to grow. However, the plush and comforting smooth side is best for children above 8 years who love soft surfaces to sleep on. Let's see how it's layered up together.
Talking about the cover that has covered the whole mattress is hypoallergenic and breathable. Sleepers may never feel like laying in a sweat lodge, even if they sweat. Also, kids with an allergy would be safe using this mattress. Besides this, the cover design is very attractive and cool.
The second layer is for protection from flammability. It's fire retardant included for the safety of your kids while they are asleep. The third layer is responsible for the spinal support of your kids. It is made up of high-grade polyfoam.
In the middle of the mattress is the individually wrapped coils section. Each coil is 5," and there are hundreds of them. All of these keep your kids' bodies supported while they are asleep. These are also responsible for improved edge support of the mattress, which keeps your kids safe.
The Helix kids mattress is water and stain repellent which helps in keeping it clean for kids. Moreover, this mattress uses a microbe shield treatment, protecting it from odor-causing bacteria. It is available in two sizes, the Twin and full. Moreover, it includes two free dream pillows.
In a nutshell This mattress is durable and conveniently suitable for kids ranging from 3 to 12 years. The sleep experience is incredibly comfortable. We liked it because it can be used on both sides.
DreamCloud Luxury Hybrid Mattress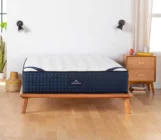 - High Density Gel Memory Foam
- Innerspring coils
- Premium 5-Layer Hybrid Design
Comfort magic of combined spring unit and cozy foam.
Dreamcloud luxury hybrid mattress is an example that has a lot of satisfied parents who say, "It's really like a dream." It's supreme when referred to as comfort. Your kids will fall in love with it once they start sleeping on it. The more you sleep comfortably, the fresher you wake up in the morning.
All the coils are wrapped individually, making it support your kid's body efficiently. In addition, it takes care of their hip and body alignment. These coils are also responsible for keeping the airflow in your mattress.
Moreover, you won't be able to realize when your partner has moved as their motion may not reach you. Why? Because individually wrapped coils would never permit vibrations through it.
This mattress has multiple layers for comfort in which. The soft cover comes at the top. Below it is gel-memory foam, a comfort layer that contours to your shape and provides pressure relief. The next layer is a sink-in layer that adds up to the relaxing feel.
Beneath these, an essential base layer takes care of all the layers above it, whether they are doing well or not. At the very bottom are the individually wrapped coils that play the main role in the comfort of the mattress.
However, a mattress without pillows is just incomplete. Ultimately you would need nice and pleasant pillows for your kids, so you check these special pillows from Utopia
In a nutshell Hybrid mattresses are great and unmatchable when we talk about comfort. Your kids need a cozy mattress, so this one would best fit them. These individually wrapped coils offer their users a great and unexpected snug experience.
Layla memory foam mattress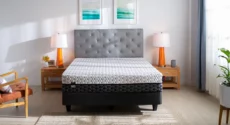 - Copper gel in the foam
- Antimicrobial
- Rapid cooling
The Layla memory foam mattress is the couple's favorite one.
Last but not least is the Layla memory foam mattress. It has been in the market for years and is still trendy and used worldwide. Why? Because it's super-comfortable and affordable. This mattress also offers 2 free Layla pillows.
It has different foams, and copper foam is among them. It is responsible for its variable support. It stays soft and smooth as long as you provide less pressure on it. But if you apply high pressure, it becomes firm.
As copper particles in the foam act to be as conductors, they pass away heat, so you feel cool right away. Copper is anti-microbial, protecting the mattress from bacteria that cause odor and eventually keeping it fresh and clean.
The Layla mattress has a 2-in-1 feature. One side of the mattress is plush and soft, while the other side is firm enough. This division in a single mattress is to give a choice to the sleepers, so they can choose according to their experience.
As you select it for your kids, the softer side is for young adults or children above 8. However, the firm surface is for toddlers and children below 8. This is because children below this range are growing, and their bones want proper support, so the firm side works best for them.
In a nutshell Overall, the Layla memory foam mattress is a luxurious choice. It satisfies both soft and firm mattress lovers. You can use it for more than one kid easily. It has the potential to improve your child's sleep and health greatly.
What Mattress Firmness Is Best for A Child?
For children, the best firmness for a mattress is medium-firm. It means the mattress is neither very firm nor soft that your kid will sink in. The medium-firm mattress provides comfort as well as support to your kid's spine while they are sleeping. It will also support your kid while he changes his sleeping position at night.
However, depending on your kids' comfort and reaction to the medium-firm mattress, you can also go for a medium-soft mattress.
Should Kids Have Foam or Spring Mattresses?
Your kids should have a spring mattress instead of a foam or latex mattress. The reason is foam mattresses don't provide the required support to your kid's body (spine especially) as much as spring mattresses do.
Is A Memory Foam Mattress Good for A Child?
A memory foam mattress is both good and not good for your child. Why good and why not? Well, your child may need a mattress that doesn't affect your child's allergy. Memory foam mattresses are naturally hypoallergenic so that they won't cause allergy issues to your children. This is why a memory foam mattress is good for your child.
However, you should know that some memory foams emit chlorofluorocarbons, benzene, formaldehyde, and other volatile organic compounds, which are very harmful to your child. This is why these mattresses aren't good for your child.
Is A Spring Mattress OK for Kids?
Yes, the Spring mattress is great for kids as it supports the pressure points of their bodies. In addition, a spring mattress has good support from the coils to align your kids' bodies, especially the spine and hips. So, it directly affects their alignment and health.
However, foam mattresses don't have the high support that a spring mattress can provide. They would probably sag after using it for some time. Sagging would directly affect your kids' spine alignment in a negative way.
Similarly, latex can also shape your kids' bodies, so avoid it. In contrast, the innerspring mattresses are a good choice.
Our Recommendation
We looked at the complex process of choosing the kids' mattresses, analyzed it, and made it simple for you by preparing a list of the best mattresses that are already performing well.
We have discussed the factors based on which we analyzed them the best. If you still have any queries ping us in the comments section; we will be glad to guide you.