Mattress Fire Retardants – The Ultimate Guide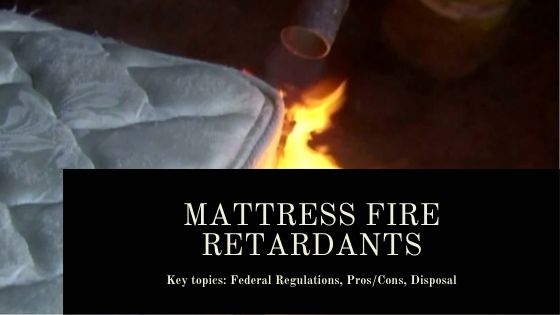 Fires are a prominent cause of injury and death in homes across the world. When it comes to home furnishings, your mattress contains the largest amount of combustible material among most of your household items. Our goal is to educate you about mattress fire retardants as a whole. Key topics that we cover include:
What federal regulations govern mattress flammability 
What flame retardants are used in mattresses
How fire retardants work
The pros and cons of flame retardants
How flammable different types of bedding and mattresses are
How to dispose of flame retardant mattresses
What fire retardant mattress to buy
Related comprehensive guide:
Federal Fire Safety Regulations for Bedding
The US Consumer Product Safety Commission (CPSC) is a government agency aimed to protect consumers from hazardous products. Any product with a CPSC certification is compliant with all of the current regulations and safety standards issued by the CPSC. 
The CPSC recently issued a new flammability standard for mattresses and beddings. Under the new standard, Title 16 of the Code of Federal Regulations (CFR 16), the CSPC states that all mattresses manufactured and sold in the US must be resistant to all open flame sources (such as cigarettes, candles, and matches) for at least thirty minutes. Furthermore, mattresses need to be tested and evaluated thoroughly before entering the market. 
What are Mattress Fire Retardants & How Do They Work?
By definition, flame retardants are chemicals added to combustible materials in order to slow down the ignition and spread of fire. Fire retardants will do one of two things: stop (or delay) a fire or start a chemical reaction to block the ignition of a fire. 
Fire retardants that stop (or delay) a fire will cool the material down. They will form a protective layer on the surface of the material. This will release water and carbon dioxide which will dilute the chemical reaction in the flame.
Fire retardants that stop the chemical reaction can do so during the gas phase of combustion or during the solid phase of combustion. The fire retardant will then break down the polymers.  
There are several types of flame retardants in the market. Each is classified based on individual chemical structures and properties. 
For a more detailed deep-dive into the different flame retardant chemicals, take a look at this resource page on Duke University's website.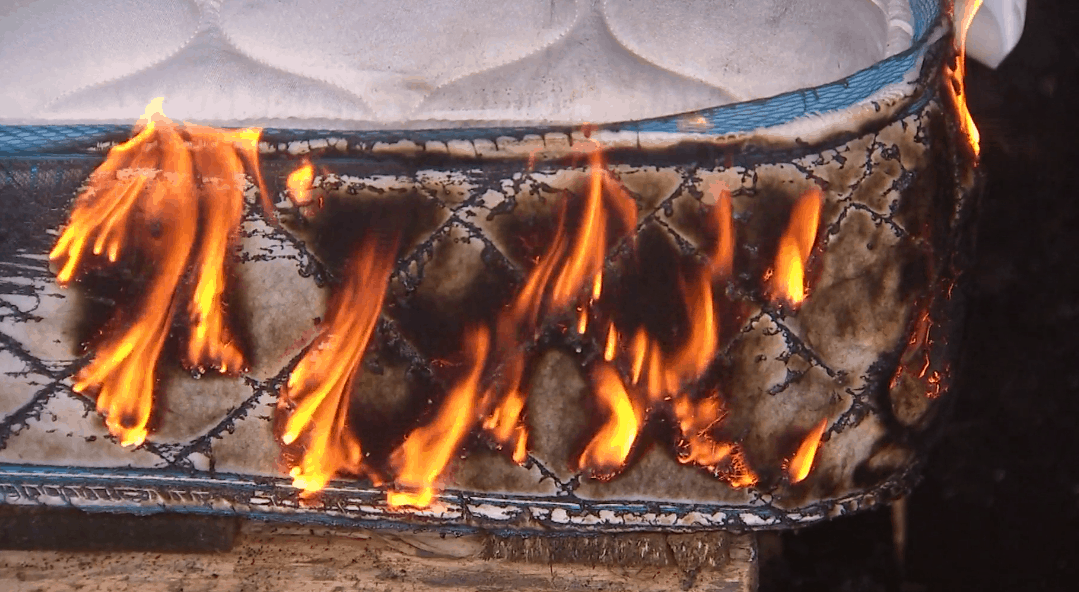 5 Shocking Facts About Flame Retardants
Pros and Cons of Mattress Flame Retardants
When a fire breaks out in your home, every second counts. Flame retardants are present in a variety of household products. They play an important role in slowing down the spread of a fire, giving you more time to escape and possibly save your life. Here's a great Centri-Pur certified flame-retardant mattress.
Despite all the benefits flame retardants offer, they are hazardous, especially those commonly found in mattresses. When a mattress catches fire or just gets older, flame retardants inside may leak out and can remain persistent in the environment for years. Just like pollutants, fire retardants may threaten your health. This can be through skin contact, inhalation, or swallowing. 
The table below summarizes the pros and cons of using flame retardants.
| Pros | Cons |
| --- | --- |
| Flame retardants delay or stop the spread of fire. | Chemical flame retardants are discharged from products into dust and into the air over time and can reach food supplies or be inhaled. Large quantities of flame retardant chemicals can be more toxic than low doses. |
| To keep consumers safe, flame retardants are found in many household products and furniture including clothing, electronics, mattresses and beddings, plastic food containers, child car seats, etc. | Most flame retardants can be linked to health problems such as cancer, hormonal fluctuations, and fertility issues. |
|   | Chemical flame retardants can have a negative impact on children's physical and neurological development.   |
What Materials are used as Alternatives to Flame Retardants?
Nowadays, some mattresses are made from materials that are self-extinguishing and not carcinogenic when exposed to an open flame. Kevlar, for instance, is a very strong plastic synthesized by the DuPont chemical company that doesn't melt. Due to its chemical structure, it can naturally withstand high temperatures, and therefore can fireproof your mattress. Kevlar can burn, but the burning stops as soon as the heat source is removed. Here's a great kevlar threaded mattress.
Other materials used as alternatives to flame retardants are cotton, wool, latex, and rayon which also has inherent fire retardant properties.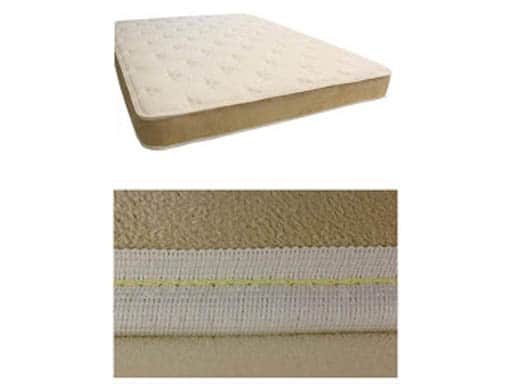 Flame Retardants in Common Brands
Are Memory Foam Mattresses Flammable? Are All Mattresses Flammable?
Most mattresses are flammable because of the materials used to manufacture them. However, not every mattress will utilize fire retardants in their foams. Many mattress manufacturers will utilize flame-retardant barrier fabrics as covers.
Polyurethane foam and memory foam are two basic mattress components that can easily go up in flames. These products originate from petroleum, which is one of the best fire fuels, and are flooded with flame retardants. Additionally, foam breaks down over time, releasing the toxic chemicals into the air. Unfortunately, foam is still extensively used in the market because it's lightweight and inexpensive.
Synthetic latex mattresses are made from styrene and butadiene, two petroleum-based components. Exposure to these materials can also harm your health and well being. 
The use of chemical flame retardants is compulsory to meet federal flammability standards. However, these chemicals may do more good than harm by preventing or slowing down a fire.  
Do IKEA Mattresses Have Fire Retardants?
https://www.ikea.com/ms/en_JP/pdf/reports-downloads/product_safety/IKEA_FAQ_flame_retardants.pdf
IKEA tries to refrain from using chemical flame retardants in their products, including mattresses and beddings, as much as possible. Instead, IKEA uses alternative fire retardants, like wool, in the production of its mattresses and have stopped using brominated flame retardants entirely. IKEA also regularly tests its products to certify that they are in compliance with all federal safety requirements and that they are empty from any toxicity.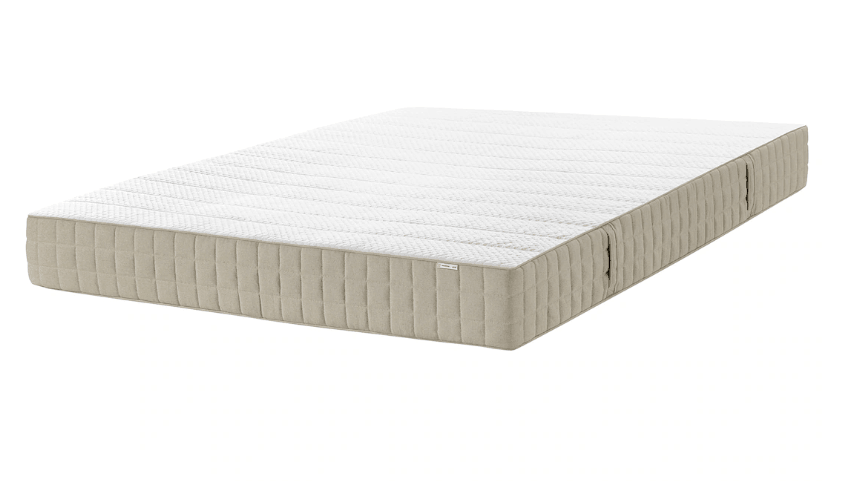 Does Dunlopillo (Latex Foam) Use Fire Retardants?
Dunlopillo or Latex Foam mattresses are more durable than traditional spring mattresses. They are made from natural latex derived from rubber trees. Natural latex is not naturally fire retardant, so these mattresses include a fire retardant outer layer made of wool or graphite.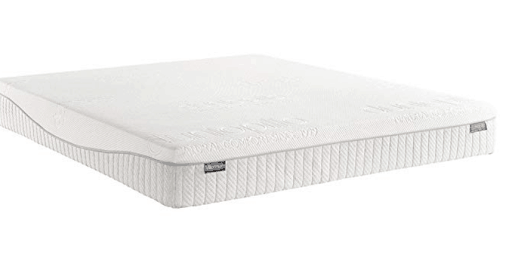 Do Futon Mattresses Have Flame Retardants?
All futon mattresses include natural fire retardants like wool and boric acid and comply with the CFR 16 standard regulation. However, fire retardants such as PBDEs can be added to futon mattresses. As the foam in the futon mattress decomposes over time, it releases the harmful chemicals into the atmosphere. Thankfully, PBDEs have been banned in the US.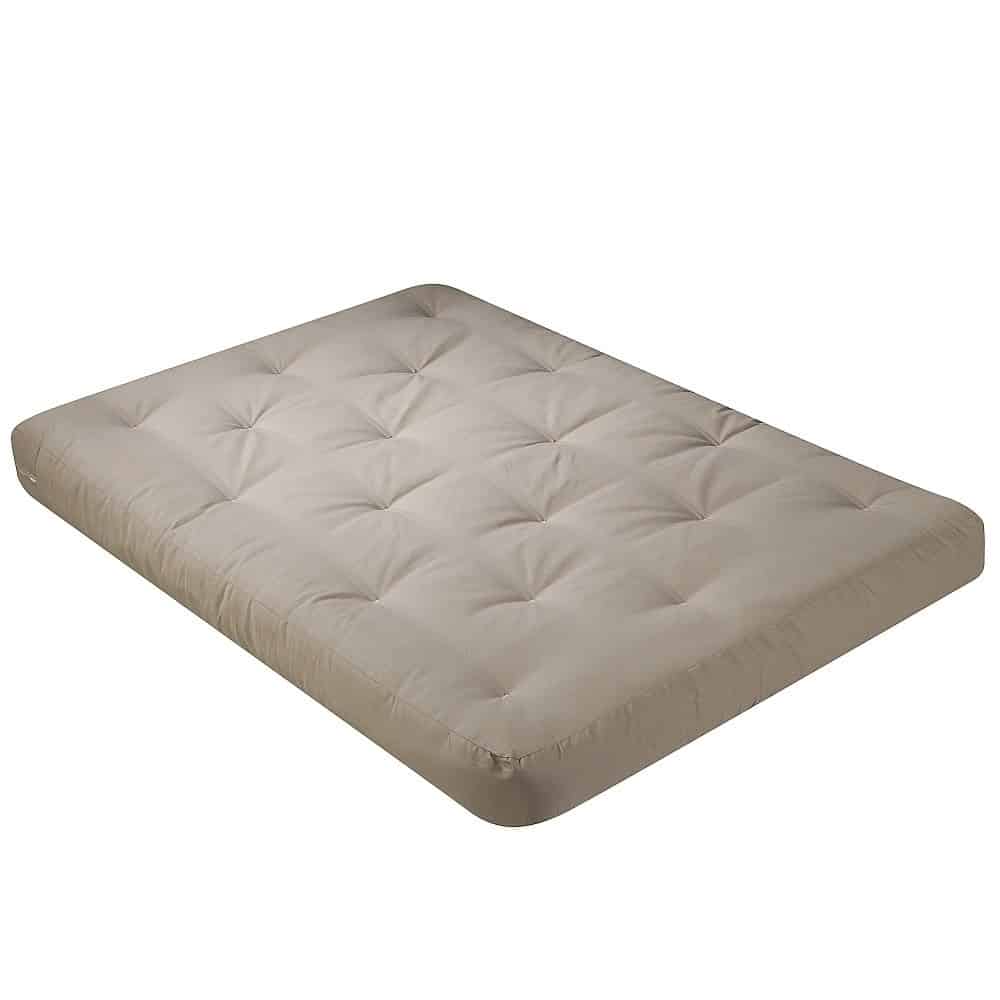 Do Mattress Toppers Have to Be Fire Retardant?
No. Mattress toppers (or pads) don't have to be fire retardant because federal flammability regulations don't require it. However, most manufacturers use fire retardant fabrics in place of chemicals to reduce the number of health risks. Additionally, manufacturers expose the mattress pads to open flame to measure their resistance to ignition.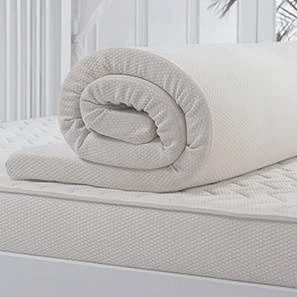 Chemical Leaching and Flame Retardant Add-Ons
Chemical leaching is a natural process where a solute detaches from its carrier substance by means of adding a solvent. In the case of flame retardants, they are dissolved into products but eventually escape. Consequently, they vanish into the air, accumulate in the dust, and unfortunately enter and harm our bodies.  
How are Mattresses Tested?
All mattresses and mattress sets sold in the US must meet federal flammability regulations. As mentioned above, there are two parts to CFR 16. 
Part 1632 requires two mattress surfaces to be exposed to a minimum of 18 lit cigarettes. The burn mark on each surface should not exceed two inches.
Part 1633 requires that the mattress be exposed to an open flame (as pictured below) for 30 minutes. Nineteen kilowatts on the top surface of the mattress for 70 seconds and ten kilowatts on the border for 50 seconds. The heat released from the mattress should not exceed 15 megajoules during the first ten minutes of the test. Additionally, the peak rate of the heat should not exceed 200 kilowatts throughout the duration of the test.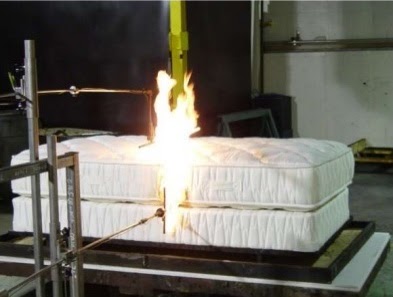 Disposal of Flame Retardant Mattresses
In the past, it was common practice to either bury or burn old mattresses. Both methods are costly and present harmful effects on the environment. Therefore, proper and healthy mattress disposal alternatives are now taken into consideration. 
Zero-waste hierarchy involves reusing your mattress either by selling, donating, or using its components (i.e. in a DIY project). If you don't think this is a practical way to get rid of your mattress, then consider recycling. 
Recycling is the best option in terms of cost and effectiveness in saving the planet. The picture below describes the different components of a mattress that can be recycled and reprocessed. Recycling centers can be found in many areas. Some centers will even provide pick-up service to help with mattress transportation and disposal.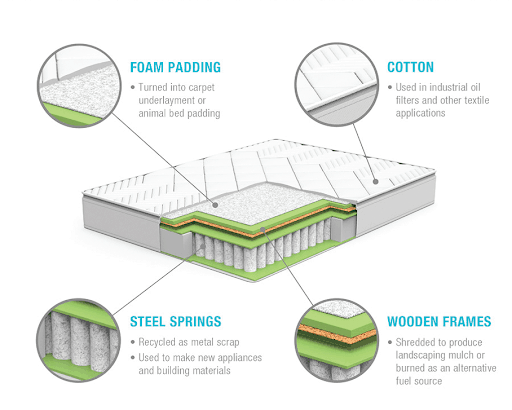 Can I Give My Old Bed and Mattress to Charity Without a Fire Safety Label?
Fire labels are legally required to let consumers know that the mattress complies with federal flammability regulations. Charities cannot accept a mattress without a fire safety label, therefore make sure to keep it attached with your donated item. The label should include the name and address of the manufacturer or importer, an identification number, a certification that the mattress complies with federal fire safety regulations, and a statement for whether or not the mattress is used with a foundation. 
If you're wondering about mattress foundation thickness and sizes for disposal, take a look at our article. 
How do I choose a safe mattress that is fire-resistant?
You can choose a safe mattress that is both fire-resistant and recyclable. Look for eco-friendly models made with materials that are kind to both you and the environment. Also, check to see if the mattress is exempt from fire-retardants and threatening chemicals. Two examples are as follows:
Wool is a flame-resistant material, providing breathability to the mattress. This material provides optimal body insulation under all thermal circumstances (here's a great wool mattress). Wool wicks moisture away and proves to be hypoallergenic making it an ideal choice for anyone who experiences hot flashes or night sweats. Additionally, wool biodegrades naturally over time.
Unfortunately, wool mattresses tend to lack support. They are firm but less bouncy than other types of mattresses. When purchasing a wool mattress, also make sure that it's organic. Otherwise, the mattress may contain toxic chemicals. If you want a mattress free from fire retardants and harsh chemicals, make sure it's encased in a thin layer of wool. 
Kevlar, the same material used in bulletproof vests, is another heat resistant, but synthetic fiber used in mattresses. Kevlar models also easily pass flammability tests. Here's a highly rated mattress with a kevlar cover.
Our Conclusion about Mattress Fire Retardants
All mattresses are flammable. Federal regulations, however, govern mattress flammability to help keep us safe in case of a fire. Unfortunately, the chemicals used in traditional flame retardants are now linked to many health and environmental concerns so manufacturers utilize different flame-resistant materials in mattresses to minimize the presence of harmful chemicals. When purchasing a new mattress, make sure you have a clear understanding of the materials used in the production of your mattress. A little research may help save your life.
Are you ready to go shopping? Take a look at some of our guides on the best memory foam mattresses, the best orthopedic mattresses, and the best futon mattresses. 
Disclosures
This website is a participant in the Amazon Services LLC Associates Program, an affiliate advertising program designed to provide a means for us to earn fees by linking to Amazon.com and affiliated sites.