How long does a box spring last?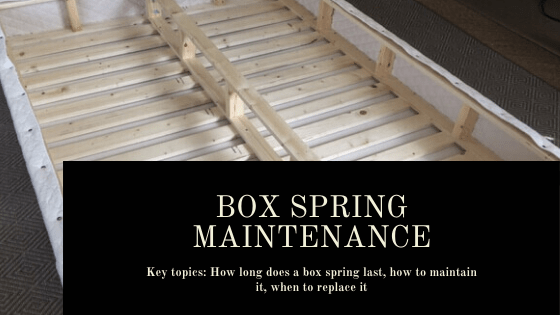 Do you know how to tell if your box spring is aging? Or how to maintain your box spring so it lasts longer? If you don't, or even if you do, this information is for you!  In this article we will discuss:
How long does a box spring last?
What's inside a box spring and how long do the components last?
When to replace a box spring?
How to make a box spring last longer / box spring maintenance
As a side note, if you've already determined that your box spring is ready for replacement, check out our list of the best box springs. Additionally, if you just think you need a thicker box spring, take a look at 3 simple ways to raise a box spring before you buy a new one.
What is a box spring?
A box spring is most simply a rectangular wooden box with a series of springs, a steel grid, and a felt cover. Some newer versions, however, don't have springs, they only have a metal or wooden frame covered in fabric. You can find an example of a springless box spring here.
Box springs were originally created to provide a hygienic setting for your mattress, lifting it up off the ground. This simple act prevents mattresses from picking up all of the dirt and dust from the floor. Box springs, however, are not just for sanitary purposes alone. Box springs also make sleeping a lot more comfortable. For one, raising your mattress up a little higher makes it easier to get in and out of bed. Additionally, box springs absorb shock and ensure even body-weight distribution -  helping you get a better night's sleep. Box springs can also help increase the lifespan of your mattress by providing a strong, sturdy base for your mattress to sit on. This will help protect your mattress from sagging and promote air-flow. Mattresses need proper air-flow to prevent mold and moisture from trapping inside.
Related topics:
How long does a box spring typically last?
Many people assume that a box spring will last as long as a mattress. Unfortunately, this isn't always the case. It's very common for a box spring to wear out long before you think it should. Quality is always a factor when considering box spring longevity. Poor-quality box springs may last just a few years, while higher-quality models can last more than a decade. Generally speaking, a box spring will typically stay in good shape for about eight to ten years before it starts deteriorating. Read our guide on how to cover a box spring to make it last longer and match room decor.
What goes into a box spring and how long will each component last?
There are four main components to most box spring models. As you will see, each component is important and they can all wear out differently depending on use and quality.
The wooden frames in high-quality box springs are typically made from hardwood, which can last a lifetime. Poor-quality box springs, however, are made of plywood which is much less durable and will decay a lot quicker. Additionally, plywood can start showing signs of rot such as cracking, distortion, fungal growth, and smell in as little as two years. Metal box springs are also a great alternative.
When springs are well designed, they will support your body properly and can last up to ten years. Low-quality springs, however, are more prone to breakage. In fact, poorly designed springs will collapse over time. If your springs are more than ten years old, it's likely that the box spring is starting to sag, lose its shape and support, and making sleep more uncomfortable than it used to be.
The steel grid serves as the main support for your mattress and will deteriorate as time goes on. When the steel grid starts to bend, it can't promote even weight distribution, and it's time to replace your box spring.
The felt cover on a box spring is made from a lightweight, closely woven linen or cotton fabric called cambric. The fabric acts as a dust and dirt barrier and should be cleaned regularly to prevent bacterial growth. Unfortunately, the fabric will naturally tear over time due to repeated pressure on the bed frame. 
| | | |
| --- | --- | --- |
| Component | How long will it last? | What happens? |
| Wooden frame | Plywood can last between two and four years; Hardwood can last up to ten years or longer | The wood will crack and break down over time. |
| Springs | Five to ten years. | Springs will collapse and cause the box spring to sag. |
| Steel grid | Ten years (typically) | The grid will bend or break and cause the box spring to sag. |
| Felt cover | Up to ten years (typically).  | The felt cover will tear allowing dust and dirt into the box spring.  |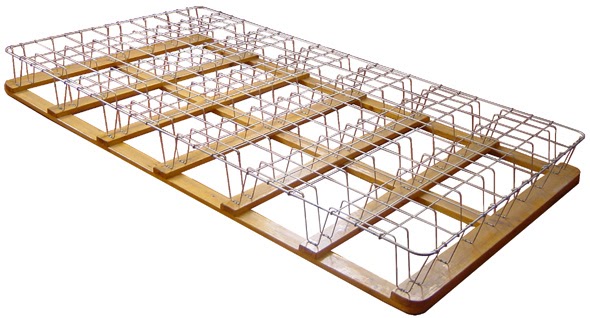 How do I know when to replace my box spring?
Box springs WILL deteriorate over time and need to be replaced. Quite simply, a visual examination of your box spring will tell you whether or not it needs to be replaced.  Don't want a box spring? Here are all the box spring alternatives.
You may also need to open up a side of the box spring to check its internal components. 
If you notice a bow on your box spring, your box spring is losing support and needs to be replaced. If your springs or slats are broken, or if you notice that the steel grid is bent or damaged, it's also time to replace your box springs. Do you hear a squeaky sound when you move around in bed? This indicates weak or loose coils and yet another sign to replace your box spring. And finally, if your springs are more than ten years old, they will start naturally decaying and lose their ability to support your mattress effectively - it's time to replace your box springs.
Symptom
Why?
Should I replace the box spring?
Squeaking sound
Loose or weak coils and/or broken springs.




Maybe. 
Loose/weak coils can be lubricated but if you have broken springs, your mattress isn't being supported properly and you need to replace the box spring.
Sagging
Frequent weight and pressure are being applied to the coils.
Maybe.
You can reinforce the pressure points by rotating the box spring, but this is only a temporary fix.
Broken slats
Wood naturally rots over time.
Maybe.
You can pad the area in between the box spring and the bed frame, but this is only a temporary fix.
Bent steel grid
Metal naturally warps over time.
Yes. 
The grid cannot be un-bent and it's time time to replace the box spring.
Coils are over ten years old
Coils will wear out and collapse over time 
Yes. 
The box spring has lost its ability to support your mattress and its time to replace the box spring.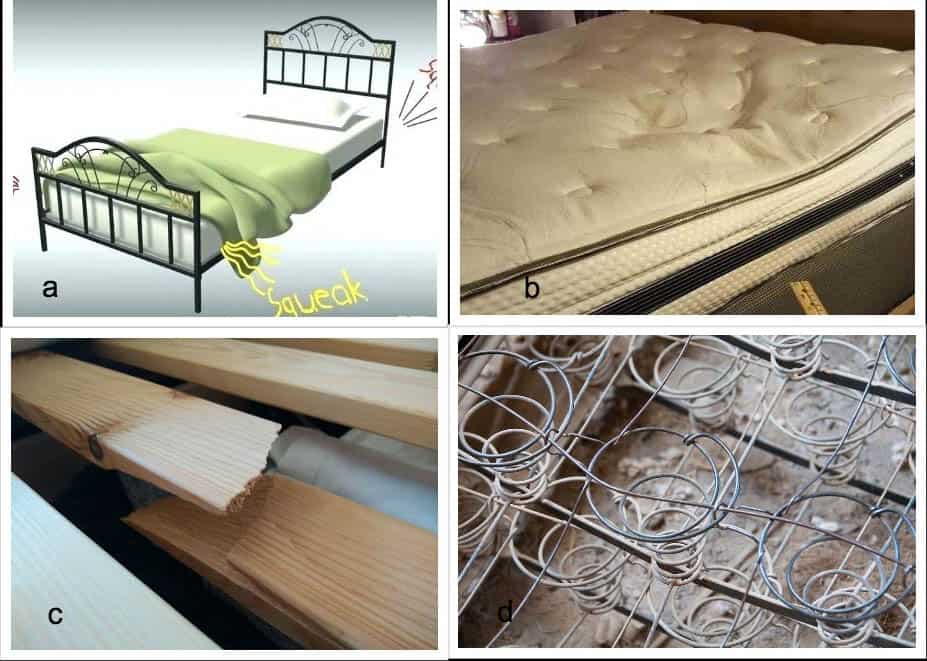 How can I make my box spring last longer?
It's important for your box spring to remain clean, healthy, and comfortable for as long as possible. With just a little care and maintenance you can increase the lifespan of your box spring. 
Consider the following tips:
Use an organic mattress protector to ensure a healthy sleep environment. This simple cover protects your bed from sweat, spills, dust, and allergens. You can find organic mattress protectors like this one, on Amazon.
Wash and change your bed sheets regularly (at least once a week).
Vacuum the felt cover on your box spring regularly. If the cover is easily removable, wash it!
Avoid eating in bed. Crumbs can accumulate in the mattress and the box spring which produces a favorable environment for bacteria to breed.
Rotate your box spring 180 degrees from head to foot every two to six months to minimize body impressions and to promote even wear.  
Don't jump on your bed. The springs will collapse and deteriorate quicker. 
Air out your box spring in the sun every few months (if possible). This will disinfect the box spring and diminish humidity.  
Following these simple precautions will help you drive dust, dirt, and bacteria away. They will also help promote a clean and healthy sleeping environment, and most importantly they will extend the lifespan of your box spring.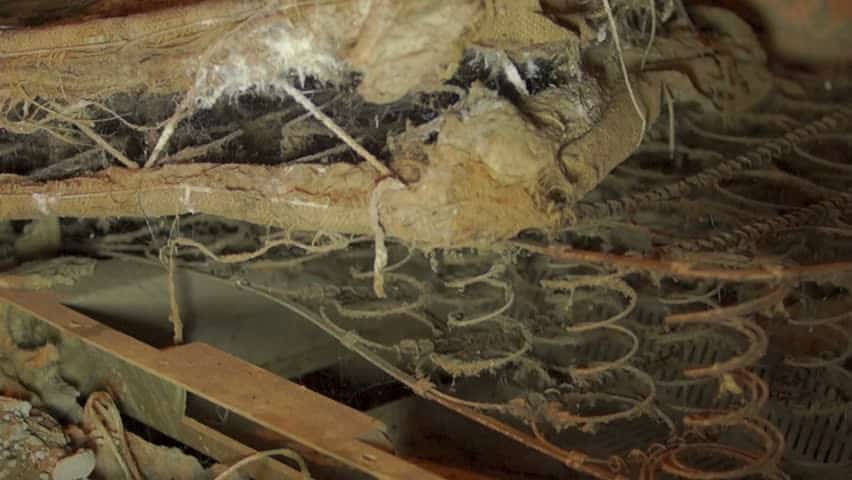 Disclosures
This website is a participant in the Amazon Services LLC Associates Program, an affiliate advertising program designed to provide a means for us to earn fees by linking to Amazon.com and affiliated sites.