How to Fluff a Futon Mattress, Futon Toddler Safety & More – 20 Pgs. of Q&A
Futons are typically thought of as sofa/bed combinations that are used in rooms that have limited space or storage. In this article, we discuss several topics related to futons such as: basic background information, comfort and safety of futons (especially toddler futon safety), how to operate and use futons (ex. how to fluff a futon mattress), how to shop for futon mattresses, and how to sleep with children on futons (including tips on safety and comfort).
Jump to popular topics:
Essential Information
Comfort and Safety of Futon Mattresses
Operating Futons Mattresses Properly
Shopping for Futon Mattresses
Child / Toddler Futon Mattress Safety
What is a futon?
When asked about futons, you might first imagine the typical western futon, which is a sofa/bed combination often used by college students or those living in small apartments. However, by definition, a futon is simply a mattress which can be placed directly on the floor. This is the traditional or Japanese-style futon. Traditional futon mattresses are typically placed on a tatami mat, which is a flooring material that provides a soft base for the bed. A benefit to the Japanese style of futon mattress is that it can be stored away and aired in the sun easily. Western futons differ from Japanese-style futons because they usually feature thicker mattresses that cannot easily be rolled for storage. Instead, they are folded in half and attached to a slatted frame, which allows the mattress to maintain its an L-shape (when used as a sofa) or a flat surface (when used as a bed).
Futon mattresses appeal to minimalist sleepers as well as those who want versatile furniture. However, because they are thinner than regular mattresses, there is less room to design and add complex features. If you believe in minimalism, or the idea of having less furniture with more function, a futon mattress makes perfect sense for you. 
Related Topics: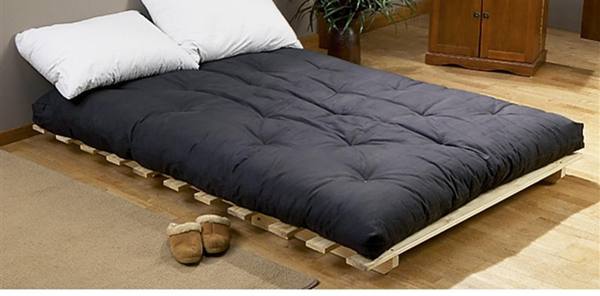 How are futon mattresses different from regular mattresses? 
Futon mattresses are normally constructed with layers of pre-compressed natural fibers, packed inside and then tufted (which means they're sewed together to maintain integrity). As opposed to normal mattresses, this means that futons are firmer because they are precompressed. High-quality futon mattresses are usually made of organic materials, such as cotton and wool, as opposed to latex. Here's a Japanese style wool futon mattress.
The main difference between a futon mattress and a regular mattress is that the futon tends to be thinner and more firm, and it is used for sitting as well as sleeping. In many cases, the futon mattress can also become lumpy over time, because it is frequently folded. A normal mattress will not become lumpy but is also not multifunctional like the futon. Regular mattresses also have spring coils or memory foam, whereas futon mattresses contain natural fibers as well as sometimes having these other components. Futon mattresses also require more maintenance in general, because they need to be regularly flipped and fluffed up. Thankfully, this isn't hard to do: for more information, look at our section below on how to fluff up a futon mattress.
When deciding whether a futon is right for you, another important thing to consider is how often you are going to move your mattress. A futon mattress is far easier to move than a regular mattress because of its size and compactibility, and is perfect for traveling. Finally, if you are concerned about the aesthetics of having a futon, note that there are many high-end, fashionable options, and you can be assured that you are getting something that is long-lasting and worth the price.
Related Articles:
Futon mattress vs. memory foam 

When comparing futon mattresses to memory foam, there are many things to consider. Do you want a firm mattress? As we have established, futon mattresses tend to be firmer. Are you looking for something that converts between a sofa and a bed? A futon mattress (with the proper frame) is the only way to do this. Memory foam mattresses aren't designed to fold or stay in the L shape of a sofa. In terms of safety, and mattresses that contain fewer harsh chemicals, both futon mattresses and memory foam mattresses have "organic" or "eco" versions that offer these advantages. Futon mattresses also tend to be cheaper than their memory foam counterparts. 
In general, memory foam mattresses tend to be more comfortable because they are softer and provide better pressure relief. Of course, this will depend on the material you choose for your futon mattress, along with its particular thickness. Thicker mattresses also tend to be softer.Futon mattresses also allow you the flexibility of placing the bed on the floor (ideally used with slats to help raise the mattress and prevent moisture from being trapped underneath). A memory foam mattress, on the other hand, is designed for use with a platform bed or box spring. The firmness and comfort of a memory foam mattress is dependent on the kind of base that you put it on (see your manufacturer's instructions to find the best base for your memory foam mattress). Note that placing a memory foam mattress on a base that it's not designed for will void its warranty. 
One quirk with memory foam mattresses is that, over time, you might end up sleeping in less than optimal positions. Foam contours to your body, so if you fall asleep in an awkward position, the foam will stay in that position and you can literally get stuck. This can intensify back pains and other injuries. On the other hand, a futon mattress is much more firm and it won't contour to your body as much. A futon mattress is also generally lighter than a memory foam mattress and hence more portable.
Finally, you might consider getting both a futon mattress and memory foam by buying the base futon mattress, and then adding a memory foam topper for additional comfort. This can be tricky, however, because you are mixing layers. We have some tips in this article about how to mix layers, and how to shop smart so you can return the topper if you don't like it. If you don't buy a really cheap futon mattress, it should be comfortable enough to sleep on for many years.
We suggest checking out Simplicity Sofas: for small spaces, as well, if you are looking for long lasting sofas for rooms that are small or have narrow doorways.
Futon sofa sleeper vs. sleeper sofas
The typical sleeper sofa looks like a standard couch. It's basically a bed hidden inside a sofa. Due to the design of the metal frame, the inner bed can be pulled out for when guests need extra space to sleep. Most of the time you can't even identify a sleeper sofa without being told about it. On the other hand, a futon sofa sleeper looks like a large mattress that has been folded into a sofa. So, in terms of matching the look and feel of your room, a traditional sofa sleeper may be easier to match than a futon sofa. Here's a neutrally colored sleeper sofa that can match almost any room design.
For a sleeper sofa, you will need to remove the seat cushions and pull out the mattress located inside the main frame. When you pull out the mattress it will deploy into a full bed. On the other hand, a futon sofa sleeper becomes a bed just by dropping the backrest. You don't need to remove any pillows, and you sit and sleep on the same platform. 
In terms of mattress thicknesses, the traditional sleeper sofa is much thinner than a futon mattress. Of course, this depends on the thickness of the futon mattress that you purchase. You can also purchase your own mattress for a futon sofa sleeper, whereas the mattress of a traditional sleeper sofa is permanent. 
Another advantage of the futon sofa is that you get to choose how hard or soft you want your mattress to be. In terms of overall aesthetics, a futon sofa sleeper also has the upper hand. This is because the futon has a removable cover, meaning you can change the appearance, whereas a traditional sleeper sofa has everything built in and isn't easily changed. 
Furthermore, in terms of setting up or moving your futon sofa, you can deconstruct everything quickly. A traditional sleeper sofa, on the other hand, is heavy and much more difficult to take apart. The metal components concealed within the sofa frame alone are extremely heavy. 
Finally, a futon sofa sleeper will be much cheaper than a traditional sleeper sofa. This futon sofa sleeper is less than $200. The downside of a futon is that you have to keep changing from the sitting position to the sleeping position, and without proper care the mattress can become lumpy over time. The mattress may also start sinking in spots and can look cheap compared to a regular sofa. On the other hand, a sleeper sofa tends to be more uncomfortable than a futon mattress because it is thinner and needs to be retracted inside the metal frame of the couch. 
Ideal beds for guest rooms: Futons, Trundles, Aerobeds
If you are thinking of a bed for your guest room, you could use a futon mattress with a futon frame. Another good alternative is a pop-up trundle bed. Personally, I like the pop-up trundle bed more than the futon mattress, because you can pop up a twin-XL mattress and combine it with the regular bed to make a full king-sized bed. This has plenty of weight support, and offers plenty of space for your guests to sleep on. The futon mattress, on the other hand, tends to be firmer and more narrow than the pop-up trundle bed. 
It also depends on how much you plan on using the mattress as a sofa versus as a bed. The pop-up trundle bed option is designed more for use as a bed then as a sofa. Daybeds tend to be deeper, because they are designed for a twin size mattress at the minimum. A futon mattress is designed to work as both a bed and sofa. Hence it will have the right shape, won't feel awkward, and you can easily deploy it into a mattress whenever your guests want to sleep. 
So, as you can see, the futon mattress with a frame is designed to be both a sofa and a bed, and functions as both reasonably well. On the other hand, combining a bed with a pop-up trundle creates a more comfortable king-sized bed, but it isn't as good at being a sofa. If you insist on getting a daybed with a pop-up trundle, and you want to use it as a sofa, get a lot of body pillows and couch pillows so that you can prop up your back. 
One final option is an Aerobed. These tend to be much cooler, but they have the typical problem of air mattresses, which is that they can deflate over time. However, they are cheap and easy to store. If you choose the Aerobed option, consider getting a good mattress pad, preferably made from down feathers, so that your guests can sleep comfortably and warm.
Related articles:
Are futon mattresses comfortable? 
Futon mattresses tend to be more firm than other mattresses. They are also not very springy in general. For people who are used to sleeping on the ground, a futon mattress will work well and suit your natural sleeping habits. Futon mattresses are also less comfortable for people with curvier bodies, or those who use multiple sleeping positions. If you regularly sleep on your side, a futon mattress probably isn't going to be very comfortable. On the other hand, they are generally much cheaper than traditional mattresses. Additional support is something that regular mattress companies have convinced consumers that they need, but there are actually a variety of different ways to sleep comfortably. Simply follow the three P's of purchasing any mattress: you need to know how much pressure relief you need, what posture and alignment your body needs, and your personal preferences. 
It's also important to note that it can take at least a week to get used to sleeping on a futon without any additions. If you are a back sleeper, the normal futon should be enough. If you are a side sleeper, however, you might need additional support. If you don't get used to it after a week, think about using a mattress topper or mattress pad along with your futon mattress. Another quick and easy way to see if you need more support is to pile blankets onto the futon until you find it comfortable. This will give you an idea of how thick your futon mattress needs to be, and the kinds of materials that you might need to add. Take a look at our section on futon mattress materials for further considerations. 
If you are a minimalist and want to adjust to using only the futon, you can use the aforementioned technique with blankets, adding one by one until it becomes comfortable. Afterwards, remove them one by one, over time, until you become comfortable with the bare futon mattress. Towels will also work for this purpose. You might also try sleeping without a pillow, because this will better align your back. If you are a side sleeper, however, you might need the neck support that a pillow provides.


How can I make my futon mattress more comfortable?
Choosing your mattress is only the first step when buying a full futon bed. While some people prefer to sleep minimally, many also opt to buy a mattress topper for increased comfort. To find a mattress topper that goes with your futon, look for something that is thick enough to insulate you from the firmness of the futon--especially in high-pressure sleeping positions, such as sleeping on your side. You should also try to optimize the thickness of your mattress topper, since mattress toppers that are thicker tend to be softer and relieve pressure points more easily and effectively. On services like Amazon, you can purchase a common 3-inch thick latex mattress topper to start with. If it doesn't work for you, you can usually return it within a 30 to 90 day period and try something else. 
When looking for a mattress topper online, you should also try to determine what materials you might prefer. Latex Toppers work really well for some people: Dunlop latex is firm, while Talalay latex is softer. Wool is not as efficient at relieving pressure as other materials, because it will pack down over time and become firm. However, there are different types of wool, ranging from fine to coarse, and this determines how easy it is to compress. Foam tends to be more pressure-relieving than other materials because it supports and distributes body weight over the entire surface area, whereas wool compresses in pressure points and is especially bad at supporting recessed areas of the body. Foam also relieves pressure better than latex, which tends to be firm. However, wool is much more breathable and better at temperature regulation than the other materials. The key is knowing what type of support you are looking for.
It is also possible to layer diverse materials with your mattress. If you layer wool toppers on memory foam, the wool sections will add firmness and, because it traps heat, will make the memory foam warmer in high-pressure locations. Having a thick layer of wool will also prevent you from feeling the support beams underneath, if you're using a frame or slats for your futon. In short, it can be very complex trying to mix different layers of materials, but it is possible to shop smart if you are aware of your needs.
How can I fluff a cotton futon mattress?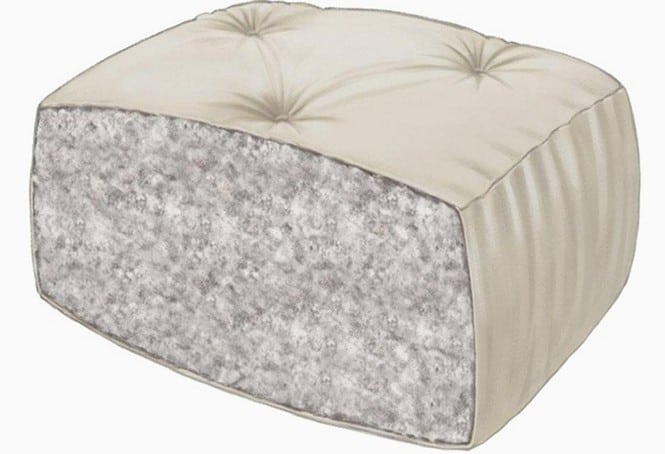 A futon mattress is commonly made of cotton. Typically the more cotton the mattress encloses, the thicker and firmer it becomes. Here's a highly reviewed futon mattress made of cotton. However, cotton gets compressed over time in areas where your body weight is frequently applied and therefore becomes lumpy. To fluff a cotton futon mattress follow the steps below:
1. Locate the zipper of the futon mattress and open it.
2. Open up the covering to expose the stuffing inside.
3. Move the stuffing around with your hand to distribute it evenly in a way that fills in the slumps that are formed. Adjust the amount of fluff by pulling out or shoving in extra stuffing.
4. Cover the exposed filling with the top covering and zip up the zipper.
5. Press or beat the mattress with a heavy object like a baseball bat to distribute the stuffing evenly.
How can I fluff a wool futon mattress?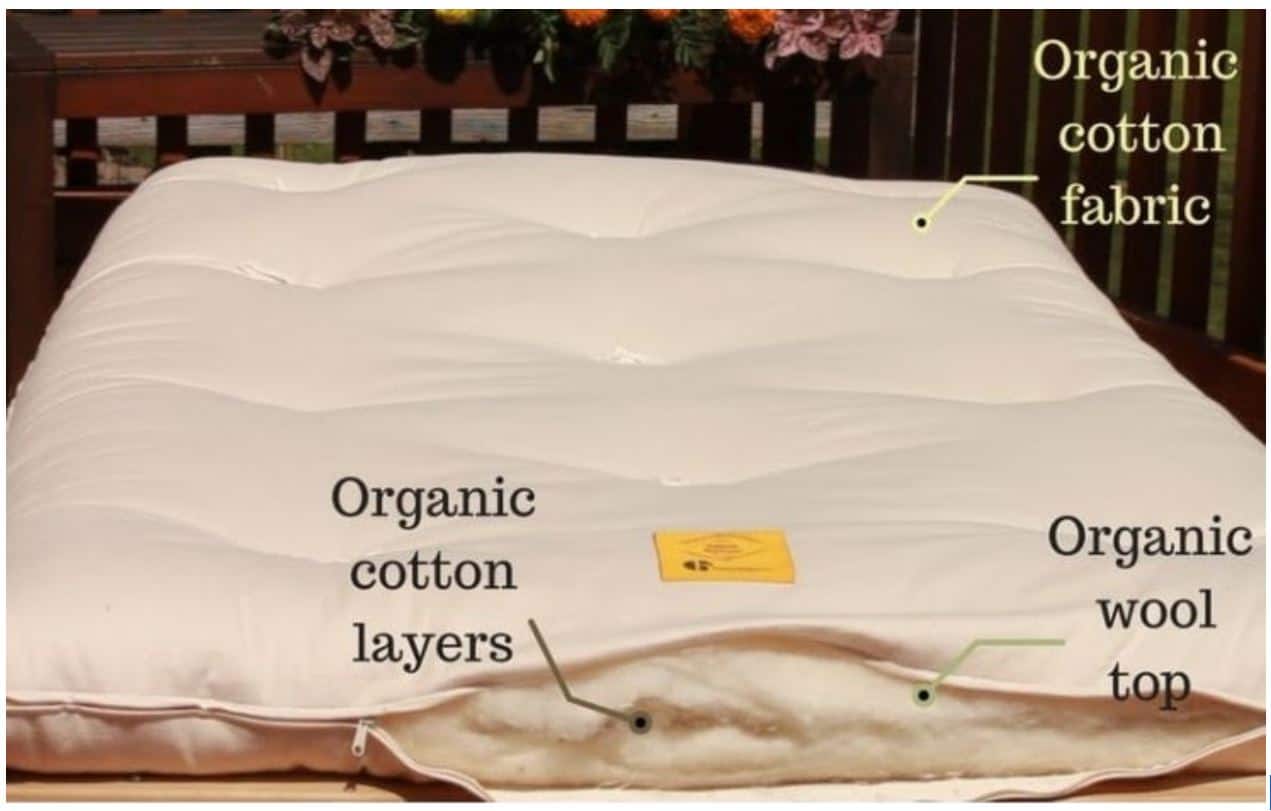 A layer of wool is wrapped over the cotton, within the outer layer of the mattress. It helps regulate your body temperature and helps retain the form of the mattress by distributing your weight evenly. However, after frequent use of the mattress, the fillings (both wool and cotton) naturally lose their stiffness and fluff over time. So, in order to fluff a wool futon mattress, follow the steps below:
1. Dismantle the top layer of the mattress
2. Detach the wool from inside the mattress
3. Once outside the mattress, accumulate the wool so that it reaches the thickness that you want. This will require you to flatten the wool and stack it. Add more wool if necessary, then complement it with a layer of cotton fabric to add pliability to the mattress.
4. Insert the fillings back into the mattress and close the topper with the aid of a zipper if it has one or by sewing.
5. Turn and flip your mattress every now and then to prevent the wool fibers from becoming compressed on one side only over time. Also air it out occasionally in the sun so that the wool breathes and fluffs up.
How long do futon mattresses last? 
With proper care, futon mattresses last several years. If you get an 8-inch pure cotton futon with a layer of wool on top, it will only require minimal cleaning, as well as being flipped over periodically. Some people have used a single futon mattress for over 25 years. They are excellent for a guest room. Initially your futon mattress might be very fluffy and soft, but it should pack down within a few weeks of buying it. Buy a nice, washable cover. Futon mattresses suit individuals and families with small babies very well.
Sleeping on a futon long term
Many people believe that futon mattresses are designed for college students and dorm rooms. However, this stereotype mostly concerns cheap, western-style futon mattresses, and many argue that it is perfectly fine to use a futon instead of a regular bed. More comfortable and luxurious futon mattresses are designed for long-term sleeping and can be used for 10 years or longer. You can sleep on a futon every night without any issues. As we previously discussed, futons were the standard bed in Japan for many decades due to their excellent comfort and convenience, and a futon on a tatami mat is still a common sight in much of Japan. 
A futon sofa sleeper is a modern American invention, but even this kind of mattress and frame combination is quite durable and long-lasting. Japanese futons are thinner and usually laid on the ground, whereas American mattresses are thicker and usually laid on a frame. Read our section below on whether a futon is the right choice for you and your health. This will differ from person to person, but several scientific studies support sleeping on firmer mattresses, especially if you regularly sleep on your back. Be sure to buy the right kind of mattress for your sleeping style. If you are a back sleeper, a thinner futon mattress will work just fine. However, if you are a side sleeper, you might need a thicker futon mattress.Finally, always make sure to buy a high quality mattress that will last you a long time. Follow the manufacturer's instructions to take proper care of your mattress: you will need to unfold it, flip it, and redistribute the inner material periodically. 
If you are interested in using a futon mattress long-term, monitor your sleeping habits over time to find what your individual needs are. If you find that your quality of sleep is decreasing when sleeping on a futon, a firm mattress may not be suited to you. Alternatively, you can add a mattress topper on top of your futon mattress. Regardless of what people say, a good futon mattress will last just as long as a traditional mattress. Just make sure that you invest in a quality mattress like this one, and maintain it with regular and proper care.


Is sleeping on a futon bad for your back? Is it good for lower back pain? 
It's difficult to determine if a futon mattress is good for everyone. This peer-reviewed article in Spine, a respected medical journal, states that out of 141 patients with chronic lower back pain who were observed for one month, the majority found waterbeds and foam mattresses to be superior. However, the study ultimately concluded that the differences between waterbeds, foam mattresses and futons (in terms of their effect on sleep function and back pain) were small, and that back pain relief was largely subjective. In the end, trial and error is still the best way to find the right bed.
"We really don't understand why, but some patients respond better to hard mattresses and some to soft ones," Robert Molinari, M.D, told WebMD. 
This other peer-reviewed article from the Applied Human Science journal shows that patients aged 18 to 23 who slept on a futon mattress had higher body temperatures, lower humidity and lower relative humidity compared to those who slept on air mattresses. This is because futon mattresses trap heat better, but don't make you sweat as much. Higher body temperatures might also indicate greater comfort while sleeping. However, most of the patients who took part in this study reported good sleep, and no significant differences concerning sleep quality was found between the bed types. In a video attached to this link, Dr. Alan Mandell describes why sleeping on a floor is generally better than sleeping on a mattress. Futon mattresses can be placed on a tatami mat and work very well for this purpose.


Benefits of sleeping on the floor vs. sleeping on a frame
Earlier we discussed sleeping on the floor versus sleeping on a bed, but we should think about what it actually means to sleep on the floor. The considerations will be different if we are talking about a hard wooden floor or a carpeted floor. Milton Marvin Ang Chua, MD, a faculty member in the division of Sleep Medicine at the University of Utah, Department of Medicine, gives us some great advice. The most important part of sleep quality is how fast you fall asleep and how long you sleep for. Depending on the person, they might prefer sleeping on a firmer or softer mattress. "If you have too soft of a mattress this will make your back sag and slept ... too firm of a mattress might straighten it out," Dr. Chua notes in this interview. Ideally, you want to sleep so your spine is aligned the same as when you are standing up, meaning it should be straight with a slight curve. 
This is possible by sleeping on the floor, without a pillow, on something that is softer than just a bare wooden floor. For example, you might consider sleeping on a yoga mat which gives you some cushion while remaining comfortable. Sleeping on your back is preferable, because this gives your spine the most support. Sleeping on your stomach or on your side will be very uncomfortable on a flat surface. Experts suggest you should not sleep in the fetal position because it will cause your hamstrings and your hip flexors to tighten, and may lead to upper back pain when your pectoral muscles are tightened.
It's also important to note that sleeping on a firm mattress is not the same as sleeping on the floor. "The hardness of a floor can hit certain pressure points of the body, such as the tailbone, heels, and shoulder blades," Dr. Chua says. In some cases, lying on the floor for long periods of time can also lead to muscle degradation. According to Dr. Chua, "It's just the evolution of our society, and because we were smarter, we needed to be above [the ground]." For our part, we suggest that you give sleeping on the floor a chance and decide for yourself if it improves your quality of sleep.
Stieg, Cory. Refinery29.com. Why are paleo advocates so obsessed with sleeping on the floor?. Jul 27, 2017. Quoting MDhealth.com.


Do you use futon covers with a futon mattress? Or just regular sheets? 
You can use normal covers and sheets with your futon mattress. The only thing you need to be aware of is the thickness of your mattress. Also, getting sheets that can be zippered closed is preferable, because a futon mattress needs to be folded and unfolded often. Note you can always just tuck it under the futon if you don't want the zippered cover or zippered sheets. If you have a futon mattress that is split, there can be problems. For example, if you have a queen-size split where part of the mattress is on a free-standing ottoman, then you need individual sheets for each one and your normal sheets will not match the size of the mattress. In this case, tuck them underneath and they should work just fine.


How do you fold a futon mattress?
You can fold a futon mattress according to the manufacturer's instructions. If you are going  to fold a mattress in half, make sure that it's not too thick. Folding it into thirds is even more challenging with a thicker mattress. In general, a Japanese-style futon mattress, which is thinner, will fold much easier than an American-style mattress, which is much thicker. In general, the mattress also needs to be attached to a frame or else it won't stay folded. As you can imagine, the mattress wants to lay flat. For thicker mattresses, it is especially challenging to keep them folded.


My futon doesn't fold well. What do I do?
In some cases a high end futon will not fold well because of a foam core. If your futon is zippered you could remove stuffing in the middle or zip tie the futon to the frame to hold it in place. Also try sitting on and using the mattress frequently to break it in. Another strategy is to attach Velcro straps and use them to hold the mattress in place. More information on folding your futon can be found in this forum.
How do I clean a futon mattress?
It is smart to clean your futon mattress regularly, or as needed. One method for general cleaning is to sprinkle baking soda on top of it, then sweeping it off. Afterwards, you can air it outside in the sun or vacuum off the excess baking soda. To enhance this method even further, add vinegar which will lower the pH levels to the point that bacteria and mold cannot survive. Combined with the baking soda, which will remove the smell, this should do the trick.
If you are trying to remove an odor such as urine from a baby or from a pet, you might consider buying some enzymatic urine destroyer and soaking the futon mattress with it. Afterwards, let the mattress air out in the sun. If you are thinking of cleaning your mattress because it naturally has a strong smell, don't worry. This is just the foam core releasing gases. To deal with this, you might consider just using Febreze or other air fresheners and spraying the mattress periodically. Eventually, this smell will go away. 
For more information on reducing smells in your futon, you can visit this forum thread. There are also numerous threads on specific cleaning questions you may have, such as how to treat various mold problems or clean up bodily fluids such as vomit. If you choose to buy a used futon instead of a new one, you can find more information on cleaning used futons here.
How do I stop my futon mattress from sliding off the frame?
In some cases, even with the right frame, the futon mattress might slide off when bent into the sitting position. To solve this problem, you might consider using Velcro in several places along the top edge, where the frame is close to the mattress, and attaching the Velcro strips along the backside. A more permanent option is to sew the Velcro directly onto the back of your mattress. If you have a metal frame, which can be slippery, another option is to get some non-slip pads or shelf liner (made of the same non-slip material) and place that under the mattress. This is a very inexpensive solution. Here are some highly rated non-slip pads that you can use to keep the mattress from slipping.

How to fluff a futon mattress
Over time, the material inside most mattresses will naturally spread out to the edges. In order to fluff a futon mattress, treat it like a cotton pillow. Have at least two people lift the futon mattress and flip it over. Doing this three or more times should evenly distribute all the material inside the futon mattress. Afterwards, turn it 90 degrees and drop the mattress on its side. Do this three times in unison, making sure that there isn't any particular corner where material accumulates. Once you have done this, your futon mattress should be adjusted so the material on the inside moves towards the center, instead of outwards.
Follow your manufacturer's specific instructions to make sure you are taking proper care of your mattress, and it will last a long time. If your mattress has a foam or spring core, your body impressions will be more permanent and you will need a different strategy for fluffing. Try buying some cotton or other stuffing, and add it by unzipping the futon mattress cover and adding cotton as evenly as possible across the mattress. 
Can you use a memory foam mattress on a futon frame?
You cannot use a memory foam mattress on a futon frame easily. As previously discussed, this is because memory foam isn't designed to bend into an L shape the way a futon mattress is. You might even say that futon mattresses themselves aren't perfectly designed to be bent this way and require additional care. Another issue with memory foam mattresses is that they will contour to the shape of your body. Places where your body contacts the mattress will activate the memory foam, whereas places which are not in contact with your body will stay firm. This makes the memory foam mattress unideal for a futon frame, which works best with a firm mattress that maintains its shape well.
How do I choose a good futon frame? 
As might be obvious, a plain futon mattress cannot be used as a couch on its own. You need to buy a futon mattress frame that has good support and comfortable armrests. Remember that a futon mattress will not want to stay in the L shape of a couch; it prefers to be flat. With armrests, you can add pillows and support your back while sitting, and whenever you're ready you can pull out the futon mattress and sleep on it. Make sure you know the dimensions of your mattress before buying a frame, or the mattress might slide off the edges.


How do I choose a good futon mattress?
There are many things to consider when choosing your futon mattress: support, pressure relief, firmness vs. softness, and temperature regulation. Different types have different strengths, and the differences between them really depend on your preferences. Wool and cotton futon mattresses are comfortable and provide excellent support for your body while sleeping. Compared to cotton, wool is more resilient and springy, and it will not pack down as much over time. Latex and steel innerspring mattresses are also good materials for futon mattresses, and there are various synthetic materials that are perfectly safe. Alongside support and pressure relief, you should also choose your mattress based on the firmness that you prefer. The ILD rating of your mattress is going to be your best friend. 
Many factors determine how good a material is for temperature regulation. Both cotton and wool are great at temperature regulation. However, wool is generally better at temperature regulation than cotton because it stores moisture away from the surface, within the main core. Wool is also good at maintaining temperature in both directions--both hot and cold. For this reason, you are less likely to overheat or become too cold with a wool mattress. Here's a highly rated woolen mattress that fits futon frames. 
If you want it, some futon mattresses also have springs on the inside, but these are slightly more expensive. The base foam in many of these mattresses is high-quality polyurethane foam. This is generally safe material, but it is not natural. This may be important for those of you people who are looking for a natural or organic option. If this concerns you, consider instead getting wool, cotton, or latex. Here's an innerspring alternative to woolen futon mattresses. Take a look at the reviews and notice how people consider them 'comfortable' as opposed to 'firm'.
Finally, if you are looking for a cheap futon mattress or mattress frame, one option is to search on Craigslist. You might be surprised at how many people are throwing away these large bulk items, or even giving them away for free. However, if you plan on having the mattress and frame for a long time, consider purchasing something new and investing for the long run. 
Futon mattress sizes
Futon mattresses can be tricky to size, because there are several different names for each kind. Let's just look at the basic mattress sizes: a queen mattress is 60 inches by 80 inches. When someone says they have a queen mattress, regardless of whether it is split or not, the total dimensions will always be the same. A split mattress just means that there is a divot in the middle. In the image below, you can see that there are also ottomans, which can be attached or freestanding. Ottomans simply allow you to extend your mattress size. So, as you can see, the queen split with a free-standing or attached ottoman will still have the total dimensions of 60 inch by 80 inches. Split Futons with Ottomans also allow extra storage like this one.
A lounger is a kind of futon frame that allows you to put your legs up and recline (here's a highly rated lounger). It has four settings: it can function as a bed (laying flat), a sofa where the back is straight up or down with minimal recline, or can be slightly reclined to raise your legs in the lounger position. You can also have a position that is halfway between a lounger and a sofa, with the legs reclining towards the floor but still supported. This is called a steamer position, where your legs are supported but not parallel to the ground. When looking for a futon mattress, look at the dimensions mentioned in the product specification. The image below will help you imagine different ways of arranging the different types of futons. However, the final specifications will be unique to your product. 
Now let's discuss bi-fold and tri-fold futon frames. Notice in the image below the width dimensions for each type of mattress. A queen mattress has a 60-inch width. This is the horizontal part of your futon frame, and how much floor space is required for it. If the floor space is the width, the longer dimension (length) is split in half in a bi-fold frame. So a bi-fold frame with a mattress will tend to have a longer back, and take up more wall space. A bi-fold frame is generally more common than a tri-fold frame, and accommodates three to four people while sitting, as well as a sleeper who is up to 6 feet and 3 inches in height. Notice that the armrests will also have a length and a width, so you have to accommodate for that in your floor space. A tri-fold futon frame comes with a two-piece mattress. The large piece goes on the futon frame and the small piece sits on an ottoman. Remember that the ottoman can be attached or detached/freestanding. If you get a single mattress for a tri-fold frame, it will tend to be thinner, because it needs flexibility to bend frequently. On the whole, a tri-fold frame takes up more floor space then a bifold frame. 
Different types of futon mattresses
As we've discussed, futon mattresses can be made of wool, cotton, or latex foam. They can have spring cores or come without them. Generally spring cores do not last very long, because a futon mattress is designed for frequent folding and unfolding. High quality innerspring mattresses can last for a long time, but you still need to be wary of the continuous folding and unfolding. 
Basic futon mattresses are made of cotton and are the cheapest option. Sometimes foam is added to increase the rigidity of the mattress. More cotton means that a futon mattress will be heavier and firmer, and more foam tends to reduce lumpiness. Because of its density and elasticity, latex tends to hold its shape but also provide a surface that's very comfortable. However, more latex usually means more cost, unless you find a great deal on a latex mattress like this one.Also, adding wool on top of the cotton will decrease the rigidity of the mattress while increasing how good the mattress is at regulating temperature. Wool also tends to increase comfort and maintains its shape better than cotton does. Using polyester encasements instead of cotton will make a futon mattress lighter. Polyester is lighter than cotton, synthetic, and generally retains its shape better. 
Innerspring futon mattresses have a layer of springs that are encased in foam and batting (normally cotton). These behave more like traditional mattresses, and provides separation between you and the slats on the futon frame. Pocket coils have individually wrapped coils and tend to be more expensive than innerspring mattresses. They hold their shape better and tend to prevent motion transfer, so you and your partner(s) can sleep happily on the same bed without waking each other up. Take a look at this highly rated pocket coil mattress. 
Natural latex foam is highly elastic and durable, made from the sap or milk of rubber trees.  Liquid latex is collected for use in many industries. Synthetic latex is made to mimic the properties of natural latex. Most manufacturers blend natural and synthetic latex. To make Dunlop latex, a mold is filled to the brim with synthetic and natural latex liquid. As the latex pours, the heavier particles fall to the bottom and hence the bottom is denser than the top.  Talalay latex is created by pouring a measured amount of the latex blend liquid into a mold and then sealing the mold. A vacuum inside the mold causes the liquid to fill the entire mold evenly. at this point, the mold is frozen below 20 degrees Fahrenheit, which creates the cellular structure of the foam. Next, the latex is heated to cure the foam. Upon completion of the curing process, the material is removed and cut to make whatever product you want. So, as you can see, Dunlop latex and Talalay latex will have different structures. Dunlop latex will feel firmer and is usually used for base mattresses. Talalay latex is more evenly textured, not too soft or firm, and is used for higher-end mattresses. Consider getting a talalay mattress topper instead of a full mattress in order to minimize costs and maximize comfort. 
Viscoelastic memory foam was developed by NASA in the 1970s. It is much more durable and responsive to weight and temperature than most synthetic or natural latex foams. It is also called memory foam because when it is created, it is viscous and has stickiness, but also has flow resistance, density, and the ability to return to an initial state, which is the elastic component. Memory foam conforms to the body and doesn't push back as much as other foams, and naturally adjusts to your body weight and necessary pressure points. 
To summarize, cotton is the most common base material in futons. It provides flexibility as well as greater weight and firmness. It is not rigid (meaning it does not hold its shape very well over time). As you add more foam, the rigidity increases while weight and firmness decrease. Adding in polyester instead of foam decreases weight while increasing rigidity. A pure polyester mattress will be light, but not flexible. It will however hold its shape (rigid) and be firm. Innersprings will increase weight and rigidity while decreasing flexibility. 
Difference between high-end and low-end futon mattresses
When thinking about high-end vs. low-end futon mattresses, you are usually trying to decide which one has better value for the cost. So let's discuss the differences in those terms: which one provides you what kind of value. Afterwards, we can discuss how much you would pay for each type of mattress. 
First, when discussing value, metrics like comfort may vary based on the materials used, but almost every high-end futon mattress will be more comfortable than its lower-end equivalent. This is because the higher-end constructions will feature more foam (memory foam is especially expensive) and polyester, rather than cotton. As you read about in our section on materials, these high-end materials add certain features to your futon mattress: reducing firmness while increasing how well it contours to your body, remaining more flexible over time, being rigid enough to maintain its shape, and being durable so the mattress doesn't tear. Of course, the durability will depend on how well you take care of your mattress. 
Higher-end mattresses will also not be as lumpy as cheaper mattresses with high cotton content. Furthermore, cotton and wool tend to become more firm as they compress over time. Wool will initially compress up to 30% of its maximum compression, and afterwards decline more slowly. Cotton will compress much faster over time. Latex foam and viscoelastic foams will tend to get softer over time instead of more firm. This is natural as the foam breaks down. Why would a foam break down and become softer? Wouldn't the pores go away when it breaks down? Yes! However, smaller foam particles will trap more air than the pores in the original foam material. Hence, it will actually become softer over time. 
Higher-end mattresses will also have more "organic" certifications for their materials and components than lower-end mattresses, and you are more likely to have a good warranty or return policy on higher-end mattresses compared to lower-end futon mattresses. 
Hopefully this explains all the differences in "value" that higher-end futon mattresses will have in comparison to lower-end futon mattresses. In terms of price differences, think about what budget you are comfortable with and how quickly you plan on changing mattresses. Are you thinking of having one mattress for the next 10 years? Or perhaps just for a year or two before you have to buy something different? All of these considerations determine how the value/price ratio varies for you. 


Best futon mattress for sitting 
There are various considerations when choosing a futon mattress for sitting. How are you going to sit on the futon mattress? Will you be in the "lounge position" (angled back, and legs angled downwards and out)? Or in the "sofa position" (back straight up and down)? Depending on your sitting style, you need to choose the mattress that suits you best. Note that the length of your backrest for the sofa will depend on whether you have a bi-fold or a tri-fold mattress. Tri-folds will have a shorter backrest than a bi-fold. Also, be sure to take a look at our section on futon materials for a comparison between different mattress types. This will help you determine what you need to provide adequate support while sitting. 
A thicker and firmer mattress is better for sitting (about 7" thick is appropriate). This is especially important for the lounging position, because with a softer mattress you might "sink in" and find it hard to get out of your chair. This may additionally be a challenge when older people use the futon. Also, if you "sink in" too much, you might end up feeling the slats underneath. A firm mattress will also help resolve this issue. You might also consider having several bolster pillows on your futon, especially for those who prefer the lounging position.
Innerspring mattresses are more springy and firm. As we discussed above, sinking mattresses can be an issue and a firmer, springier mattress makes a better sofa. A tufted mattress will help durability and comfort over time. You also need to choose the right amount of firmness for you to feel comfortable. 
Ensure that your futon mattress cover is thick and textured to prevent slipping off the frame. This also helps with aesthetics, because it will look more like a normal couch. Microsuede works well to provide softness as well as texture and thickness. Finally, make sure your frame comes with armrests to ensure that you have adequate support for those using the sofa.


What is the best futon mattress to use on the floor?
A 4-inch thick wool futon mattress works well along with a carpeted floor - consider a woolen japanese style floor futon. You should also consider the weight and size of your futon if it needs to be moved regularly. For example, many Japanese-style futons are normally put away during the daytime and laid out again each night. A regular 20 cm thick futon is too thick to move easily, so consider getting a thinner mattress and adding a mattress topper, which can be moved separately. Your mattress also needs space underneath to breathe properly. Consider using some slats or a tatami mat as an alternative to getting a full frame. Tatami mats and slats help draw away moisture below the mattress. Having a hypoallergenic cover also helps, since it minimizes allergies (note that dust collects more regularly close to the floor). Finally, it's important to note that sleeping on the floor will require different sleeping habits than using a regular bed. When using a futon, get up slowly and stretch if you have knee and back issues. This will help reduce your pain over time. 
Toddler Futon Mattress Safety: Are futon mattresses safe?
Yes! As we discussed before, futons are still very popular for adults and children in much of Japan. In many other parts of the world, children regularly sleep on beds similar to futon mattresses, and there is no evidence that these children suffer back problems or other health issues. Mattress companies might present misleading information when they claim their products are better for children, but many other sources, such as this forum thread and several others, prove that futons are perfectly safe for children. A futon mattress is especially comfortable for co-sleeping with your young child, and can be safer than a child bed because it is so low to the ground. Because of this, you also don't need any guardrails for your child when using a futon mattress. Even if your child rolls off, they won't fall very far or hurt themselves accidentally.


How do I safely co-sleep with a toddler or child on a futon mattress? 
Many parents choose to co-sleep with their young children rather than buy them a separate bed. Futons can be very comfortable and practical for this purpose, and if you sleep directly on the floor, you will not risk your child falling off the mattress. However, there are other issues to be aware of. One possible issue with co-sleeping is that you can end up sinking towards the center of the mattress. Depending on the mattress you get, it can develop an impression of your body and hence some spots where you are likely to sink. In this case, you should buy a mattress or a mattress topper that is more firm (such as those made with latex) and is not likely to sink.  
If you are co-sleeping with a toddler on a futon mattress, another issue might be that the toddler will crawl away, so make sure your sleeping area is child-safe. Also, to reduce the firmness of your futon mattress without risking sinking, consider a mattress topper, or a foam pad that you can place beneath your mattress. The trick is to make sure that you are placing your topper on a surface that doesn't sag or lack of support, since it needs to be flat. If you find that your futon mattress has different spots that sag or don't sag, then a topper is not going to help you. This is a common issue when mixing different materials on a mattress. Further information on safe co-sleeping can be found here.


Comparison of a futon mattress vs. toddler bed
Using a futon mattress might be better than using a toddler bed. Your toddler will be much happier being able to crawl out or walk out off the futon mattress, as opposed to being trapped inside the bars of a toddler bed. Another option is to just use a normal twin-size mattress, but this might be too large for a young child. You might also consider co-sleeping with the child on a twin-size mattress, but remember not to have a pillow top mattress for a young child; you need something that is much firmer, or the child risks suffocation. The only issue with having small children on a futon mattress is cleaning underneath it. This is especially challenging for recently pregnant women. You want the extra space that a futon allows, as this is the most comfortable, and you can comfortably nurse your child with the additional space. Having a guardrail on your futon mattress frame is only advisable for some children, so be aware of your particular needs. If your futon mattress is on a frame rather than on the floor, you can also move the bed closer to the wall to prevent the child from falling over the edge.
How can I choose a safe, allergen-free futon mattress for babies / people with allergies?

First and foremost, the best way to avoid excess chemicals and irritants is by buying a mattress without added flame retardant. On top of irritating your skin, flame retardant chemicals may also aggravate breathing problems like asthma. The reason futon mattresses are often treated with flame retardant chemicals because foam is a synthetic fiber, and hence it is flammable. However, that cotton and wool are naturally flame retardant, so these additives are not necessary. High quality cotton mattresses and wool mattresses can become charred but will not go up in flames like other synthetic materials.
However, simply using a cotton mattress can also be dangerous for your baby. Remember that growing cotton requires a lot of pesticides, and can expose you to various harmful chemicals. To get around this, you can use an organic cotton mattress--but be prepared to pay the price for organic materials. Another option is to get a wool mattress, which will be priced much more reasonably; but in this case, be aware that the wool odor may be strong at first. The smell of wool is particularly noticeable in damp weather, so make sure to keep your mattress as dry as possible. For more information on how to reduce odor in your mattresses, see our section below on cleaning and caring for your futon mattress. 
It is also important to note that what is safe or unsafe in a mattress depends a lot on your individual needs. For example, be aware of your relevant medical conditions, such as MCS or multiple chemical sensitivities. If you have any such sensitivities, avoid polyfoam in all furniture materials and stick to natural, organic materials such as cotton and wool. However, be aware that many foam-free innerspring mattresses can be too soft for co-sleeping with infants, so be sure to look for a high ILD (indentation load deflection) rating when choosing your mattress. 
Also note that a lot of information online on safe and organic materials can be misleading. Contrary to popular belief, there are many synthetic materials that are just as safe as organic materials. The best advice is simply to know your individual needs. Personally, I try to find mattresses that have low VOC (volatile organic chemicals) content. For extra safety, use regular sheets, and a mattress pad with organic, quilt-like cotton to protect your futon mattress.
Disclosures
This website is a participant in the Amazon Services LLC Associates Program, an affiliate advertising program designed to provide a means for us to earn fees by linking to Amazon.com and affiliated sites.