10 Bed Skirt Alternatives & Their Pros and Cons
A bed skirt is a decorative fabric with frills and ruffles that is made to cover the box spring, the bed legs, or any space under the bed that may be used for storage. In addition to its aesthetic value, a bed skirt keeps dust, allergens, and bed bugs from getting under your bed. To learn more about how to prevent infestation, read this article from Medovate. Nowadays, bed skirts are no longer a "must-have" because the frills and ruffles often associated with bed skirts are seen as old fashioned. People are moving towards other bed skirt alternatives to give their room a more modern appearance.
Bed skirt alternatives include fitted or flat sheets, curtains, box spring wraps, and rugs. These ideas serve the same function as bed skirts, hide a wooden or metallic bed frame, and create a modern look.
Bed skirt alternatives may be available in a variety of fabrics, colors, and length to add a neat and elegant finish. Although they are easy to put on, they could need adjusting to achieve a perfect fit. A correctly installed bed skirt should sit at a length that hangs ¼-inch to ½-inch above the floor. The bed skirt must not collect on the floor because this will cause it to get dusty and damaged.
What is a Bed Skirt?
A bed skirt can be made of soft flowy fabrics like poly-cotton, rayon, linen, and viscose, or studier fabrics like wool tweed, poplin or duck cloth. The lighter fabric will help you achieve a ruffled look and the heavy fabric will make a skirt that is straight or pleated and structured—creating a clean and styled look. Read our article on platform bed skirts to see examples of these straight finishes. Make sure to also take a look at our guide to bed skirt styles and 10 interesting ideas too.
A bed skirt (also known as a dust ruffle) is a piece of fabric that lies between the mattress and the box spring and cascades towards the floor to hide the underside of your bed.
This decorative bedding accessory is used to keep dust from accumulating under the bed, and to conceal any space under the bed that may be used for storage, as well as provide a decorative function when matched to the other furnishings in the room. Read our article on how to cover a box spring to match room decor for more tips. There are various types of bed skirts, all of which differ in terms of fabric, style, color, and installation.
Make sure to check out our bed skirt height and length guide too for more useful information.
Velcro Bed Skirts
A velcro bed skirt hangs on the edges of the bed very easily without lifting your mattress. It actually stays in place when installed and doesn't need adjustments—you just need to place the fabric evenly on each side. However, a velcro bed skirt does not cover the entire structure of the bed and it wears out over time because the adhesive can stop sticking. We like this bed skirt from Amazon because it is easy to remove and wash in the machine.
Wooden Bed Skirts
Having wooden bed skirts is like having an extra bed frame that covers the three sides of your box spring. Whether your box spring touches the ground or is lifted up on risers, you'll want your wooden bed skirt to cover the legs of the bed up until the height of the box spring. Many metal frames have slots that attach to the headboard and footboard of the bed. These bolts and washers can also help keep your wood bed skirt in place. You can even paint the bolt heads or the wooden bed skirt itself and make it look like a piece of art. If your bed is made of wood you might need these bed rail brackets from Amazon to attach the wooden bed skirt to the frame.
Linen Bed Skirts
A linen bed skirt is installed in between the mattress and the box spring, which requires removing the mattress and adjusting the three separate panels. Linen bed skirts cover the box spring and cascades towards the floor to hide the space under the bed. Read this article from The Journal of Natural Fibers titled, "The effect of Linen and Linen Blends on the Comfort Properties of Bedding Fabrics," to learn about bedding fabric composition and how it affects your sleep.
The linen panels are easily pinned into the box spring and can be available in different materials like cotton, lace, and wool. They also come in different styles known as gathered, pleated, tailored or layered, all of which offer a super luxurious look. We like this linen bed skirt from Amazon because it is easy to install.
You may also find some helpful information in our quick and easy bed skirt hacks to elevate the look of your room as well as our bed skirt uses, tips, and tricks. You might also find more useful information in our 6 ways to make a bed skirt stay in place and prevent sliding too.
What is a Bed Wrap and How Is it Different Compared to a Bed Skirt?
A bed wrap, also known as a box spring wrap, is a piece of fabric that wraps perfectly over the box spring just like a gift-wrapped package. The benefit of this design is that it fits the box spring and is neatly tucked away with little maintenance, so you don't need to adjust it every day. It does not extend below the box spring but still offers a sleek and polished look.
The difference between a bed wrap and a bed skirt is that a bed skirt covers the box spring, cascades towards the ground, and comes in different styles. On the other hand, a bed wrap is more difficult to install, does not hide the space under the bed, and is only limited to one design style.
Make sure to also take a look at our definitive guide to different types of bed skirts and their uses for some more ideas.
10 Bed Skirt Alternatives: How to Hide a Wooden or Metal Bed Frame
1. Fitted Sheets
You can place a fitted sheet around the box spring just like a bed wrap or you can use a flat sheet to flow down your bed and cover your bed frame. Find the adequate size to avoid puckering and to create a streamlined appearance to the bed. Choose dark colors to prevent the print of the box spring from showing through the sheet. These fitted sheets on Amazon disguise your box spring in a very neat and tidy way.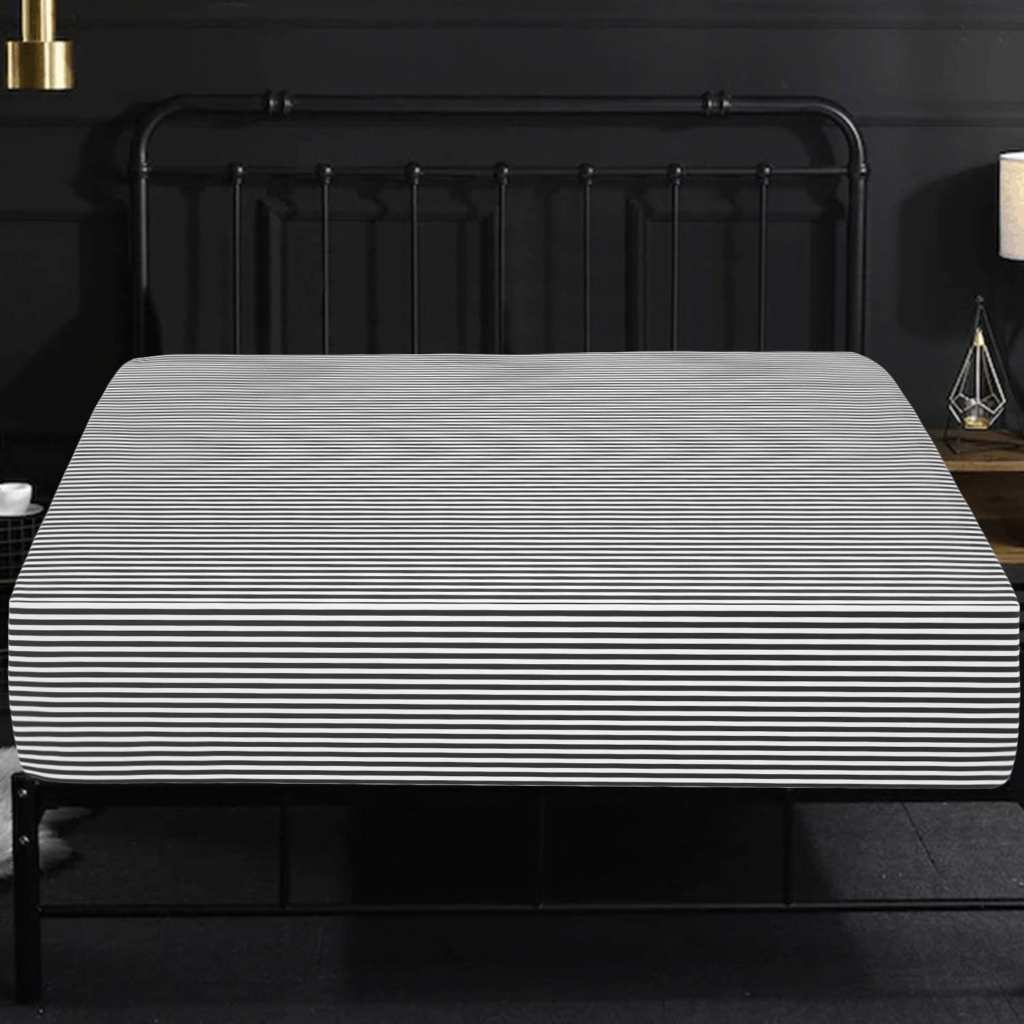 2. Curtains
If you are looking for a unique idea for a bed skirt, a window valance can make a beautiful alternative. It is available in any fabric type and in a wide range of styles, colors, and patterns. It is easily installed using bed spring pins and can be changed frequently to accommodate any decor. You can adjust the length to be as short or as long as you would like.
The pinning might come loose though, which may create sagging—to prevent the valance from pulling loose use upholstery pins like these from Amazon. Finding the right height may be challenging and some valences might be heavier than a regular bed skirt. Check this window valance from Amazon and get as many as you will need to use it as a bed skirt.
3. Flat Sheets
Use an oversized flat sheet on a smaller bed to provide a sleek look for the bed. Place it underneath the mattress so that it covers the box spring, the bed frame, and what's underneath. Flat sheets are available in many colors and patterns. However, they shift and slip often, which requires frequent adjustments. Check these flat sheets on Amazon.
4. Box Spring Wrap
A box spring wrap is designed specifically to cover a box spring. The way it wraps over the box spring is similar to that of a fitted sheet. The only difference is that a box spring wrap is made to fit properly on your box spring with no hassle. This is a simple and effective solution to create a sleek design because it doesn't need to be readjusted, as it simply spreads on the box spring and won't start slipping over time. Have a look at this box spring wrap, which snuggly encloses the box spring with little maintenance.
This bed skirt alternative does not conceal the storage space under the bed so you could use a valance to close up this open space beneath the bed if you're storing items. Read our article on how to raise a box spring to create more storage under your bed if space is limited in your bedroom.
5. Wrap-Around Bed Skirt
A wrap-around bed skirt is very easy to put on and take off without lifting the mattress. It's a great alternative to a traditional bed skirt. It hides the box spring, the frame, and the space under the bed. It is readily available in different colors and styles—you can find a flat-looking wrap-around bed skirt or one with frills. However, it could easily slide or shift because of the elasticity of the fabric, which may stretch and wear over time.
Have a look at this wrap-around bed skirt from Amazon which is wrinkle and fade resistant.
6. DIY Bed Skirt (Make Your Own)
A bed skirt can be easily stitched together using any fabric material of your choice. You may already have a particular fabric on hand, such as old sheets, curtains, duvet covers, or other linens. The style is all up to you but keep in mind that creating your own bed skirt is time-consuming and requires special skills. Check out this Youtube video to learn how to sew your own bed skirt.
Also, if you have an adjustable bed, make sure to take a look at our article on choosing bed skirts for adjustable beds for some additional ideas.
7. Rugs
This trick works with box springs placed on the floor. After putting your box spring on top of a rug, use the same rug pattern on the sides of the box spring to hide it. After cutting it to the proper measures of the box spring, you can simply staple the rug pattern onto the box spring using a staple gun. Check out this rug from Amazon, which can be used on the floor as well as on the edges of your box spring.
8. Padded Material
You can attach a padded or an ordinary soft fabric to the box spring. Choose the color that matches your bedroom decor. Use a staple gun like this one from Amazon to attach the fabric to the box spring properly. If you have decided to use a padded material, it is better to use lightweight polyester batting like this one from Amazon and cover it with your desired outer fabric. It's an expensive bed skirt alternative, but it provides a soft and luxurious cover. This ready-made bedspread from Amazon would make a great covering if you wanted to create a bed skirt with a Bohemian look.
9. Stickers
If you are trying to style your child's box spring, you can use stickers to decorate the bed frame and box spring. Choose specific stickers that stick properly on wooden and metal materials. This will allow you to easily put on or remove any sticker at any time. These sticker sheets from Amazon are customizable and easy to apply.
10. Paint Your Bed Frame
Painting the bed frame is a good idea to upgrade the look of the bed without installing traditional bed skirts. This will draw people's attention to the overall look of the bed rather than the unattractive box spring. A paint kit like this one from Amazon comes with a variety of colors if you want to paint custom images on your bed, or you can choose a neutral color paint like this one from Amazon if you prefer an understated look.
Summary of Bed Skirt Alternatives with Their Pros and Cons.
Bed Skirt Alternative
Pros
Cons
Example
Price
Fitted Sheet
An affordable way to quickly cover a bed frame.
It might shift and pucker over time unless it is secured with pins or fabric tape.
Dream Care extra deep pocket fitted sheet
~ $15
Curtains
Creates a unique look, and easy to install and remove to wash.
You will have to buy more than 1 valance to cover the whole bed frame.
Skl Home 13-inch valance
~ $10
Flat Sheet
Easy to install and remove. Is machine washable.
Will need to be straightened often because it will shift with everyday use. Secure it with upholstery pins to prevent shifting.
Basic Choice bed sheet
~ $25
Box Spring Wrap
Elasticated cover that is made to securely fit box springs, so it won't slip off.
Only covers the box spring and doesn't cover the space under the box spring.
Barossa Design box spring cover
~ $20
Wrap-Around Bed skirt
Easy to install without lifting the mattress. Covers the bed frame and the space underneath the frame.
The elastic could wear out over time and cause the skirt to sag.
Nestl Bedding pleated 14-inch bed skirt
~ $20
DIY Bed Skirt
You can create a custom look for your bed skirt with fabric you have on hand and save money.
Requires basic sewing skills and a sewing machine.
SoulLife sewing machine for beginners
~ $80
Rug
Create a durable bed skirt that fits your decor.
It's thick and hard to secure to the frame unless you have a staple gun.
Hebe cotton area rug with tassles
~ $30
Padded Material
Save money by using duvets or bedspreads you already own.
Can be expensive if you buy a new bedspread to cover the bed frame.
NewLake reversible cotton bedspread
~ $90
Stickers
Inexpensive to buy and easy to install.
May leave sticky residue on the bed frame when removed.
Howaf sticker sheets 2000 assorted stickers
~ $20
Paint
A quick and cheap way to update the look of your bed frame.
It can be time-consuming to prime and paint the bed frame.
Chalky Chicks chalk finish paint
Sax True Flow acrylic paint in 12 colors
~ $20

~ $55
In a Nutshell
Some people have limited closet space in their bedrooms and have to store their clothes in plastic boxes under their beds. Covering your bed frame or box spring will quickly elevate the look of your bedroom by hiding any under-bed storage and clutter. If you want to find out how to raise your bed so that you can optimize the storage in your bedroom then have a look at our article about 5 bed riser alternatives for more ideas.
Disclosures
This website is a participant in the Amazon Services LLC Associates Program, an affiliate advertising program designed to provide a means for us to earn fees by linking to Amazon.com and affiliated sites.