Do you wake up tired with terrible back pain? The reason for this can be your mattress. When you sleep, you rely on the surface of your mattress. Therefore, you must ensure your mattress supports your back and provides relief (check 10 amazing mattresses).
This is why we have compiled the best mattress for back pain and how it can help you sleep better.
Best Mattress for Lower Back and Leg Pain Reviewed
Top 10 Mattresses for low back and hip pain
Ghostbed luxe mattress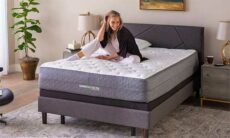 - Made in USA
- The Coolest Bed in the World
- 7 Layers of Comfort
It's like floating in the air
The Ghostbed Luxe mattress is one of the company's premium products. It has a seven-layer foam design, including a luxury cover.
The mattress has 3 inches of ghost ice fabric cover, gel memory foam, and cooling fiber. It goes down to include an all-night cooling ice fabric. The gel memory foam is breathable, helping regulate temperatures and keep you cool through the night.
The GhostBed Luxe is supportive. However, it does not let you push it in so your sink, but sleepers will feel well-rested. This feature comes in the ghost bounce layer that helps provide support but pushes back, so you do not sink. It is not entirely a firm mattress for back pain but is also not plushy.
GhostBed Luxe Mattress comes with properties that help reduce the pressure that sleeping can bring to your back. It further helps in lowering backaches and alleviates muscle pains. However, to ensure even more support, use the Ghostbed all-in-one foundation. This metal construction keeps the mattress in place so that this mattress can focus on relieving you from your backache.
While sleeping on this mattress, a person experiences extreme comfort. This mattress ensures comfort to the customers and helps them get a relaxing sleep. Gel Memory Foam has superior cushioning properties and reduces pressure points. The foam layer of this mattress provides proper support and renders the users chiseled edges.
It consists of 2 layers of gel, 3 layers of memory foam, and an ice layer. The cover is cotton and bamboo with a zipper that allows easy removal.
The GhostBed Luxe Mattress is a groundbreaking product. It uses a memory foam mattress, which delivers pressure point relief. The mattress is encased in a waterproof cover and breathable fabric, which is hypoallergenic and mite-resistant.
In a nutshell
This mattress is the perfect partner for sleeping if you have backaches and want to sleep like you are floating in the air.
Leesa Original Hybrid Mattress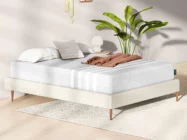 - Premium memory foam
- Airy & spacious feel
- Provides pressure relief
Support you never know you needed
The Leesa mattress is a high-quality mattress. The Leesa mattress has three unique layers; the comfort layer, support layer, and base layer. They come with a Leesa cover that ties the mattress together.
The support layer is of 789+ spring pockets. Each supports a different body part ergonomically according to its position on the mattress. The third is the recovery layer which is the memory foam layer. This layer provides the ultimate contouring so that the spring pockets know where to exert pressure and how much below it.
This mattress is made up of two different materials; Memory foam and spring pockets.
It has a twill fabric cover with unique softness. The top cover is soft, breathable, and beautiful. However, you should add the 400 thread count sheet set.
The Leesa Original Hybrid Mattress is the top-selling mattress and is highly rated and reviewed as a mattress for backache. Perhaps the reason is the pocketed spring that the Ghostbed Luxe Mattress does not have! It should be on top of your list if you are in the market for a quality mattress that supports your back and joints.
Its cooling feature has just the breathable comfort layer. This seems short-sighted when comparing it with the ice layer that the GhostBed Luxe mattress features.
In a nutshell Overall, The Leesa original is the best mattress for lower back pain. It is a dual combination of different forms. These all combine to give you comfort and support for your back so that you are refreshed and well-rested when you wake up.
Molecule Hybrid mattress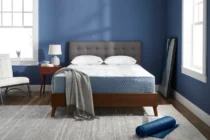 - Cooling support
- Extra plush quilted top
- Designed to maximize comfort
Five layers for five times the support!
The OnMolecule hybrid mattress features six layers of materials. Each layer is customized for comfort, support, and pressure relief.
The first layer is the advanced cover layer. This layer has a quilted top to enhance airflow. The second layer is the MolecularFLo layer.
This layer is not your regular memory foam layer. It delivers five times the airflow of regular memory foam.
Another layer of memory foam comes to play to give more support to this mattress. This layer passes through without losing the balance in the mattress. The coating is exclusively called AirTec. The next layer you will see is the RecoveryFLo layer. This layer helps in providing self-adjusting support to the sleeper.
The second last layer is the molecule layer. This layer is an individually wrapped coil system to support the back to different weights exerted on the mattress. These also work individually rather than in unison to provide the best support.
The OnMolecule Mattress has a patented technology design that allows support at 100 points of pressure. It's made with layers of comfort with the combination of coils and memory foam. This makes it the best mattress for back and hip pain (also check the top-rated mattress toppers for hip pain).
The OnMolecule Molecule Hybrid Mattress combines the goodness of an innerspring mattress and a memory foam mattress. This helps the mattress help the sleepers with the best comfort and optimal support.
The OnMolecule Molecule Hybrid Mattress is a specialty mattress with a unique design that maximizes comfort. It combines the benefits of coils and memory foam to provide a sleeping surface that is pressure-relieving, breathable, and temperature regulating. Just like the Leesa original hybrid mattress, it does not have gel. However, it works amazingly to make every layer cooling and breathable.
In a nutshell This mattress is for those that want nothing but coolness. It keeps the spine and joints in their right position and isolates each coil to work individually for each body part.
Diamond mattress intention hybrid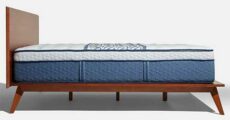 - Hotel quality
- Ultra comfortable
- Pressure relief (good for the back)
Your sleep is more valuable than a diamond!
If finding a good night's sleep is important, then a Diamond Intention Hybrid Mattress may be the right choice.
There are three layers on this mattress. The basic and top one is the cool touch advanced temperature regulating fabric. This layer helps in dissipating heat from the body when you are sleeping. It also wicks away moisture so you wake up happy and dry.
The second layer is the exclusive Diamond hyper-conductive memory foam layer. This layer is made of memory foam but is better.
The third layer is the CertiPUR-US certified layer. This layer helps the heat and wick it out while keeping the mattress durable.
The final layer is the patented zoned support system layer. This layer is to protect the mattress from motion in all areas. While the layers are top of the class and work amazingly, we can't help but miss the OnMolecule coils on this mattress that provide exclusive support.
The Diamond Intention Hybrid Mattress includes features that help eliminate backache. This is possible because Diamond Intention Hybrid Mattress has a special feature that allows it to adjust to your body. This mattress will adjust to your body contours, hence eliminating back pain.
To make this mattress even more supportive, add the Diamond Sleep Easy Adjustable Pillow. This pillow is suited to roll up and taken anywhere. You can adjust the height according to your height and spine alignment on it as well.
The foam layers of the Diamond Intention Hybrid Mattress help provide support and comfort. It comes with breathability-infused foam. This extra layer in every foam helps the body sleep comfortably.
In a nutshell The diamond mattress may not have a cooling gel. However, every layer has the property of being cool and even motion isolating. This allows support and moisture wicked sleep every night.
Emma Hybrid comfort

- Built to last (USA)
- Great on a budget
- Good for heavy people and couples
Double the technology, double the comfort!
Emma Comfort Adapt Hybrid Mattress's design includes five layers to provide great support and comfort. The Adapt Foam base supports your body in a neutral position.
The mattress has contour quilting, which creates extra support in key areas. The Emma Comfort Adapt Hybrid Mattress has 1000 pocketed coils. The coils work to support your entire body, evenly distributing your weight, so every part of your body has support.
The Adapt mattresses have a high-density foam layer. This layer makes the mattress more supportive, so your entire body gets the support it needs. The mattress also has memory foam. The memory foam conforms to your body, relieving the pressure on your back and joints.
The high-density Adapt Hybrid Mattress has 6 inches of base foam, which helps the mattress support your entire body. The mattress is CertiPUR-US® certified as well.
The Emma Comfort Adapt Hybrid Mattress is a medium-firm hybrid mattress that delivers a cool, comfortable night's sleep. It provides support and comfort while maintaining an ideal temperature for sleep.
Emma Comfort Adapt features a hybrid design. This design combines two technologies into an advanced system. The system helps and promotes good sleep. The first is Emma Comfort Adapt's patented pressure point reducing memory foam, which adapts to your body by contouring your shape and relieving pressure points.
The second technology is the airflow system. This system easily flows the air throughout the mattress.
The ParticleCool Airflow System gives seven times the airflow of regular mattresses. This makes it better compared to the OnMolecule, which gives only 5 times the airflow. Use it with the Bamboo Sheet Set by Emma to add moisture-wicking technology.
The Comfort Adapt Hybrid mattress is a hybrid mattress that incorporates a two-sided design. You have a solid innerspring layer, then a layer of memory foam on top. The memory foam conforms to your body, while the spring layer keeps the mattress stable. These make this one of the best mattresses for lower back and leg pain.
In a nutshell Combining coil and memory foam into a flipping mattress makes this one of your best bets to rest your backache while sleeping.
Puffy Royal Mattress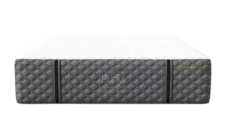 - Works With Any Bed Frame
- Reflexive Memory Foam
- Suitable for all sleep positions
Puffy, the name, supports the game!
This mattress is different from other mattresses because of its unique design. It combines gel memory foam, firm foam, and many other layers. Due to its firmness, this hybrid mattress helps you get proper spinal alignment. It prevents motion transfer and reduces the pressure points. Proper spinal alignment reduces back pain.
There are seven layers that the Puffy Hybrid Royal Mattress features. The first layer is the top cover. This is the stain-resistant cloud cover. This cover is designed to eradicate stains easily, along with being hypoallergenic.
The second layer is where the story gains momentum. The Puffy special foam infused with cooling gel does its job when the sleep gets hot at night
Ensure that the mattress gives you next-level support through the reflexive memory foam. This layer helps the mattress take your body shape whenever you exert pressure.
Another layer of the Climate Comfort features this mattress next. This is especially for humidity and to keep the mattress light and not stuffy.
Another unique layer is the cloud air technology foam. This foam adds to the comfort level and makes you feel like you are sleeping on a cloud. The Firm Core Support Foam + Contour Adapt Coils are the second to last layer. These are pocketed separated coils that help the body stabilize to reduce aches.
The final layer is the grip which helps keep the mattress stable. Give the mattress even more support with the Bed Foundation by Puffy.
Puffy mattress is a top-quality mattress that features hybrid construction. Composed of over 1,000 pocketed innerspring coils encased in a foam envelope, the mattress provides a spring mattress firmness with memory foam's contouring.
In a nutshell Puffy always stands by its name – Puffy. This time, however, it gives you enough support to help reduce the backache that comes with a lack of support during sleep.
Naturepedic Halcyon

- Superior quality
- Personalized comfort
- Modern design
The organic way to get relief
The Halcyon Mattress is one of the best mattresses for lower back pain sufferers. It is made from natural latex and organic cotton.
Naturepedic Halcyon mattress is 100% polyurethane and hypoallergenic. The natural latex in the mattress is 10 times more durable than rubber. This makes it naturally resistant to mold, bacteria, dust mites, and other allergens.
The mattress is antimicrobial, waterproof, and resistant to dust mites. Thus, making it safer for children to sleep. The Naturepedic Halcyon mattress has a bio-foam core. This core is eco-friendly and aids spine alignment when sleeping in unnatural postures.
Using it for a kid? Don't forget to add the Naturepedic waterproof protector pad on the mattress. This soft sheet is seamless and has a cotton material. It helps protect your mattress from accidents.
Naturepedic Halcyon Mattress has multiple layers that help in providing superior support, comfort, and breathability. The mattress contains three layers of comfort. This includes a 1.5-inch layer of firm support foam, a 3-inch comfort layer of support foam, and a 5-inch comfort layer of soft, temperature-regulating foam.
The top layer is Naturepedic's exclusive Zoned Support Foam, which provides support and pressure relief while supporting proper spinal alignment. The individual coils also ensure that your spine and posture are straight no matter what position you choose to sleep in.
Naturepedic mattresses are eco-friendly and are made of organic materials. The Halcyon mattress has a waterproof cover made of natural cotton, making it extra comfortable for a baby. The innerspring is encased in natural cotton and a waterproof cover.
The Naturepedic Halcyon mattress is open-celled memory foam, latex, and plant-based mattress that promises maximum comfort and support with a 72-coil pocket system. The mattress includes a 10-inch ventilated, removable, water-repellent cover, organic cotton fabric, and a bamboo blend quilt.
In a nutshell Fan of the organics? Naturepedic uses organic and nature-friendly materials to create a mattress high on support for your back pain.
Plushbeds Luxury Bliss hybrid latex mattress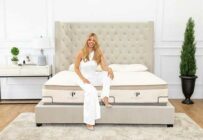 - 365 nights trial
- Organic
- Perfect for sensitive backs
Better sleep for a better tomorrow.
The Luxury Bliss mattress from Plush Beds is a hybrid natural latex mattress. The underlying layers of this mattress are a combination of pocket coiled and 100% organic Talalay latex.
The Luxury Bliss has the advantage of being utterly customizable at home. An organic cotton cover wraps around the Luxury Bliss mattress. This mattress's cover features a zipper that spans its length, allowing you to access the inner layers. It has a silky feel to it and is very breathable.
 The soft cotton cover does an excellent job of absorbing moisture as well. As a result, the covering keeps you dry if you sweat at night.
 A small layer of pure wool lies beneath the cover. It serves several purposes.
The 3″ layer reduces shoulder, back, hip, and other pressure spots while supporting and aligning your spine. With pocketed coils, its Luxury Bliss delivers excellent stability and support.
The medium and medium-firm mattress options for the PlushBeds Luxury Bliss are available. The best option for most people is the medium one. It has a Talalay ILD 24 latex layer that provides gentle contouring and solid support.
The standard Luxury Bliss mattress is ideal for those weighing less than 230 pounds. On the other hand, the medium-firm Luxury Bliss may appeal to back and stomach sleepers who like a firmer mattress feel (also check 9 amazing mattress toppers for stomach sleepers) .
In a nutshell This sort of mattress provides the characteristic bouncy feel of a spring mattress, which is a plus. In addition, this mattress has GreenGuard Gold certification. Finally, it ensures that the bed doesn't emit dangerous chemicals (off-gassing).
Luxury Bliss provides above-average edge support because of its hybrid pocket coil construction. When you sit or sleep at the side of the mattress, the coil layer stops it from collapsing. Couples will appreciate the strong edge support. They can use all of the mattress's surface without feeling like they'll fall off.
Amerisleep AS3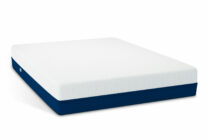 - Cooler memory foam
- Breathable
- Responsive & supportive
The best way to sleep without a back pain.
AS3 Hybrid is a luxury mattress in both practice and price, with high-quality manufacturing inside and out. The AS3 provides pressure relief and spinal support for side and back sleepers under 230 pounds.
The AS3 comprises three layers to strengthen the top comfort layer.
Memory foam (3 inches) (Bio-Pur, open-cell)

Transition polyfoam of 2 inches (zoned with Surface Modification Technology)

High-density polyfoam, 7 inches thick (Bio-Core)
The thicker memory foam layer achieves a natural medium feel. However, this substance is more sensitive than memory foam and cradles the body.
This mattress, like the AS2, contains a zoned transitional layer for tailored support and pressure reduction. The transition layer is slightly softer than the AS2, contributing to the bed's overall plusher feel.
Amerisleep's pocketed coil mechanism keeps the body straight and raised. These coils gently compress to relieve pressure spots that cause pain. Pocketed coil design incorporates double-density rings to increase edge support.
The Refresh Cover is cool to the touch because it's constructed of high-energy transfer fiber. An eight-hour night's sleep will keep your mattress 7 degrees cooler.
Sleepers who want to personalize their convenience by changing positions will benefit from an adjustable base. The Amerisleep Adjustable Bed base will help you transform your sleeping position during the night for better rest, posture, and circulation.
The AS3 Hybrid mattress is available in Queen, King, California King, and Split King, among others.
In a nutshell The zoning measures will come in handy if you have a lot of pressure on your hips and shoulders. Also, if you weigh over 250 pounds, you'll lose memory foam shape and softness, and side-lying may lead you to sink too deeply. The open-cell design provides more incredible ventilation than typical foam. this mattress will give you better sleep, less
sweat
, and less tossing and turning.
Siena Memory Foam Mattress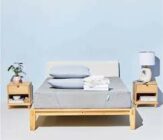 - Body supporting layer
- Soft and Comfy Cover
- Affordable price
A good option for people with sore back.
This mattress is a medium-firm design with many features at a low price. It's an excellent option for budget-conscious buyers looking for a comfy mattress without sacrificing quality.
Three types of foam are used in the Siena Memory Foam Mattress to relieve pressure and lumbar alignment. The top layer is 2.5 ′′ of gel-infused high-density foam to support pressure points. In addition, the gel keeps you cool at nighttime by wicking away the heat from the mattress's surface.
Next is a 2-inch transitional polyfoam layer that should mold to your body. The foam has horizontal ventilation slits (ripples) to increase breathability. Finally, Siena's 5.5-inch polyfoam layer provides structure and durability while sleeping.
This model's polyfoam transition layer and stability core prevent sinking and feeling stuck. Moreover, it has a slight odor when unrolled, but it vanishes soon.
Softcover weaved with polyethylene fibers regulates temperature and wicks away moisture. In addition, the cover's bottom claims to feature a non-slip construction to keep the mattress from moving about.
All Siena foams are CertiPUR certified, which means they're free of hazardous chemicals and heavy metals.
Pressure alleviation and support can help relieve back discomfort. The Silk & Snow Pillow's shredded memory foam core relieves head and neck discomfort. Any sleeper can achieve a perfect loft level thanks to the changeable fill. This design comes at a lower-than-average price, which may appeal to bargain hunters.
In a nutshell Siena appears like an amicable solution for folks who want
foam mattresses
but have a limited budget. It disperses body weight and absorbs impact to reduce back and hip discomfort. It may be a good alternative for
side and weaker back sleepers
because of its pressure relief.
How can I prevent lower back pain while sleeping?
Escalating lower back pain is very common during sleeping. This mostly happens when the sleeper lacks in the right position. Moreover, this pain can be caused by excessive weight on the belly or the back. So, the question stands, how can it be fixed?
The first thing you should do is to look up some yoga postures or stretches before you lie down. This helps in making your back more flexible when you are sleeping.
The next very important thing to do is get a mattress that gives you the ultimate support. This allows you to find relief according to the different shapes of your body and according to your sleep posture. Coiled memory foam and many other mattresses give the best support to your lower back.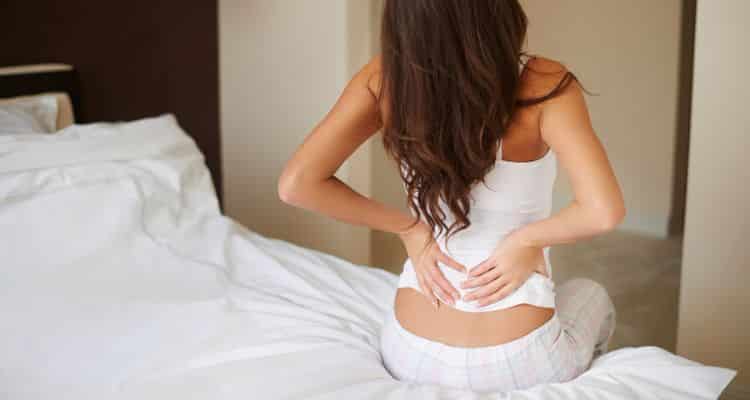 What mattress firmness is best for back pain?
The firmness level of a mattress is determined according to how the firmness of the mattress affects a person's comfort. This varies from one person to another. Primarily because of the different body shapes, sleeping habits, and body weights.
Most people prefer medium-firm mattresses. However, in some cases, medium-firm beds are not comfortable to sleep on. However, for lower back pain, if you are lighter than usual or underweight, then getting something softer helps. This is so that the mattress can go down and provide support according to your weight.
People with perfect weight can go for medium firmness for the right support. However, heavier people need slightly firm mattresses that do not sink when they exert pressure. Hence, the mattress is then able to support their lower backs successfully.
Is a pillow-top mattress good for back pain?
Yes, a pillow-top mattress is good for back pain. Pillow-top mattresses are designed to keep the spine straight. They do this by using extra padding around the back and sides of the mattress.
Pillow top mattresses are pillow tops which means they have soft tops. They provide additional softness on top of the mattress for extra comfort. A pillow-top mattress could be a good choice for someone with chronic back pain.
However, it will depend on how much pressure you put on your mattress. If you toss and turn a lot during the night or are slightly more overweight than usual, this type of mattress may not be your cup of tea for your backache.
Can a firm mattress cause back pain?
Sleeping on a firm mattress can cause back pain, but so does sleeping on a very soft mattress. Mattresses that are too hard to sleep on can also cause back pain. You see, mattresses that cure back pain must be worked with foam.
The foam in them should be able to push back. However, this does not happen when little or no pressure is exerted.
Firm mattresses can sometimes increase back pain. On the other hand, firm mattresses can help prevent back discomfort, but a firm mattress can also strain your back muscles and trap nerves. The mattress contributes to the pressure points (also check 10 great mattress toppers for pressure points).
A firm mattress allows the spine to stay in a neutral position. A soft mattress does not do this. Soft mattresses cause the spine to arch. This causes pressure points.
Once again, it is important to mention that the sleeper's weight makes a difference. There are contrary arguments here. It is important that the mattress firmness work according to the weight. Ideally, you want a mattress that sinks just a little without making you feel like you are on the ground.
Why is my lower back pain worse in the morning?
Lower back pain is likely due to sleeping on one's side. Sleeping on the side can weaken the lower back muscles and cause loss of control of them.
However, this has mostly to do with the mattress. No matter your position, you should have a mattress that keeps your spine straight. Wobbly will affect your sleep posture throughout the night and make you susceptible to pain. Hence, you may feel like your lower back hurts more after waking up.
Is orthopedic foam good for lower back pain?
Orthopedic foam can be used to treat lower back pain. It has plenty of different features, making it suitable for people suffering from lower back problems. Orthopedic foam can easily conform to the shape of the body. It can be easily used to relieve lower back pain.
It sometimes has coils or other pressure-relieving layers that help people with lower back pain. Thus, the answer is yes, and you should use it for lower back pain.
What is the healthiest sleeping position for back pain?
Sleeping on your side or stomach can make back pain worse. Sleeping on the back is the position for the best results. If you lie on your back, place a pillow between your knees. Lying on your side is fine, too, but put a large pillow between your knees.
Also, keep a cushion between your head and the bed. The pillow will help you take pressure off your neck and back and keep your alignment intact.
Is a memory foam mattress good for back pain?
Yes, a memory foam mattress is a good solution. It's because of memory foam's ability to take your body shape. This helps in providing custom pressure relief and eliminates pain. A memory foam mattress also molds to the contours of your body.
This mattress can be good for back pain. A memory foam bed is supportive for your spine and is a softer surface when you lie on it. However, if you have back pain because of a herniated disc, memory foam may not be able to help you (check the top-rated mattresses for herniated disc). You may have to get something more medical, like an orthopedic mattress.
Can a soft mattress cause back pain?
Yes and no at the same time. Back pain is caused by a lack of support to the back. If your mattress is super soft and you are super overweight, then the mattress may lose control in trying to give you enough support. Hence, it will cause backache.
However, if you are light and underweight, you will need something softer than usual to give you good support so that you can exert a little pressure at least.
Is a spring mattress OK for back pain?
Yes! A well-designed spring mattress with the right support and coil technology can be great for your back and entire body. It helps give a slight bounce back to handle your back and spinal position.
However, spring mattresses that are solely spring may backfire as well. This is why you should opt for coiled mattresses rather than basic spring mattresses.
Conclusion
There are so many choices in selecting the best mattress for back pain. Which one is the best? Well, there is not one solid answer.
We recommend getting something organic like the Naturepedic Mattress. It uses all-natural materials. The Emma Mattress has ample layers to give more support. However, we love the ice layer in the GhostBed that keeps the mattress cool all night.
Mattress for back pain FAQs
What type of mattress firmness is best for lower back pain?
The firmness of the mattress depends on your weight and body shape. To determine this, test this theory out. When you sit on the mattress, regardless of your weight, ensure that the mattress sinks just a little – about 2 inches and not more than that. That is the firmness you need to go for to help with your backache.
Is foam or spring mattress better for back pain?
Either of them works best for back pain. However, if you want a complete answer, we think that hybrid mattresses with memory foam to take your shape are essential. It should work with springs to give you pressure relief.
Do you want a firm mattress for back pain?
You do not want an extremely plush mattress. The firmness should be enough to sink you not more than 2 inches in the bed. For underweight people, this may mean a very soft one; for overweight, it may mean a slightly harder one.