A box spring is a sturdy surface that people tend to put underneath their mattress to add an extra layer of support. It is also typically used to add extra height and firmness to a soft mattress, and to prevent it from sagging prematurely. So whether you have a sleigh bed, bunk bed, or twin bed, you can always find the right box spring to support the mattress, but it is not always necessary. In this article we'll help you determine when a sleigh bed needs a box spring.
A sleigh bed needs a box spring if it has no slats or platform to support the mattress. A sleigh bed with a slatted frame will also need a box spring for a memory foam mattress if the slats are spaced more than 2 inches apart. Otherwise, the memory foam mattress may sag between the slats. If a box spring is not available, plywood can be arranged in the shape of a box spring in order to support a mattress. 
What Is a Sleigh Bed?
The sleigh bed style goes back to the 19th century and is inspired by the empires of ancient Rome and Greece. It is a classic design that fits well in either a traditional or contemporary design scheme.  
A sleigh bed is a type of bed that looks similar to a sled or a sleigh. Unlike regular beds, sleigh beds have footboards and headboards that curve or scroll away from the bed. 
There are a variety of sleigh beds that are quite different from the traditional wooden sleigh bed that may be popular in pictures of sleigh beds. Traditional sleigh beds are quite expensive due to their unique design and construction. They are also typically heavy due to their solid wood materials, so they are difficult to move. Furthermore, sleigh beds with footboards can be uncomfortable for tall people. You can also replace the rails on a sleigh bed too. Make sure to take a look at our related article on how to replace sleigh bed rails to find out more.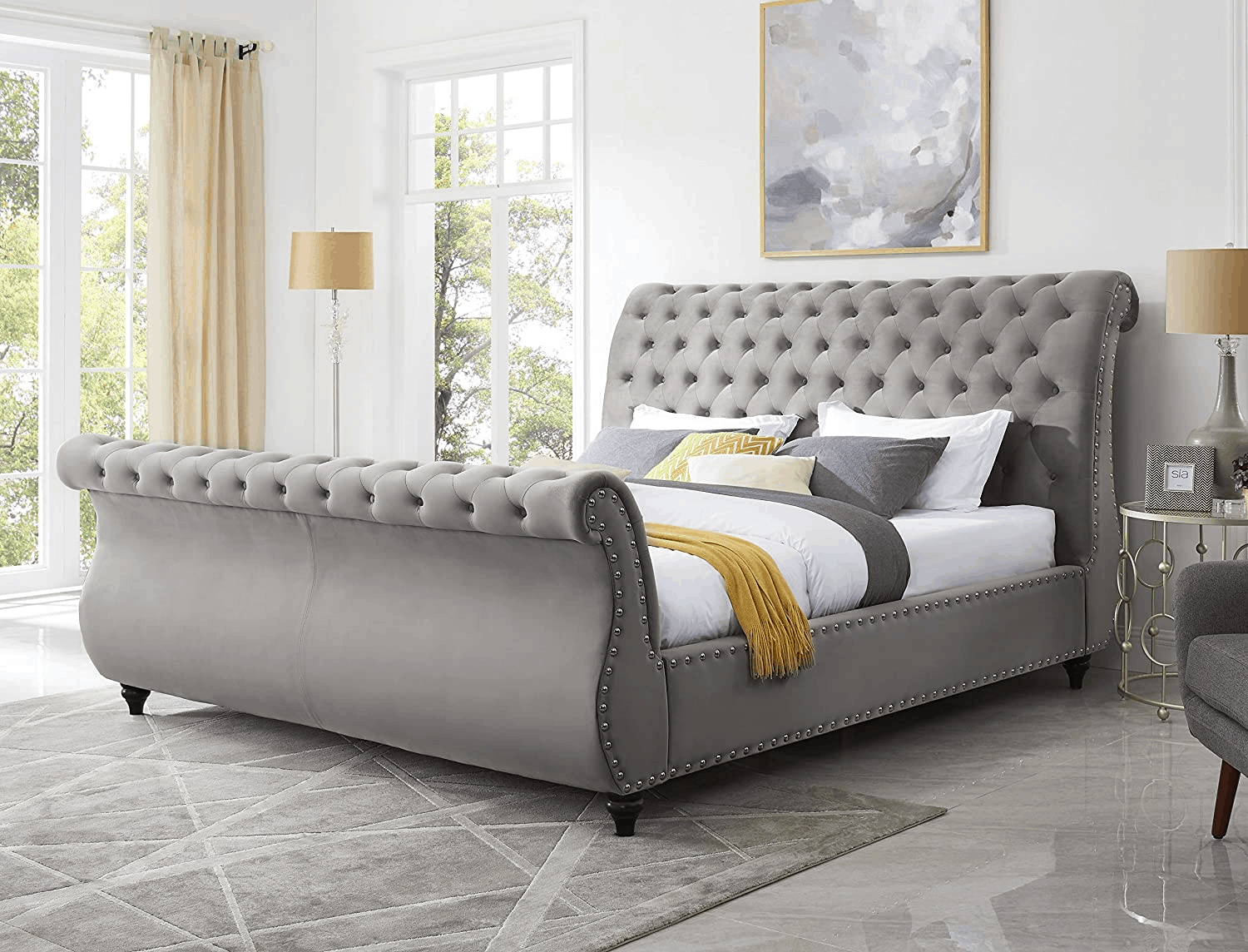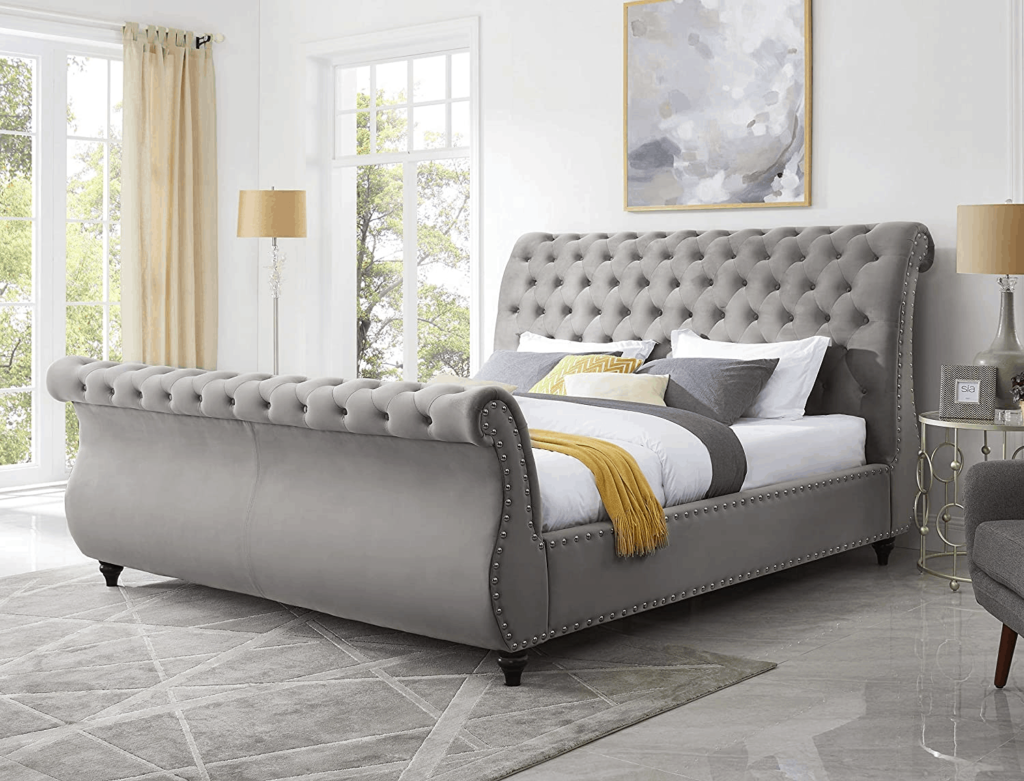 Make sure to also take a look at our related article, 6 Simple Sleigh Bed Decorating Ideas, to find fun ways to dress up your room.
Does a Sleigh Bed Need a Box Spring? 
A box spring is a type of bed foundation that the mattress rests on. It provides a sturdy base that supports the mattress and elevates the mattress off the ground. To find out about different situations when you need a box spring read our article.
A traditional or boxy sleigh bed does not need a box spring because it has a platform to support the mattress. However, sleigh beds with no slats or platform will need a box spring to support a mattress. For memory foam mattresses, ensure that the sleigh bed slats are less than 2 inches apart. If the slats are more than 2 inches apart, a memory foam mattress will sag between the slegh bed slats and not be supported sufficiently. 
Sleigh Beds Without Slats or a Platform Need a Box Spring
All you need to support a mattress is a flat and sturdy base. Sleigh beds that have no support for the mattress other than the outer edges of the frame will require a box spring, a sturdy flat base, or slats to support the mattress.  
The box spring will keep your mattress off the floor, support it properly, and ensure an even weight distribution, which will protect the mattress from sagging. Without a box spring, the mattress will not last as long as it should. It's also better to elevate your mattress off the floor if you suffer from dust allergies. This article from the European Respiratory Journal recommends several measures to reduce allergens in a bedroom.    
Traditional or Boxy Sleigh Beds Do Not Need a Box Spring 
Traditional sleigh beds do not necessarily require a box spring because they already come with foundation support boards to support a mattress. The outer bed frame edges and the central base are enough to provide all the support needed to ensure that the mattress fits snugly on the "L-shape" side bars of the bed and that its weight is evenly distributed across the board.
Sleigh Beds With Slats Sometimes Need Box Springs
Sleigh beds that include sturdy slats do not necessarily need a box spring to support a mattress. The slats provide sturdy support and enough ventilation to the mattress to extend its longevity.
However, if the slats are more than 2 inches apart, then the mattress—especially a memory foam mattress—will be at risk of bulging between the gaps and sagging. In this case, a bunkie board or piece of plywood will be an adequate support for the mattress. For more information about bunkie boards and other mattress support ideas, read our article about bunkie board alternatives.     
Below is a comparison between boxy/traditional vs. slats/contemporary sleigh beds: 
Do you think a sleigh bed is too big for your space? Take a look at these 6 ways to use sleigh beds in a small apartment too.
Does Your Mattress Need a Box Spring?
Box springs are created to support a mattress, increase the height, support the mattress' ventilation needs, distribute weight evenly, and protect the user against insects and allergens from the floor. However not every mattress requires a box spring for firmness and support. Regardless of whether a sleigh bed needs a box spring, your mattress' materials also affects the need for a box spring. Read our comprehensive article on box spring alternatives if you are looking for substitutes for a box spring. 
Innerspring mattresses need a box spring because they contain steel coils which work alongside springs in a box spring to distribute weight evenly and to protect the mattress from sagging. Most other mattress materials can be supported by other foundations such as bunkie boards, slats, or platforms. Consult the mattress manufacturer warranty to determine if a box spring is necessary. 
Memory foam and latex mattresses are made of high-density foam, which molds to the shape of the sleeper's body and retain heat. Make sure to use a well ventilated foundation because memory foam tends to retain heat. Proper ventilation will also prevent moisture from being trapped inside the mattress. Read our memory foam mattress shopping guide for an in-depth look at memory foam mattresses. 
Latex mattresses adjust to the shape of the sleeper, just like memory foam, but the compression is spread over a wider area. Therefore, latex mattresses work well with a slatted base. Read this article from the US National Library of Medicine which discusses latex mattresses and "The Biomechanical Effects of a Lumbar Support in a mattress."
Hybrid mattresses consist of an innerspring system with memory foam, latex, or gel layer on top. Similar to innerspring mattresses, they need a box spring because the coiled springs inside the mattress synergize with the springs in the box spring. 
Down feather, gel foam, wool and cotton mattresses can work with slats, a platform, or a box spring. Down  mattresses tend to be soft and lightweight, so they work well with a box spring underneath for extra firmness and comfort. 
Below is a summary of different mattress material and whether or not they require a box spring: 
Reasons to Add a Box Spring to a Sleigh Bed
A sleigh bed has a frame that can be made of wood, metal or an upholstered frame. This frame includes side panels that run the length of both sides of the bed and connect the headboard and footboard. If necessary the box spring can be placed inside this frame. Read our article on 6 different sleigh bed styles to help choose a sleigh bed that suits your style. 
Reasons to add a box spring to a sleigh bed include providing extra support, extra height, or to even out weight distribution. 
A Box Spring Can Add Extra Support to a Sleigh Bed
Without a proper foundation, a mattress will sink and become uncomfortable. A box spring adds stability and extra support to the mattress. This is especially important for people with back problems. Typical box springs are firmer than other mattress foundations. Modern 'box springs' like this one behave more like slats and don't include coiled springs anymore.  They also help keep the mattress in place so that it doesn't shift, and extend its lifespan by protecting it from sagging prematurely. 
Use a Box Spring to Increase the Height of the Mattress on the Sleigh Bed
Some bed designs are too close to the ground, which can put stress on your joints when getting in or out of bed. In that case, a box spring elevates the height of a low mattress, which makes it easier to get in and out of the bed without much effort. The height added to the mattress gives the bed a stylish and sophisticated appearance. Read our article on box spring heights to learn how to choose the right box spring height for your bed. 
A Box Spring Can Improve Mattress Weight Distribution
Sometimes, a mattress can be quite heavy and this puts a lot of pressure on the bed foundation. Due to their construction, box springs tend to have higher weight limits than slats or bunkie boards. Modern box springs are especially resilient since they tend not to use springs anymore and instead use a heavy duty metal frame with support bars in the middle.  Make sure to check the warranty of your mattress and bed to determine if they are designed to be used with a box spring or not. 
Covering a Box Spring on a Sleigh Bed
Covering a box spring adds a neat and elegant finish to a bed. A bed skirt can help you achieve a polished design. However, bed skirts don't meet everybody's tastes. Therefore, different alternatives make it possible to cover a box spring stylishly. Read our article on bed skirt designs and alternatives to find one bed skirt alternative that suits your style. 
To cover a box spring on a sleigh bed, use reusable covers or wraps, upholster the box spring, add simple fitted sheets, or attach padded fabric to the box spring. 
Use Reusable Box Spring Covers or Wraps to Cover the Box Spring on the Sleigh Bed
Box spring covers or wraps are designed specifically to cover box springs. They are usually made of a knitted stretchy fabric and don't have a skirt portion. The fabric can fit a variety of box springs with a depth from 4 to 10 inches. It simply spreads on the box spring and doesn't need to be readjusted. 
Box spring covers are easy to install and remove with no hassle, which allows you to wash them regularly. This box spring wrap from Amazon will provide a seamless cover to a box spring which is placed inside a sleigh bed with a darker frame. 
Upholster Your Box Spring
Upholstery is a very good way to cover a box spring. Simply choose a fabric and cut it carefully to the size of the box spring. Attach the fabric with pins or hand-stitch it to the box spring to cover the box spring in a unique style. Read our article on bed skirt hardware for ideas and tips on ways to secure fabric to a box spring.  
Simple Fitted Sheets
Fitted sheets are quite affordable and come in various patterns and prints. Find the proper size and then wrap your box spring with the chosen fitted sheet to protect it from dust and wear. You can select fitted sheets that match your duvet and bed sheets for a more complete look. These extra deep fitted sheets from Amazon are a great option for covering a box spring.
Attach Padded Fabric To The Box Spring
Choose a breathable padded fabric and attach it around your box spring. The padded material can protect the box spring against bed bugs and dirt and help promote a more comfortable night sleep. Our bed skirt hacks article covers many ways to cover up unsightly box springs that will match your existing decor and quickly elevate the look of a bedroom. 
Below are examples of box spring covers from amazon and their prices: 
You may also be wondering what different types of beds are out there. Make sure to take out this related article, Sleigh Bed vs Panel Bed: Which One is Right for You for more information.