Should You Use an Air Bed or Camping Cot for Camping?
For any outdoor enthusiast, spending a couple of days camping in the wild can be a fun and exhilarating experience. Getting back in touch with nature and exploring the wilderness also brings many health benefits, especially reducing stress. And one of the most important things on your camping trip is getting a good night's sleep. In this article we discuss whether you should use an air bed or camping cot for camping.
When choosing between an air bed or camping cot for camping, use a camping cot for a shorter camping trip and an air bed for a longer camping trip.
Whether to use an air bed or a camping cot for camping outdoors, depends on a few things. Firstly, for a shorter camping trip use a camping cot and for a longer camping trip use an air bed, which will be more comfortable. Next, choose an air bed or camping cot that fits your budget, is suitably comfortable, and is portable enough for camping outdoors.
To benefit the most from any outdoor adventure, you need to pack the appropriate camping gear. That means bringing the sleep gear or mattress that best suits your specific needs, so that you have quality sleep. This article compares camping cots and air beds to help you determine which one best suits your camping preferences. Let's take a closer look at both options.
What Is A Camping Cot?
Similar to the familiar aluminum folding lawn chair, a camping cot is a foldable aluminum or steel frame with fabric stretched taut over the frame to create a surface to sleep on. Folded up, camp cots are lightweight and take up little space. Many cots come with convenient carry bags for storing and to transport them.
Camping cots are portable foldable aluminum frames with fabric pulled taut over the frame to create a surface to sleep on that is above the ground.
Camping cots vary in the design of the legs and how they fold up. Some cots are relatively low and close to the ground while others open up to normal bed height, for those campers that don't want to be sleeping on the ground. The leg design influences the sturdiness and amount of weight the cot can support. Heavy-duty camping cots can support up to 880 pounds.
While most camping cots are designed to sleep one, camping cots for two are available. Some cots include built-in padding for more comfort and others even include convenient easy-to-reach side pockets for storing personal items.
What Is an Air Bed?
When referring to an air bed, air mattress, or simply a blow-up mattress, the name says it all, it is a mattress that is inflated with air. They are usually made of polyvinyl chloride or rubber which makes them a popular choice for camping as they are lightweight and easy to deflate and pack up.
An air bed is a mattress usually made of polyvinyl chloride or rubber, that is inflated with air, until firm enough to sleep on. An air bed is easy to deflate and pack up.
Most air mattresses don't include a built-in pump, you will need a portable air compressor or hand pump to inflate the bed. Read our article on how to inflate an air mattress to learn about unique ways that you can inflate an air bed if you don't have a pump.
Air beds are quite affordable, and there are many designs to choose from. They also have different weight limitations according to their design, durability, and size.
Air Mattress vs. Camping Cot — How Do Their Comfort Levels Compare?
A peaceful and healthy night's sleep is important for outdoor activities. You want to be well-rested for the adventures of the coming day. In general, investing in a quality camping cot or air mattress will provide the best level of comfort for your needs.
Use a camping cot for shorter camping trips and an air bed for extended camping trips. Camping cots are more restrictive for people who change sleeping positions during the night, while air beds are more accommodating. Additionally, camping cots have a set firmness while the firmness of an air bed can be adjusted by increasing or decreasing the level of inflation.
Camping Cot
Camping cots can be cozy and comfortable. The more taut the fabric is when the cot is opened up, the more supportive the bed will be. With a quality camping cot, you shouldn't have to worry about feeling rested after sleeping on it. Some campers do add a lightweight sleeping pad on top for extra cushioning and greater comfort. Watch this video review to get a better idea of what it is like to sleep on a camping cot.
Air Bed
When having to decide whether to use an air bed or camping cot for camping, you may find that a good air mattress is more comfortable than a camping cot, especially for longer periods of use. This can be particularly true for restless sleepers who like to sleep in different positions, such as on their sides or stomach. This article from Emerald Insight, discusses the effects of using an air mattress to relieve pressure on the hips and shoulders.
One advantage of an air bed is that the firmness of the air mattress can be adjusted for your individual comfort. Read our article on the benefits of an air bed to learn more about how an air mattress contours to your body and provides all-night support. Air mattresses vary in thickness, with some being as high as a conventional bed. Air beds are also more often available in larger sizes, so you can share the mattress with another camper.
Can You Use an Air Mattress on a Camp Cot?
When choosing between an air bed and a camping cot for camping, it could make sense to combine the two types of beds. Some camping cots have an air mattress that can be placed on top of the frame. If the camping cot doesn't include an air mattress you can simply use an appropriately sized mattress on top of the frame.
Use an air mattress on top of a camping cot for extra comfort. Buy an air mattress that matches the size of the camping cot, for example, buy a twin size air mattress for a twin size camping cot.

It is, however, important to not over-or under-inflate the air mattress to avoid injury or damage to the air bed. Read our article on how to fix an air bed that deflates overnight for tips on keeping your air bed perfectly inflated. Most importantly, don't use an air mattress that will hang over the sides of the camping cot. This can cause stress on the air mattress and ultimately damage it.
What Is the Average Price of an Air Bed and a Camping Cot?
It is difficult to make a price comparison between air beds and camping cots because there is such a wide range of options for each, to select from.
Both camping costs and air beds vary in price from $50 for basic models to $500 for more expensive models with features such as cup holders, luxurious materials, and more premium designs.
Camping Cot
You can find a basic camping cot with a foldable frame and durable fabric for under $100 or even less. On the other hand, there are also camping cots that are priced all the way up to $500.
Generally, before you spend the money you should consider the frame and fabric, as well as the level of comfort, what the camping cot will be used for, and for how long. The size, weight, and portability are crucial factors which all influence the total price that you will pay. Compare a couple of models before you make the final decision!
Air Bed
When it comes to air beds, you can choose between budget-friendly models and more expensive ones. Cheap models cost around $50 and in some cases, as little as $30. On the other hand, premium models can cost you more than $300.
Different features influence the price directly, such as built-in pumps, mattress height, air chambers, how long it takes to inflate, and more. If all the components are of the highest quality, a higher price is justified. If, however, you are not going to use the mattress very often, you can easily find a comfortable bed at a moderate price.
Are Air Beds and Camping Cots Durable?
Differences in the construction of air beds and camp cots can affect their durability. Pay close attention to the thickness of the camp cots' bars, and ensure that the covering fabric is a sturdy Nylon. Be sure to check the weight capacity of the air bed that you have chosen and that it is also made of durable materials.
Camping cots with frames constructed out of aluminum are lightweight and extremely durable. Adhere to the maximum weight restrictions listed by the manufacturer to maximize the durability of a camping cot. Similarly, air beds made of PVC are durable and robust enough to endure up to 10 years of outdoor camping use, as long as the specified weight limits are adhered to.
Our article on air mattress weight limits will help you to make an informed decision when deciding whether to use an air bed or camping cot for camping.
Camping Cot
Camping cots can be quite durable with frames made from aluminum or steel. However, it is crucial to purchase a camping cot that is designed for the weight that it will be subjected to. Specific camp cots have weight capacities of up to 500 pounds (230 kilograms). Expect to pay more for a cot designed to support more weight. The quality of the frame and the fabric will determine the cot's durability.
Air Bed
Air beds are usually made from special materials that provide extra durability. Nevertheless, there is always the chance that air mattresses could be punctured and start leaking. While companies make their air mattresses as puncture-resistant as possible, there is always going to be the risk of leaks. One thing to consider when making your selection is how easy it will be to repair the mattress when you are out camping. Did you know that you can replace some parts of an air bed? Read our related guide on air valve replacement to learn how to replace a leaking or old air valve as well as how to replace an air bed bladder for more information.
What Assembly Is Required for an Air Bed vs. a Camping Cot?
Air beds and camp cots provide convenient and quick ways to make a bed when space is limited, and are both ideal options whether you are on a camping trip or have unexpected guests at home.
To assemble a camping cot, simply open up the frame until the fabric surface is taut and each leg is standing firmly in the ground. To set up an air bed, plug an external air pump into an electrical socket, insert the nozzle into the air valve, and switch the pump on to start inflating the air mattress. For built-in air pumps, turn the dial or switch to the inflate function and turn it on.
Camping Cot
If you want to set up a camping cot, all you need to do is to open up the frame. Just fold and unfold it as needed!
Air Bed
Air beds don't need any assembly either. Simply unroll or unfold, and inflate. Inflating an air mattress is not a complex task, but a good pump is a must because there is nothing more frustrating after a tiring day than to be struggling to fill your air bed. Most high quality air beds come with push-button integrated air pumps. If the air mattress does not come with a build-in pump, there are different pumps that can be purchased to fill the mattress, from manual to electronic.
If you need to inflate the air mattress with an external pump, be sure to buy one that is compatible with your mattress. Then, all you need to do is locate and open the valve cover, attach the pump, and start pumping.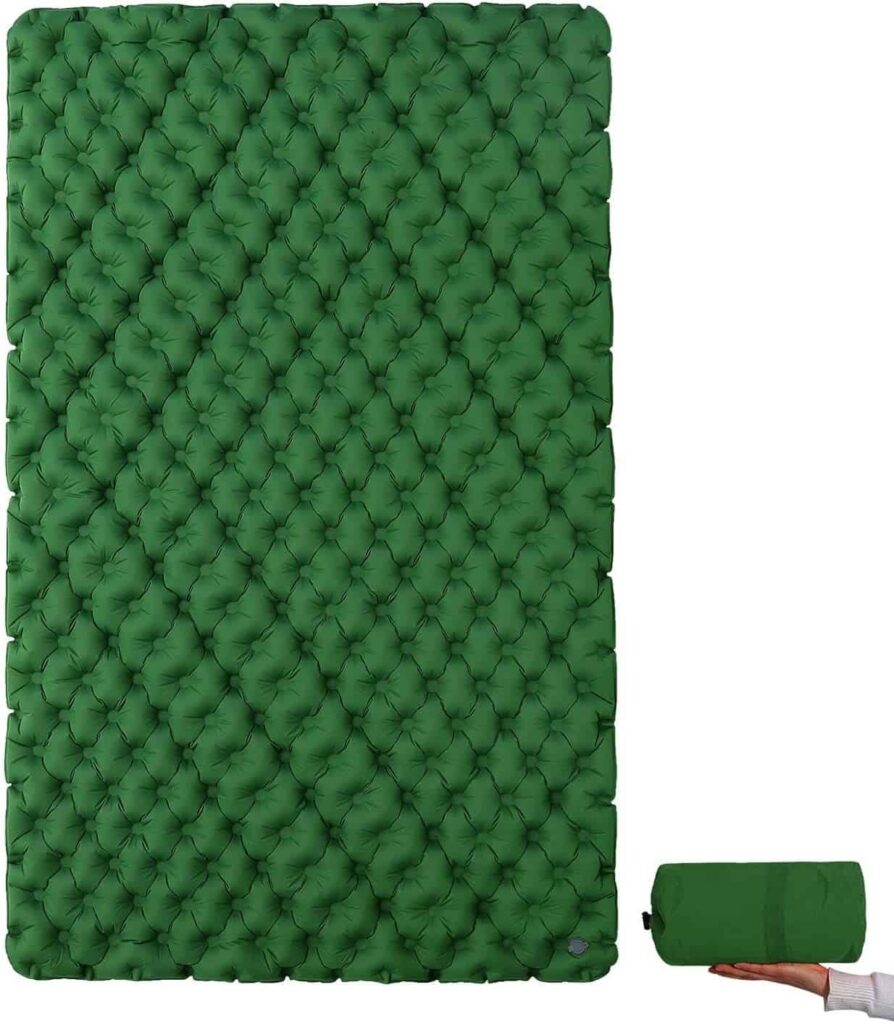 Also, be sure to take a look at our step-by-step guide on how to deflate an air bed for more tips and tricks.
Are Air Beds and Camping Cots Easily Packable?
When it comes to packing and portability, both camping cots and air beds are clever options. Many camping cots and air mattresses come with convenient bags to protect the beds when they are packed away.
Air beds and camping cots are easy to pack as they are designed to allow for convenient storage and transportation. Camping costs are lighter and easier to pack up than air mattresses. However, they fold to take up more space than air beds -- which deflate completely and can be packed into a sleeping-bag size roll.
Camping Cot
Most camping cots are lighter and easier to fold and pack up, than an air mattress. When air beds are compacted, most tend to be heavy, so, if you want a lighter option that you can carry easily, camping cots are a suitable.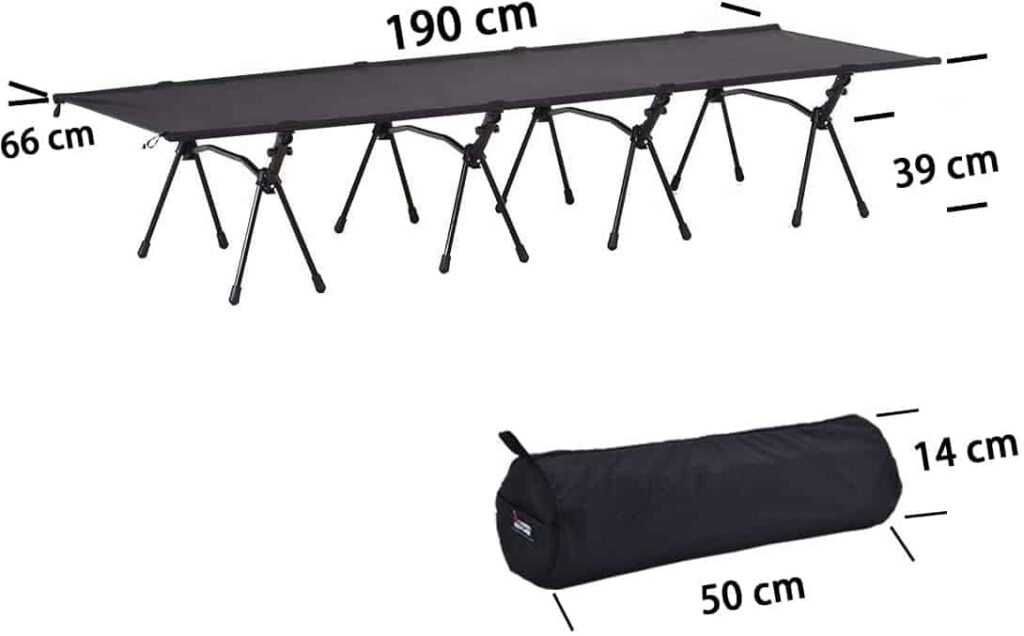 Similarly, you may be interested in reading our complete guide on how to lift an air bed for camping for some different ideas.
Air Bed
The ability to pack an air bed varies from model to model. Generally, an air bed can easily be deflated at any time. The collapsed size and weight of air beds vary, so make sure to look at that before purchasing, especially if you need to carry it to your destination. Choose a smaller, more compact air bed for car camping, backpacking and tent camping. Almost any air bed will work for RV camping. If you won't actually be carrying the collapsed bed anywhere, then any sort of air bed can work.
| | | |
| --- | --- | --- |
| | Camping Cot | Air Bed |
| Comfort Level | Comfortable for one person who doesn't move around much at night. Less comfortable for 2 people or sleepers with restless legs. | Generally more comfortable than a camping cot because the firmness can be tailored and air beds tend to be larger so they can accommodate sleepers who move around at night. |
| Price | $50-$500 | $50-$1000+ |
| Durability | To maximize durability choose an aluminum camping cot | To maximize durability, choose a PVC air bed |
| Insulation | Poor insulating quality. There's nothing protecting you from the elements. | Insulating quality varies with thickness. Add a mattress topper for additional insulation |
| Assembly Required | Minimal assembly required. | Requires a pump to inflate and deflate. Generally takes longer to set up than a camping cot. |
| Packable | Lightweight, easily folded and packed. Camping cots tend to be lighter than air beds because there is less risk of puncture. | Easily deflated. Generally takes longer to deflate than a camping cot. Backpacking air beds take up less space than camping cots. |
| Available from Amazon | Coleman Trailhead II Cot ~$60 | Giftway Queen Camping Air Mattress ~$45 |
If air beds and camping cots still aren't doable for your lifestyle, be sure to take a look at our related article explaining how to choose between an air bed vs. memory foam mattress for camping. This adds, yet another, choice onto your plate.
Disclosures
This website is a participant in the Amazon Services LLC Associates Program, an affiliate advertising program designed to provide a means for us to earn fees by linking to Amazon.com and affiliated sites.