Have you ever stayed at a friend or relative's place for a night, only to find yourself tossing and turning on a hard, squeaky, or uncomfortable mattress ? If so, you know how unpleasant it can be for overnight visitors and how important it is to make them feel comfortable and welcomed when they stay in your guest room.
No matter how annoying some guests can be, you probably want to ensure you have suitably comfortable accommodations (check 10 mattresses with great comfort). But with so many mattresses to choose from, how do you ensure the best option for your guests? If you're in the market for a new guest mattress, we're here to help.
10 Great Mattresses for Guest room
Choosing the best mattress for the Guest room
Emma ComfortAdapt All-form Mattress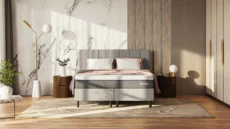 - Back support
- No sweat
- Motion isolating
Best for couples 
This plush mattress is designed to make you feel good (also check 10 great mattresses). Love your sleep, love your mornings. The all-foam Emma Original sits at the top of our best mattress guide because it's fantastic value for money and suits all sleep positions, especially side sleeping where your guests might need deeper cushioning around the shoulders, hips, and knees. 
It is an ideal option for couples as it provides strong-motion isolation, so you won't disturb each other when switching sleep positions at night. If you sleep hot, the breathable Emma mattress is worth a look. This hybrid mattress is designed with a double layer of cooling Airgocell foam. The use of coils also aids breathability.
 One of our favorite mattresses for all sleepers, the Emma Original is unbeatable in terms of value for money. We love Emma Mattress for providing adventurous guests with the rest they need, comforting them in all positions. That means it's also good for restless sleepers who move around a lot. 
In a nutshell The Emma Original is a superb memory foam mattress that supports a range of body weights and sleep styles. We'd recommend it to couples sharing a bed and to all sleepers looking for a good quality mid-range mattress with massive savings.
Layla memory foam mattress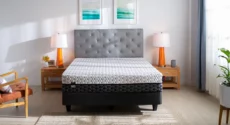 - Copper gel in the foam
- Antimicrobial
- Rapid cooling
Dual-sided mattress
The Layla Mattress is incorporated with copper-infused memory foam and convoluted polyfoam, providing ample pressure point relief while remaining cool throughout the night. It is flip-able memory foam, with one side of the mattress having a medium-soft feel and a firm feel, allowing this bed to perform well for guests with all sorts of body types and sleep styles (check 10 great mattresses for overweight people).
The medium-soft side of the mattress begins with a thick layer of copper-infused memory foam, which hugs and cushions the body. Beneath is a zoned transitional layer, reinforcing areas that tend to sink. Those who prefer a firm feel can flip the bed so that the thinner layer of memory foam sits on top. 
Compared to the medium-soft side, the firm side has a thinner comfort layer that cushions the body without contouring too deeply. The comfort layer also rests directly on the support core, enhancing the firm feel. The heavier you are, the softer the bed will feel. It is best for individuals under 230 lbs.
In a nutshell The two-sided Layla Mattress can comfortably support a wide range of sleepers, making it an ideal bed for a guest room. Copper-infused memory
foam provides cooling benefits by drawing heat away from your body
and keeping you cool while sleeping. The
copper gel memory foam layer
also helps give the mattress a soft feel, and plenty of support as copper doesn't sit under pressure and pushes back with a firming effect.
Plushbeds Cool Bliss Luxury Mattress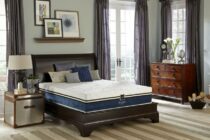 - Gel memory foam
- 5 plush comfort layers
- Optimal cooling comfort
Coolness and luxurious mattress that suits your style
Handcrafted in the USA, the Cool Bliss offers all the benefits of traditional memory foam without the quicks and feels or heat of sleep. This patented GEL memory foam offers improved airflow and wicks heat and moisture three times faster than competing spiral gel memory foam. PlushBed memory foam is made with the latest technology for cooling comfort and superior support.
The manufacturers have used the world's first GreenGuard Gold-certified memory foam mattress so you can rest with peace of mind and breathe easy. There are no unpleasant or irritating odors, and you don't have to wait days for your mattress to "air out" before you can get a good night's sleep. 
Firmness is just one feature to consider when choosing your maternity mattress. These mattresses are designed to minimize the transmission of motion through the surface. So tossing and turning at night is not keeping your partner awake.
In a nutshell Cool Bliss
mattresses generally work
in two ways. They are made with coils that are individually plugged into the mattress and
respond independently to body
weight loads without interfering with adjacent coils. This is unique compared to traditional innerspring mattresses where the coils are all connected.
Molecule 1 mattress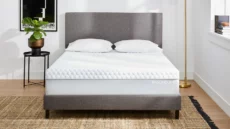 - Antimicrobial treatment cover
- Balanced body support
- Ideal for warm sleepers
Best for customizable comfort
Molecule 1 incorporates Molecule's air-engineering technology that regulates temperature. The gel-infused comfort layer draws heat away from the body and retains less heat than traditional memory foam. While the comfort layer relieves pressure, the zoned transition layer provides extra support.
Molecule mattress models are constructed with proprietary foam layers; the Molecule 1 is the more affordable option. It isolates motion exceptionally well and is on par with most memory foam mattresses due primarily to its comfort system. Generally, foam mattresses isolate motion better than hybrid and latex models.
The two-inch comfort layer of memory foam in Molecule 1 absorbs movements like shifting positions and getting in and out of bed, which benefits those who share it. It responds to pressure, conforms closely, and slowly returns to its original shape once pressure is removed. Since there are no coils in the mattress, there is minimal bounce.
Moreover, this foam helps keep the spine aligned and prevents pressure points from developing—the memory foam comfort layer contours to the body's shape for top-notch pressure relief. The zoned transition layer below offers targeted support.
In a nutshell The foam has softer zones at the head and feet and a firmer zone at the center. It relieves pressure on the head, neck, and legs. This foam blend, called RecoveryFlo, is a contoured response layer that provides targeted support.
GhostBed Natural Mattress

- Organic cotton
- Edge support
- Soft
A bed done right can show your guests that you care
The GhostBed mattress is made with a 1.5-inch continuous aerated latex foam top layer that is made specifically not to retain heat. The top layer sits on 2-inches of a gel memory foam layer designed to comfort the body for a cooler night's sleep. The base layer is created from a 7.5-inch high-density foam for increased support and longevity. The GhostBed is a solid option for people whose expected guests would like some bounce in their mattress but also want the benefits of a memory foam bed.
GhostBed, with its 11-inch high mattress, makes getting in and out of bed easier for your guests and their families. It is among the most comfortable air mattresses, allowing you to control the level of inflation. It will provide your guests with the similar comfort of their bed!
The GhostBed natural mattress is a hybrid model of natural latex, wool, and pocket springs. These premium materials create a responsive surface that balances gentle pressure relief and all-around support. With a medium-firm feel, this mattress is well suited to a wide range of sleep positions and body types.
An 8-inch support core gives the GhostBed Natural its supportive feel. The core consists of individually wound coils that reduce motion transmission and noise while creating a responsive surface. Reinforced coils and the perimeter limit edge sinkage can help the sleeping area feel larger by allowing sleepers to rest up to the edge of the bed.
In a nutshell The design basis behind GhostBed is to develop and create a singular mattress that will fit all sleep types. It is perfect for those who share a bed. It bounces back fairly quickly (for a foam mattress) due to the latex top layer. The extra spring is enough to ensure you avoid that 'stuck' feeling common in memory foam mattresses.
Helix Midnight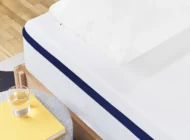 - Side Sleeper Support
- Pressure Point Relief
- Premium Cooling Covers
Best for side sleepers
Helix makes a wide range of mattresses for every sleeping position, so it's no surprise that the Midnight, designed for side sleepers, is the brand's most popular mattress. Finally, research shows that side sleeping is the most common sleeping position. Helix Midnight offers support and pressure relief when it comes to the best mattress for exhausted overnight guests. 
As evidenced by the mattress' high scores for spinal alignment (9 out of 10) and pressure relief (8.5 out of 10), Midnight offers side sleepers gentle yet strong support for the natural curve of the back. That way, your side-sleeping guests won't wake up with pain at contact points like hips and shoulders (also check 10 great mattresses for back pain).
It also absorbs movement well, so co-sleepers are less likely to be jolted awake by their partner's tossing and turning. Covered in a temperature-regulating pillow top sheet and a layer of gel memory foam, the Hybrid Midnight is supported by a base of internal springs.
If you're looking for a mattress that offers good durability but isn't super expensive, we recommend the Helix Midnight. This hybrid mattress is affordable, but the hybrid design offers enhanced durability over an all-foam mattress.
In a nutshell The Helix Midnight features a hybrid design consisting of an individually wrapped coil base over a layer of DuraDense foam for stability. The top layers are made from high-grade polyfoam and Memory Plus foam to provide pressure relief and ergonomic support. Hybrid design for support and pressure relief, medium level of firmness, suitable for guests who like to sleep on their side.
Naiveer Hybrid Mattress
- Pure Comfort
- Cool Gel Memory Foam
- Multi-layer 10 Inch
Treat your guests to the luxury they deserve
Waking up hot in the middle of the night interrupts restful sleep. However, Naiveer Hybrid Mattress' Cool gel infusion actively captures and dissipates heat to help regulate temperature and ensures a cool and comfortable sleep environment. Compared to standard memory foam mattresses, the gel memory foam mattress keeps your guests cooler by absorbing heat and wicking it away.
The multi-layer 10 Inch hybrid mattress gets the best of both worlds with a combination of pocketed springs and gel memory foam. Its innovative hybrid design provides precise support where you need it most, and individually wrapped coils minimize the sensation of movement; your guests are guaranteed to enjoy a restful sleep all night long.
The 3-layer foam includes CertiPUR-US certified gel memory foam, eco-friendly foam, and supportive high-density foam for ultra-responsive body contouring, 5-zoned support, and cool sleep. Naiveer Hybrid mattress features a cool-to-touch (check the top rated cooling mattresses for hot sleepers) and anti-pilling cover with premium quilted fabric designed for a cool and comfortable sleep all night long.
In a nutshell With strong edge support, you are free to sleep in any position without rolling off. It's perfect for children's overnight stays or if you need to provide an extra bed for friends and family. When you have unexpected overnight guests, prepare a bedroom style by sampling your mattress.
Molblly Gel Memory Foam Mattress
- Three layers all-foam system
- Cool to Sleep On
- CertiPUR - US Certified
Best for back and stomach sleepers
Striking a good balance of quality and affordability: the Molblly mattresses offer new options for those on a tight budget to explore. Its upper comfort layer adapts very well to the body shape and relieves the shoulders and hips. We recommend this Molblly mattress to side sleepers of all body types.
The Molblly Mattress offers memory foam mattresses at a price that's hard to beat. Buying mattresses on a budget can be extremely difficult as customers often have to choose between cheaper but inferior quality beds or higher quality but outrageously expensive models. That's where a new mattress company in Molblly comes in. 
This bed's medium-firm feel makes it a viable option for back and stomach sleepers (also check 10 amazing mattresses for stomach sleepers). The strong support provided by its high-density foam layer should be able to accommodate these sleeper types. Its low price and excellent quality add value for those shopping on a budget because obviously, no one wants to invest a lot of money for occasional visitors.
In a nutshell Like most memory foam beds, this Molblly mattress has
little motion transfer capability
, making it an excellent choice for couples. It's very unlikely that your partner's restlessness will bother you all night in this bed. It's also hypoallergenic, which could reduce the chances of allergic reactions while sleeping on this mattress. Finally, it is extremely affordable compared to other
memory foam mattresses
.
Olee Sleep Aquarius Mattress
- Memory foam
- Soft and Healthy
- Cool and firm
Convenient and comfortable 
The Olee Sleep 10-Inch Aquarius Memory Foam Mattress is a foam mattress: It combines various foam materials to provide the utmost comfort and support for your guests consistently. This Memory Foam Mattress features four layers of foam. A comfortable layer of gel-infused memory foam is just below the polyester jacquard cover of the mattress.
Beneath the comfort layer are the support layers: a layer of Duraflex foam, a layer of high-density convoluted foam, and a base layer of high-density foam. All these layers have different properties that improve the overall comfort of the mattress. All of these foams are also well-made, so you can be sure that the mattress will be comfortable for a long time.
The first thing your guests will feel when they touch this Olee Sleep mattress is the cover made of jacquard polyester. The fabric has a distinctive textured quality with an intricate design that makes the mattress look attractive even without a sheet. It absorbs moisture well and dries quickly. All these qualities make for an excellent mattress cover that is durable and comfortable.
The memory foam layer of the mattress follows its shape no matter what position you sleep in. This rocking effect is particularly helpful as it reduces pressure on common pain points such as the hips, shoulders, and neck.
In a nutshell The refreshing gel is made from new ecological materials that reduce body temperature. It helps stabilize temperature so your guests can achieve a night of deep, uninterrupted sleep. The Olee Sleep Memory Foam Mattress features multiple types of foam that work together to keep your guests as comfortable as possible. From the cover down to the high-density base layer, this Olee Sleep mattress ensures that they get a peaceful, relaxing sleep every night.
LUCID Memory Foam Mattress
- Breathable
- Gel Memory Foam
- Compatible with adjustable bases
Provide your guest with a cushion for their pressure points
The Lucid 10-Inch Gel Memory Foam Mattress is a foam bed designed for the average sleeper. With a medium-firm feel and contoured pressure relief your guests have come to expect from a memory foam mattress, back sleepers and combination sleepers of all body weights will find what they're looking for. But what sets Lucid apart is its affordable price.
Lucid Gel Memory Foam Mattress sleeps cool for a foam bed. Gel beads distributed throughout the comfort layer absorb body heat, while a ventilated open-cell foam structure promotes airflow. As a result, excess body heat is absorbed and dissipated. Moreover, Lucid's upper layer is incredibly cushy, relieving pain in problem areas like the shoulders, hips, and lower back.
Moreover, movements are slightly cushioned with two layers of memory foam. For couples who wake up to each other's movements, a motion-isolating bed can mean the difference between a night of deep, restful sleep and a night of disrupted sleep.
And because the Lucid Gel Memory Foam mattress is a 100% foam bed, it does a great job cushioning major pressure points. The top of the mattress is a luxurious and comfortable layer that offers the hugging contour you expect from a foam mattress.
In a nutshell The Lucid is of the highest quality for an affordable mattress. It's made in the USA with CertiPURUS certified foams, independently tested for quality and safety. The Lucid Gel Memory Foam Mattress is one of the most affordable memory foam beds. This queen mattress is available at a low price; the Lucid is one of the best budget mattresses.
What Types of Mattresses Are There?
All mattresses are not created equal. When you start shopping for a mattress, you might assume it's just a matter of choosing the right firmness. You'll find that there are many different materials from which mattresses can be made, which affects more than just the firmness.
Here are some of the most common types of mattresses to consider: 
Memory foam:

Also known as viscoelastic foam, this material

compresses under weight and conforms to the body's contours

to relieve pressure. Because it tends to be fairly dense, memory foam sometimes traps heat and may not be as responsive as other materials.

Latex:

Similar to memory foam, latex offers some contouring properties, but it

is firmer and bouncier than memory foam

. Natural latex is hypoallergenic and may sleep cooler than foam.

Innerspring:

Traditional innerspring mattresses consist of a

continuous coil base with a fabric cover

. Modern innerspring mattresses use different numbers, types, and configurations of individual coils, often with layers of foam for cushioning.

Hybrid: These mattresses incorporate two or more types of mattress materials. In many cases, hybrid mattresses are built on a coil base for support with foam or latex for pressure relief.
Understanding how mattresses are made is only half of the equation. Now that you know more about the materials inside a mattress, it's time to think about how those materials affect the qualities of the mattress – things like firmness, support, and pressure relief.
Our Recommendation:
After choosing your budget, consider what type of mattress you prefer. You'll want to choose some support, but unless you're setting up the room for a specific guest, you might want to leave some space to accommodate different sleeping positions. Sticking to something in the medium or mid-firm range also helps. 
And for that purpose, we'll recommend considering the size of your room too, and placing some supporting furniture to make your guests feel at home. Lastly, it's not about choosing a mattress for you, meaning a mattress that's comfortable to you may not be the same for someone else. Therefore, consider buying a mattress that's acceptable at large, which is already considered in this article; I hope we were able to help you out.