How To Make a Hotel Bed Softer – 10 Tips and Tricks
If you've ever slept on a hotel bed, then you've probably noticed how comfortable the mattress is. This could be due to the high-end materials used, the mattress toppers, the soft sheets, the fluffy comforters, the down pillows, and the clean and fresh decor of the room, all of which create a pristine and comfortable experience. However, not all hotels provide those kinds of heavenly mattresses because they are quite expensive. Some hotel mattresses may be too firm and could prevent you from having a good night's sleep. Our tips to make a hotel bed softer will help you rectify a mattress that is too firm.
To make a hotel bed softer, roll out a travel size mattress pad or a mattress topper on top of the existing mattress, or add bed linens, extra duvets, down pillows, and comforters.
Read our article about How to use a mattress topper to soften a bed and can you buy a pillow top for your mattress for additional tips and tricks to make a firm mattress feel soft and plush.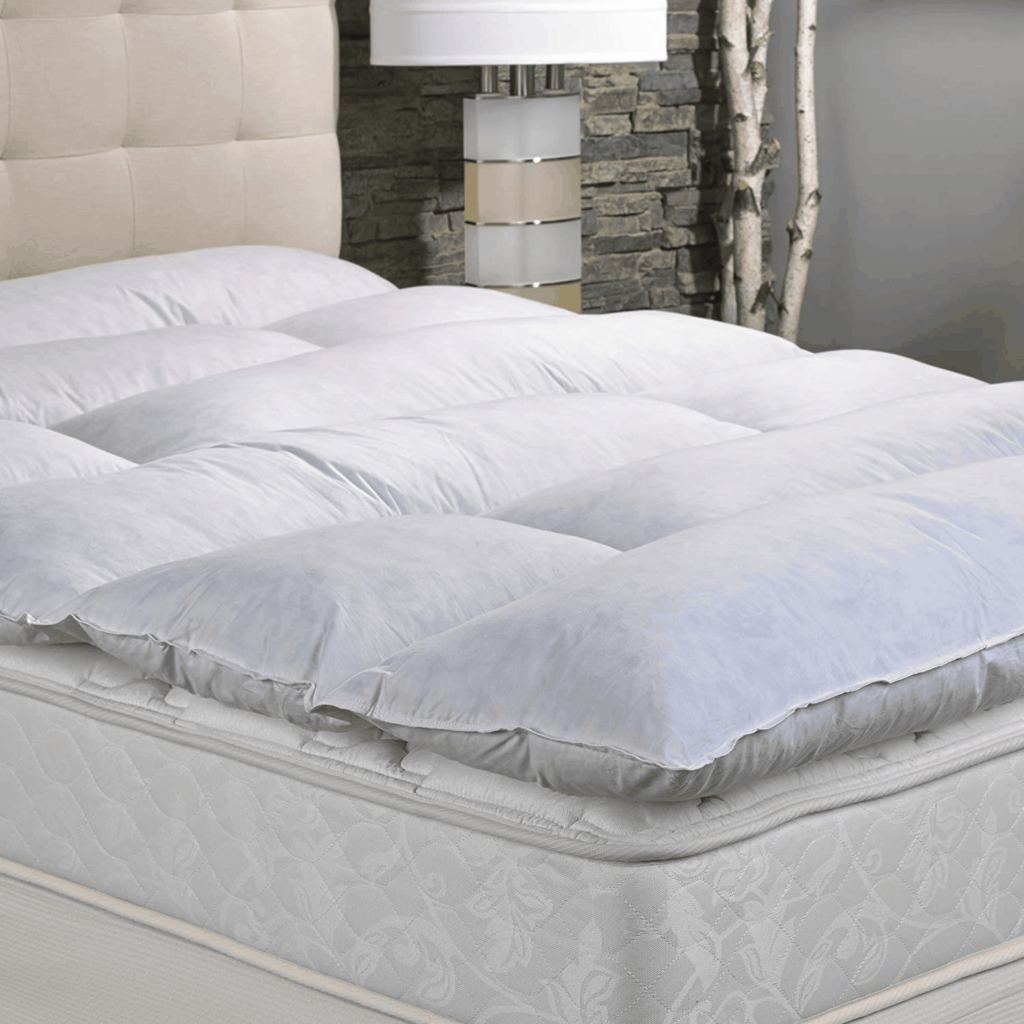 If your hotel mattress feels too firm and is causing body aches, there are a few simple things that you could do to make your sleeping experience more comfortable.
To make a hotel bed softer, you can roll out a travel size mattress pad, a foldable mattress topper, or an egg crate mattress topper on top of the mattress. You can also ask the reception for extra duvets, softer bed linens, a fluffy comforter, and softer down pillows. A final solution would be to flip the mattress or to change to another room.
Below are 10 tips to implement to make a hotel bed softer. Here's a summary with some product recommendations.
| | | | | |
| --- | --- | --- | --- | --- |
| Product | How Does It Make a Hotel Bed Softer | Easy to Transport on a Plane? | Easy to Transport via a Car? | Price |
| Roll-up memory foam mattress pad | Lay it on top of a mattress to add a thin, cushioned, layer | Maybe | Yes | ~$140 |
| Foldable memory foam mattress topper | Similar to a mattress pad, you can layer this on top of a mattress | Yes, you'll need to check it in | Yes | ~$125 |
| Egg crate mattress topper | Same as the memory foam mattress topper but it's much cooler because of added ventilation | No, this is too bulky to take on a plane | Yes | ~$45 |
| Duvet inner layer | Duvets are soft layers that aren't very thick. You can layer them on top of a mattress to change the texture | Yes | Yes | ~$40 |
| Goose down comforter | You can sleep on top of a comforter as well as underneath it. To make your bed softer, place this down comforter under you. | Maybe, it will need to be checked in | Yes | ~$270 |
| Down pillows | Down pillows can easily be compressed for travel. Use these instead of the hotel pillows for extra softness under your head. | Yes | Yes | ~$40 |
Make sure to also take a look at our article about how to choose a mattress topper for camping for more portable solutions.
Tip 1. Lay a Travel Size Mattress Pad Over The Bed To Make The Hotel Bed Softer
A mattress pad is a thin and soft layer that sits on top of your mattress to promote a soft and plush sleeping surface. It helps regulate the body temperature and relieves body aches to ensure a satisfying sleep. This roll-up memory foam mattress pad from Amazon is very comfortable and easy to transport.
Tip 2. Add Foldable Mattress Topper On Top Of The Hotel Mattress
If you are looking for extra comfort and support, then add a mattress topper on top of the existing mattress. The primary function of a mattress topper is to adjust the level of firmness of the mattress. This foldable memory foam mattress topper has a high-density foam base layer for improving support and comfort which cradles your body and relieves your pressure points along with your shoulders, hips, and knees. Read our article on different types of mattress toppers to find out more about their features and benefits.
Tip 3. Place an Egg Crate Mattress Topper On the Mattress
If you want an even weight distribution then choose an egg crate mattress topper. Rather than having a flat solid surface, an egg crate mattress topper has a complex design, which ensures that your entire body gets the same level of comfort all the time as you sleep. It is typically inexpensive and easy to pack. This egg crate mattress topper promotes proper airflow throughout the mattress while offering softness and comfort.
Tip 4. Ask the Hotel Reception For Extra Duvets
Extra fluffy duvets make hotel beds feel soft and cloud-like. Ask the hotel reception for an extra duvet (or maybe 2 depending on your needs), and place it on top of the mattress and the bedsheets. A duvet that's a few inches longer on each side adds some extra fluffiness
This duvet inner from Amazon is a down alternative duvet, which is soft, comfortable, breathable, and durable.
Tip 5. Add Layers To the Bed By Using Fitted Sheets And a Flat Top Sheet
Fitted sheets have elastic bands that hold them firmly over the mattress. The top flat sheet can be draped over the sides of the bed or tucked neatly under the mattress using overlapping folds at the corners of the bed. By adding layers of sheets you can increase the coziness of the bed, especially if you choose ultra-soft sheets like these Bamboo sheets from Amazon which are moisture-wicking, breathable, and hypoallergenic. Read this article from Fibtex titled "Investigation of Regenerated Bamboo Fiber and Yarn Characteristics," to find out about the natural antibacterial characteristics of bamboo fiber.
Tip 6. Include a Fluffy Comforter For Added Softness
Sometimes hotels keep extra pillows, comforters, or duvets in the closet. If not, ask for a fluffy comforter to place on top of the sheets. Comforters have insulation properties, which help you stay warm and cozy as you sleep. Some models come with a baffle box design to prevent the down filling from clumping together. This goose down comforter from Amazon is warm and comfortable and makes your bed feel softer.
Tip 7. Include More Down Pillows On the Bed
Hotels usually put soft and firm down pillows at your disposal because they are light and durable. Pile on two to four pillows on the bed to generate a sleeping-on-a-cloud effect. Lean your head or back against them or use them as body pillows to relieve your pressure points. These down pillows are fluffy and soft, and have a 100% Cotton cover.
Tip 8. Try Flipping the Mattress Over To Its Softer Side
If you know that the mattress is flippable, then try out the other side. Some mattress companies even have different firmness levels per side like this one. Usually the hotel would have already flipped the mattress to its firmer side because this is the more durable option. You can request that the hotel's housekeeping service personnel flip the mattress for you to see if the other side is softer.
Tip 9. Warm Up the Mattress To Make It Softer
Some mattress materials are temperature sensitive like this memory foam mattress. The memory foam absorbs your body heat and starts to soften, allowing your body to sink into the foam. A warm room can also help soften up the bed, so adjust the thermostat, or use a heated blanket to warm and soften the mattress.
Tip 10. Allow the Mattress To Fully Expand So It Can Soften Naturally
A mattress that is too firm can lead to body stiffness and trouble sleeping. If all the tips offered aren't helping, it can mean that the mattress is either new or it is time for the hotel to invest in a new mattress. If it's new, the mattress may just need more time to expand. You can speed up the break-in process by walking or pressing on the mattress and allow your body to get used to it night after night. Read our article on memory foam mattress toppers that don't expand to learn how to accelerate the expansion process.
Make sure to take a look at our 10 tips to make a hotel bed firmer and more comfortable too for more ideas.
Reasons That a Hotel Bed May Be Firm
The materials used in manufacturing a mattress can affect its firmness which will, in turn, affect the mattress's durability and lifespan. A mattress with a medium level of firmness offers enough support to help alleviate back pain in some individuals, as is explained in this article from ScienceDirect titled, "Effect of Firmness of Mattress on Chronic Non-Specific Low-Back Pain."
Reasons that a hotel bed may be too firm include that hotels buy firm mattresses so that they last longer, some hotels use firmer futons which are influenced by Asian culture, and the breathability of the mattress.
Reason 1. Hotels Buy Firm Mattresses So They Degrade Slowly
Mattresses with low firmness materials such as innerspring, tend to lose their supportiveness and become more prone to sagging. Therefore, some hotels select firmer mattresses because they are more durable and are less susceptible to this type of degradation—making their average lifespan significantly longer.
Reason 2. The Influence Of Asian Culture On Mattress Production
Some hotels took their cultural direction from Japan or China—where sleeping on a futon on the floor was the norm. Once people get used to firm mattresses, many report sleeping better than ever—especially back sleepers—as the firmness provides sufficient support to keep your body in natural alignment. Read our article on choosing a mattress topper for back sleepers to find out how to alleviate back pain.
Reason 3. The Breathability Of the Mattress
Soft mattresses tend to retain more body sweat and moisture as your body sinks into the sleeping surface. As a result, the humidity will cause mold spores to multiply and be trapped within the mattress, leading to respiratory diseases and allergies. Firm mattresses are better for hot sleepers because they provide more breathability and coolness as you sleep.
Related articles:
Mattress topper vs mattress cover - what do you need?
In a Nutshell
Hotel beds don't cater to individual preferences and are often quite firm because they need to be durable to be able to withstand the varying body weights of guests. There are ways that you can make a hotel bed that feels too firm feel softer and more comfortable. One of the most effective ways is to add a mattress topper on the bed. There are many portable mattress toppers available and we recommend that you read our article about how to roll up a mattress topper for tips on how to safely transport your mattress topper if you want to use it on a hotel bed. Also, if you're interested in mattress toppers in general, make sure to take a look at our mattress topper density guide to find a lot of useful information.
Disclosures
This website is a participant in the Amazon Services LLC Associates Program, an affiliate advertising program designed to provide a means for us to earn fees by linking to Amazon.com and affiliated sites.