Senior sleepers have distinct needs, especially when it comes to get mattresses. Not only do they require something that is pressure-relieving and highly supportive, but a product that gives them maximum comfort throughout the night (also check 10 amazing comfortable mattresses).
Additionally, the best mattress for seniors should have a structure that lifts them and enables them to get out of bed with minimal effort. It also promotes excellent mobility. Does a mattress like this sound too good to be true?
Well, you do not need to worry anymore because below is a list of some of the best mattresses suitable for seniors (also check 10 great mattresses). 
Factors to consider when choosing the best mattress for seniors
A body becomes weaker as it ages and thus, it is important to provide it with extra support and cushioning. Below are several factors that you need to consider when choosing the best mattress for elderly.  
Firmness
You need a quality plush mattress that provides ideal spinal alignment. It should also give ample support to the hip and shoulders. 
Cushioning
The mattress you choose needs to be flexible enough to conform to the shape of your body. it should also have sufficient layers to allow complete comfort. 
Support 
Pain in the body and joints is a common occurrence amongst the elderly. Therefore, the mattress chosen should give adequate support to the muscles and bones.
Which is the best mattress for elderly?
Plushbeds Botanical Bliss Organic Latex Mattress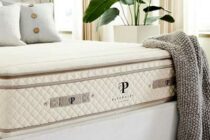 - Recommended by orthopedic specialists and chiropractors
- High-end mattress
- Organic latex
Best for environmentally conscious sleepers
Botanical Bliss Organic Latex Mattress by PlushBeds is one of its most well-known products. It is especially because it is made of natural and organic materials, including a layer of organic wool from New Zealand, and organic cotton cover, and a couple of layers of Dunlop latex.
The company prides itself on producing eco-friendly and organic products, which have been certified by GOTS and GOLS. Because Botanical Bliss has been manufactured using only organically grown latex, it is free of harmful chemicals.
As a result, it is also naturally resistant to allergens and ensures that you sleep uninterrupted throughout the night. In addition, the mattress offers no less than two options for firmness for the ease of senior sleepers, namely firm and medium.
Being the best mattress for the elderly, Botanical Bliss ensures that sleepers do not experience being swallowed whole when they lie down. The product provides just enough pressure relief to be the best mattress for seniors with back pain (check 10 amazing mattress for back pain).
It will provide adequate support to your body and cradle it perfectly, regardless of your preferred sleeping position or your total body weight (also check the top-rated mattresses for heavy person).
Botanical Bliss also helps maintain impressive temperature neutrality, giving all sleepers a chance to stay comfortable and cool during their sleep. It is possible because the mattress has been made with naturally breathable latex, which encourages airflow.
Moreover, organic wool and cotton further help wick away moisture, leading to a consistent and cool temperature. You will no longer have to worry about night sweats because organic latex will have you sleeping cooler than any other product.
Given that the PlushBeds Botanical Bliss does not cause you to sink into the mattress, you will find that movement is relatively easy. Consequently, you can get in and out of bed with ease.
In a nutshell The PlushBeds Botanical Bliss has been made out of natural and organic materials, which allow you to make good on your responsibility to the environment. The materials are also the cause of the cooling properties of the mattress, which further assist in boosting airflow.
Emma original
- #1 selling in all Europe
- Perfectly balanced for all body types
- Medium-firm range

An excellent option for all kinds of sleepers
The Emma Original Mattress has a simple but sturdy construction. It consists of three foam layers, all of which have different roles to play. The top layer consists of an Airgocell foam with pressure-relieving properties.
In addition, the surface foam aids in the promotion of ventilation. On the other hand, the memory foam takes on the responsibility of ensuring superior support and pressure relief. Lastly, the firm foundation maintains exceptional support regardless of weight and position.
The reason why this is the best mattress for seniors is on account of its climate regulating cover. It is divided into a gray side cover and a breathable top cover. You can also remove the top section of the mattress's cover to wash it in the machine and keep it clean.
Another benefit to bringing home the Emma Original Mattress is its side handles. These maximize convenience and allow you to turn and move your bed whenever you want easily.
You will soon realize that sleeping on this product from Emma is more comfortable than you could have imagined. It supports people who like sleeping on their side, back, and front. Rest assured, the mattress will cradle everything just fine from your hips to your shoulders.
In a nutshell Emma Original Mattress is perfect for all kinds of sleepers, no matter if they prefer sleeping on their side, back, or front. It is a beautiful and eco-friendly choice, well-known for its pressure-relieving properties. It is also the right mattress for seniors with arthritis due to its side handles.
Transformation hybrid by Diamond mattress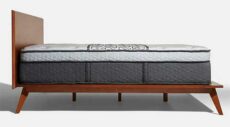 - Hotel quality mattress
- Highly breathable
- Pressure relief
Suitable for stomach sleepers
Transformation Hybrid is the best mattress for seniors with back pain, especially stomach sleepers (check 10 great mattresses for stomach sleepers). Its spinal alignment feature is further appreciated because it cradles the body and contours its form.
Diamond Mattress has ensured that its product can successfully eliminate any pain you have been experiencing in your shoulders, lower back, and hips. It is made possible on account of its exemplary pressure distribution feature.
The mattress boasts a height of 10 inches and a zoned support system. The latter entails 25% more coils located at the center of the product than standard mattresses. Moreover, the product features a layer of HD comfort foam.
Another unique feature of the Transformation Hybrid is the micro-coil comfort layer, located at the top of the base layer. It carries no less than 1000 micro-coils to provide increased airflow, weightless pressure relief, and reduced motion. 
However, this is the best mattress for the elderly due to its features of Cool Touch Advanced fabric. The Sparkle foam draws away excess heat and moisture and aids in regulating your body temperature (also check the top rated cooling mattresses for hot sleepers).
Additionally, airflow is further enhanced by the micro-coil layer, which allows other cooling features to get rid of heat faster. Rest assured, you will go to bed on an excellent sleep surface.
In a nutshell Transformation Hybrid by Diamond Mattress is a good option if you prefer to

sleep on your stomach

. It

boasts enhanced airflow

and exceptional support properties. Where pressure-relieving is concerned, the product offers body contouring to give you an entire night of peaceful and comfortable sleep.
Layla Hybrid Mattress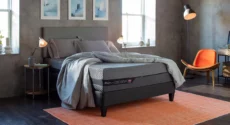 - Copper infused memory foam
- Excellent edge support
- Anti-microbial
It offers excellent pressure relief and temperature regulation
Layla has developed a flappable Hybrid Mattress that features a support core made up of pocketed coils. It uses a memory foam that has been infused with copper to create a complete pressure relief and temperature regulation system.
Where motion isolation is concerned, the mattress outperforms all its competitors. Since memory foam is an integral part of the comfort system of this product, it will absorb any movement and prevent it from transferring throughout the bed.
Since the coils in the support core have been pocketed beforehand, they only respond individually when pressure is implied. As a result, motion transfer is minimized, and you can sleep without being disturbed.
Its soft transitional foam makes the Layla Hybrid Mattress the best mattress for seniors with back pain. It helps the mattress conform to the shape of your body and cushion the key pressure points (also check the best selling mattresses toppers for pressure points). These include those of the hips, back, and shoulders. 
With its coil base and ample support, you can easily reduce pain and aches. In addition, the coils are also responsible for adding edge support and improving airflow. Thus, you can sleep comfortably throughout the night.
In a nutshell This is the best mattress for seniors looking to relieve pressure and regulate temperature. The coils present in the foam ensure superior body contouring and boost breathability. Moreover, it absorbs motion considerably, allowing you to sleep peacefully without being woken up by movement on the bed.
Spindle Organic Latex mattress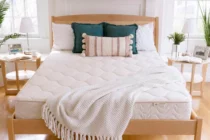 - 100% organic: latex, cotton & wool
- Comfortable
- Built to last
For sleepers who like multiple firmness options
If you are searching for a natural latex mattress, you can stop looking because you have found the best mattress for the elderly. The Spindle Organic Latex Mattress consists of three layers, all made out of natural latex.
The product has been made using Dunlop and organic cotton and wool batting. It has three firmness options, which help cater to people who prefer different firmness options. It does not matter which weight group you are from or which sleeping position you prefer; you can adjust the layers of the mattress to your liking.
If motion isolation is one of your top priorities, then the Spindle Organic Latex Mattress will not disappoint. You can sleep peacefully through the night without feeling your partner's or pet's movements. 
Furthermore, all firmness options offer exceptional pressure relief. They also consist of three different layers for latex contour that help redistribute your weight and reduce pressure buildup. 
It is also an excellent mattress for seniors with arthritis and back pain, especially due to wool batting. It has been quilted in the cover to cushion the pressure points and cradle your body for added comfort. 
In a nutshell The Spindle Organic Latex Mattress is best known for the several firmness options it provides. There are various other qualities that it offers, which include pressure relief like never before. You can now achieve ideal spinal alignment and sleep without experiencing motion transfer.
Eco Terra Hybrid Latex Mattress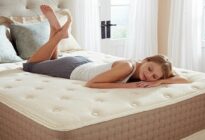 - 100% natural latex
- Organic cotton cover
- Made with breathable materials
For sleepers who want affordable and natural
Numerous people these days are drawn toward products made of organic, sustainable, and natural materials. However, the issue that arises here is that of price. Eco Terra solved this dilemma with its affordable and natural Hybrid Latex Mattress.
The company has marketed itself because it only sells latex hybrid mattresses made out of organic wool, organic cotton, upcycled steel coils, and Talalay latex. 
The coils in the body of the Hybrid Latex Mattress give it a bounce and ensure that you can move around on it easily. The transfer of motion is also limited to a certain extent, but for the most part, you will experience buoyant movement.
Where body contouring is concerned, the latex contours gently to your body's shape for pressure relief; the thick latex comfort layer is the best mattress for seniors with back pain, especially because of its ability to cushion pressure points. 
You will feel the tension in your body being reduced as soon as you lie down on the bed, primarily due to the pocketed coils. They have been made to react independently and ensure proper spine alignment. 
Even with temperature neutrality, the Eco Terra Hybrid Latex Mattress does not disappoint. Every layer has been designed to help in the dissipation of heat and add airflow to the product.
The cotton cover of the mattress helps wick away moisture, allowing the wool batting beneath to provide natural insulation. The wool aids in regulating temperature by drawing the heat away from you. Finally, the coil support core boosts air circulation. 
In a nutshell The Eco Terra Hybrid Latex Mattress is a natural mattress that will not cause a dent in your bank account. It promotes airflow and breathability on account of its latex layers. In addition, it will provide you with good pressure relieving and temperature regulating properties.
Molecule Hybrid mattress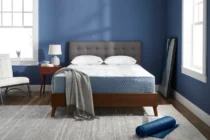 - Cooling support
- Extra plush quilted top
- Designed to maximize comfort
Offering excellent motion isolation features
The Molecule Hybrid Mattress has a foam-based comfort system, which includes a top layer of memory foam that perfectly contours to the shape of your body. It is well-known that memory foam offers superior motion isolation, and this product does not disappoint.
If you sleep with a partner or a pet, you will soon realize that this mattress dampens all movement. It's all-foam construction allows you to sleep uninterrupted while enjoying a slight bounce from the pocketed coils. 
It is the best mattress for seniors, especially those who prioritize body contouring. Memory foam will mold itself to cradle your body and relieve those painful pressure points that do not let you wake up feeling refreshed. 
The Molecule Hybrid Mattress further prevents heat buildup due to its ability to absorb body heat. The gel and copper infusion in the layers have been added specially to keep the sleep surface cool and eliminate body heat.
In a nutshell The Molecule Hybrid Mattress not only boasts excellent cooling features but prides itself on its unparalleled motion isolation features. You can sleep undisturbed and wake up refreshed without experiencing motion transfer or heat sweats.
Naturepedic Halcyon

- Superior quality
- Personalized comfort
- Modern design
For people searching for luxury
Halcyon is a high-end collection from Naturepedic, which features encased coils and organic latex comfort layers. They come with a top quilt with a luxury blend, including cashmere, wool, and alpaca. 
The mattress is known for its unparalleled comfort, ensuring a higher price point. However, the product is the pinnacle of luxury and is certified by GOTS. It entails that you can enjoy a non-toxic and chemical-free sleep.
The company strives to improve your sleep experience by certifying its mattress from GOLS. As a result of the sustainable and renewable sap used in the production, you can feel yourself slipping into a cloud-like comfort. 
In a nutshell Halcyon by Naturepedic gives you the feeling of a five-star hotel within the four walls of your home. You can experience luxury and comfort like never before, which is why this is the best mattress for seniors.
Ghostbed luxe mattress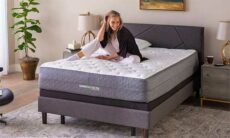 - Made in USA
- The Coolest Bed in the World
- 7 Layers of Comfort
Best for hot sleepers
There is nothing unusual about overheating as you sleep, especially if you share the bed with your partner. That is why mattress companies have come up with cooling beds, and GhostBed Luxe claims it is the coolest bed out there. 
It is the best mattress for seniors because it is a mixed-foam mattress infused with memory foam and cooling fibers. As a result, you will feel ample cushioning and sleep cradled.
Right beneath the mattress's cover is phase-change material, or PCM, designed to ensure that the surface maintains a comfortable temperature. So, no matter how hot you feel, the GhostBed Luxe will keep you cool. 
The mattress also has gel in its comfort layer and polyfoam in its transitional layer. Moreover, its support core has a high-density polyfoam, which combines all three layers. As a result, you get a product that is firm and sturdy. 
Where motion isolation is concerned, the GhostBed Luxe will immediately become your favorite. It has an inch of memory foam on the cover, giving the surface a soft and plush feel. It also allows it to absorb movement.
Consequently, no matter how much your pet or partner moves on the bed beside you, you will likely experience little to no motion transfer. You can now avoid sleep disruptions and wake up refreshed in the morning. 
Another wonderful feature of this mattress is that it does not make noise when it bears weight. Therefore, moving on the bed will not make you feel uncomfortable or disturb anyone else in the room. 
Pressure relief is one of the benefits of the GhostBed Luxe that make it a good mattress for seniors with back pain. Your body will be deeply contoured and feel a reduction in pressure. It will cushion your shoulders and hips just enough to promote spinal alignment. 
Even if you are a stomach sleeper, you will feel relief surging throughout your body as soon as you lie down on it. The memory foam excels at conforming closely to the targeted pressure points in the hips, lower back, and other areas. 
In a nutshell The GhostBed Luxe Mattress is the best mattress for the elderly due to its numerous benefits. These include its excellent motion isolation and pressure relieving properties. It also boosts ideal spinal alignment by cradling the main pressure points, allowing you the feeling of sleeping on a cloud.
Nectar Premier Memory mattress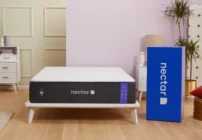 - Gel memory foam
- Dynamic Support Layer
- Stay-Stable Base Layer
Perfectly balances gentle contouring and sturdy support
The Nectar Premier Mattress is popular because it provides the right balance between gentle contouring and sturdy support. It allows sleepers to sink into their bed while not being swallowed whole by it.
It is the best mattress for the elderly, especially those who are light sleepers. It isolates motion exceptionally well and gives your partner the chance to get in and out of bed without causing any interruptions in your sleep. 
It is the best mattress for seniors with back pain because it can simply hug the body. It permits relief in pressure points and allows the sleeper to maintain ideal spinal alignment. 
Rest assured, your head, neck, and back will evenly support your shoulders, and you will only sink proportionately to your sleeping position. 
Moreover, the Nectar Premier Mattress has been made with materials that boost its airflow. It will wick moisture away from the body and allow you to sleep without experiencing night sweats.
The breathable fabric cover is also designed to feel cool to your touch. On the other hand, PCM is instrumental in regulating the body's temperature during the night. 
In a nutshell The Nectar Premier Mattress has been designed to gently contour your body and give you the feel of sleeping in a sea of comfort. In addition, it provides support to your body to maximize support and pressure relief.
Our Recommendation
Elderly people and seniors, specifically those aged 65 or over, have distinct needs from others regarding sleeping. They require mattresses that address a couple of their primary issues, such as joint and muscle pain and insomnia. 
Thus, the best mattress for seniors is designed to offer outstanding comfort and support. It ensures that you enjoy a good and peaceful night of sleep. So, feel free to choose a mattress from the list above and prepare to make one of the best investments of your life.