A quality night's sleep is a must for maintaining an individual's physical and mental well-being. However, a partner's snoring can easily keep you awake throughout the night, making it difficult for you to rest.
Snoring can occur due to several possible health issues, especially blockage in the airway. To ensure quality sleep, it is high time you choose a perfect mattress that gives you comfort (check 10 mattresses with great comfort), a pressure-relieving effect, and ultimate support throughout the night.
Have a look at the best mattresses for snoring, which serve as a potential solution to indulging in a quality night's sleep (also check 10 great mattresses). 
What Are the Best Mattresses for People Who Have Snoring Issues?
10 great mattresses if you suffer from snoring
GhostBed Flex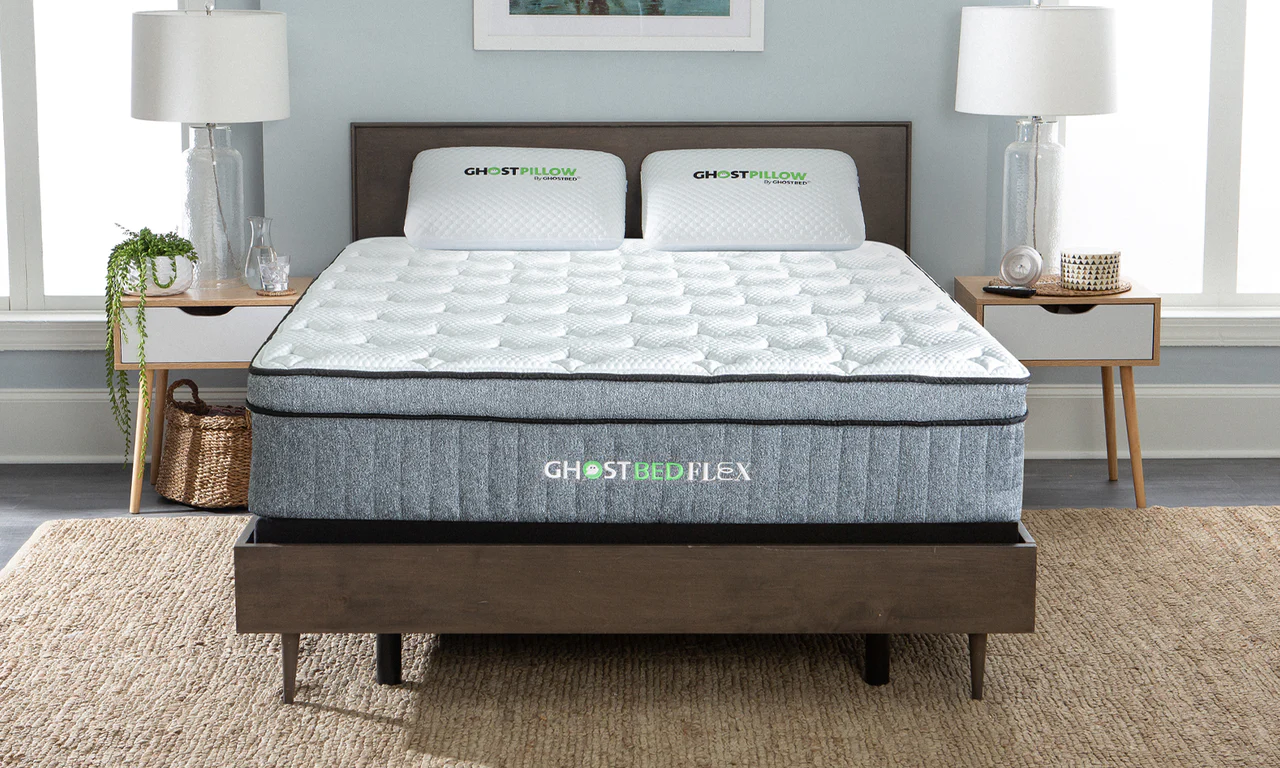 Highlights
- Luxury hybrid mattress
- Cooling air-flow technology
- Reinforced edge support
Exclusive offer : Up to 50% OFF
Best hybrid mattress with cutting-edge technology
This hybrid mattress has 7 innovative hybrid comfort layers. It is the best hybrid mattress, having supportive coils that blend well with the memory form that adapts to the body contours. Moreover, it comes with a delicious quilted cover made with innovative technology, allowing airflow to keep you cool throughout the night.
The reinforced edge support prevents slipping it from the sides. The medium luxury design of this mattress contours and hugs the body well, offering solid support to the sleepers.
You can also add a bed frame by the Ghost bed brand, which adds a perfect foundation for your mattress.
The sturdy support wrapped with coils and gel memory foam makes the sleeping mattress a perfect choice for all users (it is a good mattress for stomach sleepers). On the scale of comfort level, it comes at a level of 6-7, making it perfect in terms of cushioning and offering a cozy sleep to the users. 
In a nutshell Overall, the hybrid mattress perfectly combines cooling technology and comfort. Its 13″ height and luxurious design make it a perfect addition to your bedroom decor.
Leesa Original Mattress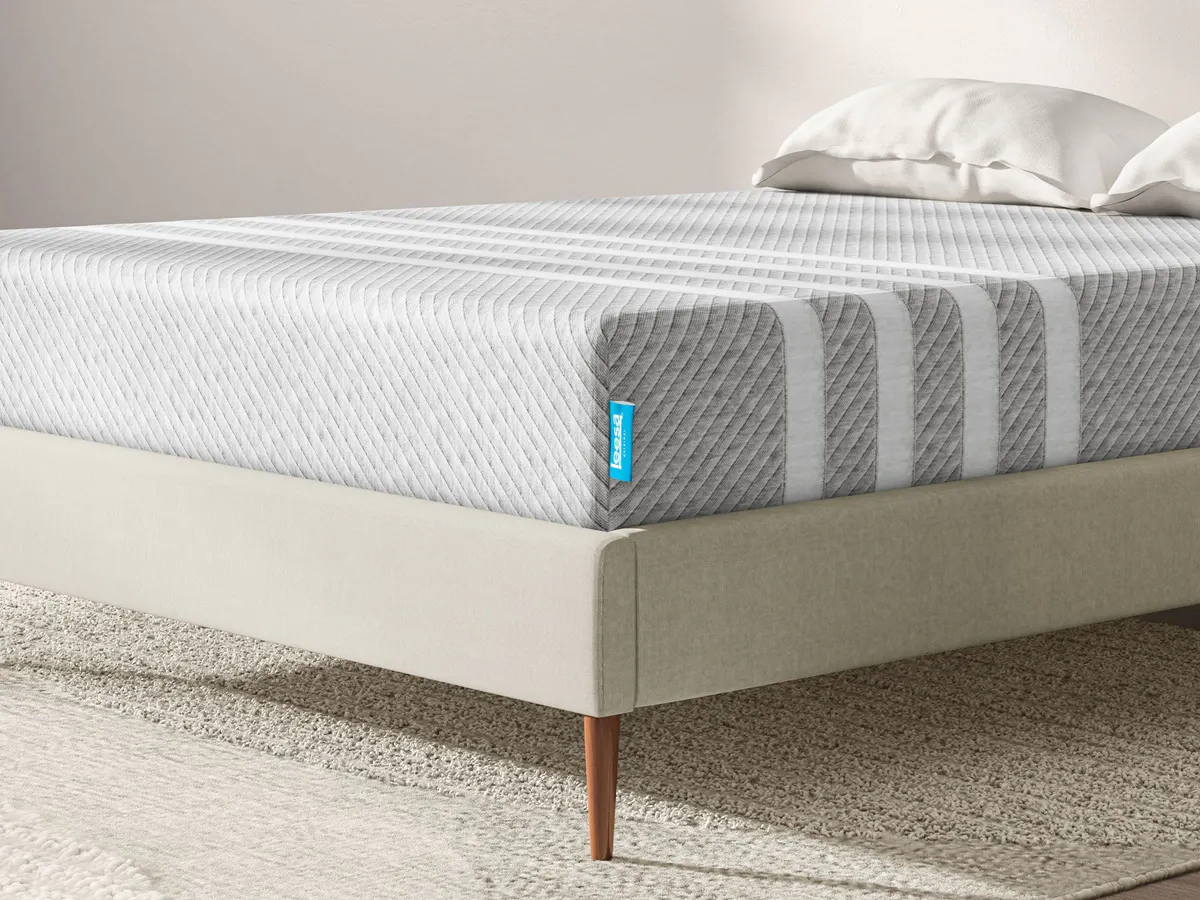 Highlights
- Soft and breathable
- Memory foam
- Comfort and support
Save up to $820 on Leesa Mattresses
 Premium foam with pressure-relieving support.
The Leesa Original Mattress features premium foam with pressure-relieving support and withholding contour effect.
This memory foam mattress features a breathable and soft cover with the four-striped signature design, making it an aesthetically appealing mattress.
It is also Greenguard Gold Certified with low volatile organic compounds, offering a healthy and safe sleeping experience without affecting the indoor air quality.
Another important feature of this Leesa original mattress is its 10-year warranty and a 100-night trial. 
The exclusive upper layer with breathable cover and all-foam makeup make this memory foam mattress a comfortable sleeping experience for all sleepers. Bounce and sleep comfortably with the Leesa memory foam mattress. 
It is available in sizes ranging from twin, twin XL, full, queen, king, and California king. The three-layer construction of the memory foam mattress features the cooling foam on the top layer and the contouring memory form on the second layer with 6 inches of support in the foam base.
In a nutshell Discover the original Leesa mattress, which has a three-layered construction and is certified for healthy and safe consumption by users. In terms of support and comfort, it offers the perfect balance to sleepers.
Sweetnight Dreamy Memory Foam Mattress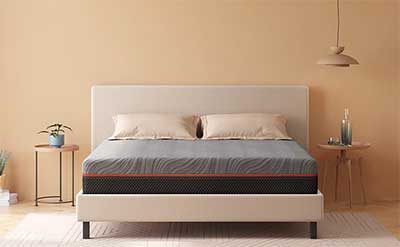 Highlights
- Three Firmness Levels
- Affordable
- Perfect for every bed frames
Exclusive : 5% off with the code NUT5
 Pressure-relief, support, and three firmness levels in one mattress.
Next on our list of the best mattresses for snoring is the dreamy S1 gel memory foam mattress. This mattress comes with a 100-night trial, free shipping, and a 10-year warranty.
What you will love about this gel memory foam mattress is that it features three firmness levels, allowing you to sleep softly at the head part with medium firmness over the tail. The bottom side of the mattress is firm enough to offer the perfect support for the shoulders and back (also check 10 amazing mattresses for scoliosis). 
The pressure relief and targeted support with ultimate cushioning keeps you well lifted to reduce back pain and improve sleep quality. The mattress regulates your body temperature with its gel-infused memory foam layer.
It also comes with outstanding motion isolation technology, which absorbs all the noises at times of tossing and turning during sleep. Lastly, this eco-friendly memory foam mattress is certified as healthy and safe for the family.
You can also add the pillows when buying a gel memory foam mattress from Sweet Night because they are luxurious and offer a perfect, comfortable experience for the sleeper.
In a nutshell Overall, this ergonomically constructed sweet night gel memory
foam mattress
is neither too soft nor too firm. It is a perfect addition to your bedroom due to the three innovative layers and your firmness choice. level, enhancing the comfort level and reducing heat dissipation, giving you a relaxing sleep throughout the night.
Layla memory foam mattress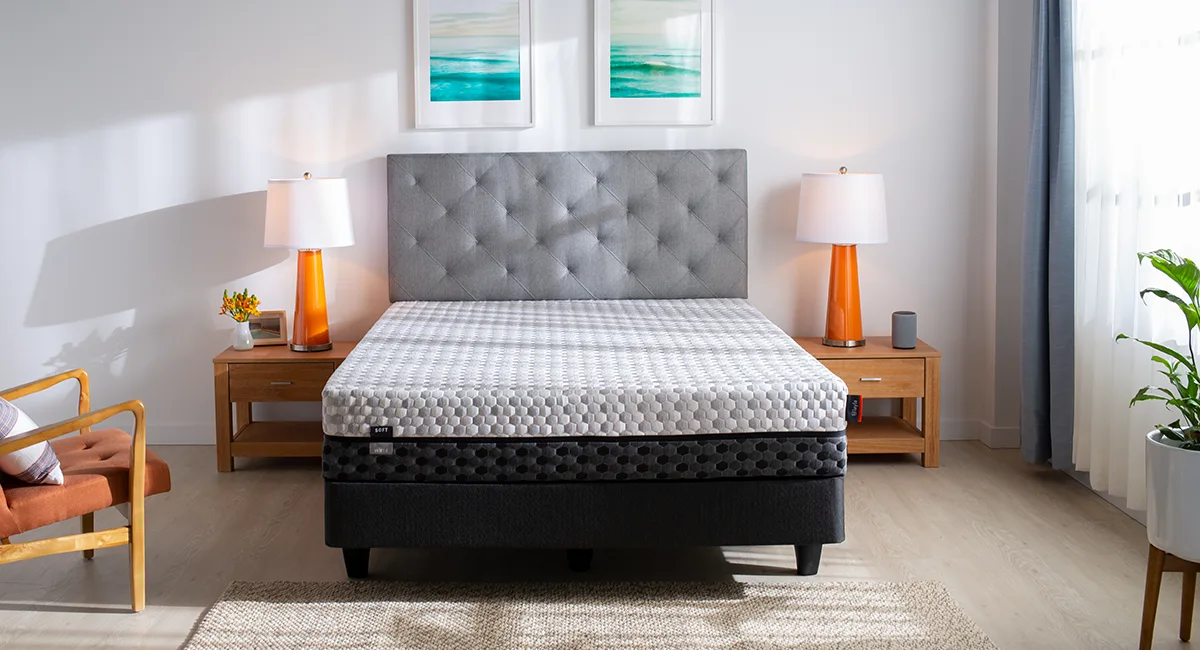 Highlights
- Copper gel in the foam
- Antimicrobial
- Rapid cooling
Expert verdict
The Beautyrest 13.5 Hybrid 1000 Infinicool is a 13.5-inch hybrid innerspring plush soft tight-top mattress. It has a base support layer of innerspring pocket coils with age/memory foam layer resting above.

This model from Beautyrest is very difficult to find both (1) online and (2) in-stores. As a result, we strongly recommend considering similar alternatives.

Surprisingly enough, the Beautyrest 13.5 Hybrid 1000 Infinicool is actually quite a good mattress. Especially when you consider the quality of materials & specifications.
Exclusive Offer of the week : $450 Off any mattress
A copper-infused memory foam mattress
The Layla Sleep Mattress is perfect for sleepers who snore a lot. You must be wondering why the Layla Sleep mattress is comfortable compared to the available mattresses. It is because it comes with copper technology, which responds well to high pressure due to the forming response. It keeps you hugged and soft throughout the night, with ample support over the deep compressive areas. 
The copper allows you to sleep well throughout the night without sweating. The conduction of copper technology carries away all the heat from the body, making you sleep cold without any hot flashes. 
The addition of copper in the mattress also makes it antimicrobial, which means you can sleep healthy and safe while fighting against odors that might occur due to bacterial invasion. Enjoy the plush, soft feel with rapid cooling due to the ultimate support offered by this mattress. 
Forbes awarded it as the best cooling mattress and best mattress in a box. The motion transfer technology in the same mattress won't disturb your sleep without knowing your partner's moment.
You can also purchase bamboo sheets or down alternative comforters from the Layla brand, making it a luxurious choice for sleepers. 
In a nutshell This flippable mattress is a perfect choice for all users because you can choose between soft and firm sides in a single mattress by the Layla brand. It is a perfect addition for side sleepers because you feel a plush hugging experience while sleeping on the mattress.
Serta Perfect Sleeper Mattress-In-A-Box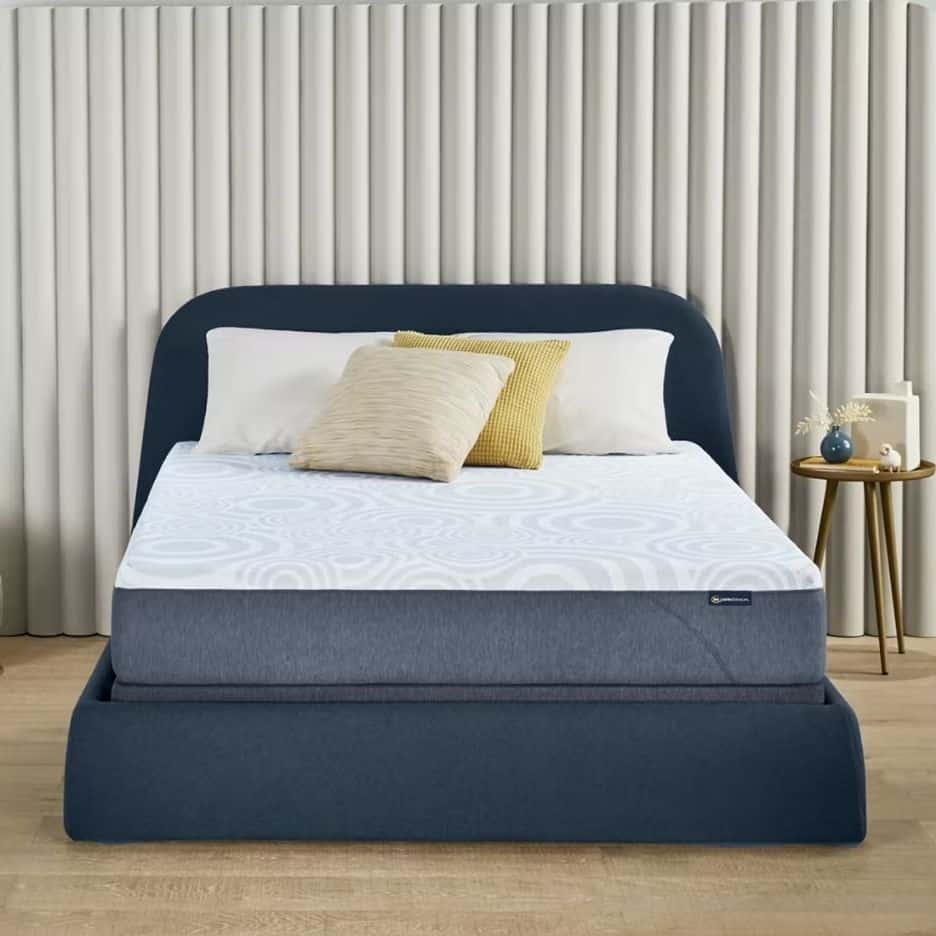 Highlights
- Memory foam
- Pressure-relieving comfort
- High-quality mattress
Special offer: Free Shipping with Our Discount Code
A perfect combination sleeper mattress
The best thing about the sleeper mattresses is that they release pressure and come in luxurious quality, restoring your sleep.
This mattress offers a relaxing experience with a pressure-relieving effect, supporting your entire body (it is a great mattress for back pain). This mattress's minimal setup and maximum comfort make it a unique choice for all buyers. 
This mattress has medium firmness and comes at 10 inches in height. It comes with three different layers, including hexcloud gel memory foam, cradle gel foam, and a Serta foam core. The hex cloud gel memory foam is an exclusive layer in this mattress, which is geometrically unique but delivers contouring and cool pressure, offering you a relaxing sleep.
The cradle's gel foam is spread all around the mattress to offer to cushion support with cooling comfort. The Serta foam core offers durable support to all sleepers in different sleep positions.
It offers constant and edge-to-edge support, comfortably allowing you to sleep throughout the night. It also features a support core system with 825 wrapped coils of control and support for the entire body. 
The deep memory form is highly dense, confirming your body's control contour comfortable deep sleep. Lastly, the cool twist gel memory foam makes it a premium choice because it promotes airflow throughout the mattress with heat dissipation, making you feel cool and comfortable throughout the night.
In a nutshell A combination of comfort and convenience is what you get with the Serta Perfect Sleeper mattress in a box. The Serta mattress comes with a 120-day trial and a 10-year limited warranty and is built and designed in the USA.
Naturalform Euro Mattress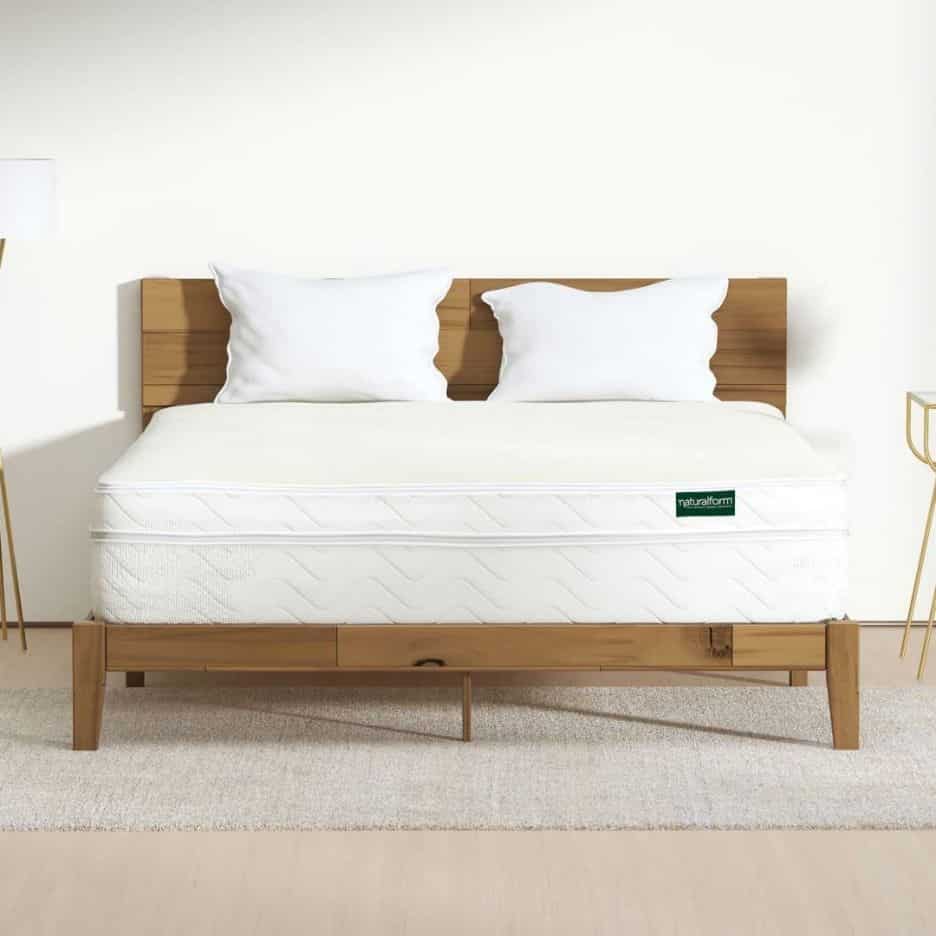 Highlights
- Naturally breathable
- Firmness controls
- Euro top design
Special offer: Free Shipping with Our Discount Code
Luxurious mattress with 80 pressure-free air zones
The Natural Form is a luxurious mattress with 80 pressure-free zones and a plush Euro design, relieving you from pressure points.
You can also buy Egyptian cotton sheets from the Natural Form brand, which gives a perfectly luxurious feel to your home. You also can choose a bed frame with a mattress, like the Adjustable beds by Natural form, which serves as a perfect alternative to a mattress.
This natural form mattress comes with a merino wool cover that keeps you warm throughout the winter season and cools throughout the summer season. The wool covers are luxuriously designed, wicking away all the moisture from the body. They are washable and removable.
The comfort layer comes in four inches, offering ergonomic support with extra padding under the hips, shoulders, lower back, and waist. This layer is temperature regulated and comes in a hybrid form that won't change according to your body shape and size.
The pressure-free technology used in this mattress releases your pressure and offers a perfect alignment to the spine (also it is a good mattress for heavy people). You can also adjust the firmness levels according to your preference with the control dials that fit well according to the sleeping positions.
In a nutshell This luxurious mattress, in natural form, comes with additional support due to extra padding that offers the user a luxurious feel and comfort. It is a highly rated mattress because of the latest pressure-free technology; the targets are supported areas of your body.
Puffy Mattress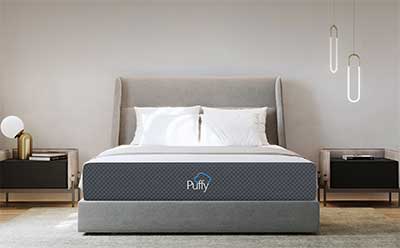 Highlights
- Best selling USA
- All Sleep position
- Hotel comfort
LABOR DAY SALE EXCLUSIVE: $1,350 OFF
A comfortable mattress to sleep on.
Do you want to feel like you're resting on a cloud? Then, the Puffy mattress could be ideal for you. The Puffy is a medium-firm all-foam bed-in-a-box suitable for a wide variety of sleepers.
It reduces aches and pains by balancing support and pressure alleviation. This bed's CertiPUR-US® foams are free of chemicals and toxic substances.
Let's examine the details to see what is inside this mattress.
The polyester-blend cover is soft and cozy. The Puffy's mattress cover doesn't bother people with allergies and won't get stains.
A "Gel Cloud" comfort layer is located directly beneath the cover. This thermal cloud foam layer keeps you more relaxed than a typical memory foam mattress. This gel-infused memory foam is nice and soft and will relieve pressure.
The next layer is a poly foam "Climate Comfort" layer. It has a fuller feel and aids in lowering you to the endorsed foam beneath.
Puffy's base layer is HD polyfoam, a popular mattress support material. This layer provides the mattress with strong and stable support.
People who sleep hot should consider getting this comfortable mattress. Many people are satisfied with the Puffy and may want to use cooling bedding. However, the bed does not solely determine temperature control. Temperature, bedsheets, and nightwear affect how cool and comfortable a person feels overnight.
You can go with Brooklinen classic sheets for this purpose. The Brooklinen Classic Percale Sheet comprises long-staple cotton, meaning that each cotton fiber is relatively long.
In a nutshell The Puffy is a reasonably durable mattress for its material properties and an all-foam design. The Puffy mattress is excellent at isolating motion. Sleepers aren't disturbed by their partner's movements when a bed isolates motion.
Helix Midnight Luxe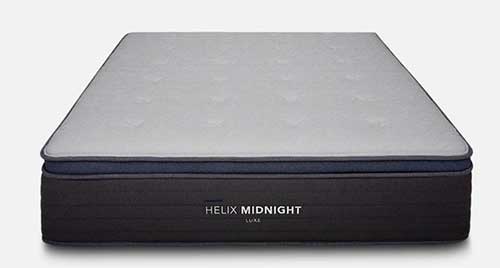 Highlights
- Great for side sleepers (and others)
- Good option for heavy people and couples
- Hotel standard
Special offer: Free Shipping with Our Discount Code
A good choice for side sleepers.
Helix's most popular mattress is the Helix Midnight luxe. The Helix Midnight Luxe is a premium hybrid mattress with cooling and zoned support.
The Helix Midnight Luxe has near-perfect cooling technology, making it an excellent choice for hot sleepers. A premium built-in cooling cover regulates body temperature.
The Midnight Luxe is the luxury version of the brand's mild memory foam hybrid. The plush quilted pillow top is Helix Midnight Luxe's standout feature. IT is the primary comfort layer of the bed. In addition, the top cover is quilted with soft foam to create a cloudlike appearance.
After that, a layer of memory foam is present underneath it. The Midnight Luxe's thick memory foam layer provides relief from pain and body contouring.
The use of memory foam in its design makes the Helix Midnight Luxe a bouncy mattress. At the same time, its high-density coil layer offers lumbar support. In addition, the responsive transition layers and coils make moving and changing positions easy.
Helix Midnight Luxe performs best when placed on a high-quality, stable support system. The Helix Foundation is best, but you can also use an adjustable base.
In a nutshell If you frequently sleep hot, you can choose between the soft, breathable Tencel fabric cover and the GlacioTex Temperature control cover. This cover keeps you cool by wicking heat away from the skin.
Plushbeds Cool Bliss Luxury Mattress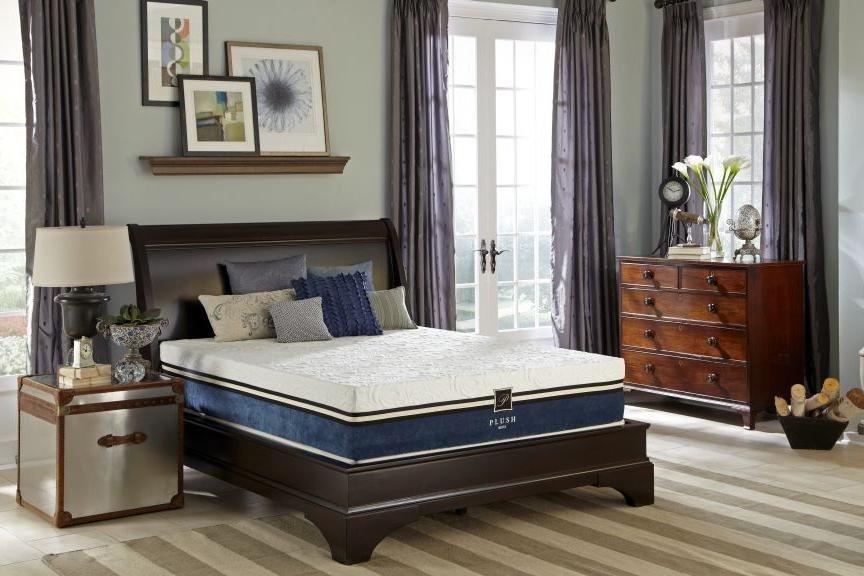 Highlights
- Gel memory foam
- 5 plush comfort layers
- Optimal cooling comfort
Fourth of July Sale! $1,250 off + $599 in Free Bedding
A nice option for the pickiest sleepers.
Innovative, opulent, and revolutionary. These words perfectly describe the 12″ Cool Bliss Luxury Memory Foam mattress. Cool Bliss' cooling layers will please even the pickiest sleepers.
This mattress has four layers that make up the 12 inches. First, a 5-inch supportive fundamental layer serves as the bottom layer. Next, this dense latex foam layer supports the mattress's 3 top layers.
A 2″ high-density support layer sits above the bottom layer to help airflow and keep the mattress cool.
The 2-inch natural latex transition layer comes next. The natural latex molds to our body for relaxation and contains no toxins or adhesives. The three-inch top layer is the last and final layer. This layer is the best of the best.
The Cool Bliss Gel-infused memory foam provides cooling, comfort, and heat dissipation. There is an additional layer on the upper end. The outer layer is a "cooling cover" that keeps you calm and comfortable all night.
Greenguard Gold and Oeko-Tex Standard 100 certifications guarantee low chemical emissions and no harmful substances.
PlushBeds Luxury Bliss doesn't have off-gas polyurethane foams or artificial adhesives. Instead, it allows you to sleep soundly and breathe easily. The brand claim that you don't need to "air out" the mattress before using it.
As a precaution, place a mattress cover under your panels and let it air for a few hours.
Turmerry Natural Latex Mattress Topper is one of the best organic mattress toppers for you. This mattress topper is pure, safe, and eco-friendly. It provides reliable comfort while relieving aches and pains for a deep, restful time.
It's the right mattress topper for you whether you sleep on your side, back, or stomach. Turmerry's natural latex mattress topper comes with a free organic cotton zippered cover. The cover protects both you and your topper.
In a nutshell The mattress is available in two firmness levels: Medium and Med-Firm. Both medium and firm Luxury Bliss mattresses respond quickly to pressure, allowing easy movement. Since the bed is easy to move and suitable for most physiques and sleeping positions, it's ideal for combination sleepers.
DreamCloud Premier mattress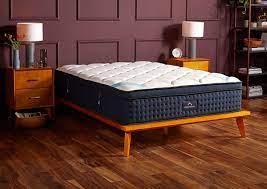 Highlights
- Memory foam and innerspring coils
- Luxury cashmere-blend cover
- Pressure-relief comfort layer
Special offer: Free Shipping with Our Discount Code
Get a through night sleep with this premium mattress.
The DreamCloud Premier is DreamCloud's newest mattress, improving the brand's original design.
It is a luxury bed-in-a-box hybrid mattress with solid support and gentle pressure relief. Its responsiveness makes it a good choice for back and combination sleepers. In addition, the DreamCloud Premier helps regulate temperature and keeps hot sleepers cool.
The construction of this mattress starts with a thin coating of polyfoam and 6 inches of reinforced pocketed coils. Because of these coils, the sleep surface and the edges feel supportive.
Three foam layers work together to alleviate the pressure and isolate movement in the comfort system. Two foam layers are also gel-infused, making the mattress even more extraordinary to sleep on. In addition, air can continue to flow around the body since the comfy foam layers gently contour.
The topmost layer is a plush and lofty quilted memory foam Euro-top. The cover is a soft, stretchy cashmere blend that adds a luxurious touch to the mattress. The plush blend cover wicks away heat, which helps night sweaters.
DreamCloud Premier mattress is 15 inches tall, which may necessitate deep pocket sheets. You can use Avocado Deep Pocket Organic Cotton Sheets on these mattresses.
In a nutshell The Euro top rebounds fast when pressure is removed, and the coils help change positions. The DreamCloud Premier balances motion isolation and mobility well. It has exemplary edge support, allowing sleepers to use the entire mattress surface.
Is A Firm Mattress Better for Snoring?
If you find yourself changing positions throughout the night due to snoring, it is recommended that you invest in a medium-firm, if not a firm mattress. Firm mattresses are considered better for people who snore a lot.
Can Your Mattress Affect Snoring?
It depends on the sleeping surface, whether you are sleeping on pillows or a bed, affecting the angle of your body parts, including the neck, head, and airway.
If you or your partner snores a lot, you should choose a mattress that supports you all and allows you to sleep well.
Bed mattresses can actually make you snore because they affect your airway, head, and neck angle. Unsupportive mattresses can lead to unhealthy sleeping postures.
What Bed Automatically Adjusts to Snoring?
The TEMPUR-Ergo smart bases come with features that respond well to snoring automatically. The smart base senses snoring and automatically raises the head in such a way that it positions itself well to reduce the snoring.
Do Smart Beds Stop Snoring?
Smart beds can stop you from snoring because they automatically adjust when you start storing for you and your partner to sleep comfortably. These beds have vibration sensors that detect motion and adjust your positions, allowing you to get a good night's sleep.
Does Memory Foam Help with Snoring?
Yes, memory foam mattresses can reduce snoring by elevating the head and shoulder parts, leaving the airways unrestricted. The memory foam mattresses also help get rid of obstructive sleep apnea and loud snoring issues with your sleep position.
The mattress has a memory foam layer that supports a comfortable sleeping posture, relieving pressure on the joints like shoulders and helping keep your spine aligned. Aside from that, memory foam mattresses conform well to body contours, providing adequate support to the back, shoulders, neck, and legs.
If you snore due to unsupported body positioning, then foam mattresses are a perfect choice. However, if you snore because of sleep deprivation, the culprit is usually the bed mattress, affecting your sleep quality.
With its questioning and high breathability, the foam mattress can help improve your night's sleep. Sleepers can easily enjoy sleeping on memory foam mattresses without any snoring. 
Will An Adjustable Bed Help with Snoring?
Adjustable beds can also aid in the reduction of sleep apnea and snoring by positioning the back, neck, and head in an airflow path from the nasal passages and throat.
The Zero Gravity sleep positioning with the adjustable bed also results in a neutral body position, which prevents you from snoring (check the top-rated mattresses for adjustable bed). This reduces the pressure in your nasal passage and the airways.
You don't need to re-adjust the pillows as these beds easily adjust your posture accordingly.
Our Recommendation
Is it the perfect time to shop for the perfect mattress, especially for people who snore a lot? Get your hands on the best mattresses available on the market by brands like Layla, Leesa, and Natural Form. These mattresses are designed with the latest innovative technology that helps you indulge in undisturbed sleep even if your partners are tossing and turning around.
So, without further ado, get your hands on the luxurious mattresses, which are especially beneficial for people who snore.