Simple Steps to Make a Comfortable Truck Camping Bed
The bustle of the city can become overwhelming, so it's nice to be able to pack up and getaway. Sometimes you just want to disconnect from all of the technology and reconnect with Mother Nature, relax, and enjoy the beauty surrounding you. Camping is one of the easiest and most affordable ways to do so—and romantic if you are a couple. One way to make it even easier and more restful is to set up a comfortable truck camping bed for your adventure.
To make a comfortable truck camping bed, use a high-quality air mattress, sleeping bag, and lay a mattress pad or memory foam mattress topper on top of the air mattress. For protection from the elements, install a canopy or a camper shell onto your truck, or substitute a truck bed tent for a canopy.
Make sure that the truck tent or canopy is well insulated and doesn't have any spots that can leak cold or rain into your truck camping bed. As for the floor of your truck, the type of mattress you choose will take care of insulating you against the cold and hard truck floor. Read this article on "The Thermal Resistance of Air-Filled Mattresses" to find out how mattress size, thickness, and inflation affect the temperature of an air mattress.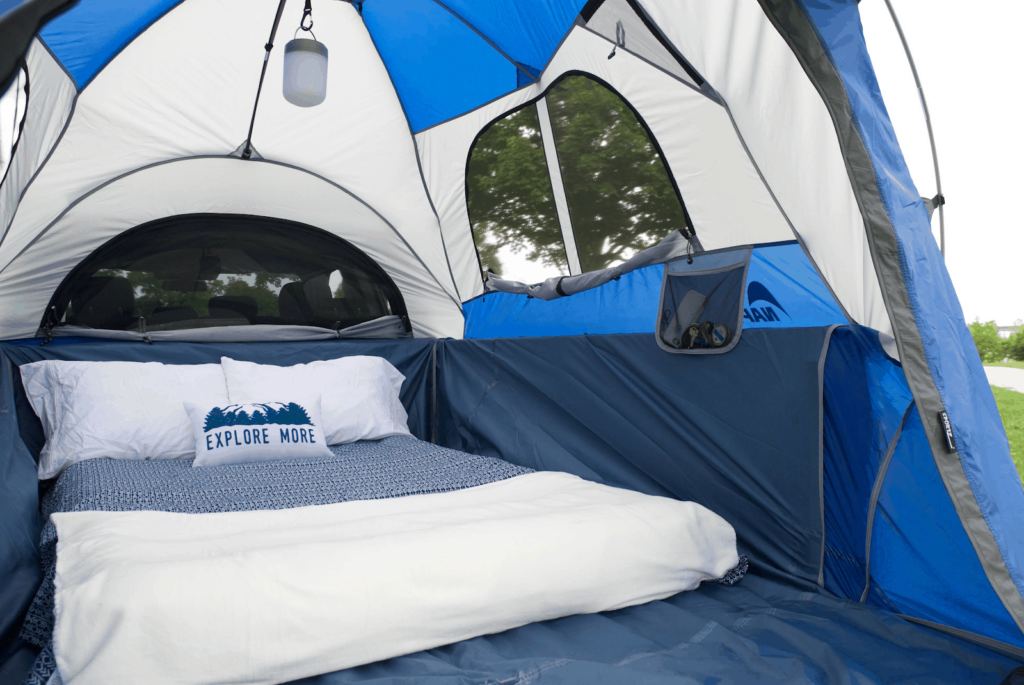 Can You Sleep In the Bed of a Truck?
When camping, the truck bed automatically gives you a level of safety and security with its solid metal walls and floors. It also raises you off the ground, which has many advantages.
To sleep in the bed of a truck use an enclosed canopy or specially designed truck tent along with a comfortable air mattress and warm bedding. For cold camping, a memory foam mattress can be substituted for the air mattress.
When it comes to the beds you can use in the back of a truck, there is a wide selection of air mattresses to choose from. They can be comfortable while saving a lot of precious space. We show you how to inflate an air bed in our step-by-step guide, so be sure to check out that article. Also, you can store them deflated and inflate them when you're ready to set up camp. Fortunately, there are now mattresses that have been specifically designed and contoured for truck camping, like this one from Amazon. Make sure to also check out our related article, is an air bed good for your back?
If you are camping somewhere cold, you might decide that it's better to go with a memory foam mattress, as it offers the best insulation, and we don't need to mention the comfort it provides. Read our article on mattress topper benefits to learn about their cushioning and motion isolation features. Another option is a sleeping bag, but make sure it's high quality and has synthetic insulation, to have a peaceful and warm outdoor night's sleep. Last but not least, you can go with a mattress pad, as it saves a lot of space and is very comfortable, but it isn't the best choice if you are planning on camping for more than a couple of days.
What Size Mattress Fits In a Truck Bed?
To find the best mattress for truck camping bed, you need to know the inside measurements of the truck bed. You should measure the length from the middle of the rear toward the front with the tailgate up. Then, measure the width from each side of the bed, and don't forget to measure between the wheel wells.
The most common air mattresses that will fit the average size pickup truck bed are Full (54 inches x 74 inches), Full XL (54 inches x 80 inches), and Queen (60 inches x80 inches). Use a shorter 5.25 foot long air mattress to fit a short truck bed.
If you prefer a memory foam mattress for the support and comfort it provides, it can be customized to fit your truck camping bed perfectly. Read our article on how to cut memory foam if you want to cut the topper to a custom size. Memory foam can be rolled up, but it does take up more storage space than an air mattress.
Here are some examples of truck types and mattresses that are suitable for them:
You might also be interested in reading our step-by-step guide explaining how to deflate an air bed properly for storage. Make sure to check that out too.
How to Make a Comfortable Truck Camping Bed
There are easy-to-follow steps that will help you make a comfortable truck camping bed, ready for your next quick weekend getaway. Your choices will depend on your destination and the ruggedness of the camping you are looking to enjoy.
To make a comfortable truck camping bed, first, you cover the truck bed to shield it from the elements. Second, choose a suitable mattress size to fit in the bed of your particular truck. Third, lay down an air mattress or memory foam mattress in the bed of the truck. Finally, add a mattress topper along with warm bedding or a sleeping bag, pillows, and a blanket.
Step 1.Use a Truck Camping Tarp or Tent to Cover Your Truck Bed
Some people already have a canopy or a truck shell for the back of their truck. That provides great protection, privacy, and plenty of space for your truck bed.
If you don't have one, or, if you prefer more space, especially for the head, you might want to go with a truck tent. A truck tent is easy to set up. It attaches to the side rails of the truck bed or straps onto the wheel wells and gives you plenty of space. It can be compactly packed away to save space.
Truck tents also work as barriers against the sides and floor of your bed truck. They are inexpensive and come in different sizes to fit short and mid truck beds. Although most truck tents are waterproof and snowproof, and some have great insulating properties—if the weather is extremely cold a tent or a tarp won't be as effective as a hard shell canopy.
A tarp can work similar to a tent but it won't provide protection from the sides or the floor of your truck bed. It will, however, give protection against unexpected rain. When choosing a tent or a tarp, remember to choose the right one to cover your truck camping bed. You can check out this truck bed tent, or camping tarp on Amazon.
Step 2. Choose The Right Size of Truck Camping Bed
There are three main sizes when it comes to truck camping beds, but the precise measurements differ from one truck to another.
Short truck beds are usually 5–5.8 feet long
Standard truck beds are 6–6.5 feet
Long truck beds are 8 feet long.
The precise size of a truck's bed will vary according to the model of the truck. For example, the Ford F150 has a model with a 5.5-foot bed size, another with one that is 6.5 feet, and yet another with a longer bed. There are also different bed size options for Chevrolet Silverado 1500 (69.92-inch Short Bed, 79.44-inch Standard Bed, and 98.18-inch Long Bed). You will need to choose the most suitable size mattress according to your preferences, how many people will go camping with you, and which mattress will fit your truck bed.
Step 3. Choose the Right Type of Mattress
Air Mattress
An air mattress is a great choice for truck camping, as it's very practical. Many are specially designed to fit the unique contours of a truck bed. You can store it deflated, which gives you all the space you want, and inflate it whenever you need it, which gives you all the comfort you need for sleeping. You can check a best seller air mattress on Amazon here. Air mattresses come in different dimensions to fit the various truck bed sizes
If you have an air mattress, be extra careful that there are no sharp items around it, because once it's got a small tear or air leak, it becomes useless. If the weather is really cold, an air mattress won't be a perfect choice, even though some brands have insulating properties. If you are expecting extreme cold where you are going then buy a mattress topper with heat retention properties, and check out our article on using a mattress topper on an air mattress.
Memory Foam Mattress
If you choose to go with a memory foam mattress, you will be able to replicate the same comfort and support of your bed back at home, in your camping mattress. Then memory foam insulation properties will also ensure a warm sleeping environment because the thickness of the mattress provides a superior buffer against the elements—allowing you to go camping at any time of the year.
A memory foam mattress does take up a lot of space, even when rolled up, and it will need to be thoroughly cleaned after the trip. Be sure to read our article on how to clean a futon mattress because these useful tips can also be applied to cleaning a camping mattress. Because of the space a memory foam mattress takes up, it's not suitable for everyone, but it can be easily customized to perfectly fit your truck camping bed. Here is a portable memory foam mattress on Amazon that is lightweight and compact.
Step 4. Bring Pillows, Bedding, and Blankets
Some camping mattresses come with attached pillows, but usually, they are not particularly comfortable. So, one option is simply to bring your favorite pillow from home, along with a blanket—depending on the weather—or they can even be used as extra padding. Another option is to buy a dedicated set of easy-to-wash bedding, especially for camping. Having bedding bags like these from Amazon will help keep your blankets and pillows clean whilst traveling.
Sleeping Pad
If you are young, resilient, and thrifty, then you might buy a sleeping pad to lay on top of your mattress. Sleeping pads provide extra comfort after a long day of hiking and camping activities. They are practical and come in different types for different levels of comfort. There are self-inflating sleeping pads that come in various thicknesses to protect you from the ground and provide you with a good night's sleep. Here's a highly recommended self-inflating sleeping pad from Amazon
There are also affordable memory foam or cotton mattress pads that can be packed and unpacked quickly. Read our article about putting a mattress pad on a foam mattress to learn about the pros and cons of using a mattress pad.
Sleeping Bag
A sleeping bag is an obvious choice for some people. However, you need to make sure that the sleeping bag has synthetic outer fabric, which won't be affected by the condensation and moisture that it will inevitably be exposed to.
It is also important to pay attention to the temperature rating of the sleeping bag to make sure it's suitable for the weather you will be camping in. Read this article titled, "Comfort Temperatures for Sleeping Bags," to learn more about the insulation values of sleeping bags.
Sleeping bags provide a decent amount of warmth when it comes to camping in cold weather, but they can also be paired with a sleeping mat for extra insulation and cushioning. This sleeping bag from Amazon has different insulation options and would pair well with this sleeping pad for camping.
How to Make a Truck Camping Bed Warmer
When the sun goes down, the temperature is likely to drop in most camping situations. While camping in a truck bed does raise you off the cold ground, the truck bed, itself, can also become cold.
To make a truck camping bed warmer, use a well insulated truck shell or tent, a warm memory foam mattress, a down sleeping bag that is rated for the temperature you will sleep at, and keep everything dry.
Tip 1. Completely Insulate Your Shelter
Make sure that your tent or shell is completely insulated against the outside elements, without any cold spots or leaks. If it appears that there are any leaks, you can add extra fabrics or seal the leak. You can also layer an insulated mat, like this one, on the floor of your truck bed floor before setting up the tent to separate the bed from the cold metal.
Tip 2. Use a Sleeping Bag and Memory Foam Mattress
If the weather is very cold, you will want to have both a good sleeping bag and a memory foam mattress for truck camping. A memory foam mattress will work as a warm barrier against the truck bed floor. Memory foam is well known for holding onto heat, something that is sometimes regarded as a flaw but can be very welcome in a truck camping experience. A high-quality sleeping bag can be found with temperature ratings from 15° F to 0° F, and well below. We recommend this zero degree sleeping bag from Amazon for truck camping in extreme weather.
Tip 3. Keep Things Dry
Accumulated moisture in the form of morning dew can make you wake up feeling cold. You need to make sure that you are completely dry, to be able to maintain your warmth whilst sleeping. Choosing camping bedding that is waterproof with synthetic outer layers will help wick any moisture away from the surface before it can seep into the bedding layers. Also make sure that your mattress and all your other bedding stays dry, not just from rain but also from condensation. If they get damp, make sure to dry them out thoroughly. This camping blanket has a down filling for warmth and a nylon outer fabric for water resistance.
Five Camping Accessories That Will Improve Your Truck Camping Experience
Below are five camping accessories you will want to buy that will improve your truck camping experience:
Truck Camping Bed Accessory
Benefits
Price
Camping Hammock

Easy set-up

Perfect for daytime relaxing

Lightweight and compact

~$25
Portable Cooling and Warming Fridge

Cools or warms foods or other items

Eco-friendly

4 Liters storage capacity

~$50
Power Inverter

1000W high power inverter

Provides power where needed

Converts 12V battery power to AC to run electronics and other items

Compact

Safety protection

~$75
Portable Shower

Lightweight and compact

Easy to use

2.5-gallon capacity

~$80
Portable Heater

Auto shut-off safety features

4,000 to 9,000 BTU radiant heater

Portable

~$70
Disclosures
This website is a participant in the Amazon Services LLC Associates Program, an affiliate advertising program designed to provide a means for us to earn fees by linking to Amazon.com and affiliated sites.