Everyone wants a comfortable bed to climb into after a long, tiring day. Mattress pads are a contemporary product in the bed linen range that can enhance the comfort of your bed. A mattress pad is an extra layer, often padded or quilted, specially designed to be placed over the top of your regular mattress. Its purpose is to provide an extra layer of comfort especially when the existing mattress is worn or feels less comfortable than you desire.
You can put a mattress pad on a foam mattress in order to make it softer or firmer, cooler or warmer. A mattress pad will help make your foam mattress more comfortable.
2 great quality pads we tried we recommend
If your mattress isn't quite "right", putting a mattress pad over a foam mattress has advantages and disadvantages. If the mattress tends to get too hot or it isn't the right softness or firmness, a mattress pad could offer just the right amount of difference. On the other hand, a mattress pad could also interfere with the exact qualities you bought the mattress for.
Generally, a mattress pad isn't going to do much to enhance the firmness of a mattress that is not firm enough because the pad is too thin. There are some mattress toppers, however, that sometimes get called "mattress pads" which do offer that support or firmness. If you're interested in learning more about using a mattress pad to make a bed firmer, be sure to read our related article for more detailed information.
Not all foam mattresses are the same as well, so you need to consider the type of foam mattress you have (latex, memory, or polyurethane foam) when looking to add a mattress pad. For example, latex foam mattresses have better natural ventilation than memory or polyurethane foam mattresses. Your body will tend to "sink" into a memory foam mattress more than a polyfoam one. And there will be other differences, depending on the specific mattress. In other words, the mattress pad you want to get will depend on the mattress you already have.
Related articles:
What is a Mattress Pad and What Is It Used For?
A mattress pad is a thin layer of padding that you put on top of a mattress under the bed sheets. Mattress pads are thinner than mattress toppers and easier to clean. Some are even machine washable.
Mattress pads are manufactured in a variety of materials, which gives you the opportunity to customize your bed according to your own specific preferences. Mattress pads are made from materials such as cotton, polyester, wool, bamboo, Tencel, latex, feathers, down, memory foam, etc
Some mattress pads have fitted sides, so that they fit on the bed like any normal fitted sheet. Other mattress pads just have the top and straps that wrap around the sides so that they stay in place on the bed. Here's a fitted mattress pad that can wrap around a mattress that is up to 18 inches thick.
Even without a waterproof membrane, mattress pads do offer some limited protection to your bed, which can prolong the life of your expensive foam mattress. Of course, if the mattress pad does offer a waterproof liner, the protection will be that much better. This mattress pad from Amazon is fitted, quilted, and waterproof!
If you have a very basic foam mattress, a mattress pad can add a missing touch of luxury. Mattress pads can make your bed feel softer while providing some protection from damage and accidental spills and stains.
Curious about the difference between a mattress pad vs. mattress cover? You might also be interested to know how long does a wool underlay last, so make sure to check out our related article too.
Advantages and Disadvantages of Putting a Mattress Pad on a Foam Mattress
Though some are expensive, a foam mattress can prove to be an excellent choice for your bed. However, foam mattresses can have certain disadvantages. Many can be addressed by adding a carefully selected mattress pad on top of it. There can, however, be certain disadvantages to this combination as well, and often those disadvantages are the flip side of the advantage.
Advantages of putting a mattress pad on a foam mattress include: mattress pads can protect the mattress, warm or cool the mattress, and block unpleasant odors. Disadvantages of putting a mattress pad on a foam mattress include: mattress pads can interfere with the unique molding qualities of foam, make the foam less responsive, and make a heavy foam bed even heavier. Also, a mattress pad will add to the cost of the bed.
One of the pros of putting a mattress pad (if it has a waterproof membrane) on a foam mattress is protecting it from moisture and liquids. Unfortunately, this same protection can also "block" some of the very qualities you bought the mattress for. In particular, a mattress pad may make the foam mattress less responsive to molding to body shape and less adaptable to moving into new positions as you sleep. If you're wondering how to make sure a memory foam mattress expands properly, read our guide.
Unfortunately, foam mattresses can be too hot for some sleepers. The right mattress pad can definitely help with that, providing breathable or cooling materials, moisture wicking, or other qualities. However, many foam mattresses are designed to be softened by your body heat, but if there is a mattress pad acting as a barrier between your body heat and the foam mattress, then the mattress might not provide you with the responsiveness a foam mattress can offer.
One disadvantage of putting a mattress pad on a foam mattress is not often considered, yet it may be important for some. A foam mattress is already quite heavy and may be difficult for your bed frame to support. When the weight of a mattress pad adds to the weight of your foam mattress, it may become too heavy! We've discussed the weight capacity of bunkie boards and slats here.
Like any other mattress, foam mattresses are not waterproof. In fact, because the mattress is foam, it will suck up any moisture just like a sponge, and the residue (sugar or other substances) will be in the mattress forever, even after it dries. The right mattress pad can protect the foam mattress from all that, but it can also interfere with the cushioning support the foam can give.
Some people are bothered by the smell of foam. If the mattress pad has a waterproof membrane, it can help stop the odors of the foam mattress from bothering your sleep. It will also keep any bad odors from forming as the result of spills or other moisture getting into the mattress. Some odors in a mattress come from the flame retardant chemicals that are used in mattresses. 
Keep in mind that if you have bought a "bad" foam mattress that is giving off toxic or highly unpleasant off-gasses, no mattress pad, no matter how good it is, is going to help. To learn more about the kinds of hazards the wrong foam mattress can pose, read Mother Jones's article about the toxic chemicals some mattresses may be putting into the air you breathe all night and day.
Summary of Pros and Cons of Putting a Mattress Pad on a Foam Mattress
| | |
| --- | --- |
| Pros of Putting a Mattress Pad on a Foam Mattress | Cons of Putting a Mattress Pad on a Foam Mattress |
| Protects your mattress from spills, especially if it is waterproof | May make your bed quite heavy |
| Regulates the temperature of your bed | Can stop memory foam from molding to your body because the pad forms a barrier between the body heat and the foam mattress |
| Blocks odors from your mattress | May be an unnecessary extra expense |
| Adjusts the softness of the surface | May hinder the deeper responsiveness and flexibility of the foam mattress |
Where Do You Put a Mattress Pad on a Foam Mattress? Over the Mattress Protector?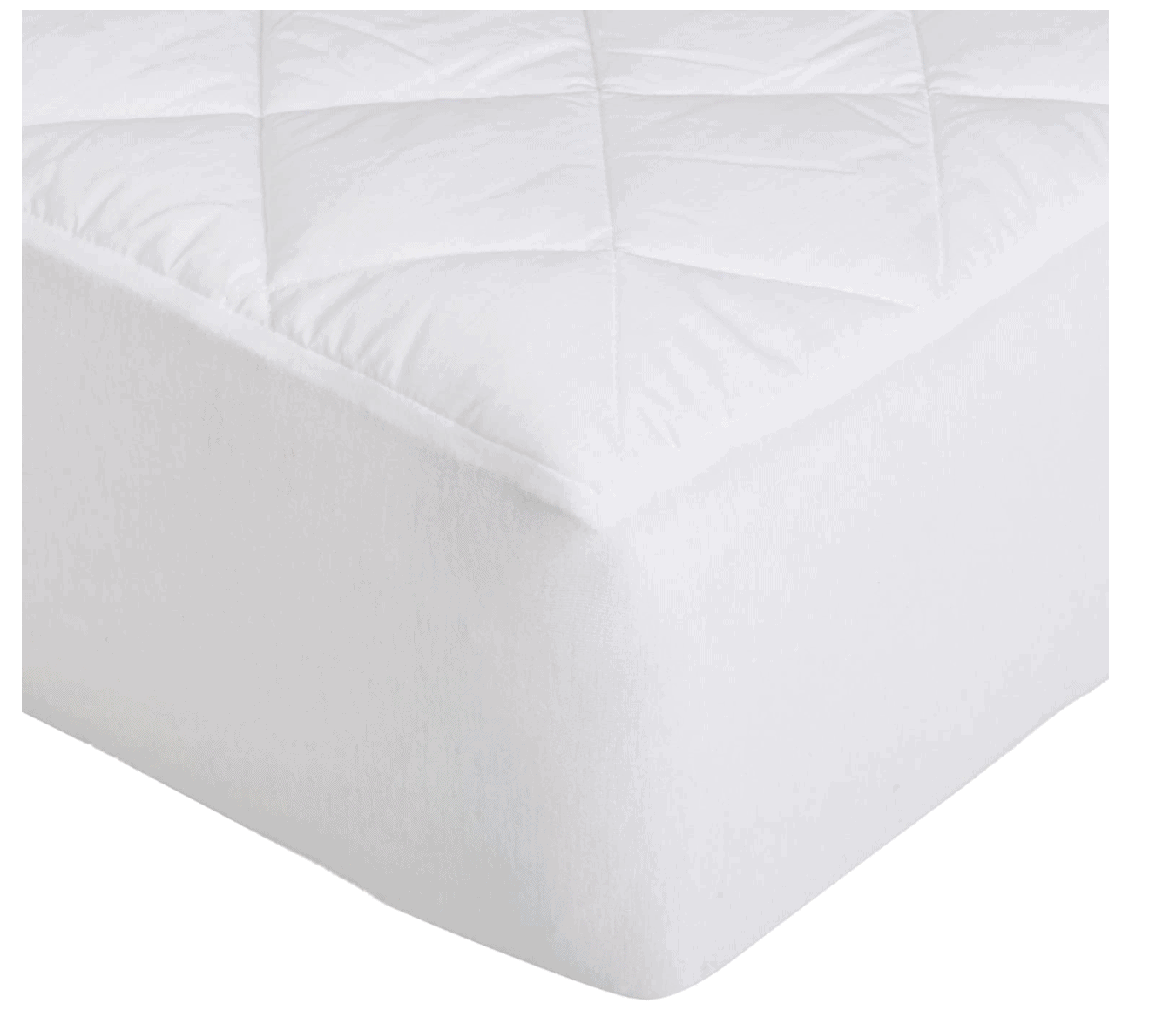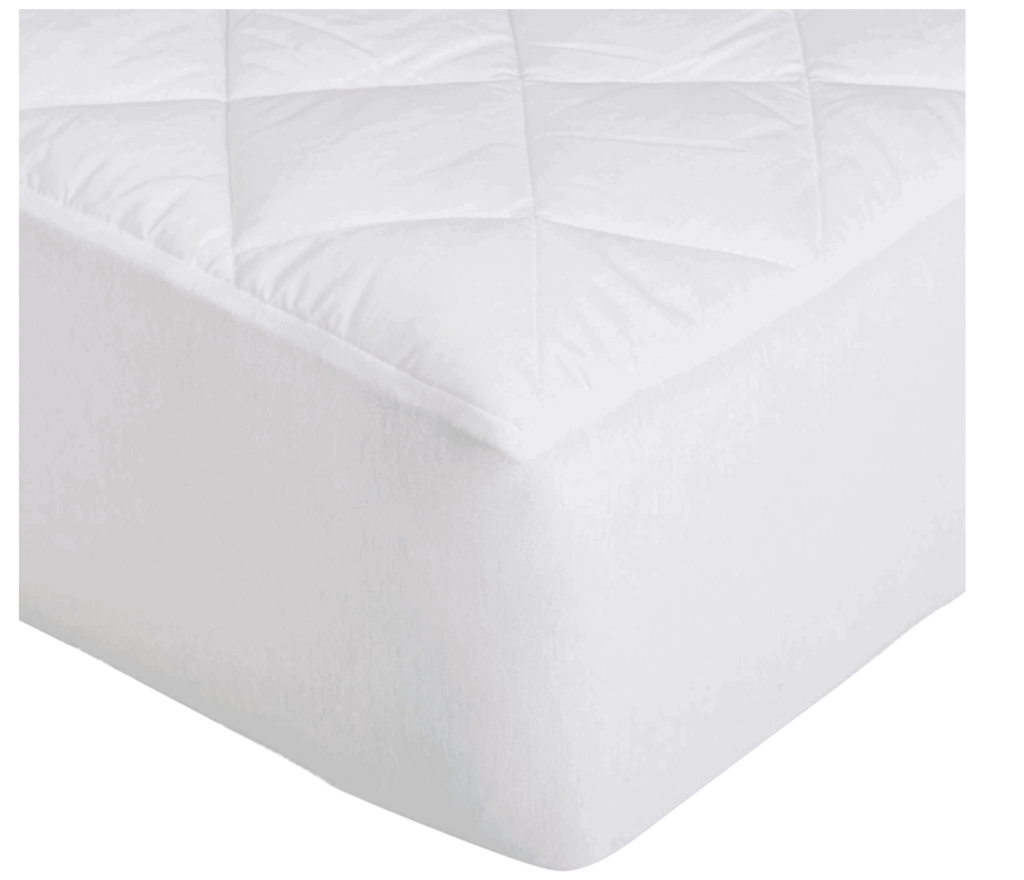 Mattress protectors do just that — they protect your mattress. That can mean all of your bed, both the mattress and the mattress pad.
Cover both your mattress pad and foam mattress with a mattress protector. Mattress pads may wear out quickly if you don't protect them with a mattress protector. 
Note: It can be quite a task to wash mattress pads again and again, whereas mattress protectors can be washed easily, just like regular bed sheets and pillowcases.
However, you might decide to put the mattress pad on top of the mattress protector if you aren't as concerned about protecting the mattress pad. Perhaps the pad is easy to clean. Perhaps you want the softness of the pad, without the feel of the protector. Perhaps you need heavy duty protection mostly for the mattress, as you might if you are dealing with a bedbug problem. We really like this waterproof, bamboo, mattress protector. It's soft, waterproof, and breathable. We also have tips for how often to replace a mattress protector and take care of it.
Do You Need Both a Mattress Pad and a Mattress Topper for a Foam Mattress?
A mattress topper serves as an extra thick layer on your regular mattress for extra comfort and support. Mattress toppers are thick enough to alter the feel of your mattress substantially. Some may alleviate back pain or body aches. As that intervening layer between you and the mattress, it also tends to prolong the life of the mattress.
You do not need both a mattress pad and a mattress protector for a foam mattress unless you want to significantly change the feel of your bed. Since mattress pads are thinner than mattress toppers, buying a mattress topper alone may be sufficient to alter the softness and cooling properties of your mattress.
Mattress pads and mattress toppers have a similar basic purpose, which is that they are both primarily intended to change the "feel" of the bed. So, what is the difference between a mattress pad and a mattress topper? A mattress pad is thinner than a mattress topper, which can be up to several inches thick.
While some mattress toppers can be softer, many are firmer and designed to add support. A mattress pad, in contrast, being thin, is generally for adding softness and padding, not firmness or support. You might, for example, add a mattress topper for better back support, and then add a mattress topper for its cooling properties and softness. Combining a mattress pad and a mattress topper on a foam mattress is one way to get solutions for several problems at once. 
While the mattress topper is better for improving the firmness and support of a foam mattress, a mattress pad is better for addressing issues such as tendencies to heat retention, liquid absorption, and not adapting easily to the body or pressure points. Also, most mattress pads are easier to clean or wash than a topper or mattress, so the pad can provide some good hygienic protection, especially if it is one with a waterproof barrier.
Are There Cooling Mattress Pads for a Memory Foam Mattress?
Memory foam can be, by its nature, a hot material to sleep on. Therefore, many people will add a cooling mattress pad on the top of a memory foam mattress to have a more comfortably cool bed to sleep on, especially during the warmer months.
Mattress pads made of natural materials like cotton, bamboo, wool, and down are naturally cooling, breathable, and moisture-wicking. They can be used with memory foam mattresses to make them more comfortable. However, a cooling mattress pad may make your memory foam mattress firmer. 
As a study into using naturally ventilated properties of mattresses points out, while the body's core temperature drops during sleep, surface skin temperature rises. Therefore, to have a comfortable night's sleep, it is important to consider the thermal qualities of the bed you will end up with as you add layers to your bed. You especially want to make sure you don't end up with a bed that gets too hot because it holds onto heat.
If you think your mattress is making you hot, you might also consider your mattress protector. We've done a deep dive into how you can replace a mattress protector that's hot and uncomfortable. 
Examples of Cooling Mattress Pads for Memory Foam Mattresses
| | | |
| --- | --- | --- |
| Product | Product Description | Price |
| Cool Tencel Mattress Pad | Made with moisture-wicking, stay cool Tencel cotton, which helps the bed to stay cool at night | ~$40 |
| Exceptional Sheets Bamboo Mattress Pad | Made of chemical-free bamboo rayon, which is breathable and maintains a cool temperature at night | ~$85 |
| Allrange Coolmax Mattress Pad | Made of hypo-allergenic material that absorbs moisture away from your body, helping it to stay cool throughout the night | ~$35 |
Should You Use a Heated Mattress Pad on a Memory Foam Mattress 
As said earlier, memory foam mattresses are likely to retain body heat, keeping the temperature of your bed high, which many find uncomfortable. However, others may want their beds nice and toasty warm, especially if they are living in extremely cold areas or have health issues that make them sensitive to cold at night..
Using a heated mattress pad on a memory foam mattress will make your bed warmer and cozier in winter. Memory foam will help retain heat in the bed. 
Heated mattress pads are heated by thin wires woven through the pad. One or more controls allow people to set temperature and timers. The sophistication of the controls available will vary according to the quality of the product.
In case you're wondering about other mattress pads, we've also discussed how to properly use a magnetic mattress pad in our article.
Examples of Heated Mattress Pads for Memory Foam Mattresses