A mattress topper is a layer of extra support and cushioning you can add on top of your regular mattress. Buying a mattress topper can be an alternative to buying a new mattress because it gives new life to your existing mattress.
To choose a mattress topper for neck pain and support, start by selecting a mattress topper made of natural latex or polyurethane. Next, make sure that it is at least 2 inches thick. Finally, look for a mattress topper that has at least a medium density.
Chronic or acute neck pain can be caused by many different things: whiplash, osteoporosis, strains and sprains, arthritis, posture, poor sleeping positions, and so on. A study published in the February 2020 issue of the Journal of Clinical Sleep Medicine found an association between the quality of sleep and chronic neck pain. Mattress toppers that help alleviate neck pain will help provide a better night's sleep. But do you need a mattress topper? Make sure to check out our detailed article to find out.
A mattress topper can change the kind of support and comfort your mattress provides your neck. A good mattress topper is a mini mattress in itself. Typically made of foam, mattress toppers that help with neck pain are those that are neck and spine friendly. Keep in mind that you need to keep your spine in good alignment as you lay down because your neck is a part of your spine. You especially don't want to exert pressure on underlying pain or pressure points.
When you look for a mattress topper for neck pain and support, start by consulting a physician. A doctor's diagnosis can help ensure you get the most suitable mattress topper for your pain and condition. Then, invest in a quality mattress topper especially for addressing neck problems. In particular, pay attention to the firmness of the mattress topper you choose.
Wondering if you can use a mattress topper on your memory foam mattress? We've discussed it in our article!
What Is a Mattress Topper?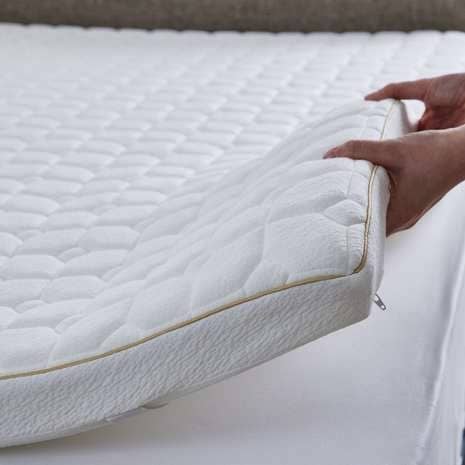 A mattress topper is a budget-friendly piece of bedding you can add to your bed. It provides the necessary support to your neck and spine along with your lower body which reduces neck pain and stiffness after strenuous day activities.
Moreover, it can be an alternative to buying a new mattress for your bed, since attaching it to your regular mattress gives you the comfort, support, and coziness you are looking for in a brand new mattress. Take a look at our in-depth guide to choosing a mattress topper and our complete guide to mattress topper benefits and disadvantages to learn more about mattress toppers in general. You may also find value in our article, when should you buy a mattress topper instead of a new mattress too.
What Causes Neck Pain or a Stiff Neck?
Neck pain and stiffness tends to be one of the biggest obstacles to a good night's sleep and to comfort in day-to-day activities. Your neck is vulnerable because it is very flexible and supports the weight of your entire head. Experiencing neck issues daily can be frustrating as well as exhausting.
Neck pain or a stiff neck can be caused by muscle strains triggered by minor things like reading in bed or gritting your teeth. Neck pain can also be caused by more serious or chronic issues. For example, worn joints due to osteoarthritis can cause neck discomfort as spine joints start to deteriorate with age. Nerve compression, injuries, and diseases such as arthritis, and rheumatoid arthritis can also cause neck pain and stiffness.
How To Choose a Mattress Topper for Neck Pain and Support
When choosing a mattress topper, consider features such as material, thickness, density, and firmness. All of these features add to the quality and durability of a mattress topper. The best mattress toppers for neck pain and stiffness are latex mattress toppers and memory foam mattress toppers. Selecting the right density and firmness is important for spinal alignment and support which will keep you from going through daily neck pain and neck stiffness due to jerks or irregular movement while you sleep. Make sure to also take a look at how to fix a mattress topper that keeps sliding off to help keep your mattress topper steady.
Related Articles:
Step 1. Select a Mattress Topper Made Of Latex or Polyurethane
The material used in a mattress topper plays an important role in addressing neck problems such as pain and stiffness. As far as neck problems are concerned, latex is popular because it offers support and control of excessive movement in bed. Polyurethane is excellent for providing the desired comfort to your spine, as it adapts to your body's natural curves. This provides consistent support to your neck, spine, and lower body.
Examples of Mattress Toppers Made With Materials That Can Help Support Your Neck
Step 2. Choose a Mattress Topper That Is At Least 2 Inches Thick
Mattress toppers are available in various thicknesses. Avoid mattress toppers that are too thick. Don't pick one that is extra thick, like 4 inches, but also don't choose the one as thin as 1 or 1.5 inches. Look for a mattress topper with a moderate thickness of 2 to 3 inches.
A thin mattress topper won't provide the desired comfort and spinal support. A mattress topper that is 2 to 3 inches thick, on the other hand, provides the pressure-relieving comfort and consistent support while controlling your movement and alleviating neck pain/stiffness.
Examples of Mattress Toppers of a Thickness That May Help Neck Pain
Mattress Topper Thickness
The Benefit of This Thickness for Neck Pain and Support
Example of Mattress Topper with This Thickness
Price
2 Inches
Reduces pressure at different points of body contact
Helps prevent jerking and tossing
Lucid 2 Inch Lavender Mattress Topper
~$55
3 Inches
Conforms to the curves of your body
Allows airflow through your bed
Subrtex 3 Inch Memory Foam Mattress Topper
~$125
Step 3. Buy A Mattress Topper That Has a High Density
As said earlier, density is a factor to look for when choosing the right mattress topper for yourself. Choosing a mattress topper with right density and firmness can help provide you with consistent spinal alignment, pressure-relieving comfort, and restricted movement. Moreover, the higher the density of a mattress topper, the longer it will maintain its shape.
Examples of Mattress Toppers with the Right Level of Firmness
Besides a Mattress Topper, What Else Will Reduce Neck Pain?
According to recent studies, about 70% of all sleeping disorders are attributable to chronic neck and musculoskeletal system pain and such sleep disorders increase pain insensitivity, including to neck pain. If a mattress topper is not quite enough to alleviate all of your neck pain, then consider some additional support.
Choosing the right pillow can help reduce neck pain. Use a pillow that provides good cervical alignment. Make sure the pillow maintains and supports your natural neck curves and shape.
Selecting a pillow depends upon the cause of your neck pain along with your sleep preferences. Some people feel that their neck pain decreases while they lie down on their back with a comparatively flat pillow. Other people find an orthopedic pillow more comfortable since it has a deeper depression which supports the natural curves of the neck.
Generally, sleeping on your back is considered the most suitable position because it allows your entire spine to rest completely. Placing a pillow under each arm while you rest on your back may help you keep your neck from straining. If you prefer to sleep on your side, make sure your pillow is not so high that it turns or bends your neck unnaturally to either side.
We've discussed how a Tempurpedic neck pillow with the right size or a good body pillow can help reduce neck pain.
Will a Mattress Topper Help Fibromyalgia or Scoliosis?
Fibromyalgia is a condition that affects your joints and neck. Scoliosis is also related to joints as it is known as an irregular curve in your spine. Both of these disorders produce constant fatigue and joint pain.
A comfortable, supportive mattress topper can help with fibromyalgia or scoliosis. A mattress topper for treating fibromyalgia and scoliosis should never be more than 3 inches thick.
Although it seems like a soft, extra-fluffy mattress topper would be super comfortable, it doesn't provide the necessary support to your spine and neck. Materials such as latex help you sustain a position suitable for your neck so it can have required support and comfort as long as you are in the bed. For neck pain, a firm mattress topper is better than an extra-soft mattress topper. You may also be interested to learn how to choose the right mattress topper for back support or finding the right mattress topper for a side sleeper too.
Other products that can help fibromyalgia or scoliosis include elastic cold bandages which can cool your muscles and relieve pain. The compression also helps to control swelling. A handball is a good option for reducing pain due to fibromyalgia and scoliosis. You can roll the handball to exert pressure on painful muscles. This portable and convenient ball can be placed under the problematic part while you use your body weight to apply pressure for 30-90 seconds or till you feel the pressure release.