Choosing Mattress Topper Size and Thickness: An In-Depth Guide
A mattress topper is a removable layer added on top of a mattress to provide more support and cushioning. It can change the feel and the style of your bed. It has a wide range of advantages including extending the lifespan of the mattress, increasing softness or firmness, and enhancing your quality of sleep.
To choose the perfect mattress topper's size and thickness, first determine the size of your mattress and match your mattress topper to it. Then, choose a mattress topper thickness greater than 2 inches for firmness and support or less than 2 inches for softness and comfort.
Combining these factors along with mattress topper materials will ultimately help you in picking a great mattress topper that suits your preferences.
Related articles:
What Is a Mattress Topper or Mattress Pad?
A mattress topper is a cushioned extension designed to increase the comfort and support of a mattress. Buying a new mattress can be expensive, so if your mattress is becoming too soft or too stiff, investing in a mattress topper can be the perfect alternative to buying a new mattress without potentially breaking the bank. Mattress toppers have also been shown to improve the quality of sleep, especially if your mattress is old. They are also used to help raise mattresses and increase height.
Related articles:
Different Materials for Mattress Toppers
Mattress toppers are made of different materials and have various styles and benefits.
Different materials for mattress toppers include memory foam, latex, polyester and cotton blend, and duck down or feathers
The following table lists the materials of mattress toppers, their firmness and cooling properties, and other advantages:
Materials
How firm is it?
How cool is it?
Other benefits
Example Products From Amazon
Memory foam
Very soft and comfortable as it conforms to your body's weight
It traps body heat; a breathable version would be more suitable if you tend to overheat.
Higher quality mattress toppers offer 'cooling' by integrating gel beads or other technology
Firm support for those with arthritic or sore joints and muscular pain. Isolates motion and absorbs noise in case you share the bed with a restless partner
Abripedic 2.5 Inch Thick Gel Memory Foam ~$99
Latex
Firmer than memory foam, but still feels comfortable
It can retain heat especially if it is of low quality.
Very durable
Better resistance against microbes and dust mite build-up
ViscoSoft Pillow Top Latex Mattress Topper Twin ~$185
Polyester and cotton blends
Not very firm A better level of softness
It can retain heat.
Very inexpensive. No odor
Bare Home Cooling Mattress Topper ~$25
Duck down or feathers
Very soft
It provides good heat adjustment.
Lasts for several yearsLuxuriously comfortable
Superior Down Twin Mattress Topper ~$45
How to Choose the Size of a Mattress Topper?
Each mattress size has its own designated topper; so to get the most out of your soon-to-be purchased mattress topper, you need to know the accurate size and dimensions of your mattress before you start your search for the perfect mattress topper. However, knowing that a few factors come into play when choosing a topper, other than the mattress size, is very important, such as the mattress type and the condition of the mattress.
To choose the size of your mattress topper, match it to the size of your mattress. King size mattress toppers are 76" x 80", Cal King size mattress toppers are 72" x 84", Queen size mattress toppers are 60" x 80", Full XL size mattress toppers are 54" x 80", Full-size mattress toppers are 53" x 75", Twin XL size mattress toppers are 38" x 80", and Twin size mattress toppers are 38" x 75".
Read below to determine which mattress topper size to get depending on your family and comfort requirements. Going through them, you will get a better sense of what would be a perfect fit for you and your needs.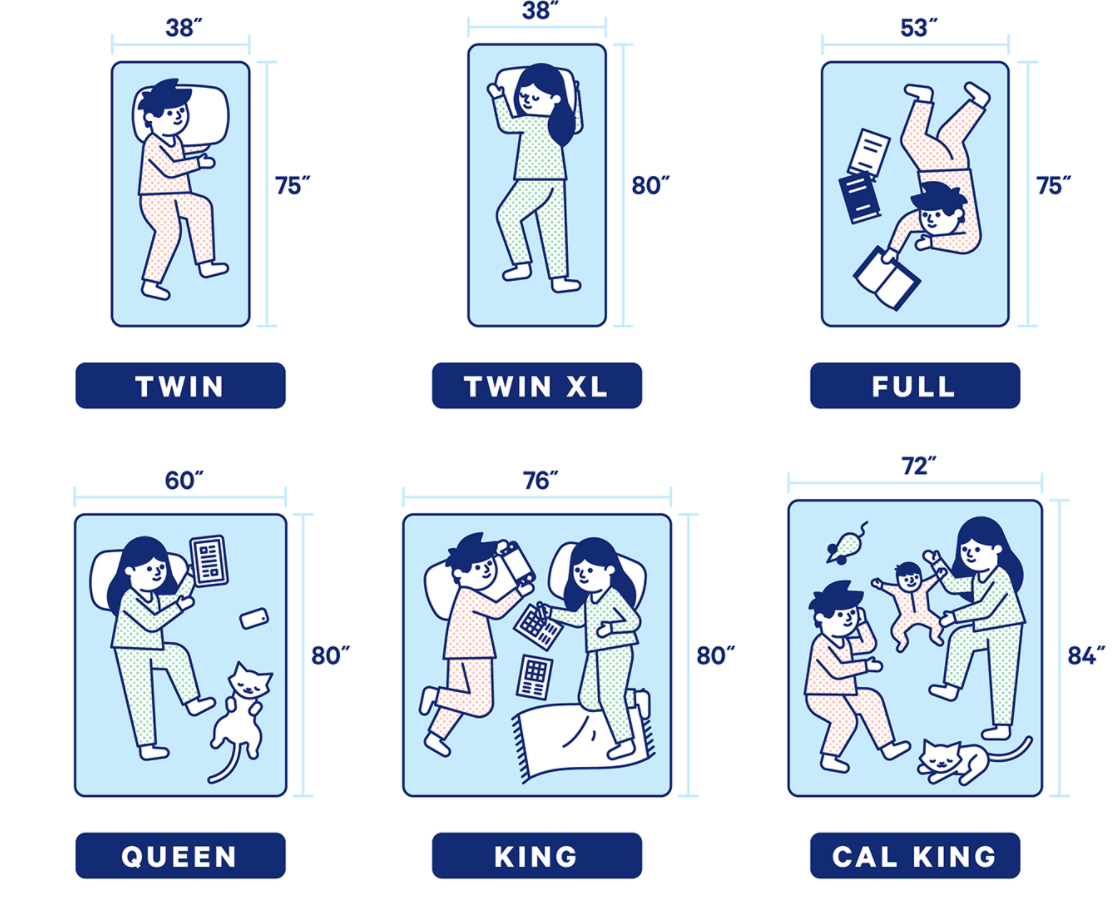 King Size Mattress Toppers Provide the Most Space
For couples who prefer ample sleeping space, a king-size mattress topper is ideal. If either or both happen to be light sleepers, king-size beds would be their go-to solution, providing the space needed to move around without causing any disturbance to the other person.
Cal King Size Mattress Toppers Are for Taller Sleepers
A California king (Cal king) mattress topper is less wide than the king-size by 4 inches while being longer by 4 inches. This size is designed for tall people in the 6'2" area so that their feet are not left hanging over the edge of the bed during their sleep.
Queen Is the Most Economical Size
Queen size mattress toppers feature the most fitting dimensions for most individuals. Therefore, naturally, they are the most popular size. They take less space than the king-sized mattress toppers. The queen size mattress topper is reasonably priced and offers a good value for your money. If these two qualities speak to your needs, then this is the right size for you.
Full-Size Mattress Toppers (aka Double) Are Great for Single Adults
Full-size mattress toppers, also known as a double, are best suited for single sleepers who prefer a little more space than a twin model would provide. They are a great option for teenagers and children during their transition years as well.
Full XL Toppers Are for Taller Single Adults
Full XL mattress toppers differ from their smaller counterparts, the full size, by being 5 inches longer, with a slight difference in width. They are ideal for tall sleepers, especially those looking for the largest size in terms of single-person use. Moreover, the price of a Full XL model is about the same as that of the queen size model.
Twin Is the Cheapest Size for a Mattress Topper
Twin size toppers are the smallest and least expensive size. This model is best suited for children and adults who prefer extra room in their bedroom and could do with a little less sleeping space.
Twin XL Toppers are Slightly Longer
Finally, the Twin XL topper is 5 inches longer than its sibling, twin size model, and most commonly found in dormitory rooms. This mattress topper size is the right choice for non-active taller sleepers who prefer some extra space in their bedrooms. Tall teens and adults should consider getting this standard size.
For a more detailed description of the mattresses' sizes and dimensions, take a look at the ultimate guide provided by Purple.
How to Choose Mattress Topper Thickness?
To choose the thickness of a mattress topper, first determine if you want to change the firmness of your mattress. If you have an old mattress or want to change the firmness, get a mattress topper that is more than 2 inches thick. If you want to keep your existing mattress' firmness but still increase its durability, get a topper that's less than 2 inches thick.
Memory foam and latex materials provide a wide range of thicknesses and levels of firmness. A 2-inch, or less, thick topper is an ideal choice for increasing the comfort level of your existing mattress and extending the lifespan of your mattress by a few years. It is also a good fit for side sleepers. Toppers with a thickness of more than 2 inches will change and modify the texture and feel of your bed and will provide a little extra comfort.
When choosing your mattress topper's thickness and density, it is important to account for your current mattress's condition. If your mattress is particularly firm or worn out, a topper with a thickness of 3 to 4 inches is the way to go: these provide good cushioning and support, as well as better protection for the underlying mattress. Thin mattress toppers are a better fit for mattresses that already have good padding.
How to Choose the Firmness and Softness of a Memory Foam Mattress Topper?
Standard mattress toppers are 2 inches thick. Soft materials for mattress toppers include down, cotton, polyester, and low-density memory foam. Consider a topper with a density of 3 pounds or less per cubic foot.
To choose the firmness or softness of a mattress topper, determine what density and material fit your requirements the best. Denser mattress toppers tend to be more firm. Down, cotton and low-density memory foam are softer while high-density memory foam is firmer.
For firm memory foam mattress toppers, buy a higher-density topper that is thicker than 2 inches. It will better adjust to body weight and support your sleeping posture.
If you are on the fence about the thickness of the topper, go for a medium thickness of 3 inches.
For detailed information regarding the densities, thicknesses, and materials of mattress toppers, explore our article on how to choose and use a mattress topper.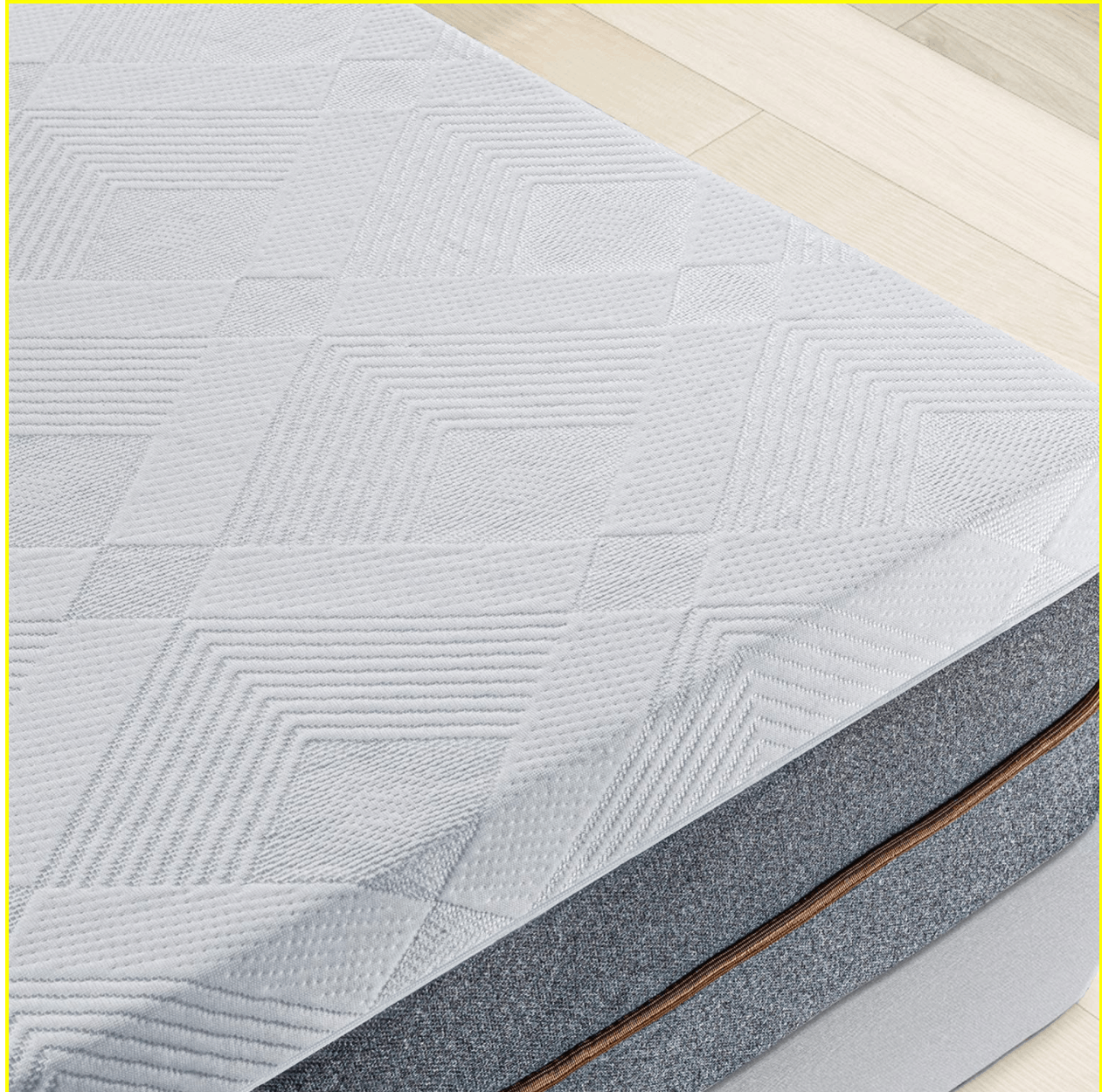 How to Choose a Cooling or Heating Mattress Topper?
Wool or down are cooling mattress topper materials. Memory foam and latex foam are heating and warming mattress topper materials.
If you want toppers that capture and retain body heat, consider memory foam and latex toppers. The thicker and denser they are, the warmer they will feel.
How to Choose Mattress Toppers for Support and Pain Relief?
Memory foam and latex are the most effective materials for providing support, firmness, and pain relief. They provide comfort and reduce pain by acting as a cushion for different pressure points in your body.
Side sleepers should consider buying thicker options, of at least 3 inches, to provide more support for your back and limbs. We've written a detailed article on selecting a mattress topper for back support and back pain relief and choosing a mattress topper for a side sleeper.
Natural latex is a good option for pregnant women as it prevents heating and remains cool when body temperature increases. A big advantage that latex has over memory foam is that it does not adjust to your body's weight and bounces back up when it is not in use.
Memory foam mattress toppers are the best choice for elderly people who often do not get the desired level of comfort while sleeping. Memory foam removes all pressure points and distributes body weight evenly, eliminating pressure on various areas of the body.
These articles on mattress toppers for reducing shoulder pain and choosing a mattress topper to help hip pain may also be valuable for you. Did you know that choosing the right mattress topper can also help reduce neck pain? You may find this article valuable as well.
Alternatively, for additional information on how to choose the most suitable mattress and topper for your needs, check Sleep Foundation.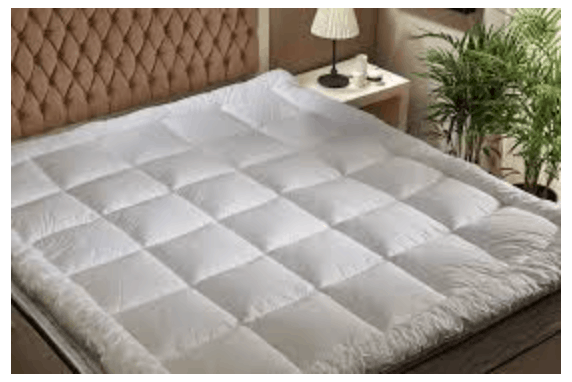 Conclusion
If you are tired of countless sleepless nights, the fatigue, and being exhausted all day because of the state of your current mattress, instead of going out and spending hundreds of dollars over a new one, invest your time in doing some research on mattress toppers. Choosing the most suitable one for your needs could literally change your quality of life and sleep.
Related Articles:
Disclosures
This website is a participant in the Amazon Services LLC Associates Program, an affiliate advertising program designed to provide a means for us to earn fees by linking to Amazon.com and affiliated sites.