What would you buy if you had won a lottery? A supercar, a bungalow, an island, or maybe a mattress! What? Mattress? 
Yes! Mattresses can be as expensive as a supercar or a bungalow. 
We have listed down some of the most expensive mattresses you can find on the market (also check 10 amazing mattresses on the market). So, prepare yourself for some jaw-dropping regal mattresses.
What's the Most Expensive Mattress in the World?
Janjaap Ruijssenaars Floating Bed
A magnet system gives you a restful and peaceful sleep.
Janjaap Rujjssenaars used a magnetic material to construct the floating bed. The bed floats via the power of opposing magnets. No electricity is required for a floating bed. Additionally, these magnets are placed in the bed, push away from magnets underneath the floor, and cause the bed to float.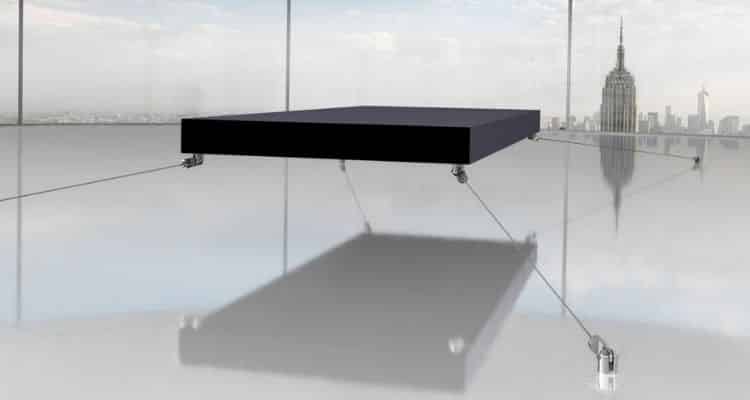 The thin-style steel cables are also attracted to the four corners that secure the bed. It can be configured both outdoors and indoors. The frame comes in a rectilinear board and is painted with black color that looks to float. 
If you spend the 3rd part of your life lying on your bed, this is the most beautiful option for enjoying your life. The best feature is that it can hold more than 1500 pounds. Thus, you can use any luxurious mattress to enhance your comfort. 
This luxurious bed gives you a perfect feeling as if you are lying on a cloud, which gives you a peaceful and restful sleep. This is the most expensive bed that works with a magnet system, and you must place it hovering about 16-inch off the ground. 
Don't place your electronics around this floating bed because of high-power magnets. 
If you have a complete bed set with a mattress base, mattress, and headboard, then you can consider another most expensive mattress known as Savoir Royal State Bed. It also offers multiple mattress toppers and custom headboards for decorating your room.
In a nutshell Janjaap Rujjssenaars floating bed is the world's most expensive bed that is an art piece. This black rectangular bed used a magnet system to elevate you. It gives you a comfortable sleeping experience. The thin steel-made cables keep the bed in its position. The best thing is that it can carry more than 1500 pounds of weight, so ideal for fat and smart people.
Savior Royal State Bed
British design makes it ravishing and regal with stately proportions.
The Savior uses box spring mattresses filled with horse hairs. The company has fully trained artisans that make each mattress, box spring, and headboard by hand.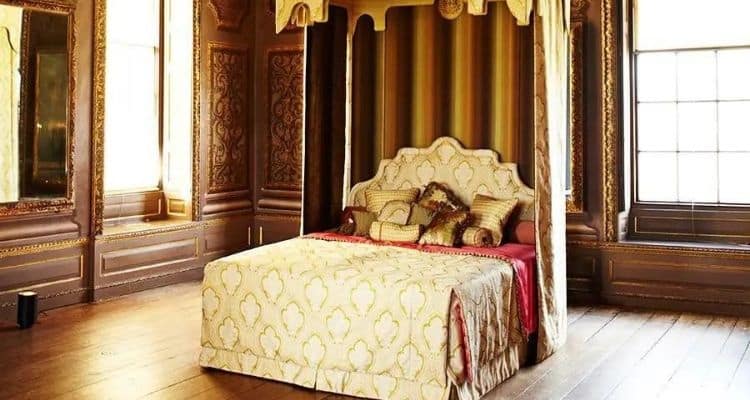 Moreover, this is a fully customized bed mattress; you can decide which type of spring positioning you want. However, the premium construction has a low motion transfer that disturbs your sleep. 
Plus, it delivers optimal support to your body and contours it into a natural foam. The best feature is that this mattress is filled with horse hair from the tail, which gives a brilliant bounce to the mattress. 
On the other hand, the outside of the mattress is sewed by hand and gives you an ultra-soft feeling. Your purchase comes with a complete upholstered base and a high-end headboard. Combining burr-rich walnut trim and traditional diamond deep-button tufting enhances its beauty. 
The Savior also offers multiple bedding accessories like spring base and mattress topper, which give you ultimate comfort and support. You can separately purchase that to make your mattress long-lasting. 
You can customize fabric from plain and velvet, which gives you more comfort and is suitable for your bedroom. The basic fabric is natural fibers, linen, wool, pure cotton, or a blend. And the velvet fabric gives you a tactile feel and striking aesthetic.
This is a complete bed mattress set with plenty of custom options, but if you don't want a complete set, just need a luxurious and comfortable bed base. You can pick the most expensive Janjaap Rujjssenaars floating bed from our list. This floating bed is made with a magnet system that gives you peaceful sleep. 
In a nutshell Savoir Royal State Bed is a fully customized mattress bed that shapes according to your body and gives your bedroom a royal look. You can customize materials and fabric to make it a bespoke, unique piece of furniture.
Hastens Grand Vividus Mattress
Multi-layered handmade finishes with tanned leather. 
Hastens is a Swedish-based company that has been manufacturing premium-quality mattresses for over 150 years. Each mattress is crafted in approximately 150 or 160 hours to build. The company uses all pure and natural materials during its construction, including horsehair, cotton, and leather.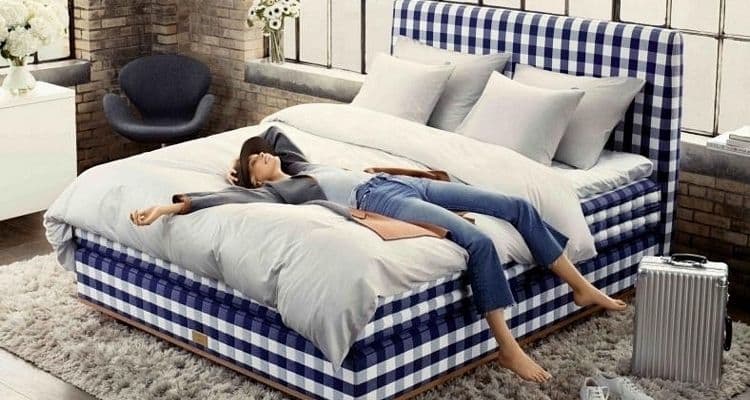 Furthermore, plenty of unique techniques are used in the Grand Vividus mattress, like the pocket 10-turn spring system. Each spring is hand-tied by using a reliable yarn. The engineers lined these with Flax before setting the frame.
Te Flax comes between the spring, which creates a contact between the wood and the springs. As a result, you will never hear any noise or creaks. On the other hand, the outer layer gives a unique look that makes it different from other expensive mattresses. 
The company uses organically tanned leather cut with precision, and the edges are burnished. After that, the company polished it for an ultra-soft and ultra-smooth finish. You can select the color scheme according to your interior. 
Apart from that, various bedding accessories include bed legs, bed linen, quilts, pillows, and other stunning collections. So, you can pick according to your comfort. 
This mattress is equipped with leather material that can easily be worn and torn. Plus, you need to maintain its looks timely. If you do not do this, some leather can produce a smell because of less airflow. 
If you cannot tackle these kinds of issues, you choose another, the most expensive and comfortable mattress from our top list, Savoir Royal State Bed. This bed comes with cotton and velvet fabric finishes; you can choose your preference.   
In a nutshell Hastens Grand Vividus mattress comes with a
classic
design and unique style that provides ultimate comfort and
luxurious
sleeping. You can completely customize its fabric and other components according to your body. This is one the best
mattress that is worth its price
.
ViSping Masterpiece Superb Mattress 
Coil spring technology makes it best for overweight people
ViSping has had a remarkable reputation for manufacturing luxurious and high-end mattresses since 1901. The company uses the most famous technology known as coil pocket spring technology.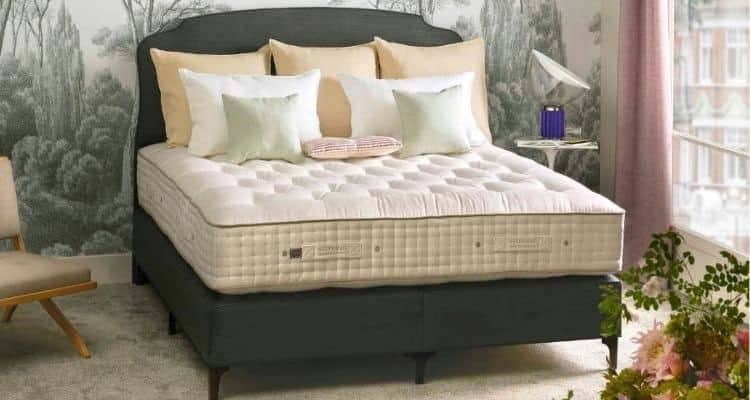 This technology keeps the mattress in its position and doesn't lose its comfort, support, and height. Thus, this is the best mattress for overweight people. Another good feature is that you can choose its size, tension, and base according to your preferences. 
It can be accessible in all sizes from twin to California king sizes, tension including firm, soft, medium, and extra firm. In addition, which base do you want with the ViSping Masterpiece Superb mattress? Base options are Statesman Divan and Sovereign Divan, and you just need a mattress without any base.
However, if you have Janjaap Rujjssenaars floating bed, this mattress is a good option for you. Because this mattress is compatible with all bases, and the plus point is that it comes according to your selected firmness. 
It comes with a 3-layer construction including two layers of coil pocket spring and is hand-filled with premium materials. These luxurious materials consist of cashmere, silk, Shetland wool, alpaca, Mooseburger horsetail, and much more. 
In a nutshell ViSping Masterpiece Superb mattress is one of the most expensive mattresses in the world and ideal for fat people. It has a simple and clean design that makes it a luxurious mattress. You will experience a good night's sleep in the clouds.
Kluft Palais Royal Mattress
Comfort, support, and luxury are combined in the Kluft Palais mattress. 
If you want a luxurious and the most expensive mattress within a few days, then the Kluft Palais Royal mattress is the best option. After placing your order, ten craftsmen start to craft and deliver it in three days only.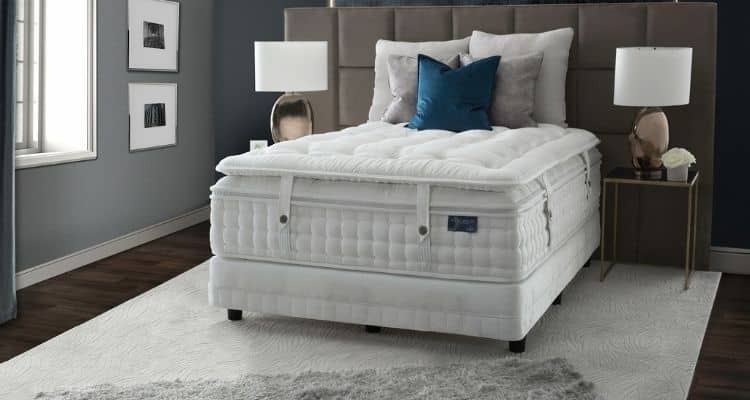 There is no other most expensive brand that manufactures luxurious beds quickly. This is the best selection for decorating your bedroom and enjoying a supportive and comfortable sleep throughout the night. 
However Hastens Grand Vividus mattress is also the most expensive mattress on our list, but it takes 150 to 160 hours to make it. Therefore, in our opinion, the Kluft has hard-working craftsmen, reflecting its expensive price tag.
Kluft is a USA-based brand that manufactures premium quality mattresses. This mattress is completely hand-stitched and made with coil spring technology with medium firmness. The technology of the innerspring coil delivers the best support and comfort. 
Each coil is wrapped by hand. The company uses ten layers of organic materials for softness, comfort, and luxurious support. Those materials include cotton, silk, cashmere, Joma wool, Talalay latex, and Mooseburger horsetail.
Excellent craftsmanship, natural material, and innovative technology deliver the world's most comfortable, luxurious mattress. Accordingly, this is one of the best value-for-money mattresses compared to the above mattresses.
In a nutshell Kluft Palais Royal mattress comes with a hand-stitched coil spring design. It comes with medium firmness and ten layers of organic materials. Another good feature is that it delivers your mattress only in three days. You don't need to wait for weeks or months for a luxurious feel.
Duxiana Dux Xclusive Mattress 
The innerspring design delivers lumbar support and is ideal for all types of sleepers. 
The main focus of the Duxiana is to deliver a comfortable and supportive sleep along with good body posture. Your body posture is the most important factor while sleeping.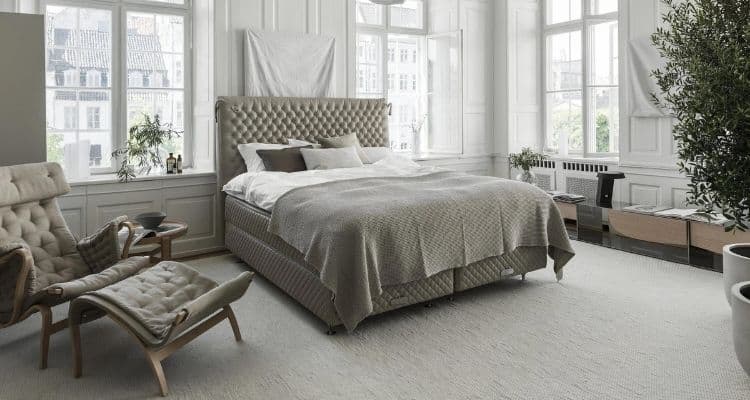 The Duxiana Dux Xclusive mattress distributes your body weight equally to give a correct posture while sleeping all night long. 
This Swedish-based brand ergonomically engineered its mattresses for repairing and relaxing your sore muscles. The company uses a spring system that increases the property of contouring. 
Furthermore, you will experience additional comfort because it is slightly elevated from your foot, maximizing blood circulation. Another good thing is that you can customize its top and adjust its firmness. 
Apart from that, if you want a fully customized luxurious mattress, you can pick the Savoir Royal State Bed mattress that is on our top list of most expensive mattresses in the world. You can customize its fabric, finishes, and so on. 
In a nutshell Duxiana Dux Xclusive mattress has an innerspring coil design that features customized lumbar support above 15-inch. Additionally, interchangeable cassettes create tension for every type of body and sleep style. You can also use additional bedding accessories to enhance a good night's sleep.
Halcyon Elysium Organic Mattress
Certified organic mattress comes with an elegant design with a coil system. 
This mattress is the best organic and luxury mattress. All materials and fabrics are certified organically. Halcyon Elysium organic mattress also got the GOTC certification. This mattress comes with an elegant and intricate design and premium quality craftsmanship.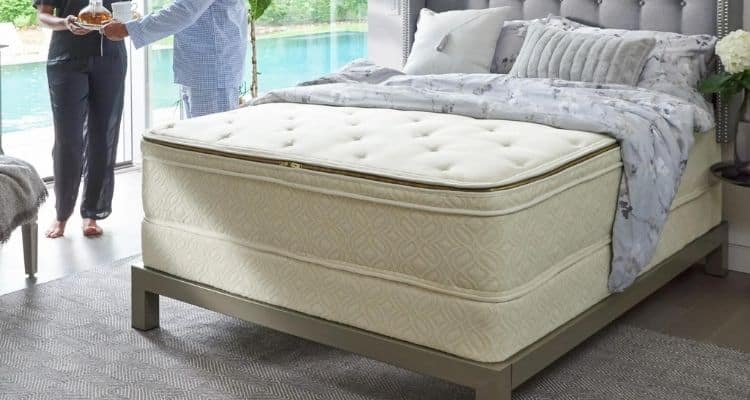 Moreover, the whole mattress is made by hand, and you can personalize it from start to end for the ultimate comfort. It is equipped with a sturdy base for better support and structure. This mattress consists of two encased coils individually wrapped with an additional layer. 
This cotton and latex layer help to dissipate heat and decreases motion transfer. 
The company gives you organic sateen fabric, which is ultra-soft and smooth for a unique sheen. In addition, the quilted surface is made from organic wool, alpaca, and cashmere. These materials control your body's temperature and give you a cool good night's sleep.   
The Duxiana Dux Xclusive mattress also has the option to customize the firmness level according to your preference. But, if you are looking for an organic mattress for your kid's room, then Halcyon Elysium is an ideal option.
This mattress base comes with four legs that provide great stability. All the mattress fabric and base are finely made to give a luxurious look. You can use it to decorate your room and enjoy a supportive good night's sleep. 
In a nutshell Halcyon Elysium organic mattress is accessible in 3 levels of firmness. Therefore, it is suitable for all types of sleepers. The heavy-weight people can select firm and thin people to choose plush firmness for comfortable sleep. A brilliant heirloom construction makes it the most luxurious and expensive mattress.
Royal Pedic Premier Mattress 
Royal Pedic relieves pressure points and gives a peaceful sleep.
Royal Pedic is the most popular company manufacturing high-end and healthy mattresses since 1946. The company only uses the finest organic materials, including latex, wool, and cotton sourced from plantations for exquisite comfort.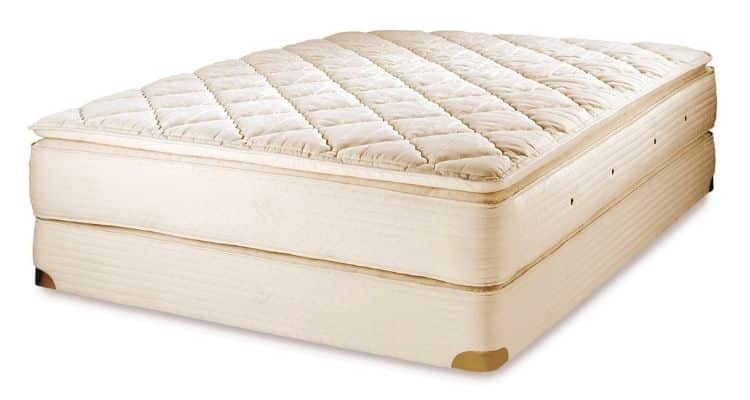 It comes with a firm innerspring without any wool and latex. Instead, it features natural cotton that is hand-tufted with an innerspring unit. This beautifully made and firm mattress is the best mattress for fat people. 
You can pick any one size according to your bedroom. The coils are individually wrapped with an innerspring unit at the mattress's core by organic cotton. The Royal Pedic also offers other bedding accessories, including pillowtop, pillow, mattress topper, and much more. You can separately purchase them for your comfort. 
The innerspring unit comes with about 950 coils and is also certified by the Oeko-Tex. This organic cotton gives an ultra-smooth and soft feel, and you will enjoy a good night's comfortable sleep.
The firm surface of the mattress contours heavy weight or overweight people's bodies so they can enjoy a supportive sleep. Another good feature is that it is compatible with both a box spring and platform bed. Therefore, you can use this mattress for our top-of-the-list, most expensive Janjaap Rujjssenaars floating bed. 
In a nutshell The Royal Pedic Premier mattress is made with natural cotton that gives you an ultra-soft feel throughout the night. Additionally, an innerspring unit is wrapped individually with organic cotton. This is ideal for fat people because the innerspring unit distributes weight evenly and contours your body into a natural posture.
Our Recommendation
The most expensive mattresses in the world provide you with comfort and luxury. If you want to drop hundreds of thousands of dollars, this bed mentioned in the above list are for you.