Orthopedic Mattress Price Guide & Tips/Tricks to Choose the Right One
Orthopedics focuses on the function of the spine and other joints. An orthopedic mattress is a firmer sleeping surface that provides tailored support for your back and joints to maintain a neutral spine position during sleep. Orthopedic mattresses were initially produced in the 1950s after the discovery of the benefits of orthopedic support. In this article, we'll provide an orthopedic mattress price guide and help you decide on the best orthopedic mattress for your needs and budget.
Orthopedic mattress prices range from $400 to $5000 according to their size. The price of a twin-size ranges from $400 to $1300, a full-size ranges from $400-$600, a queen-size ranges from $600-$900, and a king-size orthopedic mattress ranges from $1000-$5000.
Orthopedic mattresses, in general, can be pricier than a regular mattress. They are designed for people who suffer from back pain but can be used by anyone needing extra comfort. Use an orthopedic mattress for the support of memory foam, cooling effects of latex, and the resilience of innerspring coils, for optimal comfort. If these options seem too expensive for you, a mattress topper like this may be a better solution. Or take a look at our related article to find out if orthopedic mattresses are covered by insurance.
Orthopedic Mattress Sizes and Their Average Prices
Orthopedic mattress prices vary with size. Smaller beds, such as a twin, are often half the price of the larger king-size beds. California king and twin XL mattresses, for example, are slightly more costly than comparable mattresses in standard sizes. Also, the material used can make the price go up or down.
Twin-Size Orthopedic Mattress
A twin mattress, which is 38" wide by 75" long, is the smallest size available. It's ideal for people who don't have a lot of room in their bedrooms. Twin mattresses work well for kids and they look great in rooms that have been converted from nurseries. If you're looking for a mattress for your bunk bed then check out our article on the size of a bunk bed, to find the right size.
A twin-size orthopedic mattress may cost anywhere from $400 to $1300, depending on a number of factors, such as the materials used and if it's a brand name or not. If you want to learn more about orthopedic mattress materials, check out our article.
Full-Size Orthopedic Mattress
A full-size orthopedic mattress might cost anything from $200 to $600. The Full-size mattress, sometimes known as a double, is 54" wide by 74" long and is ideal for a single sleeper who has outgrown a twin-size bed.
Queen-Size Orthopedic Mattress
The queen-size mattress, which measures 60" wide by 80" long, ranges in price from $300 to $2,000 depending on the materials used. For example, a mattress made of all organic materials will probably cost more.
Queen size mattresses can accommodate a wide range of sleepers. They're popular with couples who want to be closer together, young people who desire a larger sleeping surface, teenagers who have outgrown their full-size bed, and solo sleepers. Here's a queen-size orthopedic mattress from Sleep Innovations that's about $350 and is worth the money.
King-Size Orthopedic Mattresses
A king-size orthopedic mattress, with dimensions of 76" wide by 80" long, is usually the most expensive option. It's difficult to get a good king-size mattress for under $1,000. More expensive luxury versions cost upwards of $5,000 or more. However, many couples and growing families find it worth the investment.
Even though the king-size mattress is the most expensive mattress available, in certain situations it's worth the extra cost. When it comes to issues like a partner waking the other up in the middle of the night because of motion transfer, purchasing a king-size orthopedic mattress can fix that. Especially if you purchase a memory foam mattress, like this one from Avenco. You'll get a more individualized sleep experience on a larger mattress. But before purchasing a king-size mattress, measure your sleeping area to ensure your new bed fits in your bedroom. Read our article on what size mattress to buy for a platform bed that has the standard bed dimensions to help you.
Orthopedic Mattress Materials
Though orthopedic mattresses differ in terms of appearance and performance, they all have a few common characteristics. The word "orthopedic" does not imply that it has any particular certifications, but rather that the mattress is made to help ease pain while sleeping. For people suffering from persistent aches and pains, however, some orthopedic mattresses may be a better fit than others. Different types of orthopedic mattress materials meet different needs and orthopedic mattress prices depend on the materials used. Use a foam mattress for aches and pains, latex to relieve pressure points, innerspring for spine alignment, and a hybrid mattress for a combination of these benefits.
Orthopedic mattress materials, as well as the quality, affect the price. Hybrid orthopedic mattresses which have both innerspring coils and foam are usually more costly than foam orthopedic mattresses. Luxurious materials, like latex foam, are also more expensive than regular memory foam.
Read our article about when to buy a mattress topper instead of a mattress to help you determine if buying a new mattress is your best option.
Depending on the type of foam used, even foam beds might have a substantial price difference in their categories. Memory foam and specialty materials like copper-infused memory foam can add to the cost of a bed, although something like polyfoam is more affordable. Something like this orthopedic memory foam mattress topper can help you get a good night's sleep at a lower price. Read our mattress topper size and thickness guide for a quick reference on the type of support that you can find in these orthopedic additions to a bed.
Type 1. Foam that Helps with Aches and Pains in the Places Where Your Body Pushes Heaviest on the Mattress
Foam is used in both the support and comfort layers of foam mattresses. The support layer is usually made of high-density polyfoam, while the comfort layer is made of a softer, more form-fitting foam. Depending on the contouring, responsiveness, and breathability desired, memory foam, polyfoam, and latex are all common options. Read our article that compares latex vs. memory foam mattress toppers to learn more about their similarities and differences.
An orthopedic foam mattress may help a sleeper with aches and pains in the places where their body pushes heaviest on the mattress, especially side-sleepers. The foam should conform to the body to reduce pressure while supporting the spine. A regular foam mattress, on the other hand, can be more difficult to move around on and typically lack firm edges, making them more challenging for people who have mobility issues.
Type 2. Latex Conforms Without Sinking Too Much so it Relieves Pressure Points
Latex is usually harvested from rubber plants, although it can also be created synthetically. Natural rubber makes up the bulk of latex mattresses, but synthetic or synthetic mixtures are also quite common in mattress manufacturing. Read our memory foam mattress shopping guide for tips on choosing the right type of mattress for your needs.
Latex is used in orthopedic mattresses like these because it conforms to the body's shape without sinking too much, creating a supportive surface that relieves pressure points. Latex variants are also well-known for their responsiveness, breathability, and durability. Environmentally-conscious customers typically choose all-natural latex models. You can learn more about the environmental benefits of latex from this Foam Source article.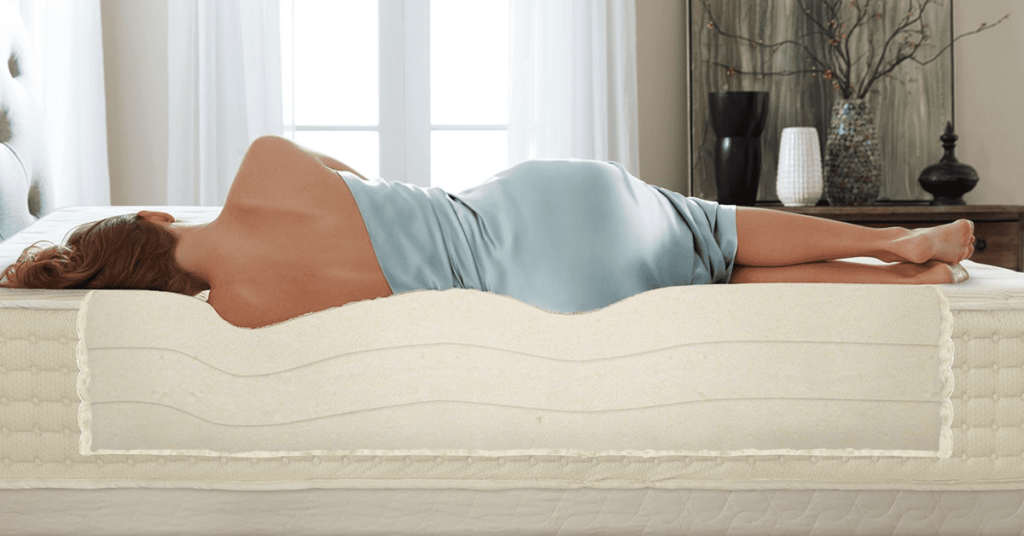 Type 3. Innerspring Helps with Spinal Alignment
Innerspring orthopedic mattresses usually have a thin comfort layer of foam or cotton on top of a dense layer of metal coils. While some people appreciate the coil's springiness, freedom of movement, breathability, and edge support, others may find innerspring versions to be lacking in contouring and cushioning.
An innerspring model may be suitable if your discomfort is caused by poor spinal alignment due to excessive sinking in your mattress. If pressure points are your primary concern, you may want to consider a different style of mattress or a mattress topper like this, with your innerspring model to help soften it.
Type 4. Hybrid Mattresses are Great if You Want the Contouring of a Foam Bed but Prefer to Be Warm While Sleeping
Hybrid mattresses can be made from a variety of materials. The supportive layer is made up of coils, while the comfort layer is made up of polyfoam, memory foam, micro-coils, latex, and/or fill composed of cotton, wool, or other fibers. There are lots of options out there like this hybrid mattress.
The thickness of the comfort layer of a hybrid mattress, which typically results in a more supportive surface as this mattress has, is the biggest difference between a hybrid and an innerspring mattress. Hybrids are a great choice for people who want the contouring of a foam mattress yet prefer to sleep warm. Airflow, resilience, and a supportive edge are all provided by coil cores, while a contoured comfort system relieves strain on the back and absorbs motion. Zoned support systems are used in several hybrid orthopedic mattresses to target pressure areas and encourage healthy posture.
You may also be interested in learning about the advantages and disadvantages between orthopedic mattresses vs high-density mattresses. Make sure to check out our related article to find out more.
How To Choose The Right Orthopedic Mattress
To choose the right orthopedic mattress, think about your needs and desired comfort level before you go shopping. This will help you pick the right material for you and whether you need any additional features.
Choose the right orthopedic mattress by selecting one with the appropriate firmness and density, suitable comfort and support, as well as breathability.
You should also establish a budget. People often think a decent mattress with proper back support, such as an orthopedic mattress, is always expensive. However, there are several low-cost options that provide comfort and support. There's no need to break the bank or spend money on a model you can't afford. Read our orthopedic mattress shopping guide to help you determine your unique requirements.
Tip 1. Figure out the Right Firmness and Density
If you're looking for an orthopedic mattress, it's a good idea to check out the manufacturer's description of the mattress firmness and customer reviews to ensure that it lives up to its claims. When purchasing a foam mattress, the density of the foam may give you an idea of the hardness of the mattress.
High-density foam (5lbs or more) is often the firmest option and is most likely to be utilized in an orthopedic mattress. To learn more about relief from pressure injuries with foam mattresses, check out this article from Plos One.
Tip 2. Select a Mattress That's Both Comfortable and Supportive
When purchasing a mattress, the most crucial element to consider is whether or not you will be able to fall asleep comfortably on it. Selecting a mattress that is both comfortable and supportive like this one, is essential. If you don't, it could cause you to sleep in an awkward position, which can lead to back, neck, and shoulder pain. Read our article on using a mattress topp[er to reduce shoulder pain if this problem affects your sleep quality.
Tip 3. Purchase a Breathable Mattress
It's critical to ensure that the mattress you're purchasing is breathable. A breathable mattress like this, allows air to circulate freely through the mattress, allowing body heat to escape. Otherwise, heat builds up in the mattress, making it too hot. This is essential if you already tend to sleep warm. Read our article on using a mattress topper to help you sleep cooler if you are a particularly warm sleeper. Innerspring, hybrid, and gel or latex foam mattresses are often the coolest alternatives. However, depending on how they're made, memory foam mattresses like these can also be cool and breathable. If you're buying a memory foam mattress, be sure to check the breathability ratings.
Disclosures
This website is a participant in the Amazon Services LLC Associates Program, an affiliate advertising program designed to provide a means for us to earn fees by linking to Amazon.com and affiliated sites.