How to Use Bed Skirt Pins – Step by Step
A sagging and slipping bed skirt is not only frustrating, it is also a tripping hazard. Bed skirt pins can be used to help hold bed skirts in place and prevent them from slipping. Properly inserting bed skirt pins to secure your bed skirt to the box spring will make your room look more orderly and also make it safer.
Use straight shaft bed skirt pins to hold woven or sheer bed skirts in place. Twist pins and holding pins can be used to secure thicker bed skirt fabrics. To use bed skirt pins, insert pins through the bed skirt into the edge of the box spring. Twist pins need to be twisted while being inserted.
How well bed skirt pins will work to hold a bed skirt in place will depend on the type of pin, how many of the pins are used, how they are used, and what material they are used on. Open weave fabrics and sheer fabrics are easily snagged and ripped by the screw-type bed pins, so rather use straight bed skirt pins on these types of fabrics. This article from Sciendo explains the warp and weft of fabric and how this influences the opacity and strength of the fabric.
What Are Bed Skirt Pins?
Whether you just want to hold a bed skirt in place so that it does not slip or shift out of position or you need to make adjustments to a bed skirt that isn't the correct length, bed skirt pins can be a simple and affordable answer. Bed skirt pins are also useful for keeping a bed skirt in place when you are changing the sheets or other bedding. Read our article on 6 ways to keep a bed skirt in place for more ideas on securing your bed skirt.
Bed skirt pins are a type of pin used to secure a bed skirt around a bed and prevent it from moving or slipping out of place. The pins help keep the bed skirt attractively draped around the bed by fixing it into position along the mattress or box spring.
Types of Bed Skirt Pins
Bed skirt pins are similar to thumbtacks in that they are used to attach a flat material into another surface, but their shaft is longer than a standard thumbtack.
There are two main types of bed skirt pins: twist pins and double-pronged holding pins. Twist pins are twisted into the box spring while they are inserted. U-shaped holding pins include two prongs with a shaft in the middle to secure heavier bed skirt fabrics. Alternatives to bed skirt pins include thumbtacks and T-pins.
The type of bed skirt pin that you use will depend on what type of bed skirt fabric you have. If you need help deciding what type of bed skirt to choose then read our article on different types of bed skirts and their uses.
There are some important questions you need to ask yourself when deciding on the type of bed skirt pin to buy:
Do you need to fasten the corners or sides of the bed skirt?
Is your bed skirt extra ruffled or gathered and easy to step on?
Is the skirt made of heavy material?
Will the pins show?
Do they need to match the room decor?
Upholstery and Bed Skirt Twist Pins
Twist pins are commonly used to attach fabrics to many different types of furniture. They are small and unobtrusive, so they can be used without being unsightly. They have a twisted point which simply needs to be twisted through the fabric into an upholstered piece of furniture—such as a mattress or box spring—and they will hold the fabric securely in place. Twist pins can be removed just by untwisting them.
With regard to the questions above:
Twist pins can be used to fasten corners and sides. They are not designed for holding only the corners of a bed skirt.
Use more twist pins to hold a ruffled or gathered bed skirt that can be easily stepped on
Twist pins are better for light-medium fabrics, not for heavy fabrics
Twist pins are aesthetically pleasing since they are small and easy to hide.
Different styles of twist pins can be used to match room decor
Twist pins are also available with decorative heads in different colors and styles, such as hearts, flowers, and even panda bears. These can be great if you want to add a fun touch of whimsical detail, especially to a child's bedroom. These heart-shaped twist pins from Amazon will add an interesting element to a bed skirt.
Double-Prong Bed Skirt Pins
Flat double-pointed bed skirt pins have oblong-shaped flat heads, usually in white plastic. They have two long prongs that are pushed directly into the box spring or mattress, usually around the top edges. These are workhorses that can hold a heavier bed skirt in place. These double prong bed skirt pins from Amazon will hold a bed skirt in place with little effort.
With regard to the questions above:
Double pronged holding pins can be used to hold just the corners of a bed skirt in place, if necessary
They are designed for heavy fabrics and are very durable. They have no problem holding ruffled or gathered bed skirts in place.
Holding pins can be used with medium-heavy fabrics
Because of their design they can be seen and are not easy to hide
Different styles of holding pins can be used to match room decor
Two Types of Bed Skirt Pins and Their Pros and Cons
Type of Bed Skirt Pin
When Should You Use This Pin?
The Pros
The Cons
Amazon Product
Price Range
Twist Bed Skirt Pins
Use for light-to-medium weight bed skirts
Less obvious small size
Might not provide the best holding power for your bed skirt
May damage the bed skirt fabric and cause pinholes if not used carefully
Bed N' Basics Clear Twisty Bedskirt and Upholstery Pins - Set of 12
~$5 to ~$10
Bed Skirt Holding Pins
Use for bed skirts made of heavy fabrics
Better holding of bed skirts, especially heavy ones
Larger heads may affect the final look
Collections Etc Bed Skirt Holding Pins - Set Of 16
~$5 to ~$15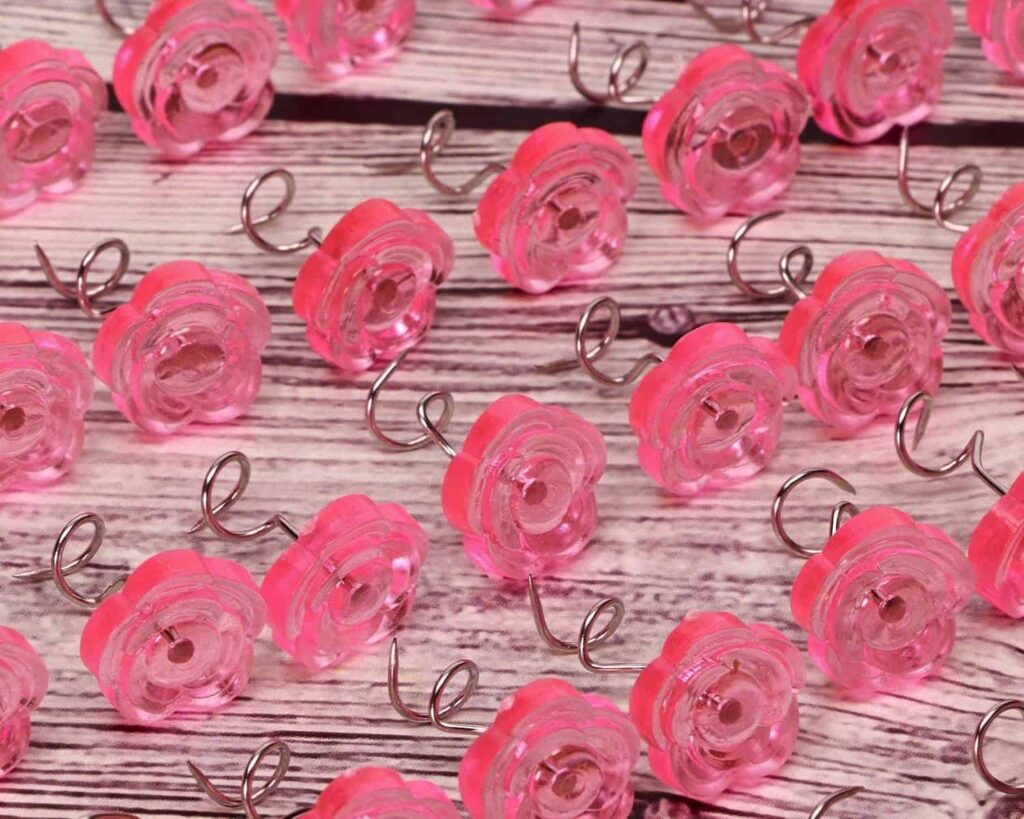 How to Use Bed Skirt Pins
Bed skirt pins are versatile and flexible tools that can keep your bed looking tidy and help to hang evenly around the bed frame. Read our article on bed skirt hacks to learn about easy ways to elevate the look of a room with a bed skirt.
To use bed skirt pins, first lay a bed skirt on a box spring. Next, insert bed skirt pins through the bed skirt and into the box spring by spacing them at regular 2-4 inch intervals along the sides and corner of the box spring. If using twist pins, twist the pin while inserting into the bed skirt fabric and bed spring.
A good way to secure a bed skirt around the perimeter of the bed is to start at the foot of the bed and pin the middle of the bottom panel to the box spring. Then work outwards from the middle until you reach both corners, pinning as you go. Place pins on either side of the corner so that the bed skirt drapes neatly over the corners, then continue securing the bed skirt along the sides of the bed, until you're done. We suggest pinning at intervals of 2-4 inches to get the best results. Read our article on bed skirt tips and tricks to find out more about the benefits of adding a bed skirt to your bed.
1. Choose a Bed Skirt Pin
Consider the type of bed skirt and bed that you have, the particular way that you need to use the pin, and what you need to hold in place. The questions in the paragraphs above will help you determine which kind of pins to use. You might even want to use both types of bed skirt pins—the upholstery twist pin and the double-prong bed skirt holding pin.
Twist pins commonly come with transparent decorative round plastic heads, but they are also available in different shapes and colors. Some twist pins come with a flower-shaped head, and others come with a translucent head. These clear twist pins from Amazon come in a handy storage box.
Double-pronged holding pins usually come with an oblong-shaped white head. The pins are straight. They are usually used along the top edge of the box spring—out of sight—doing the heavy lifting. If you are installing a heavy bed skirt like this sturdy velvet bed skirt, then we recommend using these flat double bed skirt pins.
2. Place the Bed Skirt On the Bed
If the bedskirt is the traditional type, remove the mattress, and lay the bed skirt over the box spring. Make sure the edges and corners fit perfectly in place. Also, make sure that the skirt is neatly draping evenly over the sides, and adjust it if you want the skirt to be touching the floor or just above it. Read our guide to bed skirt height and length to help you figure out which length you'd prefer for your bed skirt.
3. Insert the Bed Skirt Pins
Once the bed skirt is laid on top of the box spring, insert the bed skirt pins to keep the bed skirt in place. Carefully insert either type of pin so as not to rip or damage the fabric. Turn the bed skirt twist pins clockwise into the fabric and box spring until the head of the pin touches the surface.
Start by inserting a pin through the fabric of the skirt and into each of the box spring corners. Inserting pins in the four corners might be enough for fixing the skirt if you are just looking to keep the corners aligned.
However, adding more pins along the sides of the box spring will hold the bed skirt more securely and prevent your bed skirt from sliding when you sleep on your bed. You'll need to add the pins all the way around if they need to hold up the weight of the skirt. Insert bed skirt pins along the sides with regular spacing between them. Too many pins can end up making it look unnecessarily crowded. Too few and it won't hold up the bed skirt.
How to Put on a Bed Skirt Without Removing Your Mattress
The traditional style of bed skirt has a fabric sheet that is laid over the box spring. It requires lifting the mattress off the bed in order to put the bed skirt on it. This is not always an option. Many people cannot lift the mattress, or limited space makes it difficult.
The best way to put a bed skirt on a bed without removing the mattress is to buy a wrap-around bed skirt that doesn't require lifting the mattress off the bed at all. A wrap-around bed skirt wraps around the mattress, box spring, or bed frame and stays in place with an elastic band. Velcro-based bed skirts can also be attached to a bed frame without lifting the mattress.
Bed skirt pins can be especially useful with a wrap around bed skirt. If the skirt does not fit the bed exactly or it slips down or shifts around, bed skirt pins can easily hold it in the place, without having to adjust the position of the bed skirt every day.
1. Measure the Size of Your Mattress Foundation
Before buying your bed skirt, make sure you know the exact size of your mattress foundation to ensure that your bed skirt will fit perfectly. Measure the perimeter of the mattress or box spring, the width and length, and height of the mattress and box spring from the floor.
Also, make note of whether you need the bed skirt to go around all four sides because the head of the bed is visible or if a three-sided skirt is sufficient. Similarly, decide if you need split corners to go around the legs. Read our bed skirt alternatives article for other ideas of unique bed skirts to add to your bedroom decor.
2. Buy A Wrap-Around Bed Skirt That Fits Foundation DImensions
There are many types of wrap around bed skirts available in stores. Choose what meets your particular needs, style, and decor. Read our guide on bed skirts versus dust ruffles where we discuss the different looks a traditional or modern bed skirt can create in a bedroom.
The most familiar type is the ruffled bed skirt. It's a traditional bed skirt style that can look homey, depending on the fabric, color, and design. Tailored bed skirts are a popular choice for a more elegant and contemporary look. Pleated bed skirts, which fall somewhere in between, are also popular choices. This pleated bed skirt from Amazon creates a sophisticated look while covering up the unsightly bed frame.
Of course, the material of the skirt will affect the way it looks and the way it drapes along the sides of the bed. Choose the type that will achieve the look you want—and has the care requirements you need. This Belgian linen bed skirt from Amazon has a 16-inch drop that can be used to cover a higher bed frame or be allowed to puddle on the floor for an opulent look.
3. Wrap the Bed Skirt Around the Mattress or Box Spring
Once you have your bed skirt, it is time to wrap it around the bed. Simply match each corner of the bed with the corner of the bed skirt—wrapping the skirt evenly around the mattress or box spring, as you go. Secure the elastic or adjustable elastic belt. Make any fine adjustments to the positioning of the bed skirt so that it hangs evenly. This pinch-pleat wrap-around bed skirt will give your bed a luxurious look with very little hassle.
4. Pin the Bed Skirt to the Corners Using Bed Skirt Pins
Once you have the bed skirt properly positioned, go around the bed and secure it in place with pins, as necessary. Pay particular attention to the corners and to the alignment of the hem of the skirt. Add as many pins as you need to keep it in the perfect place. This embroidered bed skirt is light enough to be secured with twist pins.
5. Style the Bed Skirt
You're almost done. You just need to add the final touches. Style the bed skirt by making sure it drapes smoothly over the sides of the bed. Add any remaining bedding and decorative pillows to complete the look. If you want a perfectly coordinated and cohesive look in your bedroom then consider buying this complete bedding set from Amazon which also includes a matching bed skirt. This is the perfect style of bedding if you are trying to achieve a Parisian-chic look in your bedroom.
You may also find interest in learning about all of the different bed skirt materials and their benefits to find exactly what you're looking for.
In a Nutshell
Securing your bed skirt to your bed prevents the skirt from slipping off the frame which would make the bedroom look untidy and could cause an accident if tripped over. If you have an adjustable bed you would need to pay particular attention to properly securing your bed skirt so that it doesn't shift out of place when the bed positions change. We recommend reading our article on choosing a bed skirt for an adjustable bed if you need more information about these special circumstances. For additional ideas, make sure to take a look at how to keep a bed skirt in place too.
Disclosures
This website is a participant in the Amazon Services LLC Associates Program, an affiliate advertising program designed to provide a means for us to earn fees by linking to Amazon.com and affiliated sites.