Teenage is the time of your life when your body is undergoing myriads of changes. All day you are dealing with challenges from the outside and inside your body. Nighttime is when you want a comfortable and supportive place to lie on. 
Don't worry. We have got your back. We have come up with a list of the top 8 mattresses for teenagers from which you can pick your favorite one. These entire mattresses are comfortable (check the most comfy mattresses on the market), supportive, and eco-friendly.  
Good sleep has heightened importance for sleepers since they have a lot to do all day. We have picked these mattresses while diving deep into their working mechanics. 
Let's move on and open the treasure box of the best mattresses. 
No more restless nights!
What are the Most Comfortable Teen Mattresses? 
Top 8 Mattresses for Teenagers Reviewed
GhostBed Classic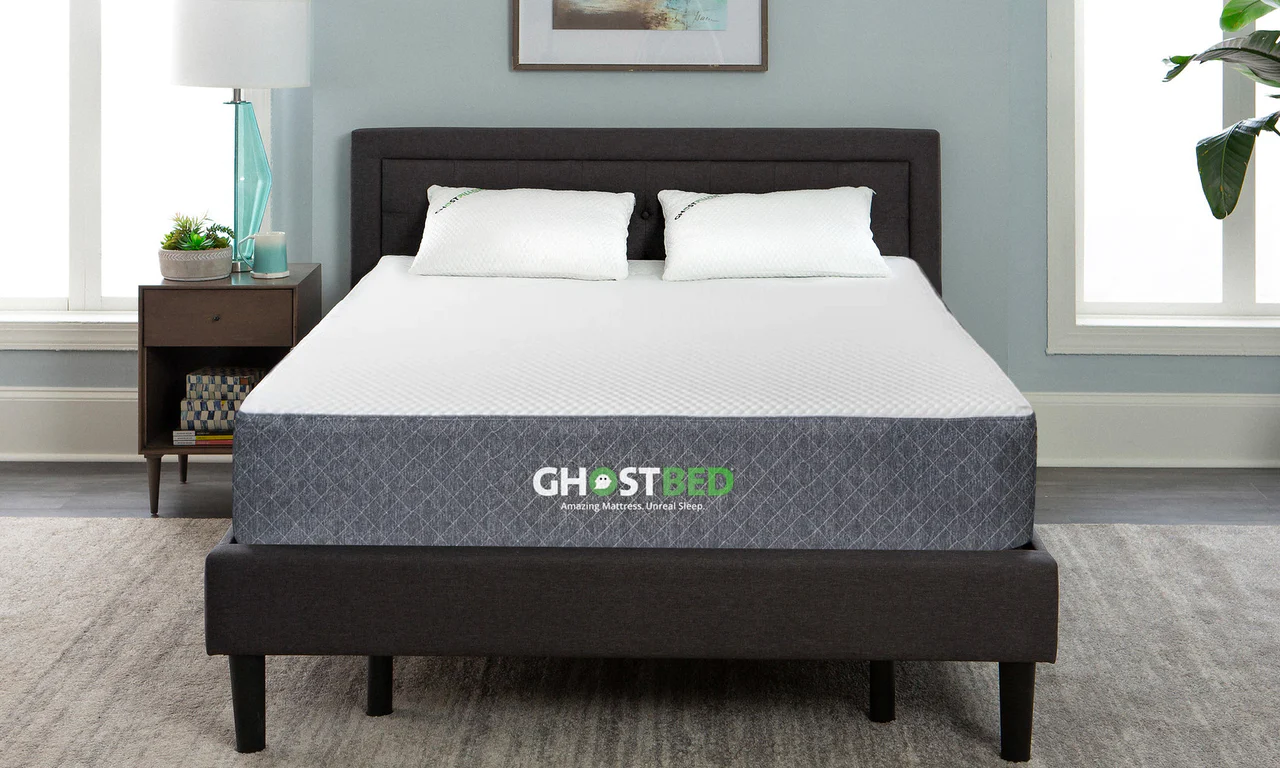 Highlights
- Gel-memory & aerated-latex
- High-density support foam
- Breathable & plush knit cover
Exclusive offer : Up to 50% OFF
A mattress that will ghost away all the sleeping discomforts of teenagers!
Since teenagers go through many emotional states, waking up, un-rested can make them feel more agitated and awkward. GhostBed Classic will make their sleeping time comfortable and relaxing.   
Teenagers must get a good night's sleep to function properly during the day. The perfect balance of support and comfort is provided by the layers of memory foam<span style="font-weight: 400;"> and latex, which keep the spine alignment in position and cradle the body throughout the night.   
No longer waking up stiff!
Its medium firmness suits all types of sleepers, especially teenagers. It gives nice contouring to the body and a good amount of bounce.  
Its increased airflow comes from the latex cover and gel-infused memory foam. Teenagers always look up to nighttime, but in today's time, many are found in bed during the day too. Ensure you buy a mattress that does not make your posture bad.    
Amazingly you can buy it at an affordable price. This mattress is for all sleeper types, whether you are stomach, back, side, or combo. However, it is particularly loved by those sleepers who prefer a slightly firmer and buoyant feel of latex mattresses. So, if you are a back or stomach sleeper, this mattress is for you (check 10 amazing mattresses for stomach sleepers). 
Its 4 layers of comfort with gel-infused memory foam and non-allergenic, aerated latex suck away all the excessive body heat (teenagers tend to release more heat than adults). This signature cooling provided by GhostBed is courtesy of a proprietary, open-cell formulation featured in its gel memory foam layer.    
Teenagers have a high activity level and need a mattress on which they don't get stuck while moving around the bed. GhostBed mattress's 11'' height and 7.5'' of high-density foam form a balanced base and relieve pressure points.  
For those who have kids over 300 pounds, you can check out the GhostBed range of mattress foundations (also check the top rated mattresses for overweight person). Mattress foundations provide additional support to mattresses and make them long-lasting. 
In a nutshell If you have a tight budget, you can easily buy this economical mattress. It's non-allergenic, meaning sensitive teenage skin will not get acne because of this mattress. One of the best teenage mattresses available in the market.
Emma original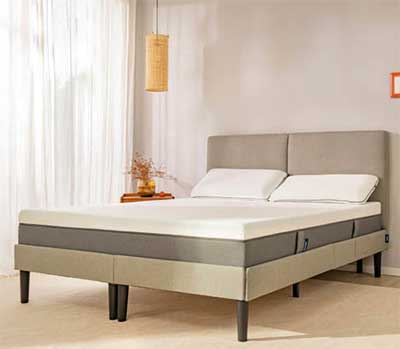 Highlights
- #1 selling in all Europe
- Perfectly balanced for all body types
- Medium-firm range

Exclusive offer : Up to 50% OFF
Sleep soundly on this cloud-like comfy mattress, teenagers. 
Emma Original makes sweet dreams for its sleepers. Emma will be a great fit if your teenager loves sleek and modern designs. Teenagers nowadays spend a lot of time in their beds using gadgets, so they need a mattress that gives them immense comfort. 
No matter what body type your teenage kid has, Emma's got your back with its pressure-relieving 5-Zone mattress design. It adapts to any body type and keeps the spine aligned whether you are a side, back, or stomach sleeper (check the top rated mattresses for back sleepers). 
Its ergonomic and motion-isolating memory foam allows minimal motion transfer, so if the teenager is a pet lover, he won't get disturbed by pet movements (check the best selling mattresses for motion isolation). Excellent for light sleepers!  Emma's original is for budget-conscious sleepers who don't compromise on quality. It lies at the center on a soft to firm scale, but that does not mean it will sag. You will get the right amount of support for your body. 
Emma Original is very well-priced. Its medium firmness is what makes it an attractive option for buyers. Unlike traditional mattresses that drain your energy, Emma's exceptional pressure relief system ends aches and pains. 
Its groundbreaking layer of plush memory foam and temperature-regulating breathable cover makes this mattress highly breathable and moisture-wicking. Moreover, Emma Original gives reinforced edge support to help prevent restless and active teenage sleepers from falling off the bed.  
Emma HRX supreme foam has 5 adaptive cut-outs and over 100 supportive points that reduce pressure on the body by evenly distributing the body weight. 
Emma Original comes in many sizes, such as Twin, Twin XL, King, Queen, and Cal King. Its Twin size mattress goes well on bunker beds. If you have two teenage kids, then bunker beds are more fun. They are cost-effective and save space.  
In a nutshell Emma Original is a top-notch option for cool and sweat-free nights. It gives so many quality features at economic rates. Excellent bet for kids with pets or side, back, or
stomach sleepers
.
Layla memory foam mattress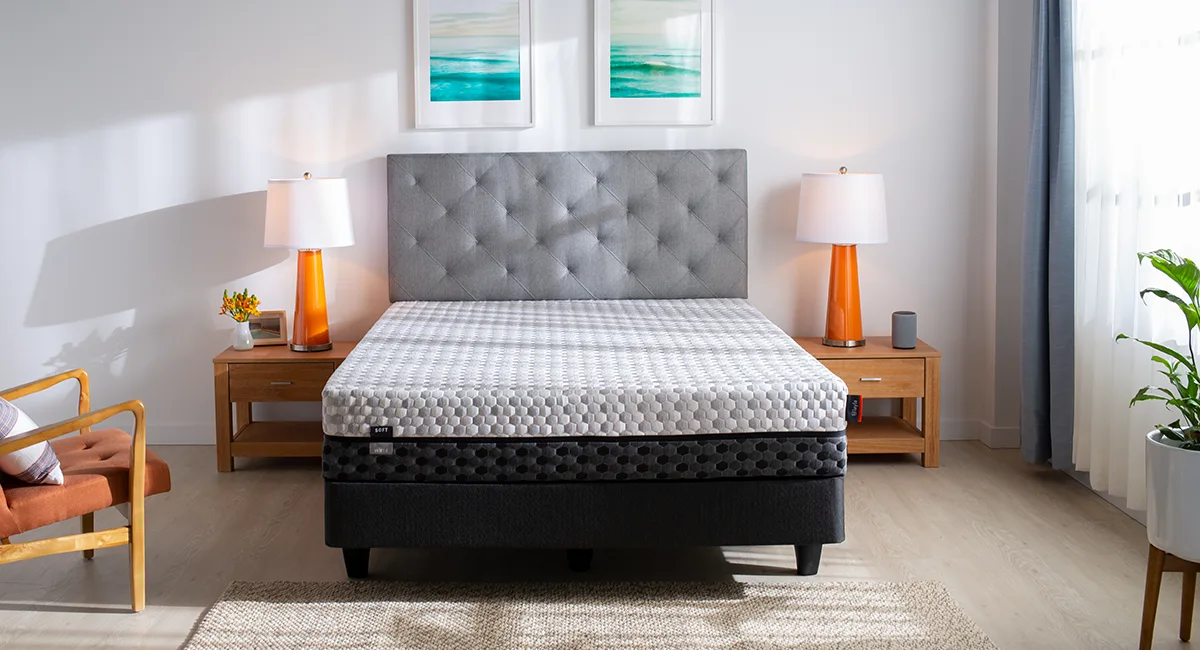 Highlights
- Copper gel in the foam
- Antimicrobial
- Rapid cooling
Expert verdict
The Beautyrest 13.5 Hybrid 1000 Infinicool is a 13.5-inch hybrid innerspring plush soft tight-top mattress. It has a base support layer of innerspring pocket coils with age/memory foam layer resting above.

This model from Beautyrest is very difficult to find both (1) online and (2) in-stores. As a result, we strongly recommend considering similar alternatives.

Surprisingly enough, the Beautyrest 13.5 Hybrid 1000 Infinicool is actually quite a good mattress. Especially when you consider the quality of materials & specifications.
Exclusive Offer of the week : $450 Off any mattress
Comfiest sleep is no longer a dream!
What makes Layla the most authentic in this series? 
It won best cooling mattress 2022-FORBES and best memory foam mattress 2022-CNET. Layla memory foam mattress contains copper gel in its foam which comes with a whole lot of benefits (check 7 amazing copper infused mattresses). Teenagers' bodies will be at their optimum status in the morning. 
Copper will fight odor-causing bacteria to provide a refreshing experience to its users since it's naturally anti-microbial. It's highly supportive, anti-inflammatory, and helps improve blood flow.  
Aren't all these characteristics of copper mattresses simply amazing? 
It's unique layering of foams dampens the possibility of motion transfer, so you can do whatever you want without feeling every move. 
Tech-savvy teenagers love pillows to relax their arms, and Layla has a surprise for them. You will get two free Layla memory foam pillows that perfectly match the Layla memory foam mattress. 
It's a two-in-one mattress, and that means this mattress is both firm and soft. One side is soft (white) while the other is firm (grey), so you can flip it to the side you love. On soft to firm scale, it's 4/10 soft and 7/10 firm.   
Side sleepers love the soft side due to its firm support to pressure points and plush hugging (check the top rated mattresses for side sleepers). Consequently, back and stomach sleepers prefer a firm side more due to increased support and less sinking.  
You get the complete feel for your night's sleep. You can add bedding to your mattress. Bamboo sheets go well with cotton mattresses because of their sustainability and non-toxic formations. Mattress sheets protect mattresses from spills and damage.   
In a nutshell Best for teenagers who produce too-much body heat and want a breathable and cool sleeping experience. One of the comfiest mattresses for teenagers.
Amerisleep AS3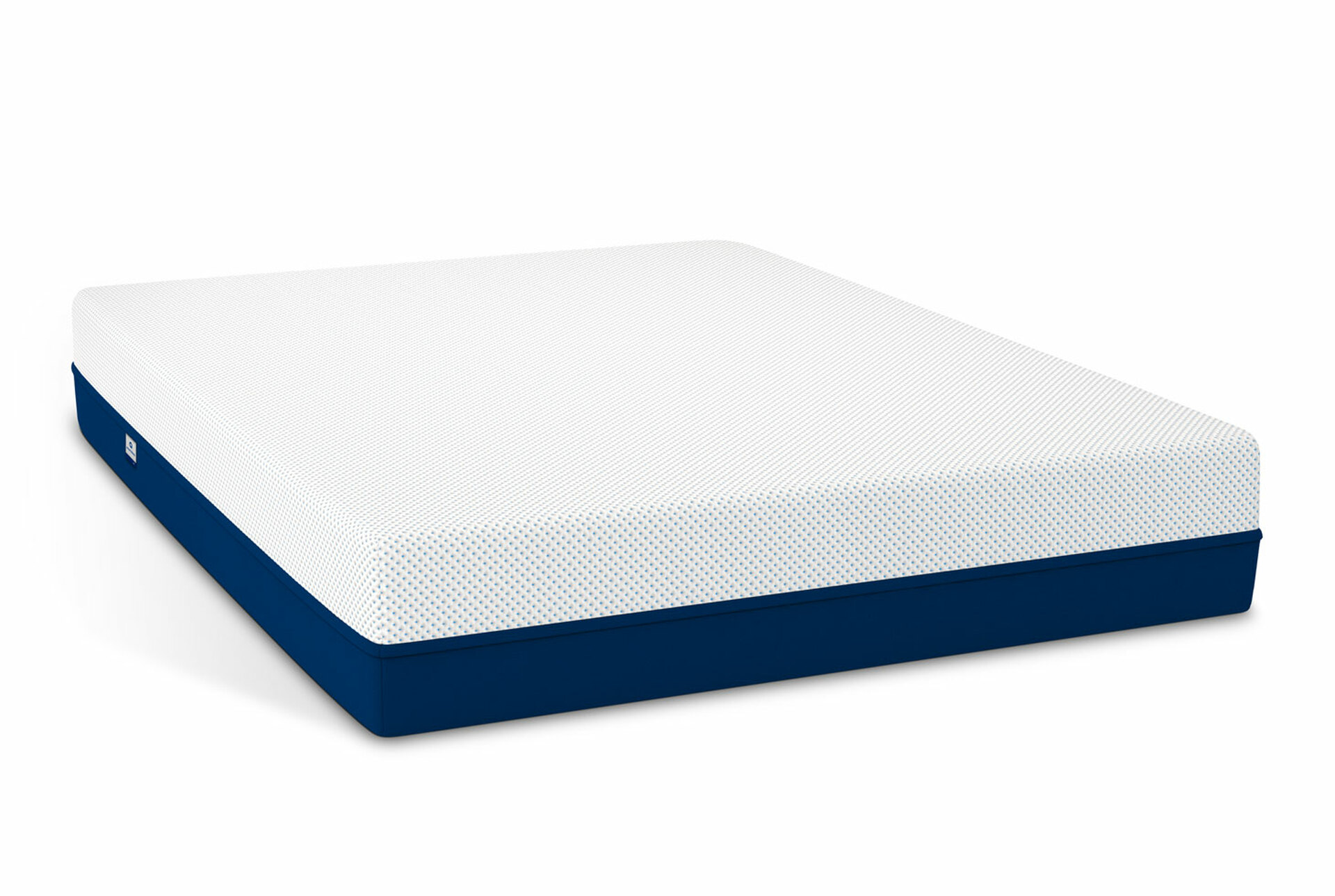 Highlights
- #1 mattress in a box in the USA
- 14000+ happy customers
- Tailored to adapt to most body types and comfort
LABOR DAY SALE $450 OFF ANY MATTRESS.
Sleep weightless! Amerisleep mattress has your back.
AS3 Hybrid provides long-lasting comfort that you will love. This mattress ensures a healthy and eco-friendly experience for its users. 
Teenagers should breathe fresh air for a comfortable sleep.  
Bio-PUR® is the perfect answer to a better bed. Amerisleep mattress uses Bio-PUR® memory foam to give contour, cooling comfort, and healthier posture. It is made of plant-based materials that do not release toxic gases or chemicals into the air.  
This mattress's breathable, open cell structure ends heat built-up and is perfect for hot sleepers (check the top rated cooling mattresses for hot sleepers). So, if your teenage kid is overweight or suffers from excessive sweating at night, this mattress will greatly help. 
AS3 hybrid combines sleep-promoting foam layers with bouncy pocketed coils, which will help to put teenagers to sleep. Pocketed coils are specifically keeping your body lifted in a healthy alignment. 
Its refresh cooling cover ensures you sleep 7 degrees cooler and converts natural heat into infrared energy. Infrared energy improves blood circulation, so your teenager becomes your energetic champ.
Its zoned hybrid and superior edge support relieve pressure points and cradle the body. This mattress comes with a 20-year warranty and if you have any doubts, try it free for 100 nights. 
You can elevate your comfort by putting comfortable pillows locked with cooling technology. Don't comprise your sleep by using the wrong pillows. A comfy, well-designed pillow is a must to get the complete feel.   
In a nutshell If your growing champ faces difficulty sleeping, this mattress is for you. Its enhanced sleeping technology helps in falling asleep. Highly recommended for hot sleepers who want to sleep cool. Gives some extra bounce and long-lasting comfort.
Bear Original Mattress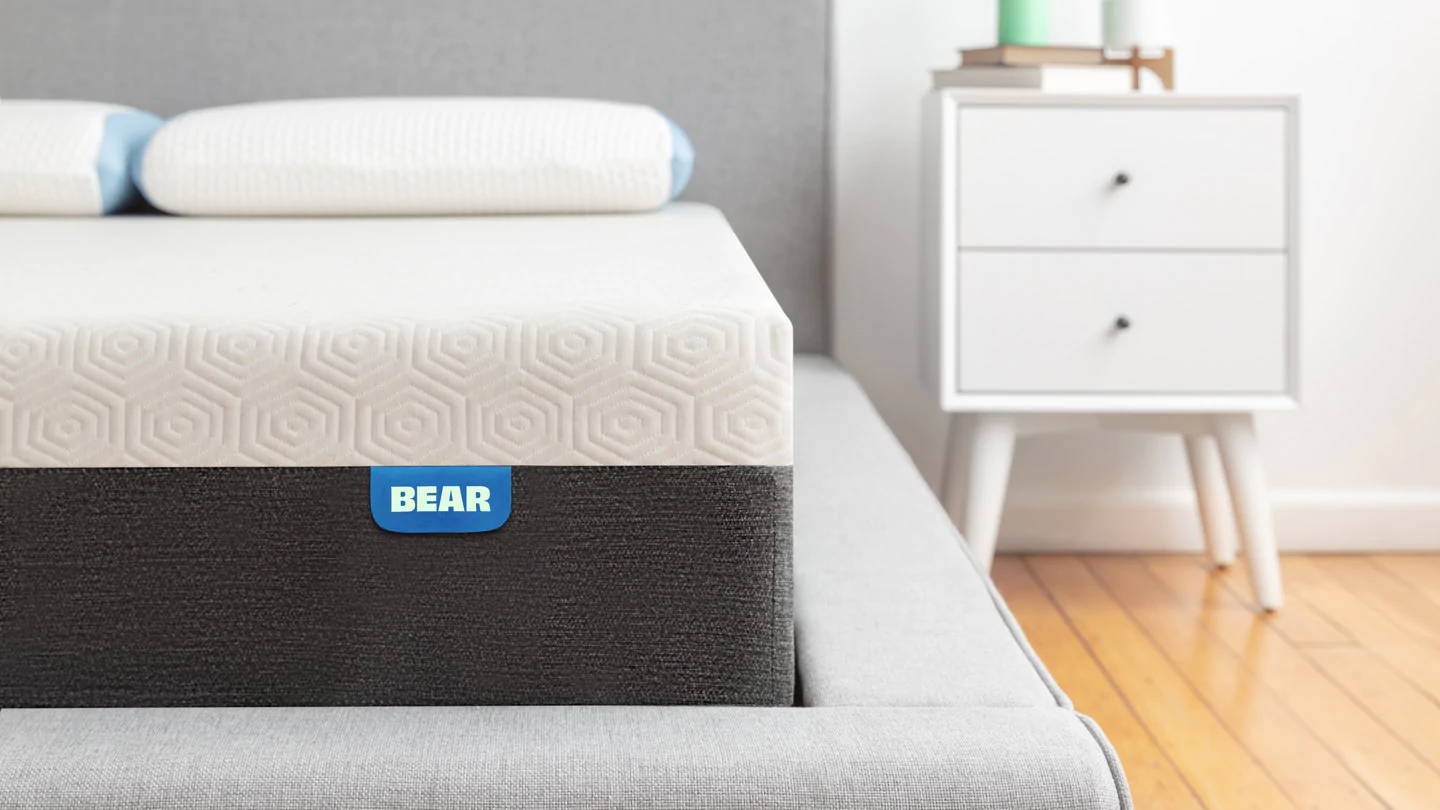 Highlights
- Great cooling
- Comfortable
- Made in USA
Special offer: Free Shipping with Our Discount Code
A proven winner for sporty teenagers!
Bear Original has many feathers in its cap. It has been categorized as the best memory foam mattress for athletes- sports illustrated, the best value gel mattress- sleep foundation, and the best memory foam mattress for back pain- sleepopolis.
This all-foam mattress consists of a breathable quilt cover, cooling gel memory foam, dynamic foam, and high-density support foam that will comfortably hug your body. This mattress perfectly aligns your spine and provides deeper compression for better pressure relief. 
You can now rest comfortably at just the right temperature through its open-cell construction, which prevents your body from overheating at night. Hybrid models are an amazing option for sleepers looking for breathable and cool sleep (check the top rated hybrid mattresses). 
Innerspring coils are tried-and-tested for delivering deeper compression, true support, and responsive bounce. Hybrid mattresses use innerspring, making them best for teenagers who love sports and exercise. 
The contouring memory foam adapts to the shape of your body no matter the sleep position and does not sag under your weight. Your hips, shoulders, and joints will get more support via comfort layers.
It is much bouncier and crates the body nicely. This mattress isolates motion so you can move around without hearing those squeaking sounds.  
Teenagers make a mess, and that's a fact from spilling coffee, ketchup, mustard, and other condiments into water. Such incidents can harm your mattress, so you should use mattress protectors. Mattress protectors do not let liquid sink deep into the mattress, which makes them long-lasting.
In a nutshell It has cooler foams, innerspring coils for bounce, and contouring foam for adaptability. You have all the good reasons to buy it for your teenager, especially if he loves sports and needs good sleep to flick away the tiredness of the whole day.
Leesa Original Mattress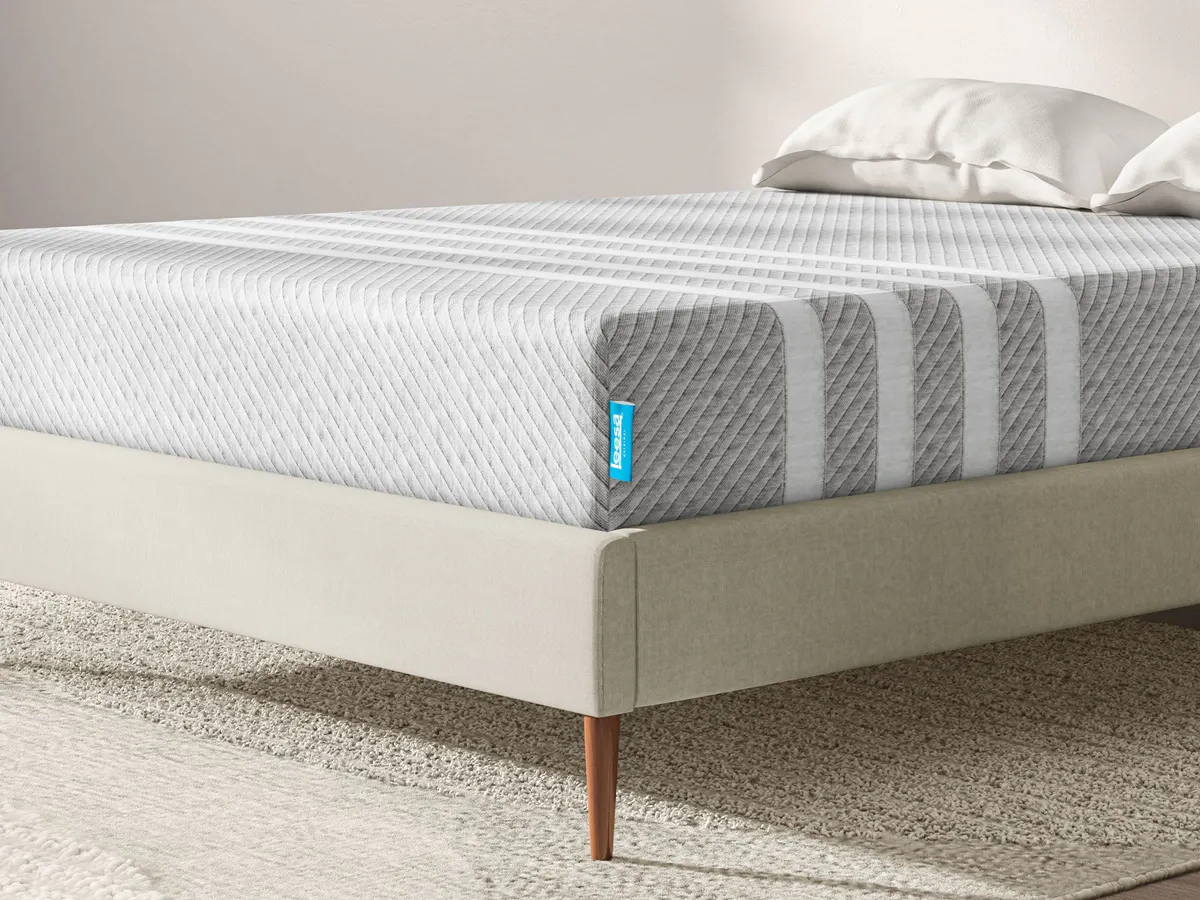 Highlights
- Soft and breathable
- Memory foam
- Comfort and support
Save up to $820 on Leesa Mattresses
A miracle mattress for back sleeper teenagers!
Leesa Original premium memory foam gives teenagers restorative sleep to teenagers. The cover is seamless and stylish, which will be loved by chic kids. The grey cool knit gives a soft feel and a breathable sleep. 
Its comfort layer, memory foam recovery layer, and base support layer will give you a hugging comfort and the right amount of bounce. If you have back, hip, or shoulder pain, it will go away. The signature high-density foam base gives support and durability for all body types. 
It has that perfect construction to help relieve back pain (check the top rated mattresses for back pain). However, the reason behind back pain can be uncomfortable and low-quality mattresses, so if your teenage kid is complaining about constant back pain, consult Leesa Original. 
Leesa does not miss a chance to make its customers happy. You will now get two free down alternative pillows with your purchase. If you want a raised and balanced interface, then bed frames are the solution. Bed frames give supplementary support and prevent allergens, insects, and molds from entering your mattress. 
Leesa Original is ideal for side sleepers who want extra cushioning and bounce. It offers a medium-firm feel which is good for spine alignment.  
In a nutshell It's a vintage and stylish-looking mattress that will double why you want to buy it. You should definably buy it for an enhanced sleeping experience.
Sweetnight Dreamy Memory Foam Mattress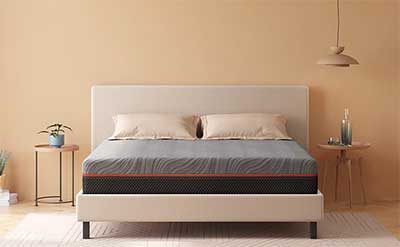 Highlights
- Three Firmness Levels
- Affordable
- Perfect for every bed frames
Exclusive : 5% off with the code NUT5
Complete your dreams lying on a dreamy mattress!
The Dreamy Memory Foam Mattress stands out from the rest through its unique Contouring Curve Design. This mattress gives optimum support and comfort to sensitive areas such as the back, neck, and shoulders. 
Teenagers often feel trapped and find it difficult to get out of the mattress. Through its innovative structure, this mattress helps to get out of bed without feeling imprisoned. 
With three mattress frames, you can find your partner and match it by flipping the mattress to the right position. The three frame levels from which you can choose are medium, medium-soft, and medium-firm. It is the only mattress that has three options. All other mattresses offer only two firmness levels.
The breathable jacquard cover makes a cool and refreshed atmosphere for sleepers. It is anti-pilling which reduces the possibility of mattress bobble formation.   
Grand Canyon was the inspiration behind its contour cover design. It is made from textile materials that are certified under STANDARD 100 by OEKO-TEX, which makes it safe to use the item. 
The mattress contains high-quality polyurethane foam infused with a gel layer and provides great support and a comfortable night's sleep. The MDI transfer layer gives great support while maintaining the structure of the body.  
The gel-infused memory foam layer regulates body temperature. Moreover, the ergonomic spinal support system reduces aches and pains. Your mattress can get affected by life's little accidents, so we encourage you to use mattress protectors. You can get protectors which are waterproof, machine washable, and long-lasting. 
In a nutshell The contouring curve design tones the body in healthy alignment and cradles it like a baby. It is also great for hips, joints, and back pains. Three frame levels make it a distinguished and unique option for buyers.
Puffy Mattress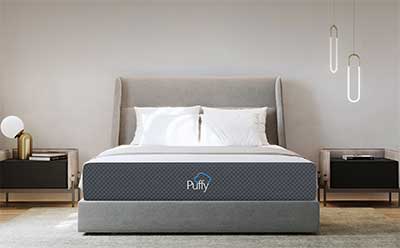 Highlights
- Best selling USA
- All Sleep position
- Hotel comfort
LABOR DAY SALE EXCLUSIVE: $1,350 OFF
Get ready for a perfect night hug!
The Puffy mattress has been designed and made in the USA and is CertiPUR-US certified. It has been designed for all sleep positions. So, whether you are a back, stomach, or side sleeper, it is for you. It is well known in the marketing industry because of its innovative and unique construction that facilitates sensitive sleepers. 
It constitutes a 5-year sleep system and provides an all-night cool system. In addition, it has the unique property of total motion isolation and a profound stain-resistant cloud cover. 
Its innovative five-layer system gives you a blissful and cheerful night experience and makes it worthy enough to be chosen as the priority. To put it in a nutshell, we can say that the Puffy mattress will make you relish your night and give you the benefit of a wonderful night's slumber.
Moreover, it can be used incessantly since it has a lifetime warranty. By ordering the puffy mattress, you will be given free delivery, and the mattress will be at your gateway within a minimum time of two to five business days.  An additional property is that it acclimates with any bed frame. 
If you have any doubts, go and try it for a 101-night sleep trial.
You can add a mattress topper to your list too. They are inexpensive and help prevent your mattress from being worn out. This helps to protect the mattress and make it last the test of time.  
In a nutshell This mattress provides complete motion isolation. Its hypoallergenic design removes any irritable or uncomfortable sensation. Sensitive sleepers should buy this mattress. The unique stain-resistant cloud cover is noise-free and perfect for teenagers.
What Type Of Bed Should A 14-Year-Old Have?
Buying a bed for a teenager is an investment, and your money mustn't go in vain. Teenager kids are growing rapidly, so always buy a bed in mind for the future. For a normal growing kid, a full-size bed is best. You can look at quarter (3/4) beds since they are bigger than standard singles and give extra space to the sleeper. 
Kids love bunker beds, but as far as their size is concerned, they might feel imprisoned. Consider that pillows will also take up space on the bed, so buy a bed accordingly. 
Is Memory Foam Good For Teenagers?
Memory foam perfectly aligns your child's body, relieves pressure points, and cuddles them throughout the night. Make sure that your mattress uses CertiPUR-US-certified foam for a healthy sleeping experience. It provides unrivaled support and comfort to teenagers. 
Their composition repels insects and dust particles away, which means a stress-free night golden hour. 
Should Teenagers Sleep On A Firm Mattress?
For most teenagers, medium-firm mattresses are the most popular. You must also consider your child's weight before buying a mattress. Teens who weigh 130 pounds love medium-firm, while those who weigh more than 230 pounds usually prefer firm options, particularly if they sleep on their stomach or back. 
Is A Hybrid Mattress Good For Teenagers?
Hybrid mattresses may cost you a bit, but they are good for teenagers. Hybrid mattresses are a combo of memory foam, innerspring, and latex. They give all the benefits to their sleepers, like pressure relief, comfort, and cooling.  
Hybrid mattresses are indeed a great value. Its increased airflow provides a breathable experience. The pocketed coils in its interior allow minimum motion transfer.
Is Latex Foam Good For Teens?
Latex foam is ideal for teens. They come with so many health benefits and eco-friendly features. They are hypoallergenic and resistant to insects, molds, and dust. Moreover, They are odor-free and have no off-gassing like foam mattresses. The gentle support given by this mattress is very soothing. Latex foams are durable and a good investment (check 8 great durable mattresses).   
Our Recommendations 
All the mattresses mentioned above have cooling technologies, unique layer systems, and environment-friendly formations. These designs will fulfill all teenagers' requirements. You are one step away from blissful sleeping nights. Now the option is in your hands, go and get your ideal mattress.