Bed frames are often the most underrated amenity because we mostly focus on getting the right mattress (check 10 great mattresses). But if you want your guests to enjoy their stay at your place, hustling and bustling with all-day energy, you need to upgrade your bed frame for sure.
A quality bed frame will keep the mattresses in place, won't make any noise, and get your 5-star review as your guests will leave as happy as ever, attracting more prospective guests for you (also check the top-rated mattresses for AirBnB).
In this post, we have reviewed the best bed frames for Airbnb guests. 
What's the Best-Selling Bed Frame for Airbnb?
10 great bed foundation for airbnb
Diamond mattress Foundation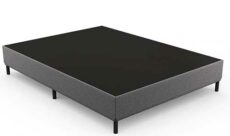 - Steel and wood frame
- Modern design
- Good for heavy people
Advanced foundation, universal styling for modern and classic room decor
Diamond Mattress is one of the most popular companies that manufactures premium quality foundations, mattresses, and other bedding accessories (check the best-selling mattress toppers for AirBnB). And the New Versatile Mattress foundation is one of the great options that simultaneously delivers comfort, style, and support.
This versatile foundation adds universal styling that gives your room modern and classic decor. The best thing is that this foundation comes with 6 legs and an 8-inch height. So, these 6 legs support your foundation and make it stable.
In addition to that, these legs are removable conveniently. So, you can also store it for future use. The company uses superior quality material to construct it. These materials make it lightweight but more reliable and durable.
Moreover, the frame of this foundation is made of wood and steel. The lightweight construction also makes its assembling easy. You just have to follow some instructions, and you can assemble it without any difficulty.      
You can also place it in your kid's room because the wooden frame is also covered with fabric. This fabric comes with velcro that keeps the fabric in one place securely. The Diamond Mattress also offers multiple bedding accessories. You can purchase that to enhance your comfort and protection.
If you are placing it in your children's room, you can purchase a waterproof mattress cover to protect your mattress and its base. Plus, there are adjustable pillows available that align your shoulder and neck for better sleep.
This is also the best value for a money bed frame for Airbnb because the Amerisleep platform bed frame is much more expensive than the Diamond Mattress's new versatile foundation.
Both have a durable yet lightweight construction that provides excellent support and comfort. 
In a nutshell the New Versatile mattress foundation by Diamond Mattress is the best bed frame for Airbnb. The wooden and steel frame is covered with a fine fabric that gives your room a modern and classic look. It has 6 legs that add stability to its foundation and provide more comfortable and supportive sleep throughout the night.
Amerisleep plateform bed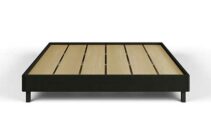 - Assembles in minutes
- Good for heavy people
- Minimalist
Supportive, stylish, and modern, plus compatible with all types of mattresses
Amerisleep is manufacturing the best platform bed frame in the market. It is available in all six sizes, so you can opt according to your room size. It is compatible with multiple types of mattresses.
Those mattresses include innerspring, latex, hybrid, and memory foam mattresses. Additionally, your purchase comes with a 1-year warranty. Unfortunately, plenty of bed frames come with soft spots that lead to faster mattress deterioration.  
However, this plate bed foundation by Amerisleep comes with slats that are made with thick hardwood. These hardwood slats provide equal support while keeping your mattress in one place.
Amerisleep also manufactures other bedding accessories like cooling mattress covers. If you are sleeping hot, you can purchase that top cover. However, the Diamond Mattress doesn't offer a breathable or cooling mattress. There are only waterproof mattress covers for protecting your mattress.
In a nutshell Amerisleep platform
bed frame
is the
best supportive
, stylish, and modern. It is very easy to
assemble
. It just requires a few minutes without any tools.
The best benefit of using this framework is that it is compatible with all mattress types like latex, hybrid, memory, and much more. This is all in one frame that supports your mattress and makes your Airbnb bedroom stylish.
Puffy bed frame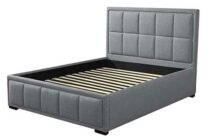 - High-Quality Frame
- Good price
- Modern Styling
Squeak-free construction with padded headboard for a contemporary look.
The Puffy frames provide you with a noise-free sleeping experience. The experts made it with a contemporary look to your bedroom. Upholstered and styled with soft neutral-gray cloth and cool, which will perfectly work with your bedroom color scheme. The best benefit of choosing the Puffy bed frame is that it comes with a soft fabric headboard.
In addition to that, it provides you additional comfort while watching TV or reading your book. You will feel extra support at your neck and back while you sit back and relax.
The Puffy bed frames are also available, from full to California king-size. So, you can opt as you want. The wooden foundation of this Puffy bed frame finishes the need for a box spring.
Wooden slats provide a more supportive and comfortable base for your mattress. The assembly of this bed frame is also very convenient. You have to follow a few instructions. There are no extra tools required during its assembling.   
If you have a small-size room and want a twin or twin xl size in the Puffy bed frame, then you have to choose between the Diamond Mattress and the Amerisleep bed frames.
Both bed frames are comfortable, supportive, and available in all sizes. However, both are just platform bed frames and do not come with a headboard.
In a nutshell A modern and premium upholstered bed frame comes with a cozy and soft finish. The
squeak-free
construction adds style to it and makes it easy to
assemble
.
The best thing is that your purchase comes with a lifetime warranty and 101-night sleep trials. Furthermore, the fully padded headboard attached to the bed frame enhances your support and gives you a good night's sleep.
Eastman Platform Plushbeds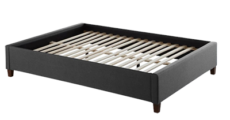 - No Box Spring
Required
- Premium Fabric
- Center legs for extra stability
Update your bedroom with a classic, modern, and clean upholstered bed frame
You can add multiple styles to your Eastman platform bed base with minimalist decor and go opulent and traditional. It is an ideal option for building a cozy bedroom. It is equipped with four wooden sleek design corner legs, which add a streamlined and interesting silhouette.
This platform bed base by Plushbeds removes the need for a box spring and protects your mattress. In addition, there are inbuilt center base bars, which offer maximum comfort and support. The good thing is that it comes with extra center legs for additional stability.
Moreover, it lifts approximately 4-inch that offers optimal air regulation under your mattress. Your purchase also covers a 15-year warranty. There are two fabric textures available for headboards, including Carlisle and Hennessey.    
However, this Plushbeds Eastman platform bed frame comes with only a base. You have to purchase the textured headboard separately.
But, if you want a platform with a headboard as a one-time investment, then the Puffy bed frame is ideal. The Puffy bed frame also supports your mattress to give you a comfortable sleeping experience.   
On the other hand, the PlushBeds also offer multiple bedding accessories like blankets, comforters, mattress protectors, linens, and sheets. So, you can purchase one of these to add comfort and keep your mattress protected. 
In a nutshell the Plushbeds presents the best bed frame for Airbnb available in multiple sizes and
colors
. You can choose
the preferred size
and color to give your room a clean, classic, and modern look.
It comes with a 15-year warranty. You can also purchase a headboard for your comfort separately.
Layla Mattress Foundation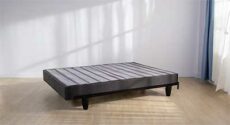 - Affordable
- Sturdy base for any mattress
- 2 step assembly
A stylish bedroom with durable construction with wooden solid salts foundation
Solid construction makes it different from above all mattress foundations. The spruce solid slates laid down over the Layla Sleep foundation make it an excellent sturdy base for your mattress. Your mattress will stick on it and will not slip down.
You will experience the best launchpad for your day. The good thing is that no engineering terms or assembly tools are required to assemble it. It is very easy and stress-free to assemble. Your Layla foundation also covers a 5-year warranty.
The company uses yellow pine American Southernwood in its frame construction. The slats are made with Canadian spruce wood. Furthermore, the corned pins are constructed with 100% polypropylene.
Apart from that, the Layla Sleep uses superior quality fabric that gives a modern look to your bedroom. One more thing is that it is available from twin to California king size. If you want to experience a good night's sleep, you can purchase the Layla Sleep mattress.
There are other plentiful bedding accessories available. You can purchase additional sheets, pillows, and weighted blankets for comfortable day and night.
The Layla Sleep offers mattress frames that don't have a headboard, so it only aligns your back and relieves pressure during sleep. But, if you want a whole comfort, you need a headboard and a supportive base.
For that, you can pick The Puffy bed frame that comes with a headboard and is available in all sizes. The Puffy bed frame is the best bed frame on our list. However, this Layla Sleep is also available in all sizes but just a bed frame.  
In a nutshell The Layla Sleep
mattress foundation
combines
plastic
, wood, and
metal
. These materials make it
durable
and reliable. A solid wooden slat provides support under your mattress and excellent airflow. A
well-designed
fabric perfectly fits your
modern
bedroom.
ZINUS Shalini Upholstered Platform Bed
- Durably designed
- No box spring needed
- Easy assembly
Flawless comfort and style with a supportive foundation
A reliable and strong foundation plays the most important role in support. That is why the ZINUS Shalini crafted the most reliable wood platform foundation for your mattress. There is no box spring required. You can directly place your mattress on the top slats.
The efficient design makes its assembling convenient. There are no advanced tools and knowledge required for assembling it. The required instructions and tools come with your purchase. You have to follow those instructions. It will be ready within an hour.
Additionally, a combination of diamond elegant pattern stitching and sturdy construction gives a stunningly chic look to your bedroom. The company uses steel frame wok and dense foam padding, which increases longevity and comfort.  
The good thing is that the company already mentioned a weight limit according to frame sizes, so purchase as it suits you. For example, the twin size base is ideal for 350 pounds people, and all other sizes can bear more than 700 pounds.
Another best advantage is that it comes with a comfortable headboard that gives proper support to your neck and shoulder. So, you can sit back and read or watch TV on a supportive day.
You can also pick the color of your bed base according to your bedroom decor. The available colors are dark gray, beige, and sage gray. 
If you have a massive size bedroom, then this ZINUS Shalini frame is unsuitable because it is available only in four sizes, including twin, queen, full, and king.
However, you can go with the Layla Sleep base because it is available in all sizes but comes without a headboard. 
In a nutshell The ZINUS Shalini is designed to feel and look great. This platform bed frame features knitted upholstery and square tufting for greater impact in your space. It is also equipped with a foam-padded headboard that allows a cozy relaxation while watching TV or reading a book in bed.
Naturepedic Deluxe Foundation

- Strong
- Extra slats to increase support
- Easy assembly
Solid wood construction with organic cotton without polyfoam and flame retardants.
Naturepedic is manufacturing the best frames for Airbnb compared to the above frames. You'll get a strong foundation covering a 25-year warranty with a 101-night sleep trial.
It is accessible in two styles: a 7-inch standard and a 2-inch ultra-low profile. Also available in all sizes, including twin, twin xl, full, queen, split king, and split Cal king. Thus, you can choose a strong base according to your bedroom size.
The company uses North American wood that features organic and luxurious cotton fabric that gives your bedroom a contemporary and modern look. Additionally, it comes with additional slats that make it a sturdier foundation.
Before purchasing any foundation, keep in mind that a good quality foundation is always important to maintain the integrity of the mattress. The organic cotton is stretch-knitted on the foundation giving a soft and luxurious feel.
Assembling the Naturepedic is very easy; you have to follow 4 steps, and there you are. There are no additional tools and engineering required in its assembling. The company also offers multiple organic bedding accessories that give a luxurious sleeping experience.
Those bedding accessories include a protector, pillow, sheets, protector pads, and mattress toppers. If you are looking for a bed frame for your babies, then the Naturepedic organic bed frame is ideal. Because it is made with pure organic cotton and good thing, you can additionally purchase other protectors and sheets.
However, if you are finding a foundation with a headboard, then you can pick the Amerisleep that is compatible with all types of mattresses, including memory foam, latex, hybrid, and so on.
In a nutshell It is perfectly designed to provide great support to your mattress. This organic foundation comes with sturdy construction. A combination of organic cotton fabric, additional slats, and superior wood for extra strength. It is available from twin to split California King size.
Leesa Platform bed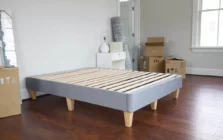 - Easy-to-assemble
- For any bedroom style
- Comfortable
A beautiful, gray fabric wooden foundation perfect for your mattress.
The company uses superior quality wood to construct its frame. There are 8 plastic grommets with gray fabric to give a modern look to your room. This fabric is made with PES 75% polyester and PP 25% polypropylene.
There are 10-gauge end brackets made with steel connectors for the middle trusser. The black color of four interlocking high-quality plastic mold connectors also makes the assembly easy. The good thing is that your purchase comes with a 3-year warranty, just like the Nectar Sleep.
It is accessible from twin to California King sizes, so you can opt according to your bedroom size. Unfortunately, your purchase only comes with a 30 nights trial. However, the Puffy is offering the best bed frame along with 101 nights trial. 
Leesa platform bed is also not giving you a headboard, so this is just for laying. Consequently, the Puffy bad frame gives you more night trials and comes with a headboard.
In a nutshell Leesa presents a wooden foundation with a gray fabric. This fabric coverage gives beautiful compliments to your bedroom. The birchwood slats also make it the perfect base for your mattress. There are wooden legs that provide stability.
Nectar foundation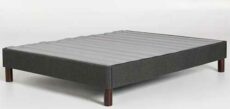 - Sturdy
- Goes will all mattresses
- Premium support
A quality mattress foundation that will make you pay for it.
When it comes to quality, there is absolutely no doubt that Nectar Sleep does deliver. But they also make you pay for it. Why?
Because they are currently offering one of the shortest warranties and night trials of the top brands on the market, they only offer a 50-night trial which is half what most other brands are offering and slightly better than Leesa with a 30-night trial.
Apart from that, Nectar is offering a 3-year warranty, again just like Leesa, and it is one of the shortest. So in these two areas, Nectar seems to be far behind other brands.
However, they do offer quality bed frames at a pretty low price, which is only more expensive than GhostBed. The good thing is that you can utilize your savings to buy quality sheets, mattress toppers, and pillows from Nectar Sleep.
In a nutshell This mattress foundation is strong and sturdy and easy to assemble and take down. You will get excellent support, which also comes at an affordable price.
Ghostbed all in one Foundation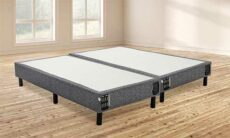 - Perfect for all type of mattresses
- Free-standing with adjustable legs
- Works with any headboard
All-metal bed frame with a highly durable patent-pending design.
This solid bed foundation is a top-notch option for construction and design. If you are looking for an all-metal sturdy bed frame, you don't need to look any further.
The best part is that it comes at a pretty good price too. It comes with a weight capacity of up to 2000 lbs which is more than double if you compare it with the Zinus bed foundation.
And that's not all. This bed frame can work with most headboards and footboards too. Easy assembly is another great feature of this bed frame, as is the case with most on our list.
It might not come with the best warranty out there on the market. But it still comes with a 20-year warranty. This bed frame also comes with a slip-on cover, and you can purchase a free weight blanket.
In terms of price, it is one of the best options that you can consider because it is much cheaper than most top brands on the market.
In a nutshell Overall, it's a pretty high-quality bed frame made entirely of metal. It means that it will be durable and won't lose its shape for a long time. It is pretty easy to install and comes with a large weight limit of up to 2000 lbs (check 10
amazing bed frames for heavy person
).
What Type of Bed Frame is Most Durable?
There are different types of bed frames available on the market. But without a doubt, the most durable option available on the market is the one that is made of metal.
These metal bed frames are pretty solid and durable, and they can last many years if you show them enough love. They are available in a range of different styles and designs, ranging from ornate to basic.
The most common materials that are used for these metal bed frames are brass and stainless steel. One of the best options for looking for metal bed frames is GhostBed All-in-One Foundation. This model features heavy-duty metal construction even for slats, legs, and rails.
Is a Wooden or Metal Bed Better?
Metal seems a better option than wood based on its durability and solid construction. But in this context, wooden beds have the edge over these metal frames.
Wooden bed frames are made with thicker materials and offer much sturdier stability than any other option. Furthermore, they are much easier to move compared to their metal counterparts. Also, wooden metal frames can hold onto your mattress pretty well too.
How Do I Dress My Bed for Airbnb?
You have to ensure that the furniture and fabric are top-notch if you are looking to dress your bed for Airbnb.
You have to go for a quality bed frame that is sturdy and can hold the mattress in place to guarantee a peaceful and relaxing night's sleep for the guests.
Diamond Mattress New Versatile Foundation or Amerisleep Platform Bed are good options. Also, consider going for a bed frame that comes with a headboard. It will give your bed that sense of completeness as if it is a throne.
You must look for a comfortable mattress that works for everyone. A better option is to err on the side of too firm rather than too soft. You can also add nightstands and lamps.
Our Recommendation
We recommend going for the bed frames by Diamond Mattress, Amerisleep, Puffy, and PlushBeds. These are pretty high-quality bed frames, and you can also buy their top-notch pillows, mattress toppers, and sheets along with the mattress if you want them.