How to Make a Bed Smell Good – Tips and Tricks
Whatever your profession, everyone needs a peaceful, comfortable, and sound sleep. There are numerous factors that make a good night's sleep, but one that's often overlooked is smell. In most cases, it's not usually just one factor that creates an unpleasant smell. Often it's a combination of things, like sweat, dirty carpets, moisture, or even cigarette smoke. It all ends up in your bed before you fall asleep. Keep in mind that the source of the odor is not always visible, so you need to account for all activities that take place in your bedroom to figure out where the smell is coming from.
To make a bed smell good, ventilate your room with air fresheners, clean your bedsheets weekly with fragrant detergent, and complete a deep-clean of your bedroom.
Step 1. Ventilate Your Room With Air Fresheners
The first thing you should do to make a bed smell good is to ventilate your room. When you sweat in your sleep, body odor in sweat comes off on your sheets and pajamas. Open the windows and put a fan in the doorway regularly to remove unpleasant smells. Another great way to keep your bed and room smelling great is to ventilate your room with air fresheners. Pick your favorite scent and hang it up in your room for an extra fresh smell. Reed diffusers are a quick way to add a pleasant scent to a room. We like this lavender and vanilla diffuser from Amazon because lavender helps encourage restful sleep.
Step 2. Clean Your Bedsheets Weekly with Fragrant Detergent
Change your pillowcases and bedding weekly, laundering them with a fragrant detergent for a nice smell. Don't forget to clean any rugs in your room on a regular basis as well. By washing items you sleep on every night, you suppress moisture, prevent the settlement of mites, and neutralize dust. Read our other article on how to wash a body pillow to find out more tips to clean bedding.
When you clean your bedsheets weekly with a fragrant detergent, the calming aroma will help you sleep. Not only that, fragrant bed sheets stay fresher for longer and help prevent allergies. You can learn more about keeping your bedsheets clean to prevent allergies here.
Step 3. Complete a Deep-Clean of Your Bedroom
Unpleasant odors sometimes can't be solved by ventilating the room, because they often come from one place over and over and again. So, in addition to washing your bedding frequently, complete a deep-clean of your bedroom. Your carpet absorbs sweat and dirt from shoes or bare feet, so clean and wash it regularly. The curtains behave like filters, clinging on to unpleasant odors, especially tobacco smoke. So change your curtains regularly and, as far as you can, avoid smoking in your bedroom to prevent lingering odors. Read our article on canopy bed curtains to find out about other furnishings and trimmings that are often added to a bed.
Hotels do a great job of keeping their hotel rooms clean and fresh overall. But if you travel a lot, you may be interested in reading our article about how to make a hotel bed softer too.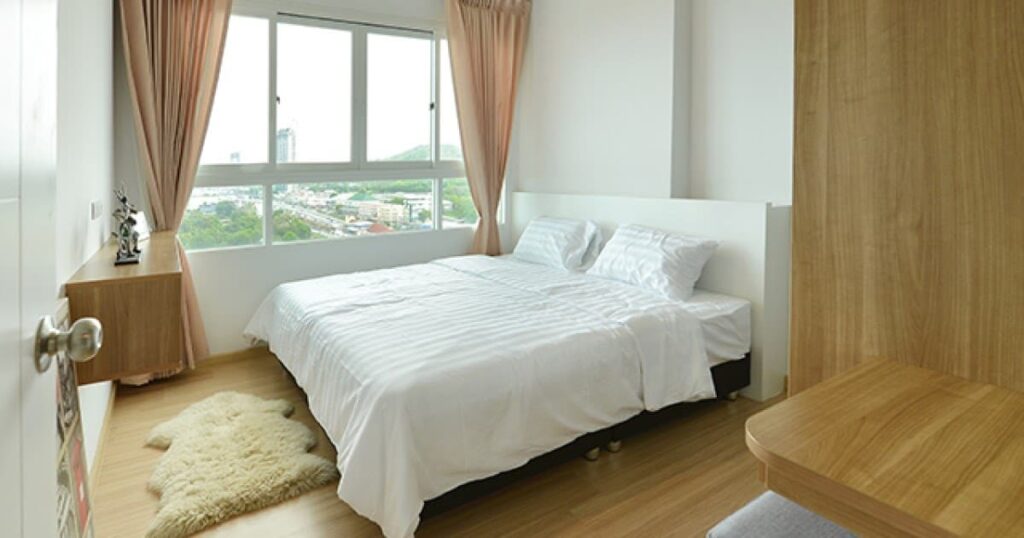 How To Remove Smells and Odors from A Mattress
Even if you follow all the steps above, sometimes a smell can still linger. The culprit may be your mattress.
To remove smells and odors from a mattress, use a vacuum cleaner to remove dirt and dust, try a chemical like baking soda or distilled white vinegar to get rid of baked-in smells, put on a mattress topper to prevent stains, and be sure to flip your mattress from time to time.
Step 1. Use A Vacuum Cleaner to Remove Dirt and Dust
The first step to make a bed smell good is to use a vacuum cleaner to remove dirt or dust from the top and bottom of your mattress. This will also help get rid of substances like food debris or invisible deposits that cause unpleasant odors or allergic reactions. The more you vacuum, the more you can reduce the smells in your mattress. We like this bed vacuum cleaner because it is lightweight and easy to handle when cleaning bedding.
Step 2. Try A Chemical Like Baking Soda or Distilled White Vinegar to Get Rid of Baked-In Smells
This option is slightly more complicated, but if you use a chemical like baking soda or distilled white vinegar, you can get rid of set-in smells.
With baking soda, spread thin layers of baking soda on your mattress. Leave it in the sunlight for a few hours, then vacuum it up. The baking soda will have absorbed the odors, leaving you with a clean, fresh mattress.
You can also try using distilled white vinegar. Mix equal parts water and distilled white vinegar in a spray bottle. Spray lightly all over your mattress, let stand, and rinse with water to remove those harsh smells.
To learn more about how to clean your mattress with baking soda or distilled white vinegar, check out this article here from mattress company Nectar.
Step 3. Put On a Mattress Topper to Prevent Stains
The easiest way to keep your mattress clean from the get-go is to put on a mattress topper. Put on a mattress topper to protect your mattress from stains, dirt, dust, sweat, and body heat. A mattress topper is much easier to wash or take out and air than your whole mattress. In addition, many mattress toppers also have scents such as aloe vera that will neutralize unpleasant odors. For example, check out this aloe vera infused mattress topper on Amazon which offers a protective barrier between the mattress and any possible spills.
There are so many different choices in mattress toppers. Make sure to take a look at our ultimate guide to mattress topper types to find the one that works best for you. Also, if you want to learn more about how heavy mattress toppers can be, read our article on what's the weight of a mattress topper.
Step 4. Be Sure to Flip Your Mattress from Time to Time
Be sure to turn the mattress over to make sure both sides are clean and in contact with fresh air. This will help remove odors from piling up on one side of your mattress. Always cover your mattress with bedding or a blanket to protect it. Of course, the best option for protection is something like a mattress topper. Read our ultimate mattress topper guide and our list of the best waterproof mattress protectors to figure out which type of topper would be the best fit for your unique needs.
And after all the cleaning, if you think it might be time to retire that old mattress, take a look at our memory foam mattress shopping guide to see what other options you have.
How Do I Make My Sheets Smell Better?
To make your sheets smell better, wash them weekly, use an air freshener in your room, and open up your windows during the day for better ventilation.
To resolve this issue, follow these easy steps.
Step 1. Wash Your Sheets Weekly
Wash your sheets weekly for them to smell great. Any artificially added scents added to dirty or stale pieces of bedding will only mask the problem. While this will help during the week if you're unable to wash your sheets at the moment, only washing dirty or stale pieces of bedding will fully get rid of the unpleasant smell. We like these easy-care sheet sets from Amazon because they are machine washable and can also be tumble dried.
Step 2. Use An Air Freshener for a Pop of Fresh Smell During the Week
Use an air freshener during the week between washes. Clothes, furniture, and bedding absorb all odors from the room. If you hang your favorite air freshener up or spay with your favorite spray air fresheners like Mrs. Meyers or Febreeze, you can mask any unpleasant odors on your sheets until you are able to wash them again. You can use an air freshener like this aroma oil scent diffuser which doesn't contain artificial additives.
Step 3. Open Your Windows During the Day for Better Ventilation
To help get rid of the bad smells in your sheets, open your windows during the day for better ventilation in your room. This will help circulate nasty odors out and bring in fresh air from outside, giving new life to your sheets.
Do you have a Tempurpedic pillow? Take a look at how to clean, wash, and sanitize a Tempurpedic pillow too.
In a Nutshell
There are simple and quick ways to freshen up a bed that smells. The most obvious way is to regularly clean and change the bedding so that body odors can be laundered away. An excellent way to prevent odors from seeping into a mattress is to use a protective covering like a mattress protector or pad. Read our article about mattress covers vs. mattress pads to learn more about how adding these layers to your bed can help protect it from spills and odors from sweat. If you have a futon in your home, you may also be interested in our step by step guide on how to clean a futon mattress as well.
Disclosures
This website is a participant in the Amazon Services LLC Associates Program, an affiliate advertising program designed to provide a means for us to earn fees by linking to Amazon.com and affiliated sites.